Manual Testing Tutorial – Complete Guide | Software Testing Tutorial
In this free online Software Testing Tutorial, we cover all manual testing concepts in detail with easy-to-understand examples. This Manual Testing Tutorial is helpful for beginners to advanced level users to learn software testing concepts with practical examples.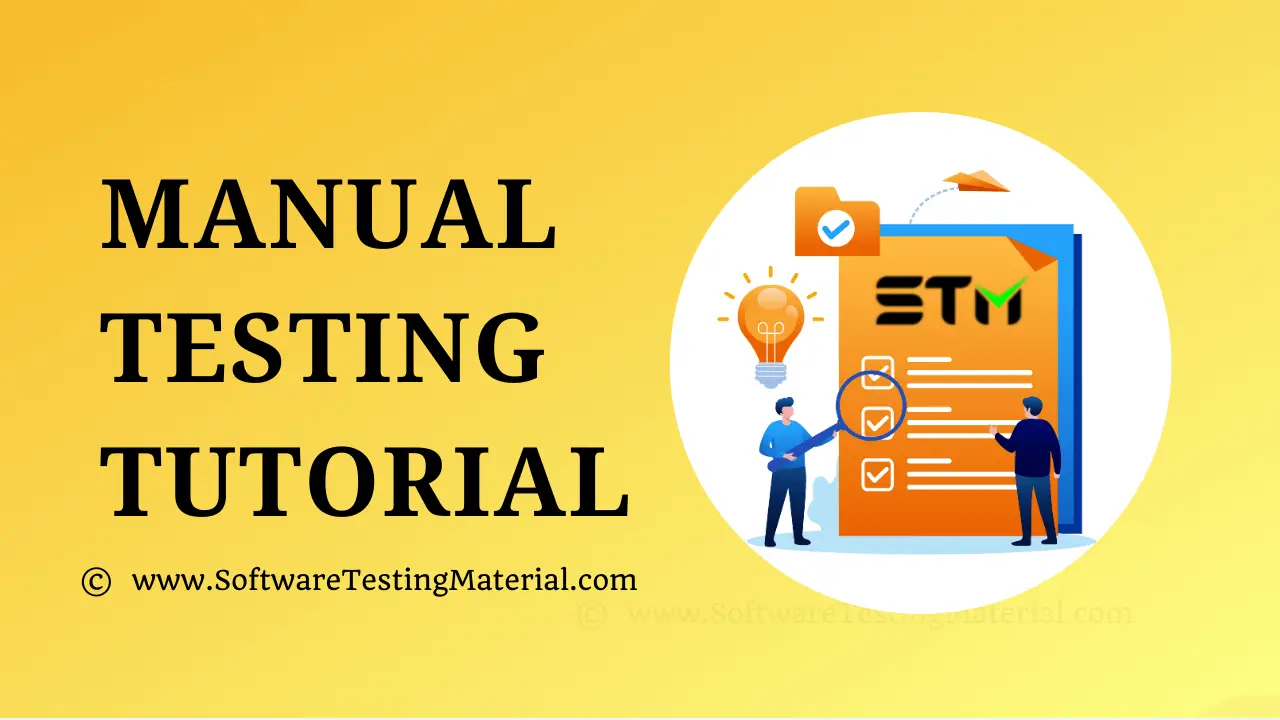 Why This Manual Testing Tutorial?
This Software Testing Tutorial covers right from basics to advanced test concepts.
What are the prerequisites to learn Manual Testing Tutorials for beginners & advanced level?
Basic computer knowledge
Interest to learn Software Testing
Who is the targeted audience of this Software Testing Tutorial?
Anyone who has an interest to learn Software Testing.
Software Testing Tutorial – Table of Content
Click on the links below to see the detailed content of each concept in this Manual Testing Tutorial.
Testing Fundamentals
Types of Testing
Test Case Development
Testing Techniques
Test Management & Control
Defects
Testing Different Domains
White Box Testing
Performance Testing
Different Testing Types
Difference Between Software Testing Types
Interview Preparation Topics:
ISTQB Certification
ISTQB stands for International Software Testing Qualification Board. I don't say you will get a salary hike if you finish this certification but it's always good to have certification in career development.
Software Testing Tools
Manual testing does not mean that the software testers won't use any tool in the process of testing. There are several tools available in the market which helps Software QA's to test an application in an efficient manner.
Trends
Resume
Download a sample resume using the below link and modify it as per your needs
Learn Through Videos
Check the below playlist to watch the complete Testing Tutorial.
If you want us to cover any other topic, please comment below. Finally, Happy Testing!
FAQ
Can I learn software testing on my own?
Yes, you can learn software testing on your own. There is no need to enroll in any online courses by paying. There are many websites and YouTube channels dedicated to the topic. Here at SoftwareTestingMaterial, our software testing course covers nearly all topics a tester needs to get a Software Testing Job.
What should I learn for software testing?
If you want to become a software tester, you need to start by learning the basics. Once you understand manual testing, you can move on to automated testing using tools like Selenium. Our Selenium tutorial will help get you started with automating web applications.
Do Testers need programming skills?
It is beneficial for everyone to understand the process and try their hand at coding. For the most part, QA testers (manual testers) do not need to be concerned with learning how to code. If you want to become an SDET then you need to have coding knowledge.
Related posts: