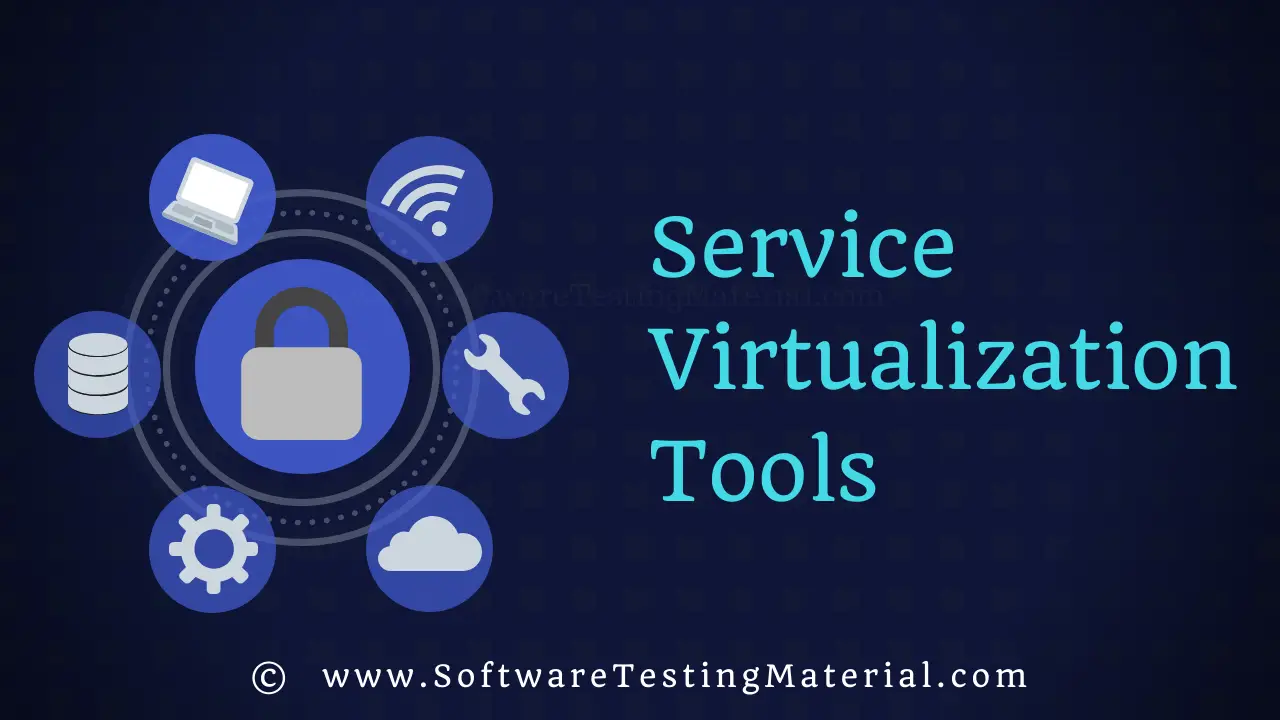 In this post, we see the best Service Virtualization Tools. Some of the popular Service Virtualization Tools are as follows:
IBM Rational Test Virtualization Server
Micro Focus Data Simulation Software
Broadcom Service Virtualization
Smartbear ServiceVPro
Tricentis Tosca Test-Driven Service Virtualization
WireMock
Traffic Parrot
What is Service Virtualization?
Service Virtualization emulates the behaviors of components (such as devices, databases, APIs, networks, etc.,) that are unavailable or difficult to access while testing and allows in-depth performance and functional testing in parallel. Check this complete guide on Service Virtualization.
Best Service Virtualization Tools:
Now in this section, we will see the above tools in detail.
IBM Rational Test Virtualization Server
IBM Rational Test Virtualization Server software enables early and frequent testing in the development lifecycle. It removes dependencies by virtualizing part or all of an application or database so software testing teams don't have to wait for the availability of those resources to begin. Combined with Integration Tester, you can achieve continuous software testing.
Features:
Virtualize services, software, and applications.
Update, reuse and share virtualized environments
Get support for middleware technologies
Benefit from integration with other tools
Flexible pricing and deployment
Learn more on Rational Test Virtualization Server
Micro Focus Data Simulation Software
Application simulation software to keep you on schedule and focused on service quality—not service constraints.
Features: 
Easily create simulations of application behavior.
Model the functional network and performance behavior of your virtual services by using step-by-step wizards.
Modify data, network, and performance models easily.
Manage from anywhere with support for user roles, profiles, and access control lists.
Virtualize what matters: create simulations incorporating a wide array of message formats, transport types, and even ERP application protocols to test everything from the latest web service to a legacy system.
Easily configure and use virtual services in your daily testing practices. Service Virtualization features fully integrate into LoadRunner, Performance Center, ALM, and Unified Functional Testing.
Learn more on Micro Focus Data Simulation Software
Broadcom Service Virtualization (formerly CA Service Virtualization)
Service Virtualization (formerly CA Service Virtualization) simulates unavailable systems across the software development lifecycle (SDLC), allowing developers, testers, integration, and performance teams to work in parallel for faster delivery and higher application quality and reliability. You'll be able to accelerate software release cycle times, increase quality, and reduce software testing environment infrastructure costs.
Features:
Accelerate time-to-market by enabling parallel software development, testing, and validation.
Test earlier in the SDLC where it is less expensive and disruptive to solve application defects.
Reduce demand for development environments or pay-per-use service charges.
Learn more Broadcom Service Virtualization
Smartbear ServiceVPro
Smartbear ServiceVPro is a Service API Mocking and Service Virtualization Tool. API virtualization in ServiceV Pro helps you deliver great APIs on time and under budget, and does so for a fraction of the cost typically associated with traditional enterprise service virtualization suites. Virtualize REST & SOAP APIs, TCP, JDBC, and more to accelerate development and testing cycles.
Features:
Create virtual services from an API definition, record and use an existing service, or start from scratch to generate a virtual service.
Create, configure, and deploy your mock on local machines, or deploy inside a public or private cloud to share. Analyze traffic & performance of each virtual service from a web UI.
Generate dynamic mock data instantly
Simulate Network Performance & Server-Side Behavior
Real-time Service Recording & Switching
Learn more Smartbear ServiceVPro
Tricentis Tosca Test-Driven Service Virtualization
Tricentis Test-Driven Service Virtualization simulates the behavior of dependent systems that are difficult to access or configure so you can continuously test without delays.
Features:
Reuse Tests as Service Virtualization Scenarios
More Risk Coverage With Test-Driven Service Virtualization
Effortless Message Verification and Analysis
Create and Maintain Virtual Services with Ease
Learn more Tricentis Tosca Test-Driven Service Virtualization
WireMock:
WireMock is a simulator for HTTP-based APIs. Some might consider it a service virtualization tool or a mock server. It enables you to stay productive when an API you depend on doesn't exist or isn't complete. It supports the testing of edge cases and failure modes that the real API won't reliably produce. And because it's fast it can reduce your build time from hours down to minutes.
Features:
Flexible Deployment: Run WireMock from within your Java application, JUnit test, Servlet container, or as a standalone process.
Powerful Request Matching: Match request URLs, methods, headers cookies, and bodies using a wide variety of strategies. First-class support for JSON and XML.
Record and Playback: Get up and running quickly by capturing traffic to and from an existing API.
Learn more WireMock
Traffic Parrot:
Traffic Parrot is an API mocking and service virtualization tool. It simulates APIs and services and allows you to test your microservice without having to worry about test data setup or environment availability. It accelerates delivery, improves quality, and reduces time-to-market.
Traffic Parrot can help you with the following:
Unblocking testers and developers waiting for APIs
Easier and faster to reproduce production bugs
Speed up setting up test data
Eliminate the need for scheduling time on environments
Reduce third-party transaction costs
Make your performance tests more reliable
Make automated builds run faster
Features:
Protocols supported are HTTP(S), JMS, IBM MQ, and File transfers
For developers and testers (both manual and automated testing)
It supports both manual and automated testing.
It makes easier to develop and test your applications, microservices, and systems.
It supports containers, clusters, or cloud environments such as Docker, Kubernetes, OpenShift, Amazon AWS, Microsoft Azure, and Google Cloud.
It supports Continuous Integration environments such as Jenkins Slaves, TeamCity Build Agents, Bamboo, or CircleCI.
It supports Operating systems such as Windows, Linux, macOS, and other systems running Java 1.7 or later.
Learn more Traffic Parrot
Conclusion:
We have included most of the tools we have come across. If we missed any tool, please share in the comments and we will include in our list of Service Virtualization Tools. You may also want to check out our ultimate list of API Testing Tools that contains Popular API Testing Tools.
If you are looking to dig into our latest posts then check out our homepage.
Like this post? Don't forget to share it!
Happy Testing!
Disclaimer: The order of these test management tools doesn't suggest any recommendations.
Here are a few hand-picked articles for you to read next: