Non-Functional Testing: A Complete Guide For Beginners
In this article, we are going to see Non-Functional Testing in detail. After you finished reading this blog post, you will learn the following.
Non-functional testing is a subset of Software Testing.
The types of testings are as follows
1. Functional testing
2. Non-functional testing
3. Maintenance testing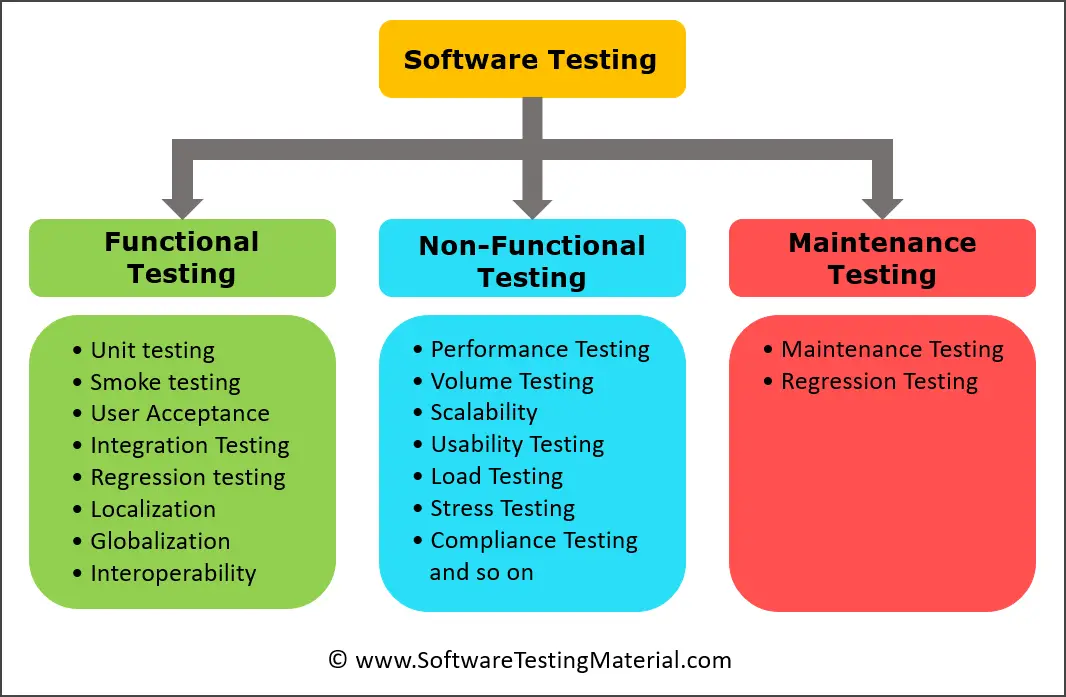 The list of testing types mentioned here is not the complete list. There are more than 100 types of testing. 
In case you want to learn a detailed list of testing types, check out this 100+ Types of Testing.
What is Non-Functional Testing?
Non-functional testing is a type of software testing which refers to various aspects of the software such as performance, load, stress, scalability, security, compatibility, etc., The main focus of non-functional testing is to improve the user experience on how fast the system responds to a request.
It covers all the areas that are not covered in functional testing. 
It checks the attributes such as memory leaks, performance, or robustness of the system.
In simple words, how well the system performs is non-functionality testing.
Non-Functional Testing Types
The following are the most common types of Non-Functional Testing :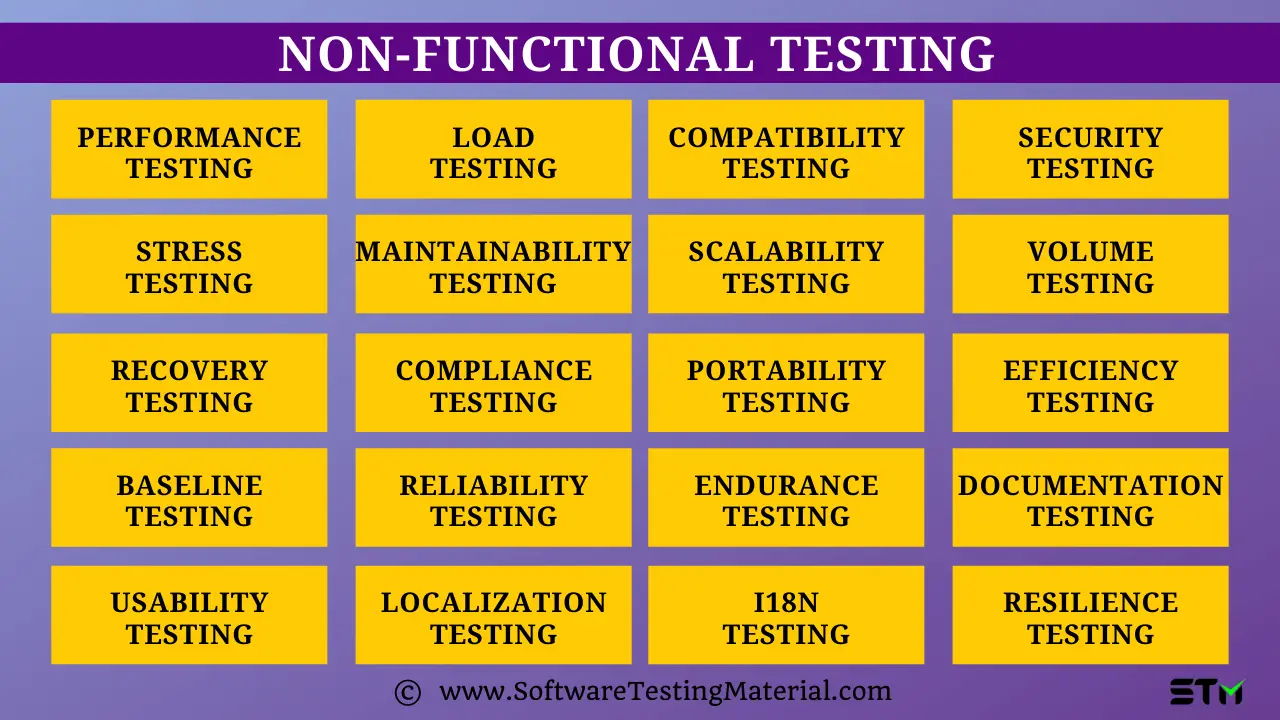 Performance Testing
Load Testing
Failover Testing
Compatibility Testing
Usability Testing
Stress Testing
Maintainability Testing
Scalability Testing
Volume Testing
Security Testing
Compliance Testing
Portability Testing
Efficiency Testing
Reliability Testing
Baseline Testing
Endurance Testing
Documentation Testing
Recovery Testing
Internationalization Testing
Localization Testing
Resilience testing
You can find detailed definitions of all the above-mentioned types of testing here.
Non-Functional Testing Parameters
Non-functional testing is done to test the non-functional parameters of an application. The parameters of non-functional testing are never tested before functional testing.
Non-functional parameters are as follows.
Availability
Efficiency
Reliability
Survivability
Flexibility
Reusability
Interoperability
Portability
Security
Usability
Scalability
Functional Testing vs Non-Functional Testing
Earlier we have discussed the difference between functional testing and non-functional testing. Check this post for a detailed explanation. 
Non-Functional Testing Tools
Non-functional testing can be done using different tools. There are several tools available in the market for Performance testing, Load testing, & Stress Testing.
Check this post for a detailed list of Performance testing tools.
In conclusion:
Non-functional testing is an important testing type of software testing. It involves testing only non-functional requirements such as performance, security, usability, reliability, and other non-functional parameters.
Software testing is not considered complete with just finishing functional testing. Both functional and non-functional testing is important in the success of an application and builds up a good relationship with the customer.  
Here I have hand-picked a few posts which will help you to learn more interview related stuff: