Why Digital Experience Testing Is Here To Stay
Have you ever used a mobile app, software, or website that didn't work how it should?
Imagine it stopped working at a crucial time. Maybe you were in the middle of an important transaction or had to ensure some confidential information was sent to the right person.
Mobile app failures are frustrating experiences. That's why digital experience monitoring is becoming more and more critical.
DEM ensures digital products function well, are seamless to use, and have a great UX overall. The fact is that DEM testing is here to stay.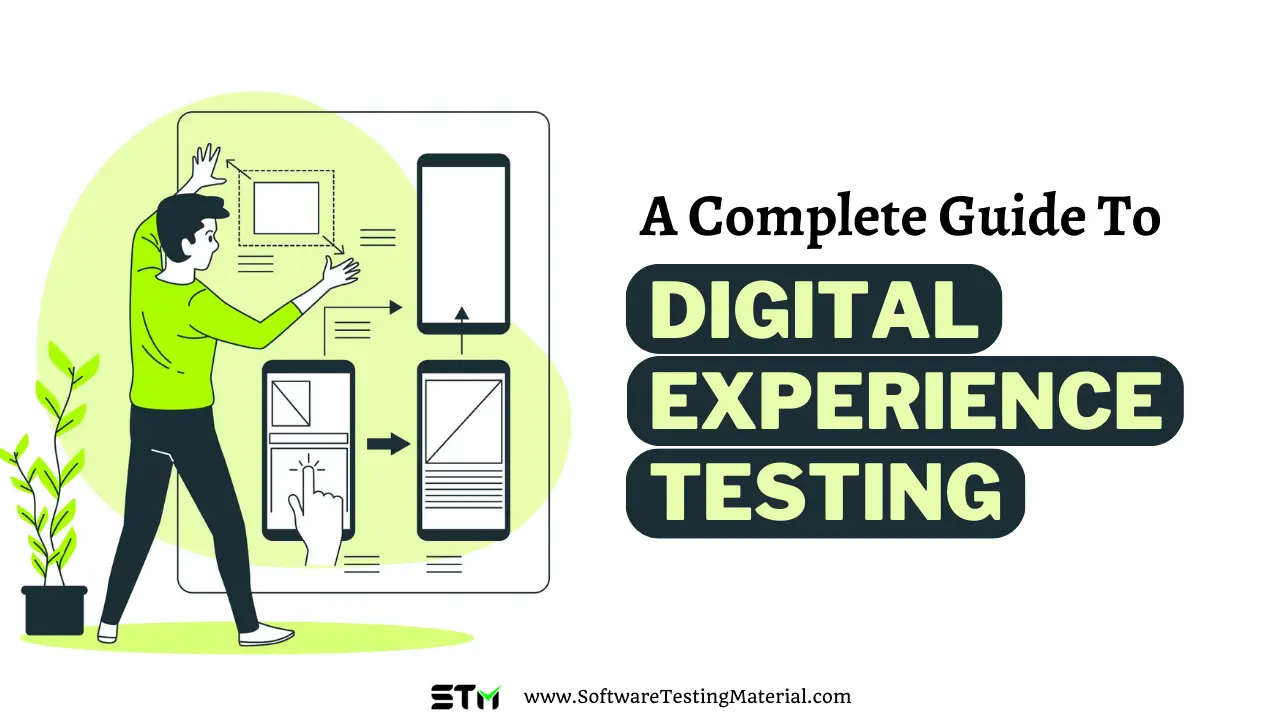 This article will cover the following
What is Digital Experience Testing
Digital experience monitoring refers to verifying the functionality, usability, and overall UX of digital products such as mobile apps, software, and websites. The demand for user experience testing keeps increasing, and this trend will continue.
Features Of Digital Experience Testing That Make It Valuable
Following are some of the key elements that digital experience testing helps cater to, enabling businesses to escalate overall growth and enhance reputation.
#1. Accelerating Digital Transformation
The pandemic affected businesses by accelerating digital transformation and causing a rapid shift toward online and digital platforms. As more companies are moving online, the competition is increasing. It has become crucial for businesses to ensure that their digital products provide an excellent user experience, as a result of which end-user experience monitoring has become more critical than ever.
#2. Rising User Expectations
With the advancement of technology, users' expectations of digital products have increased. They expect seamless and intuitive experiences that are adaptive and responsive. Users lose patience with pages that are slow-loading, have broken links, and have poor design. They will move on to a competitor if an app or website does not meet their expectations. Therefore, companies must invest in digital experience testing to meet users' expectations and retain their customer base.
#3. Rising Costs of Defect Fixing Over Time
Identifying and addressing defects early on in the development process is of utmost importance as the cost of resolving them later on, can be significantly higher. Digital experience testing is beneficial to ensure a seamless UX. By detecting defects early on, this testing process can help save valuable time and resources in the long run. It is therefore highly recommended to prioritize digital experience testing to ensure the successful deployment of any software or application.
#4. Increasing Importance of Quality Assurance
Quality assurance is crucial for businesses that develop digital products. Companies cannot afford to release a product that does not work correctly or does not provide an excellent user experience. Digital experience testing helps ensure that products meet the standards set by the organization and are ready for deployment. It is better to catch issues before release, as post-release updates are expensive and can damage a company's reputation.
#5. Improved Customer Satisfaction
The ultimate goal of digital experience testing is to provide an excellent user experience, which improves customer satisfaction. Customers who, while using your app, have their needs met are more inclined to buy from the company again and tell others about it. Through digital experience testing, businesses can learn where to strengthen their products to meet their customers' needs better.
#6. Increasing Competitive Advantage
Companies that invest in testing and optimizing their customers' digital experiences are more likely to come out on top in a competitive marketplace. By prioritizing creating a seamless and user-friendly experience, businesses can retain their current customers and attract new ones. Through digital experience testing, companies can gain valuable insights into their customer's needs and preferences, allowing them to identify and address any issues their competitors may have overlooked. This can ultimately give them a significant advantage in the marketplace, leading to increased customer satisfaction and improved business outcomes.
#7. Advancements in Automation
Automation is becoming more advanced, and it is now possible to automate many aspects of digital experience testing. Automated testing tools can quickly identify defects and provide a detailed report on the functionality, usability, and overall user experience of digital products; this allows companies to save money and time while ensuring that their products meet quality standards.
#8. Changing forms of Testing with Artificial Intelligence (AI)
AI is transforming digital experience testing. AI can test products faster and more efficiently than traditional testing methods. AI can quickly identify issues and provide recommendations for improvements; this allows companies to improve their products quickly and efficiently, providing an excellent user experience for their customers.
#9. Increasing Significance of Personalization
Personalization is becoming more critical in the digital world. Users expect websites and applications to know and meet their preferences. Digital experience testing can help identify ways to personalize products to meet users' needs, improving their experience and increasing customer satisfaction.
#10. Growing IoT
Connected devices are increasing rapidly, and this expansion of the IoT means that digital products must be designed to work across multiple devices and platforms. It is crucial to conduct digital experience testing to ensure that products are fully compatible with various devices and platforms. This aspect helps provide users with great UX, regardless of their device. Without proper testing, there is a risk that users may encounter bugs or other issues that could negatively impact their experience. Therefore, it is essential to prioritize digital experience testing to help ensure the highest level of quality and satisfaction for users.
Challenges and Their Solutions: Digital Experience Testing
Challenge #1: Consistent UX
Organizations can find it challenging to ensure consistent UX across different platforms and devices.
Solution: Employ responsive design techniques and conduct cross-platform testing to ensure consistency in UX.
Challenge #2: Dynamic or complex web apps
Dynamic or complex web apps pose a difficult challenge for organizations trying to create great UX.
Solution: Implement robust test automation frameworks that can handle the complexity and dynamism of web applications effectively.
Challenge #3: Scalability and performance
While testing, developers often have a difficult time testing app scalability and performance.
Solution: Utilize load testing tools to simulate high user traffic. You can then use the data to measure scalability and performance under different load conditions.
Challenge #4: Compatibility
Due to the growing numbers of OS and browsers, trying to test app compatibility across these platforms is challenging.
Solution: Leveraging a comprehensive device cloud gives you easy access to multiple OS and browsers. You can access device clouds from software testing platforms like HeadSpin. Use these to perform extensive browser and operating system compatibility testing to identify and address any compatibility issues.
Challenge #5: Data privacy compliance
Data privacy and security are critical aspects of any app. Ensuring user data is safe is a challenge. Moreover, maintaining app health is also a challenge.
Solution: Apply comprehensive security testing methodologies to identify vulnerabilities and ensure data privacy compliance.
Challenge #6: Collaboration and communication
Achieving efficient collaboration and communication within testing teams is often complex.
Solution: Utilize collaboration tools and establish clear communication channels to enhance collaboration and streamline information sharing among team members.
Implementing Digital Experience Testing
Step #1. Define the Scope
Clearly outline the scope of your digital experience testing initiative.
Specify the platforms, devices, and browsers you will focus on.
Identify the vital user journeys and functionalities that you need to test.
Step #2. Select the Testing Tools
Choose appropriate testing tools that align with your requirements.
Consider tools that support automated testing, cross-browser testing, and mobile device testing.
Evaluate the tools based on features, compatibility, and ease of use.
Tools like HeadSpin assist in digital experience monitoring. HeadSpin lets you track the digital experiences of apps across real, SIM-enabled devices from over 90+ locations worldwide.
Step #3. Develop Test Cases
Create comprehensive test cases that cover various aspects of the digital experience.
Ensure that test cases encompass key user interactions, validations, and edge cases.
Structurally organize test cases, making them easy to understand and execute.
Step #4. Create Test Data
Generate or gather representative test data that reflect real-world scenarios.
Include diverse data sets to validate different use cases and conditions.
Ensure the test data adequately covers the inputs and conditions expected during testing.
Step #5. Execute Tests
Run the test cases systematically, following the predefined test scripts.
Document the test results accurately, noting any issues or deviations encountered.
Step #6. Analyze Test Results
Review results to identify failures, errors, or unexpected behaviors.
Classify and prioritize the issues based on impact and severity.
Communicate the findings to the relevant stakeholders clearly and concisely.
Step #7. Troubleshoot and Debug
Investigate the root causes of identified issues.
Collaborate with developers and designers to resolve problems efficiently.
Retest the fixes to ensure the successful resolution of the reported issues.
Step #8. Iterate and Improve
Learn from the testing process and apply the insights to refine future iterations.
Incorporate feedback from users, stakeholders, and the testing team to enhance the digital experience.
Continuously assess and update the testing strategy.
Conclusion
With the increasing demand for digital products, the acceleration of digital transformation, and the increasing expectations of users, digital experience testing has become more critical than ever before. Leveraging user experience testing is vital for organizations that want to keep growing. Leveraging an automated software testing platform can help them.
It helps businesses identify defects early in development and ensures that products meet standards. By providing an excellent user experience, businesses can compete better, increase customer happiness, and attract new customers.
Automation and AI are transforming digital experience testing, making it faster, more efficient, and more accurate than traditional testing methods. As the IoT continues to expand, digital products must be designed to work across multiple devices and platforms; digital experience testing is essential in ensuring that they do so.
Digital experience testing is the future of software testing, and it is crucial for businesses that want to stay competitive and provide an excellent user experience for their customers. Remember to leverage software testing tools that offer DEM solutions. As discussed, HeadSpin is a powerful tool in this regard that uses AI to make DEM testing highly effective.