Best 19 Continuous Testing Tools For DevOps Testing in 2022
Businesses adopted Continuous Testing Tools to save time and achieve quality and money.
Continuous testing is about fast and continuous feedback. With continuous testing, we can execute automated scripts as part of the software delivery pipeline to get fast and continuous feedback on the business risks which are related to software release.
In continuous testing practice, automated tests run as part of the build pipeline to validate every check-in and deployment.
What Are the Best Continuous Testing Tools?
Some of the best continuous testing softwares to use in your project.
Selenium
Katalon Studio
Appium
Unified Functional Testing
Travis CI
Egg Plant
Watir
Tricentis Tosca
Test Sigma
IBM Rational Functional Tester
Test Complete
QuerySurge
JMeter
Jenkins
Bamboo
Docker
PagerDuty
JIRA
GitHub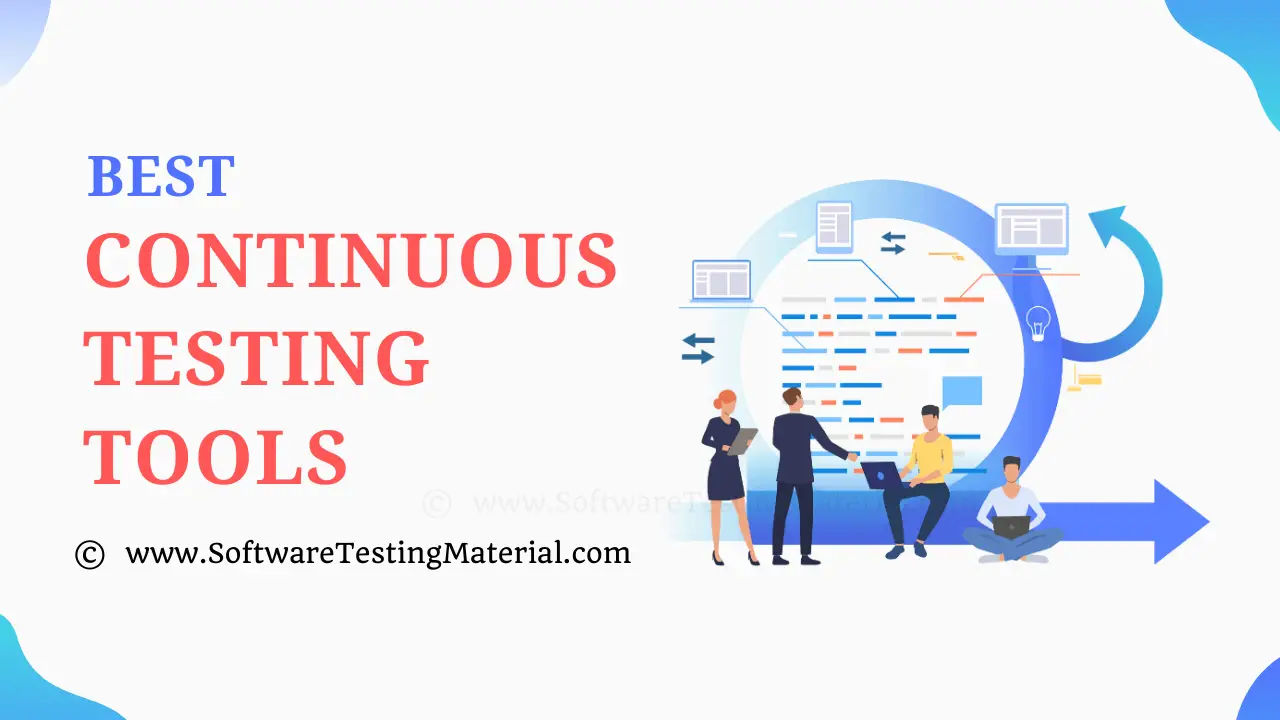 Continuous Testing Tools (DevOps Testing Tools)
Following are the most popular Continuous Testing Tools for DevOps Testing. 
Selenium
Selenium is an open source automation testing tool used to automate web applications. It provides a suite of tools such as Selenium IDE, Selenium RC, Selenium WebDrvier. Selenium is not just limited to automating web applications. It supports programming languages such as Java, C#, Groovy, Perl, PHP, Python and Ruby. It also has a record/playback tool (i.e., Selenium IDE). With Selenium you can create robust and browser-based regression automation tests and suites. It is the most popular automation testing tool in the current market.
Features:
It has the record and Playback functionalities.
It supports multiple languages such as Java, C#, Groovy, Perl, PHP, Python and Ruby
It supports multiple browsers and operating systems.
It supports parallel test execution
Website Link: Selenium 
Pricing: Free
Check out our in-depth Selenium Tutorial
Katalon Studio
Katalon Studio is one of the best-renowned testing solutions for Web, API, Mobile, and Desktop applications. With this tool, building a framework from scratch is no longer a hurdle for beginners since they can import a variety of external libraries.
Programmers are even equipped with abundant built-in keywords and dual-scripting interfaces to make it easier to advance their test scripts. Therefore, if you want to write test scripts right away and gather such design principles along the way, Katalon Studio would be a great fit.
Features:
No coding skillsets & complex figures required
Web Recorder Utility takes in all movements on the app and transforms them into runnable codes in the back-end
BDD Cucumber capability allows stakeholders to take part in testing at ease
Insightful analytics dashboard and reports
CI/CD pipeline and ALM system integrations involving Git, Jenkins, qTest, Jira, CircleCI, etc.
Smart Wait feature is a present for Selenium lovers to fully eliminate Selenium wait issues without writing any additional codes
Built-in and custom keywords to transfer keywords in test projects without any changes in the external behaviors


Website Link: Katalon Studio
Pricing: Free – $759/year
Check out our in-depth Katalon Studio Tutorial
Appium
Appium is one of the finest names in the mobile app development field. Appium is an open-source automation tool used to test mobile applications in the best possible manner. It is also considered as a cross-platform automation tool as it offers to support a built-in browser or Chrome application on Android and Safari on iOS. Hence, testers now can write tests on a wide range of platforms with similar API.
Features:
It is an open-source tool and it is free to use.
It is easy to setup
It supports native, mobile, web, and hybrid apps.
It supports a built-in browser or Chrome application on Android and Safari on iOS.
It supports physical devices, emulators, and simulators.
Website Link: Appium 
Unified Functional Testing (UFT)
Unified Functional Testing (UFT) is a well-known commercial testing tool for functional testing, continuous testing. It provides a comprehensive feature set for API, web services, and GUI testing of desktop, web, and mobile applications across platforms. The tool has advanced image-based object recognition feature, reusable test components, and automated documentation.
Features:
It supports CI via integration with CI tools such as Jenkins.
It supports an end to end testing
AI-powered intelligent test automation
Increase test coverage across the UI and API
Website Link: UFT 
License: Commercial
Pricing: It offers a free trial for 30 days
Runtime engine at $2300 annual license
UFT One at $3200 annual license
You can also contact their support for a customized solutions.
Travis CI
Travis CI is a continuous testing tool hosted on GitHub offering hosted and on-premise variants. It is used to build and test software projects. It is technically free software and also provides an enterprise plan for private projects. Its enterprise plan is built to bring the features of the hosted platform to different development processes.
Website Link: Travis CI
Pricing: It is open-source free software. For the enterprise plan contact their sales.
Egg Plant
TestPlant eggPlant is completely different from traditional testing tools in its approach: modeling the user's point of view rather instead of the test scripts view often seen by testers. This allows testers with less programming skills to learn and apply test automation intuitively. The tool supports various platforms like Web, mobile, and POS systems. It offers lab management and CI integration as well.
Website Link: Egg Plant
License: Commercial
Watir
Watir is an open-source testing tool for web automation testing based on Ruby libraries. Watir supports cross-browser testing including Firefox, Opera, headless browser, and IE. It also supports data-driven testing and integrates with BBD tools like RSpec, Cucumber, and Test/Unit.
Website Link: Watir
License: Open-source
Tricentis Tosca
Tricentis Tosca is a model-based test automation tool that provides quite a broad feature set for continuous testing including dashboards, analytics, and integrations to support agile and DevOps methodologies.
Tricentis Tosca helps users to optimize the reusability of test assets. Like many other test automation tools, it supports a wide range of technologies and applications such as web, mobile, and API. Tricentis Tosca also has features for integration management, risk analysis, and distributed execution.
Website Link: Tricentis Tosca
License: Commercial
Test Sigma
Test Sigma is an AI-Driven automation testing tool for continuous testing in Agile & DevOps. It automates end-to-end testing for web, mobile apps & APIs.
Features:
It can be integrated with Slack, Jira, GitHub, BrowserStack, Jenkins, Sauce Labs.
It provides you with an option to use your local devices for parallel execution of tests.
It supports browsers like Google Chrome, Mozilla Firefox, Safari, IE, Edge.
It supports iOS and Android devices on a public cloud of Test Sigma
It supports testing app on any device including Desktops, Laptops, Mobiles, Tablets
Website Link: Test Sigma 
Price: Testsigma offers a free trial of 30 days.  There are three pricing plans.
Basic plan at $249 per month
Pro plan at 349 per month
Enterprise plan – Contact their sales.
IBM Rational Functional Tester (RFT)
IBM RFT is a data-driven testing platform for functional and regression testing. It supports a wide range of applications such as .Net, Java, SAP, Flex, and Ajax. RFT uses Visual Basic .Net and Java as scripting languages. RFT has a unique feature called Storyboard testing in which users' actions on AUT are recorded and visualized in a storyboard format through application screenshots.
Another interesting feature of RFT is its integration with IBM Jazz application lifecycle management systems such as IBM Rational Team Concert and Rational Quality Manager.
Website Link: Rational Functional Tester
License: Commercial
Test Complete
TestComplete by SmartBear is a powerful commercial testing tool for web, mobile, and desktop testing. TestComplete supports various scripting languages such as JavaScript, VBScript, Python, and C++Script. Like Katalon Studio, testers can perform keyword-driven and data-driven testing with TestComplete. The tool also offers an easy-to-use record and playback feature.
Like UTF, TestComplete's GUI object recognition capability can automatically detect and update UI objects which helps reduce the effort to maintain test scripts when the AUT is changed. It also integrates with Jenkins in a CI process.
Website Link: TestComplete
License: Commercial
QuerySurge
QuerySurge is the smart data testing solution that automates validation & testing of critical data that is the first-of-its-kind fully automated DevOps solution for continuous testing of your DataOps pipeline.
Features:
Teams have access to 60+ API calls with almost 100 different properties
Integrates with virtually all DevOps and DataOps solutions in the marketplace
Testers can choose between a Command-Line API or a RESTful API
Testers can dynamically generate, execute, and update tests and data stores utilizing API calls
Website Link: Query Surge 
Pricing: Contact Sales 
It offers a free trial
Jmeter:
Apache JMeter is an open source software designed to load test functional behavior and measure performance and can be used in DevOps methodology. It can be used to simulate a heavy load on a server, group of servers, network or object to test its strength or to analyze overall performance under different load types.
Features:
Ability to load and performance test many different applications/server/protocol types such as Web, SOAP, REST Webservices, etc.,
Full-featured Test IDE that allows fast Test Plan recording (from Browsers or native applications), building, and debugging.
Easy Continuous Integration through 3rd party Open Source libraries for Maven, Gradle, and Jenkins
Website Link: JMeter
Jenkins:
Jenkins is an open-source DevOps testing tool. It supports us to automate all sorts of tasks related to building, deploying, and automating any project. It allows us to build and test our software quickly. It offers more than 1000 plugins. It integrates with almost all DevOps tools.
Features:
Easy set up and configure.
It is cross-platform and can be used on Windows, Mac OS, Linux, etc.,
It can perform automated testing of builds
We could publish results and send email notifications to all the team members.
It provides continuous integration and continuous delivery service for software development
Easily perform work distribution across several machines.
Website Link: Jenkins 
Pricing: Free
Bamboo:
Bamboo is a continuous integration and deployment tool that ties automated builds, tests, and releases together in a single workflow.
It is an Atlassian's CI/CD server solution so it integrates seamlessly integrates with other Atlassian products such as BitBucket and JIRA. It comes with many prebuilt functionalities and saves you a lot of configuration time.
Features:
Easy to setup
Run tests in parallel batches as it supports up to 100 remote build agents.
It can connect with Jira Software, Bitbucket, Fisheye & Crucible, and hundreds of other tools!
It support technologies and languages like Docker, Git, SVN, AWS CodeDeploy,
End-to-end visibility into release implementation, quality, and status with tight Jira Software and Bitbucket Server integration.
Website Link: Bamboo 
Pricing: The pricing starts at $10 for 10 jobs. It also has 2 different plans:
Small Teams at $10 for 10 jobs
Growing Teams at $1100 for unlimited jobs, unlimited local agents, and 1 remote agent.
Price varies depends on the number of remote agents. You can get up to 1000 remote agents and the price of 1000 remote agents is $145480.
Bamboo offers a free trial for 30 days.
Docker:
Docker is a DevOps technology suite for developers and sysadmins to build, run, and share applications with containers. It offers two products i.e., Docker Hub and Docker Enterprise.
Features:
It supports automated testing, CI/CD, etc.
User management with role-based access controls
Repository management both public and private
It runs on Linux and Windows
Website Link: Docker 
Pricing: The pricing starts at $7 per month. It also has 2 different plans:
Pro at $7 per month for individuals
Team at $9 per user per month for organizations
Docker also offers a free plan for every developer, including unlimited public repos and one private repo.
PagerDuty:
PagerDuty is an incident management platform for monitoring systems and triggering alerts. This DevOps tool empowers developers to deliver production-ready applications by putting them closer to the performance of your code.
Website Link: PagerDuty 
Pricing: The pricing starts at $10 up to 6 users/month. It also has 3 different plans:
Starter at $10 up to 6 users per month.
Team at $29 per user per month.
Business at $39 per user per month.
PagerDuty also offers a 14-day free trial and a Customized Plan.
JIRA(developed by Atlassian):
According to Atlassian, JIRA is used for issue tracking and project management by over 50,000 customers. Companies like Twitter, Nasa, Audi, The Telegraph, and much more are using JIRA Software. It is a commercial tool and it provides a free trial.
Type: Commercial and free trial available
Website Link: JIRA 
Pricing: It comes with a free forever plan for up to 10 users. It has 2 different plans with free trials i.e., Standard and Premium plan.
Standard plan at $7 per user per month for up to 5000 users
Premium plan at $14 per user per month for up to 5000 users
GitHub
GitHub brings together the world's largest community of developers to discover, share, and build better software. It allows us to review the code, manage projects, and develop software. You can automate your workflows by build, test, deploy, and run CI/CD the way you want in the same place you manage code.
Website Link: GitHub 
Pricing: With its free plan, you can use unlimited public/private repositories. It has 2 different plans.
Team plan at $4 per user/month
Enterprise plan at $21 per user/month
Conclusion:
Overall, continuous testing is all about testing early and often. While continuous testing is beneficial in many ways, it can also be challenging. So make sure that you have a solid plan in place before incorporating this testing procedure into your organization.
If I miss any of your favorite continuous testing tools, please comment below or contact us.
Related Posts:
If you are looking to dig into our latest posts then check out our homepage.
Like this post? Don't forget to share it!
Happy Testing!
Disclaimer: The order of these tools doesn't suggest any recommendations.