11 Best Data Warehouse Automation Tools in 2023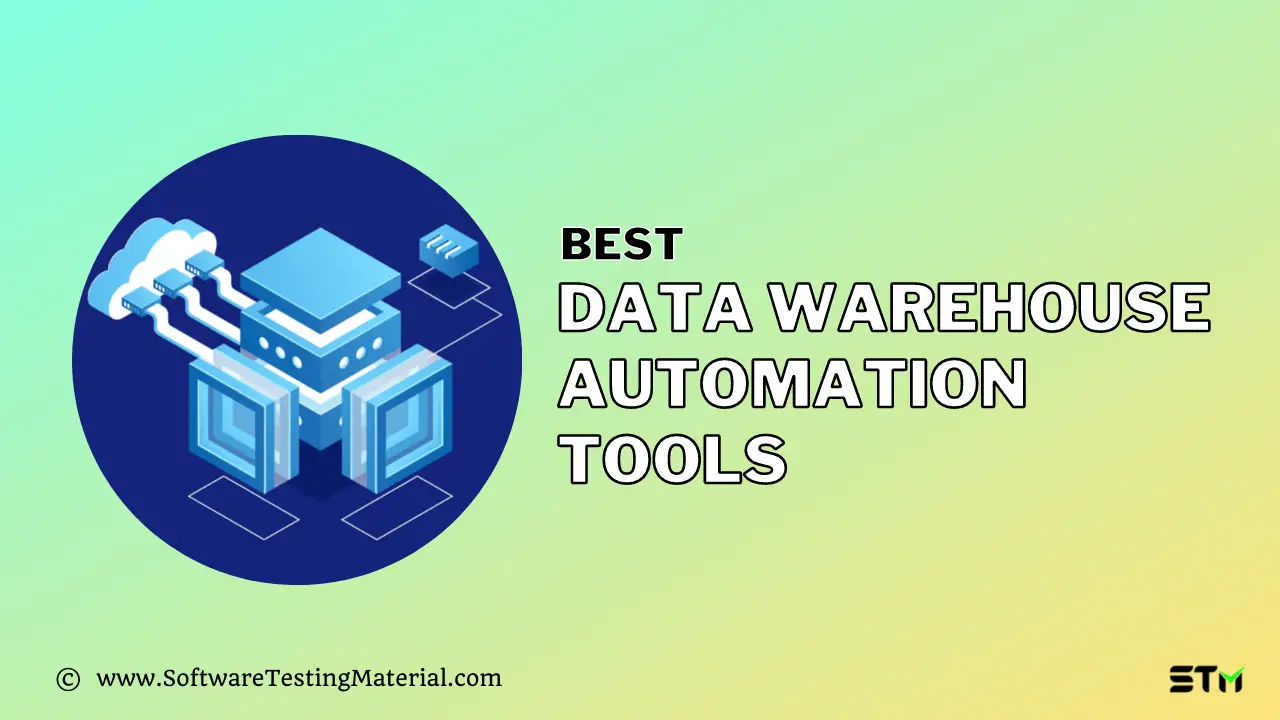 Data warehouse automation refers to the strategy of automating and streamlining the data warehouse creation cycles while ensuring consistent quality and performance. DWA is considered to offer near-term automation of the full lifecycle of a data warehouse, starting from source code analysis to comprehensive documentation to operationalizing the warehouse.
Enterprise data warehouses (EDW) are crucial for using historical data for business reporting functions. However, the standard methods to compiling and handling colossal data volumes via manual ETL coding are no longer effective. In today's competitive enterprise market, business agility and time are crucial. For such requirements, DWA software reduces the manual efforts involved in building and deploying data warehouses and synthesizing data for business coverage.
Comparison – Best Data Warehouse Automation Software
| Name | Logo | Deployment | Pricing | Link |
| --- | --- | --- | --- | --- |
| ActiveBatch | | On-premises, Cloud-based & Hybrid. | 30-day free trial available. Contact them for a quote. | Learn more |
| Redwood | | SaaS, On-premises, Cloud-based & Hybrid. | 30-day free trial available. Consumption-based pricing model. | Learn more |
| Tidal Software | | On-premises, Cloud-based & Hybrid. | 30-day free trial available. Contact them for a quote. | Learn more |
Benefits of Data Warehouse Automation
DWA is to reduce the operational workload by automating business process areas such as data warehouse automation or processing with source code. This enables businesses to focus on core business processes while relieving them of tedious and time-consuming process deployment processes.
Data warehouse applications make it possible to run applications and reports automatically. This means that instead of having to manually perform certain operations as part of an organization's data warehouse process, such as retrieving information, analyzing it, and reporting it to a certain team, an administrator can do so with much ease and very little additional effort.
Features of Data Warehouse Automation
It automates and consolidates business process areas, such as finance, supply chain, and customer service processes. With this approach, business owners can take advantage of cost savings and faster implementation times in order to boost bottom-line margins.
List of Best Data Warehouse ETL Automation Tools
#1. ActiveBatch

ActiveBatch offers Data Warehouse and ETL Automation functions with which you can optimize your ETL processes for real-time data warehousing. It also orchestrates end-to-end data warehouse processes. With this tool, you can simplify data warehouses by consolidating and coordinating multiple data management tools like ETL tools and BI platforms.
Features:
You can automate data repository updates for improved data quality and reporting.
With this tool, you can manage and control large amounts of data in different IT systems and ensure on-time delivery of accurate reports.
It triggers data warehousing and ETL processes as per external conditions. You can also perform constraint-based scheduling and granular date/time scheduling.
You can add multiple checkpoints in data warehouse processes to restart steps without impacting the entire batch process.
It let users standardize compliance policies for data across the enterprise.
Verdict: With ActiveBatch, you can build reliable workflows to manage data and dependencies across disparate, heterogeneous systems. It is one of the best IT solutions which helps you automate, monitor, and managing critical data warehouse processes.
Pricing: Contact them for a quote. They offer a 30-days free trial.
#2. Redwood RunMyJobs

Redwood RunMyJobs Data Warehouse Automation Tools are designed for businesses that need to automate their data warehouse processes. With these tools, businesses can schedule and run their data warehouse jobs automatically, without the need for manual intervention. This can save businesses time and money by reducing the need for staff to manually runjobs. In addition, these tools can help businesses to improve the accuracy of their data warehouse processes, as well as to improve the efficiency of their data warehouse operations.
Features:
Redwood RunMyJobs orchestrates the automation of SAP, Oracle, and other vendors' platforms.
Any application or database may be used to create automated data pulls, including Hadoop.
Ensure that data is secure and accessible.
Simple API wizards will assist you in quickly integrating REST or SOAP web services.
Verdict:
The functionalities of Redwood's data warehouse management platform allow you to create processes that feed into existing ETL, OLAP, and BI tools with ease. It enables you to monitor data pipeline activities from a single location. It has the ability to execute process flows based on any criteria that you define.
Pricing: They also offer a free demo. Contact them for a quote.
#3. Tidal Software

Tidal Software offers an array of data warehouse and ETL automation functions, helping you to streamline your ETL processes for real-time data warehousing.
Moreover, their platform orchestrates end-to-end data warehouse activities so that you can consolidate and coordinate the different components within your operation such as BI platforms and ETL tools with ease – simplifying otherwise complex operations!
Tidal helps organizations reduce risk, increase efficiency and improve visibility by enabling automation across the entire enterprise.
Features:
Tidal Software is packed with remarkable features, such as job scheduling, resource optimization, workload management and comprehensive system monitoring. With these tools at your disposal you can have total control of your operations.
This platform provides users with an astonishing range of analytics that empower them to make smarter decisions and gain meaningful insights into their operations.
Streamline your workload management tasks and get an all-inclusive view of job progress and resource utilization across multiple systems. Do away with manual, time-consuming processes to maximize results.
Leveraging its cutting-edge technologies, users are now able to utilize their resources to the fullest by taking advantage of automated job distribution, scheduling optimization and event triggers that can be used for complex workloads while optimizing resource consumption.
Pricing: Contact them for a quote.
#4. Oracle Data Warehouse

It is a cloud data warehouse service that gets rid of all the complexities of operating a data warehouse, securing data, and creating data-driven applications. Oracle data warehouse solution also automates provisioning, configuring, securing, tuning, scaling, and backing the data of the warehouse.
It offers tools for self-service data loading, data transformations, business models, automatic insights, and built-in converged database capabilities, which enable simple queries across multiple data types and machine learning analysis.
Features:
This tool is available in both the Oracle public cloud and customers' data centers with Oracle Cloud@Customer.
You can create data-driven applications and building sophisticated analytical models.
It automates common tasks like backup, performance tuning, autoscaling, configuration, and patching with no downtime, human intervention, or over-provisioning.
Oracle Data warehouse offers comprehensive data and privacy protection by encrypting data at rest & in motion.
You can consolidate data from various enterprise systems, spreadsheets, and 3rd party data sources into an integrated data store.
Verdict: It is a complete solution that uses a converged database offering built-in support for multimodel data and multiple workloads. With this software, you can reduce administration effort by up to 90%. It also enables business teams to operate without help from the IT team.
Pricing: Its prices start at $1.3441 OCPU per hour.
#5. Amazon Redshift

Amazon Redshift analyzes all of your data with the fastest and widely used cloud data warehouse. It is a cloud-based data warehouse that integrates to your Data Lake & AWS services. It allows you to combine exabytes of structured and semi-structured data on your data warehouse, operational database, and Data Lake using SQL. You can also save the results of your queries to S3 Data Lake using open formats, such as Apache Parquet.
Features:
It is the fastest cloud data warehouse available in the market. The new RA3 instances will assist you with performance-intensive workloads. It helps in enhancing performance 3 times than the other enterprise cloud data warehouse.
It offers price-performance advantage, which improves as your data warehouse grows from gigabytes to exabytes.
With the help of AQUA, Redshift can run queries up to 10x faster than other enterprise cloud data warehouses.
You can automatically scale your data warehouse storage capacity without the need to pay for additional compute expanses.
Verdict: It is a powerful, simple, and cost-effective solution to run high-performance queries on petabytes of structured and semi-structured data. You can also create reports using QuickSight or other business intelligence tools. Redshift can be used by small, medium, and large enterprises.
Pricing: They offer a free trial for 2 months. It prices start from $0.25 per hour and go up to $1000 per terabyte per year.
#6. Zapbi ETL Data Warehouse Automation Software

Zapbi is another excellent data warehouse automation software with which you can automate access, integration, and preparation of structured business data for fast BI testing. It is compatible with multiple ERP, CRM, and financial systems and databases. You can automate data management for PowerBI, Tableau, Qlik, or any self-service BI tool.
It automatically collects, integrates, and prepares data for BI users with the help of Data collection, Data integration, Data preparation, and Data governance.
Features:
ZAP automates hybrid data collection from ERP, CRM, finance systems, databases. files, and more.
It gives high-speed, stable data migration for large and complex data sets.
It has a zero-code interface and follows an agile approach. It provides wizard-based automation.
It handles multiple cloud and on-premise systems.
ZAP automated semantic layer features cross-ledger querying, hierarchies, and aggregations, and materialized calculations.
Verdict: With this tool, users can automate data collection, data modeling, data integration, and the creation of a data warehouse. The platform is flexible. It meets all your reporting needs as data sources can be added easily.
Pricing: Contact them for a quote.
#7. WhereScape Data Warehouse Automation

WhereScape offers WhereScape 3D feature with which you can plan, model, and design any type of data infrastructure project. It offers data discovery and profiling capabilities to bulletproof your design and rapid prototyping to collaborate with business users. Other products offered by WhereScape are WhereScape® Red and WhereScape® Data Vault Express.
It is an excellent platform to design, develop, deploy, and operate. It includes dimensional, 3NF, and Data Vault 2.0 methodologies.
Features:
It supports platforms such as Microsoft SQL Server, IBM DB2, IBM Netezza, Oracle, Snowflake, Teradata, Hadoop, Hive, etc.
With this tool, you can fast-track the development, deployment, and operation of your data infrastructure projects. It helps in reducing the delivery time, effort, cost, and risk of new projects.
With Data Vault 2.0 feature, you can automate the entire life cycle. It also speeds up initial development time by 2/3rd, iterates rapidly, respond quickly to change, and improves maintainability.
WhereScape 3D also reduces time to production by 80%.
Verdict: It is a leading data platform that provides out-of-the-box practices, optimized native code, and features for popular target data platforms. Whether on-premises, cloud, or a combination of both, WhereScape provides the best data automation solutions.
Pricing: Contact them for a quote.
#8. Astera ETL Software

Astera is a high-performance, user-friendly ETL software to create an integrated data ecosystem. It offers data integration and transformation capabilities for data of any complexities. It also supports the data of various formats from complex hierarchical files & structured document formats like EDI and legacy data.
Features:
It has a code-free and user-friendly UI.
It offers cluster-based architecture that accelerates the integration and transformation of large datasets by distributing jobs across multiple nodes.
Astera has rich data mapping and transformation capabilities.
You can define data quality rules and validate coming data against them in order to identify and correct missing or inaccurate values.
Verdict: It is an enterprise-ready ETL solution that offers data integration and transformation capabilities for data of any size in various formats. By ensuring connectivity on on-premise databases, cloud-based applications, and so on, Astera helps companies gain a unified view of their data assets to make holistic and data-driven decisions. This platform helps synchronize, transform, and move data across preferred locations.
Pricing: Contact them for a quote. They also offer a free trial.
#9. Qlik Compose

Qlik Compose, previously known as Attunity Compose is another powerful data warehouse software. It empowers data architects and data warehouse teams to design, create, and operate the enterprise data warehouse without doing any manual coding. It simplifies DW design, creation and operations, and accelerates all phases of the data warehouse lifecycle.
Features:
With the help of Qlik Compose, businesses can launch new data warehouses and data marts quickly, both on-premises and in the cloud settings.
You can also update data warehouse models as well as add new data sources according to fast-changing business requirements.
You can also be able to reduce the costs of creating and maintaining data warehouses and data marts.
It also enables real-time data warehousing.
You can quickly design, create, load, and maintain data marts.
Verdict: Qlik Compose deliver business value faster, with fewer resources, at low cost, and less project risk. It allows businesses to import industry-standard models like Inmon, Kimball, and Data Vault.
Pricing:
Qlik Sense Business – $30 per user per month
Qlik Sense Enterprise SaaS – $70 per user per month
#10. Bitwise QualiDI

Bitwise is another great tool used for centralized testing of one or more ETL tools. It offers cloud-centric digital transformation solutions which have the ability to transform processes, systems, and applications. You can perform data validation at the same time transfer data sets from multiple operational systems to a data warehouse. This tool can be used to automate ETL testing from any Source to any Target.
Features:
Its top features include Big data testing, JIRA integration, in-built scheduling capability, support for complex transformation rules, logical test data generation, and so on.
It offers features for administration, reporting, and tracking.
Verdict: It offers an enterprise-wide solution used to centralize testing of one or more ETL tools.
Pricing: Contact them for a quote.
#11. Informatica Data Validation

It is an ETL testing tool. Without coding skills, you can deliver complete, repeatable, and auditable test coverage faster.
Features:
It offers Source to Target testing.
Informatica provides ETL testing automation and management capabilities to ensure that the data update process does not compromise your production systems.
It offers automation and visibility for ETL testing in order to ensure trusted data is delivered in your production system updates.
Verdict: With Informatica, you can reduce 50% to 90% of the time and resources required to do ETL testing.
Pricing: Contact them for a quote.
#12. Codoid ETL Testing Services

Codoid is an ELT and Data Analytic testing tool. It includes the source to target testing. You can then use various Business Intelligence (BI) tools offered by Codoid to generate meaningful reports, dashboards, and visualizations.
Features:
It performs activities ranging from reviewing the data model to data integrity and quality checks in the target system.
Codoid also run tests for data completeness.
The automated metadata testing process includes a close inspection on Data type, Data length, Index /Constraint, etc.
Verdict: With this tool, you can get the benefit of test coverage, Quality Insight, Testing Efficiency, and Collaboration. It also offers great Navigation/GUI testing.
Pricing: Contact them for a quote.
#13. Datagaps ETL Validator

Datagaps offers ELT testing tools like ELT validator. With this software, you can do automate Testing of ETL, Relational, Flat Files, XML, NoSQL, Cloud, and Big Data Sources.
Features:
It is capable of extracting and comparing millions of records from various data sources while executing tests in parallel.
It provides connectivity to a variety of data sources, relational databases, cloud data warehouses, Data Lake, flat files, and SaaS.
Datagaps also provides data model-driven interface for defining data rules.
Verdict: ELT Validator comes with various features and functionalities like data profile testing, DB metadata testing, end-to-end data testing, and so on.
Pricing: Contact them for a quote. They also offer a 30-days free trial.
Conclusion
Data Warehouse Automation software automates the complete data warehousing cycle, including planning, design, development, deployment, analysis, change management, and maintenance. These tools offer an agile and flexible platform that accelerates data warehousing by automating time-consuming and recurring asks, allowing a business to refocus its resources on design and optimization. These were some of the top data warehouse automation tools.
Related posts: