Sample Test Scenarios for TV (Test Cases for Television)
In order to effectively test a television, it is important to create a set of test scenarios for tv that will cover all aspects of its performance.
Testing of TVs is essential to ensure that the products are safe and efficient for customers.
It also allows manufacturers to identify potential issues or defects before they hit store shelves.
Test scenarios should be designed with the end user in mind. This means that the tests should simulate real-world use cases and scenarios as much as possible. For example, a test scenario should include turning on and off the TV multiple times at different intervals to ensure that it is able to handle frequent usage without any issues.
Additionally, test scenarios for TVs should include testing of all features such as picture quality, sound quality, remote control functionality, power consumption, and safety.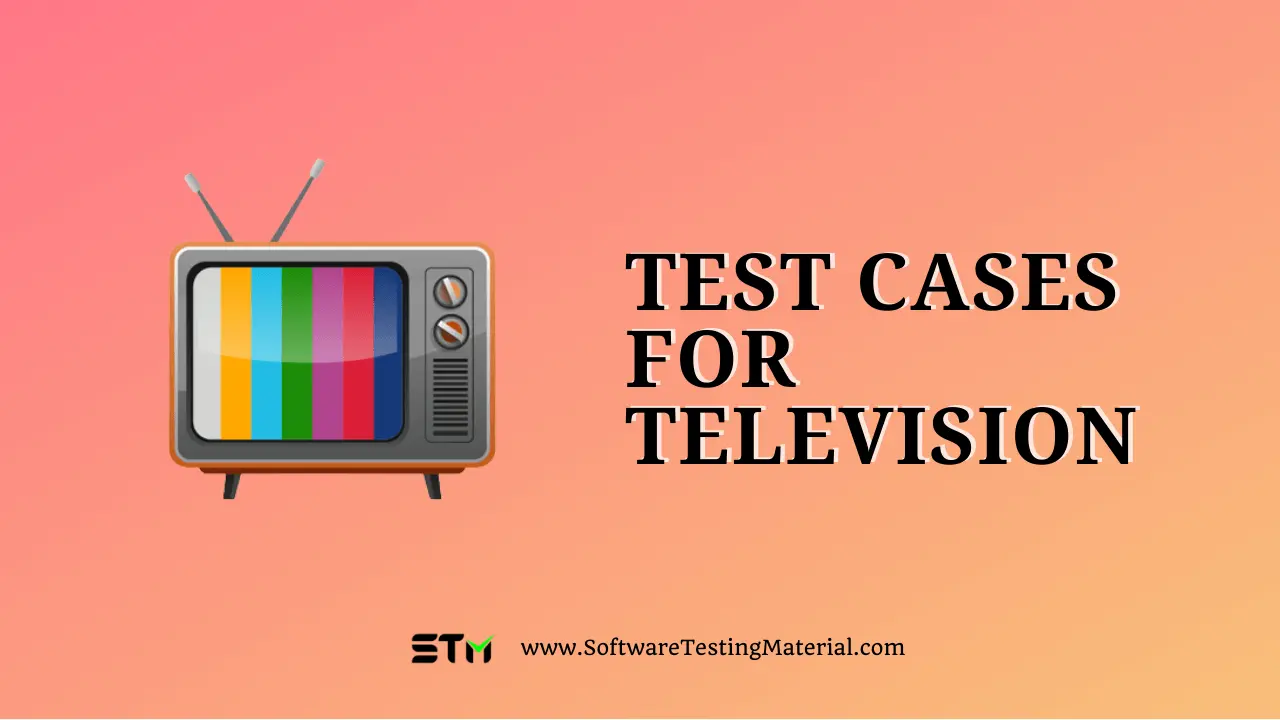 Test Scenarios for Television
Verify the user interface to ensure it is intuitive and easy to use.
Verify picture quality across different inputs and settings.
Verify image quality in various lighting environments to ensure that the image quality remains high despite varying levels of ambient light.
Tests should be conducted using a variety of input devices such as Blu-ray players, DVD players, and gaming consoles to determine how well the TV handles different types of content.
Run stress tests for extended periods of time at different settings such as volume, brightness, and contrast. It is to ensure that the TV can handle long periods of usage without any major issues.
Tests should be conducted in different temperature environments to ensure that the TV can withstand extreme temperatures without any issues.
Check all components such as the power supply, circuit boards, and tuners to identify any potential problems with these parts before they are integrated into the TV.
Run durability tests to simulate everyday usage scenarios such as dropping or bumping the TV.
Verify remote control and other accessories are durable and reliable
Tests should be conducted on all ports including HDMI, USB, and audio outputs to identify any potential problems with these connections before the product is released.
Verify power consumption for safety and efficiency.
Verify product meets consumer expectations by conducting tests in various locations such as living rooms, bedrooms, and offices.
Verify product adheres to applicable regulatory standards for safety, performance, etc..
Check for compatibility with third-party devices and applications.
Verify audio quality levels are consistent across all input sources.
Verify sound quality by listening to music or testing speech clarity in order to determine if the audio is clear and of high quality.
Verify product for energy efficiency and certification standards in order to reduce electricity usage and save money for consumers.
Verify any potential hazards or risks of injury due to electrical shock should be investigated thoroughly.
General Test Cases for TV
Verify the dimensions ( length, breadth, and height) of the TV
Verify the material of the TVs outer body and the screen.
Ensure that all the buttons on the TV are functioning correctly.
Ensure that all the buttons on the remote are functioning correctly.
Ensure that buttons on the TV have clearly visible labels.
Ensure that buttons on the remote have clearly visible labels.
Ensure that upon providing the designated power supply, the television is activated by pressing the 'Power' button.
Verify if the logo aligns with the given specifications.
Verify if the power input activates the branded logo of the TV before proceeding to the menu options
Ensure that the remote control is ergonomically designed for comfortable handling.
Verify if the screen size meets the specified requirements.
Verify if the TV is being operated by the remote control or not.
Verify if the user is capable of implementing the child locking feature.
Verify whether the user is capable of performing both manual and automatic channel searches.
Verify if the parental controls can be applied to the TV with a password or other credentials.
Ensure that accidentally powering off does not cause any harm to the built-in booting feature of the TV.
Ensure that occasional power outages do not impact the internal components of the TV.
Conclusion
Overall, creating effective test scenarios for TVs is a crucial step in the product development process. By creating realistic simulations of real-world usage, manufacturers can ensure that their products are safe and efficient before they hit store shelves.
Test scenarios should also be updated regularly to reflect any changes in technology or consumer trends. This will ensure that the testing process remains effective and allows manufacturers to quickly identify any potential issues with their products.
Related posts: