Selenium is one of the automation testing tools which is an open source tool. Selenium automates web application. Selenium is used for functional and regression testing of web applications. Selenium supports multiple programming and scripting languages like Java, Ruby, Perl, PHP and Python to code the logic behind the test scripts.
There are some challenges and limitation in Selenium
As we all know Selenium WebDriver is a tool which automates the browser to mimic real user actions on the web. Selenium is a free open source testing tool. Some of the challenges with Selenium WebDriver are as follows: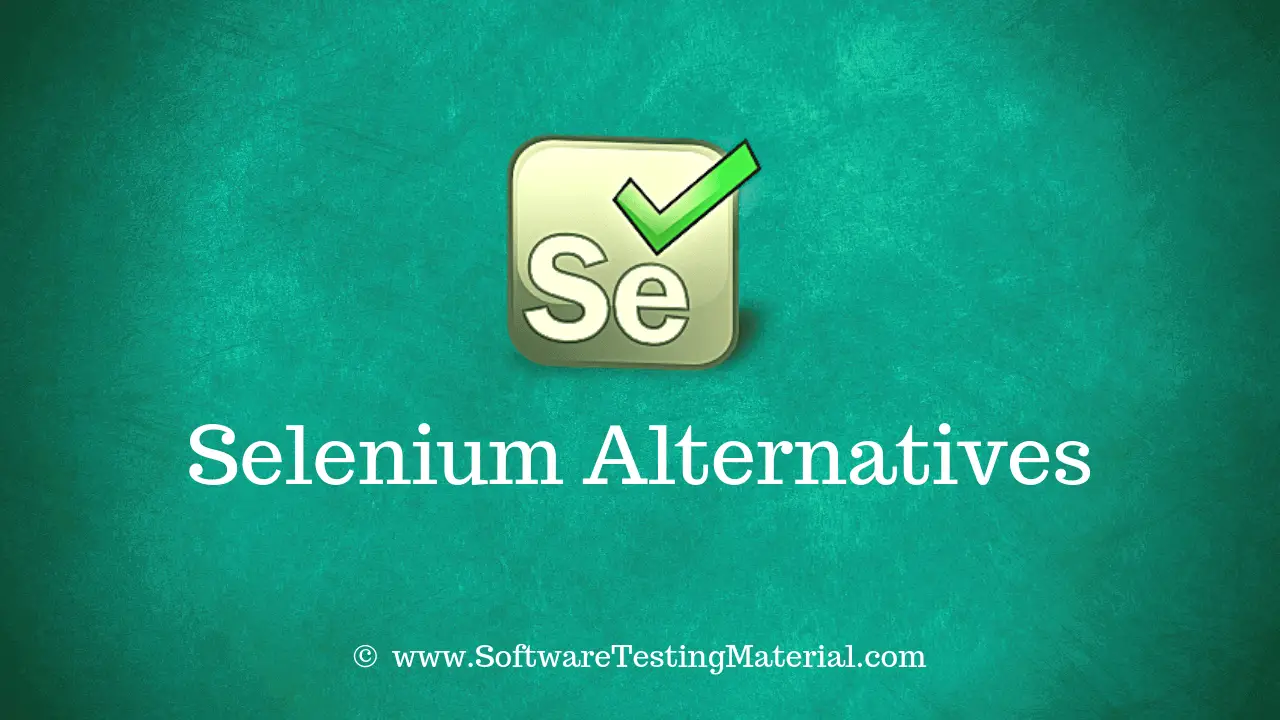 The Best Selenium Alternatives In 2020
Let's see some of the alternatives to Selenium.
Subject7
Protractor
Katalon Studio
Tricentis Tosca
Watir
Sahi Pro
Ranorex Studio
Squish
Serenity
UFT (Unified Functional Test)
mabl
Robot Framework
Cypress
Functionize
TestCraft
TestCafe Studio
Cypress.io
PhantomJS
Testim
Ranorex Webtestit
CasperJS
Ghost Inspector
Screenster
Endtest
Browsersync
Subject7
Subject7 is a State-of-the-art cloud-based platform for end-to-end test automation which covers web, native mobile, desktop, database, web services (REST and SOAP), load testing, security testing, 508/accessibility testing, manual testing, and much more. The Subject7 Platform provides end-to-end test automation capabilities through a series of commands. These commands are available via an easy-to-use web interface, hiding the complexities of industry-standard packages such as Selenium, Appium, SikuliX, JMeter, ZAP, and others.
Subject7 Player, which executes these automation commands, is available on users' machines (for authoring and debugging), in the cloud for parallel execution, as a load-generating engine, and for active or passive security checks, all using the same commands making automation uniform across-the-board.
Extensive APIs allow for integration into JIRA, Jenkins, GitHub, or any DevOps platform for test automation in real time. It is further available on public, protected, or private clouds (i.e. on-premise).
Website: Link
Pricing: Commercial SaaS
Protractor:
Protractor is an end-to-end test framework for Angular and Angular JS applications. Protractor runs tests against your application running in a real browser, interacting with it as a user would. Protractor is a node.js port of the webdriver.io, which is the JavaScript implementation of Selenium framework.
Protractor is a Node.js program that supports test frameworks like Jasmine, Mocha, and Cucumber.
Pricing: Free
Katalon Studio
Katalon Studio is a free automation test tool provide a common environment to create and execute UI functional, API/Web services and mobile testing.
The capability to combine UI and Business levels (API/Web services) for different environments (Windows, Mac OS, Linux) has been considered an advantage of Katalon Studio.
Katalon Studio supports SOAP and RESTful request with various types of commands (GET, POST, PUT, DELETE) with parameterized capability.
Highlights:
Support combination test between UI and API verification.
Support testing both SOAP and RESTful requests.
Hundreds of built-in keywords for creating test cases .
Support one of the most powerful assertion library, AssertJ to create fluent assertion with BDD style.
Support data-driven approach.
Can be use for both automated and exploratory testing.
Suitable for both pros and non-techies
Website: https://www.katalon.com
Pricing: Free
Tricentis Tosca
Tricentis Tosca is a continuous testing platform for Agile and DevOps. Benefits of Tricentis Tosca include:
Supports many array of protocols: HTTP(s) JMS, AMQP, Rabbit MQ, TIBCO EMS, SOAP, REST, IBM MQ,NET TCP
Integrates into the Agile and DevOps Cycle
Maximize reuse and maintainability with model-based test automation
API tests can be used across mobile, cross-browser, packaged apps, etc…
Achieve sustainable automation with new technology
Reduce the time of regression testing
Website: https://www.tricentis.com/
Pricing: Contact Sales
Watir:
Watir stands for Web Application Testing In Ruby. Its an open source Ruby library for automating tests. Watir interacts with a browser the same way people do: clicking links, filling out forms and validating text. It is a open source regression testing tool. It can be used to automate regression testing suites.
It's a free Open Source tool.
Light-weight and easy to use tool
It supports multiple browsers on different platforms.
Cross-platform OS support
Technology independent
Pricing: Free (Open source)
Official website: Link
Download: Link
Sahi Pro:
Sahi Pro helps automate functional testing of web applications. Sahi Pro by default supports web application and REST API automation. Sahi Pro is well suited for cross-browser/multi-browser testing of complex web 2.0 applications with lots of AJAX and dynamic content. Sahi Pro runs on any modern browser which supports javascript. It supports you to test web browsers, desktop, and mobile apps. It is a tester focused automated regression testing tool.
Inbuilt Excel framework to let your business analysts and non-technical professionals contribute towards testing.
Simple and powerful APIs
Object spy and recorder
Automatic logging and reporting
Parallel and distributed playback
Continuous integration
Test any browser on any operating system
Test any Windows desktop applications
Test any iOS and Android, Native and Hybrid Applications
Free Trial: 30 days
Pricing: starts $695 per year
Official website: Link
Ranorex Studio:
Ranorex enhances the quality and maximizes your resources for automated regression tests. Ranorex Studio is an all-in-one tool for test automation allows to perform end-to-end testing using real devices or emulators/simulators, and run tests across different platforms, devices or technologies. It supports cross-browser testing for Chrome, Firefox, Safari, Microsoft Edge, and more
Robust object identification. Instantly track and analyze UI elements of your desktop, web, or mobile application with Ranorex Spy – even dynamic ones.
Effortlessly create test automation projects without coding.
Create flexible test automation scripts using standard programming languages.
Data-driven and keyword-driven testing.
Integrates with tools like Jira, Jenkins, TestRail, Git, Travis CI, and more.
Free Trial: free 30-day trial
Pricing: $2990 (includes one year of maintenance and professional support)
Official Link: Link
Froglogic Squish: 
Graphical user interface (GUI) testing is the process of testing an application's visual elements. It is done to make sure all the visual features are behaving as expected. GUI Testing is mostly done by manual testers. Time consumption is very high due to manual testing. While conducting GUI Testing manually, we spend more time and money. To save a lot of time in the current Agile Days, we need to have an automation tool to test GUI. Froglogic Squish GUI Automation Tool is one of the best choices in terms of GUI Automation Tools.
Supports Behavior Driven Development and Testing: Squish support BDD. It is 100% compatible with Gherkin language which is a standard BDD language.
Multi-Language Support: Create test cases using JavaScript, Python, Perl, Ruby, and Tcl
Record and Playback: It has an ability to record and replay tests. Easy to record and run the test suites. Squish GUI Tester interacts with the AUT objects and records user actions and displays the recorded script in our preferred languages such as JavaScript, Python, Perl, Ruby, and Tcl
Powerful and intuitive Integrated Development Environment (IDE): Squish IDE, Eclipse-based IDE, make the GUI Testing process easier.
Wide Integration Options: It can be incorporated with ALM, Continuous Integration, Build Integration, Test Management and Software Project Management integrations. It can be integrated with HP Quality Center / HP ALM, Microsoft Visual Studio/TFS/MTM Integration, Rational Quality Manager, Seapine TCM Integration, Maven, Ant, TeamCity, Bamboo, Jenkins/Hudson.
Data Driven Testing: It allows Data Driven Testing. Drive your scripts with data from a variety of data sources such as CSV, TXT, TSV, MS Excel, Databases.
Distributed Batch Testing: It allows to execute sets of scripts or batches, and review the detailed logging and execution results
Hybrid Application Testing: Seamlessly automate multi-technology applications or applications with more than one toolkit
Visual Verification of Application components: Visual verifications are a hybrid form of property and screenshot verifications. It has advanced verification options of elements and group of controls.
Free Trial: free 30-day trial
Official Link: Link
Serenity:
Serenity BDD is an open source library that helps you write higher quality automated regression and acceptance tests faster.
Write tests that are more flexible and easier to maintain
Produce illustrated, narrative reports about your tests
Map your automated tests back to your requirements
See how much of your application is actually being tested
And keep tabs on project progress
Pricing: Open source
Official Website: Link
UFT:
Unified Functional Testing (UFT) is a well-known commercial testing tool for functional testing. It provides a comprehensive feature set for API, web services, and GUI testing of desktop, web, and mobile applications across platforms. The tool has advanced image-based object recognition feature, reusable test components, and automated documentation.
UFT uses Visual Basic Scripting Edition to register testing processes and object control. UFT is integrated with Mercury Business Process Testing and Mercury Quality Center. The tool supports CI via integration with CI tools such as Jenkins.
Website: https://software.microfocus.com/fr-ca/software/uft
Mabl:
Mabl is a next generation automated script less cross browser testing tool. It uses the power of machine learning and artificial intelligence to enable easy functional testing of applications. The only SaaS service with native support for Chrome, Firefox, IE, and Safari. All without leveraging any 3rd party test-cloud beyond mabl.
Reuse tests across different browsers
Run infinite tests in parallel
Testing nodes are scaled up in the cloud as you need them, with real browser installations on virtual machines.
Free Trial: 14 day free trial
Official Link: Link
Robot framework:
Robot Framework is an open-source automation framework that implements the keyword-driven approach for acceptance testing and acceptance test-driven development (ATDD). Robot Framework provides frameworks for different test automation needs. But its test capability can be further extended by implementing additional test libraries using Python and Java. Selenium WebDriver is a popular external library used in Robot Framework.
Test engineers can leverage Robot Framework as an automation framework for not only web testing but also for Android and iOS test automation. Robot Framework can be easy to learn from testers who are familiar with keyword-driven testing.
Website: http://www.robotframework.org/
License: Open-source
Selenium has been great pieces of technology that critically changed the automation testing history but the tools which we mentioned here are good to try.