15 Best IT Asset Management Software in 2023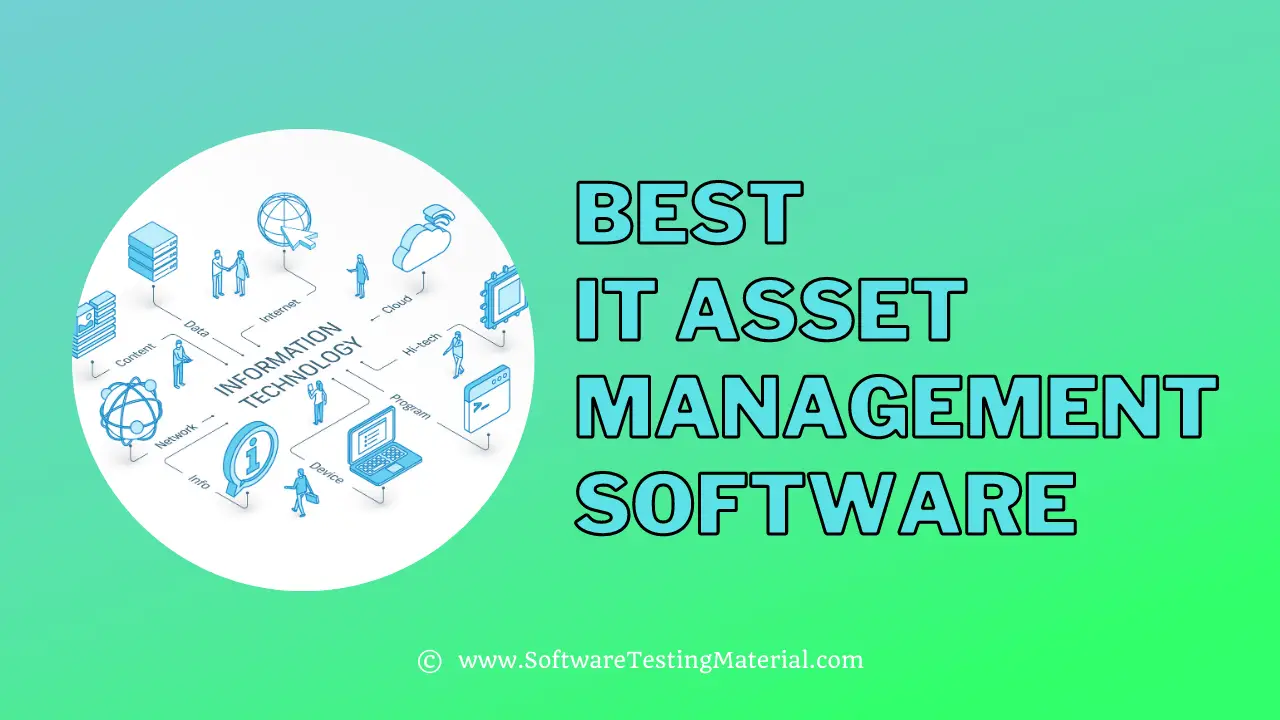 Are you looking for IT Asset Management Software? In this post, we will see what is IT Asset Management Software, the Goals of IT Asset Management Tools, and the Best IT Asset Management Tools.
It's a very difficult task for every organization to track its assets. In order to manage and maintain such tasks, dedicated software is designed i.e., IT Asset Management tool. In this blog, we will explain what IT asset management is, why it's important, and review the top 15 IT Asset Management Software available.
What is IT Asset Management?
IT asset management is a crucial process that involves monitoring, controlling, storing, and redistributing data and technology assets within an organization. In simple terms, it is making certain that the beneficial items, both tangible and intangible, within your company are monitored, tracked, and managed. IT Asset Management tool is software that tracks the organization's assets.
There are several components of IT asset management, but many of these are interrelated. These include: assessing IT needs, identifying appropriate IT needs, developing IT strategies, implementing IT policies, and tracking and evaluating IT performance. These are just some of the components of IT asset management.
What Are The Key goals of Asset Management in IT?
1. Save time
Among the most significant areas, IT asset management tools can optimize time. Previously, you would need to utilize spreadsheets to assign workers tools and equipment. Now, with good IT asset management, assigning IT resources is a breeze.
2. Reduce Loss
Preventing loss is among the greatest ways that you can save yourself money and time—knowing who's using what and when the possibilities minimize which IT assets can go walkabout.
3. Safeguard Data
A vital objective of utilizing IT asset management applications is to safeguard info. It includes-
Client Data
Employee Data
How to Choose an IT Asset Management Tool?
Selection of an IT asset management tool depends on the type of program that needs to be managed. There are a number of different types of software tools that can be outsourced to a company or organization. It is important to determine how the program will be utilized before making the decision to purchase any of the tools available.
The first step in determining how to choose an IT asset management tool is analyzing what type of program is needed. There are several different types of computer network programs that can be used for managing the day-to-day operations of a company.
Before purchasing any software tool, a company should have a list of requirements in order to determine what types of programs are necessary to meet their current and future needs. These requirements can include memory, hard drive space, operating system licenses, and other variables. After determining what types of programs are needed, a company can begin to look for software applications that meet their needs.
The next step is to research the company's track record and reputation within the industry. By comparing what competitors are offering, a company will have a better idea of which tools and software applications are best suited for its unique business needs.
When choosing an IT asset management tool, a company must be sure it is compatible with an organization's current processes. There are many software applications that are designed to be used on a variety of operating systems and devices. An effective tool must be flexible enough to work alongside established processes without conflict.
Additionally, a good program must provide an environment where employees can work together effectively.
What Are The Benefits of IT Asset Management?
IT asset management refers to the systematic management of all IT equipment present in an organization. It aims to maximize the company's value and minimize risk while also reducing costs.
The whole process of managing IT assets combines inventory, financial, technological, and operational management to understand the life cycle of such assets. The life cycle assets include hardware, information technology, network infrastructure, software applications, and memory. They can be complex or simple.
There are many advantages of IT asset procurement, one of them being the control over the whole life cycle of the IT assets. Another advantage of this is that it helps reduce the cost of ownership of IT equipment. It also helps in the creation of an IT strategy by outsourcing the inventory management process and helps in the process of technical transfer.
One of the most common benefits of an IT asset management system is the capacity to handle growth and demand. The software is designed in such a way that it allows the company to monitor the total number of users and the total number of pages in use.
IT asset management is very important to businesses of all sizes. The program will help in a precise listing of all kinds of assets. Utilizing computer software can help in effective resource planning. In addition, it can lessen the probability of theft of resources.
Importance of Asset Management
An asset management program will help to track the resources found in various places and departments. You'll be able to understand where the resources are situated. You are able to run reports to understand regarding possession, service information, and other educational information.
Improved visibility of resources ensures that the resources aren't misplaced. It's possible to add details and assets and program a periodic audit of these resources. The inventory control module will alert you at the case once the minimum threshold is attained. This will make sure that the stock items are always fully stocked.
Asset management applications also aid in handling the depreciation of resources. Previously the majority of the businesses were tracking assets manually using spreadsheets. This procedure was frequently error-prone, thereby leading to issues with the evaluation of resources.
Types of IT Asset Management
1. Software:
It is among the most irritating and arduous IT asset management places, as a result of compliance problems, licensing demands, ShadowIT, and IoT (the Web of Things – Smart TVs, smart appliances
2. Physical:
It includes hardware like PCs, laptops, printers, copiers, and any other device used for IT and data management purposes.
3. Digital:
The IT asset tracking of photos, videos, and digital data, including scanned hard copies.
What is Asset Lifecycle Management?
Asset lifecycle is the study of how an asset relates to the succeeding assets, and what activities will be required for maintenance, growth, and return. It is vital in companies that depend on a large number of fixed assets. An asset lifecycle is a strategic planning function that identifies and describes the different stages of asset maintenance and growth.
There are four phases to asset lifecycle management.
Planning
Purchase
Operation and Maintenance
Disposal
Each of these stages affects and needs to be taken into consideration when planning a procurement. They also need to be taken into account during each stage of the production, distribution, and final stage of the lifecycle.
Asset lifecycle Management identifies a business's life cycle. This includes identifying the product life cycle. Each stage in an asset lifecycle process is linked to previous stages. This allows businesses to identify what they need to do in each stage to achieve their business goals. It is also important to understand how each stage works. A company can achieve certain goals in one stage but achieve failure in another. Understanding how the processes work will help in achieving success.
Top 15 IT Asset Management Tools
Here is the list of top 15 IT Asset Management Tools
#1. ManageEngine ServiceDesk Plus
Best for organizations looking to discover, track, and manage their IT assets and integrate ITAM with other ITSM practices.

ServiceDesk Plus, the unified ITSM platform from ManageEngine, helps IT and enterprise departments design, deliver, and support IT and enterprise services from a single console. Built on industry-recommended ITSM best practices, ServiceDesk Plus comes packed with contextual IT and business integrations that help service desk teams better align with their organizations' business objectives.
Its PinkVERIFY™-2011-certified, ITIL®-compatible ITAM module helps you discover IT assets (Windows, Linux, Solaris, AIX, VMware, and macOS) and non-IT assets, track software license compliance, and manage assets over their entire life cycles, from procurement and assignment to disposal. According to Forrester's Total Economic Impact™ (TEI) study, implementing ServiceDesk Plus results in IT managers spending 75% less time handling IT asset audits. The TEI study also revealed that organizations can experience a 352% return on investment with ServiceDesk Plus.
More than 100,000 organizations across 185 countries trust ServiceDesk Plus to optimize service management and achieve high end-user satisfaction. To learn more about ServiceDesk Plus and its features, please visit manageengine.com/service-desk.
Features:
ITIL-compatible IT asset management
Multi-modal asset discovery:

Agent-based, domain, network, distributed, and barcode scans

Visual workflows to manage asset life cycles
Remote control and system management
Financials and asset depreciation
Software license and compliance management
Asset replenishment and loans
Audit history for all IT assets
Advanced analytics
Integrated purchase and contract management
A CMDB
Custom business views for critical services and configuration items
A unified ITSM platform that connects ITAM with:

Incident management
Service request management
Problem management
Change management
Release management
Project management
Why ServiceDesk Plus is one of the best IT asset management tools
ServiceDesk Plus, ManageEngine's unified ITSM platform, offers IT asset management that follows best practices to help enterprises discover, track, and manage every single asset, both IT and non-IT, that is a part of them.
IT departments can rely on the scanning technique of their choice, such as agent-based, barcode, network, or domain scans. With its unified agent for asset discovery, ServiceDesk Plus helps you discover every IT asset (Linux, Windows, AIX, Solaris, VMware, and macOS) and non-IT asset, including SNMP-supported devices such as printers, routers, and network switches.
An IT department can take stock of all the software running on its managed workstations with ServiceDesk Plus' software asset management. IT managers can associate license agreements and contracts with software assets, and ServiceDesk Plus pinpoints any compliance violations and measures the individual usage of each software asset on every workstation via metering.
ServiceDesk Plus also offers a visual workflow builder that helps IT departments craft different life cycles for various scenarios and products. The asset life cycles guide technicians over the entire journey of an asset while triggering condition-based automations along the way.
An IT department can create dashboards and schedule periodic reports in ServiceDesk Plus to provide an accurate rundown of its IT asset estate and license compliance.
Moreover, ServiceDesk Plus better aligns ITAM with other crucial ITSM practices, such as incident, service request, problem, and change management. By associating assets with tickets in all of these practices, IT service desks gain complete visibility into their IT operations. Organizations can also benefit from integrating ServiceDesk Plus' ITAM with other IT solutions, such as Endpoint Central and Mobile Device Manager Plus, for managing and securing devices, apps, and data.
According to Forrester's TEI study, implementing ServiceDesk Plus results in IT managers spending 75% less time handling IT asset audits. The TEI study also revealed that organizations can experience a 352% return on investment with ServiceDesk Plus.
If you are an enterprise looking for a stand-alone ITAM solution, ManageEngine also offers ServiceDesk Plus' ITAM capabilities as separate software: AssetExplorer! Learn how AssetExplorer works.
Pricing: These prices are for five users.
Basic ($39 a month)
Standard ($49 a month)
Pro ($79 a month)
Business (Get a quotation)
#2. Monday
Best for managing your IT asset inventory, tracking license compliance, providing remote support, and other ITSM practices.

Monday.com provides collaborative applications for managing your IT operations. It's functionalities for job direction, help desk, procurement, and asset management. You are able to track your physical and digital assets with this digital asset management software. It will permit you to personalize the notifications and views effortlessly.
With the support of the cell program, you can track and upgrade on the move. It will offer a very clear summary of the work and jobs throughout the dashboard.
Features:
Collaboration tool for employees
Various communication tools
It provides the project management features that will allow you to plan, monitor, and collaborate.
Handling your acquisition procedure.
It provides the functionalities for cooperating in real-time with outside vendors.
Finest for handling & monitoring asset portfolio.
Integration: Dropbox, Google Drive, etc.
Pricing: These prices are for five users.
Basic ($39 a month)
Standard ($49 a month)
Pro ($79 a month)
Business (Get a quotation)
#3. Fresh Service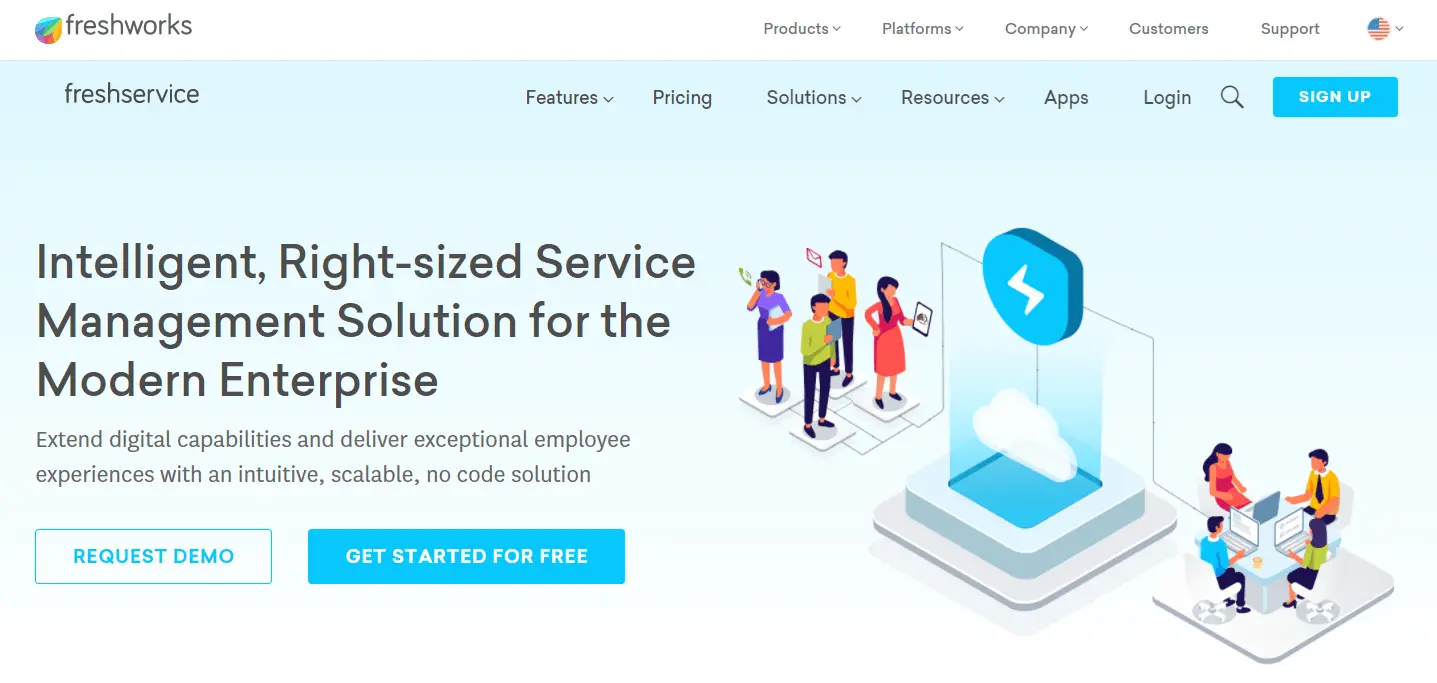 Freshservice is another fantastic internet asset management solution that could help you maintain documents of hardware, applications, contracts, and other resources. The resources could be grouped by place, made by, and established date type. It's possible to track assets and also receive a deadline at a glance.
Features:
Asset management
SLA Management
Incident Management
Knowledge Management
Service Catalog
Change and Problem Management
Integrated ITSM platform
CMDB/ Configuration Management
Schedule reports
License management
Contact management
Price: FreshService also offers a free trial of their services.
Starter – ₹999 per agent/month, billed annually
Growth – ₹2499 per agent/month, billed annually
Pro – ₹3999 per agent/month, billed annually
Enterprise – ₹4999 per agent/month, billed annually
#4. ServiceNow ITSM
It has become a pioneer in the ITSM marketplace for 5 successive years based on Gartner's Magic Quadrant for IT Service Management Tool.
ServiceNow's ITSM product comprises IT asset management performance that covers both hardware and software assets and permits managing asset life cycles, monitoring assets values, effectively optimizing the usage of asset stock, etc.
It also offers another product named ServiceNow Software Asset Management that delivers an extended performance set for ITAM.
Features:
Incident Management
Performance Analytics
Reports and Dashboards
Problem Management
Walk-Up Experience
Service Level Management
Enterprise Onboarding and Transitions
Virtual Agent
Asset and Cost Management
Price: Contact them for a quotation.
#5. Nifty

Nifty is a collaboration hub that provides visual project management, which helps IT teams have a very clear summary of their own workflows.
It is a cloud-based project management solution designed to help marketing teams manage feedback, collaboration, milestone, time tracking, task assignment, etc. Whether you're looking to manage your team or divide work, Nifty will help your team unite around.
Features:
Agile methodologies
Gantt charts
Idea management
Customizable templates
Milestone tracking
File sharing
Kanban board
Project planning and scheduling, and status tracking.
Price:
Starter: $39 per month
Pro: $79 per month
Business: $124 per month
Enterprise: Contact them to get a quote.
#6. Asset Panda

It is a cloud-based fixed asset management software. It supports an effective cloud-based platform incorporated with free cellular programs to provide an easy and safe means of managing your tasks.
The program is simple and easy to navigate as it allows the customers to set them up at each level inside and outside of the organization.
Asset Panda benefits include Mobile Apps, which is free to set up, and Strong (SaaS) Machine, scanners, software, or spreadsheets. It allows you to monitor and manage your own resources concurrently, highly configurable, fast implementation, cheap, with improved Information/decision making.
Features:
Asset Accounting
Audit Trail
Depreciation Management
Document Management
Asset Lifecycle Management
Barcoding/RFID
Disposal Management
Inventory Tracking
Price: It costs 500 assets for $1,500 per year.
#7. AssetCloud

It is the best tracking software in the business, besides becoming the most comprehensive solution available from Wasp Barcode. It is known for its inventory tracking, package tracking, attendance tracking and barcode labeling. It can be deployed on-premise and in the cloud.
Features:
Asset Accounting
Easy to use
Audit Trail
Depreciation Management
Document Management
Asset Lifecycle Management
Barcoding/RFID
Disposal Management
Inventory Tracking
Price: Contact them for quotation.
#8. Softchoice IT Asset Management

Softchoice is the sole national association with well-established abilities to fix every phase of your cloud travel. Besides its proven history in assisting business organizations in managing their resources, it also offers you complete; holistic SAM managed solutions in a hybrid world.
Features:
Visibility of assets
Analysis & Reporting
Hardware Asset Management
Price: Contact them for a quotation.
#9. NinjaRMM

NinjaRMM offers strong intuitive IT management applications for managed service providers (MSPs) and IT professionals. Using this, you receive a whole set of resources to track, manage, secure, and enhance all your network devices and Windows servers, workstations, and notebooks.
It has a strong, intuitive IT management system that drives performance, reduces ticket amounts, enhances ticket resolution occasions that IT pros really like to use.
Features:
Get complete, up-to-date hardware and software inventories on all of your devices.
Multi-platform endpoint management
Robust monitoring, alerting, and endpoint protection
Integrated cloud backup
Monitor the productivity and health of your
Windows servers, workstations, and notebooks.
Remotely handle all of your devices without disrupting end-users via a strong suite of distant tools.
It offers fast, secure, and remote access.
Standardize the installation, configuration, and control of all devices with strong IT automation.
Price: NinjaRMM provides a free trial of the product. Ninja is packed with a per-device foundation dependent on the characteristics required.
#10. Asset Explorer
Asset Explorer by ManageEngine is a robust IT asset management (ITAM) application that helps you monitor and manage resources on your own network from purchase to disposal. From multi-source detection methods to real-time hardware and applications dashboards, it covers every element of IT asset management.
It permits users to handle and manage network assets throughout their entire lifecycle, including network asset purchase, installation, usage monitoring, and deactivation.
Features:
Flash Charts
Asset Lifecycle Monitoring
Remote Access
Purchase Order
Contract Management
Purchase order management
Hardware & Software Inventory
Software Asset Management
License Compliance
Asset Scanning & Recovery
Cause Analysis & Impact Monitoring
IT asset inventory management
Configuration management database (CMDB)
Native Microsoft SSCM integration
Prices: Prices begin at $795 per year for 250 IT assets.
#11. Spiceworks IT Asset Management Software

It is a free asset management software that permits you to monitor your network hardware and applications. You are able to track all sorts of network devices like routers, switches, gateways, along with others. The program will automatically discover resources in the community, categorize them, and prepare a comprehensive report.
Features:
Monitor network permits and devices.
Handle licensing, community, network, etc.
Rein your cloud services.
Report on stock, resources, and licensing.
Price: Free
#12. Snipe-IT

Snipe-IT is an open-source online asset management app. It includes a lot of characteristics that may make managing your stock simple. The dash provides a summary of the latest activity. You may even incorporate the program with your system together with the REST API.
Features:
Mobile-friendly for asset updates
One-click backups
Email alarms in the event of dying licenses.
Runs on any Linux, Windows, or Mac webserver
Slack notification integration for check-in/checkout
Create QR code tags.
Many security features to keep your data safe
Yes Pre-defined "kits" for faster checkouts
SMAL login integration
Available in several languages for easy localization
Per-user language support for teams
Price:
Self-hosted – Free
Hosted (Monthly) – $39.99/month
Hosted (Annual) – $399.99/year
#13. GoCodes

GoCodes is an easy to use asset management software tool. This tool supports custom areas, QR codes, audits, excel imports and export, GPS monitoring, maintenance, APIs, reports, analytics, and stock management.
It is a robust tool that empowers users to manage and track assets anytime, anywhere securely. It provides globally unique serial numbers and IDs for each asset to facilitate complete traceability. The amount of assets in your business doesn't matter; you will be able to identify everything.
It is possible to opt for the paid version if you would like advanced features like business URL, data copies, recurring solutions, advantage inventory transport, and innovative access management.
Features:
Handle unlimited assets using an Enterprise solution.
Handle several functions.
Asset and inventory audit scanner
Scan QR barcodes to check assets
Manage inventory quantity
Automate field service requests
Track accurate asset utilization data
Reduce theft and accidental loss
Complete audit change history
Price:
Standard – $450 annually (200 quantity assets)
Premium – $810 annually (500 quantity assets)
Premium Elite – $1500 annually (1000 quantity assets)
Professional – $2160 annually (2000 quantity assets)
#14. EZOfficeInventory

EZOfficeInventory is an online tracking tool. With this tool, you can access asset information from any device, any place, and at any time. It includes a thorough solution for monitoring resources. The software is made up of barcode asset tracking, fixed asset tracking, stock tracking, RFID asset tracking, software tracking, and IT hardware and software monitoring.
Features:
Handle hardware and software licenses.
Managing buy orders.
Asset Lifecycle Management
Check out & Check in Assets
RFID Asset Tracking
GPS Location
Excel Import and Export
Depreciation Management
Calibration Management
Tool Management
Price:
Essential – $35 per month
Advanced – $45 per month
Premium – $50 per month
Custom – Contact them for a quote
#15. Samanage

Samanage is another cutting-edge IT asset management tool. It is a multi-tenant, which implies an up-to-date version is always available to users. This tool has a simple interface as well as comprehensive alerts and reporting features.
Users can submit requests online, and IT support agents get quick access to asset configuration, which speeds up time as well as boosts productivity. Features of this asset management tool include automation, ticketing, and hazard detection.
Features:
Contract and asset management.
Risk detection
Warranty sync
Tailored dashboard
SLA management
Self-service portal
Risks tab
Reports and API
QR audit tool
Mobile access
IT Service Desk
IT Service Catalog
Invisible patches
Integrations suite – Dropbox, JIRA, Google Apps
Snapshot view
Drag and drop setup
Price: Samanage also offers a free trial.
Team – $19 per month (unlimited users)
Business – $39 per month (unlimited users)
Professional – $69 per month (unlimited users)
Enterprise – $89 per month (unlimited users)
#16. InvGate Assets

InvGate Assets is another great asset management program. The computer software makes it possible for the detection and control of all IT assets. You are able to compile asset data through network discovery information and third party resources to create one repository of resources.
Features:
Network discovery
Asset management
Asset inventory
Software license management
Monitor and control changes
Remote desktop
Network discovery
InvGate IT Financials and LifeCycle
Software metering and deployment
Better risk management
Price: InvGate Assets offers a free trial. Contact them for a quotation.
Conclusion: 
IT asset management is the best way to manage and maintain the organization's assets. It enables you to track your assets, location, transactions, asset accounting, and other information from a centralized database, anywhere and anytime.
Related posts: