Best Device Control Software (Free and Paid) for 2023
Are you looking for best Device Control Software?
In this article, we will review the 10 best USB Device Control Software Tools.
What is Device Control Software?
Device control software lets you control and monitor data transfers across various removable storage devices.
Removable storage devices make data sharing easy. They supply seamless access to information of all formats and types, ranging from files to pictures and videos. However, this easy access also increases the possibility of both insider and external threats. Insider risks from within the organization are common and hazardous.
Device control software system allows you to allow or block access to devices such as notebooks, PCs, tablets, smartphones, and so on. Your IT staff can utilize USB device control applications to guarantee the confidentiality of sensitive information.
The Device Control software is often the primary interface for receiving and configuring data from various instrumentation attached to a computer or network system. It can be integrated with any of a wide variety of systems to control specific or all of a number of attached devices.
Why do we need Device Control Software?
The device control software provides a number of benefits, which are based on its ability to restrict access to certain types of data. These usually relate to data loss prevention. In the case of a data loss, the software provides a gateway through which all external data sources are controlled. This can be done by preventing unauthorized access from any source, by enforcing authentication at the physical Workstation or Networked Storage (WOS). 
Apart from data loss prevention, another benefit of having device control software is in the prevention of unauthorized users logging on to a workstation. For example, if a user were to use an admin password to log onto a WAN server, it would prevent them from gaining access to any other networks. This also applies to networked storage. Any user who manages a folder or file on a networked storage device needs a valid admin password to access the folder or file.
Features of Device Control Software:
#1. Device Access Control
Device management software can control which users and employees may access the USB, FireWire, LPT, and COM interfaces. In any case, you could even monitor who is using WiFi, Bluetooth adapters, printers, and other devices in your business. Its control module provides superior control, as you can oversee and manage the users that can access different devices.
#2. Network Communications Control
Device control software solutions include a dedicated module for controlling communications. It allows you to bring a layer of control over network protocols, instant messenger applications, web programs, and other Windows endpoint network communications. It further permits you to control routine and SSL-tunneled email communications.
#3. Content Filtering
Most modern-day device control application methods go beyond contextual safety. The information filtering module has become a common element of the majority of device control alternatives. It allows users to analyze and filter out the binary and textual content of information copied to removable drives or other storage devices. 
List of Device Control Software
The main details of each software are listed below, but if you're in a hurry, here's a quick list of the best Device Control Tools.
If you'd like to see our in-depth analysis, keep reading and check out our review of the USB Device Management Tools.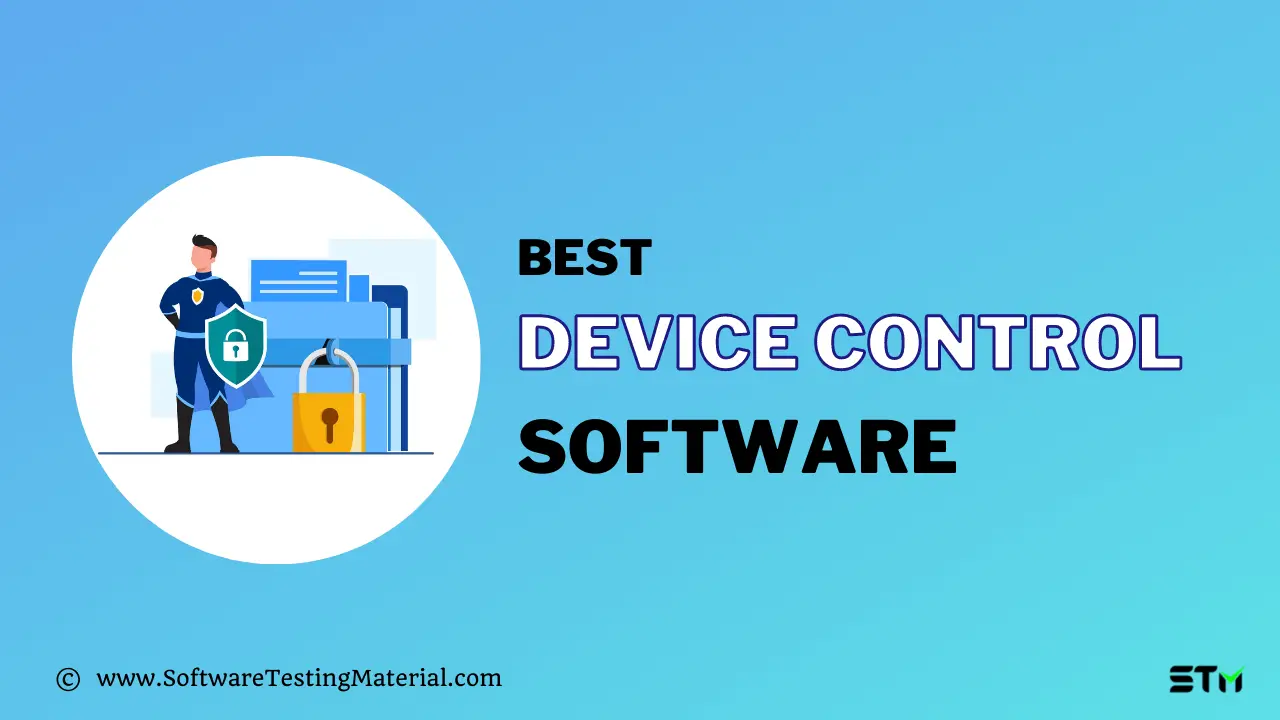 #1. Endpoint Protector By CoSoSys

Best for Enterprise and Small-Medium businesses.
CoSoSys is known for its Data Loss Prevention (DLP) and security software. Its flagship product, i.e., Endpoint Protector, is a full DLP solution that puts an end to information leaks and data theft when offering control of portable storage devices and ensuring compliance with data security regulations. It's an advanced cross-platform DLP alternative for Windows, macOS, and Linux, as well as Thin Clients.
Endpoint Protector offers device control features which help users to lockdown, control and monitor USB and Peripheral ports. It offers an easy-to-use web-based interface to remotely monitor USBs and peripheral ports.
It provides end-users with an instant notification whenever malicious programs are executed on the system. Protection can be set up to specific workstations or computers within the corporate network. In addition, this application can also be used to protect corporate data from online attacks. Once enabled, this will offer improved security to the entire network.
Features:
Endpoint Protector has an easy and fast deployment, implying that the solution could be up and running in 30 minutes or less. This is due to the fantastic flexibility of its deployment methods which fulfill the needs of organizational infrastructures. 
Endpoint Protector additionally supports a contemporary, user-friendly interface that delivers a short learning curve and enables even non-specialized employees to readily understand and utilize the solution.
Users can set up policies easily for Windows, Mac, and Linux platforms.
It blocks unauthorized device use or enforces data encryption remotely.
It does not slow the performance of protected computers.
Endpoint Protector Device Control Module enables easy management for known USB device types and enhanced data protection in various work environments.
Verdict: Endpoint Protector prides itself on a cross-platform DLP solution, which features feature parity between Windows, macOS, and Linux; it is the go-to alternative for businesses running hybrid OS networks. Administrators can handle the solution from a single dash, eliminating the need for multiple accounts or management panels. 
Pricing: Contact them for a quote
---
#2. ManageEngine Device Control Plus

Best for businesses of all sizes. 
Device Control Plus by ManageEngine is a comprehensive data leakage prevention software that allows users to control, block and monitor USB and peripheral devices from having unauthorized access to sensitive data. It offers features like trusted device list (device whitelisting), role-based access control, file access permission, file transfer control, temporary access, meticulous on-demand reports, and more. 
It comes equipped with capabilities to supervise and audit device access to corporate information as well as to regulate document transfers. With Device Control Plus, now you can manage multiple device controls from any location. 
It was developed to help businesses manage all external devices plugged, ensuring that your data will not be lost, stolen, or corrupted. It helps manage multiple peripheral devices remotely and makes data leakage an impossible issue. External devices can't be trusted. They can damage your computer and steal your private data. With ManageEngines, there's no need for that because you can stop data leakage right at the device level.
In times wherein a file is misplaced or accidentally deleted, this software stores copies of your files and secures them with a password so that only authorized users will be able to access them. It provides services to-
Financial institution
Telecommunication
Technical services
Industrial organization
Healthcare
Government
Features:
ManageEngine Device Control Plus ensures that your information will not be copied to another device without your permission. It lets you set role-based access to your files. You might even give read-only permission to certain users to ensure that no data is rewritten or tinkered with.
This tool offers port and device control capabilities that permit you to control all vents and some other external devices connected to those ports. This makes sure you could block unauthorized users or devices from accessing your information. You'll also have the ability to monitor file actions (such as pick, open backup, cut, paste) and manage device activities.
It enables users to regulate file transfers. Users can set a boundary on what file types could be transferred, as well as impose a limitation on the maximum allowable document size. This ensures you have full control of the documents that are duplicated or moved to other devices.
It can also cause mirror copies of your documents and keep them in password-protected shares using the program's file shadowing feature. This feature helps you make certain your files are secured and you do not lose any data through malicious activities or accidents.
Verdict: Using Device Control Plus, you can control which has access to files, which documents specific users can get, and what actions they could take. It is possible to assign role-based access and handle all the ports and external devices that connect to those ports. Based on the degree of data sensitivity, you could also decide to simply grant read permission, refuse the manipulation of documents, and reject document transfers completely.
Pricing: Professional edition price starts at $5.95 per computer. Contact them to get a custom quote.
---
#3. Symantec DLP 

Best for small to large businesses.
Symantec DLP enables users to mitigate data breach and compliance risks with the help of industry-leading DLP software. It gives the users full visibility and control over their data, allowing them to discover, monitor, and protect their sensitive information. This enables users to prevent insider theft and ex-filtrating sensitive data like product designs and consumer records.
It offers comprehensive protection from all sorts of risks such as accidental, unintentional, and unauthorized destruction, data theft, malicious attacks, environmental hazards, legal liability, and compliance breaches. Through a robust, flexible, and scalable enterprise application and policy enforcement management, you can control the deployment of DLP solutions, which can be quickly deployed in a matter of minutes to protect your most valuable business data. It will protect your sensitive data, will keep it safe & protected on endpoints.
Features:
It monitors policy violations and risky user behavior across control points continuously. 
This tool prevents and discourages end-users from leaking business-critical information through real-time blocking and alerts. It allows users to respond quickly and efficiently when data loss happens with automated remediation and one-click SmartResponses. 
Symantec DLP offers users the flexibility to balance security and end-user productivity.
It utilizes a single lightweight endpoint agent that enables DLP Endpoint Discover and DLP Endpoint Prevent.
Verdict: Symantec DLP offers a high level of security, thanks to its usage of digitally signed smart cards. The signing process creates a password that protects the card from being copied. Also, DLP smart cards are protected by various security measures such as encryption, access control, digital certificates, MAC codes, digital signatures, and more. With these in place, you have a comprehensive data protection solution, which ensures confidential data and corporate assets are protected from external threats and other risks.
Pricing: Contact them for a quote
---
#4. McAfee DLP

Best for on-premise tools that help network security teams protect sensitive data, track user behavior and ensure compliance.
MacAfee DLP protects intellectual property or financial data from unexpected disappearance via virtual data protection policies. It also offers device control features to control the copying of sensitive data to removable devices. This tool checks the user actions on sensitive data. It uses cloud applications or email alerts when the data is posted to websites. You can block any confidential data on every removable storage device.
It protects your computer from viruses and other malware, as well as providing daily protection against spam and phishing attacks. Each of these areas is very important to computer users because they can each cause serious damage to a computer if left unchecked. If you don't have the right protection, you could face thousands of dollars in losses or a crippling lock-out for your computer. 
Features:
With its McAfee ePolicy Orchestrator feature, users can implement as well as enforce security policies to prevent confidential data loss and theft.
Users can monitor the real-time occurrences and generate reports that show auditors, management, and others your data security compliance with internal and privacy needs.
It allows business owners to regulate how their employees transfer data to removable storage like USB drives, CDs, DVDs, and Bluetooth devices—even when not connected to the network.
Its 'Lock Down Devices' feature will let you block removable storage devices or make them read-only.
Verdict: McAfee Device Control is one of the leading tools in the market to prevent unauthorized use of removable media. It provides removable device protection and USB data security.
Pricing: Contact them for a quote
---
#5. DriveLock

Best for small to large businesses to protect end-devices and IT systems from hacker attacks. 
To better protect end-devices and computers of an organization, DriveLock offers scalable security functions. It follows a zero trust model, which requires access verification. DriveLock protects computers and other devices against unauthorized data access. It is designed for high-end data protection and is GDPR-compliant. It is offered as a cloud service by Microsoft Azure.
DriveLock Device Control monitors internal and external devices, drives, and smartphones your users can connect to.
Features:
It documents which file was copied and to which medium.
This tool automatically and securely encrypts external USB data carriers.
It trains employees regarding the safe handling of data and external data carriers 
DriveLock also offers extensive forensic analysis and reporting options.
Verdict: DriveLock is one of the best providers of modular & multi-layered endpoint security platforms. It also helps you strengthen the security awareness of your employees. This tool has solutions for protecting your business from malware, ransomware, etc.
Pricing: 
Base Security costs $US 5.68 per device per month
Advanced Security costs $US 6.82 per device per month
Security Awareness costs $US 3.03 per device per month
---
#6. DeviceLock

Best for every size businesses, agencies, and startups.
DeviceLock provides both contextual and content-based control for maximum leakage prevention at minimum upfront and ownership cost. Along with device access control software functionality, it also includes the functionalities of network communications control, content filtering, content discovery, etc.
DeviceLock offers a fully-featured Security Management Software to serve Startups, Agencies. It provides end-to-end solutions designed for Windows. Its Security Management system offers Sensitive Data Identification, Policy Management, Compliance Reporting, Web Threat Management, and Audit Trail in one place.
Features:
It ensures there is no leakage of information through local channels by controlling which users or groups can access ports, peripheral, storage, redirected, and other devices. 
It prevents data leakage via system communications of Windows endpoints with context-aware controls. Increase business process compliance with enforcing controls over both plain and SSL-encrypted traffic.
With DeviceLock, users can have thorough control over moved or accessed content with content detection based on pre-built templates of Regular Expression (RegExp) patterns and industry keyword filters for organized data, and data fingerprinting for unstructured data. 
It blocks data leaks at their earliest stage when data is transferred between documents and applications. It controls user access to items of different data types copied into the clipboard (even for redirected BYOD devices) and filters textual data with content-aware DLP policies.
Prevent data theft by blocking screenshot operations via Windows PrintScreen or display capturing attributes of third-party apps for certain users or groups. Textual data in captured screen images could be filtered and extracted according to content-aware DLP policies.
Verdict: DeviceLock DLP will provide you maximum leakage prevention. It detects and protects against unauthorized information access and transfer operations. This tool will give users fine-grained control over a full range of data leakage pathways at a contextual level.
Pricing:  It provides various pricing plans according to functionality like DeviceLock Discovery, NetworkLock, ContentLock, etc.
DeviceLock Endpoint DLP Suite – $81 per endpoint license (minimum 5 endpoint licenses)
DeviceLock Core – $5 per endpoint license (minimum 5 endpoint licenses). 
---
#7. Ivanti 

Ivanti Device Control provides complete visibility and functional control of multiple portable device use and secures encrypted data on hard drives and removable media to protect confidential information at the enterprise level. Its Endpoint encryption enables users to enforce security policies on removable devices and data encryption easily.
With a simple configuration, Ivanti Device Control allows companies to enforce data security measures and provide access only to those authorized. With this tool, users can let you easily enforce security policies on removable devices as well as data encryption. It also protects endpoints from malware and ransomware. Regardless of how the devices are plugged in, it will make sure that other employees cannot copy data.
Features:
Users can gain better visibility and control over their devices with access to endpoints, like rogue Wi-Fi/Bluetooth beacons, USB sticks, keyloggers, and printers.
It centrally manages devices and data using a "default deny" approach.
It also secures productivity tools and keeps your data safe without denying users access to these tools when needed.
Users can implement file copy limitations, file type filtering, and forced encryption policies when data is moved onto removable devices.
Centrally define and manage users, user groups, computer, and workstation group access to authorized devices.
You can also set role-based access control.
Verdict: Ivanti Device Control provides powerful, scalable security. It is ideal for servers, fixed-function resources (e.g., POS, ATM, and pay-at-the-pump systems), and thin-client or virtualized endpoints, this software let users rapidly identify and lock down endpoints to prevent using removable devices and ports, and also to stop anonymous apps from being installed and implemented -reducing attack damage exponentially.
Pricing: Contact them for a quote
---
#8. GFI EndPointSecurity 

It is a fully featured Endpoint Security Software designed for Startups, SMEs. GFI EndPointSecurity provides end-to-end solutions for Windows. This online Endpoint Security system offers Activity Log, Device Management, Encryption, Whitelisting / Blacklisting in a single place.
It offers a very high level of protection against hackers and other cybercriminals who use their skills to infiltrate your computers and expose your confidential data and personal information. This device blocking access method will prevent unauthorized use of your computers and their valuable data by these intruders. It not only stops them from entering the network but also stops them from installing their malicious software on your computers.
GFI EndPointSecurity is packed with features that protect and secure business sensitive data. It enables users to grant or deny access to any known device/user on the network. Users have control over which devices are blocked by class, physical port, or device ID.
Features:
Bring your own device (BYOD) and portable storage device significantly increase the likelihood of your business facing data leakage problems. GFI EndPointSecurity includes risk assessment capabilities that identify assets possibly doubling as sources of information leaks. All functions are built into a dashboard that provides relevant information, suggestions for boosting protection, and shortcuts to common security tasks.
Evaluate and control information that travels throughout endpoints. Its data awareness module provides another layer of endpoint protection by scanning every appropriate document and searching to find the most common types of information susceptible to a security violation. Additionally, it contributes to your data loss prevention (DLP) and compliance efforts.
Enables easy control access to mobile storage devices. From a single place, users can grant temporary or workstation access to mobile storage for a set period of time, in addition, to block devices by type, file extension, physical interface, or device ID.
Verdict: It automatically protects newly detected computers by deploying an agent and a default blocking policy. Its other benefits include file control, detailed reporting, automatic protection, and centralized monitoring.
Pricing:
Small – $39.90
Medium – $37.90
Large – $35.90
---
#9. Safetica DLP

Safetica DLP is a high-end product designed for both blocking and protecting data in the end-user environment. It blocks malicious or wrong actions that could result in sensitive data leaving an organization. In other words, it serves as a one-stop solution for information security and data recovery. In addition, it also helps to prevent the loss of data in the event of system failure.
It also offers device control function, which will give you complete control over all connected devices. This tool restricts access to unauthorized devices. It also allows users to manage all devices from a single place.
Safetica protects customer data from data leaks and corruption caused by various threats like viruses, worms, intrusion attacks, glitches, and more. When your business depends on reliable customer data, then Safetica gives you complete protection from different risks. For instance, it helps to protect corporate secrets and other confidential information from unauthorized use.
Features:
Safetica DLP manages your company's data protection requirements while using a single point of connection to many and cloud-based services. 
It encrypts every USB drive and other devices, prevents business confidential data from being stored on unencrypted devices as well as restricts access to content by unauthorized device or users.
Verdict: With Safetica, businesses can minimize BYOD risks (Bring Your Own Device) and decrease the risk of a malware attack.
Pricing: Contact them for a quote
---
#10. Trend Micro

Best for all size businesses.
Trend Micro software identify, monitor, and prevent any type of data loss on or off the network. It can detect spyware, virus, Trojans, etc. It also provides various DLP Standalone Solutions such as Trend Micro DLP Endpoint, Network Monitor, and Management Server.
Features:
It provides a centralized security management console that consolidates policy, events, and reporting across multiple iDLP solutions. 
It tracks documents sensitive data flowing through network egress points, mobile devices, or via SaaS applications.
Trend Micro also offers visibility and control of data used in USB ports, CDs, DVDs, LPT ports, removable disks, floppy, infrared, and imaging devices, PCMCIA, and modems. 
Verdict: It offers businesses various functions, including data discovery, real-time monitoring, and blocking a wide range of endpoints.
Pricing: Contact them for a quote
---
Conclusion
Device Control software monitors and controls the data transfers from endpoints to removable storage devices as well as prevent data loss. These were some of the top device control software in the market. We recommend Endpoint Protector as it is by far the most advanced Device Control software.
Related posts: