Best Forcepoint DLP Alternatives (Free and Paid) for 2023
Are you looking for alternatives to Forcepoint DLP?
Data loss prevention (DLP) tool manages to control & protect sensitive business information and ensure compliance. It is crucial for businesses that maintain sensitive data, helps to guarantee that the data is saved as per the internal policies and there are no info leaks. Network managers and information managers may establish administrative control and determine the data distribution is happening within the business networks. DLP applications also prevent and mitigates the information flows via endpoints. 
In short, DLP software is a must-have for any small to large-sized company. Forcepoint DLP is one of the industry-leading solutions available in the market. If you are considering Forcepoint DLP, then you must know about its competitors.
In this blog, we have analyzed various Forcepoint Data Loss Prevention competitors offering similar benefits at competitive rates. Enable your staff by determining the best Forcepoint DLP competitor that satisfies your distinctive business requirements.
Forcepoint DLP
Forcepoint DLP is a data loss prevention (DLP) solution that defends businesses' sensitive data against information theft and advanced dangers. It comes equipped with improved technologies that can identify dangers and shield sensitive information in real-time. 
Forcepoint DLP addresses human-centric risk with visibility and control everywhere your people work and everywhere your data resides. Forcepoint gives you the ability to view all your information at one glance through a browser-based interface. It offers a comprehensive insight into all your files and applications, including log files, email, and system usage information.
Moreover, users get to control their information with a single policy. The platform provides adaptive data security terms without affecting performance levels. Besides, users also get to track and control all their information with the classified policy library and administrative compliance over 80+ states for CCPA, GDPR, and much more. 
The software helps with the security of vital intellectual data and possessions, for example, trade secrets, company financials, credit card information, etc., together with unprecedented accuracy. In addition, the platform may also be used to block information breaches in an automated manner.
Features:
With this tool, you can secure regulated data using a single point of management for all the software that your people use to make, save, and transfer data. Protect intellectual property using advanced DLP that assesses how people use data, coaches your people to make good decisions with information, and prioritizes incidents by risk.
Forcepoint DLP is designed to make the information about your company easily accessible and easy-to-manage while offering complete security. The control panel of Forcepoint DLP allows users to access information from any computer and server that support Forcepoint.
It can safeguard sensitive data like credit card data, PII & PHI, company financials, etc.
It supplies a vast library of pre-defined policies.
You'll be able to ensure regulatory compliance for GDPR, CCPA, etc., across 80+ countries.
Forcepoint DLP is an ideal platform for organizations meeting compliance requirements on both legal and regulatory frameworks. Forcepoint DLP provides security solutions that meet compliance standards while enabling users to view all data at any time.
Forcepoint DLP Vs. Endpoint Protector
When we compare the Endpoint Protector and Forcepoint DLP, Endpoint Protector will give you the best-in-class Device Control and fantastic Linux support. It has offline temporary password capabilities. Additionally, it supplies zero-day support for new Mac OS models. It responds quickly to requests for custom attributes.
Why look for Forcepoint DLP Alternatives?
Here are some of the disadvantages of Forcepoint DLP-
It is ideal software for companies that have dedicated IT staff to track it. There's a good deal of data that is collected, and it requires constant monitoring so as to determine whether people are transferring data in or out of your surroundings.
Establishing policies, even test coverages, can be tricky in Forcepoint.
It prevents users from uploading any files that reside in the company notebook to other outside websites or even attaching them to their emails.
Forcepoint DLP is the solution for large businesses. It's tough to set up, manage, and maintain. 
Suppose you want best-in-class device management, fantastic Linux support, offline temporary password capacities, zero-day support for new Mac OS models, and quick response in custom features asks. In that case, you should look for Forcepoint alternatives.
List of Forcepoint DLP Competitors
The main details of each software are listed below, but if you're in a hurry, here's a quick list of the best alternatives to Forcepoint DLP Software.
If you'd like to see our in-depth analysis, keep reading.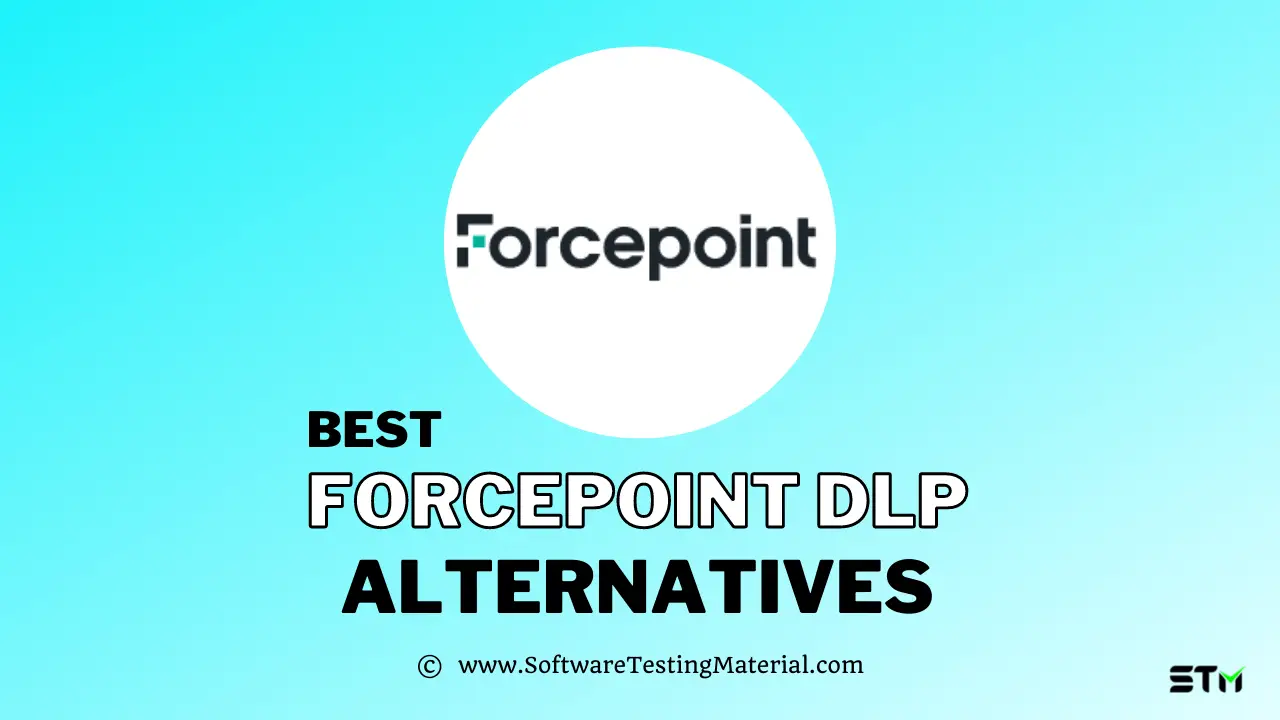 #1. Endpoint Protector

Best for business of all size.
Endpoint Protector is an industry-leading DLP solution that is cross-platform. It's filtering capabilities for data at rest and in movement range from file type to pre-defined content-based, regular expressions or data protection regulations like GDPR, PCI DSS, CCPA, HIPAA, etc. It offers several specialized modules which can be mixed and matched according to customer needs. The module comprises of Content Aware Protection, Device Control, Enforced Encryption, and eDiscovery. 
 It is designed to secure all confidential data during the exchange of emails. It is also designed to stop unwanted emails from being sent to the user. This will help to reduce the risks of identity theft and other forms of financial loss that may occur due to the misuse of personal identifying information.
This tool will assist you with achieving compliance and fulfilling the data protection regulations like HIPAA, PCI-DSS, GDPR, etc.
Features:
This software offers a fast deployment option that allows you to enjoy real-time data protection.
Endpoint Protector makes use of advanced technologies such as N-gram-based text categorization.
 Since the software is designed to be cross-platform, it can help organizations like hospitals, multinational corporations, law enforcement agencies, financial institutions, and other organizations with data protection regulations. This feature enables the organization to stay protected even if the file transfers are done through different devices or platforms. The application is compliant with the security requirements and can run flawlessly on any device.
It can discover intellectual property from various files.
It offers features like safeguarding and scanning Personally Identifiable Data.
It has functionalities for monitoring the actions related to any storage device use and document transfers.
Verdict: This next-generation DLP solution ensures protection for data on your corporate network, performs compliance scanning, and helps to prevent compliance policy violations while your employees work remotely. It is available for deployment in the following cloud services: Amazon Web Services (AWS), Microsoft Azure, or Google Cloud Platform (GCP).
Pricing: Request Endpoint Protector for pricing . You can also get a free demo on request.
---
#2. ManageEngine Endpoint DLP Plus

Best for enterprise data classification & insider threat prevention.
Endpoint DLP Plus is ManageEngine's dedicated DLP software designed to protect sensitive data on managed endpoints from data disclosure and theft by leveraging advanced data loss prevention strategies, which include detecting and classifying data as well as defining rules for authorized usage and secure transmission.
Feature:
Robust classification of both structured and unstructured data
Stringent peripheral device control
Complete cloud upload protection
Secure email collaboration
Instant alerts and extensive audits
How Endpoint DLP Plus is a better solution than Forcepoint DLP?
Design and deployment of data loss prevention policy is simple in Endpoint DLP Plus. After data loss prevention rules are put in place, any action to bypass these security measures, such as copying data using unapproved applications or sending information through unverified emails, will be blocked and audited in real time for further analysis. If needed, the user can raise a request with proper justification to send sensitive data outside the enterprise perimeter.
Pricing: You can schedule a demo from them.
---
#3. Digital Guardian

Best for full data visibility & no-compromise protection.
It is one of the leading Forcepoint alternative and SaaS solutions for Enterprise DLP. It offers rapid installation and on-demand scalability. There can be many reasons to utilize Digital Guardian over Forcepoint, for example, wider endpoint OS coverage, data protection, and policy creation. These features will improve your information security program.
Powered by AWS, Digital Guardian provides simplified deployment, low overhead, and flexible scalability for greater return on your security spend.
It provides 24*7 support for coverage and fast response. It's possible to migrate your present coverages to Digital Guardian and monitor the sensitive data. This helps you with creating new and improved policies.
Digital Guardian DLP solution offers the industry's widest coverage, such as Windows, macOS, and Linux endpoints, in addition to VDI support, understanding both structured and unstructured documents across all platforms. 
Using this DLP solution, you have complete data visibility and control regardless of what users are running, what they are running it on, and on or off the network.
Feature:
Managing a data safety program requires a group of talented cybersecurity experts; managing the infrastructure adds excess complexity. Digital Guardian's no-compromise data security platform is powered by AWS. You get instant access to the planet's most comprehensive and widely embraced cloud platform for your data security application.
It incorporates a full range of classifications, from fully automated to fully manual options. Classification techniques include a content review of the file, context for file properties, and user-driven to bring the human element into the business data protection plan. Whether using one or multiple classification procedures, you'll bring contextual intelligence to information security choices.
It identifies high-risk events and behaves as needed to prevent data loss. 
Limit file transfers by type and size and restrict movement to devices/media by brand, model, or serial number. 
It also assigns access permissions and security methods to removable devices or media.
Verdict: Digital Guardian provides the best solution for Data Loss Prevention. Its functions include continuous protection, optimized policies, focus & responsiveness, security orchestration & integration, etc. It automatically blocks those actions that pose a risk to your company's data and maintain the pace of your business with contextual awareness.
Pricing: Request Digital Guardian DLP for pricing. You can schedule a demo from them.
---
#4. Check Point DLP

Check Point Data Loss Prevention pre-emptively protects your business from unintentional loss of valuable data. It monitors data movement and empowers your employees to function with confidence while staying compliant with regulations and industry standards. 
It tracks as well as controls almost any type or format of sensitive info in motion, including email, internet browsing, and file sharing solutions. It also leverages out-of-the-box best practice policies.
Features:
Check Point DLP can scan and secure SSL/TLS encrypted traffic that's passing through a gateway.
It provides real-time protection against data loss prevention.
Check Point DLP can detect, prevent, and quickly stop unauthorized use of the application. 
It monitors the usage of the application and takes corrective action such as blocking or deletion of the users in real-time.
You can monitor all of the DLP events.
It's attributes for mitigating events in real-time.
It provides users with 360-degree visibility and reporting capabilities.
Verdict: This software can assist you with centrally managing data loss prevention policy for your entire infrastructure. It provides users with total visibility and control over their sensitive information. Check Point offers centralized management of the database and can scale up as the business requirements grow. It also ensures smooth and trouble-free deployment and compliance with the latest standards.
Pricing: Request Check Point DLP for pricing. It offers a free trial. You can also request a free demo.
---
#5. Symantec DLP

Best for providing total protection to your sensitive data.
Symantec's Data Loss Prevention (DLP) is another excellent Forcepoint DLP alternative and competitor. With this tool, users can find, monitor, and protects business-critical data across cloud apps, endpoints, networks, and data centers. It enables businesses to keep their data safe from accidental and malicious data loss by company insiders.
This solution offers complete visibility and control over your sensitive information. It also offers threat-aware data protection that will restrict suspicious applications from access business data. Symantec's DLP solution increases the incident response to user and entity behavior analytics. For low-priority incidents, this software optimizes analyst workflows and automates bulk response.
Features:
Using your existing DLP policies and workflows, you'll be able to extend rules and business logic to cloud management points like Dropbox and Office 365.
With Symantec DLP, customers also gain insights and controls enabled by the Symantec CASB solution. This combined solution delivers detailed visibility of user activity in the cloud, alerts to risky behavior, and controls to prevent inappropriate sharing of sensitive content
It has functionalities for tracking policy violations and insecure user behavior over the control points.
This tool helps you better manage and respond to incidents by rapidly prioritizing risky behaviors and identifying malicious users.
It's attributes for fast and efficient responses in the event of critical data loss.
It reduces administrative overhead with a single management console for all your DLP requirements.
Verdict: With this tool, you will find the flexibility of fine-tuning the policies. You'll be able to extend on-premise data protection policies to cloud apps. This solution will prevent and discourage users from info leaking through real-time blocking, alerting, and quarantining.
Pricing: Request Symantec DLP for pricing.
---
#6. Code42 DLP

Best for small to large businesses.
Code42 is a cybersecurity software which help businesses with cyber hazard management. With Incydr, IT teams can effectively purge ex-filtration risks and document exposure without slowing computer performance. 
It can also be used to monitor multiple document activities like adjustment, creation, movement, and deletion. It deploys a multidimensional approach for timely safety evaluation. The cloud backup and endpoint management alternative provided by Code42 DLP helps users to fight ransomware attacks, accidental mistakes, and hardware failures. Business houses can also prioritize their document backup according to their importance. 
Besides backup, it also features a trusted restore choice, inclusive of features like real-time information recovery, flexible versioning and file retention, self-healing archive files, etc. Admins can restore files to their original place, version, or date according to business needs.
Features:
It can protect all of your valuable IPs such as source code, customer data, original articles, etc.
It offers features such as risk prioritization and signal capabilities.
With Incydr, data risks can be discovered throughout the cloud, computers, and email.
In case of any breach, it takes action in line with the worker's intent, past behavior, and incident effect.
Incydr detects file vulnerability and ex-filtration across cloud, computers, and email through agent and lead integrations.
It monitors all file activity (creation, deletion, modification, and movement) no matter what is considered acceptable or unacceptable by safety policy. This detailed approach to monitoring reduces installation and handling time by taking away the rule creation and refinement procedure. 
It enables a secure collaboration that doesn't compromise the speed of innovation nor the safety of data.
Additionally, it shed lights on the organization's data safety blind spots by demonstrating activities that fly off the radar of additional safety technologies.
Verdict: Code42 is one of the best SaaS solutions available in the market that can handle & mitigate insider risk. It will let you detect and respond to data breaches and theft from the corporate cloud, email, and computer programs. Code42 offers Incydr feature for quick and accurate detecting of insider threats. It is an intelligent software that can understand the difference between risky events and everyday collaboration.
Pricing: Request Code42 for pricing.
---
#7. Trend Micro

Best for small to large businesses' data security and cybersecurity.
Trend Micro is an advanced computer security software that's specially designed for companies of every size. This software is easy to install and user-friendly. Its useful functionality includes anti-malware, protecting your email, security against ransomware, plus even more.
Trend Micro's integrated DLP alternative can be deployed instantly and will provide you visibility and control of your own data. It may protect the information at rest, in use, and in movement. It lowers the cost and sophistication of DLP. This software can inspect the network 24*7.
Trend Micro Integrated DLP solution minimizes the complexity and cost of data security by integrating DLP performance into your existing Trend Micro management consoles. Integrated DLP permits you to deploy data security for a fraction of the cost and time of traditional enterprise DLP solutions.
Features:
It integrates the DLP performance into your present Trend Micro options and management styles.
It gives you protection against known and unknown vulnerabilities across IT and IoT environments.
It secures your physical, virtual, cloud, and container environments more effectively.
It delivers a lightweight plugin to stop information loss across USB, email, SaaS programs, cloud storage, internet, and mobile devices.
This can identify improper data use dependent on the computer keyboards, regular expressions, and document features and can respond to this improper data usage.
It protects your business data against zero-day threats.
Verdict: With the Trend Micro DLP alternative, you will save on deployment and maintenance costs. It provides alert notifications in case of a breach. It also educate employees on corporate data usage policies. You'll have the ability to restrict the usage of USBs, USB attached mobile devices, cloud storage, etc.
Pricing: 
Worry-Free Services Advanced – $59.87 per user
Worry-Free Services – $37.75 per user
---
#8. Teramind

Best for protecting data against breaches, data leaks, and theft.
Teramind provides a user-centric security strategy to monitor your employee's digital behavior. It streamlines worker data collection in order to identify suspicious activity, enhance worker productivity, detect possible threats, monitor employee efficiency, and ensure industry compliance. 
This software helps in reducing security incidents by offering real-time access to user activities. It also provides alarms, warnings, redirects, and consumer lock-outs to keep your business running securely and economically, while a completely free Android app offers employee tracking on the move.
Teramind can be set up in minutes and can be deployed.
Features:
It provides the features of user activity tracking, insider threat detection, and content discovery & classification.
It has a powerful policy and principles engine.
It offers sophisticated risk scoring, which helps in identifying and focusing on high-risk areas.
It performs content discovery with innovative OCR, NLP, and RegEx.
It monitors all user activities such as third-party vendors and privileged users for more than 12 system objects like website, application, keystroke, IM, email, network etc.
It can identify sensitive information inside images, applications, and even videos.
Verdict: Teramind DLP is appropriate for businesses of any size. It provides effective endpoint data loss prevention. It will help you with monitoring data flows over external drives, community, and cloud solutions. Also, Teramind's compliance management features allow you to conform with compliance regulations like GDPR, HIPAA, and ISO 27001.
Pricing: 
Teramind Starter – $10 per user per month
Teramind UAM – $20.83 per user per month
Teramind DLP – $25 per user per month
---
#9. GTB Technologies

Best for preventing data loss because of viruses and trusted insiders.
GTB Technologies is another great Forcepoint alternative and smart Data Loss Prevention solution. You can deploy this software instantly, without a proxy, appliance, or endpoint agent. It features a content-aware reverse firewall that inspect, classify, and analyze all outbound and inbound information transmission in real-time. It is a single-agent cloud option. It supports on-premise and cloud-based deployments.
Features:
It provides an OPSWAT accredited solution.
It provides the qualities of real-time Fingerprint Detection for information from users.
GTB accurately discovers sensitive data in cloud storage – Virtually zero false-positive rates.
It addresses dangers from untrusted and trusted users.
It offers protection on-premises, off-premises, and the cloud.
It helps in discovering sensitive data and prevents breaches from repositories like Microsoft SharePoint.
With this tool, users can audit sensitive data.
Verdict: GTB Technologies provide an option for protecting sensitive data on computers, laptops, cloud repositories, cloud workloads, and servers. It supplies a real-time and accurate monitoring and protection solution for these endpoints. It's unique features include KEXT-Less Agent, UBA/ITM, and Native DRM/IRM.
Pricing: Request GTB Technologies for pricing.
---
Conclusion
Data loss happen when confidential or private information leaves the organization because of unauthorized access of channels like applications, storage devices, or network protocols. These tools help in preventing data loss by identifying and securing data within your network and offline. DLP or Data Loss Prevention software monitors the types of data on your network, how the data is accessed and transmitted, and if the data contains sensitive information. 
Therefore, in order to safeguard valuable business data, a reliable DLP solution is a must. Endpoint Protector is our top recommended solution as a Forcepoint alternative.
Related posts: