Best McAfee DLP Alternatives (Free and Paid) for 2023
Are you looking for alternatives to McAfee DLP?
We have curated a list of McAfee alternatives. When assessing different solutions, we have compared features like integration and installation, service and support, and particular product capacities.
Other important factors to consider when researching choices to McAfee DLP Endpoint include simplicity of use and dependability. The top competitors of McAfee DLP are Endpoint Protector, Symantec Data Loss Prevention, Digital Guardian, Trend Micro, and so on.
In this article, we will see the following.
McAfee offers a comprehensive data loss prevention (DLP) solution to protect intellectual property. It can secure the business-critical information on the network, in the cloud, and at endpoints. This DLP solution is choosed by many small to large size businesses.
Endpoint security solutions have become a norm for end-user devices now. McAfee DLP is one of several options for endpoint security, but there are more comprehensive choices. If you're looking for an alternative to McAfee DLP, you've come to the ideal place.
McAfee DLP
McAfee DLP is one of the leading data loss prevention software that aids users in protecting, monitoring, analyzing data loss. It is specially designed to protect data at its source. Business owners can easily keep their intellectual property information or any business relevant information safe in the cloud, in the community, or in other endpoints. 
McAfee DLP comes with automatic reporting centers that ensure enhanced compliance and protection of users' data. The software further simplifies policy direction and incident workflow tracking with its flexible deployment options. 
Centralized reporting and incident management features of this solution assure DLP violation monitoring whatever devices they're coming from. By leveraging a typical policy engine across networks, endpoints, and the cloud, this tool is effective at protecting the data in various environments. Moreover, quick data identification, gain visibility, and policy breach remediation are other salient features of this program.
Features of McAfee DLP
Mcafee DLP solution makes it possible to identify sensitive data or user activity, do it on policy violations, and create episodes of violations.
It can take different actions on sensitive business data loss, such as reporting an event, blocking consumer access, proceeding or encrypting files, & quarantine emails that contain the data.
Analyzes points of data loss without impacting your network to help you plan your data loss prevention strategy. 
Supports protocols that are not proxied by other email or web gateways. 
 Scan files and databases stored on local endpoints, shared repositories, or the cloud to identify sensitive data. 
It provides real-time feedback through educational pop-up messages to help shape corporate security awareness and culture.
Monitors network traffic for devices that do not have McAfee DLP installed. 
It provides a wide range of built-in policies and rules for common requirements, including regulatory compliance, intellectual property, and acceptable use. 
It is made for large-scale enterprises.
Why look for McAfee Alternatives?
According to online reviews, here are few reasons why you should look for McAfee alternatives.
This product is a little bit expensive. 
The agent file is too large due to take time to deploy at the client machine.
In the initial phase, you would need to do a lot of testing before finalizing the classifications & definitions criteria that you want to use.
It has frequent incompatibility with Google Chrome. With regular new versions of Chrome, McAfee has to test & release newer versions of its DLP agent to make itself compatible with it.
McAfee is a Complex product and requires a learning curve.
Difficulty of installation, maintenance, and management.
McAfee Vs. EndPoint Protector
You should choose Endpoint Protectors if you care about:
Zero-day support for new macOS versions
Excellent Linux support
Responsive product group on custom attribute requests
Reputable, lightweight agent vs. resource-intensive broker
Suppose you invested time & money into McAfee Certified Product Specialist programs, and you're also looking for a larger product suite that incorporates other solutions than Data Loss Prevention, for example. In that case, antivirus for external threats, advanced network monitoring, or web security, McAfee DLP might be the right choice.
List of McAfee Competitors
The main details of each software are listed below, but if you're in a hurry, here's a quick list of the best alternatives to McAfee DLP Software.
If you'd like to see our in-depth analysis, keep reading.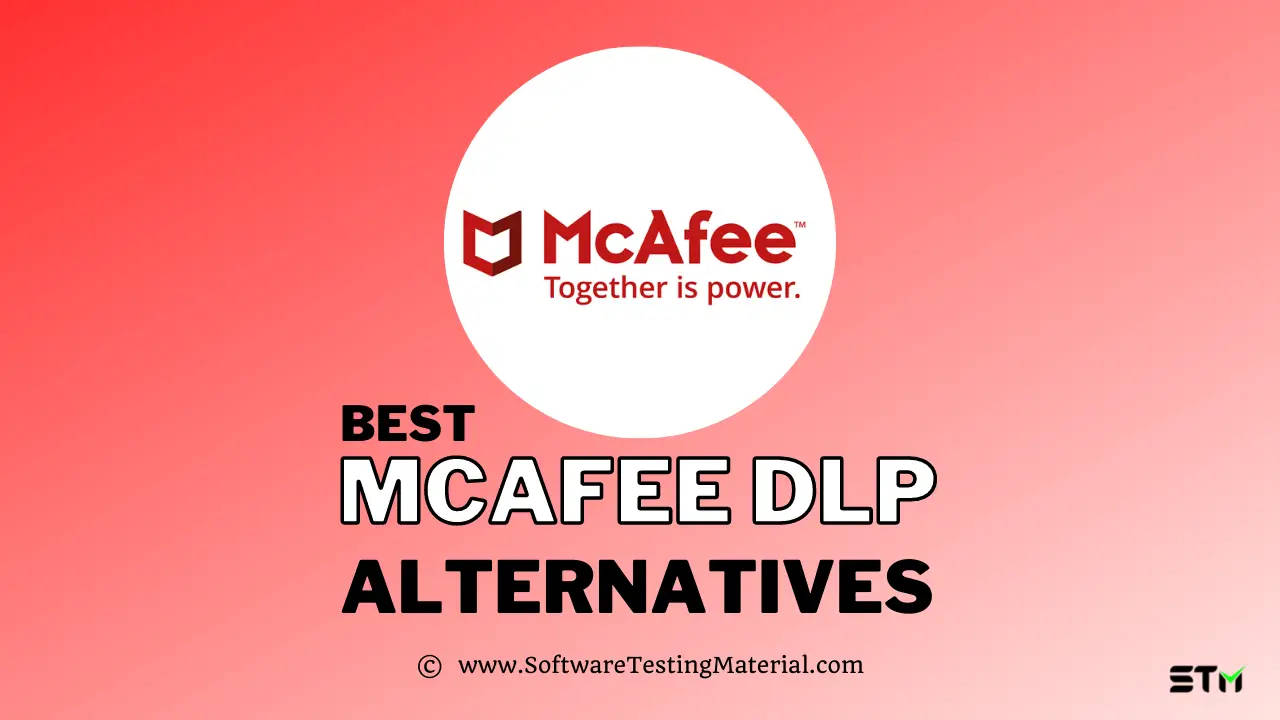 #1. Endpoint Protector

Best for insider threat, IP, and PII protection.
Are you looking to replace McAfee DLP? Endpoint Protector is one of the best Mcafee Alternative, which provides innovative Data Loss Prevention solution. It identifies, monitors, and protects your confidential data and intellectual property – whether at rest or in motion throughout your system, endpoints, as well as mobile devices. 
This software is a true cross-platform solution that features feature parity between Windows, macOS, and Linux computers. Monitor and control USB and peripheral ports, scan information in movement and also data at rest, and secure USB storage devices by encrypting confidential data including Personally Identifiable Information (PII) and Intellectual Property (IP).
Content awareness is essential so as to protect sensitive enterprise data with secure passwords in transit. Scan sensitive data stored on Windows, Mac, and Linux endpoints in minutes. Small, Medium, and Large companies use the software.
Features:
It minimizes the risk of data breaches. Users can protect their sensitive data from accidental or deliberate flows with our whole DLP solution and prevent financial and reputational damages.
Reach compliance with data security regulations like GDPR, PCI DSS, or HIPAA and make sure sensitive information stays inside your organization.
Deploy Endpoint Protector DLP and secure your confidential information in movement and at rest easily and economically.
It reduces installation complexity & price. 
It focuses on identifying and mitigating risks to your sensitive data and less on maintaining the infrastructure.
Verdict: Endpoint Protector Software is used to secure sensitive data with advanced multi-OS data loss prevention. Manage Device Control module of USB interfaces and connected storage devices from malware, BadUSB attacks, or viruses. 
Pricing: Request Endpoint Protector for pricing. You can also get a free demo on request.
---
#2. ManageEngine Endpoint DLP Plus

Best for enterprise data classification & insider threat prevention.
Endpoint DLP Plus is ManageEngine's dedicated DLP software designed to protect sensitive data on managed endpoints from data disclosure and theft by leveraging advanced data loss prevention strategies, which include detecting and classifying data as well as defining rules for authorized usage and secure transmission.
Feature:
Robust classification of both structured and unstructured data
Stringent peripheral device control
Complete cloud upload protection
Secure email collaboration Instant alerts and extensive audits
How Endpoint DLP Plus is a better solution than McAfee DLP?
Endpoint DLP Plus is easy to install, maintain and manage. Endpoint DLP PLus is a user friendly software and has affordable pricing, starts from USD 795.
---
#3. Digital Guardian

Best for data visibility and no-compromise protection.
It offers a more comprehensive endpoint solution than McAfee DLP. No-compromise data protection implies the flexibility to adapt to your requirements. Digital Guardian is a unique DLP solution that encourage both case-based approach (known information types or user groups) and data risk discovery approach (identifying unknown usage cases). 
 McAfee DLP offers flexible classification options, but Digital Guardian will completely streamline the process of data classification. DG also has patented, automated, and persistent tagging capability.
Digital Guardian's "unknown risk" approach allows users to see where sensitive information is located, how it flows, and where it is placed – all without policies.
Feature:
This software can identify, classify, and track sensitive data.
McAfee's solution is content-aware, but Digital Guardian offers content-aware and context-aware solutions to provide seamless, constant, and hierarchical data classification.
It is industry's only SaaS solution.
This tool enables quick deployment and on-demand scalability, at the same time providing full data visibility.
It offers functions such as silent alerts, user prompting, and blocking for managing risky behavior.
It significantly reduces the risk of data loss at your biggest point of risk – the endpoint.
Its salient features also include access control, continuous monitoring, and automatic encryption & classification.
Verdict: Digital Guardian DLP offers you extensive coverage and control at Windows, macOS, and Linux endpoints. More and more companies are running multi-OS environments; therefore, they need a platform that doesn't compromise coverage and leaves gaps in the data protection strategy. This tool captures and records events at the system, user, and data level, both when connected to a network or offline. It let you fine-tune responses based on user, risk level, or other factors. 
Pricing: Request Digital Guardian DLP for pricing. You can schedule a demo from them.
---
#4. Code42

Best for data loss detection, investigation, as well as response.
Welcome to information security for the collaborative and remote enterprise. Code42 lets users validate appropriate usage of sanctioned collaboration tools, for example, Slack and OneDrive. Uncover Shadow IT applications that may indicate gaps incorporate tools or training. 
Code42 also secures collaboration by validating the proper use of collaboration tools and uncovering shadow IT applications that may indicate gaps in the training.
Features:
Gain visibility into off-network record action, such as internet uploads and cloud sync apps. 
Quickly detect, investigate and respond to information exfiltration by remote employees. 
Get activity alerts based on file type, size, or the count. You can access detailed user action profiles to accelerate investigation and response.
Users can oversee file-sharing activity in Slack, OneDrive, Google Drive, Zoom, and much more.
It detects and takes action to stop data leakage and theft from the corporate cloud, email, and computer systems.
Verdict: It offers insider threat protection that helps users with managing and mitigating insider risks. It is a SaaS solution by which users can quickly find out the data security blind spots. Code42 response actions vary according to the impact, employee history, and intent.
Pricing: Request Code42 for pricing.
---
#5. Safetica

Best for small to medium-sized businesses.
Safetica's data loss prevention (DLP) software helps small-scale and medium-size companies with data protection. It is cost-effective, easy-to-use Data Loss Prevention (DLP) solution.
They offer elegant, creative, and practical answers to logical issues. This program performs a safety audit, empowers users to be informed about the situation inside their organization, and prevents sensitive information from falling into the wrong hands. 
Safetica enables users to identify issues in internal procedures and implement their answers. A business can ascertain how its workers work. Organizations can define which devices to be used by their employees, enabling them to remove the dangers of BYOD. 
Feature:
It offers features like User Activity Audit and Management, Encryption, Alerts, Reports, etc.
Protect your critical data and control who can access it.
It can perform an audit of data transfers.
Verdict: Safetica simplifies the practice of Information Protection Security Acts compliance with enabling users to comply with regulatory compliance requirements efficiently. Users receive real-time notifications in case of any data leakage.
Pricing: Request Safetica for pricing.
---
#6. Symantec DLP

Best for Small, Midsize, and Enterprise Organizations.
It offers total protection for your sensitive data. Symantec will mitigate data breaches and compliance risks. 
Its Data Protection Solutions includes various solutions and policies such as Domain Names, Access Control Lists, and Network Monitor. With the help of this software, you can gain access to your secured network no matter where you are and what device you are using. This helps you prevent unauthorized access and use of your sensitive data. It allows users complete visibility and control over their data. It monitors policy violations and risky user behavior across all control points. 
Feature
It identifies sensitive information types using flexible predefined policy templates and an extensive library of data identifiers.
Its unique feature of automated incident remediation workflows and one-click SmartResponses enables users to respond efficiently in critical data loss.
It also offers Cloud Access Security Broker (CASB) shadow data assessment. This feature gives visibility into the shadow IT usage and identifies risky applications by analyzing logs from proxies, firewalls as well as endpoints.
It will help you to assess data exposure and associated risk within the company. 
Verdict: Symantec's DLP solution has the goal of protecting data. It is achieved by the innovative combination of data protection technology and analytics to allow companies to identify, monitor, and protect sensitive data, including data that moves to the cloud and is used by third-party organizations. It provides users with analytics data to highlight risky users and remotely triggered access controls to lock users out of a document, providing real-time protection against a breach.
Pricing: Request Symantec DLP for pricing.
---
#7. Check Point DLP

Best for pre-emptive data loss prevention.
It is an enterprise-level security solution that is the next generation in computer security. Check Point empowers companies to pre-emptively defend against unauthorized access, block unwanted access, enforce password protection and identify, remove and recover lost data. Check Point DLP security is delivered through a comprehensive range of industry-leading technologies and features like centralized reporting, central control, enterprise-quality monitoring, database and network isolation, data security management, and policy enforcement. 
With the leading-edge capabilities of Check Point DLP technology, it ensures the efficient management and deployment of all enterprise-level DLP solutions while reducing IT costs. 
Features:
Check Point DLP's solutions are scalable to handle large amounts of traffic with easy management. It is designed with advanced process modeling and deployment features that allow quick application of changes in response to checkpoint incidents, taking into consideration real-time and past events of the day. 
It enables a single administrator to manage hundreds of checkpoints within a single system, and it further allows for the simultaneous execution of thousands of processes, taking up very little space.
This DLP is enabled by a robust real-time mechanism that detects and Redundancy events, such as failed connections, exceeding resource limits, check points exceeded, etc. Based on these potential redefined Redundancy events, the solution determines the best and most suitable application of the security policy and also alerts the administrator if any event triggers a redundant application termination. This helps reduce the cost involved in deploying Check Point DLP solution. Redundant applications are automatically terminated when the administrator notifies them.
Check Point DLP solution delivers high availability and high accuracy with easy application deployment. It performs well in most of the deployment process under heavy workloads and extreme conditions. It can be automatically deployed on the enterprise level with minimal configuration. 
It is configured and deployed as a managed service, which enables fast application deployment, flexible and cost-effective monitoring, high availability of data and resources, and easy management of the entire system.
Verdict: With the help of this DLP solution deployed on the enterprise level, businesses can effectively prevent data loss. Check Point DLP policy effectively stops unauthorized transmissions and data loss by alerting security personnel and management system if any unauthorized transmission takes place. It provides pre-emptive protection against unintentional data loss. With this software, you can centrally manage data loss prevention over your entire IT infrastructure.
Pricing: Request Check Point DLP for pricing. It offers a free trial. You can also request a free demo.
---
#8. Trend Micro

Best for enterprise data security and cybersecurity.
Trend Micro is another great McAfee alternative available in the market. It is excellent at protecting data at rest, in motion, and in use. This solution will get incorporated into your present Trend Micro solutions. It offers a lightweight module and will give you control and visibility over your sensitive data and can prevent information loss through SaaS software, mobile devices and cloud storage, USB, and so on.
With Trend Micro DLP solutions integrated into your business environment, you will be able to protect yourself from data loss prevention risks that result from unauthorized access to your company information or systems. Trend Micro DLP products are designed to provide maximum visibility and operational efficiency for organizations that have the need to gain quick visibility on end-users computers without having to wait for a data loss prevention audit to occur. Small to large businesses can achieve greater levels of visibility with the integrated software and hardware capabilities that this industry leader offers. You can ensure that your business is protected and will be able to respond quickly to any attempts at intrusions.
It provides advanced automated threat detection and response against an ever-growing variety of dangers, such as viruses and ransomware. Its cross-generational mix of modern techniques offers highly tuned endpoint protection that optimizes performance and efficacy. Perform threat investigation through integrated and protracted EDR or by boosting your security teams with its managed service option. 
Features:
Trend Micro incorporated DLP solutions to give users visibility and control over the information in USB ports, CDS, removable disks, DVDs, etc.
Get actionable insights, expanded investigative abilities, and centralized visibility by utilizing an innovative EDR toolset, powerful SIEM integration, and an open API set.
Integrate security throughout your organization's networks, endpoints, and hybrid cloud environments with Trend MicroTM Connected Threat DefenseTM.
Eliminate multiple sellers and consoles and obtain deployment flexibility through both SaaS and on-premises installation choices.
Prevent, detect, and react to risks across the whole threat life cycle together with concentrated threat insights and control and visibility, using specialized engines, custom sandboxing, and seamless correlation
With Trend Micro, you will get market-leading, actionable threat intelligence from Trend Micro Research, Trend MicroTMSmart Protection NetworkTM, and Zero Day Initiative.
Correlate advanced threat events to give visibility and reevaluate your response
It provides global regulatory and compliance templates like PCI/DSS, HIPAA, GLBA, etc.
It can monitor and record sensitive data that's flowing through system endpoints, mobile devices, etc.
Verdict: Trend Micro's Integrated Data loss prevention alternative will safeguard your data at low expense. It could detect and react to improper data usage. This solution also provides alerts and reports which may educate employees on corporate data usage. It offer out-of-the-box compliance templates to simplify regulatory compliance.
Pricing:
Worry-Free Services Advanced – $59.87 per user
Worry-Free Services – $37.75 per user
---
#9. GTB Technologies

GTB Technologies helps businesses to eliminate data risks automatically on-premises, at the endpoint & in the cloud.
With the ability to block or remove just about any type of threat – including virus, adware, and malware – GTB has developed a world-class data protection technology that empowers organizations with an effective and innovative defense against malicious attacks. With this capability, organizations no longer have to spend thousands of dollars on protecting sensitive data from hackers.
GTB is an all-encompassing data security product. It approaches DLP by looking at it from the initial data classification angle, doing full data discovery, tagging, and looking at every possible exfiltration path.
Features:
It scales successfully, be it on-prem or hosted on AWS. 
It protects sensitive data on Computers, Laptops, Servers, and Cloud repositories with Real-time, accurate monitoring & protection.
Users can obtain Compliance with Regional, Country & Industry Data Protection Regulations.
It supports several other advanced capabilities, including fingerprinting, key management, and application execution.
GTB's robust fingerprinting technology has enabled companies to take advantage of multi-tenancy and multi-platform mobile enterprise applications.
It offers real-time security, which is at scale and adaptable.
Verdict: GTB Technologies offers complete data security in the cloud, on-premises, or off from an Intellectual Property, Compliance, and APT perspective. It can be deployed in minutes.
Pricing: Request GTB Technologies for pricing.
---
Conclusion
Personal Information Protection (PII), Compliance, Data Loss Prevention, IP Protection, Data Recovery, and Data Visibility are the main reasons to have an efficient DLP solution. McAfee's DLP is the software for large enterprises, it is difficult to install, manage, and maintain. It is also expensive. EndPoint Protector is our recommended McAfee DLP alternative. Other great DLP solution includes Digital Guardian, Trend Micro, Force Point DLP, and so on.
Related posts: