10 Best Healthcare Software Development Companies In 2023
Are you looking for the best healthcare software development company which is experienced and reliable?
With the rapid growth of healthcare and medical technology, more companies in this sector are turning to software developers.
The right program will improve patient care, streamline processes and boost efficiency. For this reason, choosing a top-notch developer is critical to your organization's success.
To help make it easier on you, we have compiled a comprehensive list of the 10 best healthcare software development companies – so that you can ensure your team has access to the absolute best technology available. Read on to learn more!
When selecting a Healthcare Software Development Company, businesses should look for a provider that specializes in the specific technology needed for their project and has experience in developing secure healthcare solutions. Additionally, they should review the company's portfolio and references from previous clients to ensure they have the necessary resources and expertise to deliver quality solutions. Finally, evaluate their customer service record and pricing structure to ensure that the provider meets their budgetary requirements. This will help businesses make an informed decision when choosing the right Healthcare Software Development Company for their needs.
The market trends for Healthcare Software Development Companies have been steadily increasing, due to the need for secure and robust software solutions that meet industry-specific requirements. With the expanding use of healthcare technology, there is a growing demand for companies who can provide tailor-made, secure and efficient software solutions. Healthcare software development companies are in high demand as they offer a reliable and cost-effective way to meet these requirements. This trend is expected to continue in the future.
Comparison of Top Healthcare IT Companies
| Company | Established On | Office Locations | Avg Hourly Rate | Min Project Size | Employees |
| --- | --- | --- | --- | --- | --- |
| ScienceSoft | 1989 | USA, UAE, Europe | $50 – $99 / hr | $5000+ | 700+ |
| Kanda Software | 1993 | USA, Kyrgyzstan | $50 – $99 / hr | $10,000+ | 650+ |
| LeewayHertz | 2007 | San Francisco, New York, Chicago | $50 – $99 / hr | $10,000+ | 250+ |
| Athenahealth | 1997 | Atlanta, Austin, Belfast, Burlington, Seattle, Watertown, Bangalore, Pune, Chennai | < $25 / hr | $1,000+ | 12000+ |
| Taazaa Inc | 2007 | USA (Hudson, Ohio), India (Noida) | $50 – $99 / hr | $50,000+ | 249+ |
| TatvaSoft | 2001 | USA, Canada, UK, Australia (Sydney), Australia (Melbourne), India | < $25 / hr | $10,000+ | 1080+ |
| Hatchworks | 2016 | USA (Atlanta, Chicago, Dallas, Washington), Colombia (Barranquilla, Medellin, Bogota), Peru, Costa Rica | $50 – $99 / hr | $75,000+ | 249+ |
| Scopic | 2006 | USA | $25 – $49 / hr | $10,000+ | 280+ |
| IT Craft | 2001 | USA, Germany, Estonia, Ukraine | $50 – $99 / hr | $10,000+ | 300+ |
| Codal | 2009 | USA (Chicago), India (Ahmedabad), United Kingdom (Lincoln) | $150 – $199 / hr | $75,000+ | 200+ |
List of Top Healthcare Software Development Companies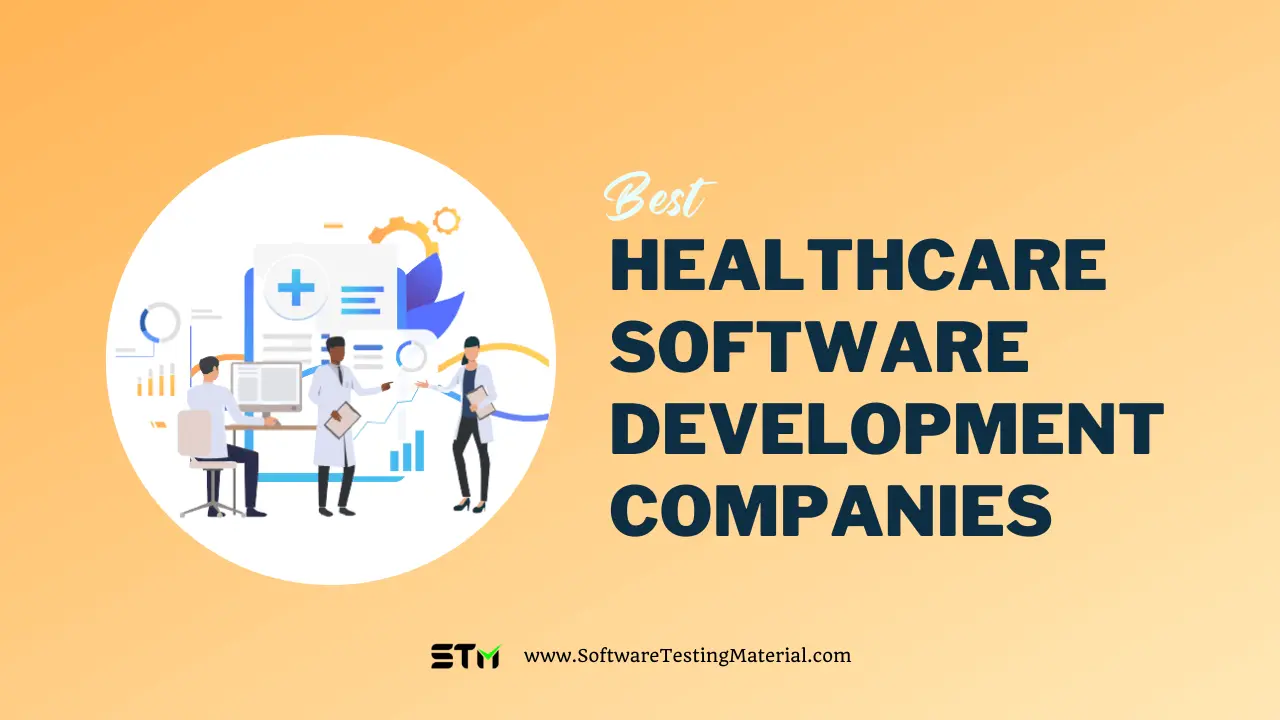 #1. ScienceSoft (McKinney, TX, USA)
Established On: 1989
Projects Completed: 650+
Average Hourly Rate: $50 – $99 / hr
Min Project Size: $5000+
Employees: 700+
Office Locations: USA, UAE, Europe
Clients: Chiron Health, BioAffinity Technologies, Malmo University, PerkinElmer.
With 17 years of medical IT experience, ScienceSoft is an IT vendor trusted by over 100 clients in the healthcare domain. Proficient in industry-specific requirements, technology challenges, and regulations, ScienceSoft delivers award-winning solutions ranging from patient apps and EHRs to AI-powered medical image analysis software.
ScienceSoft is a team of 700+ skilled IT professionals, including MDs and healthcare IT consultants with 5-9 years of experience. Holding ISO 9001, ISO 13485, and ISO 27001 certifications, ScienceSoft guarantees high quality, unfailing security, and regulatory compliance of its healthcare solutions, SaMD, and medical device software.
Features:
Develops tailored IT solutions for healthcare providers, labs, software product companies, startups, medical device and pharmaceutical companies. Some of the solutions ScienceSoft delivers include telehealth apps, custom EHRs, chronic disease management software, remote patient monitoring apps, and more.
Offers modernization and evolution of legacy healthcare software to improve functionality, usability, performance, UI, etc.
Provides medical device software and SaMD development services, covering disease-specific solutions for diabetes, obesity, neurology, cardiac and behavioral diseases, etc.
Enables secure healthcare data exchange according to HL7, ICD-10, LOINC, CPT, XDS/XDS-I, FHIR, and DICOM standards.
Builds AI- and ML-powered solutions for medical image analysis, clinical decision support, intelligent chatbots, recommendation engines, etc.
Guarantees compliance with the requirements of HIPAA, HITECH, GDPR, FDA, MDR, IVDR, NCPDP, PCI DSS, ONC, MACRA, MIPS, CEHRT, SAFER, and other standards and regulations.
Enables connectivity of wearables and medical devices for remote patient monitoring using WiFi, Bluetooth, Bluetooth Low Energy, NFC, 5G, etc.
#2. Kanda Software (Newton, MA, USA)
Established On: 1993
Projects Completed: 1000+
Average Hourly Rate: $50 – $99 / hr
Min Project Size: $10,000+
Employees: 650+
Office Locations: USA, Kyrgyzstan
Clients: Accenture, Lionbridge, Bayer HealthCare, Cancer Treatment Centers of America, COllege Interactive, RallyPoint, Dell EMC, Nuance, Aptus Health etc.,
For the last three decades, Kanda Software has been a pioneering force in Digital Health and creating leading-edge medical software development companies throughout every stage of the software development lifecycle.
They are a complete service provider of product design, development, implementation, and support services for the highly regulated software healthcare industry.
Kanda Software has been providing customized software solutions for healthcare organizations of all sizes.
Their experienced team specializes in aiding businesses to adopt advanced digital technologies that enable them to serve their clients better and more efficiently. With 31 years of success stories, they are the leaders in creating innovative medical options that help make lasting changes within the industry.
Fortune 500 companies and ambitious startups alike have trusted its technical proficiency and rigorous systems to transform their creative vision into a service.
Kanda's comprehensive portfolio of software initiatives has generated an impressive revenue stream in excess of hundreds of millions of dollars, delivering success for over a thousand projects.
For eight consecutive years, the company has been honored as one of Inc. 5000 Fastest Growing Companies in the US since 2023, a testament to its commitment and dedication!
Kanda Software is an industry-compliant partner for software, specifically in HITRUST, HIPAA, FDA, CLIA and NIST. Although it has more than 250 team members on board – making them a large company by comparison – their development rates are surprisingly average ranging from $50 to $99.
#3. LeewayHertz (California, USA)
Established On: 2007
Projects Completed: 100+
Average Hourly Rate: $50 – $99 / hr
Min Project Size: $10,000+
Employees: 250+
Office Locations: San Francisco, New York, Chicago
Clients: Siemens, Leica, Hershey's, Trace RX, Wells Pargo, P&G, 3M, ESPN, US ARMY and many others.
For more than a decade, LeewayHertz has been delivering top-notch healthcare solutions in the USA and become one of the best custom healthcare software development companies in the healthcare industry.
They strive to customize every product they design for their clients according to their individual needs.
They deliver customized digital software solutions to enterprises and startups globally.
Their healthcare software development services span from developing telemedicine software development and remote patient monitoring systems to creating mobile health applications driven by Internet of Things (IoT) technology.
Their cutting-edge solutions not only make sure that the data is kept secure but also enable greater scalability of the healthcare ecosystem.
Furthermore, their expertise in revolutionary technologies like blockchain, IoT, and AI enable them to craft innovative healthcare solutions.
They also offer specialized solutions for patient engagement.
#4. Athenahealth (Watertown, MA, USA)
Established On: 1997
Projects Completed: Yet to update
Average Hourly Rate: < $25 / hr
Min Project Size: $1,000+
Employees: 12000+
Office Locations: Atlanta, Austin, Belfast, Burlington, Seattle, Watertown, Bangalore, Pune, Chennai.
Athenahealth is a healthcare software company that provides comprehensive electronic health record (EHR) solutions, including medical records management and clinical documentation tools.
Their innovative web-based platform offers a suite of integrated applications with features like patient scheduling, billing & collections, practice management, care coordination, data exchange, patient engagement and more.
Athenahealth cloud-based EHR products and services empowers organizations to reach their full potential by leveraging clinical and financial insights from across the entire healthcare system. It lets you take advantage of powerful solutions designed to help your business exceed expectations.
Furthermore, it aids in integrating into a data-driven healthcare ecosystem which contributes to enhancing patient outcomes and improving the company's profitability. Their cloud-based and on-premises solutions support healthcare companies of all sizes by providing them with measurable financial and clinical results.
By leveraging a cloud-based approach, Athenahealth's EHR platform can be accessed anywhere with an internet connection and easily integrates with other health IT systems and clinical applications.
It streamlines the entire clinical workflow by eliminating manual processes, enabling providers to access information quickly through their mobile devices.
It also helps improve the quality of healthcare outcomes while creating new efficiencies to support the business.
In addition, Athenahealth's EHR platform provides reporting and analytics tools that allow providers to measure their performance against industry benchmarks accurately.
#5. Taazaa Inc (Hudson, Ohio, United States)
Established On: 2007
Projects Completed: 165+
Average Hourly Rate: $50 – $99 / hr
Min Project Size: $50,000+
Employees: 249+
Office Locations: USA (Hudson, Ohio), India (Noida)
Clients: Brainingcamp, Cleveland Clinic, Hudson, Ignyte, Innago, Parker, Cookingenie, Good Year, Tobi etc.,
Taazaa is a product engineering and custom software development company headquartered in Ohio. Taazaa provides secure, top-notch digital solutions that take your business to the next level. Taazaa helps design and build innovative products to revolutionize your business!
Taazaa offers healthcare-oriented solutions swiftly and effectively, courtesy of its large team of developers and architects. Rather than opting for the conventional route that can take years to build an app, these experts guarantee outcomes in mere weeks!
It helps you in creating telehealth apps, patient portals, Mobile health portals for medical professionals, mHealth platforms and even apps related to wearable fitness technology.
Their services span from UI/UX design, mobile app development, custom software engineering for enterprises, product engineering and DevOps to many other specialized tasks.
#6. TatvaSoft (Ahmedabad, India)
Established On: 2001
Projects Completed: 1800+
Average Hourly Rate: < $25 / hr
Min Project Size: $10,000+
Employees: 1080+
Office Locations: USA, Canada, UK, Australia (Sydney), Australia (Melbourne), India.
Clients: Anglo American, De Beers, NSW Health, Fiji Airways, General Mills, Xerox, KFC.
TatvaSoft is a CMMI Level 3 Software Development Company that ensures to meet the individual needs of their worldwide customers while resolving any technical issues hindering global companies.
They are devoted to providing end-to-end tailored solutions, giving businesses the opportunity to excel and reach success.
TatvaSoft delivers innovative and cost-effective digital solutions to streamline your business challenges.
They are the leaders in developing advanced software and mobile apps, emphasizing up-to-date technologies, agile techniques & DevOps practices for optimal performance. Maximize your success with cutting edge custom design from Tatvasoft!
Tatvasoft can help you reach new heights of success with their cutting-edge custom design.
#7. Hatchworks (Atlanta, USA)
Established On: 2016
Projects Completed: 140+
Average Hourly Rate: $50 – $99 / hr
Min Project Size: $75,000+
Employees: 249+
Office Locations: USA (Atlanta, Chicago, Dallas, Washington), Colombia (Barranquilla, Medellin, Bogota), Peru, Costa Rica.
Clients: Viasat, Charter, Anthem, Debold Nizdorf, CarIQ, Recruitics, Tevora, AT&T, Kempter, ICS, NV5, Cox, Kimberly Clark, and many others
Hatchworks offers an end-to-end software development and design experience that specializes in the latest technologies that adhere to HIPAA and accessibility requirements. Their team of experts will work with you to create a product tailored to your individual needs.
By utilizing their expertise in crafting healthcare management systems, claim processing software and analytics solutions they will aid you to enhance your medical operations.
Hatchworks professionals are experts in their field, meaning they can swiftly set up integrations between your medical devices and automate a multitude of different healthcare processes for you.
The company not only provides quality healthcare development services but also offers excellent product design, software engineering, data analytics support, and nearshore development assistance to its customers from all over the globe.
Moreover, it successfully delivers comprehensive technology consulting solutions for businesses of any size.
If your project necessitates HIPAA and accessibility-compliant software products, look no further than hatchworks' engineering team. Their expertise is guaranteed to deliver trustworthy outcomes that will fulfill all of your requirements with precision.
#8. Scopic (Marlborough, Massachusetts, USA)
Established On: 2006
Projects Completed: 1000+
Average Hourly Rate: $25 – $49 / hr
Min Project Size: $10,000+
Employees: 280+
Office Locations: USA
Clients: Mediphany, OrthoSelect, Endovantage, SketchList, Shadewave, Autominer, StockstoTrade, LasikPlus, Mouthguard, Tomographix Quantiva Workstation, RXWeb
Scopic is a perfect blend of a Software Development company and a Digital Marketing company.
At Scopic, you can leverage an extensive selection of healthcare software solutions. From medical imaging systems and telehealth applications to data-driven patient management systems, HIPAA-compliant software programs, and beyond—Scopic helps you build the tools necessary for a successful future in healthcare technology.
Scopic is committed to taking medical apps through the integration of AI/ML, Data Science and Blockchain – all advanced technologies that will revolutionize the industry.
Furthermore, the company offers a variety of IT solutions – from UI/UX design to web and mobile app development as well as marketing assistance. This means that whatever you need for your business, this organization can provide it with confidence.
#9. IT Craft (New York, USA)
Established On: 2001
Projects Completed: 2250+
Average Hourly Rate: $50 – $99 / hr
Min Project Size: $10,000+
Employees: 300+
Office Locations: USA, Germany, Estonia, Ukraine.
Clients: Peakfactor, Adorama, Nandos, Xpertyme, Flexwise, Mycarrier, and many others
IT Craft is a software and web app outsourcing development company that provides custom software development services to businesses worldwide.
The company specializes in cutting-edge technologies, such as cloud technology, mobile app development, web design and development, database management, and data analytics.
IT Craft also has expertise in developing custom applications for various industries, including retail, finance, healthcare, automotive, etc.
Their experienced software engineers can develop the most complex solutions with ease.
At IT Craft, customers are provided with a full range of services from design to implementation.
The company offers end-to-end development lifecycle management, including product planning and conceptualization, system architecture & design, development, testing, and deployment.
They prioritize customer satisfaction and strive to provide the best quality products and services within the client's budget and timeframe.
IT Craft also offers custom maintenance and support for their clients as part of their long-term commitment.
#10. Codal (Chicago, USA)
Established On: 2009
Projects Completed:
Average Hourly Rate: $150 – $199 / hr
Min Project Size: $75,000+
Employees: 200+
Office Locations: USA (Chicago), India (Ahmedabad), United Kingdom (Lincoln)
Clients: Baxter, Pepsi, Samsung and many others.
Codal is a Enterprise Digital Development & Consulting company. Its work spans across web, mobile, and emerging technologies to create beautiful, functional products for some of the world's biggest brands.
The Codal team is comprised of experienced designers and developers who are passionate about pushing the boundaries of technology.
With a focus on creating experiences that people love, they have become known as one of the best in the business for helping brands create better customer relationships.
From setting up marketing campaigns to customizing websites, Codal has you covered when it comes to digital products.
The Codal team's mission is to help brands succeed in the digital age by creating impactful, user-centric experiences that drive engagement and loyalty.
With a proven track record of success, Codal has become one of the most sought-after names in the industry for crafting engaging consumer experiences.
Whether it's a new website or mobile app, Codal is dedicated to helping clients create beautiful products that people love.
FAQs About Medical Software Companies
What are the best software companies in healthcare?
Some of the best software development companies in healthcare are ScienceSoft, Kanda Software, LeewayHertz, Athenahealth, Taazaa Inc, and others
What is healthcare software development?
Healthcare software development is a process of creating custom medical applications for the modern delivery of care with improved cost-efficiency across internal operations.
How is Agile used in healthcare?
In the healthcare industry, agility is essential and offers numerous advantages. The agile methodology optimizes workflow by streamlining processes to enhance patient care and achieve project goals faster. Healthcare professionals can use this approach to break down large projects into smaller sprints, allowing them to optimize their tasks quickly and efficiently.
What is healthcare technology in the IT industry?
Healthcare technology in the IT industry is an umbrella term used to describe any technology that uses information technology (IT) to improve patient care and healthcare workflow. This includes a variety of technologies such as artificial intelligence, cloud computing, blockchain-based applications, medical devices, and algorithms. By leveraging these technological advancements, healthcare organizations can optimize their processes while helping reduce costs and improve overall patient outcomes. Healthcare technology has the potential to revolutionize how healthcare organizations operate, from medical processes to administrative tasks. As the industry continues to evolve, healthcare IT will become increasingly more important for meeting modern demands of the industry.
Research Process
Total time we spent on evaluating these companies: 24
Total companies evaluated: 12
Total companies finalized: 10
We spent 24 hours evaluating and researching 12 different Healthcare Software Development Companies. We looked for features that should be available in an ideal custom healthcare company. We looked at user reviews and compared companies' insights to determine which company helped you in your project development.
Our research shows that the above companies drive your project in a better direction. Here we are not giving any ranking to any company. Every company in the list above has decent insights.
Conclusion – Healthcare Custom Software Development Companies
Put simply, the decision to choose a healthcare custom software development company should be based on the specific needs of an organization.
Not only should you take into account the services offered by a particular firm, but also its past projects, customer-base, and pricing structure.
By closely examining each potential partner with full knowledge and understanding of these respective characteristics, organizations can make sure that their investment in software development will pay off.
Moreover, finding a good custom healthcare software company is easier said than done as they are currently one of the most sought after service providers due to rapidly increasing demand and need for the same.
Still if done right, it is definitely possible to find a great firm that is capable of transforming your ideas and applications into a full-fledged technology solution that helps you streamline operations, increase efficiency efficiencies and save significant time while reducing overhead costs.
Related posts: