Best BrowserStack Alternatives (Free and Paid) for 2023
Are you searching for the best alternative to BrowserStack?
There are many Cross Browser Testing tools out there, but BrowserStack is one of the most popular tools in the market.
BrowserStack plays a major role in fulfilling the demand for testing on real devices and cross-browser devices. It is used by many teams to test existing or new features of a product around the world.
We've compiled a list of some best BrowserStack alternatives with pricing, features, and comparison. So you can find the right BrowserStack competitor for your organization.
What is BrowserStack
BrowserStack is a cross-browser testing software that allows developers to integrate tools to automate visual and live testing across websites and mobile apps.
DevOps teams are able to perform local testing of work in progress (WIP) applications without having them hosted in public environments.
It is the industry's reliable application testing software, used by two million developers across 135 countries.
BrowserStack is used by more than 25,000 companies around the world, including majors like Microsoft, ING and Mastercard, Dow Jones, Garmin, and National Geographic, as well as industry leaders such as Microsoft, ING, Mastercards, Mastercards, Dow Jones, Garmin, National Geographics, Volvo, HubSpots, Walt Disney and AngularJS.
BrowserStack is privately owned and supported by Accel. It has offices in San Francisco and Mumbai, and Dublin.
Features
It features IP whitelisting functionality that allows users to perform secure tests across networks in search of assets and machines whose IP addresses have been approved or whitelisted by administrators.
It gives administrators the ability to create customized dashboard views for sub-teams and then sync them with the appropriate team threads according to their testing requirements. IT teams can activate or deactivate employees automatically after they have offboarded them using single sign-on and user provisioning. 
Easily debug your Selenium and JavaScript tests with its debugging tools. In order to help fix bugs quickly, it offers video recordings, automated screenshots of errors, text logs of Selenium command, browser console logs, and network logs. You can also add unlimited users from your organization to your account so the entire team can collaborate in a better way and share results faster.
Pros
It let users pick from over 2,000 real mobile devices, browsers, and operating systems on demand. Its infrastructure is secure, stable, and scalable to support thousands of concurrent automated and manual tests. It helps software teams to focus on what is most important: building great products and services.
Agile teams can use BrowserStack to provide actionable insights about the performance of automated testing operations. This is possible through data filters that are specific to devices, builds, errors, teams, and other variables. 
It also allows QA engineers to test applications for failures and location-based scenarios. It allows integration with many extensions and plugins, including Appium and Jenkins, Gradle and Testim, Teaspoon, and Visual Studio.
It saves costs by eliminating investment in computers and mobile devices. It is great for cross-platform browsing, and it supports all the major browsers.
Cons
This tool uses a lot of system resources when in operation.
It can be slow at times.
It is a lot costlier than its alternatives.
Support can be improved (no live chat option).
Verdict
BrowserStack is the leading test automation platform for testing websites on 2,000+ real mobile devices and browsers. Devs and QAs rely on its highly reliable Cloud Selenium grid in order to run thousands of tests in parallel and scale infrastructure effortlessly. 
Comparison BrowserStack Competitors
List of Best BrowserStack Alternatives And Competitors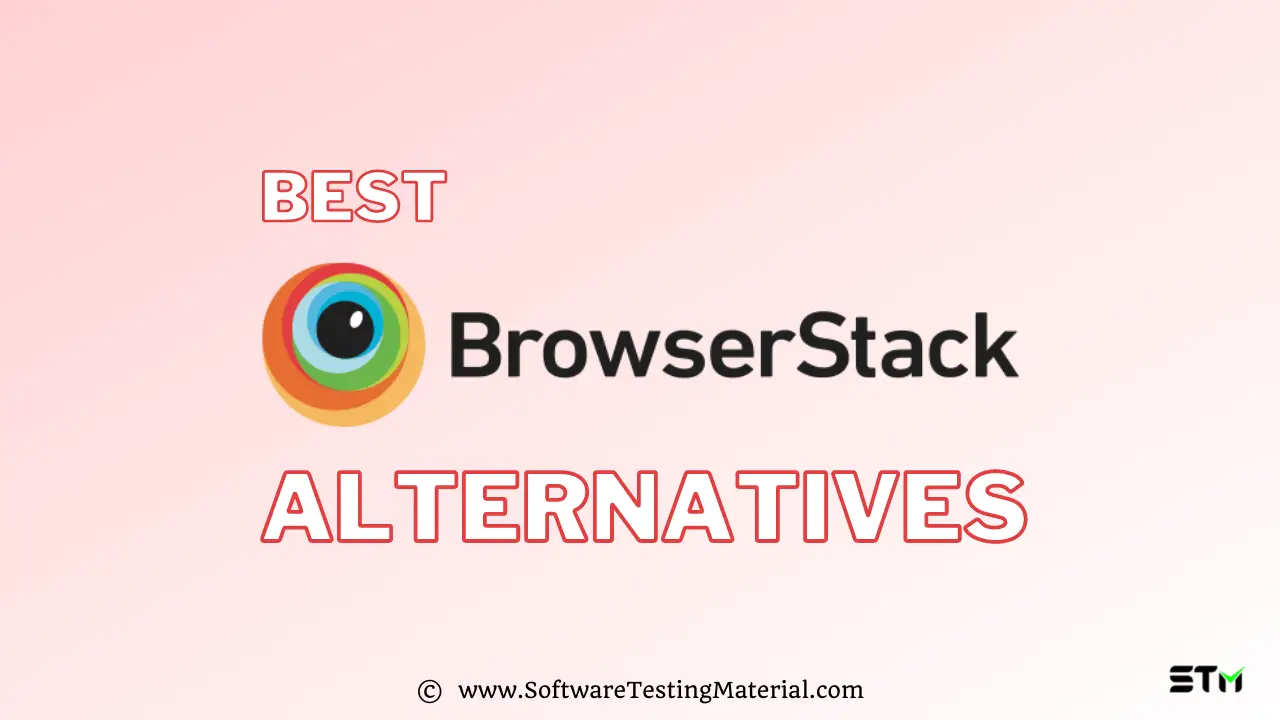 The main details of each software are listed below, but if you're in a hurry, here's a quick list of the best alternatives to BrowserStack Tool.
If you'd like to see our in-depth analysis, keep reading.
#1. Kobiton 
Best for businesses searching for a complete mobile testing solution that includes real-device testing, scriptless automation, and functional, visual, and performance testing in a single platform.

Kobiton is a mobile experience platform that accelerates the delivery and testing of mobile apps by offering manual and automated testing on real devices, in the Cloud, or on-premises.
It offers unparalleled freedom to deploy the perfect mobile device testing cloud. You can connect your local on-premises devices – and even "on-desk" devices – along with any of our hundreds of devices to create a true hybrid cloud mobile testing platform.
Don't miss: Kobiton Mobile Testing Platform Review
It comes with features such as real device testing, device lab management, Appium script generation, and application health checking. Real device testing allows users to access physical devices in the Cloud with full support for orientation and gestures. Users can perform all gestures such as tap, swipe, and scroll on a cloud device. 
Kobiton offers real-time app analytics based on detailed logs, including videos, screenshots, gestures, and system metrics like battery and memory performance.
It Decreases app abandonment rate by ensuring that apps work as expected on all devices, be it Android or iOS. It also supports real device testing and offers users accurate results by testing both mobile and web apps on the latest devices.
It also integrates real device testing into CI/CD processes in order to accelerate app delivery.
Verdict: Leverage Kobiton and the latest in Appium test automation for seamless test script creation that can run against a wide array of devices. With Kobiton's Scriptless Test Automation, experience the industry's first scriptless mobile test automation platform and see just how quickly making a move to automation can be. It is also one of the best BrowserStack alternatives.
Is Kobiton better than BrowserStack?
BrowserStack was one of the earlier entrants into the mobile and cross-browser testing space. Since it's bootstrapped founding, BrowserStack has found success, and has become a "household name" when it comes to testing and real device access.
However, the real device access options are limited, and teams who need a solution that makes dedicated real devices available, mobile-specific test automation better, and Session Exploration that helps resolve bugs faster will find themselves looking for alternatives.
Device Management
BrowserStack: BrowserStack has gone all-in on making real devices accessible in a first-come, first-serve Public Cloud. While their Public Cloud offering is undoubtedly robust (and does currently offer more devices than Kobiton's), their decision to deprecate their old Private Cloud offering, inability to make locally hosted devices available in the Cloud, and lack of an on-premises option leaves many teams scrambling for an alternative.
Also, their pricing models for device access and usage penalize the team who is attempting to run test automation at scale by charging for parallel and concurrent sessions.
BroswerStack does offer desktop-web and cross-browser testing, which is something that Kobiton does not currently offer.
Kobiton: Kobiton has prized security, flexibility, and performance above all else when it comes to real device access and management. While Kobiton also offers a public cloud like BrowesStack, Kobiton also offers a 100% dedicated-to-you device access with our Private Cloud, and the ability to cloud-ify your already-owned locally hosted devices for shared-remote-and-dedicated access, you can build a flexible real device lab in the cloud that works for the specific needs of any team across your organization.
Kobiton's on-premises and cloud real device labs are powered by our DirectTest technology that allow for rapid device launching speed, virtually zero-latency testing, and 30FPS video streaming during your manual session, for truly unparalleled real device lab performance.
Kobiton also helps you scale your automation with plans that don't charge for parallel executions or concurrent testing. And, while Kobiton does not currently offer native desktop-web support, we do have a partnership with our sister company, Katalon, that provides desktop-web testing and automation offerings.
Automation: Kobiton has focused heavily on both the automation engineer currently using Appium and the manual testing team that is looking to make the move to automation. With AI-driven Scriptless Automation, and AI-assisted Appium automation, you can easily make the move and/or scale your mobile test automation with Kobiton.
Teams leveraging Kobiton's NOVA AI Engine have the ability to auto-generate 100% open-standard (and therefore non-vendor-locked) Appium scripts from a manual session, or automate a manual test and point that test to run across other real devices in the background without any code required.
Our baked-in Functional, Crash, Visual, and Performance assertions make each NOVA-driven test a Functional, Visual, and Front-end Performance Test, equipping your teams with a true "one test to rule them all" solution.
Beyond comprehensive, Kobiton's automation offering is also flexible and inclusive. If you need a solution for manual testers, our 100% scriptless flow allows you to author and execute automated Functional, Visual, and Performance tests without writing any code.
If you're an automation-mature team who is already using Appium, you have the choice to inject NOVA's baked-in assertions into your existing Appium scripts (or scripts you generated with NOVA's auto-generate capability mentioned earlier) by simply adding in Kobiton desired capabilities to your Appium script.
Features:
Real Device Management – Offering 400+ real devices in the public cloud, along with private cloud, local hosting, or hybrid of real device solutions.
Scriptless & Script-based Automation – Achieve accessible and scalable Mobile Application Automation from both scriptless & script-based automation.
Visual Validation – Release pixel perfect applications across all devices and go beyond UI testing by capturing the essence of what makes an app beautiful.
Text Assertions – Ensure consistency of text content and text colors
Data-Driven Testing – Create data-sets and parameterize functional testing
Crash Detection – Catch app crashes and present crash logs all in one place
Performance Assertions – Flag test steps that 'take too long' and analyze performance regressions across devices
Role-based Access Control – Provide granular control over organization, teams, and users by assigning permissions and creating custom roles
Session Exploration – Know what failed, why, and when with rich logging and system metrics for true root-cause analysis
Pricing:
Start up – $500 / year
Accelerate – $2000 / year
Scale – $8000 / year
Growth – $16,000 / year
Enterprise – Contact support
#2. HeadSpin
Best for Cross Browser Testing, Mobile Application Testing, Software Testing.

The HeadSpin platform is an industry first, providing a powerful, easy-to-use solution that enables development, QA, product, and operations teams to accelerate release cycles, build for complex real-world user environments, and know whenever any component of the system degrades or breaks—whether at the code, device, or network layer—anywhere in the world.
Since inception, the platform's extensive on-prem and cloud-hosted global device infrastructure has been expanded with machine learning-driven performance and quality of experience analytics to proactively test and monitor mobile, web, audio and video applications in real-time.
Is Headspin better than BrowserStack?
HeadSpin is a faster, superior & more secure alternative to BrowserStack. HeadSpin's real user global testing facilitates mobile and browser testing on thousands of SIM-enabled devices deployed in 100+ locations on actual carrier and WiFi networks around the globe. It offers location testing using different time zones and network zones, making it the best BrowserStack alternative.
Features:
Global Device Infrastructure for Test Automation.
Enterprise-Grade Appliance.
Best in class security.
In-depth Performance Data To deliver top-quality mobile experiences.
#3. Perfecto 
Best for web and mobile app testing.

Perfecto Mobile is an innovative mobile app testing tool designed to streamline your testing process. With Perfecto, you can effortlessly test on both real devices and emulators/simulators, eliminating the need for time-consuming device maintenance.
By leveraging the power of Perfecto, you can accelerate your mobile and web testing efforts, enabling you to achieve continuous testing in DevOps. Its robust features and comprehensive test coverage ensure that your applications are thoroughly tested, resulting in faster delivery and higher quality. Experience the efficiency and effectiveness of Perfecto Mobile for all your testing needs.
Features:
Perfecto offers geolocation testing and cross-browser testing capabilities.
It seamlessly integrates with a wide range of test tools, including Appium and XCUITest test frameworks, as well as CI tools like Jenkins and Jira.
With Perfecto you can generate comprehensive reports, including detailed root cause analysis and heatmaps, that are visually appealing and informative.
It supports a wide range of device, operating system, and browser combinations, catering to thousands of possibilities.
Verdict: Perfecto is one of the best cross-browser testing tools out there. With Perfecto, you can interact with browsers in real-time, just like they're installed on your computer. Plus, you can easily capture, save, and share screenshots of web pages across all browsers.
Pricing:
Live – Starting at $83/month
Automate – Starting at $125/month
Scriptless – Contact for Pricing
Enterprise – Contact for Pricing
#4. TestGrid 
Best for testing your application on a wide range of browsers.

TestGrid redefines the testing landscape, surpassing Browserstack with a comprehensive suite of features designed to elevate your testing experience. 
Here's why TestGrid stands as the superior choice:
Comprehensive Testing Spectrum: While Browserstack primarily focuses on functional & regression testing, TestGrid takes it a step further by offering end-to-end testing solutions. This includes cross-browser testing, mobile app testing, API testing, and performance testing, providing users with a complete testing ecosystem.
Diverse Automation Capabilities: Browserstack confines users to manual and scripted automation, limiting their testing capabilities. TestGrid, on the other hand, presents a dynamic spectrum of options, including manual, scripted, and AI-powered codeless automation. This versatility empowers users to choose the best approach for their specific testing needs.
Innovative Virtual USB Feature: TestGrid introduces a groundbreaking feature called the Virtual USB, granting users access to on-cloud hosted devices as if they were directly connected to their machine. This unique capability allows users to perform all operations on the device, replicating a physical connection. This feature is unavailable with Browserstack.
Network Level Testing: Unlike Browserstack, which overlooks network level testing, TestGrid empowers users to rigorously test and monitor networks. This crucial feature ensures that applications perform optimally under varying network conditions, enhancing user experience and reliability.
Flexible Infrastructure Deployment: Browserstack provides only a cloud-based infrastructure, limiting users to a single environment. In contrast, TestGrid offers a robust software layer on top of its infrastructure, giving users the freedom to host on the cloud, on-premise, or in a hybrid manner. This adaptability ensures that testing environments can be tailored to specific requirements.
Cost Efficiency and Rich Features: TestGrid stands out as a more cost-efficient and feature-rich alternative when compared to Browserstack. Enjoy advanced testing capabilities without breaking the bank.
Unlock the full potential of testing with TestGrid. Wave goodbye to restrictions and adopt a forward-looking testing solution that redefines how you safeguard the quality and performance of your applications.
Pricing details: It comes with three plans.
Freemium – $0 for 200 minutes of testing each month
Public Cloud of real devices & browsers – $49/MO
Private dedicated devices – Starts from $23/MO
#5. Browserling 
Best for testing your application on myriad of browsers.

Browserling is an online cross-browser testing tool. It can be used to test websites only on real desktop browsers in virtual machines. It supports browsers like Chrome, Firefox, Internet Explorer, Opera and Safari. It supports operating systems like Windows or Android.
Features:
It runs multiple versions of Android Studio to offer Android browsers.
With its online browser sandbox technology there is no need to worry about getting infected with viruses or trojans.
It supports responsive testing. You can change the resolution of your screen and resize browsers for all of your testing needs.
It allows you to capture, save, and share screenshots of your web pages.
It allows you to annotate the screenshots captured by you.
Verdict: It is one of the top online cross-browser testing tools available in the market. Browserling lets users interact with the browsers live as if they were installed on your computer. Users can also capture, save, and share screenshots of web pages in all browsers.
Pricing:
Free Plantry before you buy – $0/ year
Developer Plansingle-user license – $228/ year
Team Planmulti-user license – $348+/ year
#6. LambdaTest 
Best for conducting cross browser testing on real browsers and operating systems online.

LambdasTest is a Cross Browser Testing cloud that lets developers and testers test their work on 2000+ real browser combinations in varying screen resolutions.
Features:
Supports testing from different locations to ensure all your users getting perfect experience across all locations.
It allows you to run Selenium test scripts across online selenium grid of desktop, Android and iOS mobile browsers.
You can perform end-to-end Cypress testing in cloud on 40+ different browser environments.
It supports Smart Visual Regression Testing.
Instantly take full page screenshots of sites across desktop and mobile browsers with this browser app.
Is LambdaTest better than BrowserStack?
LambdaTest is the best competitor and alternative to BrowserStack. Customers can attain better browser coverage by running tests over an online browser farm of real browsers, devices, and operating systems online. LambdaTest provides a secure, scalable, and reliable cloud-based grid that helps you run tests faster.
When it comes to test orchestration and execution, LambdaTest not just lets you execute tests but orchestrate them at scale. It has revolutionized the way tests are executed with built-in CI and analytics. LambdaTest offers a wide range of automation testing frameworks like Selenium, Cypress, Playwright, Puppeteer Appium, Espresso, XCUITest, and even Taiko. Besides, it has around-the-clock customer support via In-App Chat Portal, Emails, and Contact Us Page.
Verdict: LambdaTest is a cross-browser testing cloud designed to offer automated and live testing. It supports manual, visual, and automated testing. 
Pricing:
Lite – Lifetime Free
Live – $15 / month
Web & Mobile Browser Automation – Includes Live – $99 / month
Web Automation – Includes Live – $158 / month
#7. CrossBrowserTesting
Best for developes and QA engineers to run Selenium or Appium test scripts easiy in the cloud.

CrossBrowserTesting was aquired by Smartbear in 2016.
CrossBrowserTesting tool allows you to test web applications on real browsers and devices. Using its Record & Replay feature, we can record a live test and then execute that same test in parallel against multiple devices or browsers.
Features:
Enblaes you to valudate public or locally hosted pages across multiple browsers.
Allows you to test on real mobile devices.
It suppports Headless Browser Testing.
It can be integrated with tools like Jenkins, Jira, GitHub and more
Verdict: CrossBrowserTesting is the best BrowserStack alternative and makes you perform visual testing and cross browser testing as a part of your workflow.
Pricing:
Live Testing – $29 / month
Unlimited Testing – $100 / month
Enterprise – Custom Pricing – Contact support
#8. Digital.ai Continuous Testing formerly Experitest 
Best for running massive tests in parallel on multiple browsers and mobile devices.

Experitest is a web and mobile application testing tool. It provides businesses with a satisfying experience that is error-free across all devices and browsers.
It provides continuous testing solutions to businesses. It integrates seamlessly with tools throughout the DevOps pipeline, allowing enterprises to scale their continuous testing without compromising the quality of web and mobile apps.
Features:
You can easily create and execute appium tests across 1000+ real iOS and Android devices, emulators, and simulators.
Lets you perform selenium automation testing for easy cross-browser testing.
You can execute large scale parallel test on thousands of combinations of browser versions and OSs
It lets you integrate with any CI environement.
Experitest test analytics provides a consolidated view of your test execution results.
Verdict: Experitest can provide a streamlined solution for medium to large organizations. The software can be used for live cross browser testing and continuous testing. It allows you to test different versions of applications on a variety of devices so that businesses can determine user experience expectations and improve their methods for dealing with real-world scenarios.
Pricing: Contact support
#9. MomentumSuite
Best for Developer teams, QA teams, product teams, and design teams that work even hybrid and remote in an agile mindset.

MomentumSuite is a cross platform E2E software testing solution.
Critically important for test and development teams to have devices that are frequently preferred by the target audience. Spending huge budgets to put these devices together in your in-house device lab, keeping track of their updates, and maintaining them?
It makes it complicated to focus on performance and stability. With Momentum Suite Live, you can test your mobile app or mobile web across a range of real iOS and Android mobile devices. It's collaborative live testing on real mobile devices.
Features:
Cover your real conditions with real mobile devices

All mobile devices are real. Not emulator or simulator.
Wide range of real device coverage including iOS & Android.
Work on cloud or on-promise.

Test your mobile app or your mobile web even while working remotely or hybrid with zero physical devices.

Test as if you're holding it physically.
Interact with your mobile device. Tap, scroll, zoom and more.
Take quick action and share issues with your stakeholders.

Highlight the issues on the screenshots before sharing them with your team.
Simplify teamwork for every stakeholder. When you want to test your software with people, you will be doing that in email, Microsoft Teams, Zoom, screen sharing, etc. Instead, offer a powerful way to them by allowing real-time actions on the same real devices.

Give your stakeholder control of the same device with you.
Manage your participants on your session.
Pricing: Live Testing – $30 (Native & Hybrid iOS/Android Mobile Apps, Mobile Browsers)
Conclusion
BrowserStack is not the only option for cross-browser testing your site. Kobiton, Sauce Labs and Browserling are just a few of the other options that you can use to perform cross browser testing.
Some of the BrowserStack alternatives we recommened are Kobition, Sauce Labs, and Browserling.
What alternative did we miss? Leave us a comment below!
Related posts:
Disclaimer

All information contained here is based on publicly available information and is deemed correct but not warranted. Any errors or omissions should be brought to our attention, and prospective customers are encourage to do independent research.