Best AWS Device Farm Alternatives (Free and Paid) for 2023
If you're looking for best AWS Device Farm alternatives?, this article is just for you.
Software development companies have largely focused on running their web and mobile tests on the cloud.
Running your tests on the cloud has advantages such as execution speed, easy deployment, parallel execution, mulitple browsers, multiple devices, multiple operating systems etc.,
We've compiled a list of some best AWS Device Farm alternatives with pricing, features, and comparison. So you can find the right cloud automation solutions that are alternatives to AWS device farm.
About AWS Device Farm
AWS Device Farm is an application testing service that lets you test your Android, iOS, and Web applications on real devices such as smartphones, tablets, and desktop web browsers to improve the quality of your apps. It allows you to execute your test cases at the same time on multiple desktop browsers, and real devices and speed up the execution process. It generates logs and videos and allows you to debug the issues in your application.
Verdict
It is expensive compared to its competitors in the same space. AWS Device Farm competitors are providing most key features for a lower price. 
Comparison AWS Device Farm Competitors
List of Best AWS Device Farm Alternatives And Competitors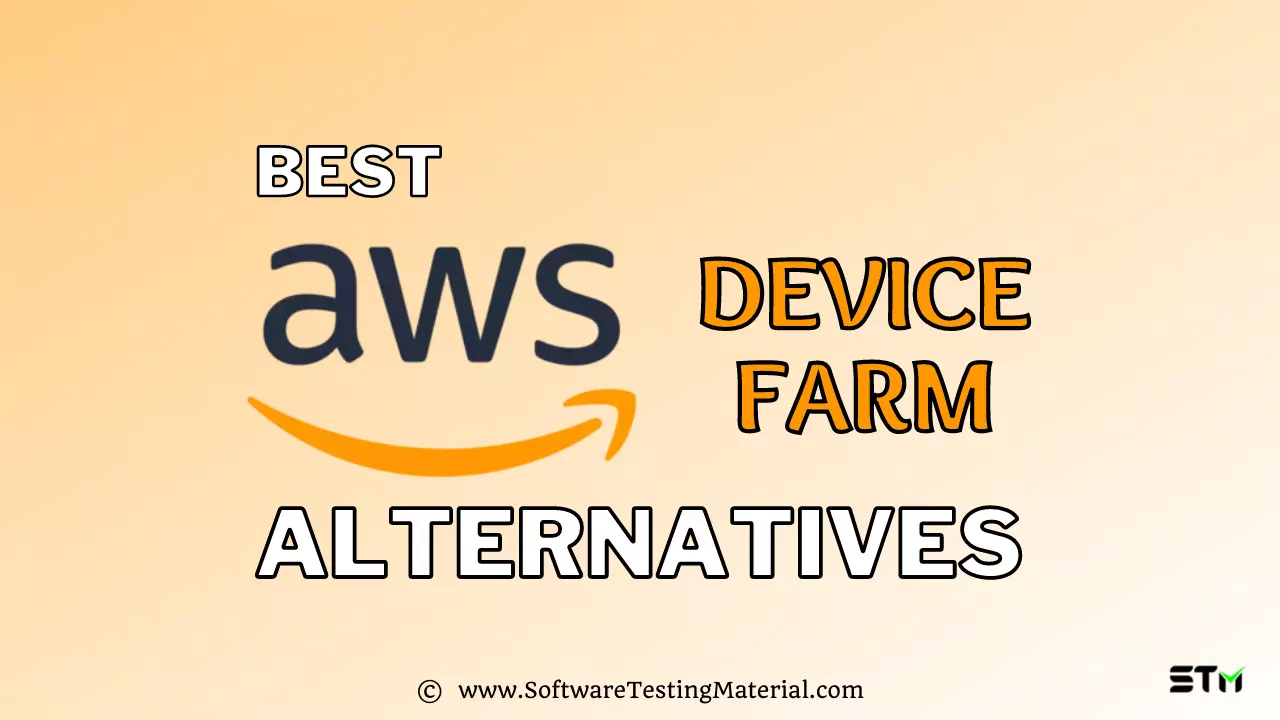 The main details of each software are listed below, but if you're in a hurry, here's a quick list of the best alternatives to AWS Device Farm Tool.
#1. Kobiton 
#2. SauceLabs
#3. Perfecto
#4. LambdaTest 
#5. Browserling

#6. CrossBrowserTesting
If you'd like to see our in-depth analysis, keep reading.
#1. Kobiton 
Best for functional and performance testing on real devices, as well as cloud and on-premises environments.

Kobiton is a mobile experience platform that accelerates the delivery and testing of mobile apps by offering manual and automated testing on real devices, in the Cloud, or on-premises. It offers unparalleled freedom to deploy the perfect mobile device testing cloud. You can connect your local on-premises devices – and even "on-desk" devices – along with any of our hundreds of devices to create a true hybrid cloud mobile testing platform. 
Don't miss: Kobiton Mobile Testing Platform Review
It comes with features such as real device testing, device lab management, Appium script generation, and application health checking. Real device testing allows users to access physical devices in the Cloud with full support for orientation and gestures. Users can perform all gestures such as tap, swipe, and scroll on a cloud device. 
Kobiton offers real-time app analytics based on detailed logs, including videos, screenshots, gestures, and system metrics like battery and memory performance.
It Decreases app abandonment rate by ensuring that apps work as expected on all devices, be it Android or iOS. It also supports real device testing and offers users accurate results by testing both mobile and web apps on the latest devices.
It also integrates real device testing into CI/CD processes in order to accelerate app delivery.
Verdict: Leverage Kobiton and the latest in Appium test automation for seamless test script creation that can run against a wide array of devices. With Kobiton's Scriptless Test Automation, experience the industry's first scriptless mobile test automation platform and see just how quickly making a move to automation can be. It is also one of the best AWS Device Farm alternatives.
Is Kobiton better than AWS?
Primarily known for their cloud services, AWS added AWS Device Farm to its suite of products which provides access to real Android and iOS devices hosted on the AWS cloud. With the ability to test Android, iOS, and web apps, AWS Device Farm provides users with a variety of customizable testing scenarios for devices on their cloud. However, limited only to devices on the cloud, AWS Device Farm does not accommodate an on-premise or hybrid deployment options for highly secure environments.
Both AWS Device Farm and Kobiton offer support for Appium, Espresso and XCUI Test, but Kobiton's attention to performance, visual, and scriptless test automation gives users a variety of specialized testing tools to tackle the complex issues that arise with various device and OS versions. Limited to a cloud test environment, testing on AWS Device Farm can get costly at $.17 per device per minute.
Features:
Real Device Management – Offering 400+ real devices in the public cloud, along with private cloud, local hosting, or hybrid of real device solutions.
Scriptless & Script-based Automation – Achieve accessible and scalable Mobile Application Automation from both scriptless & script-based automation.
Visual Validation – Release pixel perfect applications across all devices and go beyond UI testing by capturing the essence of what makes an app beautiful.
Text Assertions – Ensure consistency of text content and text colors
Data-Driven Testing – Create data-sets and parameterize functional testing
Crash Detection – Catch app crashes and present crash logs all in one place
Performance Assertions – Flag test steps that 'take too long' and analyze performance regressions across devices
Role-based Access Control – Provide granular control over organization, teams, and users by assigning permissions and creating custom roles
Session Exploration – Know what failed, why, and when with rich logging and system metrics for true root-cause analysis
Pricing:
Start up – $500 / year
Accelerate – $2000 / year
Scale – $8000 / year
Growth – $16,000 / year
Enterprise – Contact support
#2. Headspin
Best for Cross Browser Testing, Mobile Application Testing, Software Testing.

The HeadSpin platform is an industry first, providing a powerful, easy-to-use solution that enables development, QA, product, and operations teams to accelerate release cycles, build for complex real-world user environments, and know whenever any component of the system degrades or breaks—whether at the code, device, or network layer—anywhere in the world.
Since inception, the platform's extensive on-prem and cloud-hosted global device infrastructure has been expanded with machine learning-driven performance and quality of experience analytics to proactively test and monitor mobile, web, audio and video applications in real-time.
Is Headspin better than AWS Device Farm?
HeadSpin is a faster, superior & more secure alternative to AWS farm. HeadSpin's real user global testing facilitates mobile and browser testing on thousands of SIM-enabled devices deployed in 100+ locations on actual carrier and WiFi networks around the globe. It offers location testing using different time zones and network zones, making it the best AWS alternative.
Features:
HeadSpin's AI engine helps in the visual validation of performance tests for improved accuracy.
HeadSpin allows for deploying device maintenance scripts for purpose-built appliances.
HeadSpin has no proprietary test framework, which helps in saving an immense amount of effort that goes into manual scripting and avoids vendor lock-in.
HeadSpin measures the holistic and subjective quality of the video using a reference-free mean opinion score (MOS).
#3. Sauce Labs 
Best for low-code testing and cross browser testing.

Sauce Labs focuses on automated web and mobile application testing. With Sauce Labs, you can test your mobile and web applications on multiple browsers as well as real devices. It lets you perform live, continuous, and automated testing.
It supports 900+ browser/OS combinations, 200+ mobile emulators/simulators, and 2000+ real mobile devices.
Features:
It supports over 2000 iOS and Android devices.
It integrates seamlessly into your existing CI/CD pipeline.
It supports real and virtual devices
Developers can maximize their productivity with its debugging tools like videos, screenshots, and log files.
Verdict: Its end-to-end mobile and cross-browser testing solutions provide you the speed, confidence, and collaboration tools you need in order to deliver the best web, hybrid, and native mobile apps to the marketplace. Sauce Labs ensure that your mobile applications and APIs work as they should in real-world scenarios on any device and browser. It accelerates mobile releases with comprehensive device coverage, secure application distribution, easy collaboration, and faster feedback across development cycles.
Pricing:
Live Testing – $39/Month Billed annually
Virtual Cloud – 149/Month Billed annually
Real Device Cloud – 199/Month Billed annually
#4. Perfecto Mobile
Best for web and mobile app testing.

Perfecto Mobile is a mobile app testing tool that allows you to test on both real devices and emulators/simulators without the hassle of device maintenance. 
Perfecto accelerates your mobile and web testing to achieve continuous testing in DevOps.
Features:
It integrates seamelessly with all your test tools, like Appium and XCUITest test frameworks to CI tools like Jenkins and Jira.
It generates a beautiful and detailed reports, root cause analysis and heatmaps.
Supports thousands of device, operating system, and browser combinations.
It supports geolocation testing and cross browser testing.
Verdict: It is an unified platform to test your web and mobile apps at scale.
Pricing:
Live – Starting at $83/month
Automate – Starting at $125/month
Scriptless – Contact for Pricing
Enterprise – Contact for Pricing
#5. LambdaTest 
Best for performing automated and live cross browser testing on 2000+ real browsers and operating systems online.

LambdaTest is a Cross Browser Testing cloud that allows developers and testers to perform testing on mobile and desktop browsers. It supports 2000+ real browers and OSs online in varying screen resolutions.
Features:
LambdaTest's online automated testing grid lets you test, develop and deliver faster with cross-browser automation.
It supports iPhones, iPads on different iOS versions, and any of the Android devices from these manufacturers: Samsung, Google, Sony, LG, HTC, Amazon, One Plus, etc., on latest Android versions and different browsers.
Supports CI tools such as Jenkins, Circle CI, GitLab CI, etc.,
Issues can be logged instantly during testing sessions. They can be sent via email, slack or added to a bug tracking tool.
Verdict: LambdaTest is a scalable cloud-based cross-browser testing platform designed to offer automated and live testing.
Pricing:
Lite – Lifetime Free
Live – $15 / month
Web & Mobile Browser Automation – Includes Live – $99 / month
Web Automation – Includes Live – $158 / month
#6. Browserling 
Best for testing your website across multiple browsers online.

Browserling is an online cross-browser testing tool. With browserling, you can test your application on different real desktop browsers such as Chrome, IE, Firefox, Safari and others on different OS like windows and Android.
Features:
It helps you change screen resolution and resize browsers for responsive testing.
It implemented an online browser sandbox that prevents you from contracting computer viruses when visiting websites.
It is powered by HTML5 and JavaScript, so there's nothing to install.
Verdict: It is one of the top online cross-browser testing tools available in the market. Browserling lets users interact with the browsers live as if they were installed on your computer. Users can also capture, save, and share screenshots of web pages in all browsers.
Pricing:
Free Plantry before you buy – $0/ year
Developer Plansingle-user license – $228/ year
Team Planmulti-user license – $348+/ year
#7. CrossBrowserTesting
Best for replacing costly device labs with real mobile devices in the cloud.

CrossBrowserTesting was aquired by Smartbear in 2016.
CrossBrowserTesting tool allows you to test web applications on over 2050 real desktop and mobile browsers. It lets users to record videos of their entire session, take snapshots, and easily share them with the whole team.
Features:
Enblaes you to valudate public or locally hosted pages across multiple browsers.
Allows you to run Selenium or Appium tests.
Lets you record and track network logs.
It fits inside your CI process with integration with Jenkins, GitHub etc.,
Verdict: CrossBrowserTesting is the best alternative to AWS Device Farm and makes you perform visual testing and cross browser testing as a part of your workflow.
Pricing:
Live Testing – $29 / month
Unlimited Testing – $100 / month
Enterprise – Custom Pricing – Contact support
Summing up the AWS Device Farm alternatives out there
AWS Device Farm is a good application testing service overall, and you can use it to speed up with test execution and find bugs in your application easily. But the alternatives to AWS Device Farm on the market will help you save some money and get similar features.
Which is for you?
Have any questions on which of these AWS Device Farm alternatives is right service provider for you?
If you are using something else that you would like to share, please let us know in the comment section below.
Related posts:
Disclaimer:

Information is obtained from publicly available information and is deemed accurate but not warranted. Prospects should not rely solely on this comparison and should do their own diligence. Any mistakes or omissions should be brought to our attention. Amazon and AWS are registered trademarks of Amazon, Inc.