Best Headspin Alternatives (Free and Paid) for 2023
Are you looking for best HeadSpin alternatives?
HeadSpin plays an important role in fulfilling the highly sought-after need for real devices and cross-browser devices testing.
HeadSpin's goal is to provide quality products and it's ability to test on real devices online and monitor digital experiences provides additional value to organizations that are seeking testing solutions.
However there are other alternatives to HeadSpin for those who don't have access to HeadSpin, or want to experiment with different tools.
An in-depth review of popular HeadSpin competitors with pricing, features, and comparison.
About HeadSpin
HeadSpin, the first Digital Experience AI Platform, combines global device infrastructure, test automation, and machine learning-driven performance with high-quality analytics.
It empowers engineers, QAs, operations, and product teams to ensure the best digital experiences across all delivery channels during the development lifecycle.
Features
Global Device Infrastructure – HeadSpin enables end-to-end monitoring and testing of thousands of devices in more than 100 locations across real network carriers and WiFi networks worldwide. No SDK is required.
Performance, QoE & Machine Learning – It automatically surfaces issues to consider all root causes across layers of the stack, starting from quantifying audio/video QoE to code and packet visibility.
Test Automation and APIs – HeadSpin incorporates CI/CD workflows and allows functional and performance testing pre and post-release. All testing frameworks supported, including Appium native.
Actionable Insights – HeadSpin delivers actionable regression and aggregation insight throughout the digital experience lifecycle that includes planning, development, trouble ticketing, and operations.
Pros
It features a user-friendly interface, integrations, and automation. HeadSpin allows for multiple parallel tests to take place simultaneously. This allows for scale and wider coverage. The performance sessions provide an informative breakdown of each session or recording and enable the team to triage and pinpoint issues.
It gives independence to the device. Various devices are available in the case of Android from different manufacturers. It will help you to test your product quickly without worrying about having to buy these devices.
It allows you to test devices placed at different locations across the globe, and hence you can test your mobile application under any time and network zones. It allows parallel testing (also called crunch testing) to make sure the integrity of your system. Also, the response time dashboard allows you to test where your back end might be failing.
HeadSpin is compatible with Android and iOS.
Cons
It requires a learning curve for beginners.

Sometimes uploading takes a lot of time, usually on iOS devices as compared to Android devices.
Verdict
With this tool, you can check crucial performance KPIs and understand your user experience from dozens of angles, i.e., what the user sees, edge utilization, system performance, code execution, and so much more.
Don't miss: How to select automation testing tool
Comparison HeadSpin Competitors
List of Best HeadSpin Alternatives And Competitors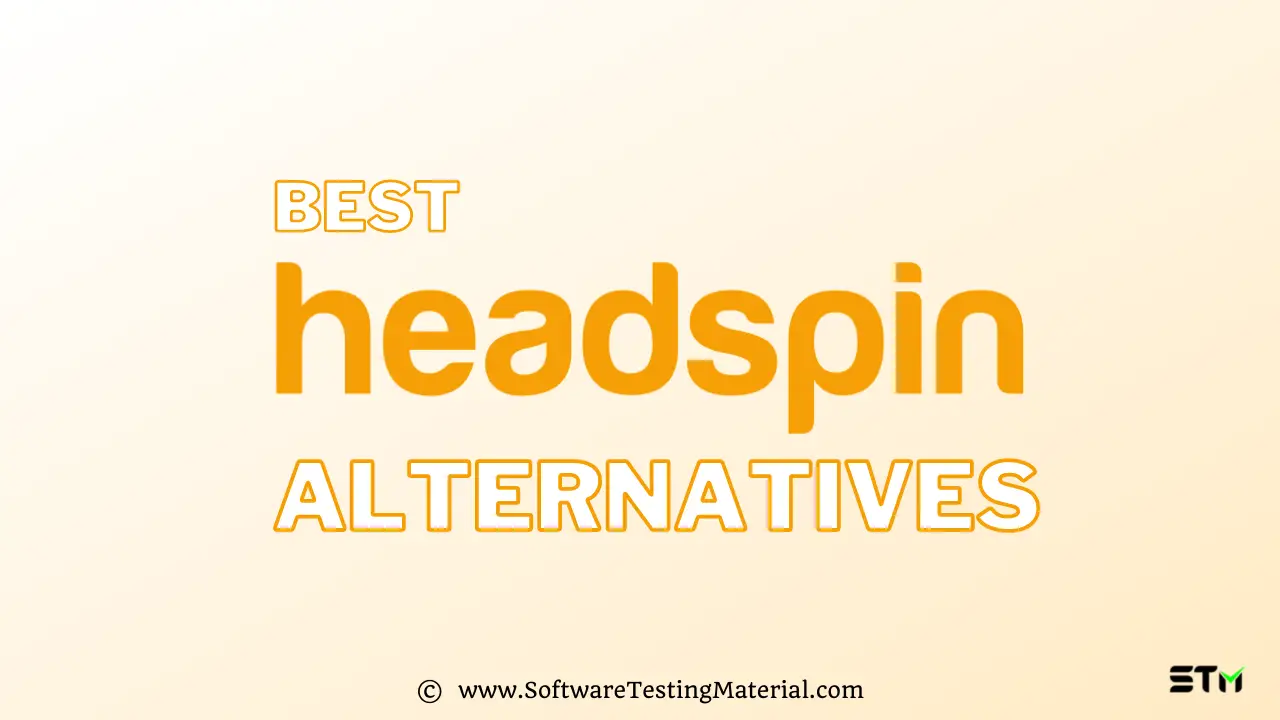 The main details of each software are listed below, but if you're in a hurry, here's a quick list of the best alternatives to HeadSpin Automation Testing Tool.
If you'd like to see our in-depth analysis, keep reading.
#1. Kobiton
Best for companies looking for a complete mobile testing solution that encompasses real-device testing, scriptless automation, functional, visual and performance testing in a single platform.

Kobiton is a cloud-based mobile platform that allows manual and automated web and mobile testing across various target devices and platforms. You can run the most reliable and comprehensive range of mobile tests on smartphones, tablets, enterprise systems, and other end-user devices with it.
Don't miss: Kobiton Mobile Testing Platform Review
With this highly intuitive and easy-to-use testing platform, testers can easily access and use different types of mobile testing tools and frameworks. It also allows the testers to work seamlessly on both mobile devices and desktop devices. 
With Kobiton, you can also conduct the most effective and comprehensive range of mobile tests for the web and mobile apps. This means that you can run the most realistic and thorough tests on the Android, iPhones, and Windows Phone platforms. 
Using the powerful Selenium and Appium Web drivers, Kobiton can perform automated mobile device testing on the various browsers and platforms with an added feature set and configuration flexibility.
Verdict: This platform offers all the capabilities and features that an advanced or a beginner tester would need for performing proper and thorough mobile testing on a wide variety of mobile platforms. It makes it easy for integration with any of the popular web testing platforms available today. Whether you want to test your mobile apps on devices from Amazon Kindle or iPhones, browsers, or smartphones, Kobiton makes it all possible. 
Is Kobiton better than HeadSpin?
HeadSpin is one of the more interesting mobile testing tools in the market, but only when it comes to Performance Testing and optimization. HeadSpin has decided to specialize in Mobile and IoT application and website performance, and offers a very feature-rich, while niche, offering that allows teams to dive deep into where Performance regressions might exist and what may cause those performance regressions. However, even with the feature-rich Performance offering, HeadSpin has not focused on the majority of use cases associated with Scriptless Functional Testing and Visual Testing. HeadSpin is also likely the most expensive Mobile and IoT testing provider, reported as at least 4-6x the price of Kobiton real devices in the cloud.
Automation:
HeadSpin hasn't focused too much on the mobile test automation engineer and point to their device availability as the major benefit when trying to scale test automation. HeadSpin does offer very interesting insights into Performance during automated test executions, but they do not offer solutions that help teams author and execute test automation any easier. They rely heavily on educational material around how to adopt Appium and run those tests on the HeadSpin platform.
Kobiton has focused heavily on both the automation engineer currently using Appium and the manual testing team that is looking to make the move to automation. With AI-driven Scriptless Automation, and AI-assisted Appium automation, you can easily make the move and/or scale your mobile test automation with Kobiton.
Teams leveraging Kobiton's NOVA AI Engine have the ability to auto-generate 100% open-standard (and therefore non-vendor-locked) Appium scripts from a manual session, or automate a manual test and point that test to run across other real devices in the background without any code required. Our baked in Functional, Crash, Visual, and Performance assertions make each NOVA-driven test a Functional, Visual, and Front-end Performance Test, equipping your teams with a true "one test to rule them all" solution. Beyond comprehensive, Kobiton's automation offering is also flexible and inclusive. If you need a solution for manual testers, our 100% scriptless flow allows you to author and execute automated Functional, Visual, and Performance tests without writing any code. If you're an automation-mature team who is already using Appium, you have the choice to inject NOVA's baked-in assertions into your existing Appium scripts (or scripts you generated with NOVA's auto-generate capability mentioned earlier) by simply adding in Kobiton desired capabilities to your Appium script.
Features:
Real Device Management – Offering 400+ real devices in the public cloud, along with private cloud, local hosting, or hybrid of real device solutions.
Scriptless & Script-based Automation – Achieve accessible and scalable Mobile Application Automation from both scriptless & script-based automation.
Visual Validation – Release pixel perfect applications across all devices and go beyond UI testing by capturing the essence of what makes an app beautiful.
Text Assertions – Ensure consistency of text content and text colors
Data-Driven Testing – Create data-sets and parameterize functional testing
Crash Detection – Catch app crashes and present crash logs all in one place
Performance Assertions – Flag test steps that 'take too long' and analyze performance regressions across devices
Role-based Access Control – Provide granular control over organization, teams, and users by assigning permissions and creating custom roles
Session Exploration – Know what failed, why, and when with rich logging and system metrics for true root-cause analysis
Pricing:
Start up – $500 / year
Accelerate – $2000 / year
Scale – $8000 / year
Growth – $16,000 / year
Enterprise – Contact support
#2. BrowserStack
Best for QAs and developers to perform cross browser testing on desktop and mobile.

BrowserStack is a web and mobile app testing platform that allows you to test your web applications on any desktop and mobile browser instantly.
Features:
You can instantly access 2000+ browsers and devices.
It seamlessly integrate with your CI/CD pipeline.
It allows you to connect with JIRA to report bugs
It allows you to run your selenium automated tests on coud.
With BrowserStack you can perform responsive web design by generating screenshots on over 2000 mobile and desktop browsers.
It supports screen resolutions from 800×600 to 2048×1536 as well as everything in between and you can switch to another resolution without interupption.
You can perform Geolocation testing. Test your website behavior in different locations using GPS and IP geolocation.
Verdict: With BrowserStacks easy-to-use interface, no-prerequisites approach, and cross-browser & device compatibility, you get the most cost-effective way to test your application. It delivers a seamless user experience across every browser and device.
Pricing:
Desktop – Testing on desktop browsers – 29 / month
Desktop & Mobile – Testing on desktop & mobile browsers – 39 / month
Team – Testing on desktop & mobile browsers for remote teams – 25 / user / month
Enterprise Team – Enterprise-grade testing for large teams – Contact support
#3. Sauce Labs
Best for cross-browser and mobile testing.

Sauce Labs offers cloud-based testing platform that includes multiple browser/OS combinations, mobile emulators, and real devices.
Sauce Labs is an award-winning cloud-based web and mobile testing platform based in San Francisco, California. It allows businesses to improve the quality of their user experience by making sure that web and mobile applications look, function, and perform exactly as they should on each and every browser, OS, and device, every single time. This software also enables companies to increase revenue and grow their digital business by creating new market routes, protecting the businesses from the risks of bad user experience, and delivering better products to market.
Features:
It allows you to test websites and web applications on mulitple desktop and mobile browsers in the cloud.
Debugging tools like videos, screenshots, log files are designed to help developers maximize their productivity.
Easily run your existing Selenium, Appium, Espresso or XCUI tests on the Sauce Labs Continuous Testing Cloud with just a few quick changes.
It lets users seamlessly add automated testing to CI/CD pipeline.
It also offers advanced analytics. This will help you quickly pinpoint test failures, and improve release velocity.
Verdict: If your team is looking for a highly functional, scalable, and cost-effective mobile and web-based testing platform, then Sauce Labs is a perfect choice for your next project as a HeadSpin alternative. You can run tests across hundreds of browser and OS combinations, ensuring your websites and mobile apps work flawlessly with every release.
Pricing:
Live Testing – $39/Month Billed annually
Virtual Cloud – 149/Month Billed annually
Real Device Cloud – 199/Month Billed annually
#4. Appium
Best for automating native, hybrid, and mobile web apps.

Appium is a powerful open-source cross-platform mobile test automation framework. It supports automated app testing on platforms like iOS, Android, and Windows. It drives iOS, Android, and Windows apps using the WebDriver protocol.
Features:
It supports multiple programming languages such as Java, Python, PHP, JavaScript, and Ruby.
You can install it on Windows, Mac, and Linux and can also test applications based on iOS and Android.
It hleps you automate native, hybrid, and mobile web apps on iOS mobile, Android mobile, and windows desktops.
With Appium, you can use your test scripts to test both iOS and Android apps without major changes.
It lets you test real devices, emulators, and simulators.
Verdict: Appium is an open-source tool that can be used to test the User Interface and functionalites of Android, iOS, and Windows apps.
Pricing: Free
#5. Experitest 
Best for live cross browser testing.

Experitest is a web and mobile application testing tool. It provides businesses with a satisfying experience that is error-free across all devices and browsers.
Experitest is a web and mobile application testing tool. It provides customers with an error-free experience regardless of device or browser.
Features:
You can perform manual as well as automated testing on 2000+ real mobile and web browsers.
You can automate your testing with Selenium for easy cross-browser testing.
It lets us perform large scale parallel test exection on thousands of combinations of browser versions and operating systems on experitests hosted Selenium Grid.
Its test analytics gives you a complete consolidated view of your test execution results.
Verdict: Experitest can provide a streamlined solution for medium to large organizations. The software can be used for live cross browser testing and continuous testing.
#6. Smartbear Bitbar
Best for DevOps teams of all sizes.

BitBar was aquired by Smartbear in 2019.
BitBar is a flexible cloud-based mobile-app testing solution. It supports both manual and automated testing across a variety of frameworks (Appium, Espresso, XCUItest, etc. including custom Docker/VM-contained frameworks) against real devices both Android and iOS. It supports over 200 different Android and iOS devices.
Features:
It allows you to executed automated tests faster with cloud-side exeution.
It allows unlimited users and testing minutes and allows you to scale up or down as per your testing needs.
It supports running Appium tests remotely using the Appium Client.
It supports languages such as Java, JavaScript and Python.
Verdict: It is another excellent HeadSpin alternative and powerful mobile app testing solution. With SmartBear, you can also implement an optimal DevOps process.
Pricing:
Unlimited Live Testing – $29
Unlimited & Automated Live Testing – $159
Enterprise – Contact Support
Conclusion
Headspin is a popular tool for testing mobile apps and websites, but it's not the only option out there. There are plenty of alternatives that offer different features or pricing plans to meet your needs.
In this blog post we've outlined some competitors to HeadSpin as well as some features of each one.
The best HeadSpin alternatives are Kobiton, Sauce Labs, and BrowserStack.
Do you have any other suggestions? Let us know in the comments below!
Related posts:
Disclaimer

All information contained here is based on publicly available information and is deemed correct but not warranted. Any errors or omissions should be brought to our attention, and prospective customers are encourage to do independent research.