Best Perfecto Mobile Alternatives (Free and Paid) for 2023
Perfecto is a automated testing platform for mobile and web apps that helps enterprises test their iOS, Android, and Windows applications across multiple devices.
This blog post explores the best Perfecto Mobile alternatives for enterprise software testers.
I have compiled a list of the best alternatives to Perfecto Mobile in order to help you find a new tool for your team.
About Perfecto
Perfecto is a cloud-based web & mobile app testing software that helps businesses in a variety of industries, including retail, finance, insurance, and media and entertainment. It allows businesses to test their applications on various operating systems and devices. It helps users automate advanced test scenarios and access different browser versions and devices according to their individual needs.
Perfecto allows IT professionals to test user behavior in a variety of environments and conditions across multiple platforms and devices. It provides insights into biometrics and device vitals.
Features
Perfecto's key features include cross-browser test, test authoring, maintenance, test failure analysis and simulation, remote access, and debugging. Smart test execution capabilities allow teams to manage testing across mobile and web platforms with a single script. It can also run parallel testing for large test sets and create advanced user-based scenarios to speed up app release cycles.
Perfecto Mobile is the first mobile application testing solution that incorporates advanced features such as app cloning, multitasking, multithreading, and complete integration with different device management platforms.
Perfecto Mobile offers users real-time visibility into the performance of their mobile application while enabling them to conduct troubleshooting themselves. It can easily track the duration spent on each activity and also get to see live data for debugging. 
It also offers error tracking, live monitoring, and provisioning of different kinds of XML packages to ensure the smooth functioning of the mobile testing service.
Pros
Perfecto Mobile Cloud provides a Hybrid objects approach, which consists of both Visual (OCR) based objects and native objects for iOS/Android applications.
With Perfecto Mobile, even small and medium-sized enterprises can have the capability to deliver their product to the end-user with higher levels of quality and error-free functionality.
It makes continuous testing achievable with features like BDD & codeless automation, parallel test executions, bursting capabilities, and open integrations with leading DevOps tools and automation frameworks, CI dashboards, heatmaps, rich artifacts collection, and ML-driven test analytics.
Cons
Perfecto environment is considerably slow, and the mobile device response time is also slow.
If a particular device is checked by a user, the next user needs to wait for some time before they could use it. A lot of valuable testing minutes are wasted.
The software update is also painfully slow.
It has a lot of room for improvements in terms of reporting and integration with other reporting tools.
Verdict
Perfecto Mobile has been recognized as one of the leaders in mobile testing solutions because of its comprehensive range of mobile devices that are made available through a single portal. This enables easy provisioning, execution, and removal of multiple custom mobile devices that have a unique user experience. Moreover, the cloud infrastructure provided by Perfecto Mobile ensures the highest possible performance from the real devices and helps in real-time deployment and monitoring of the mobile testing environment.
Comparison Perfecto Mobile Competitors
List of Best Perfecto Mobile Alternatives And Competitors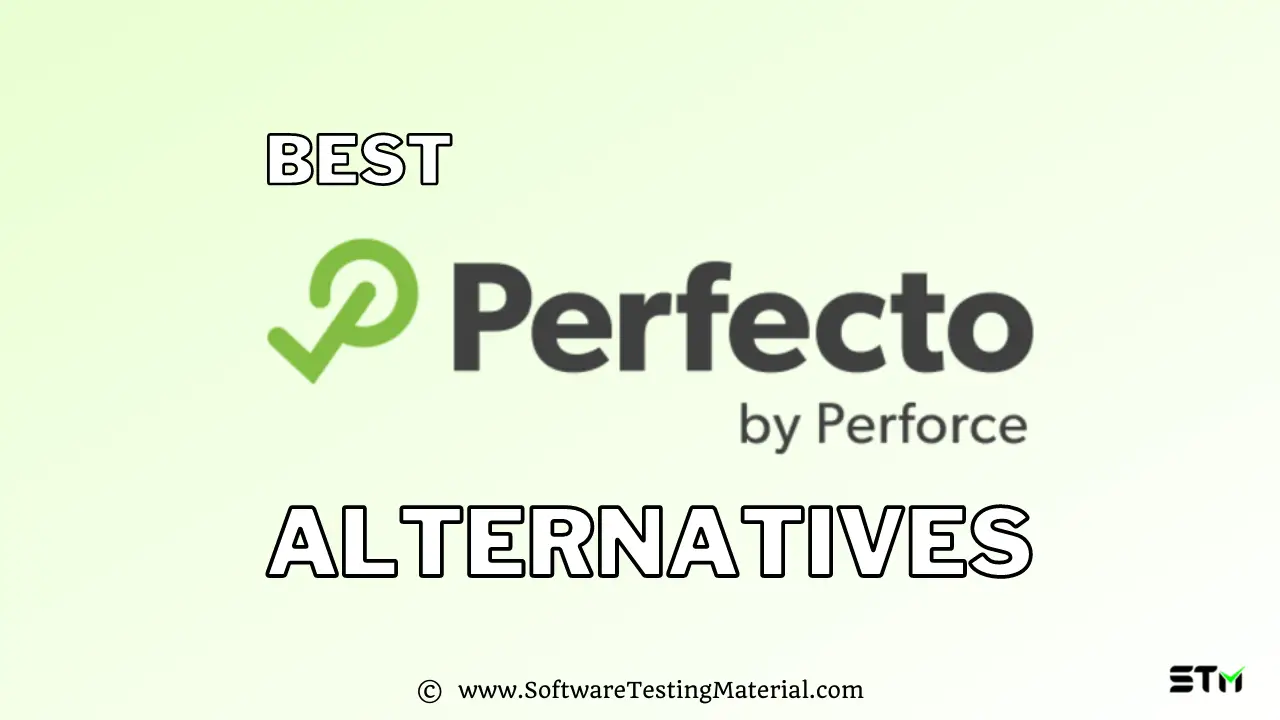 The main details of each software are listed below, but if you're in a hurry, here's a quick list of the best alternatives to Perfecto Mobile Tool.
If you'd like to see our in-depth analysis, keep reading.
#1. Kobiton
Best for automated and continuous testing on mobile.

Kobiton is open-source mobile testing software that helps users to create and deliver the best mobile experiences. It includes features such as real device testing, device lab administration, Appium script generation, and app health monitoring. Users can access their physical devices from the cloud using real device testing. This includes full support for orientations and gestures. All gestures, such as swipe, tap, and scroll, can be performed on cloud devices. Kobiton provides real-time app analytics that is based on detailed logs. These logs include screenshots, videos, gestures, and system metrics such as battery and memory performance.
Don't miss: Kobiton Mobile Testing Platform Review
Its device lab management feature allows users to combine devices with one shared activity and a central management interface. Device management is possible from one console. 
Kobiton supports all networks, SIMs and GPS. Secure connections and VPNs can be used from the Kobiton cloud. 
Kobiton integrates with Travis CI, Jenkins, Jira, and TeamCity. It also provides extensive support for Appium. Remote control allows users to identify problems faster using captured screenshots and videos. 
The Real Android Client runs in the background without consuming any memory or blocking your operating system. This is the reason why it is widely used by testers all over the world to test their mobile apps on real devices. The built-in browser plugin ensures that all browser crashes and other issues related to real devices are properly handled by the software.
Verdict: With Kobiton's application testing tool, test on real devices when you need them. It provides the most accurate results by testing mobile and web applications on the latest devices, including iOS and Android app testing.
Is Kobiton better than Perfecto?
Perfecto was one of the earlier entrants into the mobile and cross-browser testing space. It has become a "household name" when it comes to testing and real device access. However, Perfecto has been slow to add scriptless testing and visual testing for mobile devices.
Kobiton allows for flexible device deployment, along with scriptless automation, visual testing, functional testing and performance testing, all with an industry leading ROI.
Automation: Kobiton has focused heavily on both the automation engineer currently using Appium and the manual testing team that is looking to make the move to automation. With AI-driven Scriptless Automation, and AI-assisted Appium automation, you can easily make the move and/or scale your mobile test automation with Kobiton.
Teams leveraging Kobiton's NOVA AI Engine have the ability to auto-generate 100% open-standard (and therefore non-vendor-locked) Appium scripts from a manual session, or automate a manual test and point that test to run across other real devices in the background without any code required. Our baked in Functional, Crash, Visual, and Performance assertions make each NOVA-driven test a Functional, Visual, and Front-end Performance Test, equipping your teams with a true "one test to rule them all" solution. Beyond comprehensive, Kobiton's automation offering is also flexible and inclusive. If you need a solution for manual testers, our 100% scriptless flow allows you to author and execute automated Functional, Visual, and Performance tests without writing any code. If you're an automation-mature team who is already using Appium, you have the choice to inject NOVA's baked-in assertions into your existing Appium scripts (or scripts you generated with NOVA's auto-generate capability mentioned earlier) by simply adding in Kobiton desired capabilities to your Appium script.
Features:
Real Device Management – Offering 400+ real devices in the public cloud, along with private cloud, local hosting, or hybrid of real device solutions.
Scriptless & Script-based Automation – Achieve accessible and scalable Mobile Application Automation from both scriptless & script-based automation.
Visual Validation – Release pixel perfect applications across all devices and go beyond UI testing by capturing the essence of what makes an app beautiful.
Text Assertions – Ensure consistency of text content and text colors
Data-Driven Testing – Create data-sets and parameterize functional testing
Crash Detection – Catch app crashes and present crash logs all in one place
Performance Assertions – Flag test steps that 'take too long' and analyze performance regressions across devices
Role-based Access Control – Provide granular control over organization, teams, and users by assigning permissions and creating custom roles
Session Exploration – Know what failed, why, and when with rich logging and system metrics for true root-cause analysis
Pricing:
Start up – $500 / year
Accelerate – $2000 / year
Scale – $8000 / year
Growth – $16,000 / year
Enterprise – Contact support
#2. HeadSpin
Best for Cross Browser Testing, Mobile Application Testing, Software Testing.

The HeadSpin platform is an industry first, providing a powerful, easy-to-use solution that enables development, QA, product, and operations teams to accelerate release cycles, build for complex real-world user environments, and know whenever any component of the system degrades or breaks—whether at the code, device, or network layer—anywhere in the world.
Since inception, the platform's extensive on-prem and cloud-hosted global device infrastructure has been expanded with machine learning-driven performance and quality of experience analytics to proactively test and monitor mobile, web, audio and video applications in real-time.
Is Headspin better than Perfecto Mobile?
HeadSpin is a faster, superior & more secure alternative to Perfecto mobile. HeadSpin's real user global testing facilitates mobile and browser testing on thousands of SIM-enabled devices deployed in 100+ locations on actual carrier and WiFi networks around the globe. It offers location testing using different time zones and network zones, making it the best Perfecto alternative.
Features:
HeadSpin's AI engine helps in the visual validation of performance tests for improved accuracy.
HeadSpin allows for deploying device maintenance scripts for purpose-built appliances.
HeadSpin has no proprietary test framework, which helps in saving an immense amount of effort that goes into manual scripting and avoids vendor lock-in.
HeadSpin measures the holistic and subjective quality of the video using a reference-free mean opinion score (MOS).
#3. BrowserStack 
Best for QAs and developers to test their mobile applications and websites.

BrowserStack is a web and mobile app testing platform that allows developers to test their websites and mobile applications across mulitple browsers, OS, and real mobile devices.
Features:
It supports 2000+ real iOS and Android devices and browsers.
It integrate seamlessely with your CI/CD pipeline.
It allows you to report bugs directly to JIRA
It supports selenium automated tests to run on cloud.
With BrowserStack you can test your layouts and designs by generating screenshots on over 2000 mobile and desktop browsers.
It supports screen resolutions right from 800×600 to 2048×1536, and everything in between.
It supports Geolocation testing. You can test your websites behavior in various locations using GPS and IP geolocation.
Verdict: Browserstack is one of the best mobile app test automation platforms and best alternative to Perfecto that provides access to over 2000+ real device and OS combinations. It has helped Devs and QAs accelerate their testing time from hours to minutes, leveraging its scale to run thousands of test cases in parallel.
Pricing:
Desktop – Testing on desktop browsers – 29 / month
Desktop & Mobile – Testing on desktop & mobile browsers – 39 / month
Team – Testing on desktop & mobile browsers for remote teams – 25 / user / month
Enterprise Team – Enterprise-grade testing for large teams – Contact support
#4. Sauce Labs
Best for Software Development Engineers in Test (SDETs), Quality Engineers and Quality Assurance teams.

Sauce Labs is a continuous testing cloud of web and mobile applications. It allows you to test your applications across multiple web browsers, mobile emulators, simulators, and real mobile devices. With this tool, you can speed up test execution and generate videos and logs to find and fix issues in your application.
It enables you to test across 900+ browser/OS combinations, 200+ mobile emulators and simulators, and 2000+ real devices.
Features:
It lets you test websites, web apps, and mobile applications on multiple desktop and mobile browsers and OS combinations in the cloud.
With debugging tools like video recordings, screenshots and log files, developers can maximize their productivity.
It supports thousands of browsers and operating systems, mobile emulators/simulators, and real mobile devices.
It allows you to perform visual UI testing
Verdict: Sauce Labs is the only cloud-based mobile app testing platform that offers up-to-date browser/OS combinations, mobile emulators & simulators, as well as real device support. Its scalable infrastructure ensures that teams of all sizes can check-in multiple pull requests throughout the day without any queuing or bottlenecks, making sure feedback is fast.
Pricing:
Live Testing – $39/Month Billed annually
Virtual Cloud – 149/Month Billed annually
#5. Appium
Best for automating your Android and iOS mobile apps.

Appium is a powerful open-source cross-platform mobile automation testing tool that supports automation testing on different platforms like on platforms like Android, iOS, and Windows. It drives iOS, Android, and Windows apps using the WebDriver protocol.
Features:
It supports multiple programming languages including Java, Python, PHP, JavaScript, and Ruby over the existing tools.
It can be installed on Windows, Mac, and Linux. It can also test applications based on iOS and Android.
It helps you in performing automation testing of your native, hybrid, and mobile web apps .
You can test both iOS and Andoird apps with the same test scripts without any major changes in the test scripts.
It provides the opportunity to test real devices, emulators, and simulators.
Verdict: Appium is a free open-source tool that can be used to test the interface and functionalities of iOS, Android, and Windows apps.
Pricing: Free
#6. Experitest 
Best for mobile app and continuous testing.

Experitest is a web and mobile application testing tool. It provides businesses with a satisfying experience that is error-free across all devices and browsers.
Experitest provides continuous testing that is used by the various mobile software development companies and system integrators to deliver their mobile applications in a cost-effective and reliable way. The software provides a platform for on-premise and offshore software vendors to conduct quality tests in real-time to make sure that the software is robust and consistent.
Features: 
It supports both manual and automated testing on over 2000 real mobile and web browsers.
You can automate your testing with Selenium for easy cross-browser testing.
Allows you to execute large scale parallel test on thousands of combinations of browser versions and operating systems on experitests hosted Selenium Grid.
You can execute Appium tests on real iOS and Android devices, emulators, and simulators hosted in Digital.ai Continuous Testing's global data centers.
Allows you to integrate with any CI environment.
Verdict: Experitest is another great Perfect alternative and offers enterprise-grade security, scalability, and visibility. It can provide a streamlined solution for medium to large organizations. The software can be used for live cross browser testing and continuous testing.
Conclusion
Perfecto Mobile is an excellent automated testing solution for web and mobile applications, but it is very slow. Therefore, businesses look for Perfecto Mobile alternatives.
Kobiton, BrowserStack, and Sauce Labs are the top Perfecto Mobile alternatives we recommend.
What alternative did we miss? Leave us a comment below!
Related posts:
Disclaimer

All information contained here is based on publicly available information and is deemed correct but not warranted. Any errors or omissions should be brought to our attention, and prospective customers are encourage to do independent research.