18 Best Visual Feedback Tools & Software For 2023
In this article, we will look into some of the best visual feedback tools.
Visual feedback tools have become increasingly popular in recent years due to the growing importance of user experience and the need for faster feedback cycles in agile development.
Visual Feedback Software can help you speed up the process of identifying and resolving defects in your software.
In the software industry, feedback is key. In order to produce high-quality software, it is important to get feedback from different sources as early and often as possible.
This includes feedback from testers, QA personnel, and developers. However, getting timely and actionable feedback can be difficult.
So without further ado, lets get started.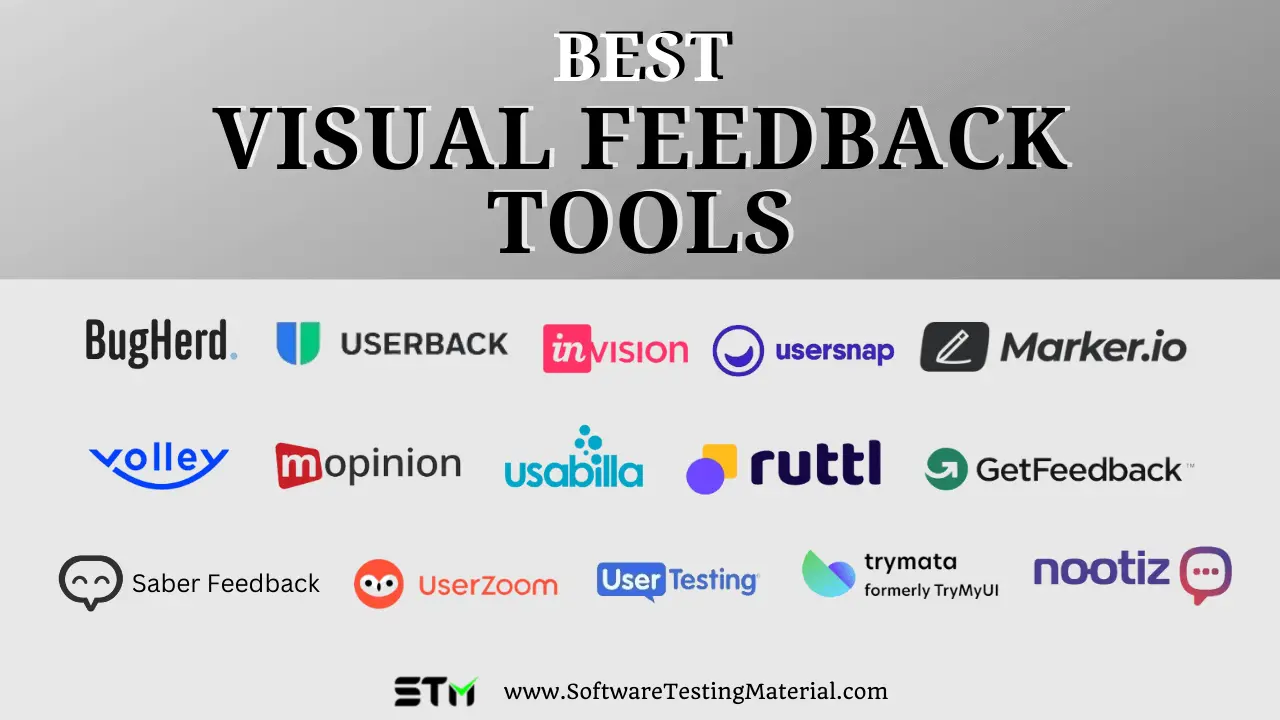 Expert Advice:
When choosing a visual feedback solution it's important to assess all of your needs and consider what features the tool offers before making a decision. You need to consider
#1. Ease of use, #2. Scalability, #3. Integration with existing software stack, #4. Pricing, #5. Customization.
Compare Best Visual Feedback Software
| Tool Name | Logo | Free Trial | Best for | Link |
| --- | --- | --- | --- | --- |
| BugHerd | | 14 days | Agencies, Designers, Developers, Marketers and Project Managers. | Learn more |
| Userback | | 14 days | Collecting real-time feedback with screenshots and instant notifications. | Learn more |
| InVision | | Free forever | Sharing design files with developers and others from your team. | Learn more |
| Usersnap | | 15 days | Developers, QAs, and interdisciplinary teams working together to build software. | Learn more |
| Marker.io | | 15 days | Developers, designers, product managers, and digital agencies. | Learn more |
Top Visual Feedback Tools Review
#1. BugHerd
Our Pick #1
BugHerd
Best for managing website feedback and bug tracking.
BugHerd is a web-based visual feedback tool for bug tracking for developers, project managers, and QA teams. It offers an in-page feedback feature, which allows customers to report bugs directly from the website. 
You can mark up issues and send feedback to your layouts and content with just one click. It makes it easy to keep your team on track, delegating and prioritizing tasks and measuring progress.


Features:
Bugherd allows developers and other users to keep track of all bugs, starting from the time they are filed until the time they are fixed.
Developers and designers can track the progress of their features from start to finish.
BugHerd can be integrated with many project management tools, such as GitHub and others, through Zapier integration.
It also includes tools for project management, which are based on scrum.
You can also filter and sort through bugs to find whatever you're looking for.
Pricing: It offers a free trial of 14 days.
Standard: $33/mo, billed annually
Premium: $108/mo, billed annually
Delux: $191/mo, billed annually
Enterprise: Custom quote
Must read: BugHerd Visual Feedback Software Review
#2. Userback
Best for collecting real-time feedback with screenshots and instant notifications.

Userback is a cloud-based platform for collecting customer feedback and tracking bugs. It is designed to help website developers, owners, and agencies collect user feedback on web projects and then share it with their colleagues. It allows you to collect real-time feedback from your website. You can take screenshots and get instant notifications.
Features:
Userback can be integrated with many bug-tracking and PM tools such as Trello, Basecamp, and ClickUp.
It allows administrators to create multiple projects, users as well as manage access with project-based restrictions.
You can track feedback over time and by the browser. This can help you gain real-time insights into the performance of your project and your team's productivity.
You can tag, categorize and filter feedback to help prioritize the most critical issues.
Pros:
It is a cloud-based feedback collection tool, so there is no maintenance cost.
You can collect feedback from a website in the form of video and session replay.
Feedback collection widget is customizable.
Cons:
Pricing: It offers a free trial of 14 days.
Premium: $217/mo
Company: $119/mo
Startup: $59/mo
#3. InVision
Best for sharing design files with developers and others from your team.

InVision is an intuitive app that allows you to create, design, and test business models, designs, or prototypes for any device. It allows users to create sketches, designs, and images from various sources, such as Photoshop. These can then be turned into interactive designs that can easily be implemented on any device.
Features:
InVision keeps track of all screens you've used so that you can see every version of your product design.
These tools allow you to create intricate and detailed graphics using visual design tools.
You can create powerful mockups of your designs with powerful prototyping tools.
There are many integrations available for popular apps such as Asana, Figma, and Adobe XD.
Pros:
Ready-made templates
Different viewing modes
Easy shareability for projects
Cons:
The team management functionality is lacking.
The price is given per user, so it increases dramatically if you need to add more users.
Pricing: 
Free: Forever free
Pro: $7.95 per user per month
Enterprise: Custom quote
#4. Usersnap
Best for developers, QAs, and interdisciplinary teams working together to build software.

Usersnap is primarily focused on bug-tracking and design feedback. It facilitates quick communication between customers, designers, and employees. Visitors and designers can submit bug reports from the website by clicking a button. This tool also allows you to create in-browser snapshots so that users can see exactly what visitor sees, without the need for a plug-in.
Features:
Users have the ability to quickly capture and submit issues with video recordings and annotated photos.
Launch CSAT and NPS polls, as well as thumbs up/down surveys, based on user events, URL paths, or time on the page.
Publicize the feedback list to let customers vote and see their suggestions.
It enables users to draw and pin comments directly on their screens with the help of an in-app widget. 
Pros:
Designed specifically for teams and bug hunting/squashing.
Integrates seamlessly with popular PM tools like Slack and Trello.
JavaScript error recording
Cons:
More robust than most freelancers will need
Very limited widget customization.
Pricing: It offers a free trial of 15 days.
Startup: €69/month
Company: €129/month
Premium: €249/month
Enterprise: Custom quote
#5. Marker.io
Best for developers, designers, product managers, and digital agencies.

Marker.io allows you to quickly and efficiently report visual bugs. You can easily collect visual and developer-friendly feedback from websites directly into your bug-tracking tool. Your clients, internal testers, and end users can submit visual feedback with just one click using the website annotation widget.
Features:
2-way sync to industry-leading issue trackers such as Jira and Asana.
Use the feedback widget to gather feedback from customers and visitors.
It allows users to capture screens and easily submit visual feedback.
Marker provides automated reports to show how you are performing in relation to your goals.
Logs from the console and client-side errors are automatically recorded and added to your issues.
Pros:
Simple to use and intuitive.
Compatible with all browsers.
Create automatic alerts to notify customers when an issue's status changes.
Switching between devices is effortless.
Cons:
Does not have a survey feature.
Setting up user access can be quite complicated.
Pricing: All the plans come with 15 days free trial.
Starter: $39/month billed annually
Team: $79/month billed annually
Company: $129/month billed annually
#6. MeetVolley
Best for visual feedback, website annotation, and bug reporting.

MeetVolley is cloud-based issue-track software that provides businesses with tools that allow them to collaborate in identifying, improving, and streamlining website QA processes. Site supervisors can comment on the site and ask team members for feedback.  
Features:
Users can invite unlimited clients, partners, etc., to any project in MeetVolley.
It allows organizations to store screenshots and feedback in a collaborative workspace.
Add multiple users to the platform and set role-based permissions based on their needs.
Development teams can notify users via @mentions to receive email alerts about new comments, replies, or notes.
Pros:
Extension for Firefox, Chrome, and Edge.
Good support team.
Integrate seamlessly into your existing workflows on platforms such as Jira or Trello.
Unlimited collaborators are allowed in the free plan.
Cons:
Not able to share and organize results.
Missing auto domain detection.
Pricing:
Starter: Free
Freelance: $23/month
Team: $63/month
Agency: $152/month
#7. Mopinion
Best for user feedback.

Digital marketers and product managers can use Mopinion to gather feedback from site visitors. Users can quickly and efficiently digest large amounts of data with real-time visualizations in customizable dashboards and charts. It also offers integration with Slack, Jira, and Google Analytics.
Features:
In-depth analysis, including text analytics and sentiment analysis.
Advanced data visualization using in-chart filtering, customizable dashboards, and other features.
Mopinion lets you create custom forms that include customer experience metrics such as CES, CSAT, and others.
Users can create custom surveys quickly and easily using a drag-and-drop interface or select from a library of pre-made templates.
Pros:
It is easy to improve and iterate your feedback system.
These forms are easy to create and customize.
Users have the flexibility to create custom feedback forms.
Cons:
Unstable platform
Expensive
Pricing: It offers 14 days free trial.
Standard: € 329/month
Enterprise: Custom quote
#8. Usabilla (Part of Getfeedback platform)
Best for user feedback collection across multiple channels.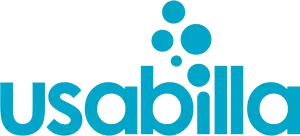 Usabilla allows users to share qualitative and quantitative feedback through digital channels, such as websites, apps, and emails. Users can collect feedback from emails, websites, and applications from web pages using this software.
Features:
Usabilla offers features like custom feedback forms and screenshot functionality, in-page feedback, multiple types of customizable surveys, and so on.
You can allow users to leave feedback about specific areas of your website by using the "Always On" feedback button
You can capture relevant metadata about website users such as browser, device, location, and other information.
You can design the surveys and feedback buttons to match your brand.
Pros:
Multiple customizable surveys.
Excellent reporting features.
Offer screenshot feature with review.
Cons:
It does not permit video responses or screen recordings of the user.
Quite expensive
Pricing:
Contact Usabilla for pricing information.
#9. Ruttl
Best for users to leave comments directly on the live website as well as make real-time edits.

Ruttl is one of the most widely used design feedback tools that allows your design team to collaborate and share visual feedback. You don't have to search through a lot of emails to find the right comment or remember any feedback. Everything is in one place.
Features:
Its features include editing live websites, leaving instant comments, image uploads, guest commenting, and sharing links with clients.
You can comment on static images or live websites and share context feedback with your client and coworkers.
Edit website elements such as font properties, position, alignment, and image replacement with Ruttl's edit mode.
Pros:
The customer support is quick and helpful.
Comments on static images and live websites.
Modern and clean UI.
Cons:
Not working on Firefox.
The 'Replace image' is not working properly.
Pricing: It offers 2 months of free trial with yearly plans.
Free
Standard: $15/month
Pro: $40/month
Team: Custom quote
#10. Nootiz
Best for fast, clear communication in your web projects. 

Nootiz provides visual feedback for web developers, project managers, and copywriters. Nootiz makes it easy to create personal notes. You can attach files to your notes, identify who should deal with them, and get all the developer information in one place.
Features:
Nootiz can be easily integrated with existing project management tools like Trello, Jira, and Asana.
It allows organizations the ability to store information in one central database and protect confidential data according to DSGVO regulations.
It enables developers to access notes and technical information about OS and browsers.
This tool allows users to create new projects and invite others, track progress, collect feedback, and so on.
Pros:
 Easy and quick third-party app integration.
No coding necessary
Cons:
UI can be confusing in the beginning.
Pricing: It offers 60 days free trial.
Basic: Free
Professional: $ 37,99/month
Business: $59,99/month
Enterprise: $ 209,99/month
#11. Saber Feedback
Best for bugs and UX issues.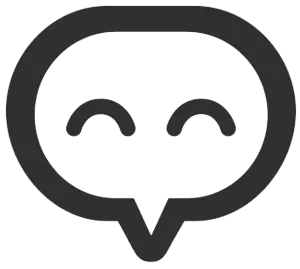 This tool allows users to highlight issues on a webpage or website by taking screenshots and text. It also allows you to use several CX metrics, like the net promoter score in order to measure user satisfaction.
Saber Feedback is a simple and flexible feedback software that sits on your website. It facilitates the QA process by allowing users feedback on a website or page through visual mediums.
Features:
To see what your customers think about your product, track your Net Promoter Score and star/emoji rating.
Users can snap screenshots whenever they want so that they don't waste time explaining the problem.
Saber supports 13 native integrations, including Trello, Jira, and Slack.
Pros:
It seamlessly integrates with existing project management tools.
It offers screenshot functionality.
Its bug-reporting feature with automatic detailing is truly impressive.
Cons:
Only an expensive pricing plan offers screenshot functionality.
Pricing: It offers 30 days free trial.
Bootstrap: $49/month
Startup: $99/month 
Corporate: $249/month
URL: https://saberfeedback.com/
#12. Redpen.ai
Best for visual teams to get the fastest feedback.
RedPen allows you to upload files and share them with clients or team members. This tool eliminates the need to send files back and forth. It is a fast feedback tool for visual teams and has an interactive interface that designers love. 
Features:
Simply point and click to leave feedback.
You can get feedback by sending a link or inviting them to an email.
Keep your team informed about new versions, additions, or comments.
Real-time communication and collaboration are encouraged.
Pros:
Easy to use as you can simply point and click to add feedback.
You can easily switch between different versions of a website.
Invite unlimited collaborators
Pricing: It offers a 30-day free trial.
Basic – Free
Standard – $5 per user/month
Enterprise – Contact sales
#13. UserZoom
Best for research, product, and design teams.

UserZoom is a cloud-based UX solution that provides product developers with actionable UX insight for digital experiences. It allows users to share their feedback through surveys, testing, and audio feedback.
Features:
UserZoom's data-gathering capabilities allow businesses to gather qualitative UX insights through usability testing. 
It allows users to create criteria for measuring experiences and allows you to track them over time relative to other competitors.
Companies can track metrics like success rates, page views, page views, clicks, time on page, and other statistics. 
It can be integrated with a variety of third-party prototyping tools and analytics platforms, market research solutions, and A/B testing tools.
Pros:
Really good for user-testing and recruiting participants.
It allows for continuous testing and validates performance with real users.
Cons:
Pricing information should be more clear.
For novice users, the tool can be difficult to use.
Pricing: Contact them for a quote.
#14. TryMata (formerly TryMyUI) 
Best for usability testing.

TryMata is a website and application testing tool that allows businesses of any size to conduct usability testing, collect feedback and categorize users. It lets users create surveys and manage their data on a single platform. It allows data analysts to create user profiles based on multiple filters, such as gender, age, and country.
Features:
Team members can view and record user testing videos. They can also create time-stamped annotations, tags to identify patterns, or bookmark specific issues.
Impression testing allows businesses to test the site design to get immediate feedback quickly.
Users can create an executive summary by using a drag-and-drop interface.
Leaders can assess overall app usability using multiple psychometric surveys such as the system usability scale (SUS), post-study system usability questionnaires (PSSUQ), standard user experience percentile rank questionnaires (SUPR-Q), etc.
Pros:
Advanced filtering options allow you to screen questions before they are included in the survey.
Testing is easy on this platform.
Cons:
Expensive and poor pricing.
Pricing: They also offer a free trial.
Team: $333/mo (billed annually)
Enterprise: $1,667/mo (billed annually)
Unlimited: $3,333/mo (billed annually)
Agency: Custom quote
#15. Pastel
Best for adding comments and reviews on live websites.

Pastel is a powerful visual website feedback tool. Marketing teams can use it to approve and review marketing collateral such as PDFs, image files, live websites, and PDFs. By sharing an email link, you can invite clients or team members to leave feedback.
Features:
To create a custom canvas link, users simply need to enter the URL of a live website. This can be shared, opened, and viewed by any party without the need for installation.
You can add @mentions on comments in order to get a user's attention.
It can be optimized to be responsive across desktop, smartphone as well as tablet browsers.
Pros:
A single monthly price will give you unlimited canvas, unlimited collaborators, and the ability to export to Trello.
Cons:
Limited features
The platform is not very customizable.
Pricing: They offer a free 14-day free trial.
Free
Solo: $24/mo, billed annually
Studio: $83/mo, billed annually
Enterprise: $350/mo, billed annually
#16. GetFeedback
Best for the salesforce team.

GetFeedback is the leading enterprise feedback management software. It allows you to create beautiful surveys that are on-brand and increase response rates. 
Features:
Administrators can tailor their procedures to meet their specific needs.
It allows users to transact business in multiple languages and currencies with the same material.
Depending on who is using the data, certain features, or objects can be accessed depending on their roles and groups.
It is always available (uptime), and users can execute jobs with confidence.
Pros:
No coding or data team is necessary to create your online survey.
It is mobile-friendly and convenient for those on the move.
Mobile-responsive surveys
Cons:
Very expensive
Bad tech support
Pricing:
They offer a free trial. Contact them for a quote.
#17. UserTesting
Best for product management, design, or usability team.

UserTesting is a human insight platform designed to assist businesses of all sizes in creating, launching, and managing custom audio, written, and video tests to collect feedback about products, services, and applications. It includes an integrated user database and a testing panel that allows businesses to target specific audiences using demographic filtering or other criteria.
Features:
It includes features such as live chat, secure proto hosting, net promoter score (NPS), screen sharing, and custom approval workflow.
It provides data visualization, ML-generated instant insight, and collaboration tools for post-testing analysis.
Integration with third-party apps such as Trello, JIRAs, Adobe XD, Google Calendars, and Microsoft Outlook is possible.
Pros:
Auto-generated analytics and transcriptions.
Good tool to earn good money as a tester.
Great customer support.
Cons:
Its dashboard is a bit clunky and the data requires a bit of tidying up once exported into excel.
Pricing:
You can request a free trial.
Custom quote
#18. Userlytics
Best for market research & UX insights.

Userlytics, a cloud-based platform for usability testing, allows small and large businesses to test digital assets, such as apps, websites, and prototypes, throughout the design process. Real people can experience your website or prototype in real time. 
Features:
Administrators can use Userlytics' skipping logic module to create sequences of questions that are based on the answers given by testers.
Screener functionality allows teams to ask questions to disqualify or qualify participants.
Enterprises can create a variety of test types, including single/multiple choices, rating-based, open-ended, and verbal tasks.
Integrates with third-party apps such as Adobe XD, Google Play Console, and TestFlight.
Pros:
Advanced video recordings
Time spent on the task and success/failure metrics
Card sorting & tree testing
Conversations live with participants
Cons:
Credit system is overly complicated.
Card sorting system needs work.
Pricing: Contact them for a custom quote.
How to choose a visual feedback tool
Choosing a visual feedback tool that is right for your needs can be overwhelming. Here are some tips on how to select the best visual feedback tool for your organization:
1. Consider scalability: If you're looking for a tool that can support your organization as it grows, make sure the tool you choose is easily scalable. Look for tools that allow you to add more users and features as needed without any major overhauls.
2. Think about ease of use: An effective visual feedback tool should be easy to set up and use. Check out the user interface and make sure it is intuitive so you don't have to spend a lot of time training your team on how to use the tool.
3. Keep integration in mind: Make sure the visual feedback tool you choose can integrate with other software programs that your organization already uses. This will help save time, as you won't have to manually input data from one tool into another.
4. Analyze reporting options: Visual feedback tools should provide comprehensive reporting capabilities so you can get a better understanding of the data they provide. Look for features such as customizable dashboards and easy exportability so you can make the most of your insights.
5. Weigh the cost: Cost is always an important factor when it comes to selecting a visual feedback tool. Compare prices and look for any hidden fees or additional costs that might be associated with the tool. You should also consider whether or not the cost of the tool is in line with what it offers you in terms of features and benefits.
Choosing the right visual feedback tool can be tricky, but with the right guidance you can find a solution that meets your needs. Consider these tips from experts and you'll be well on your way to selecting the perfect tool for your organization.
FAQs – Visual Feedback Software
What is a visual feedback tool?
A visual feedback tool is a software application that allows users to provide visual feedback on a specific area of a web page. This feedback can be used to indicate problems with the visual design of the page, or to request changes. It helps marketers and designers to improve the quality of the software.
What are the benefits of Visual Feedback Tools?
– Visual Feedback Tools allow your clients to rapidly leave comments/notes for your developers.
– User feedback solutions make it easy for you to get client feedback.
– You no longer need to waste time in pointless meetings or sifting through irrelevant emails. With Visual Feedback Tools, you will be able to know exactly what changes are needed and where.
Why Visual Feedback Tools?
For certain uses, visual feedback tools can be particularly useful:
– You need to make the feedback process easier when working with clients on a beta product.
– Visual feedback and bug reports can make diagnosing problems faster and easier.
– When your support team spends too much time interacting with users to clarify their feedback.
What is Visual Feedback?
Visual feedback is the process where users provide feedback using a visual layout of the website or app while it is still being developed. It helps to analyze and understand how users experience a website's usability. 
 
You can, for example, add a survey on your home screen to gather website UX feedback. You can set up popup surveys to collect visual feedback such as feedback about a new feature on your website. This will be done right after the user has finished using that feature.
How important is Visual Feedback?
When you want to create a website/app that is compatible with the needs of users, visual feedback is crucial. This helps brands to understand the needs of users in terms both of usability and appeal. For example, a mobile-responsive website is necessary if you want to reach a large percentage of your audience via their mobile phones.
How do you measure feedback?
To better understand the opinions of customers and users, it is important to measure customer feedback. The feedback program typically uses five metrics.
 
These are the following ways to measure feedback:
– Net Promoter Score (NPS)
– Customer Satisfaction
– Bug Report
– Goal Completion Ratio (GCR)
– Customer Effort Score (CES)
– Smileys / Star Ratings
What tools can gather user feedback?
To develop a product that seamlessly meets the needs and expectations of potential users, website or app designers must remain open to feedback. Here are five extremely efficient options at your disposal:
1. Surveys
2. Visual Feedback
3. Webshop reviews
4. Community Feedback
5. Website feedback forms
What is the best feedback tool?
Some of the best customer feedback tools are as follows
#1. BugHerd
#2. Userback
#3. InVision
#4. Usersnap
#5. Marker.io
Conclusion
There are many options to choose from. The key to making the right decision is what you want to accomplish and how mature your company or team is.
It is important to set goals for what you want to accomplish with the tool. Then, you can move on to budgeting. While there are many tools that are more targeted at enterprise businesses, there are also options that are more affordable for smaller companies. Last but not least, you should consider any technical limitations. 
Related posts: