11 Best ChatGPT Alternatives For 2023 (Free and Paid)
Are you looking for a ChatGPT alternative?
With the rise of automation, natural language processing (NLP), and machine learning, more businesses are seeking ways to incorporate artificial intelligence (AI) into their products.
ChatGPT is one such AI platform used by many developers for chatbot development and for creating interactive conversational experiences.
If you're interested in giving your users similar experiences without using the same service as everyone else, we have some great alternatives for you.
In this blog post, we'll explore some of the best options available for finding a quality replacement for ChatGPT!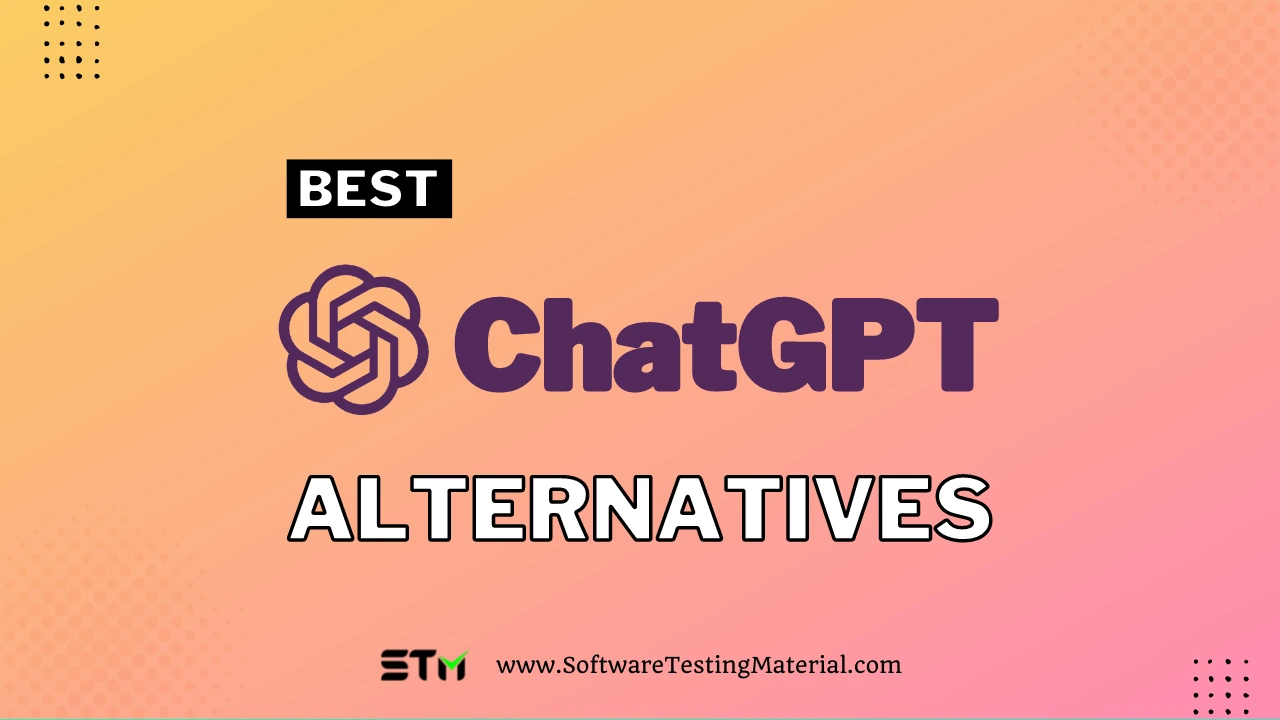 What is ChatGPT?
ChatGPT stands for Chat Generative Pre-trained Transformer and was released in November 30, 2022.
It quickly gained attention for its precise answers and articulate explanations in many subject areas, and it's no wonder why this tool has become so popular.
ChatGPT uses the same transformer architecture as OpenAI's GPT-3 (Generative Pre-trained Transformer 3) family of large language models and has altered its approach to yield more human-like conversations, utilizing both supervised and reinforcement learning strategies.
ChatGPT is an AI-powered chatbot that not only understands and responds to user input but also generates text based on the same.
The innovative minds behind ChatGPT, OpenAI – an AI research lab co-founded by Elon Musk and Sam Altman – are the creators of GPT-3 technology.
With ChatGPT, you won't experience the same limitations as with a traditional chatbot. Trained on hundreds of billions of words from the internet to manage conversations more accurately and smartly, it is prepared for anything from coding to creating content – all at once!
Large language models can predict potential words that may come next in a sequence of terms.
Reinforcement Learning with Human Feedback (RLHF) adds a new level of learning to ChatGPT, allowing it to master the skill of following instructions and delivering responses that are satisfactory for humans. By incorporating human feedback into its training program, ChatGPT can become even more powerful in understanding complex tasks – enabling people worldwide access to smarter machines.
ChatGPT is pre-trained on a wide variety of data. It can also be fine-tuned to specific tasks such as question answering or sentiment analysis.
By leveraging ChatGPT technology, developers can create more natural dialogue bots that can effectively engage with users and respond to their inquiries.
ChatGPT offers a more human-like conversation experience, which can help businesses improve customer service, increase customer satisfaction, and optimize user engagement.
ChatGPT is also an excellent option for creating virtual agents that can interact with customers on behalf of a business or organization.
ChatGPT is creating a new wave of personalized conversations that can help businesses acquire and retain customers more effectively.
ChatGPT is revolutionizing the way people interact with technology, and it will continue to be an invaluable tool for developers to leverage in the future.
ChatGPT Pricing
OpenAI has recently announced their pricing plans for ChatGPT, which is outlined below:
Free ChatGPT Plan
ChatGPT Plus Plan – Chat GPT plus comes at $20/month
Is ChatGPT going to be a Google killer?
ChatGPT is an interesting technology that has some potential to make a significant impact in the online search space. ChatGPT harnesses natural language processing and artificial intelligence to provide more relevant results for searches.
It is important to remember that ChatGPT is still in its early stages, and it remains to be seen if it can offer a viable alternative to the current search platforms.
ChatGPT might not be a Google killer, but it may be able to offer an alternative way to search the web that could appeal to some users.
At this point, ChatGPT is worth keeping an eye on as it continues to develop and improve its capabilities. It may have a promising future in the online search space.
Why go for a ChatGPT alternative?
ChatGPT is an advanced machine learning model for natural language processing (NLP). It can generate personalized, context-aware replies to conversations in real-time.
ChatGPT offers businesses an efficient way to interact with customers and offer them a more engaging experience.
However, ChatGPT is not the only solution on the market.
ChatGPT alternatives offer a variety of features and benefits that ChatGPT does not.
ChatGPT alternatives can be more cost-effective, allowing businesses to save on operational costs.
Furthermore, ChatGPT alternatives may be more user-friendly, allowing users to learn how to use the system quickly.
ChatGPT alternatives can also give businesses more control over their data, as they may offer better customization options and improved security measures.
Considering these advantages, ChatGPT alternatives are worth considering for businesses looking for a cost-effective, feature-rich solution for their conversational AI needs.
Best ChatGPT Alternatives in 2023 (Free & Paid)
#1. Google Bard AI
Best Chat GPT alternative by Google

Google Bard AI is Google's latest Artificial Intelligence-based platform which is an exemplary AI system that can converse with you and provide answers to your queries.
Using data from the web, it produces novel, accurate responses.
Although not yet accessible for public use, Google Bard could soon be integrated into its search engine – allowing everyone to benefit from this revolutionary technology through a simple search bar query!
In a recent blog post by Google CEO Sundar Pichai, Google Bard was unveiled as an experimental conversational AI service.
Google assures that 'Bard seeks to combine the breadth of the world's knowledge with the power, intelligence and creativity of our large language models'.
Google Bard is driven by a lightweight version of LaMDA, which is Google's Language Model for Dialogue Applications.
With this latest innovation from the tech giant, customers can expect to experience more natural conversations with intelligent chatbots!
Features:
Google Bard AI can understand the context of a conversation or text and use natural language processing techniques to respond accurately to requests.
Google Bard AI can handle long-form documents and can identify main concepts, help users search for specific topics, and quickly summarize the text.
Pricing:
Google hasn't made any pricing announcements yet. As of February 6, 2023, it has been available for limited testing, and further widespread utilization is set to commence later in the year.
#2. Microsoft Bing AI
Best alternative to ChatGPT by Microsoft

Microsoft Bing AI is Microsoft's intelligent search engine which utilizes the latest Artificial Intelligence technologies to provide users with accurate and relevant answers to their questions.
Bing AI is a new OpenAI large language model that's far more robust than ChatGPT and GPT-3.5, designed to revolutionize the search experience by combining speed, accuracy, and efficiency.
Features:
Microsoft is revolutionizing the browsing experience with their new Edge browser, featuring 'Chat' and 'Compose,' AI-powered capabilities that vastly surpass even Bing's current features.
Microsoft Bing AI has been designed to understand the intent of users' queries and automatically generate answers from its vast knowledge repository.
Microsoft Bing AI can provide personalized results based on user preferences, such as language, location, and past search queries.
Pricing:
Bing offers a free preview of the ChatGPT-powered capabilities, and we anticipate even more exciting features when the full version rolls out!
#3. DialoGPT
Best alternative to ChatGPT by Microsoft

If you're looking for a free ChatGPT alternative that adds an element of fun to your conversations, DialoGPT by Microsoft is the one for you.
Microsoft's DialoGPT (Dialogue Generative Pre-trained Transformer) generates replies in multiple dialogue scenarios.
DialoGPT is a large-scale pre-trained dialogue response generation technology designed specifically for multi-turn conversations.
To create this revolutionary model, 147 million multi-turn conversations from Reddit discussion threads spanning 2005 to 2017 were utilized as its dataset during training.
DialoGPT is easy to set up. However, it may not offer the cutting-edge AI you might be looking for.
If you need a basic chatbot to converse with, DialoGPT will get the job done!
You can find the original code here
#4. Jasper Chat by Jasper
Best for businesses and marketers.

Jasper, formerly known as Jarvis, is an AI content-generation tool. It is one of the most used AI writing tools in the market. This software is ideal for businesses that need to produce exceptional content quickly and efficiently.
Jasper recently developed a chatbot, Jasper Chat.
Jasper Chat, the revolutionary chat platform from Jasper, is revolutionizing how content creation works in the modern world.
This intelligent conversationalist uses GPT 3.5 and other language models, with OpenAI as its partner for advanced capabilities! Unlike ChatGPT, which anyone can use effectively, this remarkable tool was custom-designed specifically to serve businesses in the advertising and marketing fields.
This cutting-edge technology is learned from billions of articles and other content pieces in 29 languages – enough for medium to complex conversations.
Whether you're new to AI chatbot technology or a veteran user of bots like ChatGPT, Jasper Chat offers remarkable results with minimal effort.
Through its streamlined and intuitive interface, Jasper Chat helps businesses unlock their creative potential like never before!
Pricing:
Jasper Chat comes only with Jasper's Business plan and Boss mode. The Boss plan starts at $49 per month.
You cannot get Jasper Chat in Jasper's starter pack.
#5. ChatSonic
Best for the most reliable and up-to-date answers and images.

Like Jasper Chat, Writesonic's ChatSonic is also one of the best ChatGPT alternatives out there that has been gaining traction in the market.
Utilizing ChatGPT's immense power, this AI chatbot was created and enhanced with extra functions and greater understanding.
Seamlessly integrated with Google, this platform delivers the most up-to-date results on any topic imaginable.
ChatSonic is a large-scale pre-trained dialogue response generation model specifically designed for multi-turn conversations.
It helps with real-time data, images, and voice searches.
Indeed, unlike ChatGPT, you can communicate with ChatSonic via your microphone and have it respond to you audibly if you choose so.
In addition to text & audio, Chatsonic also features an integrated image generator that creates high-quality visuals from your instructions.
Pricing:
ChatSonic free version gives you 25 daily generations.
Its long-form plan starts at $12.67 per month.
#6. Perplexity AI
Best AI Chat tool that acts as a search engine.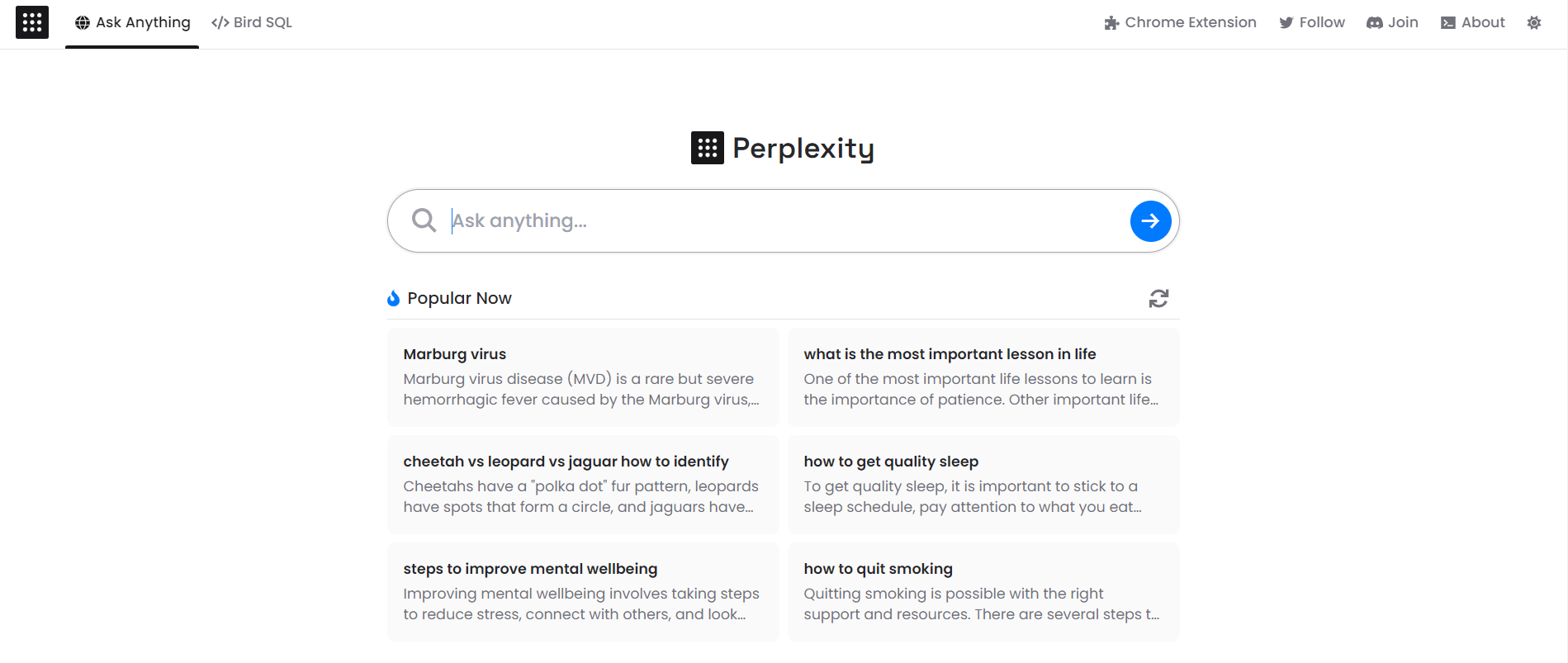 Perplexity AI is an AI Chat tool that is an alternative to ChatGPT. It is recently launched in the conversational AI space.
It was recently launched in the conversational AI space that is powered by OpenAI's API and consistently produces remarkable outcomes.
It collects information from popular platforms like Wikipedia, LinkedIn, and Amazon.
Although still in its beta phase, the program may not always be able to detect and interpret information, resulting in plagiarized content.
Pricing:
Perplexity AI is completely free to use while it's still in its beta phase. There is no account to start chatting with its ChatGPT-like capabilities.
#7. YouChat
Best search engine that summarizes the best parts of the internet, without ads and with great privacy.

YouChat is another conversational AI chatbot like ChatGPT, launched by You[dot]com.
In fact, it is embedded in its very own search engine.
YouChat, trained with a modern and sophisticated large language ChatGPT model, is the perfect conversational companion.
Its connection to the internet ensures that it remains up-to-date with all of the latest information so it can give you reliable answers not only during chats but when seeking out search results as well.
YouChat's AI utilizes cutting-edge artificial intelligence and natural language processing technology to engage in conversations that largely resemble human interaction.
Pricing:
For the time being, YouChat is available for free.
#8. Replika
Best AI-powered companion chatbot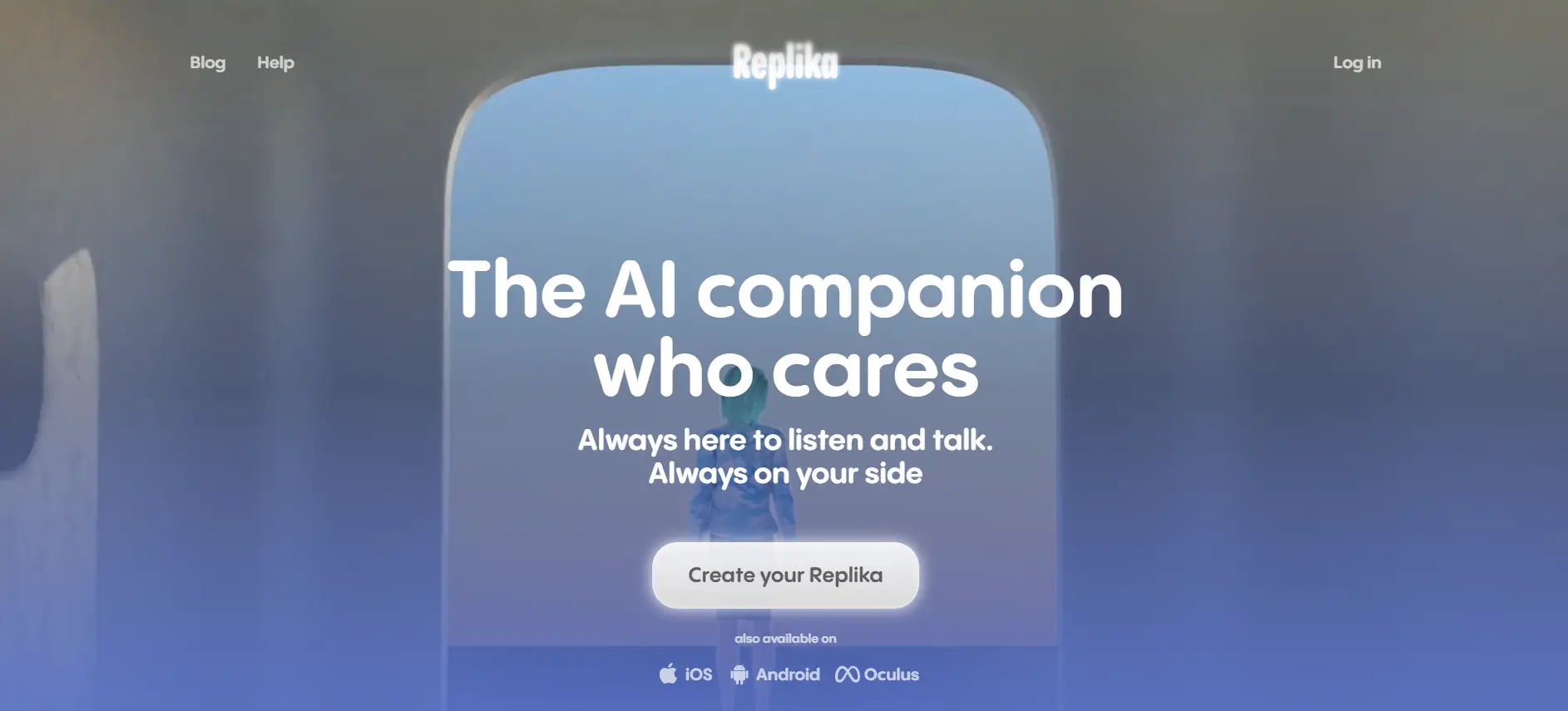 With over 10 million users, Replika is the ultimate AI-powered chatbot – it is a worthwhile alternative to ChatGPT to consider conversing with.
Replika is powered by the GPT-3 autoregressive language model and deep learning technology.
Replika has been carefully designed for companionship and relationships.
It can use previous inputs about you to ensure that each conversation is unique, engaging, and beneficial.
Replika is an AI companion that is ready to chat with you in real time when you need an empathetic friend. This solution can generate text with a remarkably human-like quality.
When life becomes overwhelming, Replika will always be there when you need someone compassionate.
This ChatGPT alternative is compatible with the web, Android, and iOS devices – convenient for you to use anytime and anywhere!
Pricing:
Replika's pro plan begins at $19.99 per month.
The lifetime deal costs $299.99.
#9. Character AI
Best ChatGPT alternatives you can talk to
Character AI is a neural language model chatbot web application that produce human-like text responses.
This innovative program can participate in conversations intelligently, creating a natural dialogue experience for users! 
Character AI is an interesting conversational platform that focuses on AI personalities and has been trained from the ground up with conversations in mind.
Character AI's main feature is its variety of characters you can choose from and converse with, making it a great option for fun and entertainment.
Pricing:
Character AI offers a free version. It also offers a premium subscription with additional features.
#10. CoPilot
Best AI-Powered ChatGPT alternative for coding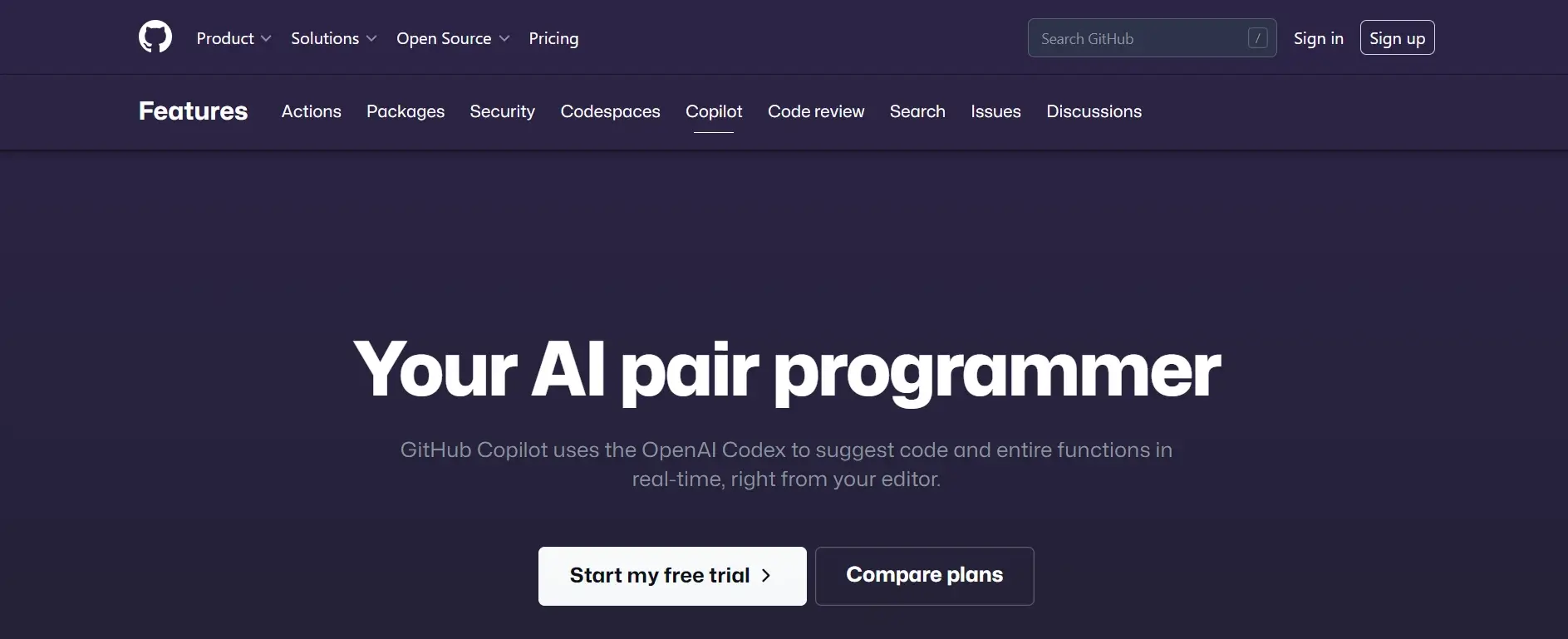 GitHub Copilot utilizes the OpenAI Codex's GPT-3 model to suggest code snippets and full functions quickly in real-time – directly from your editor!
GitHub Copilot stands out among other websites like ChatGPT by providing multi-language coding support, allowing you to focus more on developing great software products in less time!
This tool is suitable for popular coding platforms, such as VS Code, JetBrains, and Neovim, and saves time and effort, making it a top choice for developers.
With the ability to generate syntax in up to 12 languages, including JavaScript, Go, Perl, PHP, Ruby/Swift/TypeScript, and BASH – Multi-language coding support is only part of its charm!
Pricing:
Copilot is at no cost to students and contributors of open-source projects.
For individuals, a $10/month subscription fee applies.
For businesses, a $19/month subscription fee applies.
#11. Elsa Speak
Best AI-powered English-speaking coach.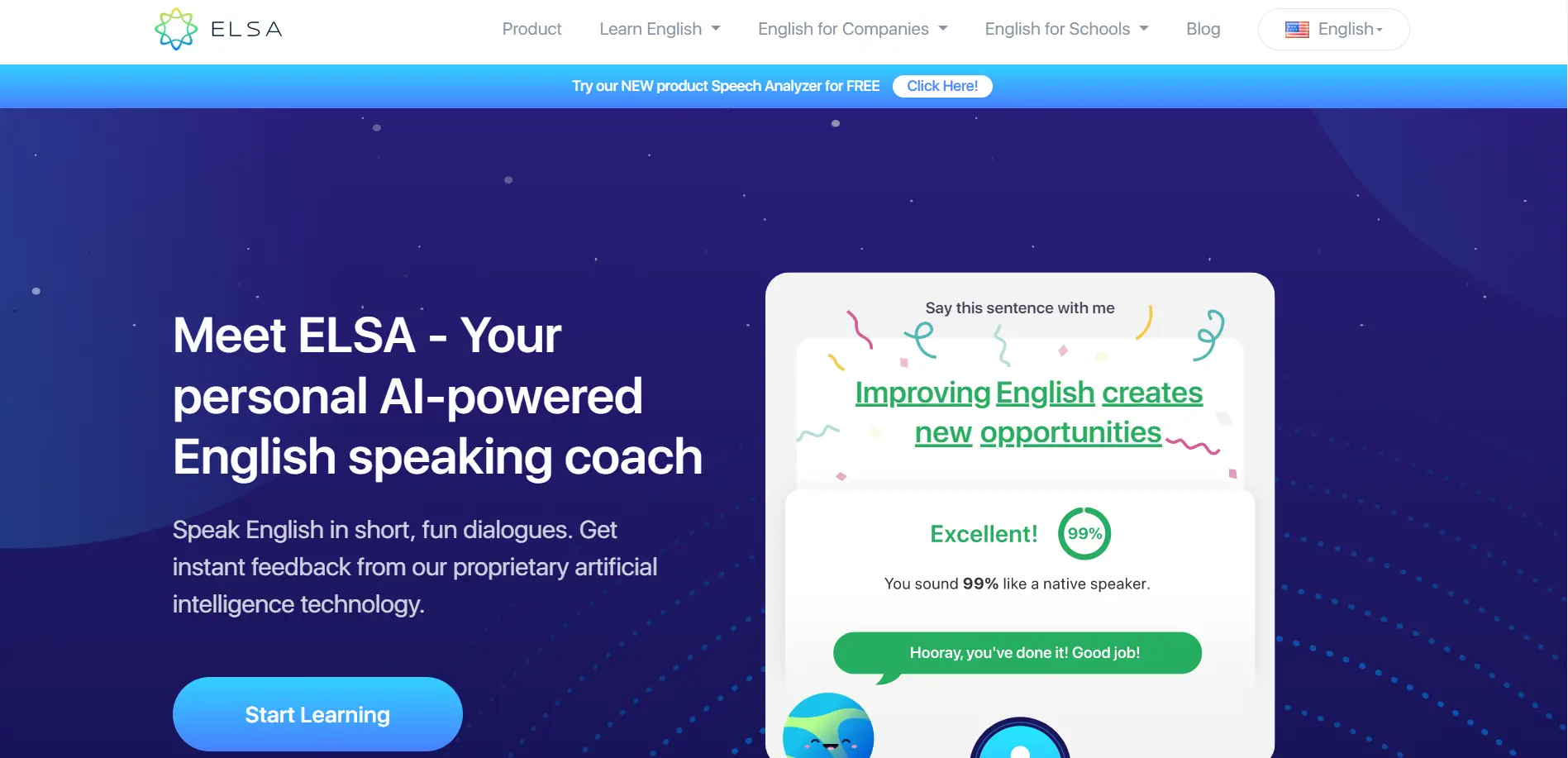 ELSA is an AI-powered language-learning application.
This app is a perfect mix of fun and learning, helping you brush up on your English pronunciation quickly!
With Elsa's help, you can quickly and efficiently translate various languages into easy-to-understand English.
ELSA's AI technology draws from various English recordings to produce its groundbreaking voice recognition capabilities. It has been crafted using an expansive library of speakers with distinct accents, allowing it to understand wide different varieties of the language.
Pricing:
You can also use their 7-day complimentary trial to evaluate the service before committing!
Elsa's pro plan starts from $11.99/month.
Frequently Asked Questions (FAQs) – Top ChatGPT Alternatives
Is there an alternative to ChatGPT
ChatGPT is the world's leading natural language processing and conversational AI platform, but several other great options provide similar features.
Best ChatGPT alternatives
1. Google Bard AI.
2. Bing AI.
3. DialoGPT.
What AI tool is similar to ChatGPT
Six Alternatives to ChatGPT
#1. Google Bard AI – Best Chat GPT alternative by Google
#2. Microsoft Bing AI – Best alternative to ChatGPT by Microsoft
#3. DialoGPT – Best alternative to ChatGPT by Microsoft
#4. Jasper Chat by Jasper – Best for businesses and marketers.
#5. ChatSonic – Best for the most reliable and up-to-date answers and images.
#6. Perplexity AI – Best AI Chat tool that acts as a search engine.
What are the best free alternatives to ChatGPT?
Some free alternatives to ChatGPT include Bing AI, DialoGPT, Perplexity AI, and YouChat. Each of these platforms offers advantages for creating powerful conversational AI experiences.
Conclusion
Out of all the ChatGPT alternatives we listed, Google Bard AI and Microsoft Bing AI are our top picks. They're both free to use without limits on the number of queries and offer similar features to ChatGPT. If you need more advanced features like data export or customizations, Jasper Chat by Jasper and ChatSonic are good paid options to consider.
Related posts: