UserTesting Review: How To Make Money With UserTesting.Com?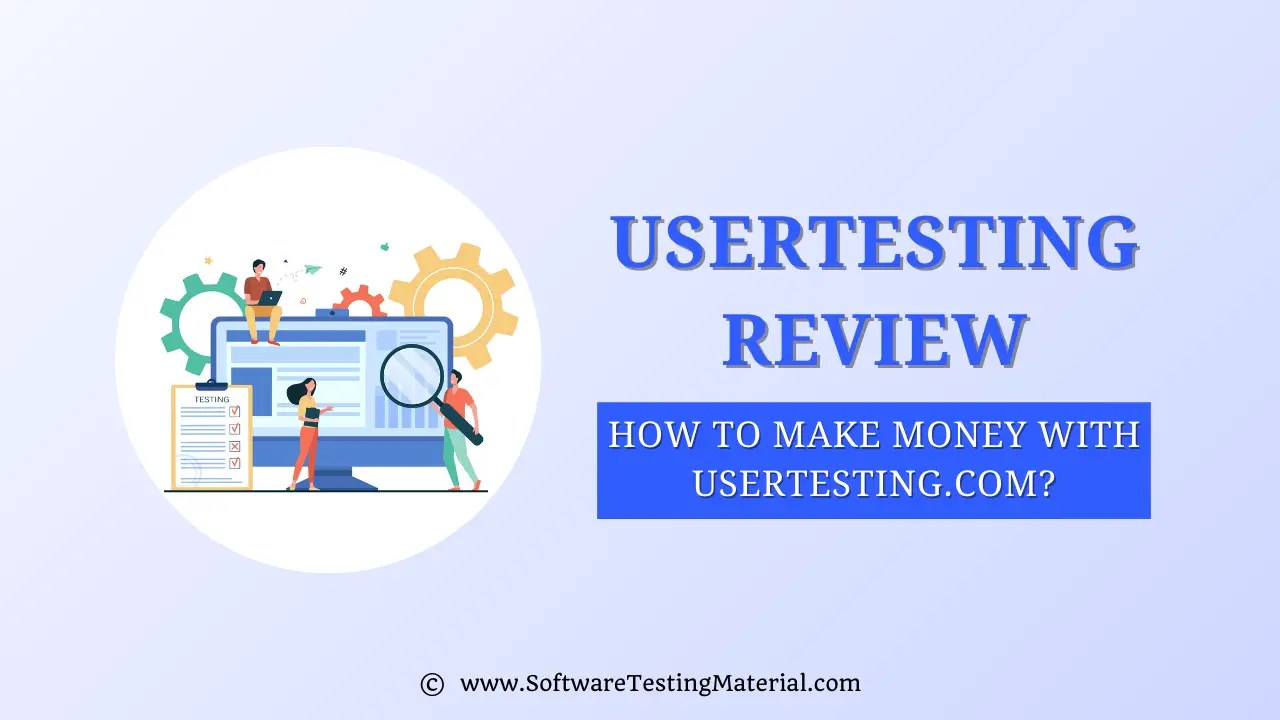 User testing is a process by which a website, app, product, or service get assessed by real users, who further give recommendations and suggestions for improvements.
In user testing, a group of testers is tasked to thoroughly test the software or other platform. This helps in achieving more clarity, and thus more product satisfaction. It also leads to quicker iterations that can be accommodated in the schedule without compromising the quality of the final product or end-user acceptance.
Participants are recruited, and they perform certain tasks on the product, website, app, or service. The results are recorded and analyzed by the industry experts to further suggest findings and recommendations.
Let's get started.
What is UserTesting.com?
UserTesting.com is a platform for getting customer feedback on almost every customer experience on digital products, including websites, mobile apps, prototypes, and real-world experiences.
In addition, it is also testing its security aspects. There are many ways to determine if a product or software will be appropriate for the target market. When a person is using a particular product for the first time, it may require a lot of different usability tests from the person alone, which is why testing needs to be done in a systematic and repeated manner.
How does UserTesting work?
All over the world, Usertesting work with different companies who wish to hear honest opinions from real users regarding their digital product.
So, as a professional tester on usertesting.com, you will help companies in developing a better digital experience by telling them what you believe would work best on their site or app, what might be better, and you feel so. In addition, you will also earn money when doing so.
UserTesting For Those Companies
User testing is an influential methodology used in user-centered design to test a new product by testing it directly on real users. This is viewed as an unreplaceable, empirical usability test, as it provides direct access to how actual users utilize the system.
For a large number of organizations, user testing is regarded as an essential part of the initial design process. However, for smaller organizations, where the money involved is not as great, user testing is conducted after the product has been launched. If you are launching a new product and would like to use user testing to gain valuable insights into your competitors' usability insights, this article will provide you with five effective tips.
If you are looking to conduct user testing, you can check out Usertesting.com. They have a number of available resources that they regularly utilize in the process of conducting usability tests. You can use its resources to ask testers about their experience using the product, in addition to interviewing them about their knowledge of the system in question.
It helps in obtaining additional information about the experience of users outside of your target market, can help you form your own opinion about how well your product functions. On the other hand, interviewing qualified technical experts about the architecture and functionality of your product can also prove very beneficial.
After browsing the UserTesting.com website, we noticed that some of the biggest names in eCommerce and marketing trust the UserTesting.com platform. Companies include:
Walmart
Facebook
Airbnb
Apple
Home Depot
If you discover their services useful, then you can engage them for the consumer testing of your site or web program. Depending on the business use case, they help the firms in targeting the ideal customers from whom useful feedback is available and insights about the user experience can be found.
Usertesting came into the market in 2007. As a business organization, you can think about it as a good option if you are looking for a user testing tool. The consumer satisfaction for this particular tool is very high, and it's many positive societal mentions.
They provide business organizations with two types of accounts, i.e., Fundamental (individual program) along with the Pro (aka enterprise alternative) version.
For the basic account, the evaluation participants will be directly chosen by the consumer testing panel. For the pro account, you have the option to choose your very own participants. The individual plan offers fundamental testing capabilities and access to the test templates.
The pro account will have custom pricing. It offers a free trial along with advanced testing capacities, quantitative metrics, customer experience analytics, administrative controls, and an enhanced video player.
For your business customers, in addition, it offers longitudinal studies where you are established up with regular reports concerning the way the user experience of your merchandise is shifting over time and how you measure up to the competition.
Creating and executing examinations is rather straightforward since you'll acquire audio-video with customizable post-test survey questions. You can make tests for mobile desktop and assess your viewers' answers. The evaluation results are fast shared with you.
You can change to the instances from the recording where the user started facing difficulty, assess the time taken in doing a task, and figure out the NPS score.
UserTesting For the Testers
Usertesting targets the 'right clients', and these clients are no one else but you. If you're engaged as a professional with usertesting.com, then you will be shown evaluations based on your profile and demographics, and also, the tests also have screening to check if you're the right individual to provide feedback.
By way of example, if there is a test related with online shopping website, you will need to first undergo a screener which will ask you questions such as how frequently you shop, what websites you use for purchasing, etc.
If your answers match with the requirements for the type of tester they want to find, just then, you'll be permitted to take up the test; else the test will proceed from your bucket.
For the tests that you take up, you should be very good at speaking English. Throughout the test, you want to give feedback regarding your user experience with the tasks that you are performing on the website, and in conclusion, you need to answer some questions based on the website or app that you tested.
How Do You Make Money With UserTesting?
To get registered as a tester, you need to take a sample evaluation, and if it gets accepted by the panel, you can become a tester on usertesting.com. You will get evaluations based on your profile.
Almost every test has some screening questions that you need to answer to be eligible for the test. If your responses match what they're looking for, then you will be permitted to proceed with the exam. Otherwise, you'll be disqualified from the test.
For every successful test that you perform, you will be paid some money depending upon the kind of test.
Is UserTesting a scam or legit?
User Testing is a legitimate website where you can earn money after finishing the testing tasks. Usertesting is a legitimate method for conducting user testing. Scams often prey on unsuspecting people who are simply looking for an opportunity to earn money.
What is Usertesting, on the other hand, is a legitimate way to determine if a product or service is worth your customers' time. If the tests that you have conducted to prove that your products or services are good, then it is highly likely that a company will be able to gain a large customer base.
All the payments conducted on this site are through PayPal. The website is straightforward and conducts business in a transparent way.
Can we make money from user testing?
Yes, you do get paid to do user testing.
There are a lot of people who wonder how they can actually get paid for their Usertesting tests and reviews. This is actually pretty simple, as there are numerous ways that you can actually make money from your Usertesting campaign.
For apps that have a complicated interface, you will probably need to review them. This is where you will get paid. Many companies will let you test their products, app, or website by allowing you to use the platform and perform a few functions. From there, you can record data and run reports on different software. This is one of the easiest way to make money.
What is also important to remember is that the demographic that you are targeting is a very crucial aspect when it comes to making money from your Usertesting. This is because the demographic determine the demographics of the person who is going to avail of your product or service. So, it really pays to know your audience and make sure that your product or service is appealing to them.
This will ensure that you have larger chances of success, especially if your product or service is appealing to all demographics. This is the reason why it really pays to conduct extensive demographic research before you actually launch your product or service. One of the important things is to know your target market.
According to the website, you can earn up to 60$ per test. This should not be considered as a primary source of income. It is something that you can do in your free time. The amount of work you receive is limited and depends on factors such as location.
The website also states that the opportunities you will receive will depend upon other factors, including the quality rating.
How much can you earn from Usertesting?
The normal pay rate is $8 per test, though some pay between $4-$6.
You're paid different rates based on the sort of evaluation that you do. Longer evaluations will cover more, typically between $10-$12. There are a variety of tests you can perform, including a card sort evaluation where you categorize segments of a web site based on the sort of information that will go there, for example, to get news site you'll be given subject cards such as world events, sports, style, politics, along with local news, and it's your choice to organize/file those cards in a way which is reasonable.
There are also tests where you test the service on the website by registering as a client. These types of evaluations pay considerably greater than normal. There is also mobile testing. For most user testing platforms, you are paid bi-weekly, though a few pay after each test.
A conventional unmoderated test consists of a 15 – 20 minute display and audio recording and replies to four follow-up written questions. If your evaluation is faulty, you may not receive payment.
You will be paid as mentioned below incase if you are invited to participate in a Live Conversation.
$30 for 30 minutes
$60 for 60 minutes
$90 for 90 minutes
$120 for 120 minutes
You will be paid daily for tests completed 7 days earlier, and all payments are sent via PayPal.
How can I become a website tester?
Usetesting.com accepts testers from countries like Africa, the Middle East, India, Asia Pacific, Europe, Latin America and the Caribbean, the United States, and Canada.
To become a website tester, you need to sign up in Usertesting.com by giving your email address and complete a sample test.
Once the sample is approved, you'll be going through the comprehensive signup process where you'll need to provide your profile information, PayPal account details, etc., and after that, you can pick up the real tests and begin making money.
Using a PayPal account is a necessity as you'll be required to mention your PayPal account details at the time of profile creation. Consequently, if you do not have a PayPal account, it's better you create one.
How many tests can be done on UserTesting?
The number of tests you get is largely dependent on the business requirements. It normally varies. You can expect 1-2 tests to appear daily in your dashboard.
Another factor which affects the number of evaluations that you get is the rating (testers with 5-star score often get more tests), profile, and devices you have.
How to get selected on Usertesting?
Here are some tips that will help you succeed:
#1. Create an account
To become a website tester on Usertesting, submit your email address, and complete your application. Aspiring testers should take a sample test prior to getting any tasks.
#2. Pay attention to detail
Most of the testing websites have a sample evaluation you choose to get started where they are assessing the quality of your work. It is extremely important to do a good job, or you will not be contacted for future analyzing opportunities to make more money.
#3. Be honest
You didn't get chosen for that evaluation. Being dishonest has the potential to hurt your chances of being selected in the future.
#4. Own good gear
When you do these evaluations, your monitor will probably be recorded along with your voice. Some companies even record videos of your responses. Because of the stuff listed, you'll need a fantastic Internet connection. Pick wired over wireless when possible.
You'll also need a good mic so that your audio is apparent. Avoid using the built-in microphones found on monitors or laptops. Purchase a USB mic that you could put near your mouth.
#5. Good in English
You should be fluent in the English language. It is not necessary for you to have an extraordinary vocabulary, but what is more important is that you speak and write clearly, correctly, and fluently.
#6. Sit in a noise-free room
Sit in a noise-free room in order to avoid distractions and disruptive noise.
Pros and Cons of Usertesting
UserTesting Pros
Simple user interface
Mobile app testing–allows you to see the customers using our program reside instead of in a test atmosphere. Running some studies as scripted vs. explorational was really useful.
Recruiting prospects–this has always been a struggle and there seems to be a fantastic set of panelists who are small business owners.
Video Recording is easy –you do not need to remember to press record; it occurs automatically, and you can then see the activities for each session separately to make it effortless to analyze results. No more excuses not to include videos!
Video clip highlights–makes it really easy to add clips to presentations. No more excuses not to include video clips!
UserTesting Cons
You will not get email notifications for new tests.
You need to be logged in to your account and keep a lookout for any new tests on your dashboard.
You can get disqualified in a screener procedure. For the tests that have screeners, it is unsure if you are going to qualify for the test or not.
It is hard to qualify for the test.
You must have good skills in English and technology. Usertesting.com is not your cup of tea if you don't have these qualities.
Lesser opportunities, in case, you live outside the US.
How to enroll as a tester on Usertesting.com?
#1. Visit their site and click 'Get Paid to check' link.

#2. Now, you have to register by clicking on Sign-up.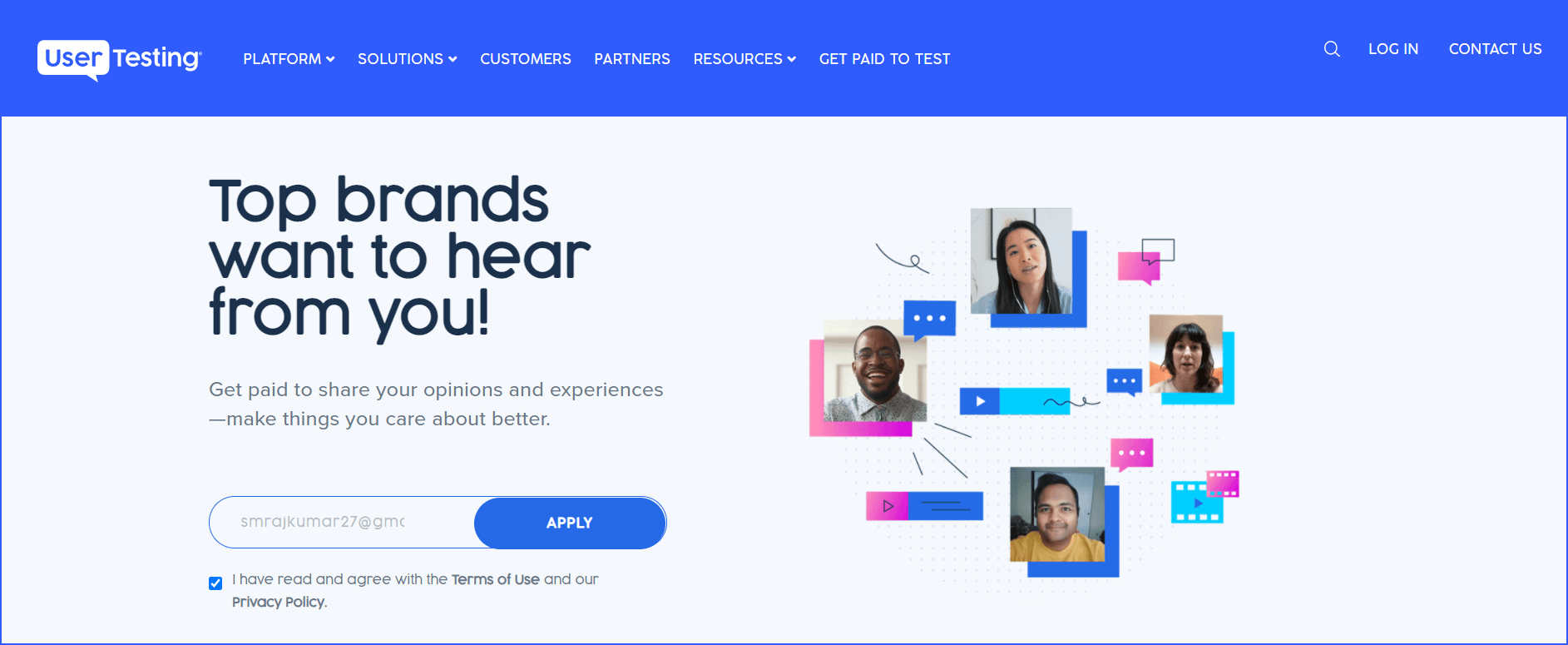 #3. Once you sign-up, you will receive a verification link on your email.

#4. Verify your email address by clicking on "Complete Your Application"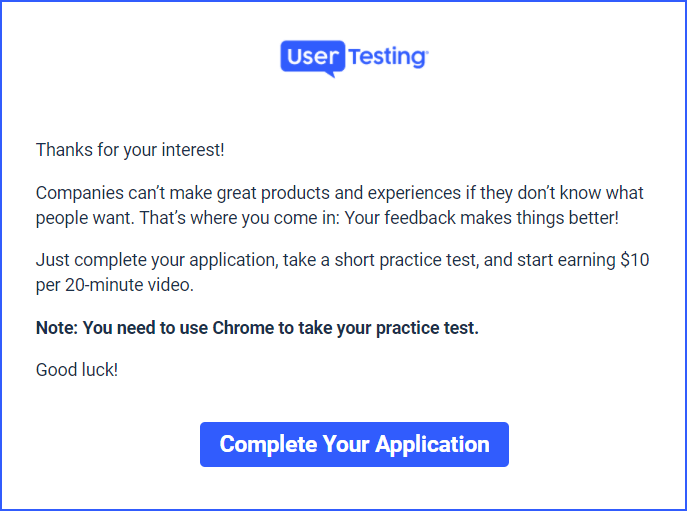 #5. After you have signed up, the website will take you through a 45-second video. It will show how to perform a test and give your feedback.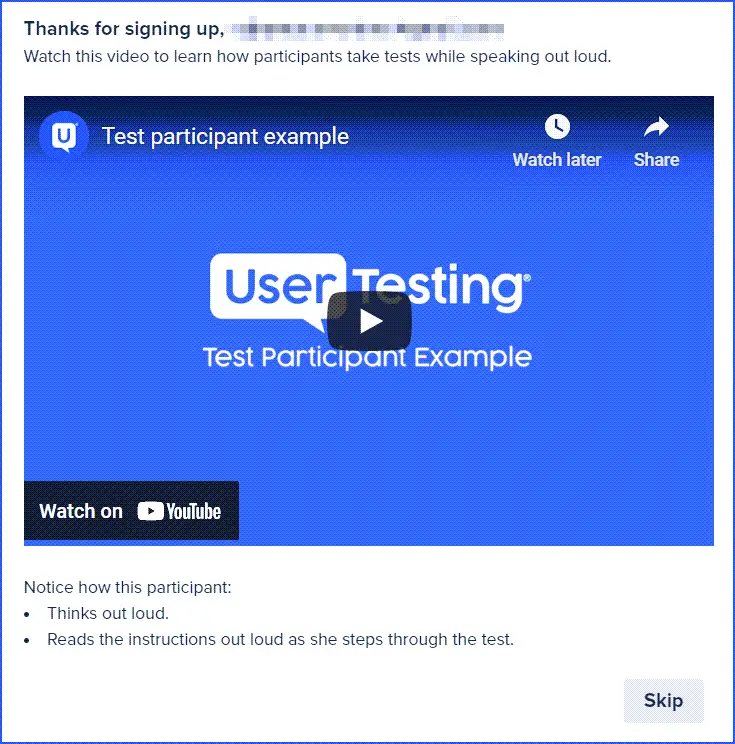 #6. Then, you will see the next display to get into the UserTesting computer software.

#7. On clicking on the "Install Extension" link, you will be redirected to download the UserTesting Browser Recorder chrome extension.



#8. After installing this software, they provide you with a video that comprises the suggestions to perform the tasks. Watch this video, and then start taking your test.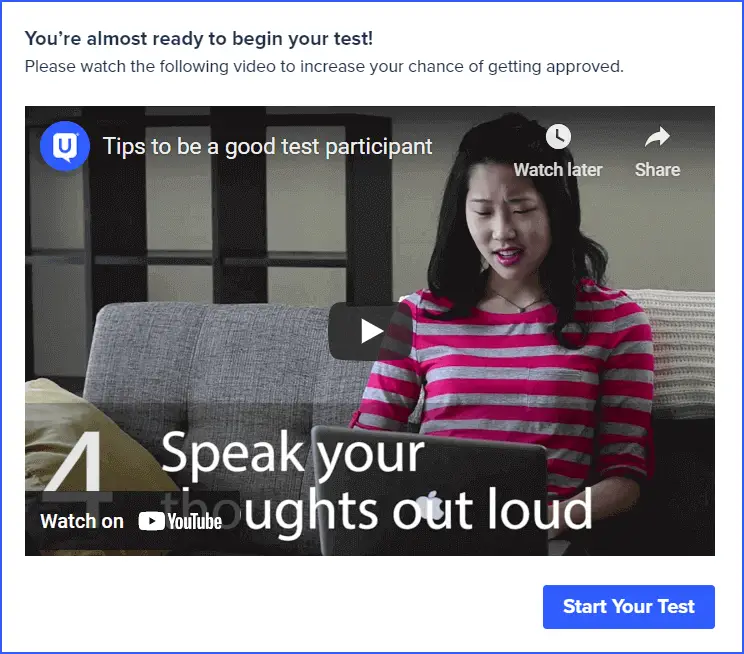 #9. As soon as you begin the evaluation, the UserTesting application is going to be started and it will record everything. Your voice and screen will now be recorded.
#10. You will have to do a task and continue talking about it, providing your comments, etc. You will also be asked to enter any comments in written format too.
#11. When the tasks finish, a comments box will be displayed where you can write comments concerning the UX of this site. Then your evaluation will be finished.
#12. Once you have been chosen as a catalyst for usertesting.com, you'll be requested to create your account. You have to give your PayPal account information, set up a password, and email.
#13. After this, you have to complete your profile by simply providing them advice about all devices you have (such as a pc, smartphone, smart television ) and what social networks you are currently connected with. Once your profile is completed, you're going to begin seeing the evaluations in your dashboard.
#14. You'll need to wait to acquire the evaluations. They'll send you the evaluations based on your profile.
#15. For those tests which have to be carried out on any other mobile device, you'll need to download the UserTesting program on your phone.
Conclusion
Usertesting.com is a fantastic instrument for getting the user experience testing performed for your site or programs.
As a company, you may be gained by its providers since it provides you the true user answers and feedback that can help you improve your merchandise.
As a tester, you will be able to earn some extra money. For this, you will need a good command of the English language and technical background in order to perform these tests.
Related Posts: