23 Best Task Management Software In 2023
Are you looking for the best task management software?
Whether you are a business owner or an individual, effective task management is essential to success.
There are many different types of software available, and it can be difficult to decide which one is right for you.
In this article, we will discuss the features of the best task management software and help you decide which one is right for you.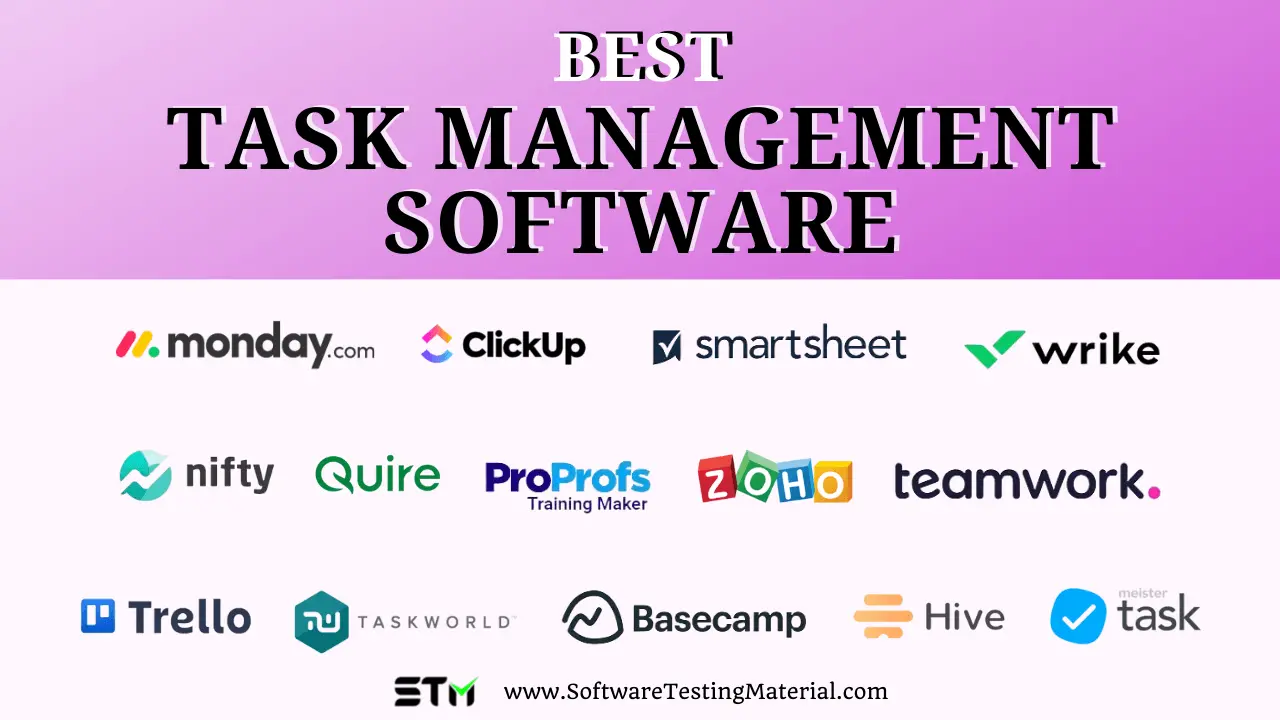 What is Task Management Software?
Task management tool is a digital platform that allows individuals and teams to manage their tasks. These task management tools enable teams to collaborate digitally by prioritizing and organizing tasks, as well as assigning tasks.
Task managers can get valuable information from the task management software. It will show how long it takes for certain tasks to be completed and how many resources are required. This data allows task managers to forecast and budget more accurately, which can help improve the effectiveness of future projects.
Why Do You Need Task Management Software?
Simplified workflow. Task management software allows individuals and teams to record, assign, organize, and track all aspects of a workflow. This software is useful because it reveals redundancies, inefficiencies, and bottlenecks that need to be addressed.
Increased productivity. Task Management software decreases time spent sorting through information and organizing. It helps workers to prioritize tasks and keep track of their current responsibilities.
More effective collaboration. It manages tasks and brings everyone together on one platform. This improves communication and makes sure everyone knows what tasks they have to complete and by when.
Features of Task Management Software
Task creation and assignment: It allows users to create task lists with specific details and due dates for each user. This is the core function of task management software. It helps companies set deadlines, create to-do lists, assign priority levels, and establish deadlines.
Collaborative project planning: Task Management software allows multiple users to collaborate on the execution and planning of a project. The comments section allows users to share their ideas and help improve communication. You can also access the upload feature. This allows users to upload media, as well as tasks and projects, and can even be discussed and annotated.
Baselining/KPIs: This feature allows users to track key performance indicators and baseline assessments across a project's lifecycle or across multiple projects. Key performance indicators are used to ensure that tasks contribute to overall company success.
Kanban Boards: Kanban boards are used to map out projects, including milestones, due dates, and deliverables. This gives users a better understanding of how they pace throughout a project and helps them to complete it.
List of Best Task Management Software
#1. Monday.com
Best for anysize team that needs to track business-related tasks.
Monday.com is a top-rated task management tool on the market. It focuses on visual, intuitive layouts that help clarify the work order. The tool allows users to share tasks and collaborate by attaching and attaching files, tagging members, and setting deadlines.
Features:
Monday.com features message boards, task management boards for recurring tasks, task dependencies, task progress, and some simple visualizations.
Members can collaborate by sharing files, attaching them, assigning deadlines, and tagging members for tasks.
With its 200+ customizable and curated templates, you can reduce the stress of creating a task management system.
Status buttons allow you to view the actual work of your colleagues. Monday.com allows you to notify your team members and keep track easily.
Integrations include Slack, Gmail, Google Calendar, Google Drive, GitHub, Typeform, Trello, Dropbox, etc.
Pros:
Offers specific plans to businesses based on the number of users.
Intuitive interface
Real-time Dashboards
Manage complex projects.
Cons:
You will need to pay extra for more users.
Limited task dependencies
Pricing:
Individual: $0
Basic: $8seat/month
Standard: $10seat/month
Pro: $16seat/month
Enterprise: Custom quote
#2. Clickup
Best for solo users and small teams.
ClickUp is a productivity tool that can handle any task, from your daily tasks to complex projects to your entire business workflow. ClickUp's customizable tasks can be used to plan, organize and collaborate on any project. It uses a scalable Hierarchy system to break down large items into manageable subtasks you can edit or rearrange.
Features:
It offers over 15 ways to visualize workflows, including Gantt, Calendar, and Kanban-like Board views.
Customizable tasks with subtasks and automation using Custom Field data, time tracking, and other features.
Set up Recurring Tasks for your projects. It also let users edit the time interval between each Recurring Task.
Offers tons of notifications that will keep you informed about your tasks. You can choose how often and where they appear.
Pros:
User-friendly design, rich in features
Task templates and dashboards can be customized
Internal chat messaging
Cons:
Overwhelming number of features and customization options.
Some views are only available on the higher-tier Plan.
Pricing:
Free 
Unlimited: $5/month/member
Business: $9/month/member
Business Plus: $12/month/member
Enterprise: Contact for a custom quote
#3. Smartsheet
Best for Spreadsheet users.
Smartsheet is a task management software that looks like a spreadsheet. It is a great task management tool for those who are comfortable using Excel but don't want to learn complicated formulas. Smartsheet does all calculations across multiple sheets. It provides basic functions that task managers may require for managing multiple projects, like subtasks, activities, and assigned resources.
Features:
To keep track of important milestones, the Critical Path feature highlights all tasks that directly impact your project's completion date.
Reporting is an important feature of this task management software. It offers editable summary reports you can export to Excel.
Automate repetitive, manual tasks to optimize work at scale so that your employees can focus on what is most important.
Set up a Gantt Chart with predecessors and dependencies to help you keep track of your most important projects.
Pros:
Plans are easily customizable and scalable to meet any business needs.
Simple integrations with Slack and, DocuSign, Google Docs. Microsoft Teams, Outlook, Dropbox, Adobe Creative Cloud, etc.
Automation is available for all plans.
Cons:
Limited calendar view.
Security feature is locked behind high-priced plans.
Pricing:
Pro: $7 per user per month
Business: $25 per user per month
Enterprise: Custom quote
#4. Wrike
Best for scaling companies.
Wrike is an excellent task management tool that organizes tasks, priorities, and deadlines. This allows you to focus on your projects. Wrike makes collaboration easy and streamlines workflow. 
Features:
It includes customizable dashboards to facilitate team sprints, interactive Gantt Chart templates, comments, and commenting templates.
Shareable widgets and interactive reports can all be customized to suit your team's needs.
View your project in various views such as Calendar, Board, and Table.
Integrates seamlessly with Salesforce, Jira, Tenovos, Github, Tableau, and Microsoft Teams.
Pros:
Drag-and-drop editor that makes it easy to create.
Good Customer Service
Highly customizable
Cons:
Steep learning curve
High-tier plans offer the most customization.
Pricing:
Free
Professional: $9.80/month per member
Business: $24.80/month per member
Enterprise: Contact for a custom quote
#5. Nifty
Best for remote collaboration.
Nifty is another good task-management software to automate project updates. Users can also create custom task lists or import task board templates to suit team workflow. Each member of the team can create, assign, track, and review tasks based on milestones.
Features:
Nifty has a Kanban view and a task list for additional task management flexibility.
Its cross-organizational project overview tab provides reports on high-level timelines to a task-level deep-dive analysis of your project.
It lets you import data from Asana Basecamp, ClickUp, and Trello, so you can quickly set up your workflow.
Built-in native integrations include Slack and Zoom, GitHub, and Google Drive. GSuite and Google Calendar are also available through Zapier.
Pros:
Very intuitive, easy-to-use interface.
It provides milestones, tasks, and docs as well as a calendar and direct messaging.
Cons:
Pricing:
Free: $0
Starter: $39 per month, billed annually
Pro: $79 per month, billed annually
Business: $124 per month, billed annually
Unlimited: $399 per month, billed annually
#6. Quire
Best for team collaboration.
Quire is the latest cloud-based task management tool. It allows users to plan, organize and execute their projects efficiently. Quire's collaborative platform aims to help users achieve their goals. It enables users to track and collaborate with your team members in real-time.
Features:
The Timeline view allows a team to spot roadblocks and manage project schedules so no task is left behind.
The group task feature allows managers to instantly share updates with their team.
Managers have the ability to share their tasks online and outsource them to third parties.
Pros:
Break tasks into subtasks.
Add comments and descriptions to tasks.
A simple and elegant user interface.
Cons:
The majority of features are very basic.
No time-tracking option.
Pricing:
Free
Professional: $8.50/member/month
Premium: $14.95/member/month
Enterprise: $19.95/member/month
#7. ProProfs Project
Best for managing both teams and multiple projects on one dashboard.
ProProfs Project features a rich task management system. It can handle multiple projects from cross-functional teams using one platform. You can create a project plan and streamline your processes to ensure your projects are delivered on time and within budget.
Features:
ProProfs Project is a collaborative space that allows you to keep your teams on one page.
Get an overview of tasks progress and status using AI-powered insights reports. This will help you identify and fix gaps.
Remote access is available 24×7, and you can check the status of your projects at any time. You will never miss a deadline.
Sync milestones to your main calendaring tool (e.g., Outlook, Google Calendar, or iCal).
Pros:
Great workflow customization
Drag-and-drop interface
Mobile-friendly features
Cons:
Does not have advanced reporting capabilities
File manager is missing
Pricing:
Monthly Plan: $49.97 per month
Best for small and growing businesses. 
#8. Zoho Projects
Zoho Projects' task manager software makes it easy to manage and track all of your project tasks. This will allow you to spend more time completing your tasks than managing them. Zoho Projects' task management module increases productivity by helping to track key milestones and set dependencies. 
Features:
Track the progress of your project by monitoring the status of tasks and assigning them to members.
You can view tasks in a variety of styles: Classic View (plain view), Kanban View, Kanban View, and Dependency View.
Zoho Projects classifies milestones as overdue or archived.
You can split an enormous task into several smaller tasks that can be assigned and tracked in the project.
Pros:
A powerful dashboard that tracks where your project is heading.
It seamlessly switches devices between devices to manage projects while on the move.
Cons:
Steep learning curve
No prebuilt reference templates.
Pricing:
Free
Premium: ₹350/user/month
Enterprise: ₹700/user/month
#9. Teamwork
Best for creative teams, project managers, and marketing departments.
Teamwork is an efficient task management system that is easy to use. This tool allows companies to optimize their project management processes. It can also be used to reduce the number of meetings required and speed up your project management.
Features:
The application's key features include task dependency, time-tracking, sub-tasks, billing and invoicing, and project budget and management resources (burndown reports).
It provides project templates that reduce the amount of manual effort required to streamline your projects.
The board view lets you see all the activities and tasks in a project's progress.
Portfolio makes it easy to see every project and all its tasks.
Pros:
Simple to use
Time tracking for all plans
Great customization options
It's easy to add members to your team and assign tasks
Cons:
No team chat option.
Limited integrations
Pricing:
Free
Deliver: $9.99 user/month
Grow: $17.99 user/month
Scale: Contact for a quote
#10. Trello
Best for beginners and new businesses,
Trello is a web-based task management tool. This collaboration tool allows you to organize your project onboard. It is based heavily on the Kanban-style board and drag-and-drop cards. This makes it easily accessible for everyone.
Features:
Trello backups up your data so that it can be retrieved. This prevents permanent loss after the accidental deletion of a card, board, or list.
You can integrate it with hundreds of other apps either natively or through Zapier. Jira and Bitbucket are the top integrations.
You can use the open API to build your own extensions and plugins for Trello.
The app is available for both Android and iPhone users.
Pros:
Many customization options
Simple to use
All plans can be automated without code
Cons:
Security feature is available for high-tier plans.
Pricing:
Free
Standard: $5 Per user/month
Premium: $10 Per user/month
Enterprise: $17.50 Per user/month 
#11. Taskworld
Best for decentralized and diverse teams.
Taskworld is a cloud-based task-management software that combines visual task boards with project analytics, burnup/burndown charts, private messaging, in-app groups, and more. With Taskworld, you can create and manage projects and utilize task lists or Kanban boards in order to manage workflows according to your preferences.
Features:
Taskworld has built-in chat functionality that allows users to send one another direct messages.
The dashboards provide a view of all projects and allow users to filter tasks by due date or status.
Users have a complete overview of the tasks planned, completed, overdue, as well as burndown charts that show remaining work and burnup charts that show the project scope and completed tasks.
The built-in chat lets users send messages to each other individually or in groups. 
Pros:
Rich set of features and simple UI
Great customer service
Instant team messaging
Cons:
System gets frozen 
Slow loading time
Pricing:
Free
Premium: US$11 per user/month
Business: US$11 per user/month
#12. Basecamp
Best for working on projects across multiple departments. 
Basecamp is a task management tool that focuses on team collaboration and communication. It allows you to create unlimited projects and to-do lists, message boards, message boards, direct messaging, and group chats, as well as synced schedules, file storage, and synced scheduling.
Features:
Hill charts are used to provide managers with a visual overview of tasks on track and context to spot potential problems before they become too late.
Automations like project templates and check-in questions can save managers a lot of time.
Basecamp has a lot of great features, including client access. Clients can control what they see.
Pros:
It is easy to create projects and add members to your team
Comments directly on tasks and list
Drag and Drop files to upload
Cons:
Advanced features such as Gantt charts or timesheets are missing.
Pricing: 
Basecamp Personal: Free
Basecamp Business: $99
#13. Hive
Best for companies of all sizes in industries.
Hive is a task management software that helps teams work more efficiently. It can be used by all types of teams to organize their tasks, assign work to teammates, and collaborate within the platform.
Features:
Assign tasks to both internal and externe users.
You can display tasks in six different project layouts: Kanban/Gantt, portfolio/calendar, database, and summary.
Multiple task views allow you to organize tasks in a way that suits your needs.
It offers built-in templates for task management.
Pros:
Use tags and comments to communicate about tasks.
Real-time analytics to measure project progress
Cons:
Steep learning curve.
When managing multiple projects simultaneously, the dashboard becomes messy.
Pricing:
#14. Todoist
Best for tracking personal to-do lists.
Todoist is a task management tool that allows you to keep a clear view of all your tasks. It is a simple tool for sharing, prioritizing, and creating tasks. Todoist allows you to collaborate by sharing your tasks and assigning them to others. You can also use priority tags and labels to organize your task lists.
Features:
It gives points for completing tasks or maintaining streaks.
It allows you to visualize your productivity trends and set daily and weekly goals.
Seamlessly integrates Airmail, Akiflow, Zendesk, Spark Skyvia, Jira, and Slack.
You can display your daily and monthly progress in color-coded charts.
Pros:
Great collaboration features
Automatic syncing
User-friendly mobile app
Cons:
Pricing:
Free
Pro: $4 per user per month, billed annually
Business: $6 per user per month, billed annually
#15. MeisterTask
Best for small businesses.
MeisterTask is a task management software that allows users to create views, projects, and tasks that are most useful for their team and workflow. This tool features Kanban-style project boards that allow for collaborative project work between teams.
Features:
Features like automation, watching, mentioning, tags, and task scheduling help simplify collaboration.
Keep a record of time spent on each task with its built-in tracker, which is perfect for monitoring team performance.
The Agenda feature allows users to create custom sections and pin tasks from any project.
Native integrations include G Suite, Slack, and GitHub, plus over 2000 apps via Zapier.
Pros:
Option to add custom fields to tasks
Multiple checklists within tasks
Attach files and images to tasks
Cons:
Can't handle complex projects
Mobile tools lack functionality
Pricing:
Basic: Free
Pro: $4.19 per month
Business: $10.39 per month
Enterprise: Custom quote
#16. Casual
Best for small and growing project teams.
Casual is a visual task management solution that enables users to organize tasks in the way they prefer. It has templates that you can use to help you get started if you're new to visual project management.
Features:
It features a drag-and-drop interface where users can add and assign tasks to different people. 
Users can add relationships to tasks, which helps to define the order of execution of a project. 
The system's dashboard provides an overall view of each and every projects, enabling users to see an overview of what needs to get done when.
Pros:
Drag-and-drop interface
Ability to generate flow diagram PDF and URLs on the fly
Users can easily set task dependencies
Cons:
Pricing:
Personal: $12/month for 2 users
Starter: $30/month for 5 users
Team: $60/month for 5 users
Enterprise: Custom quote
#17. Paymo
Best for small-medium businesses and freelancers. 
Paymo allows teams to collaborate, manage tasks, set up schedules, track time, and bill clients all from one place. This platform is ideal for project managers as well as employees, allowing them to stay connected and engaged.
Features:
It provides many tools, including a Portfolio Gantt Chart and an informative Dashboard, as well as Team's Tasks.
Paymo can be integrated with dozens of third-party apps, including Zapier, Adobe CC, and Slack.
Paymo is available online, on the desktop (Windows, Mac OS X Linux, Linux), and on a smartphone/tablet(iOS, Android).
This document covers several native time-tracking methods: a web-based timer, a desktop widget, and a mobile time tracker.
Pros:
Many built-in functions
It is easy to use and implement.
Cons:
 Free Plan comes with a lot of limitations.
Pricing:
Free
Starter: $4.95/user/month
Small office: $9.95/user/month
Business: $20.79/user/month
#18. Tasklog
Best for freelancers and online professionals.
Tasklog is another task-management software specifically made for freelancers. This tool is designed to help freelancers manage all their tasks from one digital platform. It allows users to create and manage to-do lists, assign tasks to clients, and even manage projects.
Features:
Time-tracking tools include customizable timers and an interactive dashboard, as well as automatically generating timesheets.
Pomodoro is one of Tasklog's most important features. It breaks down work into timed intervals.
Its dashboard allows users to track their progress and view reports that include statistical analysis of time spent on each client or project. 
You can track employee productivity and categorize tasks based on priority.
Pros:
Interactive dashboard
Adjustable time limit
Excellent customer service
Cons:
This is only for freelancers. It does not allow you to manage large or medium-sized projects and teams.
Inadequate of integrations
Pricing:
Monthly: $9
Yearly: $79
Lifetime: $199
#19. Any.do
Best for personal or workplace use.
Any.do provide a simple but complete task management solution that gives you an overview of all the tasks you have to do. It features an intuitive calendar that allows you to see how tasks and events fit together.
Features:
Any.do make it easy to organize your tasks and filter your workflow based on date or category.
It allows users to manage their personal and team goals from one interface.
Users can assign tasks to others, create and manage tasks, track tasks, and use the calendar tool.
Advanced recurring tasks can be set up by users with custom recurrences, such as the first Tuesday of every month.
Pros:
You can choose between location-based or time-based reminders.
Syncs between multiple devices, including iPhone, Android, and Chrome.
Cons:
No option to add a sub-task to the main task.
Pricing:
Personal: Free
Premium: $3/user/month, billed annually
Teams: $5/user/month, billed annually
#20. Asana
Best for complex projects.
Asana is a task-management solution that includes automation tools, rule builders, and other workplace management features. Asana's Timeline allows users to create a plan which shows how each piece of a project fits together. This helps keep work on track and keeps things moving along.
Features:
Asana allows users to view and manage projects in a variety of ways. This includes Kanban boards, lists, and calendars as well as portfolios and workloads.
Receive and filter notifications for conversations, projects, and tasks that you are following.
Set milestones for your project to keep your team on track and clear about the goals.
Pros:
Clean and user-friendly interface
All plans include integrations
Cons:
Expensive plans
Steep learning curve
Pricing:
Basic: $0 
Premium: $10.99/user/month 
Business: $24.99/user/month 
#21. SmartTask
Best for small businesses.
SmartTask is an all-in-one work management platform. It helps solopreneurs and SMBs to organize and manage their work. You can manage tasks using the board, calendar, timeline, and list views.
Features:
You can use team collaboration features to group chat, audio call, and video conference with any person in your organization.
SmartTask can be integrated with Zapier and Integromat as well as Slack, Jotform, and Mailchimp.
Users can create templates to save time for repetitive tasks.
Timeline allows your team to easily create estimates, and track cost, time, and billable rates.
Pros:
Affordable plans
Easy to use
Lot of advanced features
Cons:
Can have more integrations
Pricing:
Free
Premium: $5 per user, per month billed annually
Business: $8 per user, per month billed annually
#22. nTask
Best for small businesses and individuals.
nTask is an intuitive, cloud-based task management software that smart teams use. It can be used for personal or professional projects.
Features:
It allows users to create multiple workspaces and teams for different purposes or departments within company.
In just a few clicks, you can share files, comment, assign tasks, track time, and even track time.
The tasks can be viewed in a variety of views, including grid view, list view, calendar view, and Gantt view.
Share files, comment, assign tasks, as well as track task time in just few clicks.
Pros:
Affordable
Manage progress with Gantt charts
Cons:
Pricing:
Premium: $3/month, billed yearly
Business: $8/month, billed yearly
Enterprise: Custom quote
#23. Airtable
Best for visual representation of tasks.
Airtable is a collaborative platform that offers many task management features. You can organize your work however you wish, as the tool can handle almost all of your tasks and projects.
Features:
Airtable allows you to create a single notification or multi-sequence workflow using trigger and action logic.
To manage multi-step or complex projects, map out tasks, dependencies, milestones, and activities.
You can easily track progress, stakeholders, or other deliverables with its drag-and-drop, customizable UI.
Integration includes Google Workspace, Slack, and Facebook.
Pricing:
Free
Plus: $10 per seat/month, billed annually
Pro: $20 per seat/month, billed annually
Enterprise: Custom quote
Conclusion
Task management software is a must for any business that wants to increase productivity and get organized. By using task management software, you can easily assign tasks to team members, set deadlines, and track progress. There are many different types of task management software available, so it's important to choose one that will fit your specific needs. We've compiled a list of the best task management software on the market, so you can find the perfect solution for your business.
Out of the task management software we reviewed, Monday.com, and ClickUp are our top picks. It's a great tool that can be used for small businesses as well as large enterprises. If you're looking for a new task management software, we recommend trying out Monday.com, and ClickUp.