Best Sales CRM Software Tools (Free and Paid) in 2023
Sales CRM software tools are a must for any business looking to improve their sales process and customer relationships.
However, with so many different options on the market, it can be difficult to determine which solution is right for your organization. In order to find the best Sales CRM tool for your business, it's important to do your research and understand what features are most important to you.
In this blog post, we will take a look at the best Sales CRM software tools for 2023 and provide an overview of their features.
So read on to learn more!
What is a CRM Sales tool?
Sales CRM is a type of sales management software that tracks customer interactions and individual sales. It helps sales managers streamline the entire sales process and track agents' performance. It allows sales reps seamlessly and efficiently deliver value to prospects at every stage of the sales process.
Among other things, sales CRM allows managers to listen to sales agent interactions to determine if they need to adjust the sales process. Sales CRM also allows managers to reassign leads and track the progress of their team. They can easily track and manage the performance of each agent so that they can optimize their sales processes.
Which is the best CRM tool?
In the fifteen years of CRM history, customer relationship management (CRM) software has advanced a lot. CRMs today are extremely versatile and, due to strong competition, remain a relatively low-cost investment option for businesses of all sizes.
There are many options available, from the sales-focused to those who do it all and combine multiple business functions into one platform. Finding the right CRM can be difficult. So we have spent many hours researching and testing each one.
These are the top 12 CRMs tools based on our research
Is Salesforce a CRM tool?
Salesforce is a well-known name in the CRM industry. It is the best choice for small businesses that anticipate growth and want a CRM that can scale with them. Although Salesforce has many features, its intuitive interface makes it simple to use regardless of your technical skills. Small businesses and individuals can benefit from the account and lead management tools.
How can you keep track of your customers?
A CRM can help empower your business by allowing you to track customer interactions, view purchase history, and securely store sensitive data.
The CRM keeps track of customer interactions from the moment they share their information with your company to the time when they make their first purchase. The CRM provides a complete history of customer interactions, making it easy for new employees and customers to refer to purchase history or answer questions.
Your employees will be able to quickly and accurately answer customer queries if they have access to customer information. This will improve customer relations. Your marketing department can also use CRM to gain valuable insights so that they can tailor their communications to customers according to their purchase history.
Is a CRM worth it for a small business?
To ensure your long-term success, it is important to build strong relationships with clients. Customers who are happy buy more, and talk about your services more to their friends and family, which acts as a marketing campaign. Knowing and catering to clients' preferences is the best way of making them happy. Small business owners need to invest in CRM software to create fertile ground for the growth and development of these relationships. This is something 91% companies with over 11 employees already do.
What is CRM software for sales?
A sales CRM allows you to manage all contact points with customers or prospects throughout the sales process. Any interaction between a sales rep or their leads could be considered a touchpoint. CRMs can track communications with prospects and organize customer data automatically. They also send reminders to follow up with leads.
Sales CRM software systems can simplify customer interactions. A CRM automates both data organization and administrative tasks. This allows sales reps to spend more time building relationships with prospects and less on data entry.
Benefits of Using a Sales CRM Software
Using sales CRM software can have a number of benefits. This software helps you to improve collaboration among sales representatives and track prospects and leads in the sales pipeline. It also allows you to customize the dashboard views, enabling you to keep track of the precise movements of customers.
#1. Improves collaboration between sales reps
Using sales CRM software can facilitate collaboration among sales reps. CRM software provides a centralized database that keeps track of all relevant customer information, making it easy for reps to view and update data. It can also help boost a sales team's business portfolio by automating repetitive tasks. CRM software also saves employees from trawling through old files to find information. Thus, it helps in delivering a better customer experience.
A CRM can facilitate collaboration between sales reps by automatically scheduling follow-ups and updates. It can send personalized automated messages and reminders to help sales reps focus on other aspects of the sales process. Additionally, it helps businesses keep everything organized and in one place, saving time and energy. CRM solutions make this easier and reduce the risk of human error, which is essential for effective collaboration between sales reps.
#2. Simple Access to Critical Information
Many CRM systems let you access your information from many different devices. When you're on the road with your sales team, you can quickly access client information to personalize a conversation or send an email to a client. This is also a benefit for sales reps. They can quickly access their client information in CRM software if they get a call from someone they don't remember much about.
#3. Never Lose Client's Data
Small businesses often start with just one or two sales representatives. It is not a good idea to lose client information and the contact information of the sales rep when they leave your business. The sales rep may have been able to provide information about large clients or accounts. Now that they have left, your team must restart the process of getting acquainted with that client. Because all client data is stored within CRM software, this can be prevented.
#4. Data-driven decisions
According to Search Business Analytics, more than 41% of businesses struggle to tie customer data to business actions. This is solved by CRM software. CRM software tracks data such as revenue, account size, and meetings booked. It can also track other metrics depending on what you need. This data can be used to create reports about your business.
Reports can include metrics such as sales velocity, average sale cycle, and average deal size. These reports can be used to create accurate sales forecasts or predictions, which will help you devise better strategies to grow your company.
#5. More Efficient Email Outreach
You need to know the history of the client and the date you sent the email. This will allow you to run effective email campaigns. You can't know the history of the client and the last email you sent. This can make selling via email slow and inefficient. A CRM will allow you to send an email directly from the platform. It will also keep track of any previous emails you have exchanged with clients or prospects so that you can create the next one. CRM software can also provide email templates that you can save for later use, which will boost your team's productivity.
#6. Scalability
You must establish the right processes for your sales team to help you grow. A sales CRM can help you achieve this. A CRM gives you a central location to organize and enforce your standard operating procedures. This will allow you to plan how your sales team should interact with customers. For instance, you can define your sales process in five steps. Your reps will be more inclined to follow the step-by-step process when they can see the five stages of the pipeline on the accounts that they are currently working on.
How to Choose Your Sales CRM Software?
#1. It must be scalable
A critical component of any CRM solution is its ability to be scalable. Scalable sales CRM software allows sales and customer support teams to share a centralized database and support various customer support activities. With mobile devices increasingly common, key customer information can no longer be kept confined to the office. A scalable CRM solution will be flexible enough to grow with your business, as well as provide mobile support. In addition to scalability, a scalable CRM should be flexible enough to accommodate changes in sales and customer base.
#2. Integrations
Some Large-scale, market-leading CRMs attempt to be all things to all people. They can probably have any feature you need. The CRM industry's titans are being outnumbered by CRMs that place less emphasis on integrating with existing services. Integrations are the keyword.
An organization can achieve a high level of automation by using add-ons or plug-ins. Integrations allow you to extend the functionality of your CRM, from adding contacts to creating invoices and scheduling reminders. Keep this in mind when you are evaluating CRM solutions. Pay particular attention to how integrations work with email, business proposal software, and customer analytics apps.
#3. Customization
Many CRMs claim they are "easily adaptable and highly customizable." However, it's difficult to verify these statements as they often only represent opinions. Ask one of the company's product specialists to help you personalize CRM.
Add custom fields or lists.
Toggle between on- and off-screen options.
Create sales dashboards for individual and team members.
If the vendor is slow to show you simple customizations, it's a red flag. You can also consider it a warning if the vendor talks about more expensive custom options that you will have to pay for.
#4. It has reporting capabilities.
When choosing sales CRM software, it is important to make sure it has reporting capabilities. Reporting capabilities allow you to showcase successes and failures to your team. They also help you discover the process and product gaps that need to be addressed. Salespeople should not be afraid to input the correct customer data, as this will help them determine what products and services they need to sell to meet their customers' needs. By integrating CRM with your website and email campaign, you can keep track of sales and customer information in one central location.
Fact Check

According to Fortune Business Insights, the global market for Customer Relationship Management (CRM) was worth $52.64 billion in 2020. The pandemic of 2020 has increased the demand for CRM as companies are looking for new ways to communicate with clients in the digital age. The global market for CRM technology is expected to reach $128.97 trillion by 2028.
Comparison
| Name | Logo | Best for | Pricing | Link |
| --- | --- | --- | --- | --- |
| Pipedrive | | Best for businesses of all sizes. | Starts at $12.50 per user per month | Learn more |
| Maximizer | | Best for all-size organizations across different industries. | Starts at $29 Per user, per month | Learn more |
| ActiveCampaign | | Best for small and medium-sized businesses | $29 per month | Learn more |
| Monday.com | | Best for scaling sales with business growth. | Free for 2 seats and paid plan starts at $10 per seat per month | Learn more |
| Hubspot | | Best for those who are new to CRM software. | Free plan available and paid plan starts at $45/month | Learn more |
| Zoho CRM | | Best for businesses looking for an all-in-one CRM platform. | Starts at $12/user/month | Learn more |
| Salesforce | | Best for small businesses and individuals. | Starts at $25 per user per month | Learn more |
List of Best Sales CRM Software Tools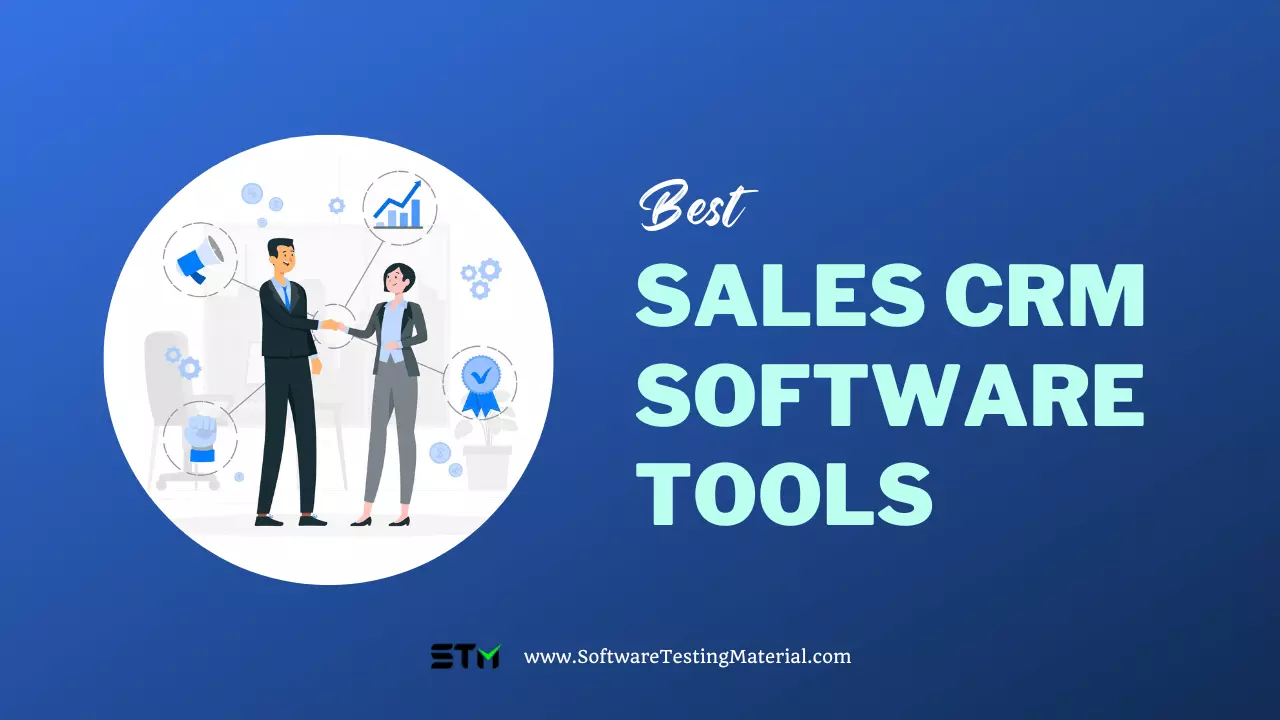 #1. Pipedrive
Best for businesses of all sizes.

Pipedrive is one of the best sales platforms for all business types and sizes. The drag-and-drop interface allows you to quickly and easily complete mission-critical tasks such as adding contacts or moving deals around between stages. Pipedrive can even gather leads from chatbots and web forms interactions and feed them directly into your pipeline, so they don't get overlooked. Its customizable pipelines help you to tap into existing workflow systems or create new ones.
Pipedrive's features are intended to improve sales performance. It includes reporting tools, workflow automation, and communication tracking. The integrated artificial intelligence tool analyses your business performance and suggests ways to increase sales efforts.
Pipedrive offers a free trial of the software, so you can try it out before you invest in a paid subscription. It is also easy to use for those with no technical knowledge. The user interface is clean and easy to understand, so beginners can easily pick up the program and get started. It supports drag-and-drop functionality, which makes it easy to import data from another CRM.
Features:
Its voice command feature allows you to speak into the app to create a new lead or appointment. You can also import leads and move them through the sales cycle. The interface is easy to navigate and includes five tabs: Deals, Activities, Contacts, and Statistics. Each section contains basic information about each deal, including its progress and value.
Pipedrive has a calendar that allows you to enter activities and view them as they progress. You can also see the details of each activity and filter by team members or organizations. You can even create notes about upcoming activities. You can create reminders and schedule them in advance. Pipedrive also lets you schedule meetings and calls. You can even share your calendar with others and invite them to join you in an activity.
Using this software, you can create automated email sequences for different types of tasks, assign them to teams, and track their performance in real-time. This software is great for your team, as it gives you insights into the performance of your sales teams.
Pipedrive offers messaging features with WhatsApp Messenger, Facebook Messenger, and DocuSign. Its messaging feature allows you to add leads directly to your CRM. Your message history can be saved and organized automatically. You can also grant access to your team's past conversations. Pipedrive integrates with other platforms to offer more flexibility for users in their sales strategies and information sharing.
Pros:
It keeps busy sales reps on track with at-a-glance and simple-to-use pipeline information.
It can be set up in minutes.
No technical skills are necessary in order to use Pipedrive.
Cons:
Team management and goal-setting features are only available to the higher-tier plans.
Pricing: 
Essential: $12.50 per user per month
Advanced: $24.90 per user per month
Professional: $49.90 per user per month
Enterprise: $99.00 per user per month
#2. Maximizer
Best for all-size organizations across different industries.

Maximizer CRM is extremely powerful for sales management. It offers sales management, customer service, support, and business productivity tools. It integrates with Microsoft products like Outlook, Word Excel, SharePoint, Excel, and SharePoint.
Its Marketing automation feature integrates campaign planning, email campaigns, and analytics. Users can target customers and leads and use list management capabilities for customer search and filtering.
Features:
It allows you to build and manage territories and quotas, manage customers, and more. You can also set up unlimited custom sales pipelines. The system has powerful reporting tools, including an analytics dashboard that lets you see how well your sales team is doing.
Maximizer CRM's sales manager feature allows for sales team monitoring and the measurement of criteria like close rate or abandonment rate. You can categorize prospects and customers based on their time zone, region, product purchased, and other factors.
It can be deployed on Our Cloud or Your Cloud. Users can keep their data on-premises with the former. Our Cloud eliminates the need to manage servers, security protocols, and IT teams.
Maximizer CRM offers cloud-based and on-premise deployment options. It also integrates with Outlook, Word, Excel, and hundreds of other apps through its Zapier connector. Maximizer CRM can cater to almost any size business in most industries, including manufacturing, logistics, sports, financial advisors, and medical providers.
Pros:
Customizable
Cost-effective
Cons:
Pricing: 
Small Office: $29 Per user, per month
Insights: $89 Per user, per month
Business Plus: $49 Per user, per month
#3. Monday.com
Best for scaling sales with business growth.

Monday.com's combination of CRM and sales management tools will keep you on track so that you can concentrate on your customers, not on your software. Its easy-to-use interface is similar to a spreadsheet but offers far more functionality. With eight data visualization options, including Kanban boards and Gantt charts, you can easily keep the most important information at your fingertips.
Monday.com's marketplace offers endless workflow options using cutting-edge apps. This cloud-based CRM platform allows you to manage your Facebook marketing campaigns, track Shopify orders, and much more. You can easily integrate any tools or services into your custom boards or automated workflows with 46 pre-installed apps as well as dozens of third-party apps.
Features:
This CRM sales tool also offers WorkForms. This online form builder is highly customizable and allows users to create customized forms for their businesses, including order, request, and feedback forms. WorkForms makes data collection easier by allowing users to track and manage their results within the program. To monitor performance, users can view total views, completion rates, and times to complete. Each element can also be broken down into statistics.
The software adapts easily to different project methodologies such as Agile, Waterfall, and sprints. It also accommodates existing workflows. This software keeps track of your workloads in real-time, so you can always see where resources are being allocated before anything else.
Users will love its intuitive dashboard, which contains all of the information that they need. It's colorful and modern, so you won't need to spend weeks getting used to it.
It offers customized templates that can be used to create sales pipelines and industry-specific CRM dashboards.
Pros:
It's a good choice for Agile as well as Waterfall project environments.
Affordable plans.
Easy to use and understand.
Cons:
The entry-level package is limited to only one dashboard and one Kanban view.
Pricing: 
Free: $0 for 2 seats
Basic: $10 per seat per month
Standard: $14 per seat per month
Pro: $24 per seat per month
Enterprise: Custom quote
#4. Zoho CRM
Best for businesses looking for an all-in-one CRM platform.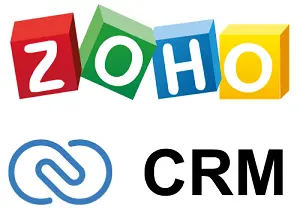 Zoho CRM is a popular customer relationship management (CRM) platform that emphasizes increasing leads and accelerating sales. It also measures performance. It makes extensive use of AI, and its intelligence features can enable remote workforces to accomplish more together. Zoho CRM is an excellent choice for sales professionals who spend much of their time out in the field and remote teams.
Advanced options like Zia, an AI-powered assistant, offer exceptional lead and deal prediction to identify potential customers most likely to convert. This helps sales teams to focus their efforts in a more efficient manner. It integrates with hundreds of popular software and apps, making it simple to create a customized CRM for any company.
Features:
The mobile app for Android and iPhone offers many of the same functions and updates in real-time, so you always have the most up-to-date customer information.
Zoho CRM's mobile application allows you to access and modify your CRM data offline. This means you and your sales team will not be tied to Wi-Fi or your mobile provider's data plan. The app allows you to log calls, customer visits, and other activities. You can also attach files and voice notes for future reference and retrieval.
You can also schedule activities, send emails, and maximize productivity during unexpected downtime. A map integration displays nearby leads and prospects and allow you to integrate the map. You can collaborate with your team members using easy-to-use feeds that support comments, mentions, and sharing information. You can even use the mobile app to access Zoho CRM's AI tool Zia to create new client records and add notes to existing ones, modify a deal's status or make phone calls.
The dashboard at Zoho is easy to use, with the ability to toggle between personalized, classic, and custom homepage views. You have many sales-focused features, notifications, tasks, and notifications at your fingertips via the upper navigation bar. The personalized homepage of the sales agent sets the priority for the day's tasks and leads.
Pros:
The pricing plans are budget-friendly and packed with core features every business needs.
Customizable.
Cons:
Difficult to integrate third-party apps.
Pricing: 
Standard: $12/user/month
Professional: $20/user/month
Enterprise: $35/user/month
Ultimate: $45/user/month
#5. Salesforce
Best for small businesses and individuals.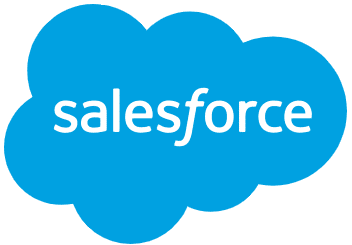 Salesforce is one of the top customer relationship management (CRM) software in the market. Salesforce has been a leader in the industry for decades. The company continues to innovate features to increase sales revenue improve customer satisfaction, and grow businesses.
Features:
Salesforce's third-party app marketplace is one of the largest in the industry. It offers integrations to almost any product you might need. For most popular apps like Google Workspace and Slack, Mailchimp and QuickBooks and LinkedIn, seamless and native integrations are possible.
The flow builder allows you to easily set up your processes and automate every task that your team repeatedly does.
The Salesforce mobile app is identical to the desktop experience. It also provides helpful information such as desktop bookmarks for wherever your team travels. Different roles have the opportunity to customize and assign data and features.
Pros:
It has in-app tutorials with different learning paths based on the user's experience.
Customizable reports.
Cons:
It doesn't offer much in terms of one-on-one support.
Pricing: 
Essentials: $25 per user per month
Professional: $75 per user per month
Enterprise: $150 per user per month
Unlimited: $300 per user per month
#6. ActiveCampaign
Best for small and medium-sized businesses

ActiveCampaign is an integrated marketing solution that is ideal for small and medium-sized businesses. Its powerful functions include CRM & sale management, data integration, and machine learning, all of which allow enterprises to conserve resources, engage with potential customers, gain insight, and create sales revenue.
It is a powerful marketing automation tool that helps marketers segment their customers and automate the entire sales life cycle. The software enables businesses to segment their customers and leads and categorize them for automated workflow.
Features:
It provides businesses of all sizes access to more than 500+ pre-built automation that includes email marketing, marketing automation, and CRM for powerful segmentation and personalization across all social media, email, messaging, and chat.
ActiveCampaign provides a host of options for customizing your emails. You can use its pre-built templates or design your own and reuse them across campaigns.
Users can create customized campaigns with less effort, then improve their send strategy in real-time based on customer behaviors.
With this tool, you can replicate the 1-1 personal experience for your customer, no matter how big your company gets.
Pros:
Cons:
Learning curve is required.
Pricing: 
Lite: $29 per month
Plus: $49 per month
Professional: $149 per month
#7. Hubspot
Best for those who are new to CRM software.

With its integrated approach to CRM, HubSpot has made the entire process seamless and easy. Its four hubs (marketing, sales, service, and content) work in unison to provide you with the #1 CRM platform. Whether you're just starting out or already have an established business, HubSpot CRM can help you reach your marketing and sales goals. The features of HubSpot range from easy-to-use content management and sales automation to advanced marketing tools.
HubSpot is a great choice for small businesses that want to have the best CRM reporting tools and performance insight. HubSpot's lifetime-free plan offers more than 90 report templates, which you can choose and arrange on custom dashboards.
Features:
HubSpot offers numerous automation features to help you manage your marketing efforts. You can automate lead nurturing, send personalized emails to your contacts, and track leads, deals, and tasks. You can automate repetitive tasks and free up your team to focus on building your business. Automated email campaigns are another powerful feature in HubSpot CRM. You can also schedule social media posts and track engagement. Once your campaigns are set up, you'll be able to monitor their performance and optimize your marketing efforts.
Deal pipelines allow you to predict revenue and identify any roadblocks in the selling process. Deal stages inform your sales team at all stages of a deal. They can see how far the deal has come and what steps need to be taken to complete it. HubSpot CRM has seven deal stages by default. You can customize your stages and set sales goals according to the stage in which the deal is.
HubSpot also creates reports about chat and email conversations within the team inbox. This provides data on response times, how long it takes for a message to be resolved, and how messages are distributed among team members.
HubSpot's paid CRM software includes a custom report maker that allows you to access the metrics you require. For detailed insight on everything, from website traffic to individual deals, custom filters can be used to fine-tune the report results.
Pros:
It is a perfect choice for teams new to the CRM world and who want to sample a variety of sales, marketing, and service tools.
Its resource library offers an expansive list of free templates as well as business tools.
It offers free customer support tools for your team.
This tool is easy to set up and deploy.
Cons:
Pricing: 
Free
Starter: $45/month
Professional: $450/month
Enterprise: $1,200/month
#8. Keap Pro
Best for growing businesses.
Keap is an excellent solution for small business owners who are looking for a simple CRM that's easy for them to use. It is an advanced sales and marketing automation for your growing business. The fee-based onboarding program includes coaching and other materials that will get you up to speed quickly. You can reach us via live chat or email 24/7.
With this tool, you can capture more leads, easily organize customer data, automate your sales and marketing efforts, and take payments online, all from one platform.
Features:
Keap allows you to automate almost any part of your marketing process. You can even automate internal sales processes, including triggering emails and sending custom quotes to leads.
Its text message marketing feature help users reach their customers and allows users to set up text messages responses that automatically generate when certain events occur (e.g., when a customer fills out a form). This feature allows you to reach your customers wherever they are by streamlining customer communication.
Keap provides a native integration that allows you to sync customer data from other platforms like MailChimp and Constant Contact. This integration allows you to sync your data quickly while still keeping your pre-built audiences intact. It will ensure that you never miss a beat when communicating with customers.
With its Checkout Forms tool, Keap can simplify the sales process for small businesses. It allows users to create customized checkout forms that can be used to collect customer payments without the need for an invoice. With this feature, businesses can create easy checkout pages with embedded promo codes, one-click upsells, and other features.
Pros:
Keap Pro is also easy to use for beginners and offers great value for those with little or no marketing experience.
Great for solopreneurs and small businesses.
Cons:
All plans require a $500 onboarding fee.
Pricing: 
Pro: $129 per month with 1500 contacts and 2 users
Max: $199 per month with 2500 contacts and 3 users
#9. EngageBay
Best for startups and small businesses.

EngageBay is a robust all-in-one sales, marketing, and service automation software that comes with a free CRM to help startups and growing businesses. It allows you to automate your sales, marketing, and support by combining email marketing, lead generation, marketing automation, CRM, social media engagement, ticketing, and helpdesk.
Businesses can use a single platform to acquire, engage, nurture, close, and service leads. EngageBay assists entrepreneurs, startups, and small businesses in accelerating their growth. It also helps them compete with large companies that have the same software. You don't need to switch between different tools and systems. Instead, it consolidates all marketing, sales, and support tools into one platform.
Features:
Schedule appointments easily. Your email signature includes a link to a calendar. This will allow your clients to schedule appointments when it suits them. To ensure you don't miss a meeting, set up reminders. EngageBay allows you to sync all appointments from Google and Office 365 calendars. This will allow you to view all of your appointments in one location.
It allows users to call their customers from within the sales and CRM software. EngageBay helps you to call customers directly from one screen.
The email tracker feature allows you to monitor all your responses. You will be notified about email opens, document downloads, and landing page visits. You can set up automation to reach hot leads at the right moment by creating triggers.
Pros:
Affordable
Sophisticated email marketing system
Cons:
Not easy to navigate the system.
Pricing: 
FREE: $0 per user / month
BASIC: $11.99 per user / month
GROWTH: $39.99 per user / month
PRO: $79.99 per user / month
#10. Salesmate
Best for offering complete visibility in the sales pipeline.

Salesmate is a web-based integrated CRM system that offers additional functionality for business automation and sales management. It was created to address the needs of sales teams. It helps them capture more leads and manage their pipelines. Sales managers can track leads, distribute them among their sales staff, and delegate follow-ups. They can also monitor conversions. Based on smart reporting, sales forecasting, and other data, management can make data-driven decisions.
Salesmate CRM provides tools for creating new leads and capturing lead information. The sales pipeline is automatically updated with new deals, which saves both time and effort and reduces repetitive data entry. The pipeline board provides real-time information about each lead's status and offers sales performance insight. Salesmate allows sales teams to communicate with customers via multiple channels. This includes emails, phone calls, and social media.
Features:
For sales to be successful, you must be able to communicate with your clients effectively. Using Salesmate CRM, you can track every interaction with your clients and automate follow-ups. You can even assign virtual phone numbers and view call reports. This CRM software can also send text messages, bulk SMS, and track voicemail.
Salesmate's sales Intelligence tool allows businesses to analyze sales data from the past, provide business-relevant insight, and address their pain points. Sales Forecasting allows managers to forecast campaign needs and manage their workforce accordingly. Businesses can also prioritize leads from different channels to ensure that high-end leads are addressed first.
It features multi-channel communication by which users can communicate with clients and other team members via emails, chat, and text messages.
With this tool, you can send engaging emails to your clients without much editing with prebuilt email templates.
Pros:
Excellent customer support.
Cost-effective.
Powerful integrations with many platforms and apps.
Cons:
The automated texting tool in Salesmate is difficult to utilize.
Pricing: 
Starter: $12 per user/ month
Growth: $24 per user/ month
Boost: $40 per user/ month
Enterprise: Custom quote
#11. Freshworks
Best for accelerating your revenue with context-driven sales.

Freshworks CRM, formerly FreshSales, is an AI-powered platform that scores leads and gives you a 360-degree view. It allows you to capture and combine all your customers' experiences into one place. This will give you actionable insights that can improve your sales and marketing efficiency. Your communications are centralized, including support for phone, email, chat, WhatsApp Business, and Apple Business Chat, as well as customer data.
Freshworks is the ideal solution for sales professionals who receive and make many calls. They need CRM software to capture all that data. With just one click, you can tie your phone number to the CRM platform or purchase a new toll-free or local number from more than 90 countries. You can also get vanity and mobile numbers.
Features:
You can use the built-in phone options to record calls, transfer calls, conference calls, and even create a widget that will allow you to make calls directly from Freshworks' sales page. To enhance customer service, you can set up custom ringtones and configure extensions to allow for quicker call routing.
Freddy AI is an artificial intelligence tool that provides predictive contact scoring, deal insight, and smart chatbots.
It offers a dedicated service for digital and direct-to-consumer retailers. It allows you to communicate via modern messaging channels such as SMS and WhatsApp. It integrates with many e-commerce platforms and offers live chat and chatbots. Businesses can also segment their audience using it.
Freshworks CRM's data visualizations make data easy to understand for all employees. Drag-and-drop widgets make it easy to create custom reports. You can add images, text fields, and charts with a variety of styles. To help you quickly complete any analysis, you can choose from dozens upon dozens of templates. Once you have created the perfect report, you can either schedule it for later or send it to your colleagues.
Pros:
Excellent communication tool.
Create custom dashboard.
Cons:
Customer support is only available on weekdays.
Pricing: 
Free
Growth: ₹999 /user/month, billed annually
Pro: ₹2799 /user/month, billed annually
Enterprise: ₹4999 /user/month, billed annually
Conclusion
A CRM, or customer relationship management, tool is a software that helps sales representatives keep track of their customers. It can also help to improve collaboration between sales reps, provide simple access to critical information, and ensure that data about clients is never lost.
CRMs are especially beneficial for small businesses who want to make the most of their limited resources. They allow business owners to scale their sales efforts more efficiently and make data-driven decisions based on real-time insights.
When choosing a CRM, it is important to consider how scalable the software is, as well as its integrations and customization options. The software should also have good reporting capabilities so that you can measure your success over time.
Related Posts: