11 Best Customer Support Tools For Your Organization in 2023
As technology advances, the customer service industry is changing rapidly. In order to provide the best customer support possible, your organization will need access to the right tools. With new customer support tools becoming available every day, it can be hard to keep up with which ones are best for your organization.
In this blog post, we will outline the 10 best customer support tools for your organization in 2023. These tools include both traditional and innovative options, so you can find the perfect fit for your needs. Keep reading to learn more!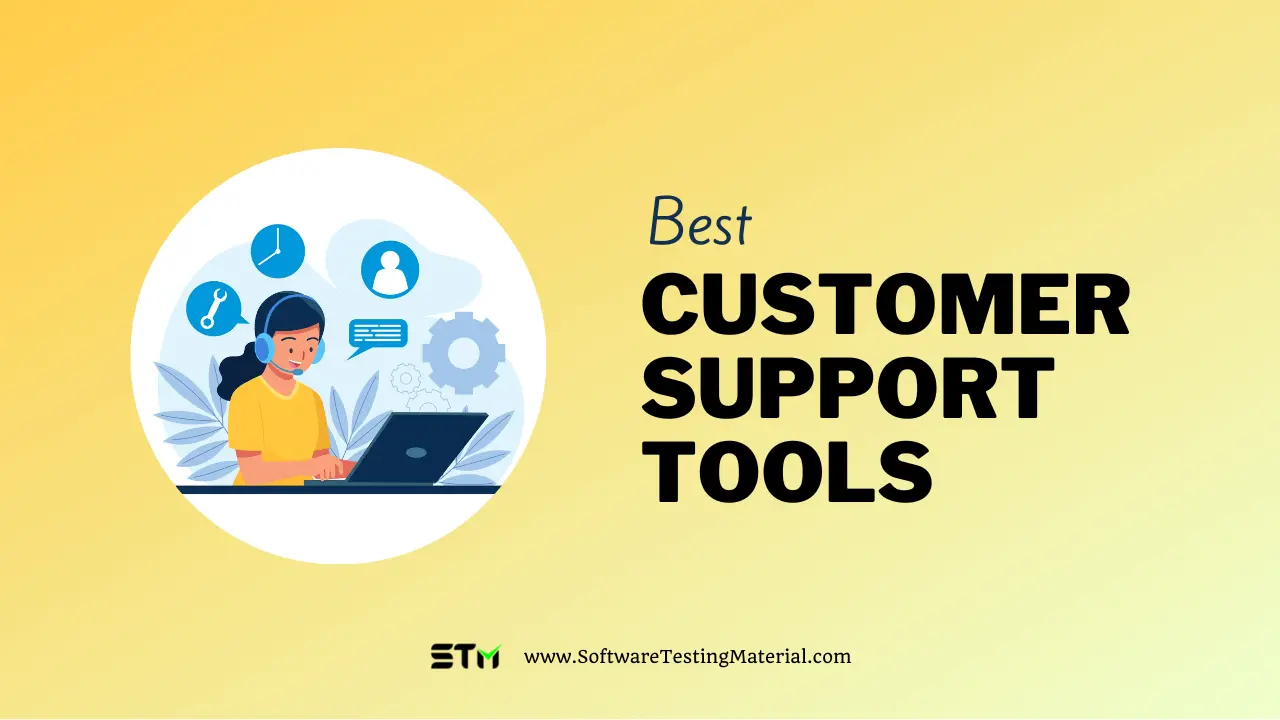 What is a Customer Support Tool?
Keeping in touch with clients is a constant concern for businesses. Customers nowadays expect to communicate with a company via various channels, including email, phone, live chat, self-service, and social media. And client expectations are rising – is your company adapting to meet the challenge?
You need to invest in the correct customer service software for your business to provide the most satisfactory service to your consumers. However, selecting the best solutions can be difficult with so many options available. Any application aimed at assisting a business in communicating with the customers who use and purchase its products and services is known as customer service software. Customer service solutions enable firms to organize and monitor multiple conversations at once. 
The most common software option for this is a ticketing system.
Customer support tools encompass any software that aids in delivering customer care, such as live chat tools, self-service, messaging apps, CRM tools, and call center knowledge base software.
Types of customer service softwares
Customer service support tools come in a variety of forms.
Self-Service Knowledge Base: A knowledge base allows customers to self-serve. It's a simple website with material arranged into sections and a full search bar that answers frequent customer questions.
Live Chat: Live chat allows clients to communicate directly with customer support representatives from any location, whether on your company's website or within your app. Agents can interact with consumers to resolve issues before they become a significant problems. Instead of using an inbox like Gmail, a help desk solution allows you to manage customer emails. Help desk software makes tracking, tagging, and containing large amounts of emails more accessible.
CRM Tools: CRM stands for Customer Relationship Management. It aids in the management of customer contacts across the customer lifecycle. You keep track of customer information in your CRM tool and refer to it whenever you contact a customer.
Call Centre: Call center software aids in managing client phone calls, which are still an efficient way to resolve customer issues. You can record calls, examine client history, and create customer tickets automatically with the correct software.
Social media channel: Customers can message businesses using the same channels to communicate with friends and family, such as WhatsApp and Facebook Messenger. These products are highly convenient for clients to use. Social media monitoring solutions allow you to keep track of all the talks on social media regarding and about your company.
Customer Feedback: Customer feedback survey software allows you to poll your customers regularly to learn what they think of your company.
Video Recording: You can record demos and training sessions and share them with your customers via video.
Here's a list of 10 Customer Support Tools for Your Organization in 2023
#1. Knowmax
Best for large enterprises, mid size business.

Knowmax is an AI knowledge management platform developed by CX professionals with over ten years of omnichannel customer service expertise. Organizations can provide client help 24 hours a day, seven days a week, with Knowmax's customer self-service knowledge base software.
It can rapidly respond to all of your customers' questions and help you reduce the number of support tickets you receive. Creating a situation where customers may help themselves can help to improve customer satisfaction and experience.
You can use Knowmax to produce how-to guides, user manuals, FAQs, or other self-service to educate your people without putting in a lot of time and effort, and it serves as a SharePoint alternative. 
Features:
No-code For SOP adherence, make your decision trees.
Deflecting tickets to self-service channels
Making support teams error-free
Increasing the intelligence and efficiency of chatbots
#2. ProProfs Help Desk
Best for manage all your emails in one place using shared inbox

ProProfs Help Desk helps you adopt an omnichannel approach to customer service. Your support heroes can interact with customers on multiple channels such as email, live chat, web forms, help center, and more. With this customer support software, you can automate workflows such as ticket assignments, notifications, survey sharing, etc. You can even develop powerful chatbots that will help you generate high-quality leads and assist customers 24×7. If you are a support manager, the tool can offer rich insights into metrics such as ticket response and resolution time, CSAT, agent ratings, and more.
Pricing:
Monthly: Essential $15, Premium $20, Enterprise – Contact ProProfs
Yearly: Essential $10, Premium $15, Enterprise – Contact ProProfs
#3. Confluence 
Confluence features a simple and user-friendly interface with several productivity mapping tools integrated. Jira users can use Confluence knowledge base to collaborate, and the IT team can use it to store internal knowledge. Documents can be shared with numerous users and changed by team members. They can be locked down to ensure compliance by restricting space permissions. 
#4. LiveChat
LiveChat is a fully-featured customer service platform that lets you communicate with customers and generate more leads. LiveChat serves as a full-featured customer service platform that lets you communicate with customers and generate more leads. You can develop a chat experience that consumers will enjoy, and you can answer customer questions before they become a problem. You can generate leads, create assistance tickets, and talk across channels with LiveChat's chatbot. With the assistance of AI, you can provide excellent customer service and quickly route interactions.
#5. Zendesk 
Zendesk is customer care help desk software that allows you to communicate with clients via several channels (email, chat, voice, and even social messaging apps like Facebook, WhatsApp, Apple Business Chat, and more). Conversations with consumers appear genuine, yet your agents have a consistent customer perspective behind the scenes.
#6. Freshdesk 
Freshworks produced Freshdesk, a customer service help desk software. Hold meaningful conversations with your consumers every day to engage and keep them. When you give customers the option of receiving service via the channel of their choice, they are in charge. With additional information and automation to proactively grasp client needs, every agent becomes a customer champion.
#7. Salesforce 
Salesforce is one leading customer relationship management (CRM) software that connects businesses and customers. It's an integrated CRM platform that provides a single common picture of every customer to all of your departments. Lead and contact management, sales opportunity management, workflow rules, automation, and configurable reports and dashboards are all available in Salesforce CRM.
#8. HubSpot
The HubSpot Customer Relationship Management system is a free tool that allows you to track all of your customers in one place. You are able to manage all of your customer communications from a single universal inbox, including ticketing, live chat, and shared team email. The universal inbox in Hubspot CRM allows your entire team to handle all client conversations in one place, and each customer contact record is easily accessible from within the inbox.
#9. Talkdesk
Talkdesk is a cloud contact center platform that helps your agents connect with customers more effectively. Talkdesk's CX Cloud, a complete set of enterprise-level, integrated CX tools for customer self-service, omnichannel customer support, workforce engagement, employee collaboration, and customer experience analytics, can help you improve your customer service experience. 
#10. Aircall 
It is a cloud-based call center software that facilitates real-time note-taking, labeling, and comprehensive statistics. Aircall works with CRM software, support desk software, and other critical apps. It combines the most common customer communication methods, such as phone, email, webchat, and SMS, into a unified interface.
#11. Hootsuite 
Hootsuite is a social media dashboard for managing and marketing content. In just a few clicks, you can schedule posts across your social networks, saving you time. Using Hootsuite to engage with your customers across social platforms, you can watch the newest social conversations, trends, and brand mentions. You may efficiently respond to comments from a single inbox that collects all of your interactions from supported social networks. 
Conclusion
Correct customer care tools are crucial for any customer service strategy. Take your time and don't rush; it's preferable to try out a few different tools than to switch from one to another once you've decided. There are numerous types of customer service software available, and you will most likely find that you do not require all of them.
The software can significantly improve your operations and your customer service department's day-to-day operations. Good luck with your customer support tools hunt.