Best Performance Management Software (Free and Paid) for 2023
Are you looking for the best Performance Management Software?
The importance of performance management systems cannot be understated. In an organization, if employees, managers, and supervisors are not well-trained in how to properly assess their own performance, or if they are unable to perform in a way that is necessary to the organizations' success, then an organization has a very poor chance of achieving its objectives. These individuals must be properly trained so that they can effectively perform the tasks required by their supervisors and managers.
This article will discuss the top 12 Performance Management Software that you can choose for your business and the following. Let's get started.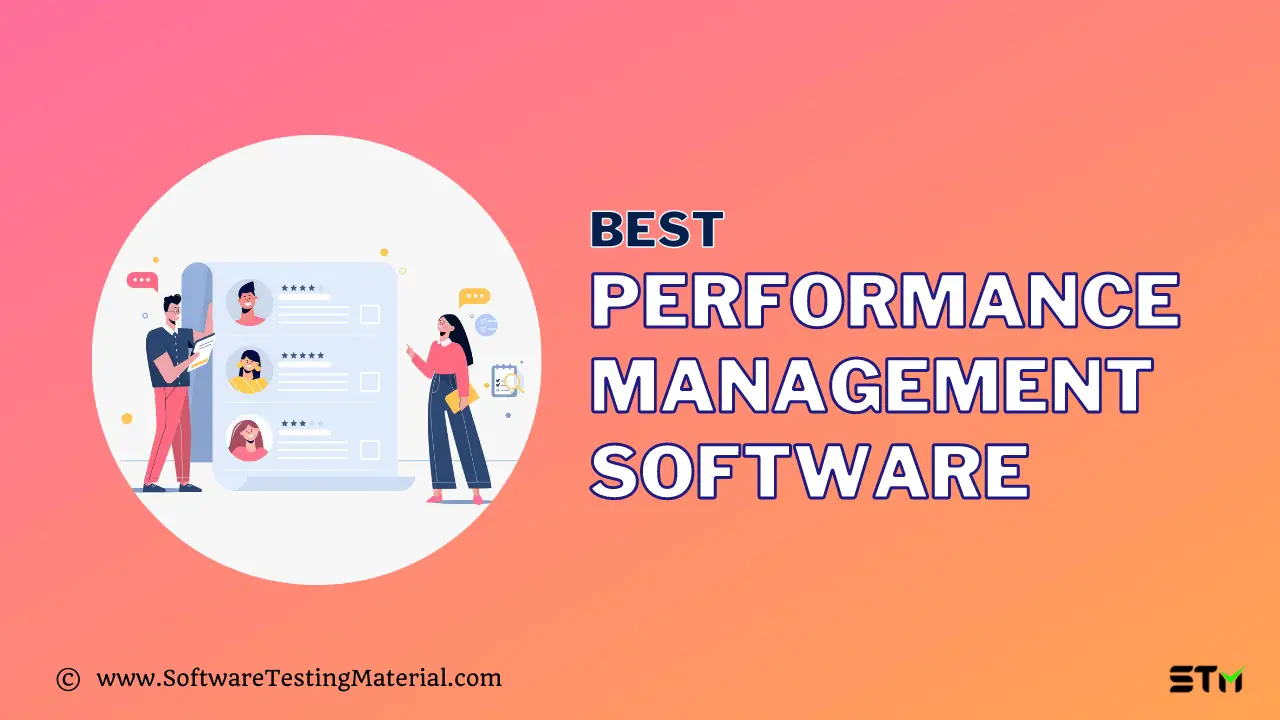 What is Performance Management?
Performance management is the means of making sure that a particular set of operational activities and outcomes meets the objectives of an enterprise in an efficient and successful manner. It may focus on a single department, an organization, an individual employee, or even the various processes in place to monitor specific activities.
What is Performance Management Software?
Performance management software assists managers in establishing employee performance standards and evaluate their job performance. With this software, you can manage employee progress, performance, and development, and so on.
What do you use Performance Management Software for?
Small to large size businesses use performance management software to facilitate meaningful and ongoing discussions between managers and direct reports. It is most commonly used by HR departments to support manager-level staff throughout various departments. These tools enable HR managers to conduct performance reviews of employees, maintain a record of discussion topics, establish employee goals, and facilitate 360-degree feedback.
What are the features of Performance Management Software?
Performance tracking: It provides management and employees with transparency into employee progress.
Development planning: It provides a platform where managers can set performance expectations and give employees regular, quality performance feedback. With the help of these tools, managers can identify skills that need to be developed and create a plan for ongoing training and education.
Goal management: Enables SMART (specific, measurable, achievable, relevant, time-bound) goals to be aligned throughout the organization. Goals can be created and/or cascaded down by managers. Goal management functionality also facilitates the tracking of goal progress.
Reviews and feedback: Performance reviews can be created using templates or libraries. Performance management software simplifies the delivery of these review forms to employees. Reviews can come in the form of a mid-year review, annual performance review, 360-degree feedback, and a self-evaluation form, to name a few.
Career and development planning: Helps managers and individuals identify career paths for employees as well as develop training programs and courses for competencies and certifications needed for career path movements.
API integration: Application programming interfaces, or APIs, typically enable data integration, logic, objects, and other applications. Some performance management solutions provide specifications for how they will communicate with other software.
What are the benefits of Performance Management Software?
Beyond just identifying performance in employees, performance management software can help managers to align the interests of the various departments and teams with company goals. Managers can use the information generated by the performance management software to align organizational goals with the desires and needs of employees. Additionally, managers can use performance management software to provide employees with access to data and resources that they will need to facilitate collective efforts. This makes it much easier for employees to reach common goals, as opposed to making individual efforts to address individually specific goals.
Performance management software can also be used in hiring decisions. When developing an employee hiring strategy, companies must take into account the entire team, as everyone plays an important role. Performance management software can help managers to monitor all aspects of the hiring process, as well as provide information about the performance of every employee on a functional level.
How to choose Performance Management Software?
Needs and strategic goals: First and foremost, businesses should clearly understand their current performance management workflows and what benefits they would like to receive from their performance management tool. Performance management software are not a one-size-fits-all solution. It means what works best for one company might not work for another. The effectiveness performance management tools will depend on the existing structures within a company and their particular business goals.
Strategy: Businesses should make sure that their strategy is clearly outlined when speaking to vendors about potential products. It will help businesses make sure that the software they choose will meet the requirements of their company.
Standalone or suite: Performance management products can operate as standalone products, or they can be incorporated into larger, more comprehensive HR management suites that manage other functions, such as payroll, recruiting, or eLearning. Whether businesses choose a standalone product or a suite will likely depend on their organization's objectives, both for their performance management programs and for their human resources department as a whole. When considering suites, companies should keep in mind that the product may perform better in some departments than in others.
Customization: Effective performance management software can often be customized to fit an organization's specific needs, whether through custom branding details or through tailored functionality. To ensure that the people management software will be suitable for their employees, you should make sure that it either offers out-of-box functionality that fits the existing workflow of your company or determine whether the solution can be customized to match their requirements.
Budget: Performance management software can vary in price, so companies need to understand their budget for purchasing these tools.
List of Performance Management Software
The main details of the popular Performance Management Software are listed below. If you're in a hurry, here's a quick list of your best options.
If you'd like to see our in-depth analysis, keep reading.
#1. Trakstar
Trakstar's Performance management software helps your organization manage performance reviews, 360 feedback, employee engagement surveys, 360-degree/multi-rater feedback, and goals. You can build customized appraisal forms, build personalized processes, set SMART goals, and create flexible workflows.
Its rich feature set and interface are available at a reasonable cost, and implementation is customized for your company and you. Trakstar offers a free trial, price quote, or a live demo from a real person when you sign up today.
Trakstar performance management software makes it easier for you to set goals for employees. You can customize the software to suit your needs. You can also choose what types of reports you want. This tool lets you track the performance of individual employees so you can make improvements in areas where they are weak.
Features:
Its performance evaluation feature includes customizing rating scales, competencies, questions, and more.
It also provides the function of note-taking and automated email notifications.
You can learn what motivates your staff with company pulse surveys and manager check-ins.
With this tool, you can do frequent check-ins and self-appraisals.
Verdict:
Trakstar can help businesses increase efficiency, cut costs, and maximize productivity. It is one of the best performance management software that helps your organization manage performance reviews, increase employee engagement, streamline goals, and get real-time feedback.
---
#2. IBM Talent Management

IBM humanizes enterprises while infusing AI and automation into HR in order to drive immediate value. It provides a unique approach to reinventing your workforce, leveraging AI, employee experience design, and digital technologies to accelerate innovation. With this software, businesses can enhance employee engagement and productivity, reskill their workforce faster, and so on.
Features:
It lets HR managers monitor, sort, and evaluate applications and manage recruitment pipelines.
Data-driven insights provided by this software will help you to find the best candidate for your organization.
It also offers the feature of enterprise assessment.
Verdict:
It is a cloud-based solution that assists small to large-sized businesses with employee acquisition, assessment, and skill development. The application enables recruiters to organize job openings, track candidates and generate scorecards based on predicted performance.
---
#3. SAP Successfactors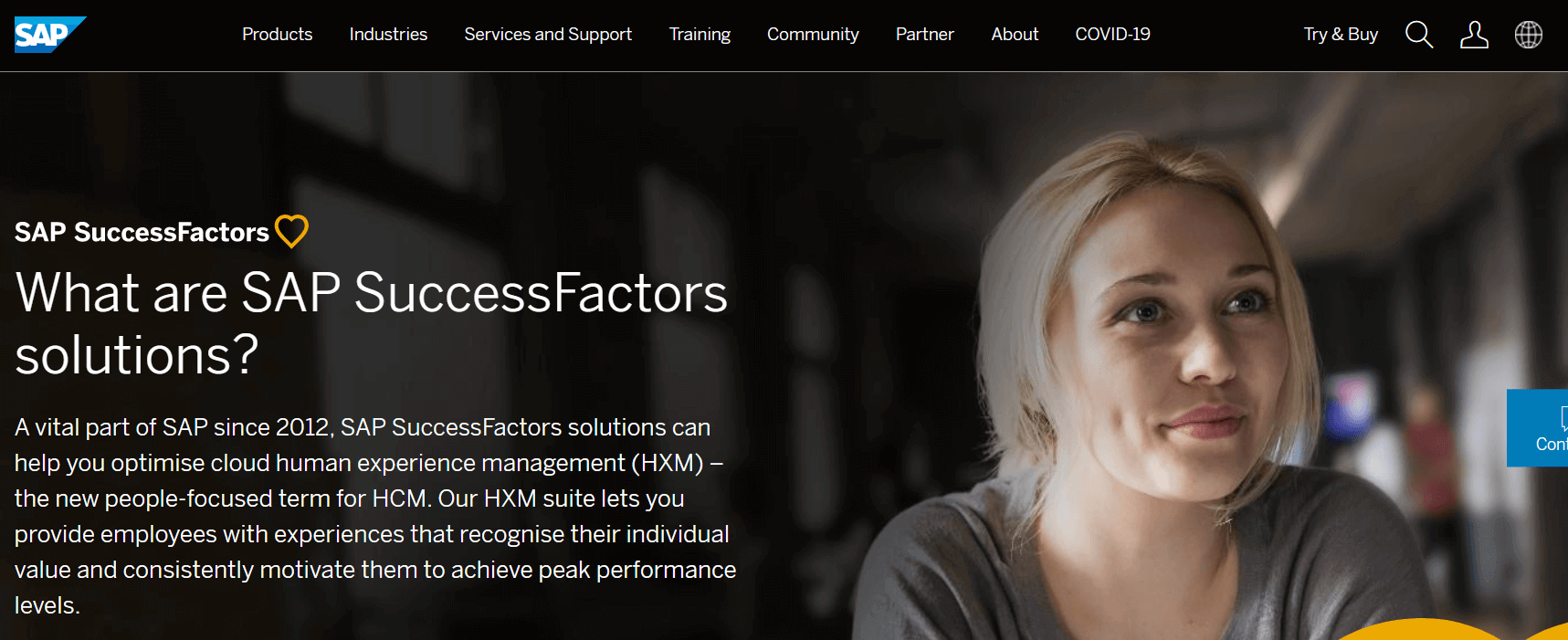 SAP Successfactors offers integrated cloud-based software as a Service (SaaS) platform to enhance human resource management. SAP is the most widely used business application in over 90 countries worldwide. It empowers companies to increase employee productivity and streamline processes.
This software incorporates core HR and talent management features, offering businesses various deployment options that tend to specific solution needs.
It helps managers set up an action plan for their workforce, which includes what and how much resources will be required for payroll, how to hire and train new employees, what resources will be needed for training and development, and the resources needed to implement change.
Features:
It offers global solutions for core HR, payroll, time tracking, benefits admin, and HR service delivery.
Its goal library has more than 500 goals. This will help you in setting the standards.
For ongoing performance management, it encourages the dialogue between employees and HR managers.
SAP also offers a writing assistant and coaching advisor that will help you with writing meaningful feedback.
Verdict:
SAP solutions have made it easier to identify and develop the best talent in a particular job role. Through a cloud-based talent management system, an employee's talents can be tracked and developed according to the needs of the job role. This allows human resource management teams to determine whether a candidate is best suited for the job. SAP Successfactors has made it easier to identify talents faster and cheaper than ever before.
---
#4. Oracle HCM
Oracle HCM (Human Capital Management) provides a comprehensive solution for human capital management and helps in aligning employee performance goals with business strategies. It manages personnel information and helps organizations improve overall human capital management performance by identifying and evaluating risks, developing policies to mitigate those risks, monitoring and measuring those results, and reporting results.
It provides organizations with an integrated approach to the whole process of human resource management. This includes processes such as talent management, performance management, engagement strategies, workforce management, global staffing and placement, and employee benefits administration to medium and large-sized businesses.
Employee performance management solutions go hand-in-hand with the core function of HRM. The ultimate aim of both HRM and talent management is employee performance management. Both are mutually dependent on each other. While talent management primarily focuses on recruiting, retaining, and developing great employees, HRM seeks to ensure that they perform to their optimum levels while on the job. To facilitate this, many companies have started looking towards Oracle HCM as a part of their overall workforce modeling strategy.
Features:
It is built for cloud.
With this tool, businesses can make better decisions, personalize employee experiences, and leverage highly configurable workflows that offer scalability and localization.
This tool helps in creating training programs.
It enables the employees to manage their own information, absences, and benefit enrollments.
Verdict:
The popularity of Oracle HCM has soared over the past few years because of its pioneering work in performance management and its ability to coordinate across organizations successfully. Many companies have realized that the whole process of hiring and nurturing the best employees is time consuming and confusing. Oracle HCM helps streamline this process by providing businesses with the right data and information so that they can make smart hiring decisions.
---
#5. Reviewsnap

It is a complete, fully automated, self-service performance management system. Reviewsnap offers user-friendly, reliable, and affordable on-demand Software as a Service (SaaS) solutions to help your company.
Reviewsnap is simple to use, which a big plus in business, where decisions have to be made fast. Organizations that do not have time to perform in-depth research and have to make quick decisions about performance management processes will find this an invaluable tool.
Features:
Businesses can automate the performance review process with e-signatures, notifications, and many job-specific templates.
It is flexible, allowing users to customize the review process.
Users can track and manage goals such as SMART goals, monitoring employee's progress, objectives defining, and tracking achievements.
It also offers unlimited review cycles.
Reviewsnap enables easy creation and use of the custom performance reviews that are required in order to keep the entire process transparent and optimize the processivity of the projects.
Verdict:
Founded in 2007, Reviewsnap offers talent management solutions spanning performance reviews, compensation management, and learning management. It is a web-based solution that enables enterprises to streamline the performance management process of their employees with a 360-degree performance review system.
---
#6. Synergita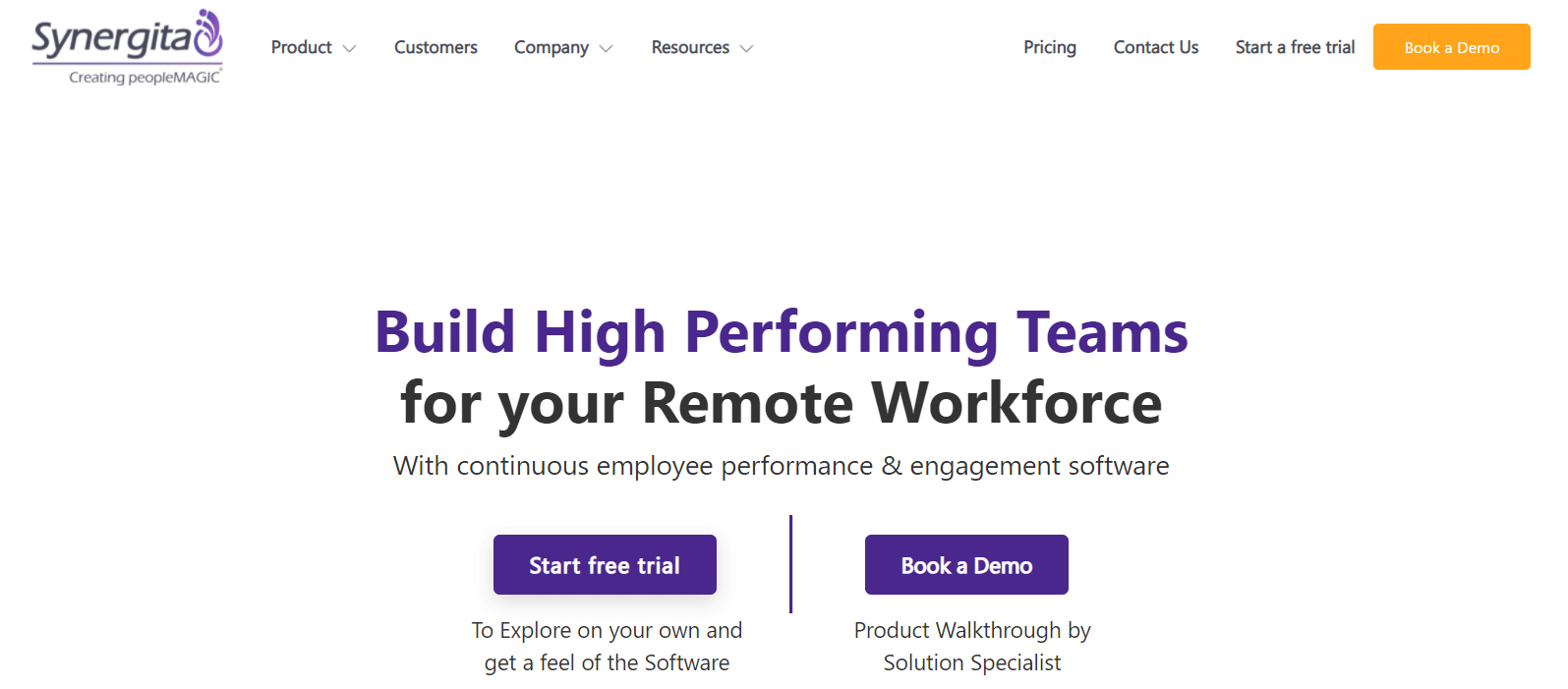 Synergita is a cloud-based application that enables companies to give constant feedback and social validation, establish performance goals, set objectives and regular performance appraisals and measure job performance and skill development at all levels. It helps manage people as well as tasks. Synergita is simple, intuitive, and easy to use with little or no IT training.
Organizations today need to improve their performance and adapt to changes in the market environment. As such, they have to build and operate their internal competencies, develop new skills, and continuously train their workforce in new technologies. Synergita helps these organizations in achieving their goals by providing them with tools to optimize workforce performance.
Features:
It offers 360-degree feedback from multiple sources like self, peers, managers, team members and external stakeholders.
Users can measure progress with SMART Goals management or Objectives & Key Results (OKR).
With this tool, you can get digitize performance reviews.
Verdict:
To provide a complete insight and analysis of an organization's entire workforce, Synergita offers several unique and innovative solutions. First, by leveraging the power of big data and delivering comprehensive analytics to the enterprise brings real benefits to the organization. Second, by measuring and tracking employee actions, it helps in aligning individual performance with the objectives of the organization. This leads to an increase in motivation, better job design, and greater job satisfaction, which ultimately improves the overall performance management process.
---
#7. Namely

It is an award-winning HR software that offers a cloud-based solution to businesses in diverse industries. With this tool, you can stores employee information at a centralized location.
Features:
Engage, appreciate, review, and unify your workplace with unified HCM.
It offers HR labor law compliance advice, a robust learning management system, OSHA regulations guidance and reporting, and much more.
It offers storage for billing reporting and documents.
It enables users to share company-wide announcements.
Streamlined payroll process.
Verdict:
With Namely, users can manage HR data in one place. It is also used by some of the world's most innovative companies in media, technology, commerce, and more. Namely offers a comprehensive solution where small to midsize businesses can manage all of their HR, payroll, and benefits need on one seamless, easy-to-use platform.
---
#8. BambooHR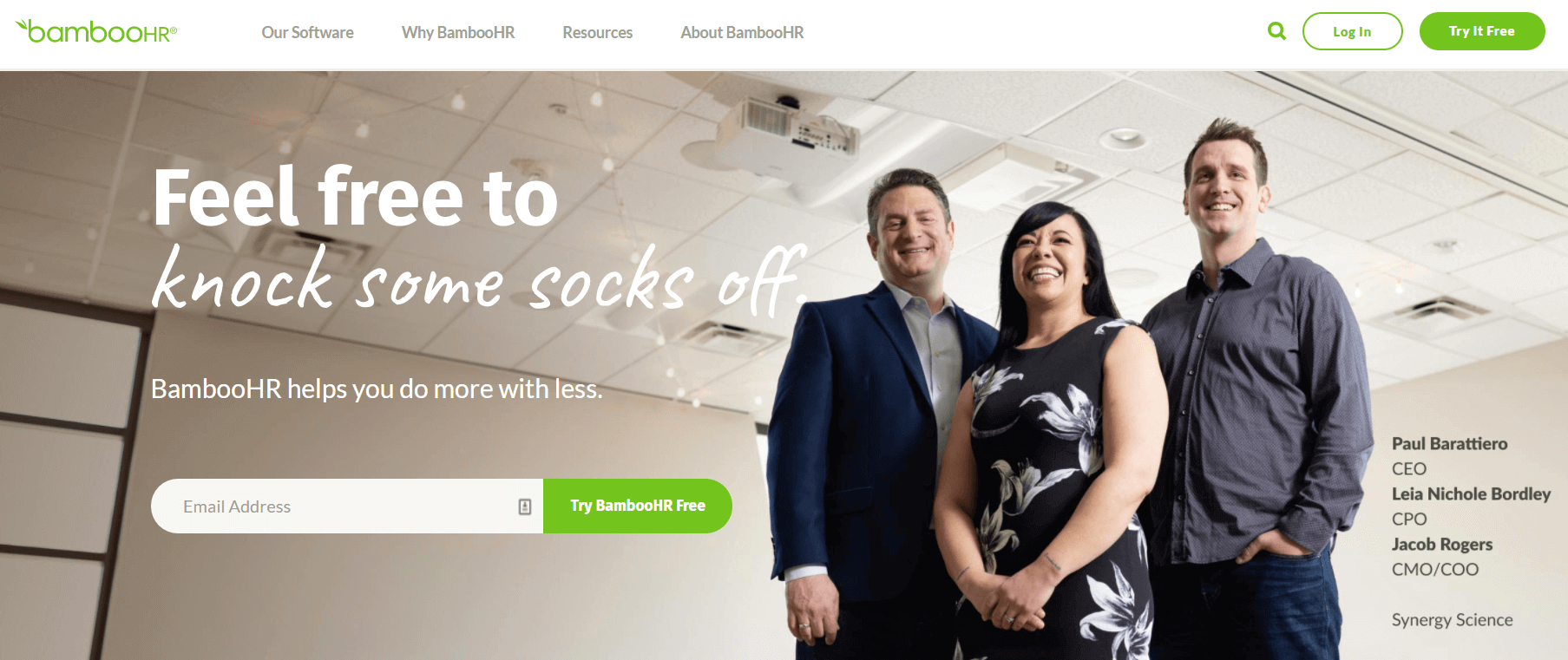 BambooHR offers HR solutions for small and medium-sized businesses. Its cloud-based system is an intuitive, affordable way to track and manage essential employee information in a personalized Human Resources Information System (HRIS).
It offers employee review software that assists the managers in comparing the performance and engagement of employees' activities through performance reports.
Features:
Applicant tracking system and Electronic signature software.
Simple and meaningful questions for performance insights from colleagues.
The managers could provide a lot of things, like bonuses, salaries, vacation policy, holidays, important documents to sign, calendars, time off, etc.
It stores all the employees' information in a secure database.
Verdict:
BambooHR is easy to use for admins and employees. It allowed us to move away from housing information in many different places. It has many integrations and add-ons to suit the needs of any organization. BambooHR is also constantly working to improve and add more of what customers want.
---
#9. ClearCompany

ClearCompany is one of the leading talent acquisition and talent management software. This software helps companies attract, screen, hire talent, engage team members, and use strategic insights to keep their recruiting competitive.
Features:
ClearCompany uses an applicant tracking system to help you streamline the entire hiring process.
It offers time-based reviews.
This tool can also connect performance data to hiring.
It reduces the amount of time spent on recruitment by reducing the number of applications and the number of interviews necessary to make an effective recruitment decision.
Manage and store onboarding paperwork and other documents.
Verdict:
ClearCompany is world's fastest-growing talent management software that can help you create Talent Success. It unifies Recruiting, Onboarding, Performance Management, as well as Workforce Planning.
---
#10. 15Five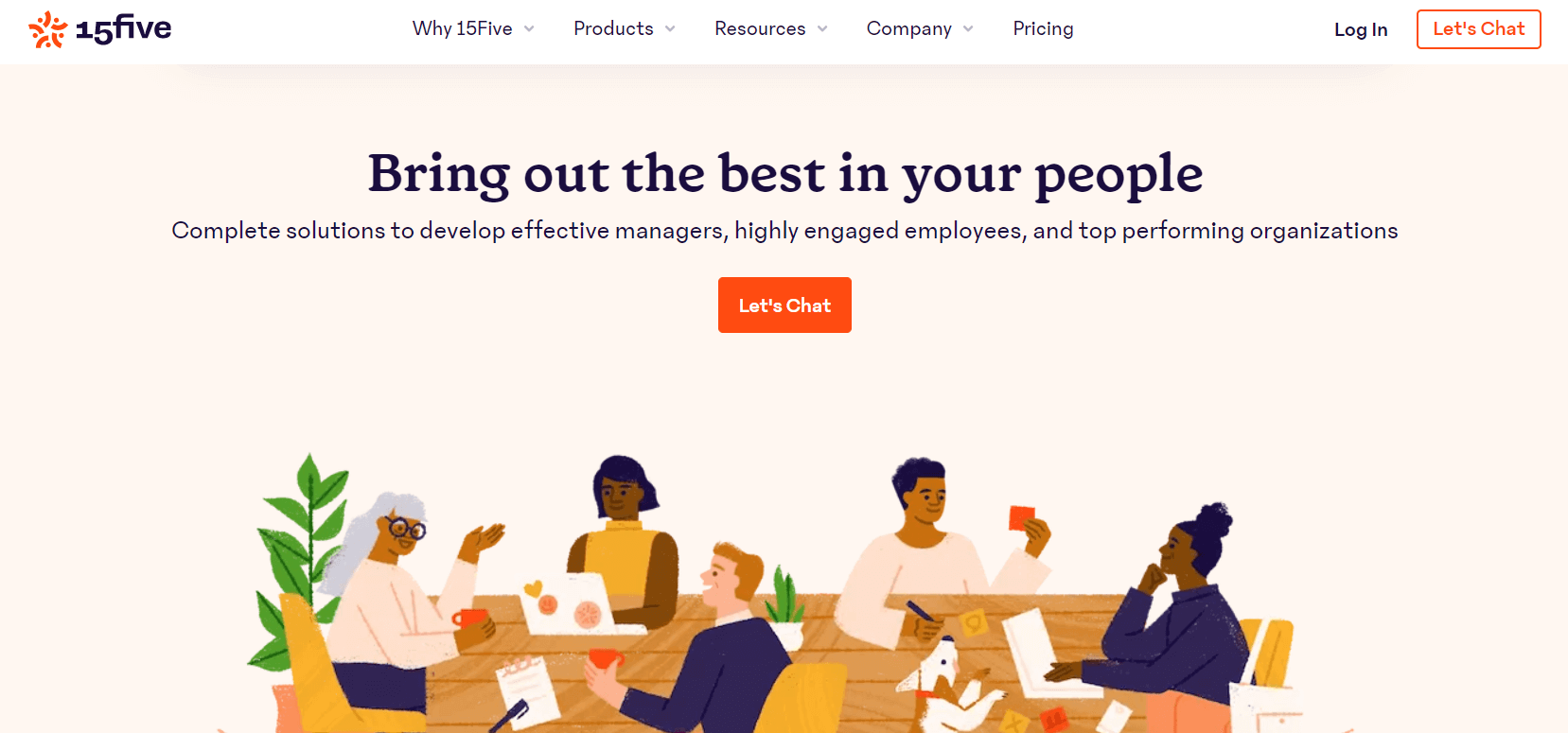 15Five is a powerful human-centered performance management system that developing high-performing teams, highly engaged individuals, effective leaders, and world-class businesses.
From direct feedback and engagement surveys to customized online tools and performance reviews, 15Five delivers the full package to build effective leaders and unleash ultimate employee potential. Focusing on developing people as much as building teams, this continuous performance management software works at the root of the organization to improve people's performance results.
Features:
You can plan and execute a 1-on-1 meeting with the team members.
It provides a question bank and feedback questions for a weekly check-in.
15Five also comes bundled with performance feedback and survey software.
Verdict:
It offers complete solutions to create effective managers, highly engaged employees, and top-performing organizations. Because of its solid structure and the way it connects to the entire organization, 15Five gives you a complete picture of how your staff and executives are performing.
---
#11. UltiPro

It is a powerful, global HCM solution. From payroll and talent management to service delivery, surveys, and everything in between, Ulti Pro is the powerful HCM suite you need to drive people-focused results. UltiPro is a cloud-based solution.
Features:
Time management
Performance management
Succession management
Predictive analytics tool
Compensation management
Employee surveys and sentiment analysis
Verdict:
UltiPro offers various HR solutions need under one roof. Businesses don't have to worry about using different platforms for recruiting, payroll, benefits, performance management, learning, etc. It is perfect for any size business.
---
#12. HRsoft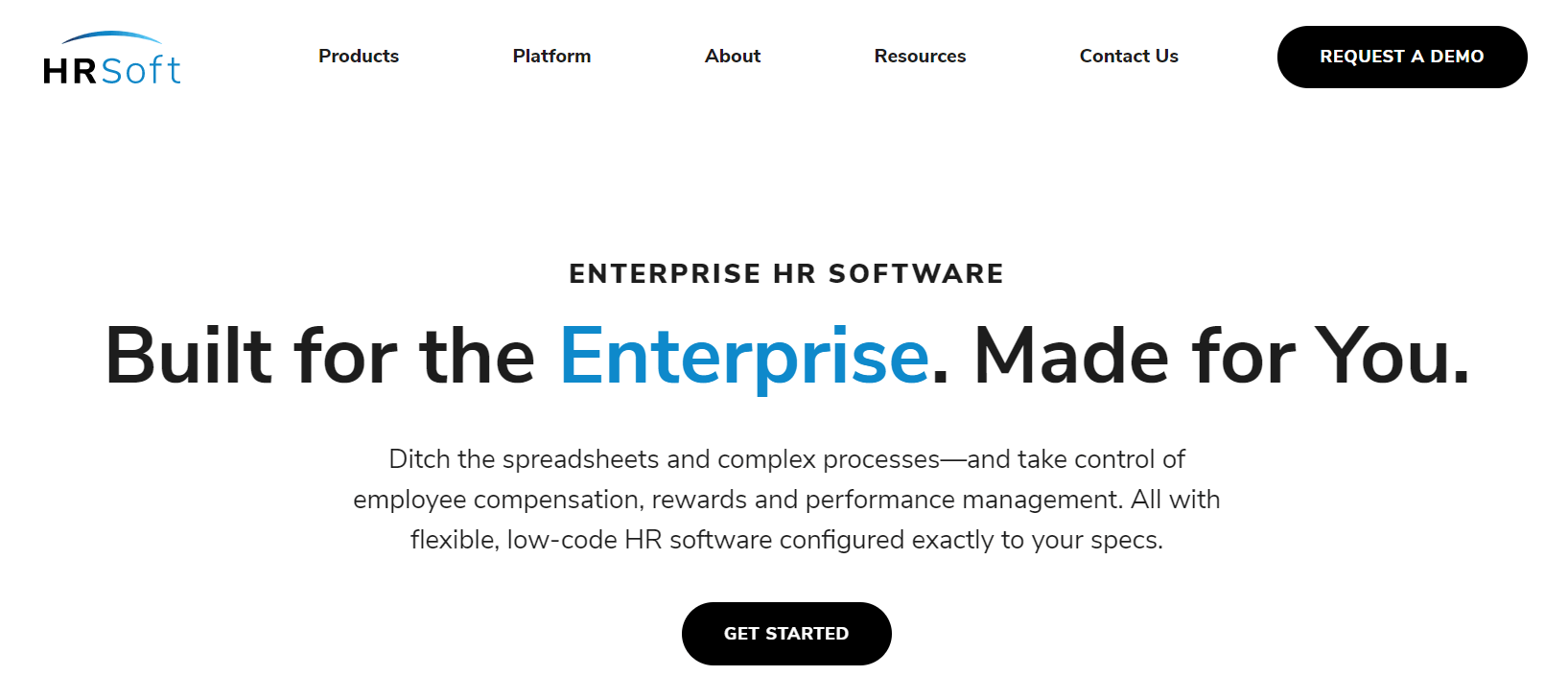 HRsoft is another great cloud-based performance management software. It helps managers in building better relationships. You can schedule and track manager check-ins, measure performance against goals, and perform cross-functional collaboration.
Features:
It is integrated with your HRIS, compensation, and rewards solutions.
This software is capable of handling any feedback cycle
Powerful integration tools.
HRsoft also offers features such as 360 Feedback, Review automation, automated workflows, and focused templates.
Verdict:
With HRsoft, businesses can drive better feedback conversations, removes confusion around process, and promotes informed and justified decision-making. It also complements every leading HRIS and HCM solution.
---
Conclusion
Performance management software is essentially a tool designed to aid managers in writing clear, effective performance expectations and feedback, develop relevant benchmarks that align closely with the organization of specific goals and missions, and document performance in real-time.
These were some of the best performance management software available in the market. You can choose any of these based on your budget and business goals.
Related posts: