ActiveBatch Alternatives & Competitors In 2023
Although ActiveBatch has been a reliable tool for Workload Automation, new technologies are emerging that challenge its market share. In this blog post, we will explore some of ActiveBatch's alternatives and competitors.
By the end of this post, you should have a better understanding of which technology is best suited for your business needs.
Introduction To ActiveBatch
ActiveBatch is an enterprise job scheduling and automation solution from Advanced Systems Concepts. It centralizes and consolidates control over enterprise processes, including IT, data analysis, file and document storage, and infrastructure.
It is an integrated solution for workload automation that integrates applications, processes, and scripts into one location. This reduces errors and idle time while users and departments move from one operation to another.
ActiveBatch was originally developed as a scheduling tool for ASCI's XLNT programming language. Since then, it has been a standalone product and flagship product for ASCI. ActiveBatch provides real-time monitoring, management, and background IT processing across multiple industries and platforms.
Benefits of ActiveBatch
#1. Accelerated workflows
The ActiveBatch Integrated Jobs Library speeds up job automation instead of coding every time you automate operations. It makes it possible to create workflows in a fraction of the time. ActiveBatch's Job steps act as building blocks for workflows. These are ready for production so that you don't have to create and test scripts every time you automate a job.
#2. Dynamic resource optimization
ActiveBatch reduces overhead costs when running tasks. By assigning Dynamic Queue Characteristics, the user can respond to changing demands. It will then search for the right server to complete the task. The Smart Queue, Heuristic Queue Allocation, and Smart Queue of ActiveBatch can allocate computing power and machines to run workloads, eliminating any machine idle time.
You can also use ActiveBatch's Machine Load View to get a birds-eye view of how ActiveBatch processes work and what tasks are using the system's resources.
#3. Intelligent analytics
ActiveBatch helps to get to the bottom of the matter using relevant and accurate analytics. Although it is easy to gather data, understanding the data requires a special tool. ActiveBatch fulfills this role. This software allows you to track data in real-time, get alerts, create reports, and manage and maintain SLAs. Thanks to business intelligence features, you can also visualize data dynamically in different formats.
#4. Open API
It also provides a Service Library that supports REST, WSDLS, and .NET Assemblies, allowing almost universal integration and connectivity. You can create jobs that correspond to specific APIs using the Service Library. It means you can support other applications and hardware in addition to what comes out of the box.
Features of ActiveBatch
Compliance tracker
Business process automation
Low-code support
Task management and scheduling
Graphical workflow editor
Troubleshooting tools
Remote/mobile access support
Cloud-hosted
ETL support
API Accessibility
Multiple data sourcing
Third-party integrations
Why Do We Need Alternatives To ActiveBatch
The market for job scheduling software has come a long way over the past decade. This field of Workload Automation Management has some very high-quality solutions that give ActiveBatch a run for their money.
Comparison Of The Best ActiveBatch Competitors
| Name | Logo | Deployment | Pricing | Link |
| --- | --- | --- | --- | --- |
| Redwood | | SaaS, On-premises, Cloud-based & Hybrid. | 30-day free trial available. Consumption-based pricing model. | Learn more |
| Tidal Software | | On-premises, Cloud-based & Hybrid. | 30-day free trial available. Contact them for a quote. | Learn more |
| BMC Control-M | | On-premise or as a service. | Free trial available. Contact them for a quote. | Learn more |
| AutoSys Workload Automation | | Private or public cloud, on-premise, or hybrid environment | Contact them for a quote. | Learn more |
| Stonebranch | | On-premise & SaaS based. | Contact them for a quote. | Learn more |
| JAMS Job Scheduler | | Cloud-based | Contact them for a quote. | Learn more |
List of Best ActiveBatch Alternatives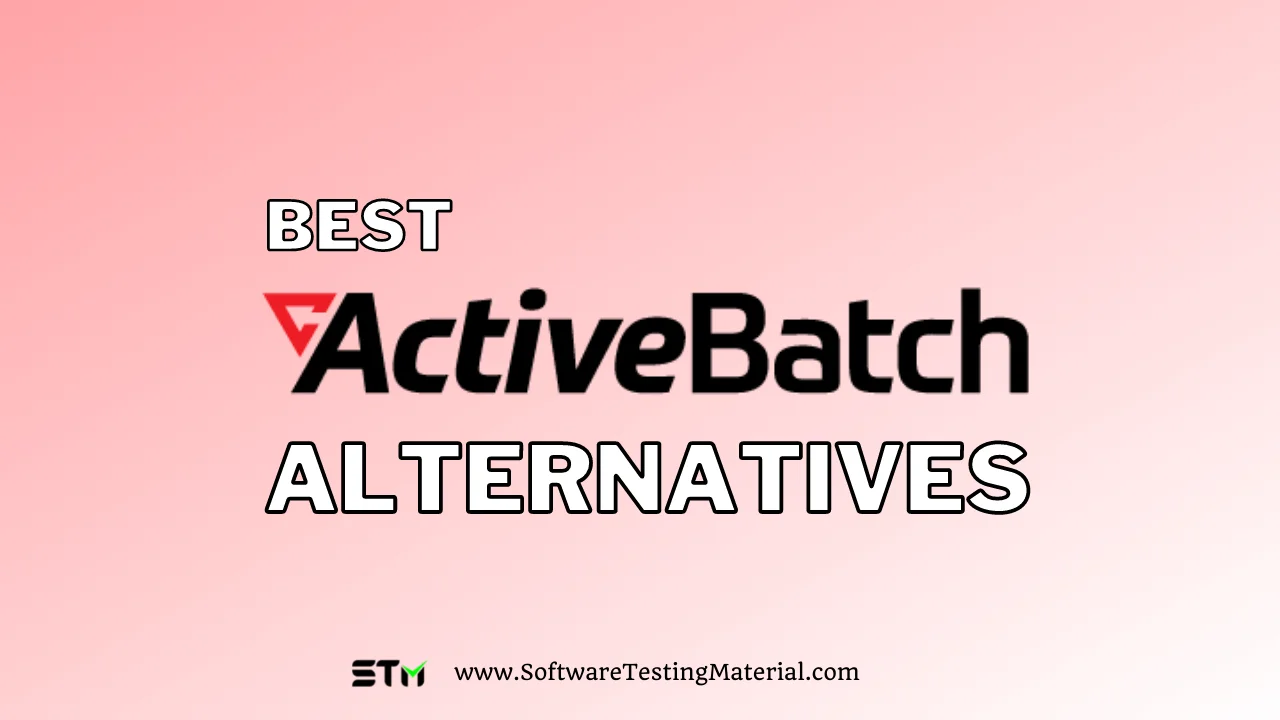 #1. Redwood

Our top pick for ActiveBatch Alternative is Redwood, previously known as RunMyJobs. It is a cloud-based service for managing, scheduling, monitoring, and creating batch jobs.
Redwood comes with a console and a job planner. The console allows you to call up a batch template and then modify it to create your workflow. Each step in the workflow is saved as a batch file. The process definition will allow you to specify the steps of each batch. You have a variety of actions that you can choose from for each step.
Each process can be stored and reused in other workflows. You can also save the entire workflow for later execution and add the stored workflows to your scheduler.
Features:
Redwood's RunMyJobs Scheduling tool will automate all file transfers using a single secure point of control.
It gives you instant and complete reporting of the results.
It features an automatic restart and remediation feature in the event of any problems.
Redwood is especially useful in managing file processing across multiple systems. It includes secure file transfer steps within a batch.
It can also be used to manage ERP, database maintenance, system cleanup, and other tasks.
Pricing: 30-day free trial available. Consumption-based pricing model.
Verdict: Data movement between on-premises mainframe, hybrid cloud resources, and distributed clouds can be easily automated, visualized, and documented using Redwood.
#2. Tidal Software

Tidal Workload Automation is the ideal enterprise job scheduling software for any organization who needs to streamline processes, manage applications and resources in real-time, and save money. This powerful tool offers unbeatable security features and ease of use that make it a top pick for businesses looking to automate their workloads quickly and efficiently.
By leveraging the power of Tidal Workload Automation, businesses can gain a comprehensive understanding of their performance and utilization; effortlessly monitor multiple systems; and optimise processes to achieve peak efficiency.
Features:
Unlock the power of job scheduling, workload optimization, resource management and system monitoring with this feature-packed solution.
It comes with powerful analytics that can help usersto make informed decisions and gain a deeper understanding of their operations.
Streamline the management of workloads by eliminating tedious manual processes, granting you a clear view into job statuses and resource utilization over multiple systems.
Users can take advantage of the sophisticated functions, including automated job distribution, schedule optimization and event-based triggers to automate intricate workloads and maximize resource use.
Reinforcing data safety, this software provides password-protection and encryption as intrinsic security features.
Pricing: Contact them for a quote.
#3. BMC Control-M

BMC Control-M is an application orchestration platform that uses a different approach than ActiveBatch's script-based strategy for task automation. It also helps organizations automate workflows and offers a single point of control and monitoring.
The Control-M service also includes a Scheduler so that workflows can be set up to run out-of-hours or regularly.
Control-M is a tool that helps you implement business processes by orchestrating or managing production systems such as a CD/CI pipeline.
Features:
The user interface is simple and intuitive, making it easy to create, share, and collaborate on workflows.
It simplifies workflows across hybrid and multi-cloud environments with the help of AWS, Google Cloud Platform, and Azure integrations.
Deliver data-driven outcomes much faster, managing big data workflows easily in a scalable way.
It takes control of your file transfer operations with integrated, intelligent file movement and visibility.
Control-M accelerates new business applications into production by embedding workflow orchestration into the CI/CD pipeline.
Pricing: Free trial available. Contact them for a quote.
Verdict: Control-M makes it easy to manage data and application workflows on your premises or as a hosted service. It allows you to easily create, plan, schedule, manage, and monitor production workflows. This ensures visibility, reliability, and improves SLAs.
#4. AutoSys Workload Automation

AutoSys Workload Automation enhances visibility and control of complicated workloads across various platforms, ERP systems, and the cloud. It reduces the cost and complexity of managing mission critical business processes, ensuring consistent as well as reliable service delivery. It provides end-to-end visibility into application workloads and provides dynamic critical path management. It can be deployed in a public or private cloud environment and is highly scalable.
It intelligently distributes workloads based on the number of resources and service level agreements and scales to meet enterprise demands. It also supports regulatory compliance. The software is easy to deploy and allows for one system engineer to perform the task without a technical background.
Features:
Improve business responsiveness by dynamic workload placement in physical, virtualized, and cloud environments.
Integrations to major business applications to manage reliability and flexibility and to be executed in synch with enterprise workflows.
Notifications, Predictions, and Automatic Actions for Overdue Jobs.
Native support for SOAP and REST Web Service Protocols.
Dynamic workload distribution across physical, virtual, and cloud resources to optimize utilization as well as handle spikes in processing.
Pricing: Contact them for a quote.
Verdict: AutoSys provides a unified console that provides consistent operational controls to manage in-flight workload. This uniform way of designing and monitoring jobs and workflows reduces the cost of operations and allows you to improve service delivery.
#5. Stonebranch

Stonebranch provides a complete solution for managing workloads across multiple IT environments. The software is simple to deploy and highly secure, enabling organizations to scale up and down easily as their business needs change. This software enables IT Ops to focus on strategic initiatives while minimizing the costs of IT operations. Once in place, Stonebranch helps organizations achieve the highest ROI from their IT automation investments.
It is available as an on-premises solution or as a SaaS service. Stonebranch's Universal Automation Center (UAC) also provides support for hybrid IT environments and provides a centralized management platform for service orchestration and management.
Features:
It offers intelligent scheduling features that allow you to set dates and times, as well as data specificities. This can be used to allocate the right resources based on the business's needs.
Stonebranch is fault-tolerant.
It provides automatic disaster recovery for high availability.
It can execute event-based scheduling in real-time.
Stonebranch is easy to use, centrally controlled, compliant, cost optimization, secure, and offers high availability.
Pricing: Contact them for a quote.
Verdict: Stonebranch workload automation solution automates the entire business system, including heterogeneous servers. It offers many advantages, including labor savings, system-wide improvements and increased speed, intelligent & predictive resource allocation, as well as improved overall speed.
#6. JAMS Job Scheduler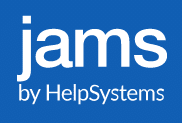 JAMS Job Scheduler is centralized workload automation and job scheduling software that runs, monitors, and manages jobs as well as workflows that support critical business processes. It works on Windows, Linux, and UNIX. Developers can integrate smart automation directly into their apps with this solution.
JAMS is an end-to-end workload automation solution for enterprises. It integrates with many technologies throughout an enterprise in order to provide seamless, unattended job execution, allocating resources to run jobs at a specified time or based on a trigger.
Features:
JAMS Scheduler offers functionalities to automate batch processes.
It supports batch automation in on-premise, cloud, and hybrid environments.
Application managers can integrate business applications with business processes.
It offers a PowerShell Host that can execute PowerShell Scripts.
JAMS lets you define, manage, and monitor critical batch processes through one console.
It also has a Job Execution History feature that allows you to track all processes running across your systems.
Pricing: Contact them for a quote.
Verdict: This solution can be used to manage all IT processes, including scheduling batch processes and managing multi-platform workflows. It's easy to use, and it is a powerful platform.
#7. IBM Workload Automation

IBM Workload Automation provides a single solution to manage batch and real-time workloads. It is available on distributed mainframes as well as hosted in the cloud. It automates complex tasks to improve IT efficiency.
It also provides a robust, scalable solution that lets you make the most out of your data resources. This will ensure that your company has a competitive edge in today's market.
Features:
Users can organize jobs and job streams in a hierarchical folder structure.
Predictive analytics and central management can help improve decision-making.
It offers ready-to-use integrations.
It can be integrated with the DevOps toolchain to improve business and infrastructure agility.
Pricing: Contact them for a quote.
Verdict: IBM Workload Automation streamlines the user experience by customizing workload dashboards and providing precise governance for application developers and operators with specific interfaces for each. It is a cost-saving tool that can increase productivity and reduce wasteful costs.
#8. VisualCron

VisualCron is an automation task scheduling tool which has over 300+ tasks that can be used to create simple or very complex automated jobs. SQL, email and Powershell are some of the most popular tasks.
VisualCron has detailed help documentation for every task/window that explains how to use the feature/task. It also offers instant online, email, and live screen sharing support.
Features:
No programming skills – VisualCron doesn't require you to have programming experience to create Tasks.
Interface is simple to use – Its interface is easy to use and consistent with drag and drop feature.
Customer-driven development – Its development is based on feature requests from customers.
It also offers solutions related to automation like task scheduler, cloud automation, MFT automation, and so on.
Pricing: Contact them for a quote.
Verdict: VisualCron provides a platform for automation and integration as well as task scheduling. It is compatible with the Windows platform. It features an intuitive interface and programming interface.
#9. VMware

VMware provides a wide range of digital solutions to power apps, services and experiences that enable organizations deliver the best customer service possible and empower their employees.
It features vRealize Automation which is a modern automation platform. Flexible guardrails, such as role-based policies, will allow you to ensure compliance and security across all cloud environments.
Features:
VMware Infrastructure Web Access management interface – The VI Web Access management interface offers a simple, efficient, secure, intuitive, and productive management experience.
Independent virtual console – You can access your virtual machines consoles using the VMware Remote console, which is independent of the VI Web Access management interface.
More Scalable Virtual Machines – It supports up to 8GB RAM and up 10 virtual network interface cards per virtual machine. This allows you to transfer data at higher data rates using USB 2.0 devices and add new SCSI hard drives and controllers to your virtual machine.
Volume Shadow Copy Service (VSS) – Use the snapshot feature to backup the Windows virtual machines. This will ensure data integrity for the applications running within the virtual machine.
Pricing: Contact them for a quote.
Verdict: This modern automation platform offers solutions for managing and securing self-service clouds, multi-cloud automation and governance, as well as DevOps-based infrastructure delivery.
#10. Broadcom Automic Workload Automation

Automic Workload Automation is enterprise-grade automation that provides the service orchestration and automation platform to automate complex applications, platforms, and technologies.
The solution is agnostic and supports all types of environments, from mainframe to cloud, and is 100% compatible with most major cloud providers. Its Automation Engine technology enables millions of automated tasks each day and stores data in a central database. The Automic Workload Automation platform provides extensive auditing and reporting capabilities that ensure real-time information.
Features:
It is fault-tolerant and scales up to 100 million jobs and 100,000 agents. This feature allows you to manage your system and optimize your performance.
It offers integration with open-source tools and big data stores.
Data scientists can make their data actionable with self-service, visual workflows, and reusable building blocks.
It offers managed file transfers, integrates data flows with data processing, and eliminates the need for additional tools.
Deployment of computing infrastructure, ML models, and code for advanced analytics.
Pricing: Contact them for a quote.
Verdict: It simplifies the work of developers and operations in creating, deploying, and running applications with automated infrastructure provisioning and de-provisioning as part of continuous delivery workflows and pre-approved self-help runbooks.
#11. GoAnywhere MFT

GoAnywhere MFT is a managed file transfer software that streamlines and automates file transfers using a central platform. This software allows companies to connect to external and internal systems. Additionally, it encrypts exchange data using industry-standard protocols such as OpenPGP and AES.
It does more than secure file transfers. It seamlessly works with applications that you use every day, such as EDI or cloud integration. It can help you save time and money, increase data security, meet compliance requirements, and secure zero-trust and data-centric architectures.
Features:
It supports file transfers server-to-server, person-to-person, and automatic AES encryption FTP standards.
It supports batch file transfer from server to server, user-to-system ad-hoc transfer, and person-to-person file collaboration.
It automates workflows, eliminating the need for multiple programs and scripts to manage your business processes.
Pricing: Contact them for a quote.
Verdict: GoAnywhere MFT is a secure file transfer solution that automates encryption and data transfer using industry-standard protocols. It can be installed either on-site or in a cloud environment.
Conclusion
Best workload solutions schedule, trigger, and manage processes for business systems, enabling users to automate these processes so that they run unattended.
ActiveBatch is one of the top workload automation tools, but it does have some drawbacks like difficulty in learning.
Our top recommendations for ActiveBatch alternatives are Redwood, BMC Control-M, and AutoSys Workload Automation.
Research Process – Alternatives To ActiveBatch
Total time we spent on evaluating these tools: 24
Total tools evaluated: 18
Total tools finalized: 10
We spent 24 hours evaluating and researching 18 different Workload Automation Tools. We looked for features that should be available in an ideal workload automation tool. We looked at user reviews and compare products' features to determine which tools help you in your project development.
Based on our research, we believe the above tools drive your project in a better direction. Here we are not giving any ranking to any tool. Every tool in the list above has decent features. Best thing out here is almost all the tools come with free trial.
Related Posts: