7 Stonebranch Alternatives & Competitors In 2023
Most readers of this blog are likely familiar with Stonebranch, hybrid IT automation software and solutions. In this article, we'll take a look at some of Stonebranch's alternatives and competitors in 2023.
We'll examine how these other vendors stack up against Stonebranch in terms of features, and pricing. By understanding the competition, you can make more informed decisions about your technology investments.
Comparison Of The Best Stonebranch Competitors
| Name | Logo | Deployment | Pricing | Link |
| --- | --- | --- | --- | --- |
| ActiveBatch | | On-premises, Cloud-based & Hybrid. | 30-day free trial available. Contact them for a quote. | Learn more |
| Redwood | | SaaS, On-premises, Cloud-based & Hybrid. | 30-day free trial available. Consumption-based pricing model. | Learn more |
| Tidal Software | | On-premises, Cloud-based & Hybrid. | 30-day free trial available. Contact them for a quote. | Learn more |
| BMC Control-M | | On-premise or as a service. | Free trial available. Contact them for a quote. | Learn more |
| IBM Workload Automation | | SaaS, private cloud, public cloud, on-premise, | 30-day free trial available. Contact them for a quote. | Learn more |
| JAMS Job Scheduler | | Cloud-based | Contact them for a quote. | Learn more |
Introduction To Stonebranch
Stonebranch is a great workload automation software that helps businesses automate, manage, and orchestrate their IT processes. It lets users control scripts, jobs, tasks, and IT processes across your on-premise, hybrid cloud, and multi-cloud environments.
You can unlock the automation needed to support cloud migrations and self-service infrastructure provisioning. This all while providing operational control and insight through proactive monitoring, alerts, and reporting. The UAC platform is available on-premises and as a SaaS deployment. It can scale with your business.
Stonebranch can be used on-premises or as a SaaS solution. This software initiates business processes over a set time period. Universal Automation Center (UAC) is an enterprise-grade solution for business automation. This event-based solution automates system tasks and jobs across all mainframes, on-premises and hybrid IT environments.
Features:
It has an intuitive drag-and-drop feature that makes setting up tasks easier and gives you immediate results.
Job scheduling software centrally manages all aspects of your IT environment, from the mainframe to the complicated process.
This tool helps to reduce costs and increase business value. This tool allows for more innovation and profit.
It ensures high availability via System and SLA monitoring.
Data delivery at lightning speeds is possible thanks to its fault-tolerant architecture.
Why Do We Need Alternatives To Stonebranch
Here are some reasons to look for Stonebranch Alternatives.
It is confusing for beginner who are not familiar with Stonebranch interface.
Currently only best for small to medium-sized businesses.
List of Stonebranch Alternatives
List of Best Stonebranch Alternatives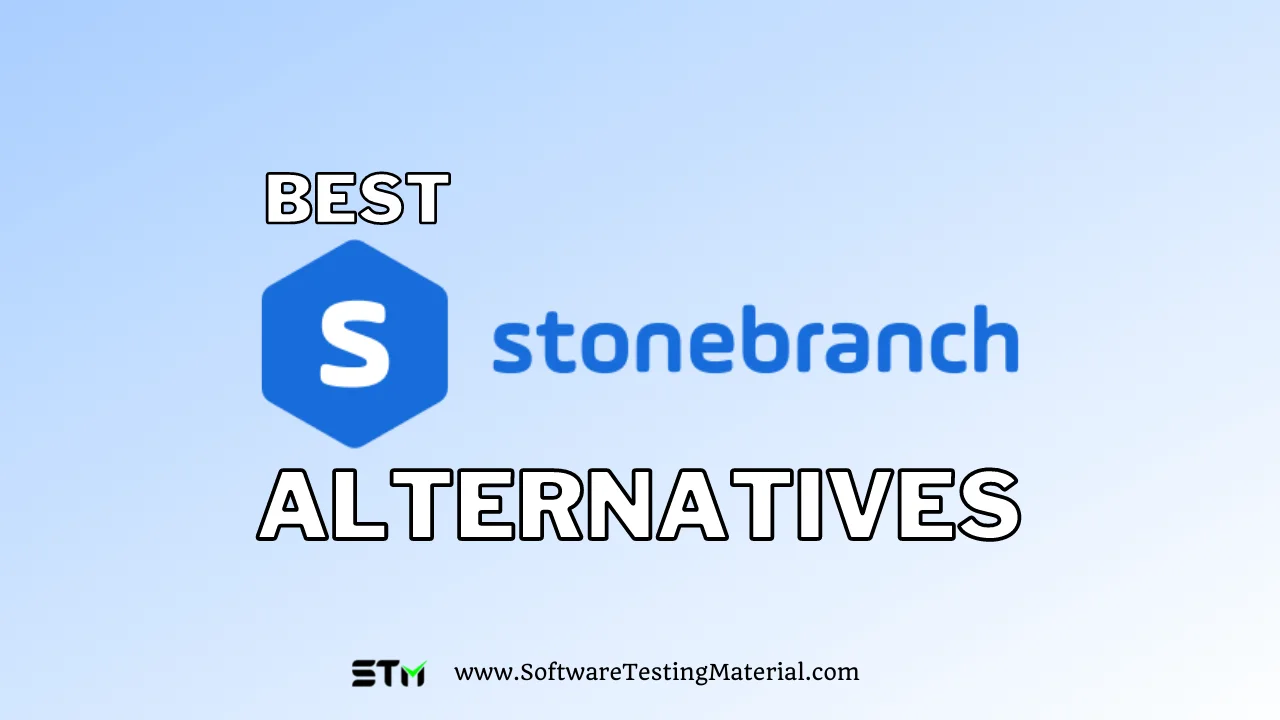 #1. ActiveBatch

ActiveBatch is a cross-platform software for IT process automation. It integrates multiple tools and applications, simplifying the process and allowing users to consolidate redundant solutions. ActiveBatch can help you create reliable workflows that work from the end and present actionable views as well as reports.
It can reduce workload bottlenecks, work failures, and improve IT service levels. This tool also optimizes data workflows through event automation. This feature will automate workflows based on specific IT events. It will reduce delays and improve SLAs.
Features:
ActiveBatch offers granular date and time scheduling capabilities that streamline workflows.
Intelligent features simplify and automate the management of IT infrastructure resources in multi-cloud or mixed environments.
It includes a job's library that contains hundreds of pre-built connectors. Drag-and-drop connectors allow you to create seamless workflows that support managed file transfers, ETL tools, and ERP.
Pricing: They offer a 30-days trial. Contact ActiveBatch for a quote.
Verdict: ActiveBatch automates workloads and schedules IT jobs for enterprises. It automates enterprise data processes, regardless of the technologies used. It is easy to use and feature-rich. This software is highly reliable and extensible workload automation as well as an enterprise job scheduling tool. ActiveBatch connects your business-critical systems like ERP, ETL, and CRM tools and enables them to work together seamlessly with minimal human intervention.
#2. Redwood

Redwood is a software-as-a-service (SaaS) solution that includes everything you need to orchestrate your entire enterprise without all the infrastructure costs and effort. It is the only purpose-built workload automation solution available on the market. It allows you to automate any task anywhere in a single SaaS console.
It orchestrates securely across all applications, services, and servers, on-premises or in the cloud, using one platform. Redwood provides industry-leading Workload Automation via a cloud-native platform. It's designed to help you grow your business and scale with it, which makes it a top Stonebranch alternative.
Features:
Native integrations allow you to orchestrate SAP, Oracle, and other ERPs natively. These native integrations overcome the limitations of ERP scheduling tools. You can trigger workflows using real-time data or events and visually track your workflow's progress.
Redwood Cloud-based Finance Automation provides essential insights and eliminates manual tasks, so your team can use trusted data to drive towards business goals.
Redwood's low code approach makes it simple to increase automation use across IT departments and business users. Securely move, copy and manage millions upon millions of files every month throughout the enterprise with Managed File Transfer Automation.
Redwood's DevOps Automation allows orchestration of CI/CD process and toolchain, from build to release, and monitoring after-deployment.
Redwood's flexible solutions enable ERP Automation and Hybrid Cloud Automation, Data Management Automation, and Self-Service Automation. IT Process SLA Monitoring is also available.
Pricing: They also offer a free demo. Contact them for a quote.
Verdict: This platform allows you to automate any application using out-of-the box connectors without having to license additional software. It's a fully-hosted infrastructure that comes with simple pricing plans. You can create processes quickly and easily with its drag-and-drop interface. It will allow you to produce real-time results with minimal scheduling.
#3. Tidal Workload Automation

Tidal Workload Automation is a leader in enterprise workload automation solutions. It orchestrates complex workflows across applications, systems, and IT environments. Tidal offers a wide range of services and products that optimize mission-critical business processes and increase IT efficiency. It also meets regulatory and legal compliance requirements. Tidal is trusted by hundreds of customers all over the globe to modernize their work processes and drive digital transformation.
This helps companies reduce the time it takes for their employees to complete a task. Managers can now check their employees' progress at any time, rather than spending hours tracking them. The manager can also make any necessary changes to the schedule without needing to contact each employee individually. This tool allows for the management of complex workflows across applications and IT environments.
Features:
Tidal allows seamless scheduling and automation for cross-platform and application workloads.
It can manage workloads in on-premises, public clouds, private clouds, hybrid, or SaaS environments.
It won't be necessary to create custom scripts; it will work as long as you design your jobs.
It can handle more than one million jobs per hour and is scalable.
Pricing: Contact them for a quote.
Verdict: Tidal Workflow Automation Software provides an enterprise-wide, centralized interface for managing and planning business processes. This software's job- and calendaring-rich capabilities allow you to run event- and schedule-based workflows across multiple applications.
#4. Control-M

A complete business automation solution, BMC Control-M automates batch scheduling, workload management, and data and application orchestration. Control-M provides robust automation capabilities across multiple platforms and supports multi-cloud and mainframe environments. It saves valuable time, improves reliability, and speeds delivery.
It allows you to integrate, automate and orchestrate workflows. It supports file transfers, self-service, Big Data, and DevOps. Batch services can be managed from any mobile device. With Jobs-as Code and Control-M Automation API, you can extend Dev/Ops collaboration.
Features:
Control-M uses a server-and-agent model to manage workflows. A central engine runs Control-M, while lightweight agents run on the server.
It helps businesses cut costs and improve quality by finding bugs earlier in the software development lifecycle.
It offers in-depth application workflow reporting in order to help AppDev teams work autonomously.
It increases business agility with a scalable solution that accelerates change requests by up to 80%.
Control-M creates drag-and-drop workflows which eliminate the need for manual scripting.
Pricing: A free trial is available. Contact them for a quote.
Verdict: Control-M is a workload and scheduling automation software that automates business processes and streamlines big data workflow management. It also provides on-time error notifications, proactively resolves problems, and automates process monitoring and reporting. BMC Control-M will manage your application workflows quickly, efficiently, and with reliability.
#5. IBM Workload Automation

IBM Workload Automation is an enterprise automation solution that can be used to automate business processes. Its capabilities include improving the user experience, reducing costs, and streamlining complex business processes. IBM Workload Automation includes the following features: master domain manager, Dynamic Workload Console, and a dynamic agent. All of these components work together to automate workloads and manage processes.
IBM Workload Automation allows you to manage hybrid workloads in batch and real-time. For greater IT efficiency, you can automate and optimize complex workloads. Analytics will help you streamline your workload management.
Features:
IBM workload Automation will simplify your release management process.
It will be possible to connect jobs using variables.
It has improved rerun flexibility.
It offers Workflow folders that allow you to organize and manage job streams and jobs by Line of Business.
The REST APIs will allow you to schedule the events.
Pricing: They also offer a 30-days free trial. Contact them for a quote.
Verdict: IBM workload automation has a powerful, intuitive dashboard. It offers ready-to-use integrations. It can be used on-premises or in the cloud.
#6. JAMS Scheduler

JAMS is a high-quality enterprise workload automation software that integrates jobs running on multiple servers or business applications. It allows you to schedule, monitor, analyze, and execute jobs from one central console.
This solution gives you central control and allows you to maintain high service levels across all platforms. It enables you to manage and monitor all your jobs and workloads from one central console. JAMS Scheduler is equipped with a powerful automation engine that can manage jobs across multiple platforms.
Features:
By using granular security controls, you can define user access and customize privileges for jobs, folders, and schedulers to ensure enterprise-wide security.
You can set up configurable alerts to be notified about automation bottlenecks that could affect a task.
It keeps detailed logs of all aspects of a job, such as status, requestor, and completion time.
Pricing: Contact them for a quote. A free trial of 30 days is also available.
Verdict: JAMS enable users to centralize job and workflow automation in your company. You can integrate with JAMS Scheduler to create many different integrations, such as AWS Azure, PeopleSoft, and Oracle EBS.
#7. Broadcom Automic Automation

Broadcom Automic Automation can be used for job scheduling automation and service orchestration. It provides the flexibility, speed, reliability, and agility necessary to automate your business. It lowers capital expenditure by 50%, and operational costs by approximately 30%. It includes various features such as Self-Service Automation and Workload Automation for Oracle Technologies.
Features:
It has pre-built interfaces like ERP systems, business intelligence, and big data.
Automic Automation's Event Engine enables intelligent event-driven automation. It uses semantic IF-THEN logic to filter external events and trigger the appropriate actions through executable objects. It enables you to monitor and react to critical business events, proactively taking action downstream.
All automated processing can be monitored and audited.
This platform can support up to 100,000 agents, 100 million jobs and can scale up as high as 100,000 per instance.
Pricing: Contact them for a quote.
Verdict: This tool can be used to accelerate the integration and implementation of AI and big data initiatives. Broadcom Automic Automation enables effective digital business automation. It provides automation and orchestration capabilities to help accelerate your digital transformation.
Conclusion
Workload automation software ensures that jobs are securely and reliably executed across applications and environments. It allows companies to streamline multi-step workflows while minimizing risks and ensuring compliance. Workload automation software can streamline many business processes by eliminating the need for manual intervention. This eliminates human errors. Workers can focus on more complex work tasks, such as customer service, and workload automation software helps businesses automate business processes across multiple computing environments.
That is why you need to choose the right workload automation software for your business. Redwood, ActiveBatch, Control-M, and IBM Workload Automation are the best Stonebranch Alternatives.
Research Process – Alternatives To Stonebranch
Total time we spent on evaluating these tools: 24
Total tools evaluated: 18
Total tools finalized: 10
We spent 24 hours evaluating and researching 18 different Workload Automation Tools. We looked for features that should be available in an ideal workload automation tool. We looked at user reviews and compare products' features to determine which tools help you in your project development.
Based on our research, we believe the above tools drive your project in a better direction. Here we are not giving any ranking to any tool. Every tool in the list above has decent features. Best thing out here is almost all the tools come with free trial.
Related Posts: