9 Best Tidal Automation Alternatives & Competitors In 2023
As the tasks of IT automation and operations become progressively more complex, businesses are in search of robust solutions that help them keep up with technical demands. During this search, many organizations discovered Tidal Automation as an attractive option for simplifying a range of processes.
But if Tidal Automation doesn't fit the bill – or your budget – don't worry! There are several alternative solutions that offer similar features as well as their own unique benefits.
However, it is also important to consider other alternatives and competitors before jumping into any long-term commitments.
Read on for an overview of Tidal Automation alternatives and competitors that could help improve your bottom line.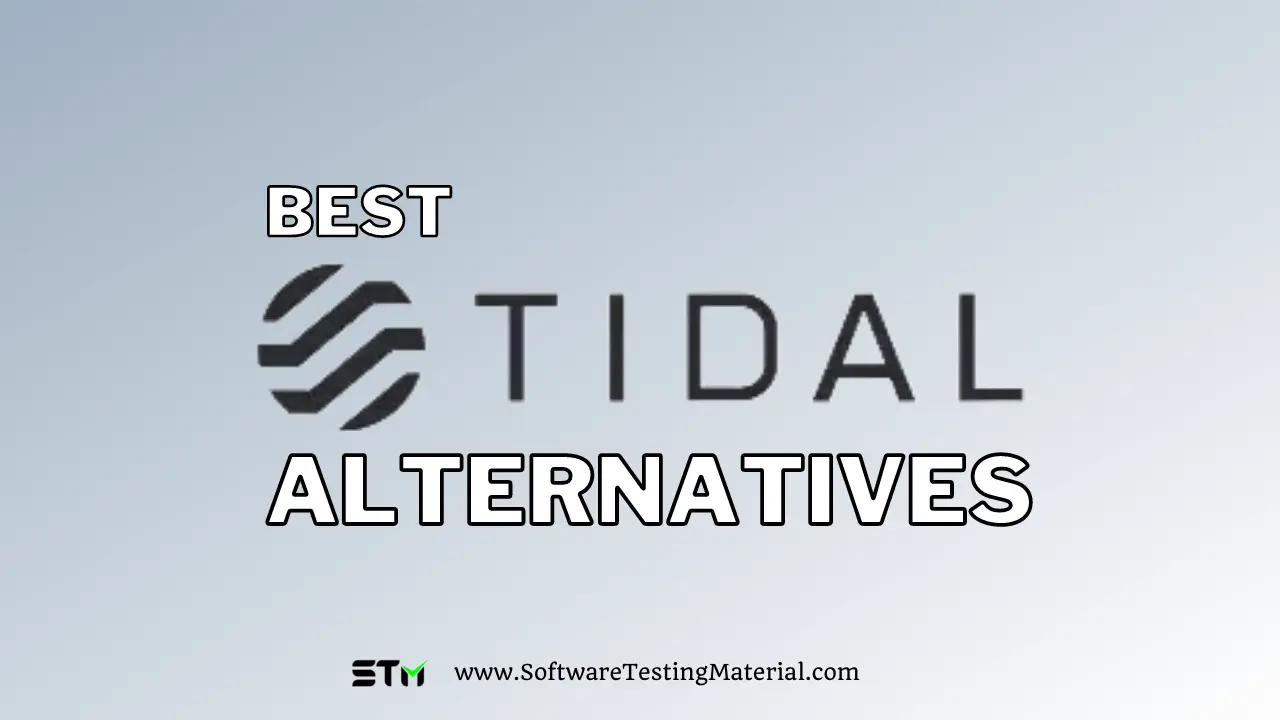 Introduction To Tidal Software

Tidal Workload Automation is an exceptional job scheduling software meticulously designed to cater to the diverse needs of organizations aiming to streamline processes, effectively manage applications and resources in real time, and achieve significant cost savings.
It provides cutting-edge automation solutions for job scheduling and workflow orchestration across a wide range of applications, systems, and infrastructure.
With this powerful tool, you not only benefit from unparalleled security features but also enjoy an intuitive and user-friendly interface that enables swift and efficient automation of workloads.
By leveraging the immense power of Tidal Workload Automation, businesses can gain a comprehensive understanding of their performance and utilization like never before. This robust solution empowers you to effortlessly monitor multiple systems, optimize processes, and ultimately achieve peak efficiency across your entire operation.
Why Do We Need Alternatives To Tidal Software
Tidal is an enterprise job scheduling software that enables companies to manage and automate their processes. It has powerful features, such as advanced job management, incident resolution, and end-user self-service capabilities.
However, for many businesses, Tidal may not be the best choice for all of their needs. Organizations need a job scheduling solution that can meet their specific requirements, scale with their business operations, and support their unique needs.
This is why companies need to explore alternative job scheduling software options. Alternatives to Tidal may offer better features or have a different pricing model that more accurately fits an organization's budget.
Comparison Of The Best Tidal Software Competitors
| Name | Logo | Deployment | Pricing | Link |
| --- | --- | --- | --- | --- |
| JAMS Job Scheduler | | Cloud-based | Contact them for a quote. | Learn more |
| ActiveBatch | | On-premises, Cloud-based & Hybrid. | 30-day free trial available. Contact them for a quote. | Learn more |
| Redwood | | SaaS, On-premises, Cloud-based & Hybrid. | 30-day free trial available. Consumption-based pricing model. | Learn more |
| BMC Control-M | | On-premise or as a service. | Free trial available. Contact them for a quote. | Learn more |
| AutoSys Workload Automation | | Private or public cloud, on-premise, or hybrid environment | Contact them for a quote. | Learn more |
| Stonebranch | | On-premise & SaaS based. | Contact them for a quote. | Learn more |
List of Best Tidal Automation Alternatives
#1. JAMS Job Scheduler

Our top pick for Tidal Automation Software is Fortra's Jams Job Scheduler.
JAMS is an incredibly powerful job scheduler that's built on cutting-edge technologies—and is a top-ranked workload automation solution out there.
The best part is, that this centralized job scheduling works seamlessly across all platforms, applications, APIs, and scripting languages, making your batch jobs more reliable than ever before.
It efficiently runs, monitors, and manages jobs and workflows, supporting critical business processes. Plus, it's compatible with Windows, Linux, and UNIX systems. Developers can easily integrate smart automation into their applications with this robust solution.
JAMS is a comprehensive end-to-end workload automation solution designed for enterprises. It seamlessly integrates with various technologies across your enterprise, making job execution and resource allocation a breeze based on specified time or triggers.
Features:
JAMS is an awesome centralized software that handles all your workload automation and job scheduling needs.
JAMS enables event-based job scheduling, allowing jobs and processes to be triggered by events like file transfers, runaway processes, system startups, or user-defined events.
JAMS provides enterprise workflow control for every file transfer. With its built-in FTP execution method, it ensures that critical file transfers are centrally defined, monitored, audited, and logged, ensuring a high level of security and efficiency.
JAMS Scheduler empowers you to automate batch processes effortlessly.
JAMS has the incredible ability to run on any cloud-deployed Windows server, unlocking a world of possibilities.
It seamlessly integrates business applications with business processes.
Manage, monitor, and define critical batch processes through a single console, simplifying your workflow.
Stay on top of your systems with the Job Execution History feature, tracking every process running across your environment.
Pricing: Contact them for a quote.
#2. ActiveBatch

ActiveBatch is a comprehensive solution for centralized workload automation and job scheduling. Easily manage your tech stack using no-code connectors and a low-code REST API adapter.
This versatile IT process automation software streamlines operations by integrating various tools and applications. With reliable workflows, actionable views, and optimized data workflows, it reduces bottlenecks, and failures, and improves IT service levels. Automating workflows based on specific IT events results in reduced delays and improved SLAs.
This centralized automation hub seamlessly integrates and manages various business-critical systems, such as CRM, ERP, Big Data, BI, ETL tools, work order management, project management, and consulting systems, with minimal human intervention.
Features:
Accelerate business and IT process development with drag-and-drop actions. Streamline enterprise workflows, enhance existing scripts, and seamlessly integrate any application using APIs.
Optimize IT operations with advanced scheduling, automation, and intelligent resource optimization. Improve service levels and accelerate troubleshooting with real-time monitoring and alerting. Access on-the-go for enhanced efficiency.
Simplify compliance with unified control of policies and processes. Enhance security with in-depth audit trails, version control, rollbacks, and access management integrations for data and workloads.
Pricing: They offer a 30-days trial. Contact ActiveBatch for a quote.
#3. Redwood

Redwood offers a comprehensive and unified platform that empowers organizations to securely and reliably orchestrate their applications, services, and servers. Whether you're operating in the cloud or on-premise, Redwood provides the necessary tools and capabilities to streamline your operations, optimize efficiency, and drive business success.
With its robust features and advanced functionality, Redwood is the ideal solution for businesses seeking seamless integration and enhanced control over their IT infrastructure.
Features:
Automate essential financial processes like record-to-report, order-to-cash, procure-to-pay, and asset accounting.
Effortlessly and securely handle millions of monthly file transfers and management tasks across your entire enterprise.
Orchestrate your CI/CD processes and tool chain for seamless build-to-release and post-deployment monitoring.
Coordinate ETL and data management, providing real-time data feeds to dashboards and BI tools for efficient analysis and decision-making.
Automate on-premises and cloud applications, OS activity, and web API interactions seamlessly.
Pricing: 30-day free trial available. Consumption-based pricing model.
#4. BMC Control-M

BMC Control-M is an awesome tool that helps organizations manage their application and data workflows, whether it's on-premises or as a service. With Control-M, you can easily build, define, schedule, and monitor production workflows. It ensures visibility, reliability, and better service level agreements (SLAs).
Features:
You can seamlessly integrate Oracle Cloud Storage into your workflows. Transfer files to and from Oracle Cloud Infrastructure Object Storage with ease, empowering IT Ops teams, data teams, and cloud engineers.
Enable seamless DevOps collaboration with Jobs-as-Code.
Control-M can be seamlessly deployed from the mainframe to the cloud, offering flexibility and efficiency in hybrid environments.
Robust support for audits, compliance, and governance. Enhance your organization's ability to meet regulatory requirements and ensure effective oversight.
Speed up new business applications with embedded workflow orchestration in your CI/CD (continuous integration and continuous deployment) pipeline for seamless production.
Simplify workflows with Amazon Web Services (AWS), Azure, and Google Cloud Platform (GCP) integrations across hybrid and multi-cloud environments.
Pricing: Free trial available. Contact them for a quote.
#5. AutoSys Workload Automation

AutoSys Workload Automation improves visibility and control of complex workloads across multiple platforms, ERP systems, and the cloud. It simplifies management of critical business processes, ensuring consistent and reliable service delivery. With end-to-end visibility and dynamic critical path management, it offers flexibility in public or private cloud deployment. Highly scalable for evolving needs.
The software intelligently distributes workloads, scales to meet enterprise demands, and supports regulatory compliance. With easy deployment and a user-friendly interface, it streamlines tasks for system engineers without a technical background.
Features:
Efficiently manage and visualize end-to-end business processes across platforms with centralized control.
Deployment options include private/public cloud, on-premise, or hybrid environments.
Natively supports both SOAP and REST web service protocols.
Hadoop integration is made easy with support for HDFS, PIG, HIVE, SQOOP, and Oozie.
Gain visibility and control of Hadoop-based applications with a unified view of workflows across your IT environment.
Efficiently manage workloads for business applications like SAP, PeopleSoft, Oracle E-Business, and more. Reduce operating costs and enhance cross-enterprise visibility.
Pricing: Contact them for a quote.
#6. Stonebranch

Stonebranch offers a comprehensive solution for workload management across multiple IT environments. The software is easy to deploy and highly secure, allowing organizations to scale effortlessly based on their evolving business requirements. It empowers IT Ops to prioritize strategic initiatives while reducing IT operational costs.
Stonebranch's Universal Automation Center (UAC) supports hybrid IT environments and provides centralized management for service orchestration. It is available as an on-premises solution or as a SaaS service.
Features:
The software provides intelligent event-based scheduling capabilities, enabling users to set dates, times, and data requirements. It helps allocate appropriate resources based on the specific needs of the business.
Stonebranch provides an easy-to-use, centrally controlled, compliant, and secure solution for cost optimization and high availability.
Container-based workload automation and management provides efficient and streamlined processes for handling workloads in containers.
The options for deployment include SaaS-based or on-premises solutions.
Pricing: Contact them for a quote.
#7. IBM Workload Automation

IBM Workload Automation is a comprehensive and powerful solution designed to efficiently manage both batch and real-time workloads. With its wide availability across distributed mainframes and cloud platforms, this solution empowers organizations to automate complex tasks, resulting in improved IT efficiency. By leveraging its robust and scalable features, companies can effectively maximize their data resources, streamline operations, and ultimately gain a competitive edge in today's ever-evolving market.
Features:
Users can organize jobs and job streams in a hierarchical folder structure
Leveraging predictive analytics and central management for better decision-making.
With ready-to-use integrations and seamless integration with the DevOps toolchain, it enhances business and infrastructure agility.
Pricing: Contact them for a quote.
#8. VisualCron

VisualCron is a comprehensive automation task scheduling tool that offers a wide range of features to create both simple and complex automated jobs. With over 300+ tasks available, including popular options like SQL, email, and Powershell, users have the flexibility to customize their workflows to suit their specific needs.
In addition, VisualCron provides detailed help documentation for each task/window, ensuring users can easily navigate and utilize the tool effectively. Furthermore, the platform offers various support options such as instant online assistance, email support, and even live screen sharing, guaranteeing users receive prompt and reliable support whenever they need it.
Features:
VisualCron lets you create tasks without any prior coding experience.
The interface is super user-friendly! It's easy to navigate and has a drag and drop feature that makes it even more convenient to use.
The development is actually driven by feature requests from customers.
It also provides solutions for automation, such as task scheduling, cloud automation, MFT automation, and more.
Pricing: Contact them for a quote.
#9. GoAnywhere MFT

GoAnywhere MFT is a powerful managed file transfer software that simplifies and automates file transfers through a centralized platform. It enables secure data exchange using industry-standard protocols, enhances efficiency, ensures compliance, and supports integration with various applications. It's a comprehensive solution for streamlining file transfers, increasing data security, and optimizing business processes.
Features:
Supporting server-to-server and person-to-person file transfers, it follows automatic AES encryption and adheres to FTP standards.
Supports batch file transfer from server to server, user-to-system ad-hoc transfer, and person-to-person file collaboration.
Automate workflows and streamline business processes with this all-in-one solution. No more juggling multiple programs and scripts.
Pricing: Contact them for a quote.
Conclusion
In conclusion, we have explored several Tidal Automation alternatives and competitors. All the solutions we suggested are capable of meeting an organization's workload automation needs and objectives. With such diversity in the market, businesses have a unique opportunity to choose the workload automation solution that best meets their requirements.
However, with so many options available, it can be overwhelming to make the right decision. We recommend that you thoroughly research the topic beforehand by assessing multiple solutions against your business challenges and existing workflows in order to be sure that your investment is in line with your desired outcomes.
Our top recommendations for Tidal Software alternatives are JAMS Job Scheduler, BMC Control-M, AutoSys Workload Automation, Stonebranch, Redwood, and ActiveBatch.
Research Process – Alternatives To Tidal Automation
Total time we spent on evaluating these tools: 24
Total tools evaluated: 18
Total tools finalized: 9
We spent 24 hours evaluating and researching 18 different Workload Automation Tools. We looked for features that should be available in an ideal workload automation tool. We looked at user reviews and compare products' features to determine which tools help you in your project development.
Based on our research, we believe the above tools drive your project in a better direction. Here we are not giving any ranking to any tool. Every tool in the list above has decent features. Best thing out here is almost all the tools come with free trial.
Related Posts: