7 Best JAMS Scheduler Alternatives & Competitors in 2023
Get ready to dive into an exciting tutorial where we'll explore various job scheduling and workload automation software options that can be fantastic JAMS Scheduler alternatives.
Businesses seeking robust solutions to handle complex IT automation and operations tasks often find JAMS Scheduler appealing.
However, if JAMS Scheduler doesn't meet your requirements or budget, there are alternative solutions available.
It's crucial to consider other options and competitors before committing to a long-term solution. Explore JAMS Scheduler alternatives and competitors to enhance your bottom line.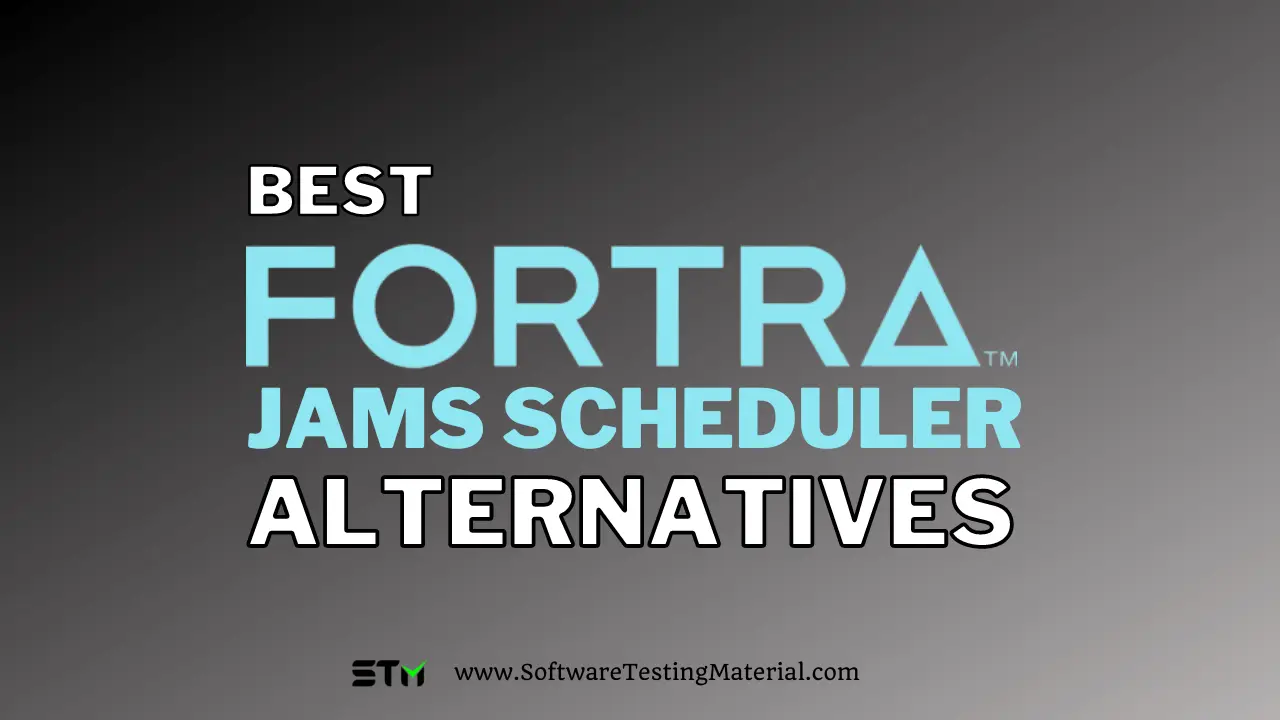 Introduction To JAMS Scheduler

JAMS Scheduler is an enterprise-level job scheduling software designed to help organizations save time and money by automating processes.
It streamlines operations, eliminates manual tasks, and increases efficiency.
With its powerful features, such as automated workflows, cross-system integration, notifications, alerts, and reporting capabilities, JAMS Scheduler ensures that all parts of a business run smoothly.
It is a flexible solution that can be customized to any organization's needs and provides support for a variety of technologies, including Windows, Unix/Linux, and Mac OS X.
JAMS Scheduler also comes with advanced security features such as audit logging, user authentication and authorization, role-based access control, and encryption.
With its web-based interface, it makes managing jobs easy even for non-technical users.
Why Do We Need Alternatives To JAMS Scheduler
For many businesses, JAMS Scheduler may not be the best choice for all of their needs. Organizations require a job scheduling solution that can not only meet their specific requirements but also seamlessly scale with their evolving business operations. Additionally, it is crucial for the chosen software to fully support their unique needs, ensuring maximum efficiency and productivity.
This is precisely why companies must take the time to explore alternative job scheduling software options. By doing so, they open themselves up to a world of possibilities where they can discover solutions that offer even better features, enhanced flexibility, and a pricing model that aligns more accurately with their organization's budget. Selecting the right job scheduling software can make a significant impact on a company's overall efficiency and success, making it a decision worth investing time and careful consideration.
Comparison Of The Best JAMS Scheduler Competitors
| Name | Logo | Deployment | Pricing | Link |
| --- | --- | --- | --- | --- |
| ActiveBatch | | On-premises, Cloud-based & Hybrid. | 30-day free trial available. Contact them for a quote. | Learn more |
| Redwood | | SaaS, On-premises, Cloud-based & Hybrid. | 30-day free trial available. Consumption-based pricing model. | Learn more |
| BMC Control-M | | On-premise or as a service. | Free trial available. Contact them for a quote. | Learn more |
| AutoSys Workload Automation | | Private or public cloud, on-premise, or hybrid environment | Contact them for a quote. | Learn more |
| Stonebranch | | On-premise & SaaS based. | Contact them for a quote. | Learn more |
List of Best JAMS Scheduler Alternatives
#1. ActiveBatch

ActiveBatch is a comprehensive solution that empowers organizations with centralized workload automation and job scheduling capabilities. By seamlessly integrating various tools and applications, ActiveBatch offers a unified platform that eliminates bottlenecks and failures, while simultaneously improving IT service levels.
With its reliable workflows and optimized data flows, ActiveBatch enables the automation of processes based on specific IT events, ensuring that critical operations are executed promptly and accurately. This centralized automation hub goes beyond mere task management, effortlessly integrating with key business systems such as CRM, ERP, Big Data, BI, and ETL tools, all with minimal human intervention.
With ActiveBatch, organizations gain comprehensive control over their IT operations, achieving greater efficiency, scalability, and agility in today's fast-paced digital landscape.
Features:
ActiveBatch effortlessly connects to any server, application, or service, empowering you with limitless endpoints to unlock your full potential.
You can effortlessly create reliable and customizable end-to-end processes. ActiveBatch offers a wide range of drag-and-drop actions and a robust Job Step library to make your life easier.
ActiveBatch's proactive support, in-app knowledgebase, and vision for a self-healing platform make ActiveBatch the most stable platform on the market.
You can access ActiveBatch from any device! With its flexible interfaces, you get powerful out-of-the-box functionality and the freedom to customize it to your liking.
Job scheduler helps you build and orchestrate workflows that span across different functions. It takes care of load balancing, scheduling, checking dependencies, generating reports, and sending notifications.
The ActiveBatch Self-Service Portal offers an intuitive user interface, empowering business end-users to independently execute their own tasks without relying on IT support. By enabling non-IT users to run and monitor event-driven processes, organizations can eliminate the need to wait for IT when timely information is required.
With its robust features and commitment to customer satisfaction, ActiveBatch is your trusted partner for a reliable and seamless experience.
Pricing: They offer a 30-day trial. Contact ActiveBatch for a quote.
#2. Redwood

Redwood provides a comprehensive and unified platform, empowering organizations across various industries to securely and reliably orchestrate their applications, services, and servers. Whether operating in the cloud or on-premise, Redwood offers a wide range of tools and capabilities that can be tailored to meet the unique needs of each business. From automating routine tasks to optimizing resource allocation, Redwood helps streamline operations, improve efficiency, and drive business success.
With its robust features and advanced functionality, Redwood enables businesses to achieve seamless integration and enhanced control over their IT infrastructure. The platform offers a user-friendly interface, intuitive workflows, and customizable dashboards, making it easy for teams to collaborate and monitor performance effectively. Redwood's scalable architecture ensures it can grow alongside businesses, accommodating evolving requirements and expanding workloads.
By leveraging Redwood's cutting-edge technology, organizations can unlock new opportunities, reduce operational costs, and deliver exceptional experiences to their customers. With its unrivaled reliability and industry-leading security measures, Redwood is the optimal solution for businesses seeking to optimize their IT operations and achieve long-term success.
Features:
Streamline critical financial processes such as record-to-report, order-to-cash, procure-to-pay, and asset accounting with the power of automation.
Efficiently and securely manage millions of monthly file transfers and management tasks throughout your entire enterprise.
Make your CI/CD processes and tool chain work together smoothly, allowing for easy build-to-release and post-deployment monitoring.
Manage ETL processes and data coordination, delivering real-time data feeds to dashboards and BI tools for streamlined analysis and informed decision-making.
Easily automate on-premises and cloud applications, OS activity, and web API interactions without any hassle.
Pricing: 30-day free trial available. Consumption-based pricing model.
#3. BMC Control-M

BMC Control-M is a powerful and versatile tool that offers comprehensive solutions for managing application and data workflows in organizations, regardless of whether they are on-premises or delivered as a service.
With Control-M, you can effortlessly build, define, schedule, and monitor your production workflows with utmost precision and efficiency. It not only guarantees enhanced visibility and reliability but also enables organizations to meet and exceed their service level agreements (SLAs) effortlessly.
With its robust features and user-friendly interface, Control-M empowers businesses to streamline their operations and achieve optimal productivity.
Features:
You can effortlessly integrate Oracle Cloud Storage into your workflows. It allows you to conveniently transfer files to and from Oracle Cloud Infrastructure Object Storage, empowering IT Ops teams, data teams, and cloud engineers.
Enable seamless collaboration in DevOps with Jobs-as-Code.
Control-M can be smoothly deployed from the mainframe to the cloud, providing flexibility and efficiency in hybrid environments.
Empower your organization with robust support for audits, compliance, and governance. Elevate your ability to meet regulatory requirements and ensure effective oversight.
Enhance the efficiency of new business applications by incorporating embedded workflow orchestration into your CI/CD (continuous integration and continuous deployment) pipeline, ensuring seamless production.
Unlock the power of seamless workflows with integrations across hybrid and multi-cloud environments, courtesy of Amazon Web Services (AWS), Azure, and Google Cloud Platform (GCP).
Pricing: Free trial available. Contact them for a quote.
#4. AutoSys Workload Automation

AutoSys Workload Automation is a comprehensive solution that goes beyond just enhancing visibility and control of complex workloads across multiple platforms, ERP systems, and the cloud. With its advanced features, it not only simplifies the management of vital business processes but also ensures consistent and reliable service delivery.
One of the key advantages of AutoSys is its end-to-end visibility and dynamic critical path management. This means that you have full visibility into every step of your workload, allowing you to identify bottlenecks and optimize performance. Additionally, the dynamic critical path management feature enables you to easily adjust your workload deployment strategy, whether it's to the public or private cloud, based on changing business needs.
Moreover, AutoSys is highly scalable, which means it can adapt to your evolving needs effortlessly. As your business grows and workloads increase, AutoSys intelligently distributes the workloads to ensure optimal resource utilization. This not only maximizes efficiency but also helps you meet your business goals effectively.
Another standout feature of AutoSys is its ability to ensure compliance with regulations. With built-in compliance controls and governance mechanisms, you can rest assured that your workloads are running in a compliant manner, minimizing risks and ensuring data integrity.
Not only is AutoSys a powerful solution, but it's also incredibly user-friendly. Its intuitive interface makes it easy for system engineers to navigate and operate, even if they're not tech-savvy. This eliminates the need for extensive training and allows your team to quickly adopt and leverage the capabilities of AutoSys.
Features:
You can efficiently manage and visualize end-to-end business processes across platforms, all while having centralized control.
You have several options for deployment, such as private/public cloud, on-premise, or hybrid environment.
It natively supports both SOAP and REST web service protocols.
Integrating Hadoop is a breeze! It supports HDFS, PIG, HIVE, SQOOP, and Oozie.
Easily manage and monitor your Hadoop-based applications with a unified view of workflows across your entire IT environment. Gain the visibility and control you need for smooth operations.
Efficiently handle workloads for business applications such as SAP, PeopleSoft, Oracle E-Business, and more. This helps reduce operating costs and improves visibility across the entire enterprise.
Pricing: Contact them for a quote.
#5. Stonebranch

Stonebranch provides a comprehensive and robust solution for workload management across diverse IT environments. With its easy and seamless deployment, organizations can effortlessly scale their operations based on the ever-evolving demands of their business. The software ensures a high level of security, safeguarding sensitive data and protecting against potential threats.
Stonebranch's flagship product, the Universal Automation Center (UAC), is designed to support hybrid IT environments and offers centralized management for efficient service orchestration. It empowers IT Ops teams to prioritize strategic initiatives and streamline operations, resulting in increased productivity and reduced IT operational costs.
Whether organizations prefer an on-premises solution or a SaaS service, Stonebranch provides flexible options to meet their unique requirements. With Stonebranch, businesses can optimize their IT workflows and achieve greater efficiency in managing their workload across various IT environments.
Features:
The software is equipped with smart event-based scheduling capabilities, allowing you to easily set dates, times, and data requirements. It helps allocate the right resources according to the specific needs of your business.
Stonebranch offers a user-friendly, centrally controlled solution that helps optimize costs and ensure high availability while maintaining compliance and security.
Container-based workload automation and management offers efficient and streamlined processes for handling workloads in containers. It's all about making things easier and more organized!
You have two options for deployment: you can go for a SaaS-based solution or opt for an on-premises setup.
Pricing: Contact them for a quote.
#6. VisualCron

VisualCron is a comprehensive and powerful automation task scheduling tool that caters to a wide range of needs. Whether you're looking to create simple or complex automated jobs, VisualCron offers an extensive set of features to make it happen.
With over 300+ tasks available, including popular options like SQL, email, and Powershell, VisualCron provides users with unparalleled flexibility to customize their workflows. You can effortlessly design and execute tasks that precisely match your specific requirements, boosting your productivity and efficiency.
One of the standout features of VisualCron is its meticulous attention to detail in providing help documentation for each task/window. This ensures that users can easily navigate through the tool and make the most out of its capabilities. Whether you're a beginner or an experienced user, you can find comprehensive and easy-to-understand documentation that will guide you every step of the way.
Moreover, the VisualCron platform offers various support options to ensure that users receive prompt and reliable assistance whenever they need it. From instant online assistance to email support, and even live screen sharing, VisualCron is committed to providing top-notch support to its users.
VisualCron is not just a task scheduling tool, but a complete automation solution that empowers users to streamline their workflows and achieve optimal results. With its extensive features, detailed help documentation, and exceptional support options, VisualCron is the go-to choice for anyone seeking efficiency, productivity, and reliability in their automation tasks.
Features:
With VisualCron, you can easily create tasks even if you have no coding experience.
The interface is really user-friendly! It's super easy to navigate and has this awesome drag-and-drop feature that makes it even more convenient to use.
Audit, task, job, and output logs will be helpful for debugging purposes.
It also offers solutions for automation, like scheduling tasks, automating cloud processes, MFT automation, and much more!
Pricing: Contact them for a quote.
#7. GoAnywhere MFT

GoAnywhere MFT is a robust managed file transfer software that simplifies and automates file transfers through a centralized platform. With its advanced features and capabilities, it provides a comprehensive solution for streamlining file transfers, increasing data security, and optimizing business processes.
By leveraging industry-standard protocols, GoAnywhere MFT enables secure data exchange, ensuring the confidentiality and integrity of transferred files. Its centralized platform allows for easy management and monitoring of file transfer activities, simplifying the administration and reducing operational overhead.
Moreover, GoAnywhere MFT offers seamless integration with various applications, allowing organizations to connect and exchange data with their existing systems. This integration capability enhances efficiency and productivity by eliminating manual intervention and reducing errors in data transfer.
Furthermore, GoAnywhere MFT is designed to ensure compliance with industry regulations and standards. It provides features like encryption, secure protocols, and audit logging, enabling organizations to meet regulatory requirements and maintain data privacy and security.
Features:
Supporting both server-to-server and person-to-person file transfers, it automatically applies AES encryption and follows FTP standards.
You can use it to easily transfer files in batches between servers, send files on the fly from users to systems, and collaborate with others for person-to-person file sharing.
Supercharge your productivity with this all-in-one solution that automates workflows and streamlines business processes. Say goodbye to the hassle of juggling multiple programs and scripts!
Pricing: Contact them for a quote.
Conclusion
In conclusion, the alternatives to JAMS Scheduler can change your processes for job scheduling and job orchestration. It is important to research and understand the different products so you can make the best decision for your team's needs.
Utilizing an advanced JAMS Scheduler alternative such as ActiveBatch, Redwood, or BMC Control-M can allow you to process more jobs faster, increase productivity in the workplace, and create better access to data visibility.
Our comparison of the best JAMS Scheduler competitors proves that these solutions are far superior in terms of functionality and scope, allowing any given company to save time and money when running their critical business applications.
Even if you are looking for something tailored specifically to file management like AutoSys Workload Automation or Stonebranch, our list of alternatives offers many possibilities for improving efficiency in your workflow.
So take some time, assess your goals and objectives, and choose the right product to help fulfill them. It's that easy!
Research Process – Alternatives To JAMS Scheduler
Total time we spent on evaluating these tools: 24
Total tools evaluated: 18
Total tools finalized: 7
We spent 24 hours evaluating and researching 18 different Job Scheduler Software. We looked for features that should be available in an ideal workload automation tool. We looked at user reviews and compared products' features to determine which tools help you in your project development.
Based on our research, we believe the above tools drive your project in a better direction. Here we are not giving any ranking to any tool. Every tool in the list above has decent features. The best thing out here is almost all the tools come with a free trial.
Related Posts: