Best Real Estate CRM Software (Free and Paid) in 2023
When it comes to real estate, having the right tools is key. In this blog post, we'll discuss some of the best Real Estate CRM Software for real estate professionals.
We'll also discuss the features that are essential for real estate businesses and what to look for when choosing a Real Estate CRM. So whether you're just starting out or are looking to switch to a new CRM, read on for information that will help you choose the right one for your needs!
What is a Real Estate CRM?
A real estate CRM is a tool to track and analyze business performance. It helps realtors to understand their customers' needs and tailor their sales strategies accordingly. The CRM is capable of integrating with other tools and technology in real estate, which enhances the efficiency of marketing, customer service, and revenues. Realtors should consider using an agile CRM tool that can help them maintain their competitive edge and remain at the top of their game.
It helps real estate agents efficiently manage their businesses in less time while improving the personalization of their communications.
What Does a Real Estate CRM Do?
If you're new to the real estate business, you're probably wondering, "What does a real estate CRM do?" Real estate CRMs are a great way to streamline your business and save time and money. 
#1. Organizes data
A real estate CRM software system allows you to store and organize a vast amount of data. It provides comprehensive reports that help you measure business performance and improve your customer service. Real estate CRM software also helps you segment leads by location and property type. These data segments help you better target potential clients and convert leads into sales. 
#2. Creates segments
Real estate CRMs help you manage your leads by creating segmented groups based on common characteristics. For example, you can segment your leads based on their home-buying preferences and other criteria. You can also use tags to assign similar leads to groups to track engagement and progress in the sales funnel. This information will allow you to customize your marketing approach and target the right customers. To make use of these features, you should start by defining your ideal customer profile.
#3. Generates reports
A real estate CRM can produce a variety of reports based on its data collection. This can range from leads to purchases to property sales. Real estate CRM software can even generate reports for marketing purposes, such as email opens and clicks. It can also help property businesses monitor sales pipelines and forecast future income. Reporting features can help property businesses stay on top of trends and gauge performance in real-time. If you're struggling to meet sales targets, a real estate CRM can help you make informed decisions and keep an objective eye on the performance of your property.
#4. Reduces stress
One feature that reduces stress with a real estate CRM is task scheduling. Time management is key for a real estate agent. Schedule tasks on different CRM screens, saving you precious seconds by switching between multiple screens. You can also let the CRM recommend open slots for you, thereby eliminating the need for active time management. With the built-in task scheduler, you can manage tasks from the CRM without having to switch from one screen to another.
#5. Improves business efficiency
A CRM helps the real estate agent qualify leads with a variety of features. For instance, the software can execute drip campaigns to generate interest in your listing and can analyze open email rates and replies to determine which leads to pursue. It can also keep track of a prospective buyer's web activity and send them more meaningful messages. In addition, live chat helps drive deeper engagement between the agent and client. The real estate CRM software helps real estate agents keep track of their prospects' requirements, which allows them to better serve them.
How Do You Use a Real Estate CRM?
When you work as a real estate agent, you probably have a lot of information to manage and organize. A real estate CRM will help you keep track of your leads, tasks, and other information in a central location. These tools will help you close more deals and build more relationships with clients. However, how do you use a real estate CRM? Let's look at some of the most common ways you can use one.
Using a real estate CRM will help you manage and qualify your leads. You can easily categorize leads into different categories based on their criteria. For example, you can filter leads by their budget and how recently they visited your website. You can also create segments based on property type and location. 
Depending on your niche, segmenting leads will help you market to these customers. This will help you close more deals and boost your home sales.
A real estate CRM software helps realtors build, manage, and sustain relationships. The software organizes information regarding a seller, business lead, and customer. Depending on the type of real estate CRM software you purchase, it will keep track of all information and make it easy to manage massive amounts of data. Your agents will benefit from the ability to prioritize leads and communicate with customers in a customized manner.
Why Do Real Estate Agents Need a CRM?
Whether you're a new or veteran real estate agent, you already know why a CRM is essential for your business. You are often so busy that it's hard to keep track of all of the contacts you've made over the course of a year. A CRM can help you keep notes on each of them and refresh your memory. You can use it to track leads and manage your calendar, all while making more money!
The best CRMs let you automate tasks and keep track of your contacts. With a CRM, you'll spend less time juggling tasks and more time helping your customers. The software's workflow features allow you to manage leads, update information and track your commissions on the fly, even while you're on the go. CRMs are essential for real estate agents, as they can save you time by automating your tasks.
The purpose of a CRM for real estate agents is to manage customer relationships. It can automate your sales, follow-up emails, reminders, and schedules. It is also helpful for real estate agents who need to track and analyze data from their databases to improve their business. CRMs can help you identify your pain points and make your business more efficient. The main advantage of a CRM for real estate agents is that it streamlines your daily operations and keeps you organized.
Another benefit of a CRM for real estate agents is that it helps them build solid relationships with clients. Building solid relationships with your clients requires a lot of communication, and trust is one of the key factors in success. Agents who are busy and have no time for phone calls or emails will come across as unreliable, which makes them appear unprofessional. CRM software allows them to follow up on their promises and keep their clients happy and satisfied.
CRM software makes it easier to manage their contacts by letting them know when you're open to new business and how to follow up with them. This way, you can better understand what your clients want and need. It will save time, improve your operational efficiency, and ultimately increase your bottom line.
CRM software also provides agents with a central database that can help them better manage prospects. It stores information about every prospective client, from email interactions to contract information. It also helps agents track their contacts in the home buying process. It also allows them to respond more quickly to inquiries regarding property listings. 
By integrating CRM strategies into your business, real estate agents can create a more organized workflow and make their teams work more efficiently.
How do I choose a good real estate CRM?
#1. Identify your needs
It's crucial to decide what you want from your real estate CRM software before buying. Many will recommend a solution that covers every aspect of sales and marketing. Others say these all-in-one applications are mediocre at most things.
No matter what your opinion may be, it is important to determine how many bells & whistles you actually need and are willing and able to pay for. Are you looking for an easy way to manage contacts? Do you want tracking deals or transactions? Are you interested in web building and other marketing tools? These questions will save you time, money, and headaches over the long term.
#2. Get freebies
Whether you're using a CRM for your first time or re-learning an old one, you will need to develop new habits to maximize the value. This will take time, no matter how automated your CRM is.
Most CRM developers are aware of this and offer free trials of up to 30 days. You'll need to have an informed opinion about all CRM's strengths and quirks. The longer your free trial period, the lower the chance that you will end up with a solution that you hate.
#3. Easy to use and quick to deploy
A CRM for real estate agents should not be difficult to use. After you have assessed your requirements, you will be able to create a CRM that is tailored to your professional needs. A CRM should not be a tedious task or one that hinders your growth or, worse, your sales. By centralizing all information, a CRM can make your job easier.
The size of your company and the options that you have chosen will determine how quickly you can deploy a CRM in your business. You can be sure of expert guidance by working with a CRM firm that specializes in real estate. 
#4. Concentrate on compatibility
You need to ensure that your CRM is compatible with all your software. This includes email management, task manager, accounting software, and marketing automation tools. A good CRM software can be used with all the popular apps on the market. You can ask the integration team for help if you have a more specific application.
#5. Commenting and reporting
A CRM is a system that allows real estate agents to receive reports and comments instantly with unmatched precision. The success of high-performing businesses in real estate is dependent on having access to information. A CRM not only allows you to consolidate this information but also lets you analyze it and provides avenues for business development. 
You can find out quickly which agent is performing best in terms of business volume, sales, or productivity. It is also possible to determine which neighborhoods are performing well or which areas offer a business opportunity. A CRM can generate almost any report you need for a specific aspect of your business, such as sales, marketing, accounting, logistics, and so on.
#6. Secure Mobile CRM for easy access from anywhere
Access to information is great. It's even more valuable to be able to access information anywhere and at any time. This is the best feature of a CRM for real estate agents. Without it, you cannot do anything. Good CRMs store data in the cloud, which is why they can be accessed securely from anywhere.
We all know that professionals in your field work tirelessly to get from one property to the next. You drive indiscriminately through every neighborhood in your city. Monotony is not a characteristic of your personality.
Your CRM should follow you every step so that you can provide the client with an accurate response. Reactivity is key to closing sales. It's often the key to your success.
How much does a real estate CRM cost?
In-house Customer Relationship Management usually costs $100 to $1,000 per user. You will also have to pay for technical support, maintenance, software updates and customization work.
Web-based CRM software typically runs $50 to $100 per user each month. However, lower-priced versions with fewer features are available for very small businesses for about $15 per user or less.
Most web-based Customer Relationship Management providers offer a free trial period to let you test the software. Take advantage of these offers to familiarize yourself with any software you're considering. Make sure it is both effective and user-friendly.
Fact Check:

According to Capterra, Companies are keen to improve their relationships with clients as quickly as possible. This often means investing in CRM early – during the first 5 years of a company launch. When CRM is implemented into the company, it's used around 80% by sales teams, 46% by marketing, and 45% by customer services.
Comparison
| Name | Logo | Best for | Pricing | Link |
| --- | --- | --- | --- | --- |
| Freshsales | | Best for all businesses. | Free plan available and paid plan starts at ₹999 /user/month | Learn more |
| ClickUp | | Best for all types of businesses and individuals. | Free plan available and paid plan starts at $5 per member per month | Learn more |
| Pipedrive | | Best for visualizing the performance of teams and their managing their activities. | Starts at $12.50 per user per month | Learn more |
| Monday.com | | Best for all types of businesses and individuals. | Free for 2 seats and paid plan starts at $10 per seat per month | Learn more |
| Zoho CRM | | Best for real-estate business, healthcare, insurance, media, hotel, travel, banking, freelancers, and non-profits to increase their marketing, sales, and customer support efforts. | Starts at $12/user/month | Learn more |
| Hubspot | | Best for managing and tracking customer relationships on a single online platform. | Free plan available and paid plan starts at $45/month | Learn more |
List of Best Real Estate CRM Software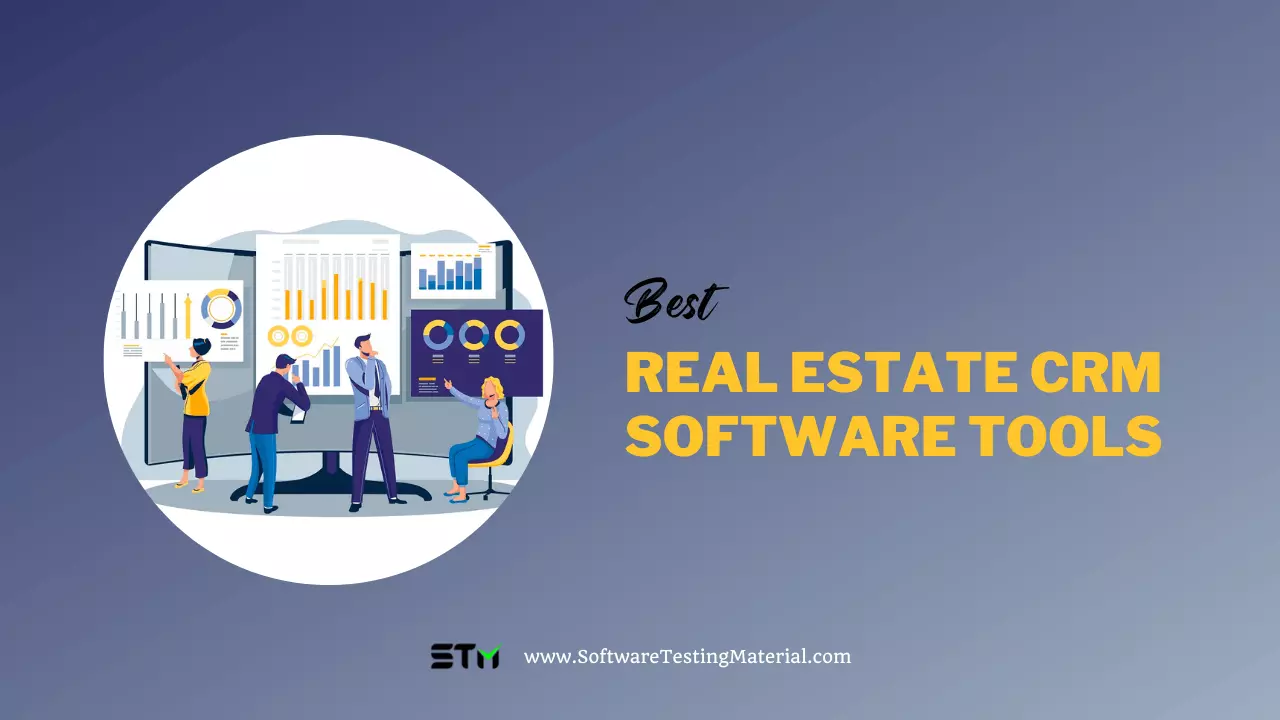 #1. REsimpli
Best for all-in-one software for real estate businesses to manage Data, Marketing, Sales, and Operations

As the competitive real estate market becomes increasingly digitized, industry professionals are turning to REsimpli to streamline their operations. REsimpli eliminates the need to use separate software for data, marketing, sales, and operations by providing real estate businesses with a user-friendly one-stop all-in-one solution.With its intuitive interface and tailored reports, REsimpli empowers real estate professionals to focus on what matters most: closing deals.
Features:
One of the valuable features of REsimpli is the REsimpli AI. This GPT-4 Powered feature assists investors in automating their marketing efforts and simplifying their interaction with leads. It can seamlessly communicate with leads on behalf of the user, answer inquiries, schedule meetings, and gather information from property owners based on customizable prompts. With REsimpli AI, you can stop spending time on leads and start focusing more on closing them.
List stacking is one of the most powerful features utilized by real estate professionals. It allows you to create highly targeted lists of motivated sellers. This feature sorts leads by their level of motivation, allowing investors to prioritize their marketing strategies and save money.
REsimpli's 'Driving for Dollars' feature enables investors to drive through neighborhoods to save properties, gather owner information, and market on-the-go with just a few taps on the screen, ultimately saving time, effort, and money.
The dialer feature helps investors manage all their communication directly on REsimpli. With this feature, you can manage all incoming and outgoing calls, track call duration, and record calls for coaching and monitoring purposes. The dialer simplifies prospecting by providing a complete phone system within the app.
Other features include Direct Mail, Drip Campaigns, Full Accounting, Buyer management, Task Management, Skip-tracing, KPI/Leaderboard, SEO Website, Vendor Management, Speed-to-Lead, e-Sign, File Storage, In-app Answering, SMS, Email, and much more.
Pros:
Ability to centralize your entire business using one software, allowing you to manage your data, marketing, sales, and operations in one place.
Ensures no leads fall through the cracks by allowing you to stay on top of your leads with automated follow-ups and closings.
Provides real-time data that can help you make more informed financial decisions, giving you a bird's-eye view of your real estate business's performance.
Its user-friendly interface helps you streamline your entire sales process for greater efficiency and profitability.
Cons:
Extensive features that newcomers to the real estate industry might initially feel overwhelmed with.
It takes a few days to be fully aware of all the features that can be utilized and how.
Pricing: 
Basic Plan: $99/month (1 User)
Pro Plan: $299/month (5 Users)
Enterprise: $749/month (Unlimited Users)
#2. Freshsales
Best for all business types

This cloud-based CRM system has a plethora of features to streamline your daily work and automate your processes. The Freshsales CRM tracks all your sales activities and gives you a 360-degree view of a deal, making it easier for you to see which deals are more likely to close. You can plan events and meetings seamlessly with Freshsales, using features such as Check-in. You can even set reminders or alerts to keep your team in the loop. 
Features:
This cloud-based CRM has numerous benefits, including the ability to integrate with more than 750 other business apps. With this integration, you'll have an accurate and clear view of all your customer's financial information. It also gives your team immediate access to orders and open balances.
Two-way email sync is built into the email, so sales reps don't have to leave their CRM in order to access their email. Email tracking allows the user to track when an email was opened and clicked on. Users can create customized sales campaigns using email templates. Users can use email metrics to gain insight into which emails were successful and which did not.
It comes with an in-built phone powered By Freshcaller. This allows direct calling by clicking on the contact's number. In a matter of minutes, the user can set up, buy local numbers, allow call-recording, or set up IVRs. You can add notes, schedule tasks, and make appointments.
The 360-degree view provides a detailed customer insight into prospects. It allows them to plan relevant conversations and track touchpoints with an activity timeline.
Pros:
It offers mobile app on all plans.
Create custom dashboards and reports.
Cons:
This software lacks some key features, such as product catalogs, email health reporting, and email integrations. 
Customer support only available weekdays.
Pricing: 
Free
Growth: ₹999 /user/month, billed annually
Pro: ₹2799 /user/month, billed annually
Enterprise: ₹4999 /user/month, billed annually
#3. ClickUp
Best for all types of businesses and individuals.

ClickUp is a customizable and scalable solution that makes managing and tracking sales pipelines and other tasks a breeze. Its flexible architecture makes it easy to use by a variety of team members, from small teams to larger companies. 
Features:
ClickUp CRM allows you to view customer data and create dashboards that track customer lifetime value, average deal size, and sales funnel progress. With over 50 dashboard widgets, ClickUp makes it easy to visualize customer data. 
Email integration is another major benefit, letting you centralize all your email correspondences and eliminate email silos. This allows for quicker communication and easier collaboration.
It integrates with Outlook, Exchange, and Microsoft Dynamics CRM calendars. By doing this, you can create and export recurring meetings, allowing all departments to participate. 
Pros:
Cons:
Dealing with huge backlogs (10k+ tasks)
Pricing:
Free
Unlimited: $5 per member per month
Business: $12 per member per month
Business Plan: $19 per member per month
#4. Pipedrive CRM
Best for visualizing the performance of teams and their managing their activities.

Pipedrive has features that make managing your customer database as simple as possible. Users can create custom fields for their customers, such as year built, sqft, beds and baths, and lot size. Custom fields are easy to set up and can include information such as est value, purchase date, open loans, and listing status. Pipedrive also makes it easy to customize fields for a specific property.
Features:
The Deal Rotting feature in Pipedrive CRM is a useful tool to keep track of deals in the inactive stage and alert your salespeople. It tracks the reason why a deal has gone inactive. 
Pipedrive CRM allows you to create multiple pipeline lists. Each pipeline contains separate contacts and organizations. You can assign activities to each deal in Pipedrive. This feature allows you to view and track the progress of each deal at a glance. 
It also provides custom sales reporting tools to monitor individual and team level targets, analyze sales data as well as create visual reports.
Its mailing system integrates seamlessly with multiple email services such as Outlook, Gmail, and Yahoo.
Pros:
Ease of use
Clear pipeline management
Forecasting feature
Cons:
A limited number of integrations
Pricing: 
Essential: $12.50 per user per month
Advanced: $24.90 per user per month
Professional: $49.90 per user per month
Enterprise: $99.00 per user per month
#5. Monday.com
Best for all types of businesses and individuals.

If you're looking for a powerful CRM that doesn't require a lot of technical knowledge or expensive upgrades, Monday CRM for real estate might be the answer. Designed for small business owners, this CRM allows you to manage multiple clients and contacts with ease while tracking phone calls and emails. It allows managers as well as sales teams to take control of their sales cycle – from capturing leads, task management, and sales pipeline management to team management.
Features:
This CRM allows sales teams to create no-code automation that significantly reduces repetitive manual labor and allow employees to focus on customers. They can collect leads from all sources and consolidate them in one place. They can track the status of every deal, manage contacts, and build lasting customer relationships. Managers have a complete overview of the progress and capacity of their sales team with no-code dashboards.
It is easy to use and visually appealing, making it more accessible to managers and teams. 
Users can communicate efficiently with contacts by integrating their email. You can automatically send emails, keep track of interactions as well as use personalized email templates in order to save you time.
Monday.com Work OS allows other departments, such as legal, finance, and IT, to send documents for approval or do other important tasks without any restrictions. This makes it easier for teams and managers to collaborate across departments and improves efficiency.
Pros:
No-code automation
Fastest setup in the market
Easy to use and understand
Flexible and customizable
Cons:
Problems with Gmail integration
Pricing: 
Free: $0 for 2 seats
Basic: $10 per seat per month
Standard: $14 per seat per month
Pro: $24 per seat per month
Enterprise: Custom quote
#6. Zoho
Best for real-estate business, healthcare, insurance, media, hotel, travel, banking, freelancers, and non-profits to increase their marketing, sales, and customer support efforts.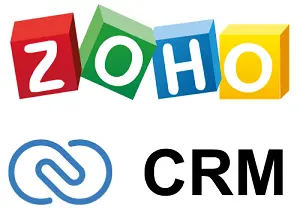 Agents can connect with customers from any location using Zoho CRM. Integrating with email, live chat, and social media allows you to set up real-time notifications so that you are notified whenever a customer or lead interacts with your company. You will have the latest data no matter where you are located, thanks to real-time insights and reports.
You can also automate workflows and manage contacts. Additionally, you can manage deals from one stage to the next. Your real estate agents can also be given a sales process to ensure that buyers have a consistent experience, regardless of who they are working with.
Features:
Zoho CRM allows you to identify, nurture, and follow-up on high-quality leads. You don't have to waste your time on prospects that won't be customers.
Quick making decisions – Zoho CRM provides accurate data to your decision-makers across your organization via analytics and reports, so they can respond to market trends with better choices.
Data security compliance – Its data centers are protected by the most advanced digital and physical security measures. You can be sure that your customer data will remain safe.
Mobile accessibility – Your team can access important CRM data from Zoho CRM mobile no matter where they may be. Sales reps in the field can access information about nearby customers and even drop by to meet with them.
Better customer satisfaction – Zoho CRM provides all historical customer data, along with information about similar customer issues, to help your team quickly resolve customer queries and ensure that customers leave satisfied.
Pros:
 Best CRM for customization.
It integrates all the elements of customer interaction.
Affordable
Cons:
Integrating can be complicated.
Pricing:
Standard: $12/user/month 
Professional: $20/user/month 
Enterprise: $35/user/month
Ultimate: $45/user/month
#7. Hubspot CRM
Best for managing and tracking customer relationships on a single online platform.

Hubspot is an all-in-one CRM designed to grow with your company. It makes your life easier every step. HubSpot CRM includes email templates, call tracking tools, and sales automation capabilities. It allows you to automate tasks and create personalized appointment schedulers. You can also add live chat to your website and integrate the CRM with other apps and tools in your company.
HubSpot CRM can help you manage and track prospects with ease. The program features an extensive contact management database, robust email tracking features, landing page creation, a customer service ticketing system, streamlined document sharing, and sales pipeline management. These are just a few of the features that make HubSpot CRM a great choice for real estate agents. 
It is perfect for real estate agencies that want to scale their business at the same time and keep their systems unified in one place.
Features:
The custom report builder in Hubspot CRM allows you to create reports from your data, using any number of secondary or primary data sources. The builder will automatically scan through the data sources and present the most relevant information for your custom report. It will filter out filler data sources and secondary data sources with no useful associations or robust advantages. 
A key feature of Hubspot CRM is task management. Whether it's for creating recurring tasks or individual contacts, task management allows you to keep track of and track progress on tasks. Tasks can be set to repeat every x days, weeks, or months. You can also set reminders for yourself or your team to keep you on track. You can even create recurring tasks from within your contact's record.
The email tool offers tracking and reporting for every contact and can be used for lists and automation. You can also access your contacts' timelines and track the reputation of your emails. You can send emails to specific contacts and create users. 
HubSpot also features dozens of useful time-saving tools. It also offers tools to automate tasks, send emails, and analyze data from third-party sources. In addition, it has a feature to help you create custom associations for standard CRM objects.
Pros:
It's a very popular CRM software, so in case you run into any issues – you can easily find someone to help you. Also, a lot of tutorials are available online, from where you can easily learn Hubspot CRM. 
Its free plan is highly beneficial for small businesses and startups.
The software includes free customer support tools for your team. 
It is easy to deploy and set up.
Cons:
Not many advanced features are available.
Pricing:
Free
Starter: $45/month 
Professional: $450/month
Enterprise: $1,200/month
#8. Zendesk Sell
Best for maximizing productivity, maintaining pipeline visibility, and growing revenue.

Zendesk Sell is a tool that helps teams increase the productivity and visibility of their pipeline. This tool allows real estate agents to communicate with each other in different markets. It includes email tracking, email automation, and click-to-call capabilities. With this tool, users can make calls, schedule meetings, and view deal history. It automatically tracks all activities and streamlines account management.
Features:
Database Management: It saves leads and contacts in a simple visual way. For better targeting, users can also export and import data sets.
Opportunity Management: Users have the ability to manage opportunities using layered segmentation that is based on filter criteria such as demographic, deal size, and rate of engagement. 
Pipeline Management: This platform provides a visual representation of the sales pipeline with details such as the number of leads at each stage of the buyer journey, deal size, estimated revenues, current revenue, and the number of deals won.
Activity tracking: This allows important tasks such as calls, meetings, and scheduled communications to be copied to the calendar and accompanied by timely reminders. Managers can set up tasks for their team members, track their progress against the deadlines, and follow up on any subsequent actions.
Pros:
Dynamic and static list reports that can be customized and edited
Zendesk Sell is available for iOS and Android users. This allows users to keep track of work updates while on the go.
Simple and easy-to-use dashboard
Cons:
Limited third-party integrations
Slow response from customer support
It takes a while for the software to load
Bulk email addresses are limited to 300 addresses per batch
Pricing:
Team – $19 per user/month billed annually
Growth – $49 per user/month billed annually
Professional – $99 per user/month billed annually
Enterprise – $150 per user/month billed annually
#9. Zillow Premier Agent CRM
Best for agents, teams, or brokerages that represent multiple sales listings

Zillow Premier Agent is a CRM software that provides insight into each client's search intent. It shows clients the properties they have saved online and what homes they have searched for. Based on the search intent, real estate agents can customize client messages.
Features
Listing management
Contact and organization management
Lead generation
Forecasting and reporting
Pros:
Exclusive placement on your listings
Reviews and profile showcase your value
Cons:
Pricing: Free
#10. IXACT Contact
Best for real estate agents.

IXACT Contact is a real estate CRM and marketing system that integrates email marketing and a website solution. It's a web-based Customer Relations Management system with a powerful feature.
It is user-friendly for beginners and provides essential tools like lead generation, content marketing, and integration with real estate markets. This tool is perfect for novice agents who require basic real estate CRM functionality and strong content marketing functions.
Features:
IXACT Contact's rich profile-building feature allows you to create highly personalized profiles of your contacts. This includes photos and social media information. It collects various information such as contact details, addresses, details about spouse or partner, other family members, referral history, and personal dates as well as records information about properties, mortgage details, and communication history.
The system allows users to create automated newsletters and run drip email campaigns to nurture their leads with content marketing. It is fully automated and contains original, relevant content written by IXACT Contact's professional real estate writers. 
It can integrate with many third-party apps via Zapier – both for general productivity or real estate-specific uses. These integrations allow users to sync customer data between systems and generate leads from real-estate marketplaces. They also track trends and insights, which can be used to improve agent productivity.
Keep In Touch Dashboard creates automated reminders for important milestones such as birthdays and move-in anniversaries. You will also be notified if you need to follow up with a lead-based on your last communication with them and their place in your business pipeline.
Pros:
Easy to use
It offers phone and email support from Monday to Friday
Cons:
Look and feel of the dashboard is outdated.
Pricing: Annual plan costs $38 per month.
Best for small, mid-sized, and large organizations.
#11. Apptivo

If you're in the market for a new CRM system for real estate, Apptivo may be a good fit. Apptivo CRM is a cloud-based business tool suite that integrates customer, sales, project, and financial data into one solution. The UI is intuitive, and it offers plenty of customization options. It scores well in usability and ease of use, and the onboarding process is simple. With Apptivo, organizations can control data access, reports, fields, and the ability to search, among other things. It is user-friendly and feature-rich and helps in achieving greater business efficiency.
Features:
Apptivo CRM helps you manage leads, contacts, and customer data. You can easily manage your team's schedules and track progress in projects. The CRM allows you to import data from other CRMs and can also be downloaded as a CSV file. It also has an excellent ticketing system and collects data from different platforms such as email, social media, and websites. 
Apptivo's Lead Management feature allows you to easily capture leads from multiple sources such as emails, campaigns, call logs and web forms. You can assign leads to the best salesperson according to territory, source, and industry.
The platform's email marketing function allows you to run email campaigns. You can use the email template builder and pre-made templates to make your emails. You can also access extensive email performance reports that include open and click rates, bounced emails, and the number of recipients who opened and clicked on your emails.
Territory management allows sales managers to create territories for customers and contacts by utilizing their workplace, which can be categorized by state, county, or city. It allows businesses to track their sales and identify which territories generate the highest and lowest revenue.
Pros:
Reduce complex projects into manageable parts. It allows users to view the status of a subproject, assign actions and set priority.
It offers a variety of customization options. Users can arrange the layout with a drag-and-drop interface, set sharing settings, create custom views of data, and define access permissions for specific fields.
Integrations with popular apps allow you to add additional tools such as document management, productivity, webhooks, billing, and APIs. Slack and G Suite are also available for integration.
Cons:
Hard to navigate for new users.
Pricing:
Free: $0
Lite: $10 per user
Premium: $15 per user
Ultimate: $25 per user
Enterprise: Custom quote
#12. LionDesk
Best all-in-one real estate platforms.

LionDesk has many useful tools and features that allow you to connect with prospects and close deals. Integrations are possible with over 100 apps. It is easy to use and saves time when managing clients and following up.
Features:
Bulk SMS messages
Reminders for tasks
AI leads to assistance
Auto drip campaigns
Pros:
Strong outbound sales features for email, phone calls, and texting
Cons:
Pricing:
STARTER BUNDLE: $99
PRO+ BUNDLE: $139
ELITE BUNDLE: $219
#13. Contactually (Closed March 31, 2022)
Best for real estate professionals to manage interaction with the clients.
Contactually is a Compass-backed CRM specifically designed for real estate agents. This software is geared towards acquiring and enhancing customer relationships. Contactually provides a dashboard that allows you to track daily follow-ups and schedule events on a central calendar. It also monitors engagement with key clients. 
It provides users with a comprehensive pipeline view, custom email templates, and automated messages. Agents can input important details such as the address and the phone number of a home when scheduling a showing. It also syncs with the user's phone and email accounts to ensure that clients receive updates on properties they are interested in. This CRM system makes it easy to organize client data and manage your pipeline.
Features:
Contactually has a great referrals feature. This allows you to keep strong connections with your past clients and encourage them to refer others.
It integrates with Google Workspace and Office 365, allowing users to sync their email history and communication history to the app.
It helps businesses automate their workflows by using rules to perform a variety of actions. It can integrate with multiple email service providers, such as Gmail and Outlook, or any other IMAP-based email.
Its other features are the ability to track business activity using the Contactually mobile app for Android or iOS, as well as processing client engagement histories and generating business insight.
Pros:
Clean interface
Responsive support
Cons:
Expensive
A steep learning curve is required.
Pricing:
Professional: $59/month (billed annually) 
Accelerator: $99/month (billed annually)
Concierge: $399/month (billed annually) 
Conclusion
A real estate CRM, or customer relationship management system, is a valuable tool for any real estate agent. Real estate CRMs do many things to help agents be more productive and reduce stress.
Some of the features of a good CRM include organizing data, creating segments, generating reports, reducing stress, and improving business efficiency.
Agents should consider their needs carefully when choosing a CRM because not all are created equal. There are many different types of CRMs on the market, and most offer free trials so you can try before you buy.
In today's digital age, it's more important than ever for real estate agents to have a good CRM to manage their customers' data.
Related Posts: