What is Work OS: Best Work OS Vendors In 2023
As a business professional, you know that having the best work OS is essential to your success. But with so many work OS vendors offering different platforms, it can be difficult to determine which one is right for you. In this blog post, we will compare the top work OS vendors and help you decide which one is best for your business. Stay tuned!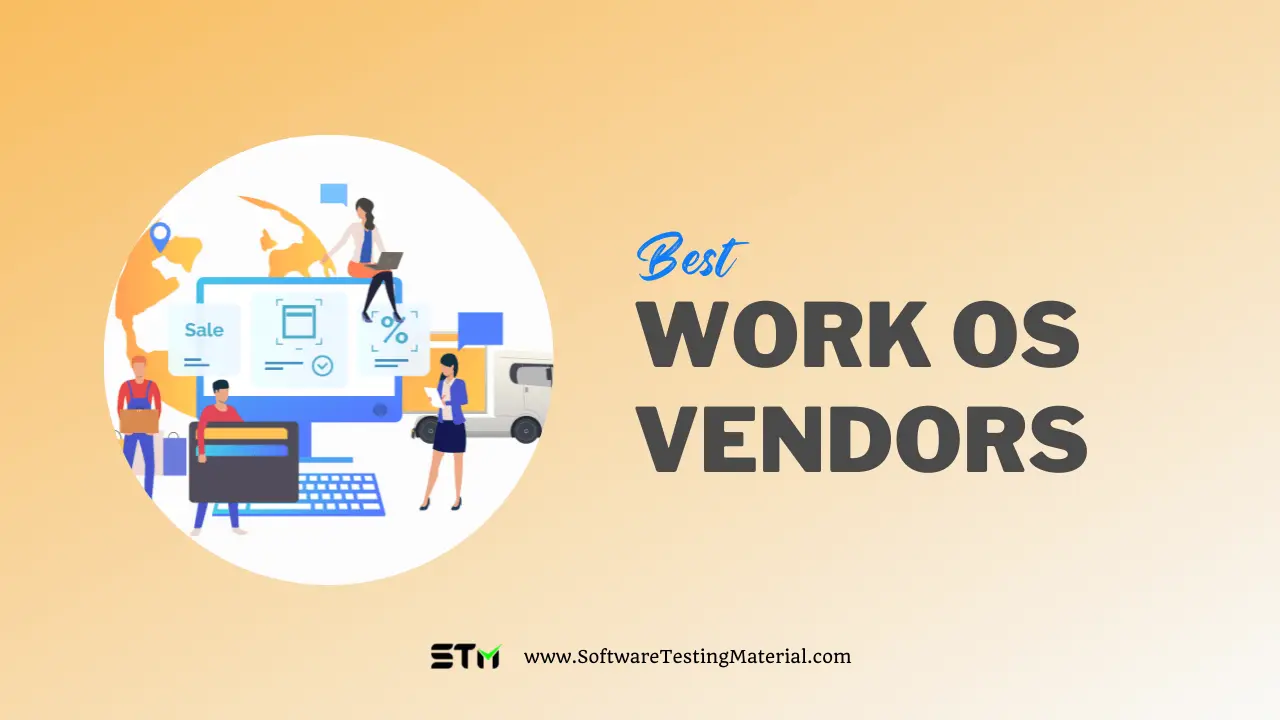 What is a Work Operating System (OS) Software?
A Work Operating System allows teams and businesses to set up custom workflows for project management, task tracking, managing processes, and other tasks. By visualizing all details, you can plan, monitor, and track everything from daily tasks to long-term priorities.
Work OS software includes a dashboard allowing you to see 360 degrees of employees' workflows. The dashboard can be used remotely or in person. Remote workforce is becoming a common feature, so it's seeing wider acceptance.
Work OS software helps teams maintain a history of changes and version control of work. It also allows in-content communication, which helps teams to communicate more effectively and efficiently. Ultimately, it is a way to help improve productivity and efficiency by ensuring that the team accomplishes its organizational goals.
Why Use A Work Operating System?
A work operating system is an ideal solution for organizations that require a high degree of collaboration. It can be used to streamline everyday routines, reduce duplication of efforts, and create a common understanding of what needs to be done. It also enables management to ensure that employees are aligned, allowing them to work in any location.
The work OS can help you reduce the management chaos, tailor the platform to your own team's workflows and allow you to spend your time doing what is important: leading and doing the work, not just managing it.
Moving quickly: A Work OS allows teams to adapt quickly. It automates grunt work and gives teams the freedom to work in the way that suits them best. This quick work is consistent with organizational standards.
Centralizing data: Work OS offers consolidated information from disparate tools into one place so that everyone who has permission can use it for data-driven decision-making. This helps to break down data silos.
Contextualizing communication: Work OS help teams communicate in the context of what is happening so that different business units can easily exchange work products and plans. This eliminates silos and allows for collaboration.
Provide visibility: It centralize communications data and communications, giving leaders visibility into their work and aligning with standard procedures. This eliminates operational silos.
These capabilities are different between work OS tools. It will all depend on what your team does and your needs when deciding which OS tool is best for you.
Types of Work Operating Systems
There are many options for work OS, from the generalized to the specialized. 
A generalized work operating system can provide maximum flexibility and serve all levels/horizontals of an organization.
Specialized is a Work OS software designed for a specific industry or vertical sector. It can be used for software development, media, entertainment, or construction.
Who are Work OS software users?
A Work OS can help anyone or any group to organize and manage their work better. It also helps to maximize task completion.
It benefits company leaders, who are typically responsible for managing and routing task flows.
These are the leaders:
Managers
Team leaders
Managers of projects
Managers of programs
Heads of departments
Executive leaders
What are potential obstacles in adopting a Work OS Software?
Building blocks. The Work OS is built using functional building blocks that can be dragged and dropped by teams to create apps that track work and capture data. Any application or workflow that Work OS offers can be disassembled and rebuilt by a Work OS user.
Structured Data Store. Work OS is a system that captures all data by both human and automated actions. This makes data more digestible and complete. The data can be accessed as-is, or through the lense of the building blocks.
Democratized Project Management. Project management skills are required from all employees as we move towards autonomous teams. A Work OS is a tool that helps to keep the KPOs of each individual, team, and organization in sync.
Digital Transformation Commonly Causes Data Silos. Companies utilize various new technologies to streamline work processes and manage their work. However, some functions and departments within an organization still use their own tools, such as ERP for finance, CRM for sales, or ERP for accounting. These tools can become disconnected and cause data silos within the organization.
Integration data and apps. The Work OS allows users to connect to external data sources and apps in order to create a unified workspace. Users can continue to use their favorite tools while centralized work is done in one place.
Workflow automation. Automation of many of the operations of a Work OS is possible. Automation is a way to eliminate human error by automating repetitive, predictable tasks.
Data visualization and analysis. Users with access to Work OSs and permissions to a particular data source can create visualizations and reports with the system. The Work OS's reports and dashboards become one source of data for data-driven decision making.
Governance and permissions. Work OS features permission-setting and governance options that control who can see, update and enter data, as well as who can automate and integrate work. The Work OS allows teams to work independently while still adhering to their organizational standards.
Low-code/no-code app creation. Developers can create custom widgets, workflow integrations, and apps using the Work OS platform. These are available for use within the developer's organization as well as commercially.
Tracking progress. The Work OS gives visibility into the work progress of every employee and team within the context of the work unit (projects initiatives, processes). Managers can track everyone's work and ensure that teams are aligned.
Communication. Although a Work OS does not provide separate communication channels, it can provide messaging within the context of a specific work task. To add context, 3rd-party communication tools such as video, messaging, shared documents, and email should be seamlessly integrated.
What are the potential obstacles to adopting Work OS Software?
Work OS is typically designed for all employees within the organization. If some teams use specialized software, such as Jira by the software development team or Salesforce by the sales team, they will not be replaced but will be integrated into Work OS to create a primary hub of work for the entire organization.
Which types/sizes are currently using Work OS Software Software?
All sizes and types of businesses are adopting it, including startups and SMBs to large enterprises.
What are Data Safety and Security Aspects of Work OS Software?
You will have full access to your sensitive data. Therefore, it is important to verify the vendor's security compliance. Vendors should ensure that their product meets all local regulations and adheres to any other security standards.
These include compliance with GDPR (General Data Protection Regulation), ISO 27001 information security standards, and ISO 27018 cloud privacy systems and organization controls – AICPA SOOC1, AICPA SOOC2, AICPA SoOC3. Regular audits should be conducted by a third party to ensure security compliance. If there are breaches, they should report them.
How Work OS take on workflow confusion?
Even if your team uses only two solutions, comments, updates, or assignments could slip between them. Worse, it can become a full-time job to keep everything current.
Teams can become disengaged from each other and their work when they use different tools to accomplish different tasks. All elements of work are moving digitally – video chats and email, instant communication as well as project tracking, reporting, document generation, and reporting – so workers feel burnt out trying to keep up.
A Work OS is necessary to change this. It should be accessible from anywhere, on any device. It should be able to focus on the core business functions, such as planning, managing, and tracking projects, and daily tasks.
It must be adaptable and flexible so that it can be used in every case. Different sizes and business functions require different functions. This could be a quick-review process that flags quickly or a messaging system that allows everyone to comment on the project.
What's the difference between Work OS and project management software?
Many people confuse project management software with work OS. They think they are the same thing. They are different, at the same time similar.
Software for project management allows you to organize, track, and manage tasks, as well as measure the progress of your projects. It helps you streamline your organizational projects to ensure they are completed on schedule and without compromising on the quality of your deliverables.
Work OS software, on the other hand, goes deeper. It acts as a central hub for all business activities and plans. It allows you to manage your business remotely and facilitates smooth workflows, task and employee management, as well as clear visualization of all activities. It can replace productivity software and to-do lists if implemented correctly.
How can you select the best Work OS?
Work OS products are designed for all users within an organization and not just a select group of professionals. They don't replace any other software systems. These systems are often incorporated into Work OS.
Work OS offers a variety of features and options. It is important to select the right system for you.
Flexibility – How flexible is this system? Is it possible to adapt the system to fit your company's workflows and processes? Users can create their own apps using minimal to no programming to customize their workflows.
Integration – Does Work OS allow integration with tools used by your company?
Easy adoption: Will your team be able to use it? Is it easy to use? Is it difficult to learn? Is it possible to implement IT? Work OS should be easy to learn and must require minimum to no IT personnel involvement or implementation.
Time – Does the system allow for collaboration between employees and teams? Is the system efficient, or does it create more work? Is it able to automate manual tasks? Is it necessary to hire someone to manage it? The use of the platform should result in time savings by providing automation, supporting collaboration, and be self-managing.
Fact Check
Project management software is used by 77% of high-performing projects according to statistics.
Best Work Operating Systems Vendors
#1. Monday.com
Best for small businesses.

Monday.com Work Operating System or OS is an open platform designed for users to create the tools they need to run every aspect of their work. Its amazing visual interface includes building blocks such as Apps and integrations, allowing teams to develop or customize their work solutions.
It allows your team and you to collaborate in one central hub. It means you can store all your processes, tasks, and workflows in one place. Third-party apps are no longer required for different departments or functionalities. It adapts to your requirements and not vice versa.
Its flexibility also means that you can use the application for any purpose. Its work blocks can be used to create any kind of workflow or process. You don't need to go through intensive training to learn the software. Your team has created the entire process flow. This eliminates the need to onboard, which can be time-consuming and costly for your project.
Features:
Monday's intuitive visual interface allows your team to jump right in without needing any training. Your groups, updates, items, and sub-items can be synchronized while you design the workflow to ensure that everything is within the context of your project.
You can use Kanban, Calendar, Gantt, and form to transform data from complicated to easy. 
No matter where you are, communicate effectively with your team members and share images, feedback, files, and updates via the mobile app.
Monday.com is a leader in integrations and has done countless to be part of a well-established software ecosystem. It's connected to Dropbox, Zapier and G-suite, and other sharing and management tools. Additionally, it has an open API architecture that allows developers to create their own integrations. 
Status buttons will allow you to see the actual work of your team members. Monday makes it easy to notify all team members and keep track of what's happening. To save time, process and manage all the moving parts, link boards together and add files.
Pros:
You can automate workflows without any code, so you can reduce the time spent on tedious tasks.
Monday.com can be used to manage projects, processes, and initiatives, as well as workflows.
It is easy and intuitive.
Cons:
Improve task dependencies, so dates are not required.
According to users, viewing certain files linked from Google drive can be tricky (like pdfs).
Pricing:
No Cost CRM – $0 – Up to 2 Seats
Basic CRM – $10 seat / month
Standard CRM – $14 seat / month
Pro CRM – $24 seat / month
#2. Wrike
Best for project and task management.

Wrike enables teams to work efficiently and quickly online. The software is used by teams in marketing, product development, project management, professional services, and creative agencies to simplify their planning, facilitate collaboration, streamline workflows, and gain visibility.
It provides adaptive solutions for diverse workflows. This increases collaboration and ensures nothing is left behind. This increases productivity and produces more accurate results.
It allows cloud-based collaboration and can be scaled across any number of teams.
Its features include customizable dashboards for team sprints, interactive Gantt chart templates, comments, commenting templates, and interactive Gantt charts. Interactive reports, shareable widgets, and customizable workflows can be customized to meet your team's specific needs.
Features:
Wrike offers dynamic and historical monitoring. Your past projects can be used to show you your productivity and performance. You can gain valuable insight, such as best practices, and avoid the pitfalls you've encountered in the past. It is possible to see the status of your revenue, resources, and expenses.
A single source of truth can be created that unifies all your work assets. You can receive updates instantly from one location. All changes can be viewed immediately by your team. This feature allows you to easily manage complex processes and share important information throughout your organization.
Wrike makes it easier to deliver projects faster. It allows you to drill down to complete individual tasks or zoom out to see the whole portfolio. You have full control of the data with enterprise-grade encryption.
It can be integrated with business tools such as Salesforce, Box, Microsoft, and Google.
Pros:
Good Customer Service 
Offer a free version of the product.
It also offers a robust search engine since navigating this software is hard and not easy.
Cons:
Steep learning curve
It lacks the ability to create a custom template of your own. 
It is good as a project and task management tool rather than a Work OS.
Pricing:
Free: 0$ user/month
Professional: 9.80$ user/month
Business: 24.80$ user/month
Enterprise: Custom quote
#3. Clickup
Best for teams of all sizes and industries.

With a full suite of project management tools, ClickUp can be used to schedule tasks, manage resources, and communicate with team members and guests. ClickUp features a task management system that streamlines all aspects of a project, including templates and filters, custom views, and assigning comments. Users can also collaborate on projects, allowing them to create a visual representation of their tasks.
You can see what is happening, plan what you should do, and review what has been completed. Remote teams can use it to manage their work globally and keep all action-based communications in one place. This tool allows you to clearly define the process and then share it with your team. You can review and set measurable goals to ensure that everyone is on the same page.
It provides docs, reminders, goals, calendars, and an inbox. Fully customizable, ClickUp works for every team, so all groups can use the same app to plan, organize as well as collaborate.
Features:
You can choose from the different views that you require for your team and filter the workflow to stay on track. The timeline can be easily adjusted so that your team knows where and what to do next. You can also see who is online and who is working on which projects.
It integrates more than 1000 tools you already have in your company. 
ClickUp's multitask technology and table view are particularly useful as they allow you to assign and manage multiple tasks quickly. It also allows you to upload existing work from third-party software.
Its board view provides an agile view designed for SCRUM methodology, offering a simple yet highly informative presentation.
Pros:
ClickUp cares about security and guarantees 99.99% uptime.
It is super easy to use, have powerful features.
It has the ability to invite guests for free.
Good technical support.
Cons:
The time tracking feature needs improvement.
Pricing:
UNLIMITED: Best for small teams – $5 PER MEMBER PER MONTH
BUSINESS: Best for mid-sized teams – $12 PER MEMBER PER MONTH
BUSINESS PLUS: Best for multiple teams – $19 PER MEMBER PER MONTH
#4. Smartsheet
Best for any type of business, different roles, and organization sizes.

Smartsheet can simplify and speed up project management workflows, track priorities and manage resources when used in conjunction with the best work OS software. With unlimited sheets, real-time collaboration, and process automation, Smartsheet is a great tool for large teams. 
Smartsheet's intuitive spreadsheet app can be used to manage a variety of work, including customer information, task lists, task lists, sales pipelines, and event schedules. Smartsheet offers tools to automate workflows, collaboration, form management, project management, and activity logging.
By enabling team members to view and edit sheets, Smartsheet reduces the need for emails about project status. Users can also share sheets with others, adding comments and requesting updates. Smartsheet is easy to use and is customizable to fit the needs of any company. 
Features:
It gives real-time information via Smartsheet Sights, live reports, and other tools. This allows teams and business leaders to quickly make informed business decisions. It provides configurable dashboards and widget-driven reports that can be easily accessed without the need for technical support. You can quickly identify trends and react to them because the information is always available. You can also shift your priorities when necessary, depending on the changing conditions.
It offer security, user management, and single sign-on capabilities. This allows for more powerful project and team management. Administrators and end-users are granted granular sharing permissions that allow them to keep their information safe and in control.
With Adobe Creative Cloud integration, you can focus on your work instead of getting bogged down in repetitive emails and meetings.
Integrators are available to address mission-critical data using both off-the-shelf and partner-built integrations. You can integrate it with Box, Google G-Suite, and Microsoft Office 365.
Pros:
It allows you to manage projects, create new solutions and automate workflows with no-code tools that are backed up by IT security.
It is possible to manage complicated projects, streamline processes and meet deadlines with one platform that allows you to manage all marketing work.
Cons:
The mobile application needs more improvements.
Lack some of the advanced functionalities.
Pricing:
Pro: $7 per user per month
Business: $25 per user per month
Enterprise: Custom quote
#5. Teamwork
Best for streamlining workflows, tracking time spent on each project, managing project templates, and creating invoices.
Teamwork can be used to help businesses plan, manage and collaborate on projects of any size. This allows teams to see the entire scope of a project or a collection of projects and monitor individual components. It has many capabilities, including Gantt charts and task management, team collaboration, and dashboards.
It's suitable for professional services, marketing, support, and product teams. Data replication in real-time provides continuous backups. It is also equipped with strong security. Organisations can create complex passwords. Some plans also support single sign-on (SSO) and two-factor authentication.
Features:
Use messaging features to streamline communication and keep conversations within context. You can access permissions and set visibility and access levels for each user. You can share content through Notebooks, while you configure tasks and notify notebooks.
Manage multiple projects and keep them on track. For a clear view of all details, centralize important information onto a single board. You can configure data to be displayed on the project board. Filter which projects are shown. You can set up triggers to update various fields or streamline workflows.
Use tags or filters to quickly find important information. To keep track of the different tags, you can apply tags to items. Filters can be used to limit your searches to certain elements, such as comments or active tasks, project statuses, and so on.
Take a complete view of your project with Gantt charts or a calendar. You can see 360 degrees of milestones, tasks, and deadlines so that you can plan each phase and identify any potential bottlenecks.
Pros:
Scale high performance deliberately – so that you can manage your project in your own way, regardless of how large or global your team.
It offers an overview of a company's performance and is suitable to manage small and large projects.
Cons:
It is not intuitive or easy to navigate and requires a steep learning curve.
Pricing:
Free Forever: $0 – Maximum 5 users
Deliver: $10 / user / month
Grow: $18 / user / month
Scale: Custom quote
#6. Microsoft Tools: MS Planner and MS Project
Best for professional project managers. 

Microsoft offers two tools, i.e. MS Planner and MS Project, which act as a Work OS. This might be worth considering if your team already uses Office 365 products for their other work. The functionality is limited and it relies on Office 365 products instead for communication and calendars. The basic features allow for an easy-to-use and board-focused interface that allows for project management.
MS Planner allows project managers in an organization to plan projects using tools such as Gantt charts or schedules. MS Project is the basic task management tool that allows the company's employees to organize their work. 
Features:
Microsoft Planner's Timeline view allows teams to track project activities in real-time and easily share files. It also supports creating checklists and subtasks within task panels. This feature will improve collaboration. The Planner also helps you add comments to each task. 
Project allows you to add recurring tasks, which is great for larger projects.
MS Planner has a customizable dashboard and timesheet submission feature that enables team members to track their time on project tasks and non-project ones. 
Pros:
MS Planner is an agile and lightweight task and project management tool
Cons:
Long learning curve in MS Project.
No option to add non-team members to participate in Planner. 
Pricing:
Office 365 Business Essentials Plan: $5 per user per month with annual commitment
Office 365 Business Premium: $12.50 per user per month with annual commitment.
#7. Basecamp
Best for small teams.

Basecamp is an excellent project management software. With a simple user interface, you can set up teams and assign tasks to members. Your team members can then access the to-do lists from anywhere, and can comment on them or reply to each other via email. With a powerful message board and discussion board, you can also create lists of tasks, and add text, images, or links for further reference. Creating a list of tasks is a breeze, and you can also share information with your customers via Basecamp. 
Your team can access Work OS from any device, iOS or web. It offers a modern way of working. You will find a message board, to dos, docs, and files for every project. Also, you can access the group chat, check-ins, and more. It improves your workflow and productivity.
Features:
It has many main features, including a message board and To-Dos list, event scheduling, event scheduling, docs and files storage at one centralized location, group chats, automatic check-ins, and docs & file storage. It can also be integrated with popular third-party software. 
Basecamp allows you to create a to-do list for your work. It creates tasks and subtasks, assigns deadlines, and assigns them to your team. To mark a task complete, click the checkbox beside it. To help you keep track of these tasks, you can set up notifications such as reminders for due dates.
Basecamp's calendar is very comprehensive. It allows you to see all of your projects, events, and deadlines from one place. A project calendar can include events and to-dos for the project, as well as a standalone calendar that can contain other information like birthdays and such.
You can view the project in different ways. You can view tasks in a project's calendar view by using dates. Another view displays users and the tasks that they are currently working on. Another view shows both open and closed tasks.
You can create discussion topics and attach content to the project. You can also give your views. When the user logs into the project, the discussion will be displayed on the home page.
Pros:
It supports a handy universal search.
Basecamp ensures that your data is kept safe and private. 
Cons:
Extremely limited functionality
The interface sometimes can be confusing.
Can't prioritize tasks to highlight the most essential items
Pricing: 
Basecamp Personal: Free
Basecamp Business: $99
#8. Airtable
Best for individuals, teams, startups, SMBs, and enterprises.

Airtable is a flexible work management platform that is part spreadsheet, and part database. You have one source of truth for your team with infinite solutions. It provides your team with the reliability of a database as well as the familiarity of spreadsheets. It can grow with your team, so you can create a solution that is more sophisticated and capable.
Airtable makes it easy to organize information, work through processes, and collaborate with others. The software allows users to organize, track, and collaborate on information and has several different views for the user's convenience. Airtable has PC, Mac, and mobile integration, making it perfect for any type of team. 
Features:
Kanban view can help you to supercharge your management process. You can track stakeholders, progress, and other deliverables through a customizable UI. You can also map out task dependencies, activities, and milestones to manage multistep projects.
It supports grid view, grid view, and gallery view. Airtable can help you and your team respond quickly to work by automating repetitive tasks that save time. It can be used to create charts, graphs, and top-line metrics appropriate for the team's reporting needs.
Airtable uses a spreadsheet interface to make it simple for Excel users to adapt to the solution quickly. It has rows and columns you can use to configure basic or more complicated relational database dynamics. The spreadsheet is easy to use by teams, including the ability to add comments, records, and discussions.
Airtable offers many advanced functions. Administrators can restrict access to databases by setting permission levels and can limit a user's access to the database to only read or give them the ability to create or edit a new one.
Pros:
It can manage a variety of content and attachments, provide multiple views, and link records between tables.
Adaptable to all kinds of businesses.
Cons:
Lacks native time tracking feature.
Absence of detailed reporting features
Pricing:
Free
Plus: $10/user/month (billed annually)
Pro: $20/user/month (billed annually)
Enterprise: Contact them for a quote.
#9. Asana
Best for remote and distributed teams.

Asana is a work management software that enables teams to manage and track projects. This software lets users add tasks, assign them to team members, set due dates, and comment on them. It also lets users share documents and get notifications when tasks are finished or incomplete. The system also lets teams collaborate in real time. By using the Asana, you can save time and money while maximizing your team's productivity.
Asana integrates with more than 200 apps. This secures data for team members. If you're looking for more features, you can create custom apps using the Asana API. You can also automate routine tasks and ensure that team members follow processes.
Features:
It allows teams to communicate and collaborate in one place, reducing email and disorganized spreadsheets. The software allows teams to share context and combine related tasks. By using Asana, teams can organize their projects, share feedback, and collaborate with vendors and contractors. 
Asana is flexible enough to cover a variety of different work types, from project-based to ad hoc work. It provides a centralized workspace, collaboration, and communication tools, as well as a centralized data repository and search capabilities. Users can use the software to manage projects, processes, workflows, and day-to-day tasks. 
Users can organize their work into shared projects as lists or Kanban boards for initiatives, meetings, and programs.
You can lock down your projects by making them comment-only. With this, you can share information with your team members without worrying about unwanted edits.
Pros:
East to use
Easily export or delete data from Asana, and have your data backed up on separate server.
99.9% SLA uptime for enterprise users.
Cons:
No time tracking feature
It has too many features, which can make simple tasks a bit overwhelming. 
Pricing:
Basic: Free
Premium: US$10.99 per user, per month
Business: US$24.99 per user, per month
#10. Notion
Best for enterprises, small businesses, and individuals.

Notion is a project management and workflow solution that allows businesses to streamline their operations in areas such as goal setting, status tracking, and lead management. It is an all-in-one workspace for collaborative work. Notion OS comes with a number of customizable templates, allowing you to personalize your own workspace. It can also track meetings, team members, and problem-solving processes. 
It allows businesses to streamline their operations in areas such as goal setting, status tracking, and lead management. The drag-and-drop interface enables users to arrange, rearrange and create ideas, thoughts, or plans. Notion's robust structure makes it easy to organize content, work items, and database components. 
It can be used on browsers as well as desktop apps and mobile devices with native applications. This tool includes collaboration tools that allow for quick work and easy information sharing. 
Features:
Businesses can use Notion to create and maintain a knowledgebase of multiple topics, such as task instructions and coding guidelines, HR workflows, and more. The built-in calendar, kanban boards, and task manager allow users to create and track tasks based upon completion status, priority, category, or team member. To improve collaboration, team members can comment on tasks and projects to encourage discussion.
Notion includes an API (application programming interface) that allows businesses to integrate it with third-party solutions such as InVision, Figma, Slack, and Figma. It allows users to create to-do lists, make meeting notes and organize weekly agendas from a single platform.
Notion allows distraction-free writing/typing by providing a blank page or space. With the drag-and-drop feature, users can add any content. You can select from images, bookmarks, videos as well as programming code. 
It helps users to create and search for any information they need, including company goals, document office policies, employee contacts, engineering best practices, and other important information.
Pros:
Organizing notes or dashboards is super easy and fun. 
Simple user interface and easy to understand.
Easy to collaborate with team members with access control.
Cons:
Pricing:
Personal: Free
Personal Pro: $4 per month billed annually
Team: $8 per month billed annually
Enterprise: Custom quote
Conclusion
Work Operating System software, or Work OS, is a term for the various types of software that help individuals and organizations manage their work. There are many different types of Work OS software, and each has its own strengths and weaknesses.
Data safety and security are important considerations when adopting a Work OS. Work OS can be extremely helpful in managing workflow and reducing confusion among team members. However, there are some potential obstacles to adopting Work OS Software, including cost and data safety/security concerns.
Many businesses of all sizes are already using Work OS Software to great effect. If you're considering implementing a Work OS, it's important to do your research and select the best option for your needs. We've provided a list of ten popular Work OS Software options to get you started.