Unleashing the Power of Online Proctoring Software for Better Testing
Numerous things have gone digital since the pandemic, including payment methods and educational programs. The entire world is heading toward digitization, and remote work has since become popular and required of all professionals, including instructors.
One primary sector that has embraced digital teaching methods quickly is the education sector, which employs tools like online proctoring software.
Online exams can now be administered securely and without cheating, which is one of the main factors contributing to their appeal.
This is accomplished by putting in place several malpractice prevention strategies.
The most extensively used malpractice prevention strategy worldwide is remote proctoring.
You might be familiar with online test monitoring. It's a relatively new concept that seeks to help educational institutions create an impartial environment for students to take exams.
Finding the best online proctoring software is becoming important as more universities and colleges use remote learning and online tests.
But why is online proctoring significant for organizations, faculty, and students, and what are its key benefits?
Key Benefits – Online Proctoring Software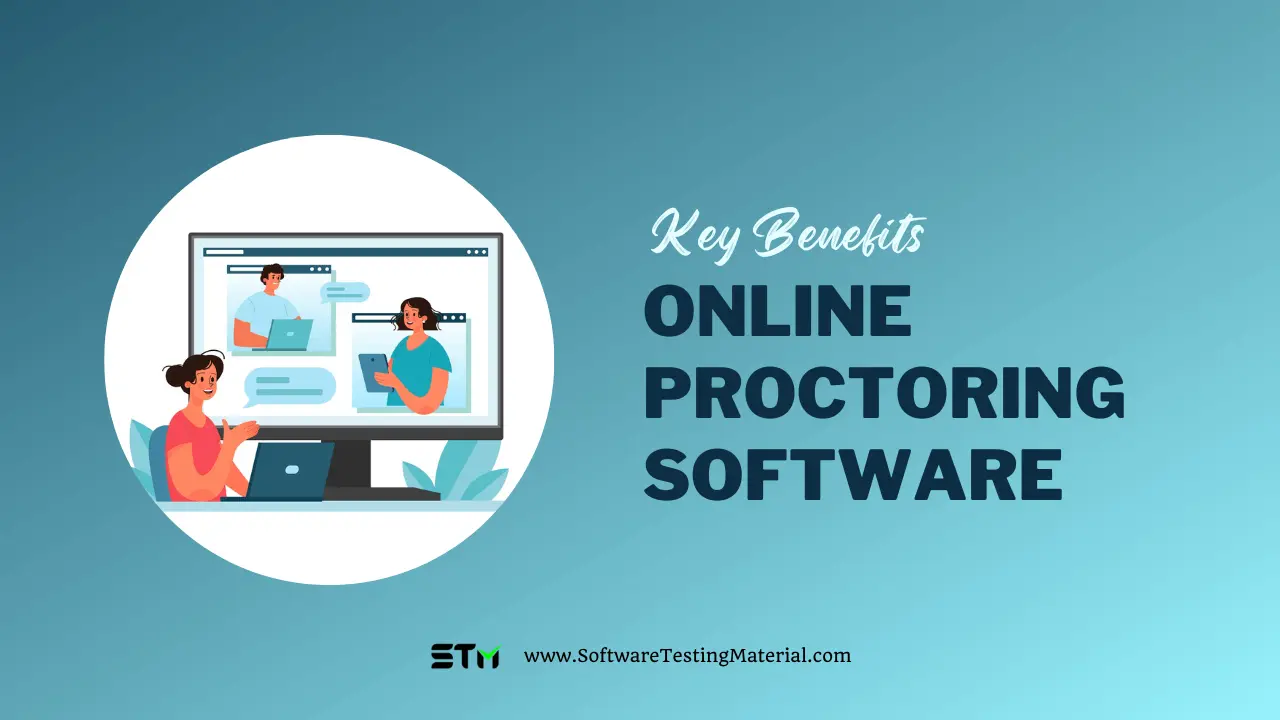 #1. Online proctoring software confirms student identification
Some educational institutions are mandated by law to check students' IDs. While some are required by law, it is safe to assume that all institutions wish to confirm that the student taking the online exam is the same student enrolled in the course.
Students open the online exam to validate their ID. The online proctoring system will capture the information on the student's ID and photo, ensuring that the student taking the remote exam is the student receiving credit.
#2. It's simple to set up and customize
For instructors, organizing a proctored exam can be quick and easy.
With a comprehensive online proctoring solution, instructors can enable online proctoring in three easy steps:
Create the exam as you typically would in the LMS.
Make online proctoring available and select the options you want to use.
Examine the results
Since the proctoring solution should be compatible with your current remote learning platform, customizing the features of the proctored test is simple.
You can choose which aspects of remote proctoring you want to employ, including the webcam, the ability to disable printing, the ability to record your screen, the ability to scan a room, and more.
Detailed reporting offered by proctoring solutions can provide instructors with a plethora of information regarding test-taking behavior by finding patterns and comprehending how students interact with online exams.
This information can be utilized to enhance online tests and increase student performance.
#3. Secure Setting
Online proctoring software guarantees a secure environment for exams.
It removes the possibility of cheating or other errors that can make the exams unethical.
It aids in spotting students' improper conduct throughout the exam.
Proctors can also keep an eye on student activity from a distance.
Find the best online proctoring software that can monitor students' actions during the exam manually and live.
#4. Browse Security
Online proctoring software checks the students' browsers while taking the test or attempting it to stop cheating.
Restricting the student's laptop or computer's window during the test also helps.
Regarding browser security, online proctoring raises a red alert if a candidate or student tries to open a different window and notices any unfairness that may result.
Users cannot use browsers and new tabs, websites, search engines, screen sharing, printing, data sharing, or cut, copy, and paste.
When the exam is taking place, candidates are not permitted to transfer or share any information.
#5. Multi-Platform Adaptability
The examiner and the students can effortlessly give and take tests from any location with the help of online proctoring software.
It is a flexible platform for both users and does away with the price of actual exam centers and travel costs.
Also, it is appropriate for all exams and tests, including aptitude, subjective, essay, and objective tests.
They may be easily supervised by a proctor, who can also closely monitor them.
#6. Efficiency
Online proctoring software has a wide range of applications.
Businesses can utilize it in addition to the academic setting, where it is frequently employed for online exams.
They can use remote proctoring to set up online training programs to develop the employees' hard and soft skills and to carry out professional certifications.
Also, it can improve the effectiveness of specific job processes, like hiring, making them less time-consuming and more economical.
Furthermore, online proctoring gives educational institutions a considerable financial edge.
They don't have to shell out for administrative expenses or hire as many instructors and staff members as they would for offline assessments.
Conclusion
In the era of distance learning, online proctoring services have significantly increased in popularity. They guarantee the fairness and security of online tests, give students and teachers more freedom, and considerably lessen the pressure associated with crucial exams. Thanks to the large selection available, every educational institution can find a remote proctoring service that best suits their needs.