Best XRay Alternatives (Free and Paid) for 2023
This blog post explores the best XRay alternatives for software testers.
Each team approaches testing differently. It's critical to find a test management system that works best for you. XRay is an excellent test management solution, but there are alternatives to XRay test management tool.
I have compiled a list of the best alternatives to XRay Test Management Tool in order to help you find a new tool for your team.
About XRay
Xray is a test management tool for Jira that helps you to organize, plan, and report your testing process with accuracy. It seamlessly integrates with Jira.
Xray enhances your agile boards by monitoring the requirement status and test execution progress in real time. It also offers sophisticated reporting that may be exported to Docx, xlsx, or pdf using Xporter. You may connect it with your favorite Continuous Integration tools such as Jenkins and Cucumber.
Features
Allows you to easily link your requirements to test cases
Provides detailed traceability reports.
Seamless integration with agile processes
Its robust REST API, integrations, and reporting are ideal for use with your CI/CD pipeline.
It supports native integration into leading test automation frameworks like Selenium, Cucumber, etc.,
Don't miss: How To Choose A Test Management Tools
Comparison XRay Competitors
Tool Name
Free Trial
Basic Plan Pricing
Link
PractiTest
14 days
$ 39 /per user /per month
Learn more
Testmo
21 days
$299/month for 25 users
Learn more
Testiny
14 days
Free for up to 3 users
Above: $17/user per month
Learn more
QMetry
30 days
Contact Qmetry sales
Learn more
ReQtest
10 days
$6 – $45 / user
Learn more
qTest
14 days
Contact qTest Sales
Learn more
TestLodge
30 days
$26 month
Learn more
QACoverage
Contact QACoverage Sales
$99/user per year
Learn more
List of Best XRay Alternatives And Competitors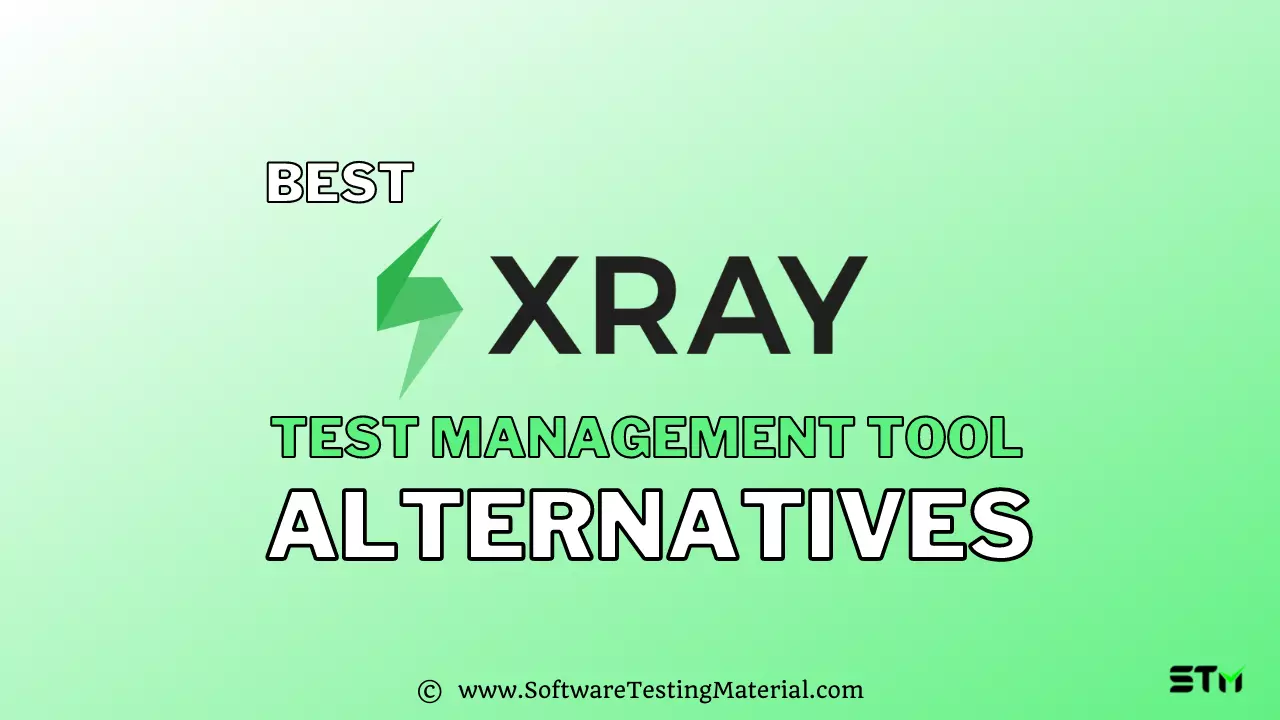 The main details of each software are listed below, but if you're in a hurry, here's a quick list of the best alternatives to XRay Test Management Tool.
If you'd like to see our in-depth analysis, keep reading.
#1. PractiTest
Best for a wide variety of testing methods and enables confident software delivery.

PractiTest is an end-to-end SaaS test management platform that centralizes all your QA work, processes, teams and tools into one platform to bridge silos, unify communication, and enable one source of truth across your organization.
With PractiTest you can make informed data-driven decisions based on end-to-end visibility provided by customizable reports, real-time dashboards, and dynamic filter views.
Improve team's productivity; reuse testing elements to eliminate repetitive tasks, plan your team's work based on AI-generated insights and enable your team to focus on what really matters.
PractiTest helps you align your testing operation with business goals, and deliver better products faster.
Features:
End-to-End test management platform: Bring your entire QA operation into one shared space. Visualize your data to extract valuable actionable insights. Collaborate with all teams to reach business goals.
Centralized QA hub: Connect teams, bridge silos, unify communication, and enable one source of truth across your organization. Boost your testing productivity, visibility, team collaboration and business alignment.
Full visibility: Get a high-level overview or drilled-down details of your QA process with PractiTest's powerful reports, real-time customizable dashboards and dynamic filter views. Use testing insights to predict potential problems, make data-driven decisions and accelerate work.
Improved productivity: Easily reuse testing elements and filter your data dynamically according to your needs.
Eliminate repetitive work, enable your team to focus on what really matters and improve productivity.
Flexibility: PractiTest has everything you need to work your way: Customizable fields, dashboards and views and integrations with any tool you already work with.
Customize PraciTest to best suit your QA operation regardless of your testing methodology; Waterfall, Agile or DevOps.
Business alignment: Achieve full traceability of all testing assets back to user stories to align your testing operation with business goals. Better allocate testing resources for improved efficiency and faster product delivery.
Pricing:
Professional: $ 39 /per user /per month
Enterprise: $ 49 /per user /per month
Unlimited: Contact Practitest
Free: 14-day trial
Is Practitest better than XRay
When using a the Jira add-on like xRay in particular several issues might arise:
Non of the Jira add-ons have their own storage, meaning they are using Jira's storage. When the number of tests increases (especially when incorporating automation), Jira Performance is downgraded. Atlassian publishes the list of issues that are being caused by these add-ons every once in a while and try to improve it, but these issues keep coming back and harm the overall Jira performance.
Moreover, most (if not all) add-ons give only basic reporting options (CSV files only). This means that a user that wants to have advanced reporting, must buy external additional add-ons such as Xporter (also mentioned on the Atlassian page). This means more performance issues and more money to be paid.
Besides that, with Xray a user must pay for ALL JIRA USERS. so if your QA team is 20 people but you have 75 people using Jira (developers, support etc.) you will need to pay for all 75 users (with PractiTest integration – the Jira users will have access to all the data that is relevant for them but you won't need to pay anything for that).
With PractiTest you pay per user, with Jira/Xray you pay per tier. Which all builds up to quite a large expense.
#2. Testmo
Best for modern teams looking for unified test management for manual, exploratory and automated tests in one platform.

Testmo is the #1 unified test management tool for modern teams. Manage all your manual test cases, exploratory tests and test automation in one powerful platform.
Designed for testing productivity, Testmo comes with a lightning-fast, scalable and modern interface so teams of all sizes can optimize and scale their testing activities.
Testmo also fully integrates with all the tools testing teams use for a complete testing workflow. It comes with best-in-class Jira, GitHub and GitLab integration plus many more integrations. Also directly submit test automation results from CI pipelines, build systems and dev environments. Any test automation tool and platform supported.
Features:
Unified testing to track all your QA activities in one tool.
Rich test case management, exploratory test sessions & test automation.
Full issue integration with Jira, GitHub, GitLab and many more.
Full integration with any test automation tool, CI pipeline & DevOps tools.
Best-in-class reporting, metrics and real-time charts.
Fully customizable with fields, workflows & test assignments.
Built-in project management, milestones & versions.
Fast, scalable & enterprise-ready for teams of all sizes.
Pricing:
Team: $99/month for 10 users
Business: $299/month for 25 users
Enterprise: $499/month for 25 users
Free: 21-day trial
#3. Testiny
Best for small to mid-sized QA teams looking for support of a wide range of testing methods and integrating test management seamlessly in their development process.

Testiny is a state-of-the-art test management tool with a wide range of features. It supports manual testing and fully integrates with any kind of test automation. Simply upload your automated test results to Testiny and have all quality-related data at one place.
Testiny helps to improve team productivity with its easy-to-use and fast user interface; no need to train the team – just use the tool; it's so simple.
With Testiny you'll be able to increase your development speed and product quality, as Testiny will show you exactly where problems occur; which tests fail, which are flaky and much more. Moreover, it's even free for small teams and open-source projects.
Features:
Test automation integration – upload any kind of result to Testiny
Easy to use and blazing fast UI
Custom fields- Testiny adapts to your process
Integrations (Jira, etc.)
Real-time data and reporting
CLI tools and REST API for developers
Pricing:
Completely free for open-source projects small teams up to 3 users
Pricing starts at $17/user per month
Volume and yearly subscription discounts
Free Trial: 14 days (can be extended; no credit card required)
Is Testiny better than TestRail
The main difference between Testiny and XRay is the responsiveness and the usability of Testiny. While you're waiting what feels like an eternity for XRay and Jira to load, Testiny responds within milliseconds – it's like comparing a racing car with a bicycle.
Moreover, where XRay is cumbersome to use, as it's just a Jira add-on, Testiny is a native test management tool and is far easier to understand and use than any other tool. That said, Testiny also fully integrates in Jira: if you want to know which requirements are covered by which tests, Testiny shows you exactly what you're looking for; same with defects.
Best of all, Testiny's licensing is fully decoupled from your Jira users; if new users get added to Jira (who don't do any testing), your Testiny pricing stays the same. In the case of XRay, the tool costs rise with every user added to Jira.
Summed up, it's definitely worth having a closer look at Testiny!
Testiny is much faster and easier to use than XRay
Testiny is completely free for small teams and open-source projects
Testiny's pricing is fully decoupled from your Jira users
Only purchase the users you really need 🙂
Integrates with every test-automation tool and any CI/CD process
Flexible reporting
#4. QMetry Test Management For Jira (QTM4J)
Best for Jira alike enterprise-grade test management offering superior developer experience to Agile/DevOps teams.

QMetry Test Management for JIRA (QTM4J) is an intuitive, scalable Enterprise Grade test management app in Jira that allows agile teams to manage their entire software testing lifecycle inside Jira.
QTM4J supports manual, automated, and exploratory testing and provides real-time cross-project reporting and analytics, allowing teams to gain insights into their testing process and make data-driven decisions.
It also integrates with popular automation tools and frameworks and supports top CI/CD platforms for continuous testing.
Features:
Modern User-friendly Interface  
Test Planning, Authoring, Versioning & Execution 
End to End Traceability with Jira Stories and Bugs  
Cross-project Real-time Reporting, Dashboards and Test Coverage 
Seamless Integration with Automation frameworks and CI/CD platforms  
Test Case Reusability using Data Parameterization and Shared Test Cases 
BDD Support for Requirements and Test cases,  
Folder Hierarchy  
API for Integration  
Granular Permissions for Every Operation  
Support Manual, Automation and Exploratory Testing  
Easy Migration 
Pricing: Contact Qmetry sales
Free: 30 days trial
#5. ReQtest
Best for IT teams seeking for a cloud-based test management solution.

ReQtest is a cloud-based test management and requirements management tool that helps testing teams to overcome the testing challenges.
ReQTest is acknowledged and recommended by industry leaders Teracom, Dustin, and Schneider. Scania, Coop, Bisnode etc.,
Features:
Built-in filters to identify specific issues.
Organize requirements effectively in Requirements Hierarchy
Effortlessly capture, track & manage bugs and issues
It allows you to link Agile Board components to requirements, bugs, and test cases using this tool.
Pricing:
Professional: $6 – $45 / user
Enterprise: Contact Reqtest
Free: 10-day trial
#6. qTest
Best for small as well as large-scale organization.

qTest is a test case management solution for project management, bug tracking, and test management. It allows us to track, organize, and report tests with confidence.
This provides a complete overview of your project's lifecycle, including builds, cycles, suites, and others.
Features:
It enables test cases modifications during test execution and reflects the changes in test design.
It supports both cloud-based and on-premises deployment.
It enables you to organize and plan your testing procedures according to project deadlines.
Arrange and display charts and graphs as desired. Tabs allow you to create numerous dashboards for various projects or teams, each with its own set of metrics.
Visualize your testing data with interactive heat maps that help you find where the application's problems are. Then drill down to learn more about the issue
For optimum efficiency, collaborate with other teams on test cases.
It seamlessely integrates with Agile and DevOps tools.
Pricing: Contact qTest Sales
Free: 14-day trial
#7. TestLodge
Best for QA teams of all sizes.

TestLodge is an online test case management tool that helps your team to manage their requirements, test plans, test cases, and test runs.
Features:
It integrates with over 20 of the leading issue-tracking tools such as Bugzilla, GitHub, Jira, FogBugz, Redmine etc.,
Allows you to create test plan using in built template or design it from scratch.
Create a suite of test cases using our simple interface, or import existing test cases from a spreadsheet.
Graphs and dashboards allow you to obtain quick information about the status of your testing.
By using TestLodge, you may improve the efficiency of your bug reporting procedure by generating thorough bug reports immediately.
Pricing:
Premium: $215 month
Plus: $107 month
Basic: $53 month
Personal: $26 month
Free: 30 day trial
#8. QACoverage
Best for testers, developers.

QACoverage is a test case management tool that manages all your testing processes and helps you produce high quality and bug free products.
It offers project management solutions like Test Design, Test Automation, Test Execution, Reporting and Dashboard, Requirement Management, and Agile modules that streamline the workflow for Quality Assurance teams.
Features:
Seamless integration with test automation frameworks like Katalon and Cypress
To improve testing and deployment automation, work with Continuous Integration (CI) tools like Jenkins to automate testing and delivery.
Provides crucial analytics and bug reports.
Allows you to design and group test cases based on test types, priority, etc.,
Pricing:
Test Case Manager: $99/user per year
Application Lifecycle Manager: $199/user per year
Test Case Manager: $299/user
Application Lifecycle Manager: $399/user
Conclusion
The best way to find the right XRay alternative is by carefully considering your needs and weighing all of your options. Our list should help you get started in finding a solution that will work for you.
We recommend considering these six options before making a final decision on which one you want to use in place of XRay. The best thing about using our list is that we've included information like pricing and features so that you can make more informed decisions without having to go through hours of research yourself! Let us know if this list helps in the comment section below.
Related posts:
Disclaimer

All information contained here is based on publicly available information and is deemed correct but not warranted. Any errors or omissions should be brought to our attention, and prospective customers are encourage to do independent research.