Best RPA (Robotic Process Automation) Tools (Free and Paid) for 2023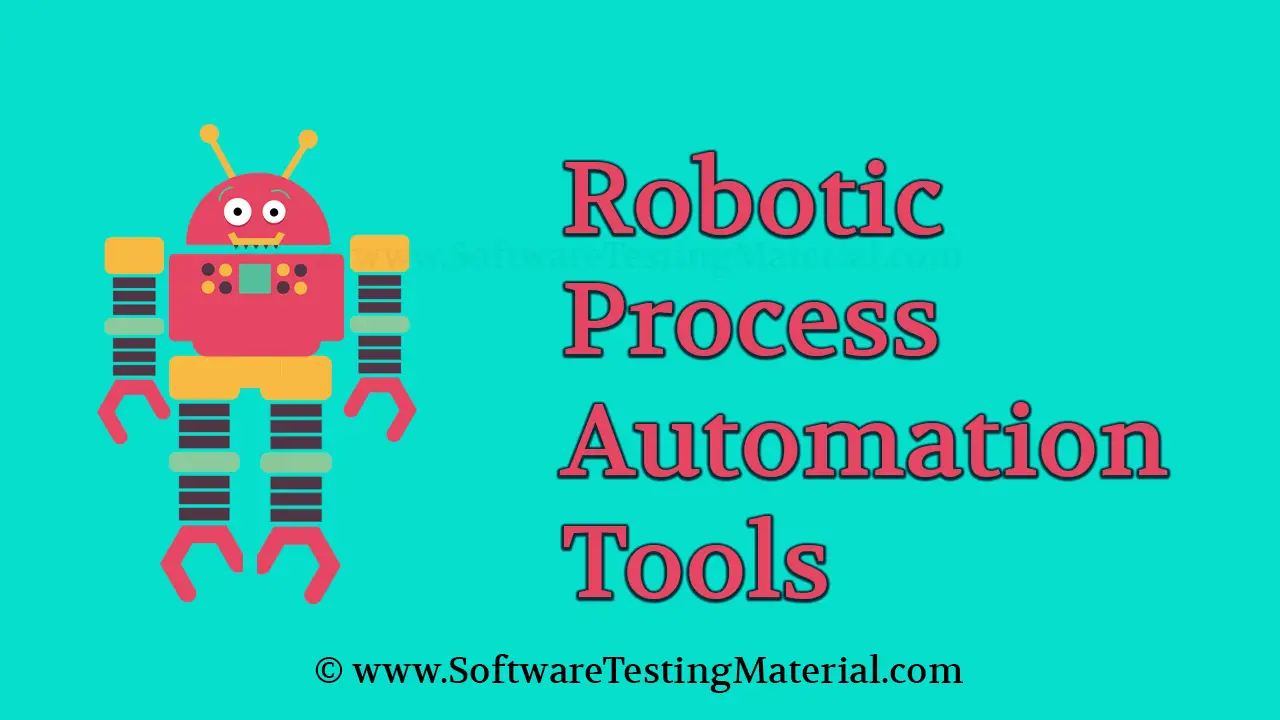 Are you looking for the Best RPA Tools?
Do you find anything lovable about robots and computing software; well I certainly do! Even though I work in a monotonous back-office environment, robotic procedures have enhanced to a great extent in regard to the importance of automation.
In this guide, we will learn the following
What is RPA (Robotics Process Automation)?
It is a business process automation technology that allows a computer program or robot to replicate otherwise the manual process in an automated, reliable, and repeatable manner.
Robotic (R) – It is a software that mimics human actions like click, keystrokes, navigation and so more.
Process (P) – Sequence of steps taken to achieve the desired result
Automation (A) – Performing the sequences of steps in a process without any human intervention.
Types of Robotic Process Automation(RPA) tools
The various types of RPA bots are as follows:
1. Attended RPA bots
2. Unattended RPA bots
3. Hybrid RPA bots
What is the difference between Attended Automation, Unattended Automation & Hybrid RPA
The difference between the types of RPA tools is as follows.
#1. Attended Automation:
Attended RPA bots act as a personal assistant and help in completing simple repetitive tasks based on user-triggered actions.  
Here the bot passively resides on the user's machine. For example, if a customer's inquiry is being handled by you. The 'agent' or the 'bot' takes care to scrap information and paste it in the relevant fields. The key here is you get to decide where to launch a bot.
#2. Unattended Automation:
Unattended RPA bots execute tasks and interact with applications without any human involvement. These bots have decision-making capabilities.
No matter how negative this sounds but it might interest you to know that this type elevates RPA to another level. As a result, lots and lots of time is being saved for the back-end employees. Here a bot can launch another bot.
For example, these bots have capabilities to complete back-office functions like data processing and data management without human intervention.
#3. Hybrid Automation:
Hybrid RPA bots are a combination of both attended and unattended RPA bots. These bots can be helpful in the end-to-end business processes such as invoice processing.
Instead of completely depending on algorithms, the process gets automated in both an efficient and practical manner.
Wondering why it makes sense of incorporating RPA in a corporate environment? Well, the tech has huge potential to eliminate some of the most time-consuming and repetitive manual processes. For example, right from managing an accountant's day to day work, the tech can offer additional value in regards to strategic viewpoint as well as making profound decisions. Further below I would like to mention certain benefits offered by Robotic Process Automation.
Benefits of using RPA Automation Software
Reduce in terms of cost: I personally find RPA a profitable investment. I mean using the tech doesn't offer benefits limited to cost saving but it also enables businesses to generate adequate amount of revenue. Deploying more and more robots can certainly automate business functions in a cost efficient manner.
Standardization and control on overall procedures: By deploying RPA you have the entire control in your hand. This certainly leads to creating a win-win situation for both business as well as your end clients.
Increases productivity and speed of processing: Automation definitely leads to increase in productivity; there is no debate about it. At the same time it also results in faster internal reporting, on-boarding and other internal activities.
Derive predictability and high quality: Do you really think software bots can be prone to human error? Probably not! Unlike us they will never get tired or distracted. Which means you are bound to receive more accurate results.
Minimizing manual error: One of the biggest advantages of using virtual workforce is bots work all the time, 24-hours a day every single day of the year. Unlike humans, they don't have any emotional unproductive day.
Better Return on Investment (ROI): This one is easy. With increase in productivity nothing can stop your business from receiving better return on investment.
Enhanced customer experience: No one likes the breach of security. Agree or not, but most of the fraud cases happen internally. Using RPA works at its best when it comes to protecting the privacy of your vendors and clients.
Where We Use RPA Software
Payroll and order processing
Shipment scheduling and tracking
Fraud case investigation
Support & helpdesk
Banking processing
Excel comparison
Status reports
Best RPA Tools List
The following are the top RPA tools in the market and we try to include both open-source RPA tools and commercial ones. 
#1. Blue Prism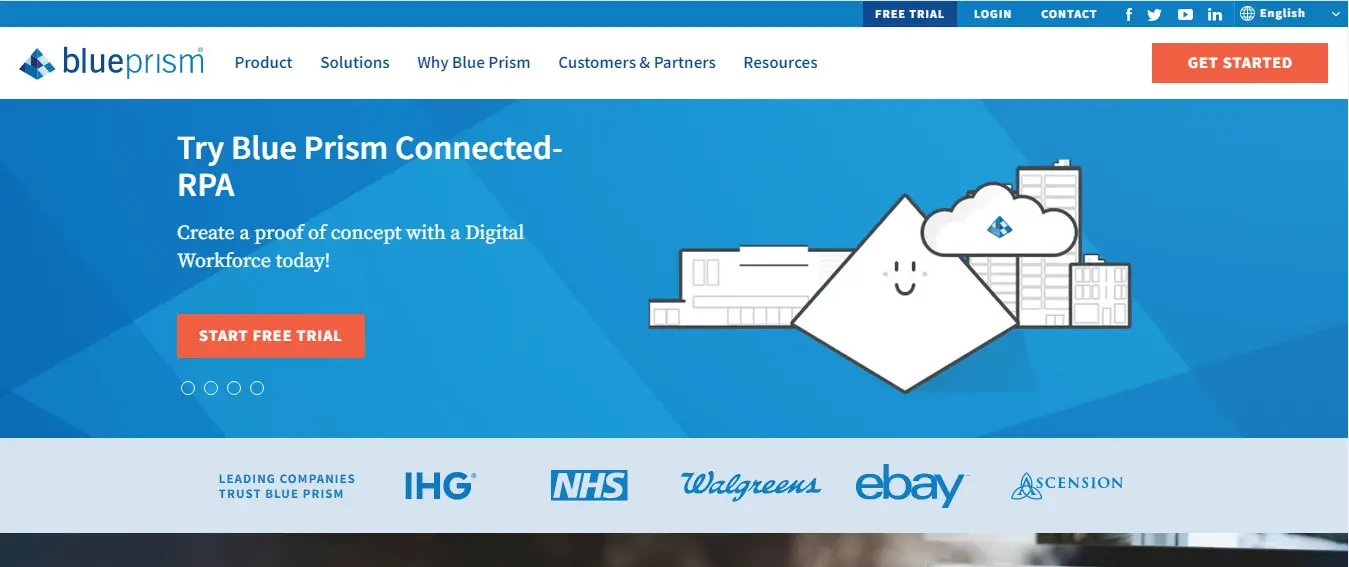 Blue Prism pioneered Robotic Process Automation (RPA) seems to be delivering a successful digital workforce on a global note. It is one of the Free RPA Tools. Often known as the trusted and secured RPA platform of choice, Blue Prism assists a business operation to be agile and cost-effective automating manual and rule-based repetitive back-office procedures. The Blue Prism tool deploys drag and drops features to automate various business processes.
Its features include:
Support multi-environment deployment model
Security implemented for network and software credentials
Efficient implementation
The robust and feature-rich analytics suite
Improved Control Room for real-time feedback
#2. Automation Anywhere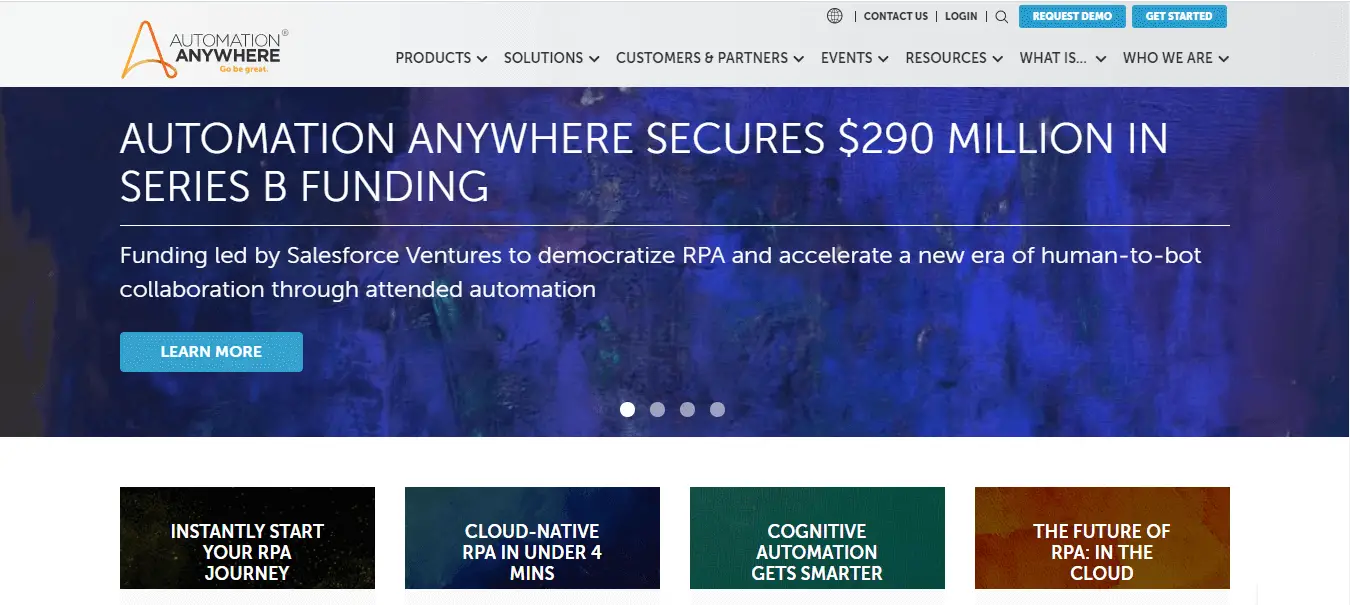 Automation Anywhere RPA developer tool provides on-premise and cloud services leading to implement all core capabilities. The tool turns out to be pretty ideal for both media as well as large organizations. Featuring intelligent elements like language understanding and addressing any unstructured data, the tool offers the best services like never before.
It features include:
Bank-grade security
Authentication, encryption, and credentials
Real-time reports and analytics
Smart automation for business and IT operations
Rapidly Automates complex and complicated tasks
Download Link: https://www.uipath.com/automate/robotic-process-automation
#3. UiPath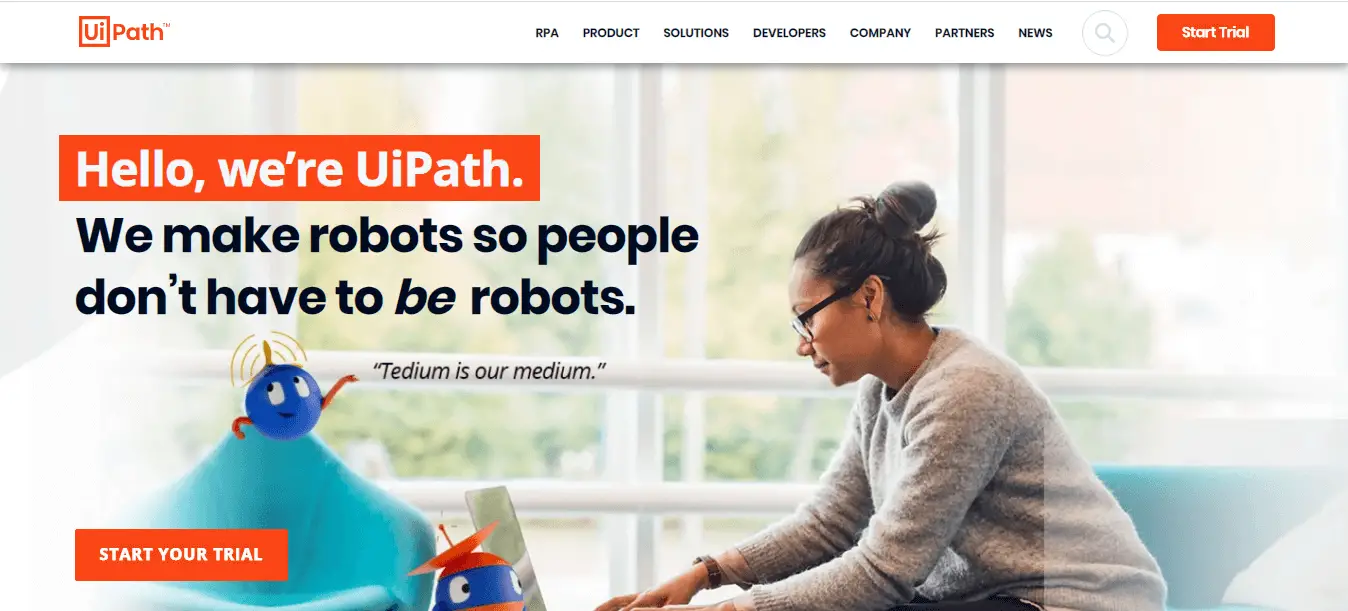 Are you looking for one of the best open source RPA tools that has the potential to provide all core capabilities? UiPath is a user-friendly name highly recommendable for both techies and non-techies. Whether you own a small, medium or large size business, the tool works for all.
Its core features include:
Provides security, encryption and access controls
Automate faster and support for Citrix
Open platform that can handle any amount of complexity
Download Link: https://www.automationanywhere.com/
#4. Pega

The business process management tool offers only cloud-based solutions or services and is highly used on desktop servers. Right from Windows, Linux, and Mac, the tool can be used anywhere. It is one of the best RPA open source tools.
Its features include:
Easy deployment of solutions to the customer
Cloud-based solution
Event-driven approach makes it faster
Robust and reliable tool
Download Link: https://www.pega.com/products/robotic-process-automation
#5. Softomotive

If you are looking for a Robotic Process tool that offers two solutions at a time, Softomotive is worth considering. The tool definitely increases productivity, performance, and efficiency of enterprises.
Its features include
From scratch to completion; design to production
Adequate accuracy, security and error handling
Integrated with SAP, Salesforce, Oracle Financials, and PeopleSoft Automation
Supported by .NET and SQL server.
Download Link: Winautomation
#6. Context
This tool, in particular, is accurate for any size front offices. Other than rendering on-premise and cloud services, it works for all workstation applications. This robotic process automation offers a complete view, online help and shares data within two or more applications.
Its features include:
Supports Citrix and RDP hybrid virtualization
Reports and analytics
Automate tasks in real-time
Ensure the proper sequencing of tasks
Gather and manage a contextual data collection
Provide appropriate contextual assistance
Download Link: https://contextor.eu/en/
#7. Kryon

This RPA offers three solutions when it comes to automation; i.e. Unattended, Attended, and Hybrid. The attended tool gives you speed, accuracy, and efficiency at work. The deadly combination works on the cutting edge of RPA technology, encouraging innovation in the discovery of becoming automated processes.
Its features include:
A scalable system
Render recording facility
Perform tasks with greater speed, accuracy, and efficiency
Support all repetitive and time-consuming business processes
Improves productivity
Download Link: https://www.kryonsystems.com/
#8. NICE Systems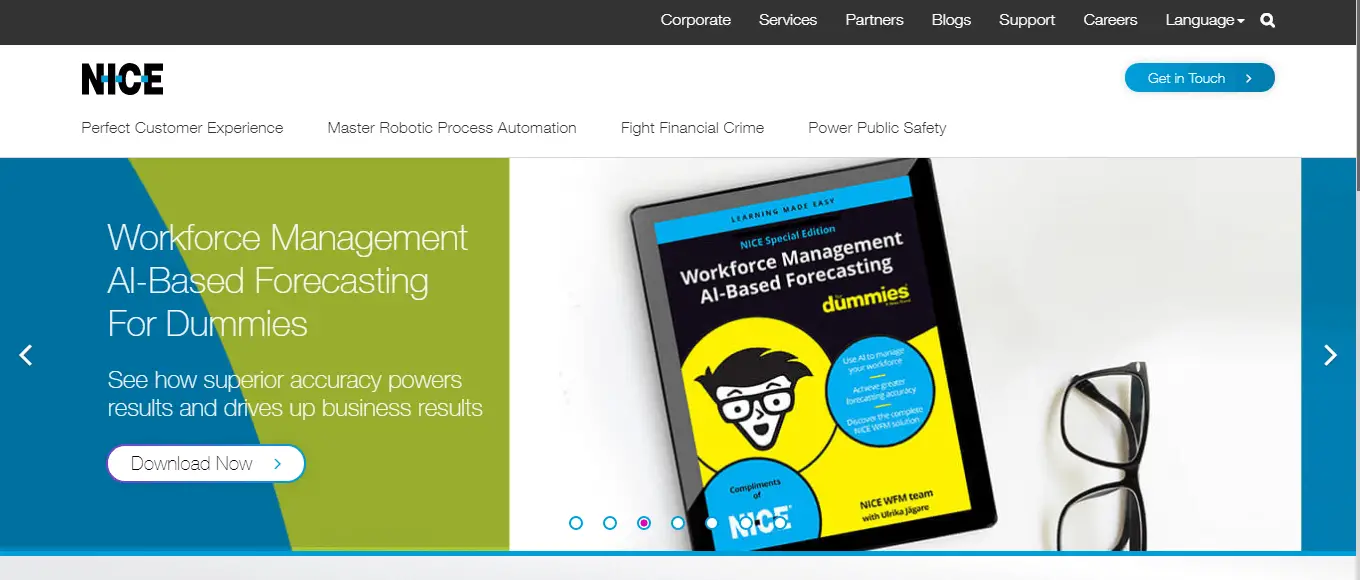 Often known as a NEVA-Nice Employee Virtual Attendant, the Nice RPA python tool encourages the employees in repetitive tasks. The tool firmly supports any organization to take firm and accurate conclusions based on high-level analytics of structured and unstructured data.
Its features include:
Offers attended and unattended server automation
Automating ordinary tasks, Compliance adherence, and Up-sell
Cloud-based and on-premise solutions
Improved Customer Satisfaction
Increased productivity
Greater resource utilization
Download Link: https://www.nice.com/websites/rpa/
#9. Autonom8
Autonom8 was founded in 2018 with a vision to enable Autonomous Enterprises™. It offers a low-code RPA platform to roll out automated, intelligent workflows and customer journeys rapidly. 30+ enterprises from various industries use Autonom8's low-code platform now.
Digitization isn't just about moving from a paper-based interaction to an application-based process. A8's platform brings together (ML) and Conversations (NLP) to make these journeys agile and flexible. And we deliver it through a low-code SaaS platform, taking away the biggest pain in the traditional enterprise software delivery cycle – project timelines running into months. With A8's foundation, IT groups can answer Business Requirements in a few days.
Our TCO is less than a third of comparable vendors, and you pay when your customers are successful.
Its features include:
Powerful drag-and-drop builder
Browser-based low code development platform
Support for hybrid deployment
Adaptive form designer for Mobile, Tablet & Desktop
TARS: A8Studio Co-Pilot powered by GPT-3
Real-time reports and analytics
Smart automation for business and IT operations
Rapidly automates complex and complicated tasks
Pricing: Pay-as-you-use model
Download Link: https://www.autonom8.com
Hope you have learned various tools used in RPA like Automation Anywhere, UiPath, RPA Blue Prism, and various types of RPA bots.
FAQ's – Best RPA Automation Tools
Which are the Best Robotics Process Automation Tools?
Some of the Best Robotics Process Automation Tools are as follows
1. Blue Prism
2. Automation Anywhere
3. UiPath
4. Pega
5. Softomotive
6. Context
7. Kryon
8. NICE Systems
What are the advantages of using RPA tools?
Some of the advantages of using RPA tools are as follows.
1. Reduce in terms of cost
2. Standardization and control on overall procedures
3. Increases productivity and speed of processing
4. Derive predictability and high quality
5. Minimizing manual error
6. Better Return on Investment (ROI)
7. Enhanced customer experience
We have explained all the points in detail in the above article.
How to select a RPA Sofware?
To pick a RPA solutions, we have to consider the following.
#1. Platform support like Web, Desktop, Mobile, SAP etc.,
#2. License cost if any
#3. Hardware/Software requirement
#4. Tool training cost
#5. Support and update policy of the tool vendor
Conclusion
The benefits of using RPA automation software are endless. RPA technology improves efficiency, accuracy and is cost-effective when implemented correctly.
Basically, if you are looking to increase efficiency and make your business more profitable by automating repetitive tasks with RPA software, the above list of tools is a good place to start.
Which robotic process automation tools have you used to improve your company's operations? Please share your experience in the comment section below.
Author Bio
Shira Gray is working as a Business Development Executive at eTatvaSoft.com. She writes about emerging technologies. Being a tech geek, she keeps a close watch over the industry focusing on the latest technology news and gadgets.
Related Posts:
If you are looking to dig into our latest posts then check out our homepage.
Like this post? Don't forget to share it!
Happy Testing!
Disclaimer: The order of these RPA tools doesn't suggest any recommendations.