Best Experitest Alternatives (Free and Paid) for 2023
Looking for some Experitest alternatives to help you with your mobile app testing?
Experitest may be one of the most recognizable names in mobile app testing space, but that doesn't mean it's the right tool for you.
To make your research easier, we gathered 6 best Experitest competitors and alternatives in one place.
Some alternatives to Experitest are less expensive and offer comparable features.
In this blog post, we will explore some of the most popular alternatives to Experitest and compare them with other service providers in the same space with pricing, features, and comparison.
About Experitest
Experitest [now Digital.ai Continuous Testing] is one of the leading providers of web and mobile application testing tools, which give developers a better understanding of their product.
Experitest seamlessly integrates with a variety of key tools throughout the DevOps pipeline, so organizations can scale their continuous testing without sacrificing quality of their web and mobile apps.
The company offers an array of testing solutions, including mobile app, web based automation. They offer the best in cross browser compatibility for any device you want to test on.
But if your budget doesn't allow for this option – don't worry! We've compiled some other great alternatives to Experitest below for free and paid options based on what you're looking for in a web and mobile app testing service provider.
Comparison Experitest Competitors
List of Best Experitest Alternatives And Competitors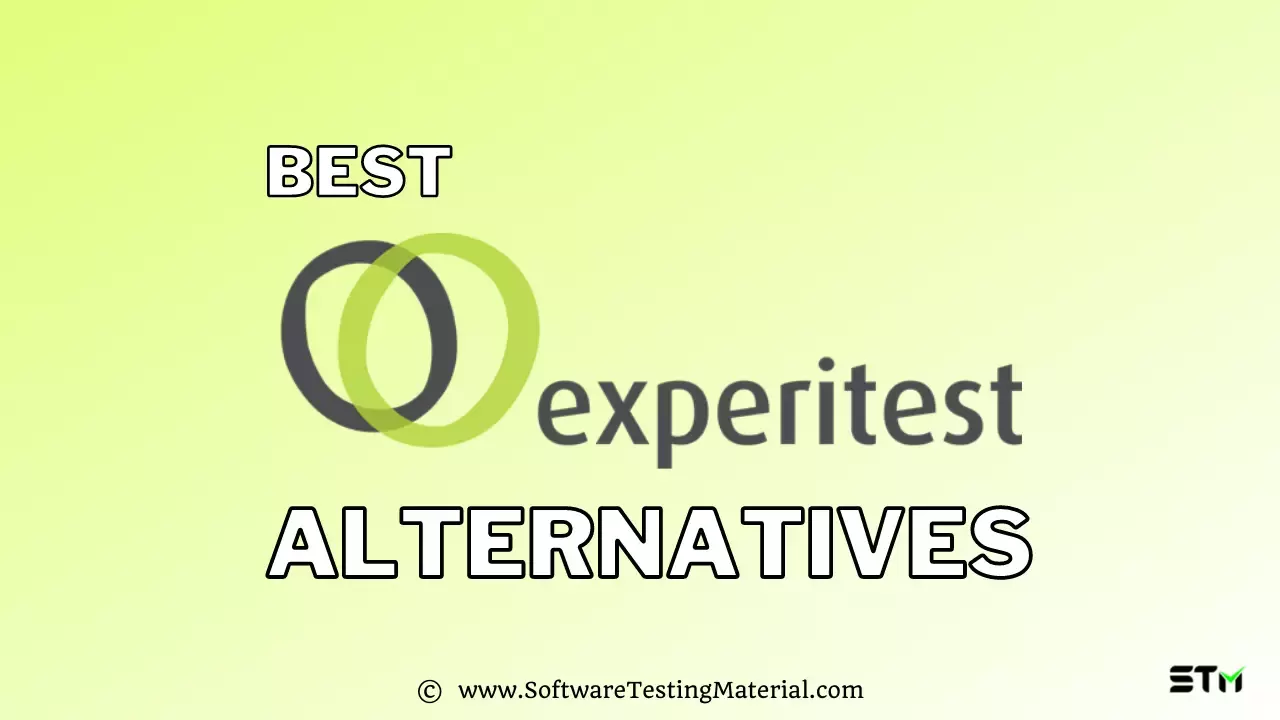 The main details of each software are listed below, but if you're in a hurry, here's a quick list of the best alternatives to Experitest Tool.
If you'd like to see our in-depth analysis, keep reading.
#1. Kobiton 
Best for functional, visual, and performance testing on real devices, in the Cloud or on-premises environment. 

Kobiton is a mobile experience platform that accelerates the delivery and testing of mobile apps by offering manual and automated testing on real devices, in the Cloud, or on-premises. It offers unparalleled freedom to deploy the perfect mobile device testing cloud. You can connect your local on-premises devices – and even "on-desk" devices – along with any of our hundreds of devices to create a true hybrid cloud mobile testing platform. 
Don't miss: Kobiton Mobile Testing Platform Review
It comes with features such as real device testing, device lab management, Appium script generation, and application health checking. Real device testing allows users to access physical devices in the Cloud with full support for orientation and gestures. Users can perform all gestures such as tap, swipe, and scroll on a cloud device. 
Kobiton offers real-time app analytics based on detailed logs, including videos, screenshots, gestures, and system metrics like battery and memory performance.
It Decreases app abandonment rate by ensuring that apps work as expected on all devices, be it Android or iOS. It also supports real device testing and offers users accurate results by testing both mobile and web apps on the latest devices.
It also integrates real device testing into CI/CD processes in order to accelerate app delivery.
Verdict: Leverage Kobiton and the latest in Appium test automation for seamless test script creation that can run against a wide array of devices. With Kobiton's Scriptless Test Automation, experience the industry's first scriptless mobile test automation platform and see just how quickly making a move to automation can be. It is also one of the best Experitest alternatives.
Is Kobiton better than Digital.ai (formally Experitest)?
Digital.ai's web and mobile cloud testing offers real devices on- and off-premises that integrates into any CI environment and supports testing environments such as Appium, Selenium, XCTest, Espresso, and JUnit. But with ever-evolving apps, Kobiton's scriptless automation goes beyond manual testing and for a rapid test creation system that gets applications to release much faster.
Kobiton: Kobiton has prized security, flexibility, and performance above all else when it comes to real device access and management. While Kobiton also offers a public cloud like Digital.ai, Kobiton also offers a 100% dedicated-to-you device access with our Private Cloud, and the ability to cloud-ify your already-owned locally hosted devices for shared-remote-and-dedicated access, you can build a flexible real device lab in the cloud that works for the specific needs of any team across your organization. Kobiton's on-premises and cloud real device labs are powered by our DirectTest technology that allow for rapid device launching speed, virtually zero-latency testing, and 30FPS video streaming during your manual session, for truly unparalleled real device lab performance.
Features:
Real Device Management – Offering 400+ real devices in the public cloud, along with private cloud, local hosting, or hybrid of real device solutions.
Scriptless & Script-based Automation – Achieve accessible and scalable Mobile Application Automation from both scriptless & script-based automation.
Visual Validation – Release pixel perfect applications across all devices and go beyond UI testing by capturing the essence of what makes an app beautiful.
Text Assertions – Ensure consistency of text content and text colors
Data-Driven Testing – Create data-sets and parameterize functional testing
Crash Detection – Catch app crashes and present crash logs all in one place
Performance Assertions – Flag test steps that 'take too long' and analyze performance regressions across devices
Role-based Access Control – Provide granular control over organization, teams, and users by assigning permissions and creating custom roles
Session Exploration – Know what failed, why, and when with rich logging and system metrics for true root-cause analysis
Pricing:
Start up – $500 / year
Accelerate – $2000 / year
Scale – $8000 / year
Growth – $16,000 / year
Enterprise – Contact support
#2. Browserling 
Best for performing Cross browser testing of your websites online.

Browserling is a live interactive HTML5-based cross-browser testing service. It allows you to perform cross-browser testing in browsers as diverse as Internet Explorer, Firefox, Chrome, Safari, and many others.
By supporting a myriad of browsers, Browserling offers customers a great cost-effective way of testing many versions of the same site in an accurate and speedy manner. This will help save time and money.
Features:
It supports android testing. It runs multiple Android Studio versions to offer a variety of Android browsers.
It implemented an online browser sandbox technology to let you securely and safely open a website without getting infected with viruses.
It allows you to change the screen resolution and resize browsers for your responsive testing.
It supports capturing, saving, and sharing screenshots of your web pages.
Verdict: It is one of the top online cross-browser testing tools available in the market. Browserling lets users interact with the browsers live as if they were installed on your computer. Users can also capture, save, and share screenshots of web pages in all browsers.
Pricing:
Free Plantry before you buy – $0/ year
Developer Plansingle-user license – $228/ year
Team Planmulti-user license – $348+/ year
#3. BrowserStack 
Best for performing cross browser testing.

BrowserStack is a web and mobile app testing platform that allows you to test your web applications on any desktop and mobile browser instantly.
Features:
Supports 2000+ browsers and devices.
Allows you to integrate with your CI/CD pipeline.
You can run Selenium automation scripts on cloud.
It supports Responsive testing and Geolocation testing.
Verdict: BrowserStack provides a seamless user experience across every browser and device. The testing solution has helped Devs and QAs accelerate their time from hours to minutes, leveraging its scale to run thousands of test cases in parallel.
Pricing:
Desktop – Testing on desktop browsers – 29 / month
Desktop & Mobile – Testing on desktop & mobile browsers – 39 / month
Team – Testing on desktop & mobile browsers for remote teams – 25 / user / month
Enterprise Team – Enterprise-grade testing for large teams – Contact support
#4. LambdaTest 
Best for SDETs and Devs to conduct automated and live interactive cross browser testing.

LambdaTest is a cross-browser testing service that provides developers and testers with the most wide-ranging compatibility coverage for any browser or OS.
Features:
It supports testing from different locations to ensure a perfect experience for your user across all locations.
Allows you to peform end-to-end Cypress testing in cloud.
It lets you run Selenium automation test scripts across online selenium grid.
It supports Visual UI Testing.
It allows you to capture full page screenshots of web pages across different desktop and mobile browsers right from your browser.
Verdict: LambdaTest is a cloud-based cross-browser testing tool designed to offer automated and live testing. It supports manual, visual, and automated testing. 
Pricing:
Lite – Lifetime Free
Live – $15 / month
Web & Mobile Browser Automation – Includes Live – $99 / month
Web Automation – Includes Live – $158 / month
#5. CrossBrowserTesting
Best for running manual, visual, and selenium tests in the Cloud on 2050+ real desktop and mobile browsers.

CrossBrowserTesting was aquired by Smartbear in 2016.
CrossBrowserTesting allows you to run your live, visual, and Selenium tests on more than 2050 real browsers and devices. It allows users to record video of their sessions, take snapshots, and then share the videos with other team members.
Features:
Allows you to run Selenium or Appium tests in your favorite programming languages.
Headless Browser Testing is supported.
Lets you record and track network logs.
It fits inside your CI pipeline with integration with tools like Jenkins, Jira etc.,
Verdict: CrossBrowserTesting is the best alternative to Experitest and makes you perform visual testing and cross browser testing as a part of your workflow.
Pricing:
Live Testing – $29 / month
Unlimited Testing – $100 / month
Enterprise – Custom Pricing – Contact support
#6. Sauce Labs 
Best for cross browser testing and low-code testing.

Sauce Labs is an American cloud-based, mobile, and web-based testing service provider. It supports different tools to test mobile apps on multiple platforms. It supports iOS, Android, Windows Phone, and Symbian OS. It lets you work flawlessly on every browser, OS, and device. 
Features:
It supports 2000+ Android and iOS devices on public clouds in the U.S. and Germany.
It supports visual UI testing
It supports supports the W3C WebDriver protocol
It seamelessly integrates automated testing into your exsiting CI/CD pipeline.
It supports both real and virtual devices
Verdict: Its end-to-end mobile and cross-browser testing solutions provide you the speed, confidence, and collaboration tools you need in order to deliver the best web, hybrid, and native mobile apps to the marketplace. Sauce Labs ensure that your mobile applications and APIs work as they should in real-world scenarios on any device and browser. It accelerates mobile releases with comprehensive device coverage, secure application distribution, easy collaboration, and faster feedback across development cycles.
Pricing:
Live Testing – $39/Month Billed annually
Virtual Cloud – 149/Month Billed annually
Real Device Cloud – 199/Month Billed annually
Conclusion Best Experitest Alternatives
Experitest is a good web and mobile application testing tool overall, and you can use it to test your mobile and web application and find bugs in your application easily. But the alternatives to Experitest on the market will help you save money and get similar features.
You'll find Kobiton as one of our top recommendations because they can be used across all browsers and real mobile device at affordable rates.
We hope you've enjoyed our list of Experitest alternatives for 2023. If there are any other tools we should add to the list, please let us know in the comments section below!
Related posts:
Disclaimer

This information is deemed to be correct but not warranted and is based off publicly available information. Contact Experitest to learn more about their features and pricing model. Experitest is a trademark of Experitest Ltd.