Best Performance Appraisal Software (Free and Paid) for 2023
Are you looking for the best Performance Appraisal Software?
Performance appraisals are an integral part of any business. An employee's performance not just depends on his work but also on the feedback he receives from the employer. Performance appraisals provide managers with information regarding an employee's ability to develop and follow company programs. For businesses to succeed, it is fundamental to evaluate their employees' performance periodically.
For this, businesses can use performance appraisal software. In this article, we will review the top performance appraisal software.
The main details of each tool are listed below, but if you're in a hurry, here's a quick list of the best Performance Appraisal Software.
In this article, we are going to see the list of best tools for Performance Appraisal and the following.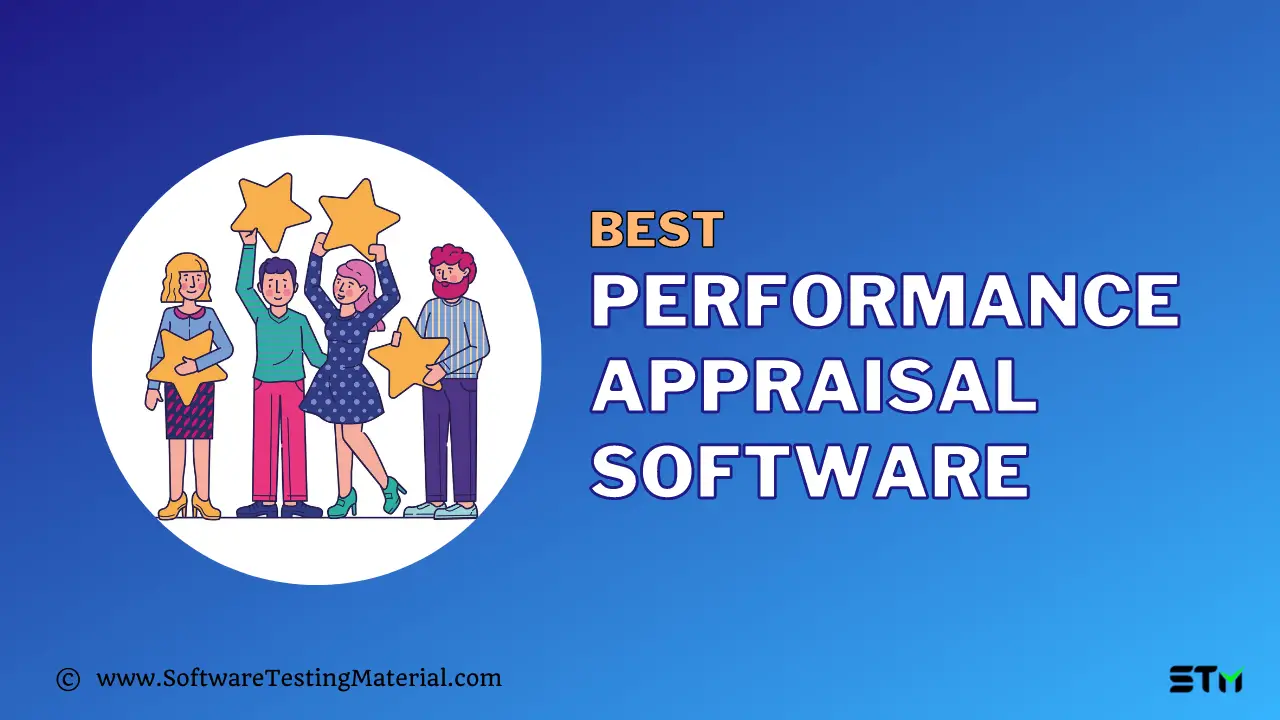 What is Performance Appraisal?
A performance appraisal, sometimes called an employee appraisal, assessment, or development analysis is a systematic way by which an individual's job performance is objectively measured and reviewed. It helps identify strengths and gaps that need closing in order to improve overall productivity and quality of work. Typically, this type of review involves presenting data relevant to an individual's job performance, along with explanations of why that data is important and how it can be used to guide future improvements in performance.
Difference: Performance Management Vs Performance Appraisal
| PERFORMANCE MANAGEMENT | PERFORMANCE APPRAISAL |
| --- | --- |
| It is the management of human resource in an organization. | It is a rational assessment of the performance of an employee, based on pre-determined standards. |
| It is a yearly system. | It is a continuous process. |
| It looks at an employee's performance keeping in mind the present and the future. | It evaluates the employee's performance based on how he has performed in the past. |
| Performance management focuses on analyzing performance in terms of statistical data as well as recommending corrective measures. | The main objective of an individual performance appraisal is to exercise total control over employee actions through continuous management of bonuses and promotions through formal disciplinary processes. |
| It is strategic in the sense that it is continuously measuring employees' performance and creating new strategies for their development. | Performance appraisal is operational as it follows certain protocol for performance, and it focuses on the result of the employee's performance. |
| Performance management offers more flexibility in terms of keeping in mind the growth of the organization. | Performance appraisal is more rigid because it is confined to an employee's past performance. It has little to do with their overall growth. |
| Performance management offer a qualitative and quantitative approach in the sense it has ratings and continuous feedback. | Performance appraisal offers only quantitative approach towards an employee's performance. It uses rating scales to evaluate employee performance and has minimal scope for constant feedback. |
| Managers are h responsible for performance management. | Human resource department of the company conducts performance appraisal. |
| It has a more group approach. | Performance Appraisal has an individualistic approach. |
| Performance management is future oriented as it look forward to enhance employees' performance. | It is very retrospective or past-oriented in the sense that it looks back on past events and situations. |
What is Performance Appraisal Software?
Performance appraisal software assists with the automation of the cumbersome and time-consuming task of evaluating employees' performances on a regular basis. It makes tracking the goals and performance of an employee by a manager throughout a given period much easier.
Performance appraisal software help businesses reach their maximum potential by the use of methods like appreciation, coaching, and evaluation in an organization.
What are the features of Performance Appraisal Software?
Social Feedback
This feature allows receiving feedbacks from HR teams, managers, and peers. The software can transform emails into feedback entries, making it simpler to improve the standard of work and find performance gaps and accomplishments.
Appraisal Review
The purpose of the performance appraisal software is to streamline the review process. Hence, this software makes it a lot easier to compose performance reviews by correctly assessing accomplishments and work done. The user can write thorough employee appraisal reviews.
Competency Management
It allows users to determine exactly what work a worker is the best at. This makes it simpler to assign growth plans. Some software has an entire competency library that helps with carrying out these purposes.
Goal Management
With the use of the performance evaluation software, the user may link individual objectives to organizational goals. It helps in quickly monitoring whether or not the employees are adopting the best ways to get success.
What are the advantages of Performance Appraisal Software?
An effective performance appraisal software allows you to develop measurable goals and keep track of progress toward those goals. Having an effective system for making assessments, evaluating performance, and determining results enable you to create and measure goals relevant to the organization and within your budget. It also allows you to evaluate the performance of your key people and identify opportunities for improvement.
It enables you to effectively manage your people by utilizing feedback from the performance appraisal tests to determine who is falling short of their own objectives. This allows you to take corrective measures, such as individual performance appraisals, group performance appraisals, and training. You can also delegate duties and responsibilities, enforce penalties or consequences for poor performance, and give bonuses and raises to your employees when you see their performance improving.
It provides continuous feedback to your employees. With effective performance appraisal software, you can easily measure the effectiveness of your staff, giving you valuable insight into areas for improvement. When you are able to see the areas for improvement in your staff, you can quickly address these issues, improving your overall performance as a team and reaching more individuals with the skills you need to reach your goals. This increase in engagement can help reduce the number of errors and mistakes you make while reviewing your employee performance reviews, thereby saving you money in the long run.
How to choose the Best Performance Appraisal Software?
Comprehensive Employee Review Tools
Performance appraisal software makes it much easier for management to store all relevant information regarding an employee in one location. 360-degree opinions is another fantastic employee review tool that pulls input from peers, clients, supervisors, and managers into one spot. This gives you a complete image of the person and the value that they add to your business.
Objective Setting
This is vital because objective criteria will form the foundation of the reports that you get for every worker. Additionally, it is good to have clear goals for your staff to work toward so they can fully engage with their work and excel.
Ongoing Performance Tracking
For employees, their job is one of the essential aspects of their lives. Continuing performance tracking helps them get the most from their role and allows managers and HR to maintain an accurate, data-driven picture of their progress. If you use performance appraisal software, you always have a reference point during employee/manager communications. Besides, you can see any issues or outstanding performance and provide relevant feedback.
List of Performance Appraisal Software
The main details of each tool are listed below, but if you're in a hurry, here's a quick list of the best Performance Appraisal Software.
If you'd like to see our in-depth analysis, keep reading.
#1. Trakstar
Trakstar is one of the best cloud-based end-to-end performance management solutions which help businesses to conduct performance appraisal. With the Trakstar performance appraisal tool, managers can easily determine the true value of each employee by observing how their performance impacts the bottom line of the company.
It makes it possible to view employee appraisal, training and leave listings right on the website itself. The software can also generate leave reports, workflow instructions, work requests, and employee chronologies. The software generates employee checks instantly after a specified period of time. It even keeps track of the employee's tasks and workflow. This self-management and monitoring feature helps businesses to effectively align their activities to planned goals.
Trakstar ensures each and every employee in a company gets the evaluation by sending automated email reminders and displaying review action items. It offers a 360-degree feedback feature that makes it easy for employees to get constructive feedback from anyone in the organization.
It also provides comprehensive and visually appealing data reports. These reports give a clearer picture of your top employees and managers with several actionable insights.
Features:
360 Feedback Reviews
Customizable Forms
Review Status Tracking
Employee Recognition
Goal Management
KPI Monitoring
On-going Performance Tracking
Negative Feedback Management
Verdict:
This software's powerful features allow HR managers to perform a competent employee evaluation with all the tools they need. It can be customized to meet the needs of any business or industry. Its robust reporting and analysis capabilities can be further modified to meet the needs of any specific management function. Trakstar is easy to use. Users can manage goals, feedback and monitor key performance indicators.
---
#2. BambooHR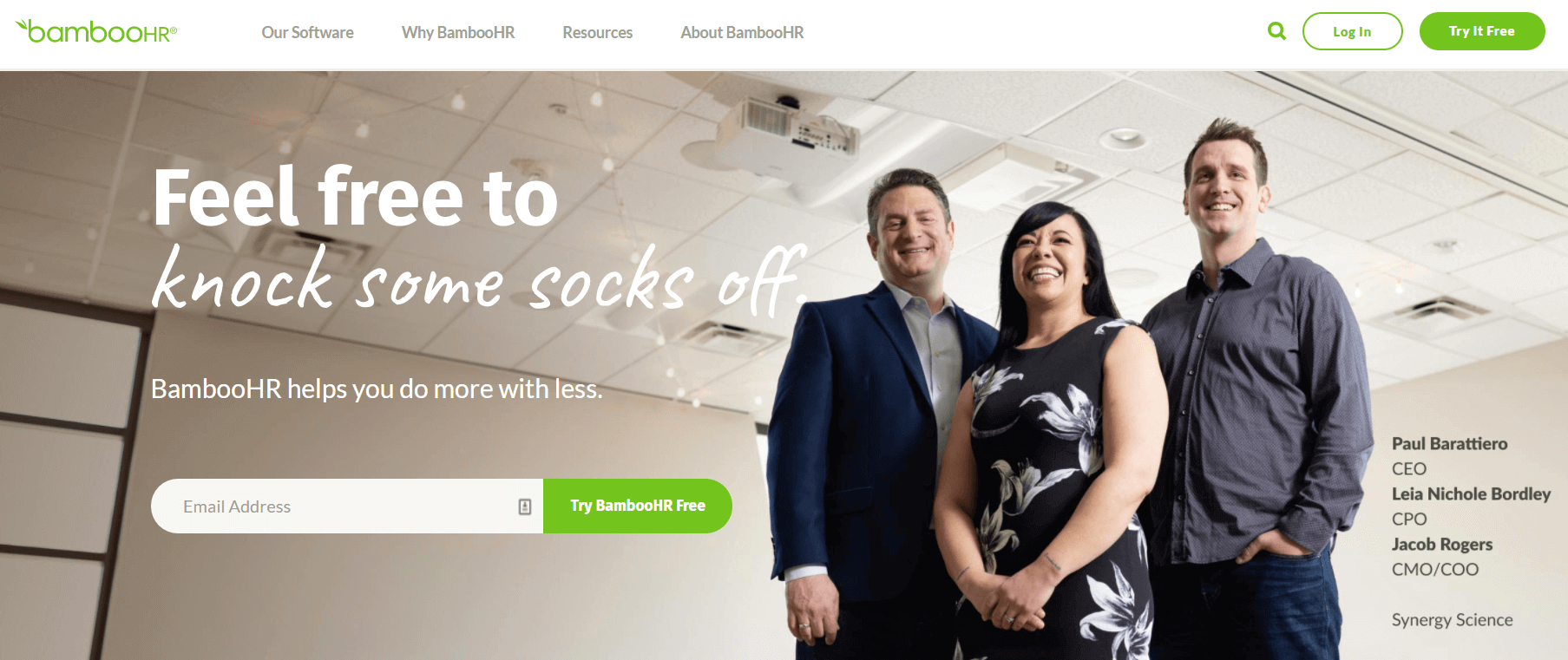 BambooHR provides its customers with an intuitive and easy-to-use HR management platform, which includes everything from recruitment to compensation management. It is designed to help manage the employment and benefits data of its clients, as well as streamline processes for recruiting, hiring, and rewarding employees.
This tool is also known for its competent performance management capabilities. It arm managers with detailed reports that provide insight on top performers in the industry and employees that need developmental training.
Features:
Organization Management
Time, Attendance, and PTO
Create and track goals
Streamline the recruitment and applicant tracking system
Constant feedback for employees with automated reminders
Absence & Leave Management
Self-Service Capabilities
Verdict:
With the help of BambooHR, companies can save both time and money as it helps them gain access to accurate, current, and relevant employee data that is essential for recruiting, performance appraisal, training, and developing the best employees. As a result, it is a cost-effective solution that greatly reduces errors caused by manual data entry or outdated information that might be detrimental to the interest of the company.
---
#3. Engagedly

Engagedly is a cloud-based solution that offers integrated applications to manage on-boarding, employee learning, performance review, and goal management. It focuses on communication and collaboration among employees and managers.
It enables employees to take their appraisal, and managers can check their performance via a dashboard. This tool also provides an online learning feature that helps to create a knowledge base and on-board new employees.
Features:
Give and Receive Real-Time Feedback
Engaging Performance Reviews and Competency Assessments
Badge Management
Benchmarking
Set and Track OKRs/Goals
Continuous performance tracking
Compensation Management
Built-in Course Authoring
Verdict:
Engagedly offers easy to use automated performance management system for HR managers to create a culture of frequent feedback at the job, which eases the whole process of employee performance appraisal.
---
#4. UltiPro

It is another excellent cloud-based solution that helps simplify and improve work experiences for all employees. Companies can easily manage global data of employees and processes with this tool. It also ensures employees of an organization feel engaged and productive from day one. It offers personalized recruiting and on-boarding experiences, guide employees through important benefits choices, simplify complex payroll computations, and so on.
Features:
Leave and Attendance Management
Employee Self Service
Asset Management
Integration with other HR capabilities Features
Performance Management
Verdict:
It delivers cloud-based HCM solutions to simplify payroll computations, accelerates talent acquisition, manages time and attendance, and support proactive, strategic talent management on the world level.
---
#5. Workday

Workday is another leading software for managing HR, finance, and planning. It helps managers and employees to gain more visibility into all workforce operations. The software enables users to build strong teams of employees by finding the best workers through talent searching and job profiles. Workday also enables enterprises to manage global teams and provides a great employees experience from hire to retire.
It allows employees to track their results and get some feedback from others on what they are doing right and wrong. This feedback is invaluable to an employee who needs help in making changes to their work style to achieve better results.
Features:
Setting and tracking goals
Skills assessments
Goal setting
Self-service portals
Compensation Management
Individual Development Plans
Skills Assessments
Verdict:
Workday is a cloud-based solution for workforce planning, analysis, and execution. It is used by Fortune 500 companies to operate their business with agility and efficiency. Unlike rigid HR systems, it offers a skills-based HCM system and continuously innovates to enable customer success. It uses all the necessary evaluation tools and makes them more suitable for enterprises with multiple teams operating around the globe.
---
#6. Zoho People

Zoho People is an online HRIS that lets you maintain your employee database, manage your workforce, and ensures consistency in all your HR Processes. It comes loaded with all the standard features you need to conduct your appraisals accurately and efficiently.
Zoho People also offers a number of tools to help you get to the bottom of your employees' work habits. In addition to the basic appraisal reports, you can also access Quick Test and Self-Assessment Questionnaires. It provides a concise snapshot of your employee's work habits and tendencies. This information will help you determine just where your employees are falling short of your expectations.
Features:
360 Degree Feedback
Custom Rating Scales
Objective or Goal Setting
Tracking Time to Project/Task
On-going Performance Tracking
Peer Appraisals
Absence & Leave Management
Self Service Portal
Self-Appraisals
Verdict:
Zoho People is designed to simplify the tedious tasks of manual appraisal in the workplace. It provides comprehensive information on your company's key employees, and this includes their past performance, their skills and talents, and how they are performing against their peers. Zoho People is a fantastic tool that can benefit all levels of an organization. With this software, your company will no longer have to wonder whether or not the appraisal processes it has in place are actually helping you achieve the goals you desire. The software alone will ensure that you get the most accurate evaluations and feedback.
---
#7. SageHR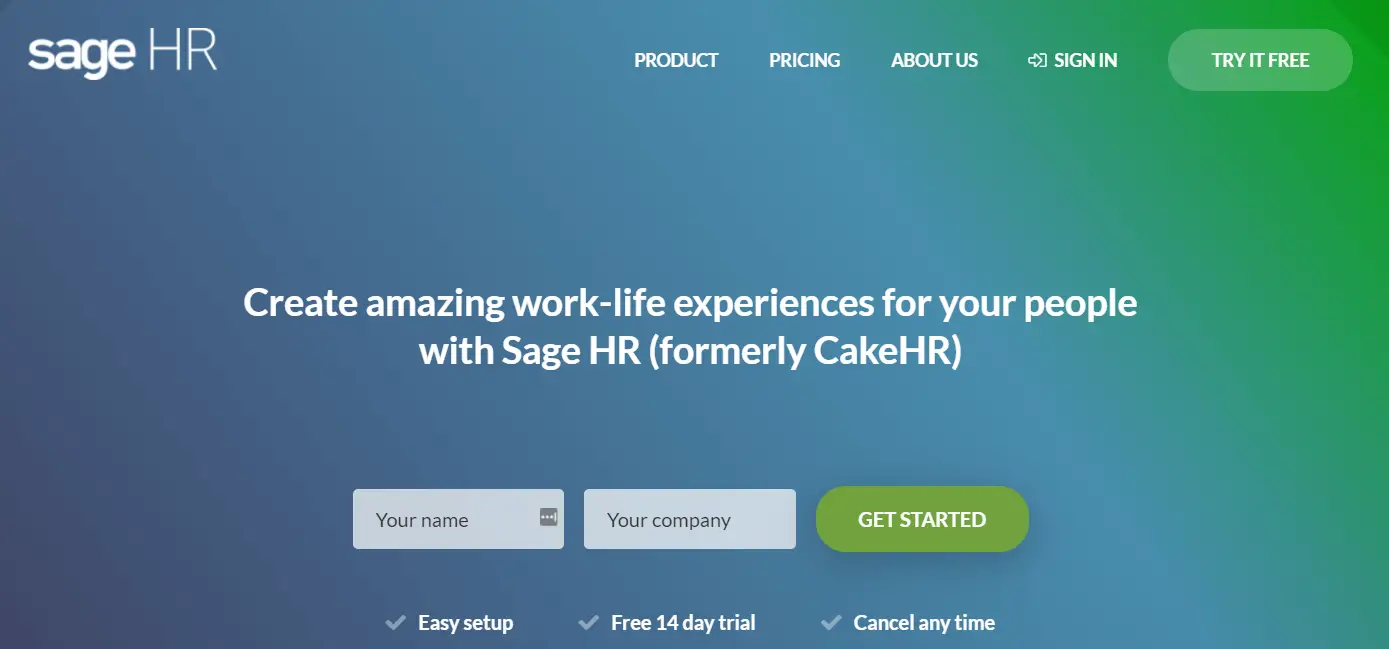 CakeHR, now called SageHR, is another excellent cloud-based HR software that streamlines performance management for businesses worldwide. This innovative and user-friendly software is fast and easy to use for employees as well as managers. It improves employee engagement in the organization. SageHR integrates core features including 360 feedback, workforce management, performance appraisal, and attendance tracking.
It provides tools that can automate repetitive tasks. Additionally, employees can request sick leaves directly from the dashboard without any email. It offers employees a separate login and access permission level in order to safeguard sensitive data. Users get a bird's eye view of key data performance indicators such as upcoming tasks, goals, sick leaves, and benefits. It gives employees access to their schedules from the web as well as mobile apps. Android and iOS apps are also available.
Features:
Appraisal History Tracking
Compensation Management
Approval Process Control
Assessment Management
Custom Rating Scales
On-going Performance Tracking
Employee Scheduling
Self Service Portal
Self-Appraisals
Skills Assessments
Verdict:
It is the ideal performance appraisal software for small-to-medium businesses that don't want to get slowed down in using spreadsheets or paper to manage their employees.
---
#8. HRWeb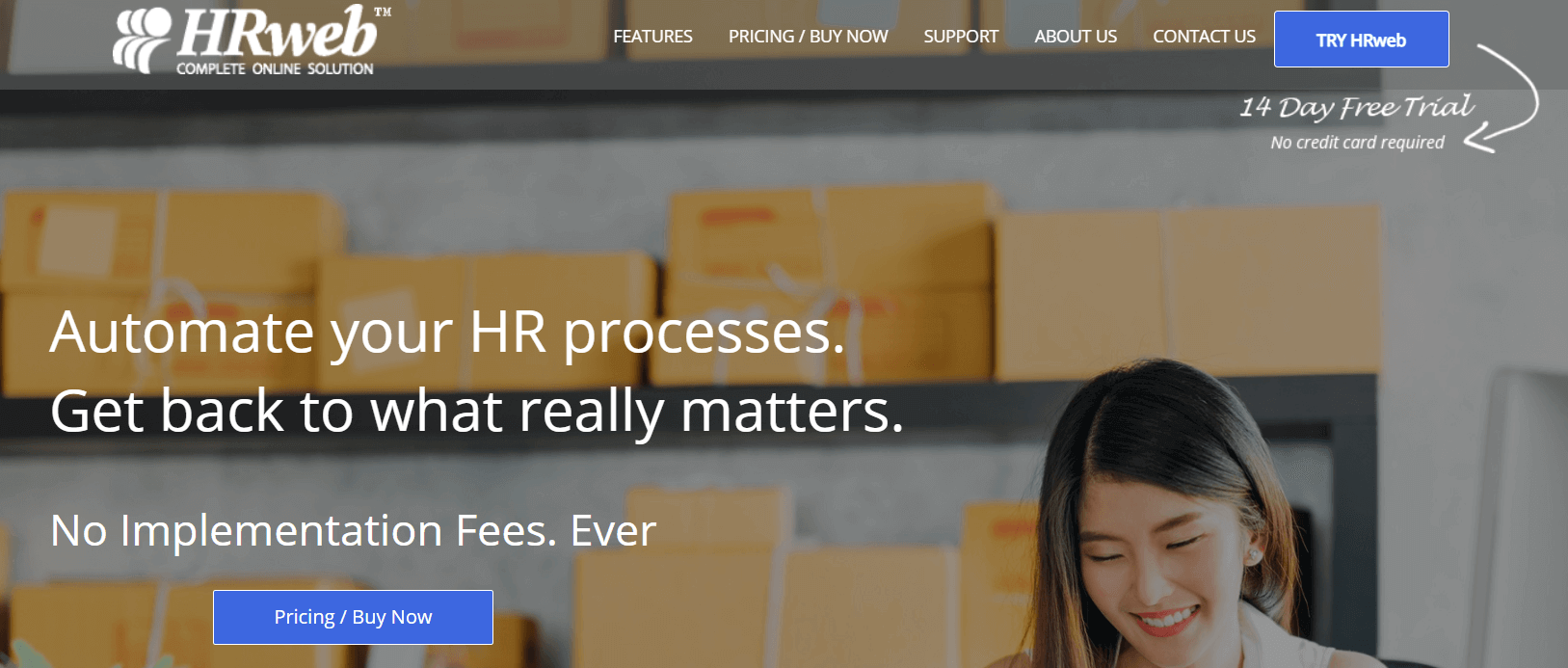 HRweb is a SaaS-based cloud-hosted solution for human resources management. It has an intuitive interface that simplifies workforce management at every level. It is used for the purpose of assessing an organization's HR functions and systems. This tool automates HR processes allowing users to manage their workforce more effectively. It offers budget-friendly solutions for small to medium-size businesses.
Its comprehensive HR tool allows you to track employee contact information, job history, compensation, and benefits information.
It works by allowing HR managers to monitor several aspects of HR performance. This software also allows for the creation of performance goals for the organization. When the goals are set, they can be achieved more quickly as well as effectively. It seamlessly integrates with Quickbooks, ADP & ZipRecruiter.
Features:
On-boarding
Applicant Tracking
Employee Tracking
Time and Attendance
Performance Management
Track Employee Behavior
Verdict:
HRWeb helps small to medium-size businesses manage their people operations more efficiently by providing useful management tools for employers, educators, and government offices to track vital employee information. With HRWeb, you can keep track of your employees' activities with a few simple clicks of your mouse. You will know who is doing what, when they are doing it, and how they are doing it. Using HRWeb software is an excellent way for your company to stay on top of its productivity.
---
#9. Cornerstone Performance
Cornerstone OnDemand is another great performance management software that focuses on the lifetime learning and development of employees. It empowers employees to take a more active role in their growth with clear objectives, defined career paths, and targeted development plans. It functions as an end-to-end solution that helps employees and organizations grow while serving each other.
Features:
360-degree feedback
Goal setting
Performance tracking
Skills assessments
Verdict:
Cornerstone OnDemand helps enterprises recruit, develop, manage, and engage their employees. It also assists workers to be their best at work with the right development and experiences. By using this tool, you can gain valuable data and insights to ensure your high-performers are recognized and rewarded, improving engagement and retention.
---
#10. Synergita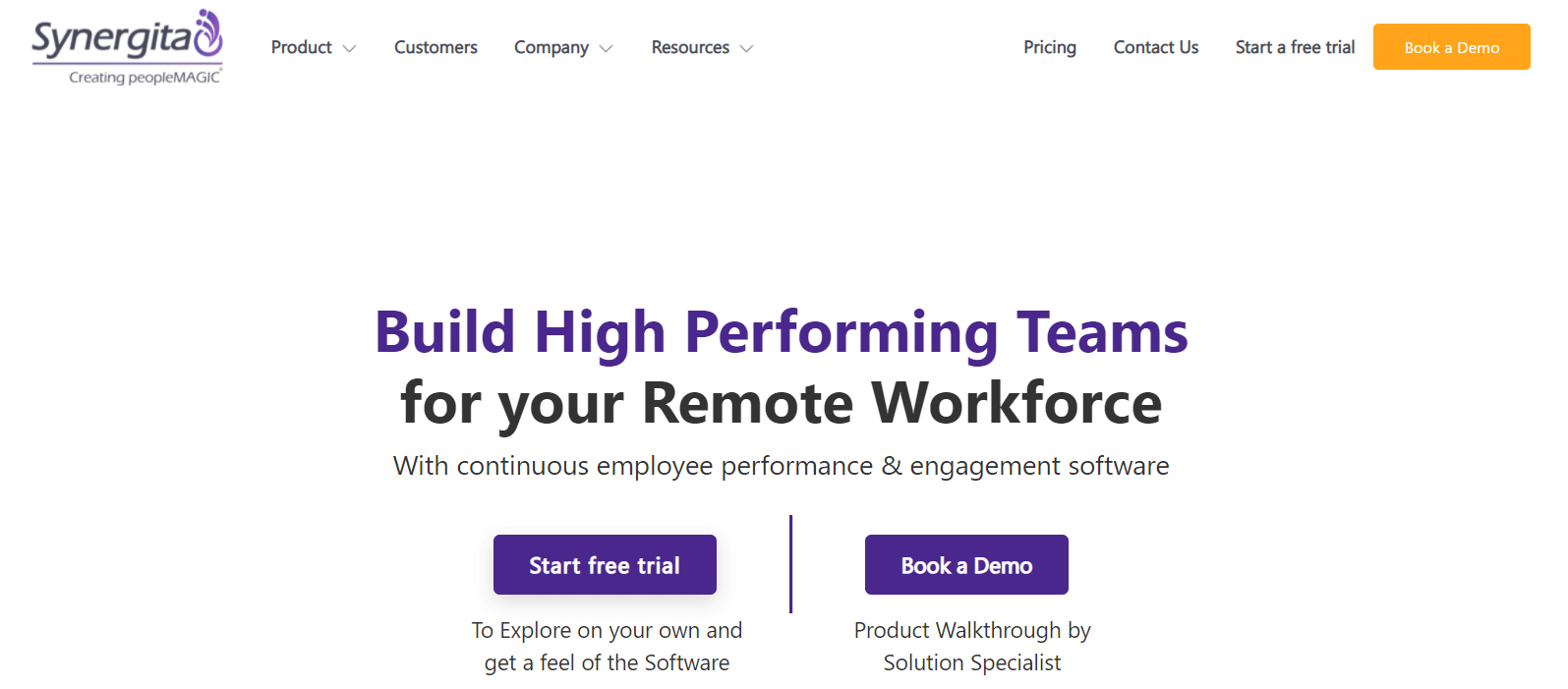 Synergita is a complete employee performance & engagement software. This cloud-based performance appraisal software allows organizations to provide continuous feedback and social recognition, set goals and performance appraisal schedules and track skill sets and career growth among employees at all levels.
Synergita employee profiles allow users to track their career history and also capturing skill sets, education, and experience. All fields are searchable. Within Synergita's performance appraisal function, users can provide continuous feedback to team members, peers, and managers and even recognize employees through a custom reward system.
Features:
360 Degree Feedback
Customizable Templates
Customization
Goal Management
Individual Development Plans
Negative Feedback Management
On-going Performance Tracking
Peer Appraisals
Employee Recognition
Verdict:
It implements 360-degree feedback so your peers, managers, customers, partners, and more can chime in on an individual employee's performance. Its appraisal workflow can be customized for the whole organization, individual departments, or worker levels. You can also set and track goals, and several ready-made reports can reveal much greater information about employees.
---
#11. PossibleWorks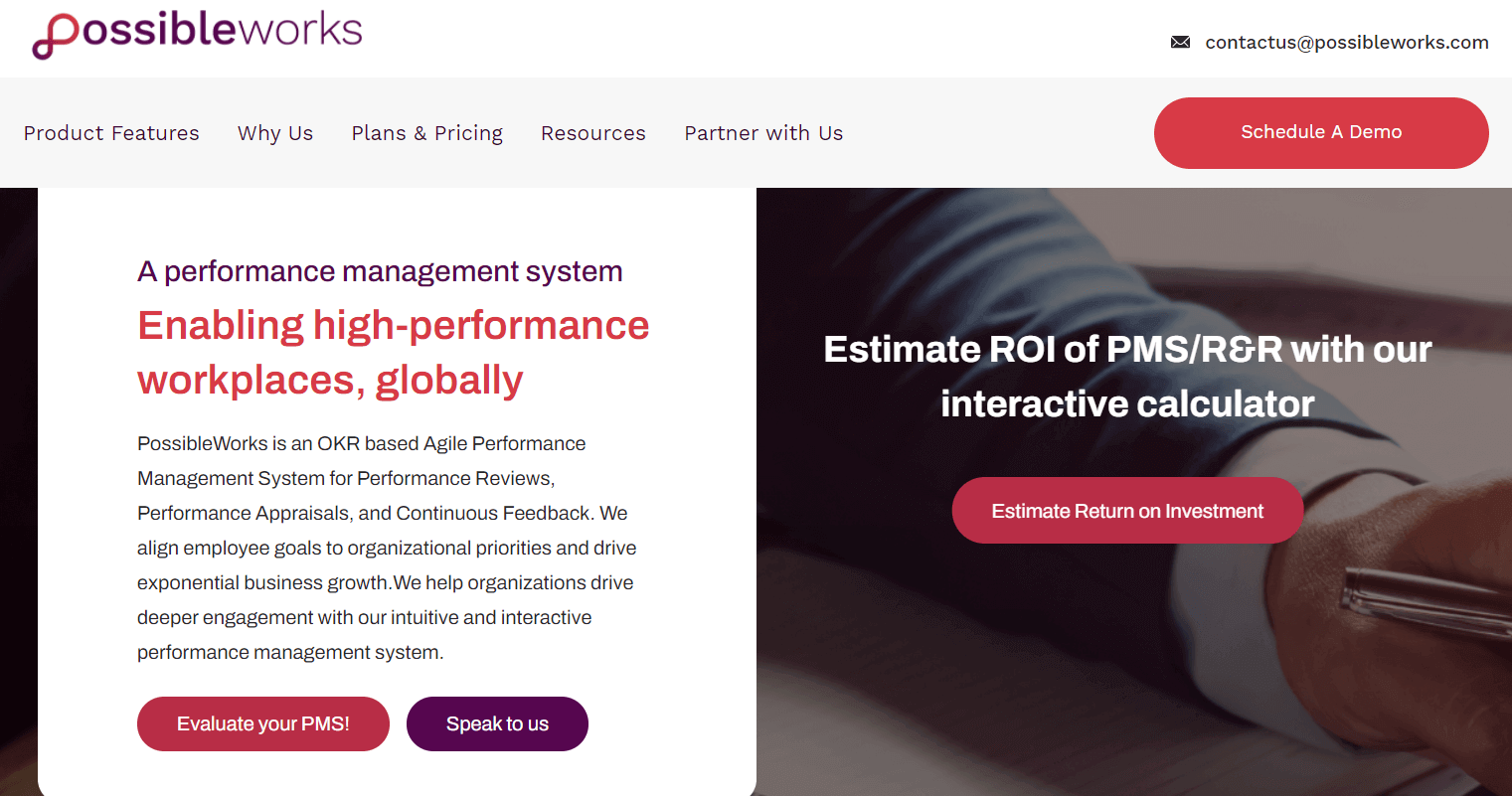 PossibleWorks is an OKR-based performance management software for Performance Review, Performance Appraisals, and Continuous Feedback.
Features:
Align teams to organizational objectives
Develop competences, and drive high performance.
OKR driven Goals
Continuous and ongoing feedback
Verdict:
It is an AI-driven Performance, which innovates the way organizations engage with their employees and manage their performance. It helps employees move towards Self Actualization.
---
Conclusion
Performance appraisals are necessary when it comes to a dependable and successful company. It makes sure excellence and support in the employees of a company. Performance Appraisal Solutions plays a vital role in catering to this. Therefore, every business needs performance appraisal software regardless of its size. These were some of the best performance appraisal software available in the market.
Related posts: