11 Best People Management Software (Free and Paid) for 2023
Comprehensive review of the best People Management Software options to help you find the perfect fit for your needs.
Running a company of any size is difficult and certainly isn't a one-man job. There are many functions that need to run smoothly for a business to start earning profits. All the complex business processes cannot be run by themselves; they need skilled people to run them.
Your employees are an integral part of your company. There has to be a clear line of communication between managers and employees of your organization to run a business smoothly. This is where the need for people management software comes into play.
In this article, we will review the 10 best People Management Software and the following..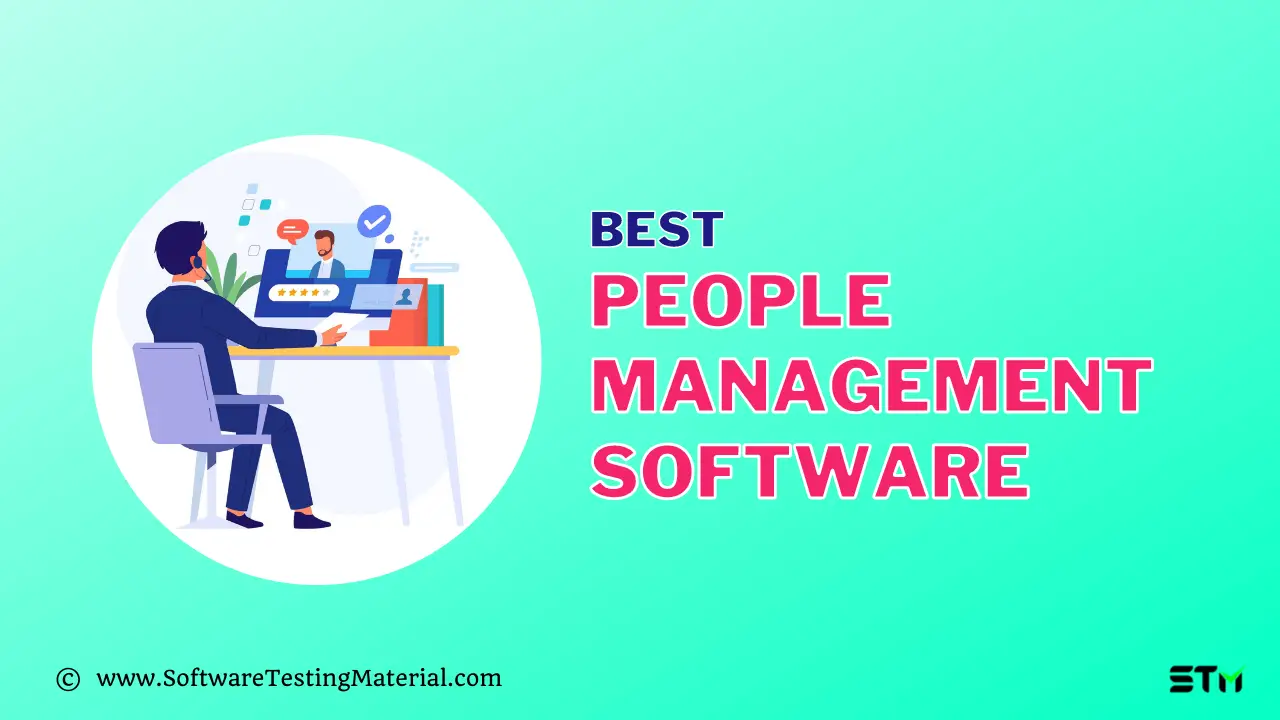 Pro-Tips:
The UI of the software must be attractive and easy to use. All of its features must be accessible to the users.
It must-have features that help in improving employee engagement and productivity.
The tool must offer its users a robust and secure employee database in order to maintain records. This data should be easily available with the help of filters.
It must allow employees and managers to give and receive feedback in a timely manner.
It must be flexible and within your budget.
What are the features of People Management Software?
When using people management software, it is crucial to look for the right features. The features will determine how effective the application is. Here are some of the top features of people management software.
Core HR features
The main function of staff management software is to provide a central database containing records of employees' past and present.
The data must include:
Employee personal information
Employment history
Transfer
Job profiles
Pay raises and promotion
Health benefits
Payroll Management
People management software must provide for the following:
Calculation of employee pay
Managing deposit
Salary revisions
Benefits calculation
Payroll tracking, and so on.
Leave and Attendance Management
It streamlines communication between HR and employees, as well as facilitates efficient management.
Scheduling Feature
Another great feature of people management software includes the ability to use the software's scheduling feature. This will help the manager to schedule meetings, training, conferences, and more.
What are the benefits of People Management Software?
People management software allows you to keep track of your employees. One of the most important functions of these tools is that it helps you manage your payroll. When you hire new staff, update your existing staff, or remove workers, you want to make sure that you are paying them on time. You can even keep track of their hourly earnings and bonuses and keep track of their sales through the sales tax section in your local government.
As we all know, HR is the heart of any company. No matter what is the nature of your business, no matter how well you run it, without solid People Management Software, the HR department will never be able to deliver the services and the expertise that it has been known to deliver over the years.
A good people management program helps you keep track of the new skills and knowledge that your employees acquire every day. As your company grows with time, you will inevitably need to hire new members of your workforce – and keeping track of all of their credentials can be a time-consuming process. By using a powerful people management program, you can easily keep track of all new hires, training, and seminars that have been attended, as well as new skills and knowledge that are being introduced to your workforce.
List of Best People Management Platforms
We have a full evaluation of the 10 best People Management Platforms on the market. If you're in a hurry, here's a quick list of your best options.
If you'd like to see our in-depth analysis, keep reading.
#1. Trakstar
Trakstar is a cloud-based, fully automated platform that helps your company manage feedback, goals, and reviews. With this tool, you can build customized appraisal forms, set SMART goals, as well as make flexible workflows in order to meet the needs of your enterprise. Implementation is customized for you.
Trakstar follows the 'Keep It Simple' mantra. It is clear, concise, and able to expand based on your organization's needs. It offers user-friendly and remote-friendly employee evaluation software.
With Trakstar, you can easily get top performers up and working again! Trakstar's intelligent reporting capabilities enable you to chart performance through the lens of one simple dashboard. The result is that you are empowered to take key actions to transform your organization.
This software can also be used to find the best employee with its advanced applicant tracking system. Trakstar allows managers to conduct scheduled engagement surveys, whose results can be used to motivate and retain top performers. It strives to provide complete, easy-to-use solutions for both managers and employees.
It provides complete, easy-to-use solutions for both managers and employees. The Trakstar platform makes it easy for managers to communicate with their staff members, giving them quick access to data and the 360-degree feedback that enables them to make informed decisions on training, staffing, and performance initiatives.
It is very helpful to build a proactive organizational culture and includes robust functionality like Appraisal management, Reporting, Performance Ranking, Goal management, and so on.
Features:
Unlimited, online performance reviews
Smart, automated workflows and notifications
Ad hoc Analysis
Key Performance Indicators
Custom Review Forms
Ready-to-use performance reports
Verdict:
Trakstar is an outstanding employee feedback tool designed to assist organizations and human resource professionals in managing performance appraisal and performance reporting. This highly-scaled enterprise-level tool lets you analyze employees across an entire organization through its powerful features like automated performance management, real-time 360-degree Feedback, automatic goal management, team management, recognition metrics, and many more.
Pricing:
Contact them for a quote. Trakstar offers a free trial and a live demo from a real person.
#2. Lattice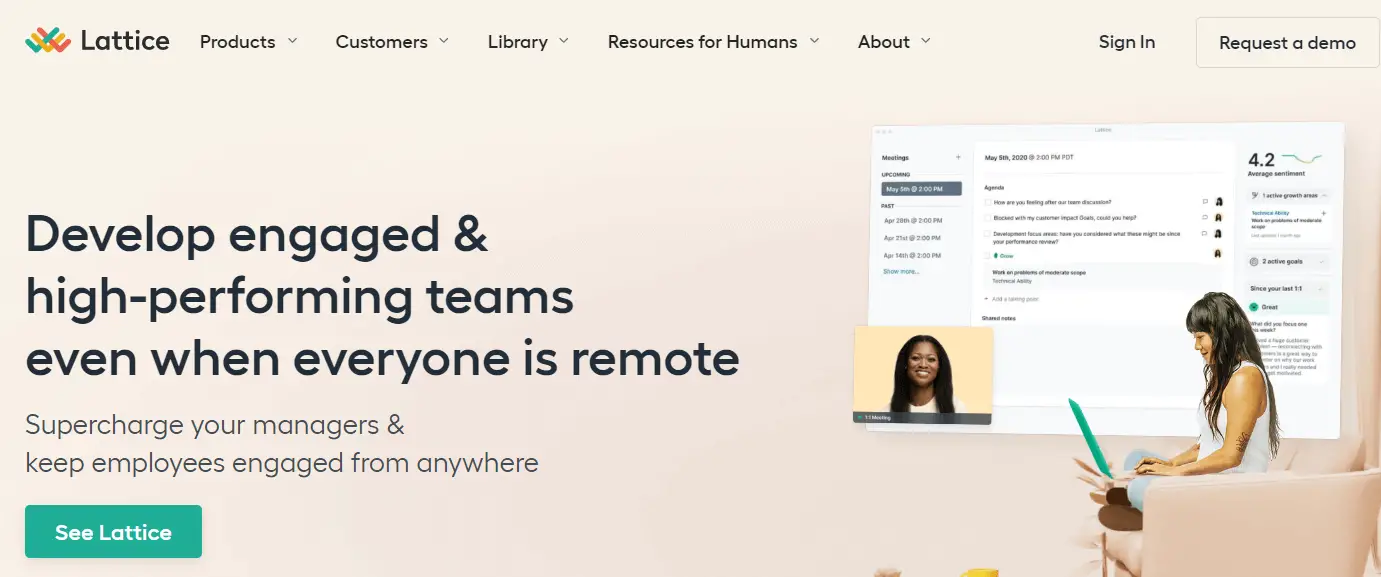 This is a cloud-based people management software for HR professionals. Core functions of Lattice include performance review and goal management.
It automates many processes that used to be tedious and time-consuming, such as managing talent, location, and budgeting. Lattice offers a 360-degree feedback feature that allows managers to review a particular employee's performance.
It allows users to set up tasks for employees and tracks those tasks until completion. Teams can view all tasks in progress through productivity graphs. Lattice provides constant reminders to employees in a company to fill performance reviews.
Features:
Data-rich visual reports
Performance management
Set, track, and manage goals
Performance tracking
Easy integration with other software
Verdict:
You can customize the software to meet the unique needs of your business.
Pricing:
Contact them for a quote. Lattice offers a free trial and a demo.
#3. Leapsome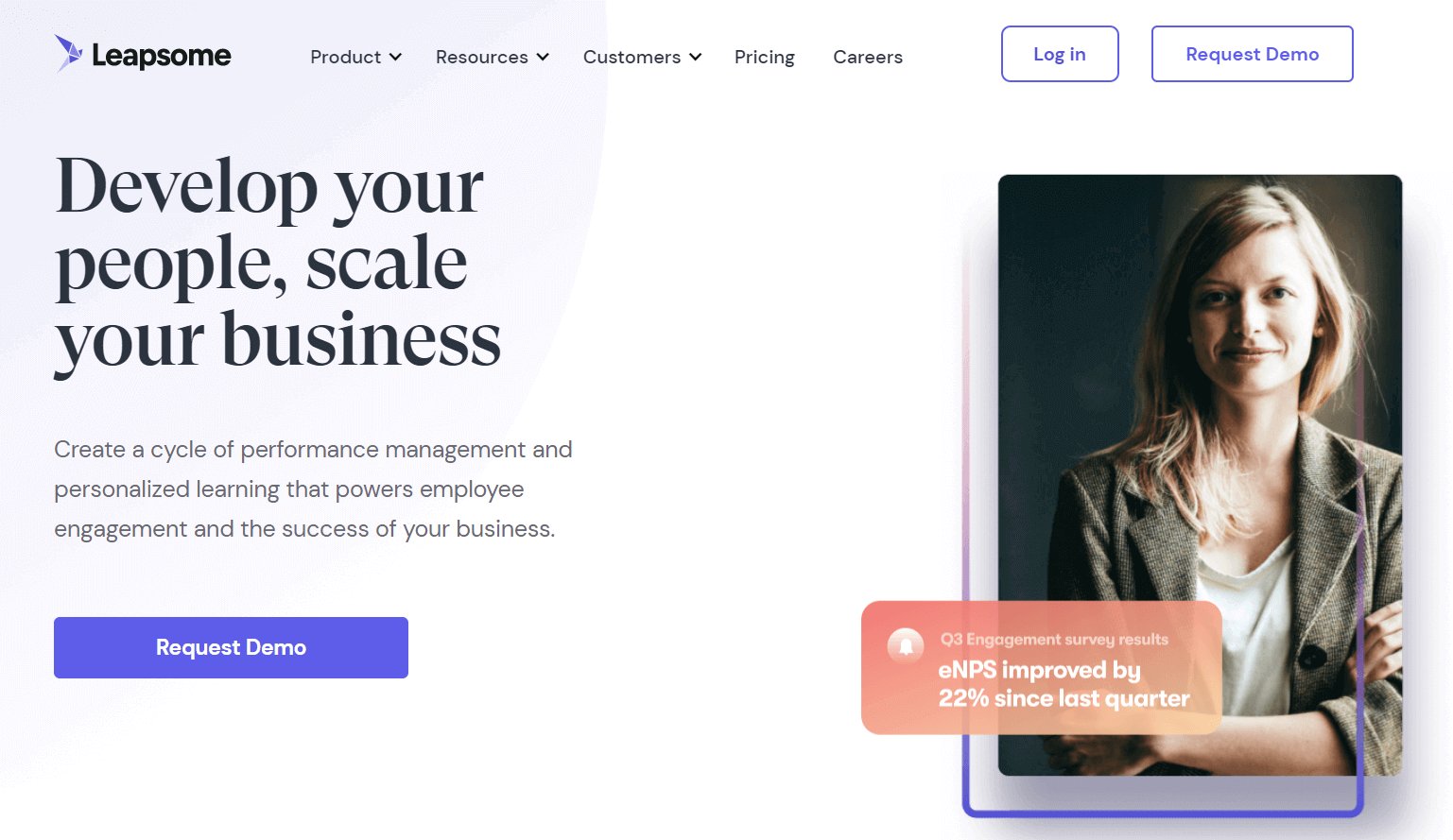 Leapsome is another great people management software that integrates various features including performance management, comprehensive employee satisfaction, engagement, and employee growth. This platform provides several tools to align, help and encourage employees, which includes strong objective and OKR control, comprehensive performance reviews, individualized performance training, employee onboarding, and recognition, among others. With this tool, you can check on your team, support their well-being, and boost engagement.
It also helps manage payroll, tracks employee benefits, and understand your company's workforce better. Leapsome provides IT leaders with the capability to connect the business and their key personnel, such as CEOs and managers. The platform also connects the business to its customers and provides real-time visibility into operational activities. It helps the company keep tabs on the health and wellness of its people. This is done through the Easy Analytics tracking system.
Features:
Facilitates personalized learning management
360-degree management
Performance Reviews
Fully automated processes
Instant Feedback & Praise
1-on-1 Meetings into easy to use platform.
Verdict:
This is the first in the line of enterprise resource planning software solutions that comprehensively address the needs of your business. It empowers managers with an automated system that promotes employee engagement.
Pricing:
Contact them for a quote. The price starts at $7 per month.
#4. Zoho People

This tool provides managers with an intuitive platform that focuses on bridging communication gaps and promote employee growth, welfare, and productivity. Zoho establishes virtual channels of communication that keep track of important discussions between employees, departments, and teams. From hiring, onboarding, and attendance management to time tracking and feedback, you can do everything on this platform.
The Zoho People employee database management system provides the tools necessary for you to easily manage your own workforce. With this, you will be able to: create workgroups and assign tasks to them; create or update work details and performance appraisals; add, edit, and manage jobs and tasks, manage payroll, and so on.
Features:
Email Integration
Exit Management & Separation Management
Knowledge Management
Conflict Resolution
Goal Setting
Performance Management
Time & Attendance Management
Verdict:
Zoho People is an excellent cloud-based HR software designed to automate all your HR processes while focusing on your organization's most important assets – your employees.
Pricing:
They also offer 30 days free trial.
ESSENTIAL HR – ₹48/user/month billed annually
PROFESSIONAL – ₹96/user/month billed annually
PREMIUM – ₹144/user/month billed annually
ENTERPRISE – ₹192/user/month billed annually
PEOPLE PLUS – ₹350/user/month billed annually
#5. Hibob
Hibob's HR management (HRM) solution helps in improving the employee experience and help companies attract, retain, and engage the modern workforce with engagement tools and data-driven resources. It provides a 360° view of your employees by encompassing their complete career timelines, bob activity, goals, and achievements into the performance review, offering you the tools for an unbiased review.
Features:
Conduct fair reviews
Real-Time Data on employee performance
Performance reviews
Goals setting
Verdict:
This tool allows businesses to manage performance reviews and provides data and valuable insights about their employees, managers, and teams. This data enables you to track their progress and address any problems early.
Pricing:
Contact them for custom pricing.
#6. Connectteam

A new time and attendance solution, Connectteam is designed for small and medium businesses in mind. It includes several main features that can help you better manage your workforce and deliver more value to your customers. Connectteam offers a web-based time clock application that is accessible from any PC or laptop. It is an all-in-one, fully customizable solution that makes employee communication simple. It helps managers track employee work hours on projects with map displays and GPS.
This tool assists managers in assigning tasks to employees and schedule shifts. Connectteam can also be used to receive feedback from team members in real-time. It is easy to use, customizable, and scalable.
Features:
Employee time tracking
Calendar-based event planning
Schedule shifts and assign jobs
Live chat group conversations
Verdict:
Connectteam offers multiple communication tools to enhance your day-to-day business routine, immediate updates with or without comments, employee feedback surveys, suggestion boxes, and so much more. It is 100% customizable solution. This tool makes every process that is run by pen and paper, spreadsheet, text messages, or calls and transforms it into a fully automated process.
Pricing:
Free for up to 50 users.
Expert – $159/month
Advanced – $79/month
Basic – $39/month
#7. Gusto

Gusto is another great cloud-based HR management tool used for payroll management and time tracking. This can calculate as well as file local, state, and taxes on the manager's behalf, thus making the payroll process simple. All of this is done automatically.
Users have to set-up an account and let the software do the work. It will manage your payroll process, send updates, generate tax receipts, as well as keep track of your new employees' data, including their payroll tax deductions. In addition, it can also run payroll checks and distribute payments to your employees. All of these features make it extremely easy for small and medium-sized businesses to manage their payrolls.
As an HR solution, Gusto can also run payroll and distribute reports to your employees at any time. Because of its intuitive interface, it's easy for HR managers to create and distribute custom reports. Also, it enables businesses to quickly create their reports for filing purposes. Small businesses do not have to worry about doing reports manually; they only have to do so if they need to compile, submit, or compare data.
Features:
Payroll management
Easy employee onboarding
Personalized reporting
Easy access to payroll data
Verdict:
No matter how small your business is, it can benefit from Gusto's online payroll processing solutions. This tool is quite easy to use. It is useful when calculating taxes and managing employee benefits, like health insurance.
Pricing:
Core (For smaller businesses, with simple salaries, wages, and pay schedules) – $39/month
Complete (For growing businesses who want to create a rewarding place to work) – $39/month
Concierge( For busy, compliance-minded businesses committed to their employees) – $149/month
#8. Workday

Workday is an enterprise cloud application for finance, planning, and human resources. It delivers financial management, human capital management, and analytics applications to organizations ranging from medium-sized businesses to enterprises. It is used to manage the workforce automation lifecycle fully in a system and easily links unstaffed job opening requisitions for external fulfillment in the software.
It has a built-in, user-friendly dashboard, which is designed to make recruiting and applicant tasks simple and easy. With the dashboard, you can easily identify each type of applicant, such as temporary, contract, full-time, part-time, marketing, executive, administrative, technical, and other talents. You can drill down into specific categories, which helps when you're searching through a large number of applicants.
Features:
Resource management
Portfolio management
Employee skills assessment
Compensation management
Calendar management
Verdict:
Workday offers its clients a robust talent management platform that meets the demands of the recruiting industry. It has also developed a number of related tools and services to further enhance recruiting efficiencies and overall hiring practices. It also streamlines workflows for recruiting, staffing, developing, and retaining your most valuable resource.
Pricing:
Contact them for a quote. Workday offers a free trial and a demo.
#9. BambooHR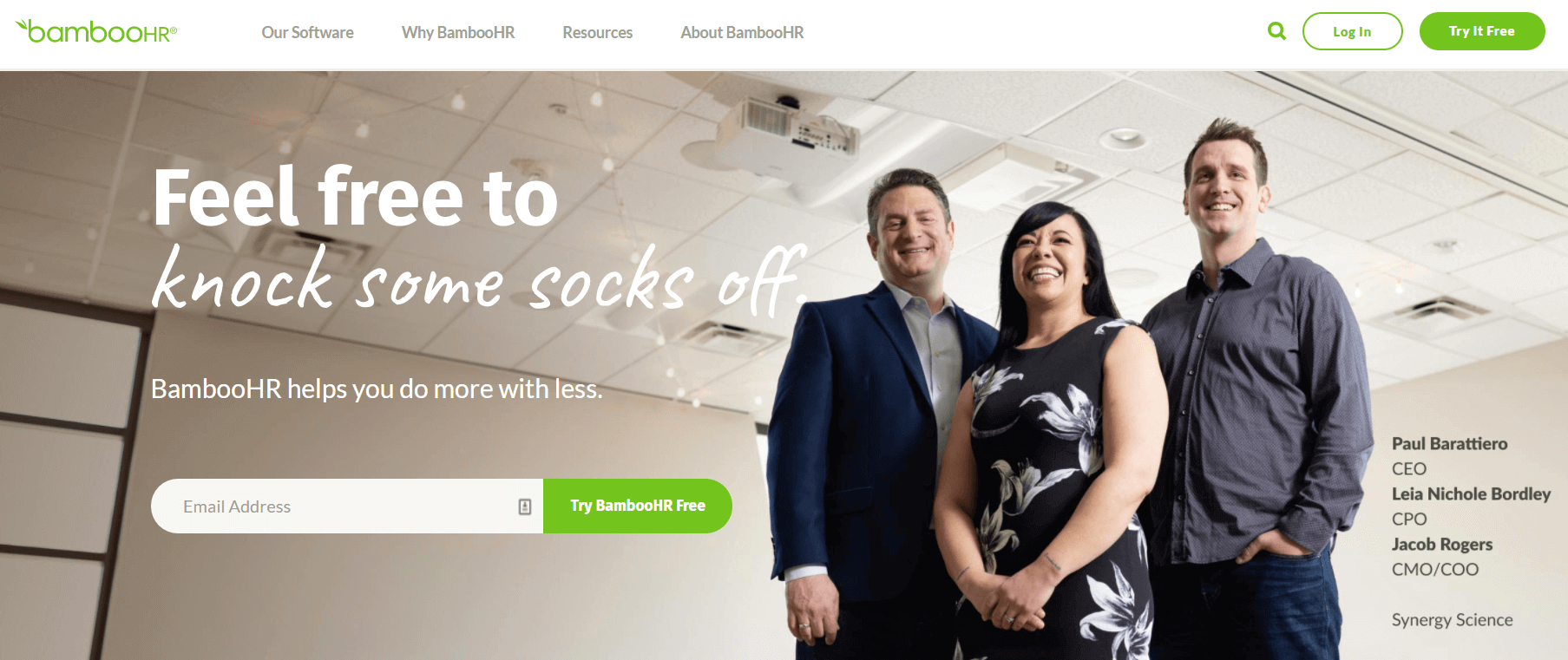 BambooHR offers human resources management software, with people management being one of its primary functions. Founded in 2008 by Ryan Sanders and Ben Peterson, BambooHR's focus is on creating customized Human Resources systems that are easy to use and maintain. They believe that each employee should have their own unique career path and feel connected to their work at all times.
With this software, businesses can collect, manage, and analyze data pertaining to employees. BambooHR can be used for onboarding, tracking employee time, managing payroll, paid time off, all the way to performance management.
Features:
Customizable Dashboards and Reports
Automated Time-Off Management
Data-rich reporting
Applicant tracking system
Employee Self-Service
Open API
Global Settings for Multi-National Businesses
Verdict:
BambooHR is designed for helping smaller HR teams to take mundane work off their shoulders so that employees can concentrate on more important work. Its people management solution is ideal for small and medium-sized businesses as well. With BambooHR, a company will never have to worry about missing an opportunity to improve its overall efficiency and profitability.
Pricing:
Contact them for a quote.
#10. PeopleSoft
PeopleSoft by Oracle is a SaaS solution which comes with various features. These features includes Global Core Human Capital Management, Workforce Management, Workforce Service Delivery, and Talent Management. It can be integrated to run on the Oracle Cloud. This is a must-have tool for multinational organizations to track workforce availability.
Features:
Cloud, SaaS, and Web-Based
Audit Management
Compliance Tracking
Cost Tracking
Inventory Management
Maintenance Management
Supplier Management
Verdict:
It is designed to address the most complex business processes. Peoplesoft offers comprehensive enterprise solutions. It also helps organizations to increase their employees' productivity, enhance business performance, and lower their overall cost.
Pricing:
Contact them for a quote.
#11. Productfolio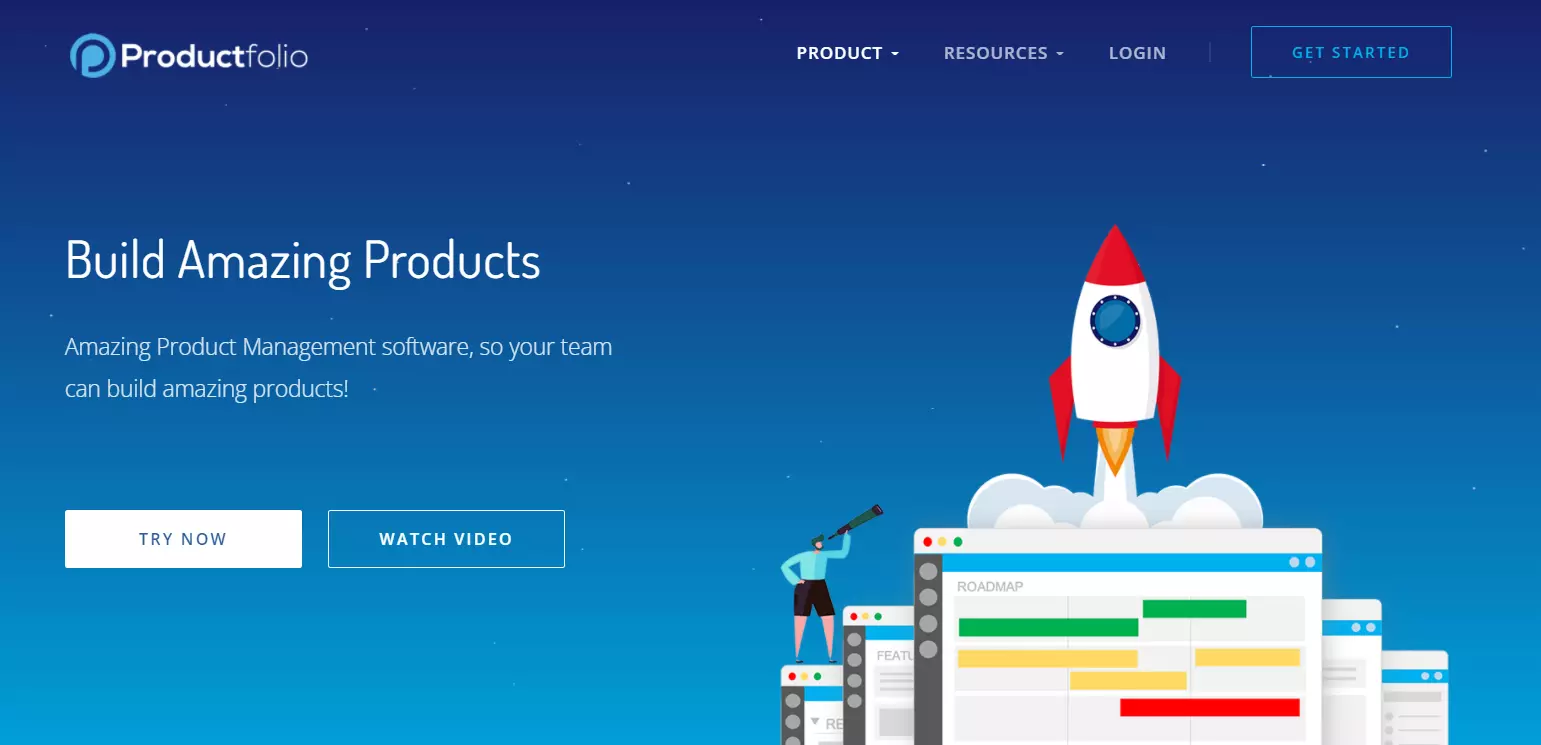 Productfolio is a great product management software that allows your team to build amazing products. Built upon the best practices, the tool provides product workflow software to align and empower a team. It comes with a simple-to-use tools which makes the process of product management clear and easy.
Features:
Define strategies.
Manage ideas.
Create a feedback portal.
Prioritize opportunities.
Create a product roadmap.
Plan releases, push work to JIRA, and track status.
Release management, and more!
Pricing:
You can get started with using Productfolio with a 30-day free trial. Upon usage, when you need more advanced features, you can upgrade for a low cost. With Productfolio's pro plan ($9/month), you can create unlimited products, invite unlimited stakeholders, integrate JIRA, and customize settings.
FAQs Top People Management Platforms
What is People Management?
People management is a set of policies followed for hiring, training, and retaining new talent to make sure uninterrupted business operations in an organization. It is a broad topic that encompasses development, organization, problem-solving, and growth of the employee side of the business. It can truly make a difference in the employee experience, ranging from bad to excellent.
What are the 5 Cs of People Management?
The 5 C's of People Management are Create, Comprehend, Communicate, Collaborate, and Confront. It forms the basis of a practical people management approach. Whilst each element is essential in its own right, they all interrelate with and support the others.
What are the most important People Management skills?
Trust-building: When it comes to teamwork, building trust is a crucial people management ability to have. Managers who inspire trust make their team members believe they have their back and permit them to explore dangers within the span of sensible goals.
Empathy: Whether it is with regard to preparing work, delegating activities, communication, or providing feedback, empathy is a skill that people managers can't do without. It's the capability to be in a position not only to put oneself in another person's shoes but also to have the ability to see the world from their view and understand their motives, fears, challenges, and strengths. Active listening opens the road to greater empathy by allowing a glimpse through the social and specialist façades we often do.
Appreciating: Being able to appreciate is really a skill that has to be mastered. An important element of handling people is praising and rewarding them for a job well done. It impacts how every employee sees their job and the effects of their efforts and how the company in its entirety steps and responds to success. The procedure for appreciation can lead to a culture of appreciation in the office, which would impact employee experience.
Knowledge-seeking: In a world where data rules, knowledge is power. As a people manager, having access to the ideal information is as critical as what you opt to do with it.
What is a People Management System?
People management systems help businesses simplify the management of the workforce by effectively bringing the employees and managers together under one powerful system. This tool ensures no communication gaps between team members and managers. It assigns tasks and tracks goals, provides comprehensive reports on performance, and implements strategies to help employees improve or develop new skills.
What is WFM software?
A workforce management (WFM) solution is software that streamlines and automates processes to efficiently manage workers' time, deploy the labor force, enable self-service, and ensure employee safety.
Conclusion
People management software will help you with the daily operations of your business. It can be used to keep track of employees, run surveys, and so much more. These are some of the best people management platforms being used today with regard to their UI, features, pricing, and overall customer satisfaction.
Related posts: