Astra Pentest Platform – A Detailed Review, Key Features, Pros, and Cons
Ransomware attacks are at an all-time high and the new strategy of double extortion by first encrypting the data and then threatening to release it is quite shuddering.
We're in a cyber threat landscape that is characterized by advanced and reinvented payloads, ransomware as service gangs, and underprepared businesses who've been forced to go all-digital by the lockdowns.
We've seen corporations like Twitter and Colonial Pipeline being riddled with cyber attacks.
We've seen the Costa Rican government entering an indefinite state of emergency befuddled by ransomware attacks.
We're also witnessing the rise of RaaS gangs like LockBit, Conti, and Vice Society.
If there were ever a time for every business to implement regular security testing, it would be now. 56% of businesses do not have a security testing program as yet. And there's a reason why.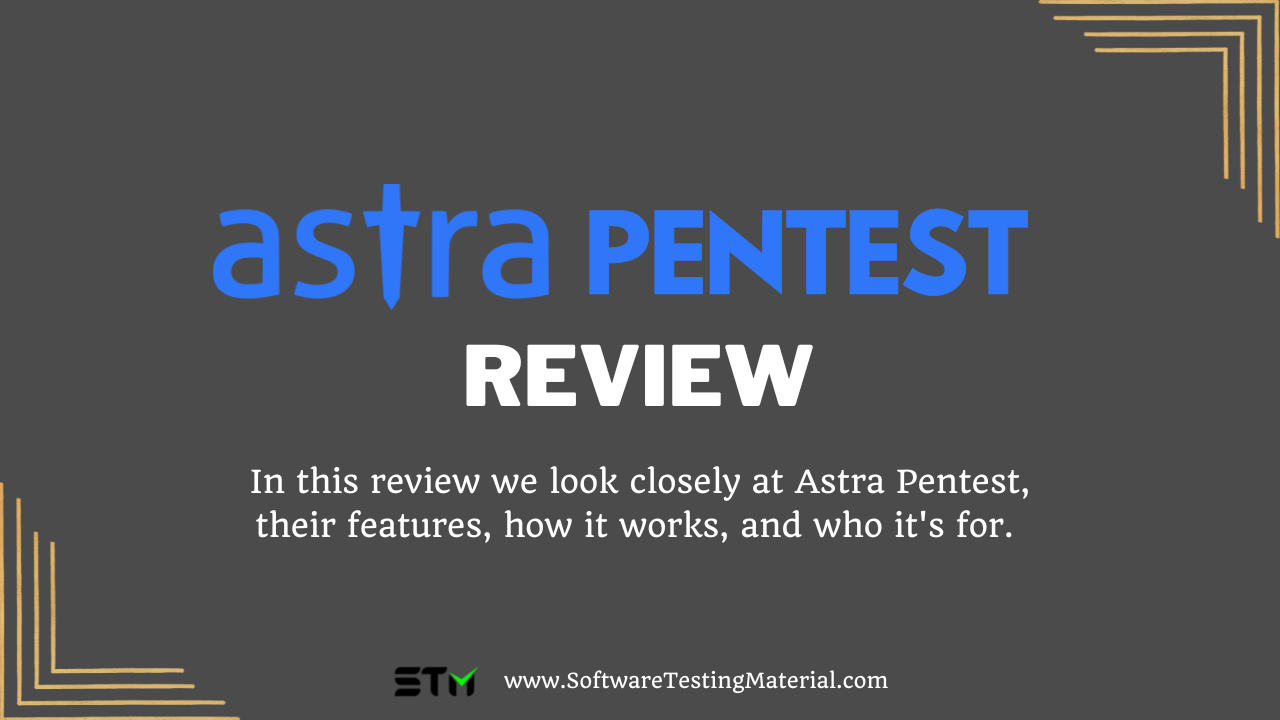 Why is security testing hard?
Mainly because it involves a lot of different processes that are difficult to assimilate.
Let's say you have a website, and you want to test your security. You'll take the following steps to reach absolute dismay.
The first thing you do is invest in a vulnerability scanner.
It's fast, automated, and gives you an idea of your common vulnerabilities.
After you've got the scan reports and started with the remediation process, you'd discover the presence of false positives in the list of vulnerabilities.
So, your developers spend a lot of time filtering out the real vulnerabilities.
Next, you'll find the report to be tedious, difficult to interpret, and simply too long.
Your developers will hit roadblock after roadblock trying to fix the issues.
Once, after weeks of resource-intensive work, you get a clean sheet having fixed all reported issues, you'll realize there could be vulnerabilities that the scanner simply cannot detect – a business logic error, for instance.
The acute lack of comprehensive security testing tools in the market is part of the reason why I chose to review Astra Pentest Platform. They claim to have addressed all the issues we discussed.
Astra Pentest Platform
Astra Security markets the Astra Pentest Platform as a solution to all the problems we discussed earlier.
The Astra Vulnerability Scanner and Astra Pentest work together to offer continuous vigilance plus in-depth security posture analysis.
It eliminates the need for separate services for vulnerability scanning and pentesting.
The solutions are optimized for web apps, mobile apps, and cloud infrastructures.
The question is whether they really deliver a comprehensive solution for users across industries.       
Key features of Astra Pentest Platform
#1. Astra Vulnerability Scanner
The Astra Vulnerability Scanner which you can also purchase separately is a plug-n-play software that requires zero to little human involvement.
You enter your website's URL, give the scanner a few permissions, and it churns out a detailed vulnerability report for you. The tool works and you get what you pay for.   
#2. Vulnerability Management Dashboard
This is something that takes the product a notch higher than most of its competitors.
Vulnerability management is something the most security conscious of businesses struggle with.
But Astra's Pentest Dashboard has carefully taken the hardship away.
When you use the dashboard, you realize, they have taken the common customer pain points very seriously while designing the UX. 
#3. Continuous Scanning Through CI/CD Integration
Astra's Pentest Platform integrates with your CI/CD platform.
That means you can automate scans so that every code update is preceded by a hacker-style security test.
If that isn't a bold step toward DevSecOps, I don't know what is. 
#4. Vetted Vulnerability Scans
This eliminates the nuisance of false positives completely.
Security experts check the results produced by the automated scanner to confirm its authenticity so that you do not have to waste resources on vulnerabilities that don't exist. 
#5. Manual Pentest
This feature, included in Astra's top plan, takes care of the business logic errors and issues that are undetectable by an automated scanner.
The fact that you get automated scans, CI/CD integrations, vetted scans, and a manual pentest as parts of the same plan is crazy.
#6. Actionable Reports
Astra's reports include video PoCs and detailed guidelines to help your developers reproduce and remediate security issues.
So, while the reports are thorough and all-encompassing, they do not slow you down.
#7. Remediation Support
You can use the vulnerability management dashboard to connect with Astra's security experts who go as far as getting on calls with your developers to help them resolve the vulnerabilities with no extra cost to your company.
Highlights
#1. Regularly Updated Scanner Rules
Astra updates the scanner rules for their automated scanner every week.
If you have spent some time looking for the pentest tool, you know that this is way more frequent than the industry standard.
#2. Contextual Collaboration
Astra's experts and your developers collaborate on shared documents to pinpoint and resolve issues.
If you have dealt with the enormous mail trails that come with collaborative efforts with security companies, you know what a boon this is.     
#3. Optimizable for SPA
The Pentest Platform is designed to fit a range of website frameworks and CMSs including Single Page Apps and Progressive Web Pages.
#4. Scan Behind Login
Traditionally, scanners need to be authenticated with credentials to scan behind the login page.
Then, the session runs out and you have to authenticate it once again.
This goes on in a cycle, and users hate it unanimously.
Astra built an extension for chrome that records the authentication process so that you do not have to manually authenticate the scanner.
It is such a simple and elegant solution to an age old annoyance.
#5. Compliance-Specific Scans
You can use the dashboard to filter out vulnerabilities that block compliance to a specific security regulation.
This feature can be a saviour when you have an audit approaching.
#6. Customer Centricity
Trying Astra's Pentest Platform made one thing clear, and they've figured out a way to integrate customer success with their development strategy.
The company has a brilliant track record of customer assistance and service on review sites.
Moreover, their innovations seem to be driven by specific customer needs.
Drawbacks
I've had a hard time skimming through review sites to find weaknesses in Astra's offering as I couldn't find anything as such myself.
Maybe they could add a few more integration options. They already integrate with GitHub, GitLab, Slack, Jira, and others.
One thing that some people do mention is that the top plan of Astra Pentest Platform is priced steeply at $4999 a year.
But I was hard-pressed to call it a drawback. With the top plan, Astra practically replaces 2 different services and saves a tonne of time and resources. Again, you get what you pay for.       
The verdict
Strategies applied by hackers have evolved a lot in the couple of years since the pandemic.
Large corporations and government bodies have been riddled with repeated attacks.
Small and mid-size businesses, educational institutes, and city councils have also been targeted with purpose-built ransomware attacks.
A security testing solution like Astra Pentest Platform can make a lot of difference in situations like this.
You rarely come across a platform that offers a bunch of features, and each one of them are targeted to cure customer pain points.
You can tell that a lot of care and thought have gone into the design and development.
Most important, it does what it's supposed to do without failure.
Related posts: