Best Penetration Testing Companies & Service Providers in 2023
Looking for the best Penetration Testing Companies?
We've reviewed and compared the best Pen Testing Companies out there in detail.
So you can choose the best provider for your services. Let's take a look at the best penetration testing companies in the market.
Pen testing is a method security experts use to identify and exploit security flaws in computer applications. This is done by simulating attacks from hackers known as black-hat hackers.
Conducting penetration testing is essentially similar to hiring security experts to try a security breach at a secure facility to discover how criminals might do it. Organizations use the results to improve their security. Companies practice penetration tests to uncover new defects and test the safety of communication channels and integrations. 
Must read: Best Penetration Testing Tools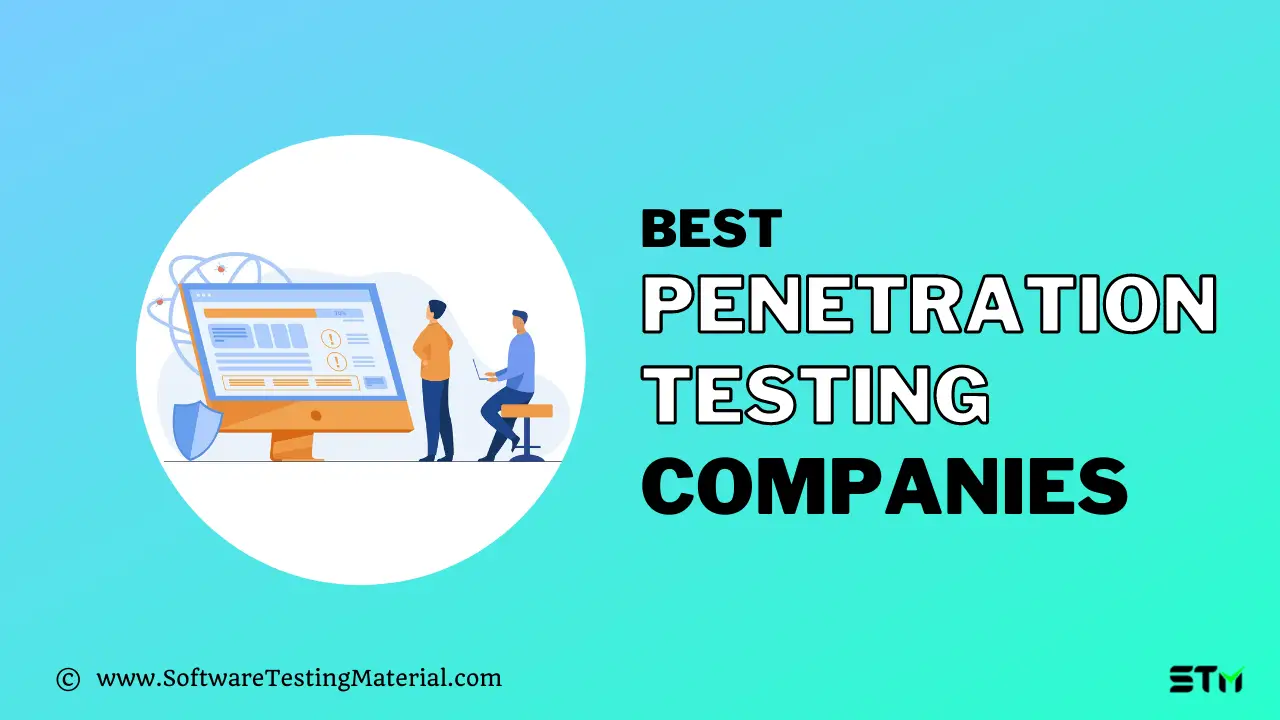 List of Best Pen Testing Companies
The main details of each Pen Testing Company are listed below, but if you're in a hurry, here's a quick list of the best Pen Test Companies.
If you'd like to see our in-depth analysis, keep reading.
#1. Invicti
Invicti is one of the most popular web applications for pen-testing. Developers can use it on multiple platforms, including web services and applications. It can detect everything that pen testers need in order to make an informed diagnosis, including SQL injection and cross-site scripting.
Don't miss our detailed review on Invicti
This tool is also popular because it allows pen testers to scan up to 1000 web apps simultaneously. Users can also customize security scans to make this process more robust. It instantly identifies vulnerabilities and exploits weak points in a read-only manner. The proof-based scanning is 100% effective and produces compliance reports. There are many other great features, such as the ability to collaborate with multiple members to share findings.
You can customize the security scan with attack options, authentication, and URL rewrite rules. Invicti automatically takes advantage of weak spots in a read-only way. The evidence of exploitation is shown. Instantly, you can see the impact of vulnerabilities.
Features:
Invicti offers built-in reporting tools so that you are in control of your data. With customizable reports and a clear visual dashboard, you can track trends, isolate areas for improvement, and optimize processes.
Exploitable SQL and XSS vulnerabilities in web-based applications are searched.
It scans for vulnerabilities and identifies potential risks before they can do more damage.
The accuracy of detection is guaranteed by proof-based scanning technology.
You can prevent delays with continuous scanning that stops risks from being introduced in the first place.
Requires control permissions for unlimited users, no matter how complex your company's structure is.
---
#2. Acunetix 
It is another automated tool that will let you complete pen tests with no hiccups. Acunetix can also audit complex management reports and issues and can deal with many network vulnerabilities. It also includes out-of-band weaknesses and out-of-band vulnerabilities. Acunetix Scanner integrates WAFs and issue trackers. You can trust Acunetix because it's one of the most advanced in the industry. Its remarkable detection rate is one of its most outstanding achievements.
Don't miss our detailed review on Acunetix
This tool covers more than 4,500 vulnerabilities. Its Login Sequence Recorder feature can scan areas that are not protected by passwords. It also includes AcuSensor technology and manual penetration tools. It can quickly crawl thousands of websites and run locally as well as through cloud solutions.
Acunetix can audit complex management reports and compliance issues. It can deal with a variety of network vulnerabilities. Acunetix is one of the industry's advanced Cross-site scripting and SQLi testing with a high-detection rate, which includes sophisticated advanced detection of XSS.
Features: 
It can detect over 4500+ web application vulnerabilities with 100% accuracy.
It also scans open-source software and custom-built applications.
It offers DeepScan Technology that crawls single-page websites built on HTML5, JavaScript, and RESTful APIs.
It complements the role of a penetration tester by automating various tasks that take hours manually, delivering accurate results with no false positives at top speed.
Acunetix' AcuSensor Technology enables you to identify more vulnerabilities than other Web Application Scanners while generating fewer false positives. AcuSensor indicates precisely where in your code the vulnerability is and reports additional debug information.
You can manage vulnerabilities discovered by Acunetix using an external issue tracker like Jira, Microsoft TFS, GitHub, GitLab, Bugzilla, or Mantis. 
---
#3. Redbot Security
Redbot Security penetration testing one of the most popular pen-testing service due to their team of Senior Level Engineers that have over 20 years of protecting critical systems and data. The Company performs penetration testing work for Water/Power utilities, National Transportation, Manufacturing , Fintech, Healthcare and SaaS companies. Redbot Security scoping and detailed remediation reporting is one of the industry's most comprehensive and shows detail proof of concept for all findings.
The company validates findings and removes all false positives.   Redbot Security pecializes in ICS/SCADA, Wireless, Application and Internal/ External Penetration Testing.  Redbot Security has the unique ability to scope small to large projects, meeting the budgets and timelines of their clients with a focus on providing the industry's best client experience.
Features:
Sr. Level Team
Retesting is provided at no additional cost
Customer-Centric focused on providing the industry's best customer experienced
Proof of concept report with no false positives
Application, IT / OT network experts
---
#4. Astra Pentest
The pentest suite by Astra Security is a comprehensive, and continuous security testing solution for web applications, mobile applications, and cloud infrastructures. The pentest suite comes with an automated vulnerability scanner, manual penetration testing capabilities, and an intuitive dashboard that you can use to manage, and monitor vulnerabilities, collaborate with security experts, and assign vulnerabilities to your own team.
Astra's Pentest can run 3000+ tests to expose a wide range of vulnerabilities in your system. You can customize the scan for certain technologies. For instance, if your website is built on WordPress, you can customize the scanner for the same and it will scan five times faster. The user experience is designed for simplicity and efficiency.
Features:
The automated scanner covers all CVEs in OWASP top 10, and SANS 25
You can integrate the pentest tool with CI/CD for continuous testing
Integration with Slack and Jira
The scanner can scan behind the logged-in pages without requiring repeated authentication.
The manual pentesters ensure zero false positives
You get a detailed pentest report with video PoCs
In-call assistance from security experts while remediating the issues
Compliance reporting
Pricing
Astra's Pentest comes in three price brackets.

You get the scanner plan which gives you weekly vulnerability scans at $999/year.
The expert plan comes with CI/CD integration and zero false-positive assurance at $1999/year. The Pentest plan costs $4500/year and comes with a manual VAPT, testing for business logic errors, expert support, and a publicly verifiable certificate on top of everything in the expert plan.
---
#5. Raxis 
Raxis offers a variety of high-end, high-value cybersecurity services anchored by penetration testing, Web and API pentesting vulnerability management, and physical security assessments. Certified, experienced professionals – with diverse information technology backgrounds – conduct more than 600 pentests each year, challenging and defeating some of the most sophisticated corporate networks in America.
Raxis is the team to call when your company truly needs to protect itself against real-world hackers, including state-sponsored and non-state actors, hacktivists, cybercrooks, malicious insiders, and the shadowy organizations that include all those and more.
Along with its highly advanced hacking and badge scanning/cloning technology, the Raxis team also includes seasoned social engineers, phishing specialists, and physical security experts who are adept at placing hidden cameras, installing network backdoors, and other onsite offensive measures.
Features:
Meets or exceeds requirements for NIST 800-53, NIST 800-171/CMMC, PCI, HIPAA, GLBA, ISO 27001, and SOX compliance
Highly experienced with SCADA, embedded device, and IoT penetration testing
Remote penetration testing available with Raxis Transporter
Offers pre-acquisition and due diligence penetration testing
Customer portal that keeps customers fully informed of activities, including when engineers are active.
Continuous Penetration Testing using AI technology that triggers human intervention.
---
#6. ScienceSoft
ScienceSoft is a go-to pentesting vendor for software vendors and enterprises, recognized for its
technical expertise and pragmatic approach. In cybersecurity since 2003, ScienceSoft has succesfully
completed 200+ security testing projects for 30 industries, including healthcare, banking and finance,
manufacturing, retail, telecoms.
Relying on NIST and OWASP best practices, ScienceSoft's Certified Ethical Hackers unearth all known
vulnerabilities and provide comprehensive reports with actionable remediation guidance. Being ISO
9001- and ISO 27001-certified, ScienceSoft guarantees high-quality service and full security of its
customers' data.
Features:
Penetration testing: black box, gray box, or white box approach depending on each customer's needs and requirements.
Open-source intelligence (OSINT): investigating what information about a company can be found in publicly available sources and used for cyberattacks.
Social engineering testing: evaluating employees' resilience to manipulative emails, calls, and messages.
DoS testing: checking if apps or IT infrastructures can withstand numerous malicious requests that aim to disrupt their performance and availability.
Red teaming: advanced multi-layered testing of how well a company can resist targeted real-world attacks.
Compliance testing: checking how well software and IT infrastructures meet the requirements of PCI DSS, GDPR, HIPAA, and other security standards and regulations.
---
#7. FireEye
Penetration Testing from FireEye helps strengthen your security for assets by pinpointing vulnerabilities and misconfigurations in your security systems. It simulates the tactics, techniques, and procedures (TTP) of real-world attackers targeting your high-risk cyber assets.
FireEye's penetration testing is custom-tailored to an organization's environment and needs, assessing specific aspects of the security program and security of an organization's critical systems, networks, and applications.
Features:
External Penetration Tests – It identifies and exploits vulnerabilities in systems, services, and applications exposed to the Internet. It also understands the risk to assets exposed to the Internet.
Internal Penetration Tests – It emulates a malicious insider or an attacker that has gained access to an end user's system, including escalating privileges, installing malware, and/or exfiltrating faux critical data.
Web Application Assessments – FireEye comprehensively assesses web and mobile applications for vulnerabilities that can lead to unauthorized access or data exposure.
Mobile Application Assessments – It assesses risk introduced to your organization through newly developed mobile applications or company-issued cell phones.
Social Engineering – Assess security awareness and security controls concerning human manipulation, including email, phone calls, and physical access. It focuses on how your organization reacts to the exploitation by humans.
Wireless Technology Assessments – Businesses can check the security of their deployed wireless solution, for example, Bluetooth, zigbee, or others. It secures your data in transit and systems communicating via wireless technology.
Embedded Device and Internet of Things (IoT) Assessments – It checks the security of your device by attempting to exploit the embedded firmware, control the device by passing or injecting malicious commands, or modify data sent from the device.
ICS Penetration – It combines penetration testing and exploitation experience with ICS knowledge to find the extent to which an attacker can access, exploit, or otherwise manipulate critical ICS/SCADA systems.
---
#8. HackerOne
HackerOne is one of the leading security consulting firms in the world today. It offers complementary security and network vulnerability assessment, vulnerability detection, pentests, network security planning and policy implementation, and comprehensive information security management and policy enforcement.
It can detect and fix critical vulnerabilities. HackerOne is being used by more Fortune 500 and Forbes Global 1000 companies because it offers fast, on-demand delivery. This tool is fast and easy to use. You can start in 7 days and have results in four weeks.
In this hacker-powered security platform, users do not have to wait for the report to find the vulnerabilities; it will alert you when the vulnerabilities are found. You can communicate with your team directly using tools such as Slack. It integrates seamlessly with Jira, GitHub, and allows you to collaborate with developers.
HackerOne will allow you to meet compliance standards such as ISO, PCI, and SOC2. It partners include Google, the U.S. Department of Defense, and CERT Coordination Center. It had discovered over 120,000 vulnerabilities and given out over $80M in bug bounties.
Features:
Many times, the results of penetration tests are not transparent to the testing process. HackerOne offers a robust platform that lets you track the progress of your engagement from kickoff to discovery through testing, retesting, and remediation. You can pinpoint where you are in the process and take action on any vulnerabilities that come up.
HackerOne gives you unprecedented access and control. It allows you to immediately test bugs and take action on vulnerabilities that are reported. You can integrate Jira with your workflow to manage backlogs seamlessly. You can assign reports to team members using your preferred workflow. 
This hacker-powered security can be used to obtain the pentests that you need to ensure regulatory compliance and customer assessments. 
HackerOne provides compliance-ready reports that meet SOC 2 Type II, ISO 27001, and other requirements. Security teams can also use the pentest results to create actionable, methodology-based reports that help them understand how to reduce risk.
---
#9. Secureworks 
Secureworks is an American Cybersecurity company. The company has about 4,000 clients worldwide, ranging from major Fortune 100 corporations to small, mid-size companies in various industries. With an expansive range of products and a fast-paced development cycle, Secureworks can keep up with the pace of today's evolving business environment. It offers information security services and solutions for systems, networks, and information assets from intruder's activity. It also provides penetration testing.
With this tool, you can identify network vulnerabilities and validate security defenses with expertise and visibility. It enhances your security posture, reduces risk, facilitates compliance, and improves operational efficiency. Secureworks uses penetration testing and threat intelligence to see how an attacker would gain unauthorized access to your network. By this, it helps your organization to strengthen its security posture.
Secureworks Threat Intelligence (TSI) is the premier feature of Secureworks. It provides global threat intelligence and protection services to assist companies in understanding, managing, and protecting their network environments. TSI's core capabilities include vulnerability assessment, content Protection, Enterprise Response, Application Security, Enterprise Infrastructure Security, and so on.
Features: 
It discovers vulnerabilities an attacker could exploit to gain access to your environment and systems.
Secureworks Threat Intelligence not only provides the core threat detection and response tools, but it also provides end-to-end security services for configuration management, virtualization, deployment, service management, recovery, software, hardware, and user training. This capability helps you stay ahead of the hackers and other cybercriminals who may want to compromise your network. 
It provides end-to-end visibility for your network, allowing you to troubleshoot issues quickly and make informed decisions. 
---
#10. ImmuniWeb 
ImmuniWeb creates high-performance Machine Learning and AI technology for enterprise application security offered via its proprietary ImmuniWeb AI Platform. ImmuniWeb is developing the next generation of mobile enterprise applications to extend the benefits of mobile computing to the enterprise.
It is the top provider of web, API, and mobile application penetration testing services. Its award-winning AI platform leverages a proprietary Multilayer Application Security Testing (AST) technology for rapid and DevSecOps-enabled application penetration testing. ImmuniWeb continually updates its technology with new developments in the security field and conforms to the latest industry standards and best practices.
Features:
It monitors and detects your Dark Web exposure, phishing, squatting, trademark infringement, and brand misuse.
It offers 24/7 continuous security monitoring and penetration testing (web, API, cloud, AWS).
Users can test SSL/TLS security and implementation for compliance with PCI DSS requirements, HIPAA guidance, and NIST guidelines.
You can test the security and privacy of your mobile application and detect OWASP Mobile Top 10 and other weaknesses.
---
#11. QA Mentor
It is a cybersecurity, functional & network security, and penetration testing company. QA Mentor helps to understand what threats you're up against and what you're trying to defend your assets from. 
QA Mentor examines your web and mobile application the same way that a hacker would. It uses top-rated tools such as ZAP, SQL Inject Me, OpenVAS, and more to perform both automated and manual end-to-end testing of your most precious asset – your application and data. It provides all of the information you need to understand the vulnerabilities found and how to fix them.
Features:
It offers specialized security testing services.
This tool examines your application the same way a hacker would do.
It aggressively attacks application defenses to find loopholes and weaknesses.
QA Mentor also abides by best practices set forth by OWASP.
It offers top Enterprise Security Testing Tools.
It also provides DAST + SAST testing for both Application Security and Infrastructural Security.
---
#12. Offensive Security
Offensive Security provides penetration testing services at a low rate, with an average of 10 clients per year. These services are designed to mimic the actions of real-life, malicious parties. 
An Offensive Security penetration assessment will help determine the weaknesses in networks, computer systems, and applications.
Features:
It conducts regular and active security vulnerability research.
It implements a Bug Bounty Program to add unnoticed individual vulnerabilities.
Offensive Security Penetration Testing Lab is a virtual environment that improves and enhances pen test skills.
---
#13. Indium Software
Indium Software provides customer-centric high-quality technology solutions that deliver business value. It is best for Global enterprises and ISVs looking to identify the security threats in their system, measure its potential vulnerabilities and avoid future security exploits. It offers complete Software Testing and Quality Assurance services for global enterprises and ISV's across industries. 
Features:
It offers penetration testing on Cloud.
It adheres to the industry guidelines like OWASP Top 10 & SANS Top 25 along with HIPAA, PCI DSS, and SOX.
They have a team of certified engineers with more than 10+ years of experience in end-to-end security testing services.
Understanding the exact scope of security testing based on the business requirement.
Adhere to OWASP Top 10 Standards
Custom App Security Framework
Source code profiling
Internal and External Audits based on ISO 270001 and custom controls
Deep dive reports with observations and actionable recommendations.
---
#14. Netragard 
IT is a reputed company providing high-scale security services in public and private sectors firm. This tool uses an advanced type of Penetration Testing known as Real-Time Dynamic Testing. Netragard offers ideal services for improving overall security.
Features:
It features Real-Time Dynamic Testing, which is an advanced penetration testing methodology unique to Netragard. It incorporates 0-day vulnerability research and exploits development. It includes components from the OWASP, the OSSTMM, bleeding-edge offensive tactics, and more. 
It provides free vulnerability scanning to existing customers on an as-requested basis.
It offers detailed solutions for recovering vulnerabilities.
Netragard has the ability to check for 70,000 vulnerabilities.
3rd Party Passing Penetration Test Report.
---
#15. Coalfire Labs
Coalfire Labs is a well-known cybersecurity company hired by both private as well as public sector organizations. They offer effective security programs to achieve business goals against complex cyber threat situations. It offers services such as Penetration Testing, Application Security Assessment, Vulnerability Scanning & Assessment, Research and Development, Red Team Exercise, etc., for SaaS-based companies.
Its penetration testing engagements identify threats to your organization, key assets that may be at risk, and the threat agents that may attempt to compromise them. Each engagement is customized to your needs.
Features:
It secures compliant environments in 75% less time.
It offers 50+ open source and purpose-built security tools created and shared.
Coalfire provides ongoing testing status reports, immediate identification of critical risks, and knowledge transfer to your technical team.
This tool ensures assessments are effectively executed within limited engagement windows by prioritizing testing of critical devices and components.
---
Conclusion
Penetration testing is necessary for the security evaluation of a network or a web application.
It is a form of ethical hacking that simulates attacks on an organization's network and systems. This is done to help companies find exploitable vulnerabilities in their environment that could cause data breaches. Invicti and Acunetix is our recommended tool for pen-testing.
Related posts: