SecPod SanerNow Review 2023 | Powerful Vulnerability Management Platform
Are you looking for a powerful vulnerability management platform? Then you need to check out our SecPod SanerNow Review.
In this review, we look closely at SecPod SanerNow, their features, and more.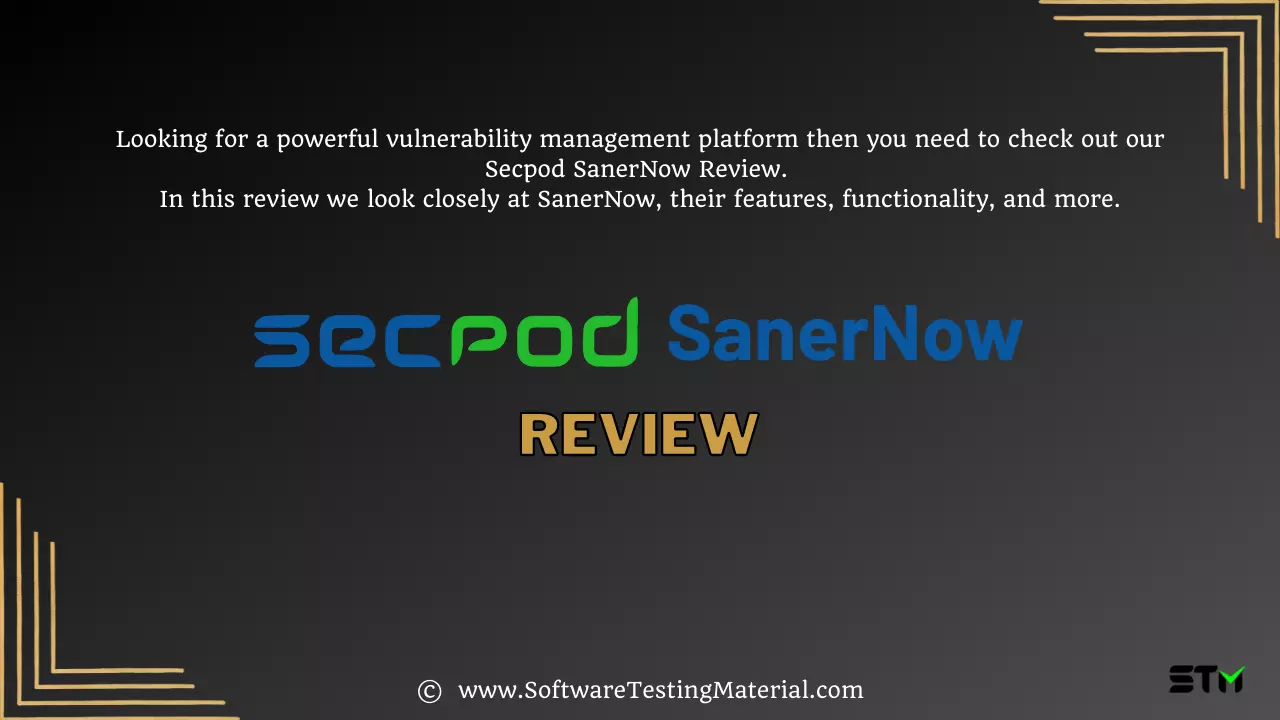 What is SecPod SanerNow?
SecPod's SanerNow is an advanced vulnerability management platform that reinvents vulnerability management by integrating vulnerability assessment and remediation into a single console. SecPod SanerNow's vulnerability scanner is powered by the world's largest vulnerability database built by SecPod and is a one-stop single pane of glass solution for vulnerability and patch management.
Unlike other vendors scanning CVEs alone, SecPod SanerNow scans for misconfigurations, missing configurations and security anomalies as well, making the protection it provides complete. And along with patching, it also provides other remediation controls to fix all the security risks.
While most vendors either perform vulnerability assessment or patching, SecPod SanerNow integrates both. So the manual correlation process is eliminated, and the entire vulnerability management lifecycle becomes streamlined. SecPod SanerNow goes beyond to harden systems to custom or regulatory standards and make cyberattack prevention continuous and automated.
SecPod SanerNow supports all devices, from laptops and servers to routers and switches. So it provides all-around protection for your IT infrastructure.
SecPod SanerNow Features
Industry's fastest vulnerability scanning with 5-minutes scans
Uses World's largest vulnerability database, with over 160,000+ checks, built by SecPod
Integrated remediation of detected vulnerabilities in a single platform
End-to-End automation of vulnerability management, from scanning to remediation.
Managing application vulnerabilities and other security risks like misconfigurations, deviations, IT asset exposures, and security posture anomalies.
Help enforce standard and custom compliance policies to strengthen the organization's protection.
Deploy OS and 350+ third party application patches
Supports 30+ versions of Windows, Linux and Mac OS families
Supports both cloud and on-premise deployment
Provides 100+ security controls beyond patching to remediate numerous security risks and harden systems.
SecPod SanerNow Advanced Vulnerability Management  Applications
#1. Asset Exposure
The asset exposure tool can detect and monitor assets and licenses. From blacklisting and whitelisting software, checking for rarely used apps, etc. SecPod SanerNow asset exposure module can be used for multiple use cases. Some of its features and capabilities are
It can perform real-time, on-demand, and continuous scanning of IT assets.
Enable you to gain complete visibility over the IT infrastructure
You can get stats about rarely used and outdated applications,   
You can also track and manage software licenses.
Discover unauthorised, and malicious applications and blacklist them.
You can create automated audit-ready reports, which are entirely customizable.
#2. Vulnerability Management
Vulnerability management module that also includes their world-class scanner powered by the world's largest vulnerability intelligence feed with 160,000+ checks.world's largest vuln repository with 160,000+ checks. It provides a comprehensive view of all devices and their vulnerabilities. This module also performs the prioritization of vulnerabilities based on severity and exploitability as well. It is integrated with patch management for remediation. Some of its features and capabilities are
It uses a smart and lightweight multi-functional agent that performs all tasks.
SecPod SanerNow can help you prioritize vulnerabilities by considering various factors like risk potential, high-fidelity attacks etc.
You can easily remediate vulnerabilities in your IT assets with integrated patching.
You can efficiently manage vulnerabilities from a single cloud-based console.
You can use it to perform real-time vulnerability management, including remediation.
#3. Patch Management
Patch management module is used to deploy patches for the remediation of vulnerabilities. It can be used to deploy missing security and non-security patches for both OS and 350+ 3rd applications. The PM module can also perform the patch deployment of firmware and driver patches as well. Some of its features and capabilities are
It can automatically patch the detected vulns for integrated remediation.
It provides continuous and customizable patch scans to identify missing patches.
It supports cloud patch management with a testing stage as well.
It also supports hybrid systems with multiple OSs and 3rd-party applications.
In case of errors, you can easily rollback software patches too.
You can also patch firmware patches for complete risk mitigation
#4. Compliance Management
The SecPod SanerNow compliance management module can be used to enforce compliance policies, standard regulations, and customizable company policies. SecPod SanerNow can be used to enforce HIPAA, PCI, NIST, SOC-2 and more. And You can also use it to harden your systems and reduce the attack surface, with  over 300+ system hardening controls. Some of its features and capabilities are
You can run compliance scans, detect non-compliant devices, and ensure continuous compliance.
It can perform compliance risk assessment to remediate risks and meet compliance requirements
It supports all major security standards like HIPAA, NIST, PCI and more
You can also customize your compliance policy based on available system configurations
You can easily generate compliance status updates into useful audit-ready reports.
#5. Endpoint Query and Response
You can build query and response checks to identify and fix the security anomalies in your network. SecPod SanerNow provides a wide range of probes to support this.
#6. Endpoint Management
The endpoint management module is another highly advanced feature that you can use for a wide variety of use cases like system monitoring and control.
The module provides complete control over the functioning of an endpoint, and you can perform actions like application and device control and block, network monitoring and control, and file management.
Very importantly, it also provides security controls that go beyond what patching does, so you can remediate vulnerabilities that cant be mitigated with a patch alone.
All the above mentioned modules on the SecPod SanerNow platform work together. But you can choose which modules you want, so you are not being forced to activate solutions you don't need.
SecPod SanerNow Pricing
SecPod SanerNow comes with a quotation based pricing model. You need to contact them for pricing.
How does SecPod SanerNow work?
SecPod SanerNow works with an agent-server model. With a very lightweight agent installed on the devices communicating with the main server, all the functionalities can be completely remote or on-premise. The server, called the ANCOR, becomes the dashboard that provides an eagle-view of the entire organization's infrastructure.
The steps in SecPod SanerNow's working:
Deployment of SecPod SanerNow: SecPod SanerNow can be deployed into an organization by using the organization's AD server or manually. It can also be deployed to all devices by configuring a device into a network scanner.
Vulnerability Scan: After the deployment, the agents automatically initiate a scan, and the test results are uploaded to the server. The vulnerabilities can be remediated after prioritization.
Remediation of Vulnerabilities: After the scans are complete, remediation of vulnerabilities is performed with the patch management module. The devices and the vulnerabilities can be chosen; the patches are downloaded and deployed to all devices.
Automation: For efficient vulnerability management, the entire process should be automated. In SecPod SanerNow, the scans and the remediation by patches can be scheduled and automated so that no patches are missed, and all the vulnerabilities are remediated.
SecPod SanerNow Tutorial
#1. SecPod SanerNow Dashboard
SecPod SanerNow dashboard provides an eagle-eye view of the entire IT infrastructure. It is a powerful console that gives you all the information about the vulnerabilities and their remediation methods. It also provides info about the compliance status of the devices as well.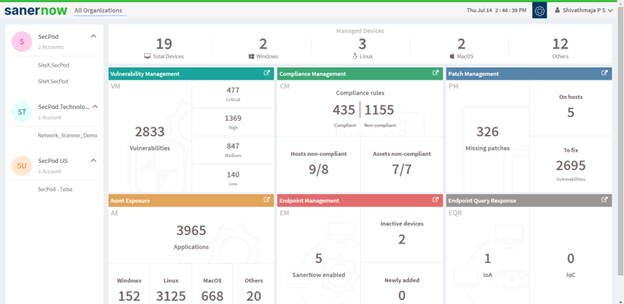 There are other dashboards in SecPod SanerNow that provide additional details and capabilities according to their functions.
Some of the other dashboards are:
#2. Vulnerability Management Dashboard
It provides all the information about the vulnerabilities present throughout the network. It also provides exhaustive information about prioritization, severity, and exploitability to ensure that the most critical vulnerability is remediated first.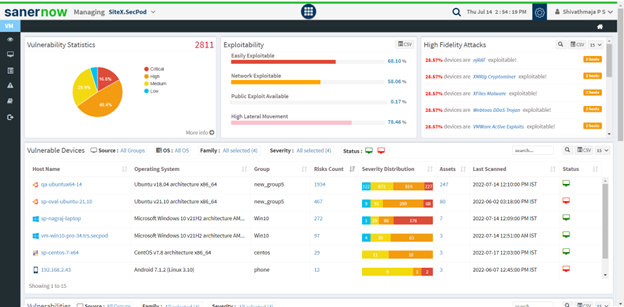 #3. Patch Management Dashboard
This dashboard provides information about patches and vulnerabilities remediated by the corresponding patch. It also provides a comprehensive view of the devices and assets and the number of missing patches for each.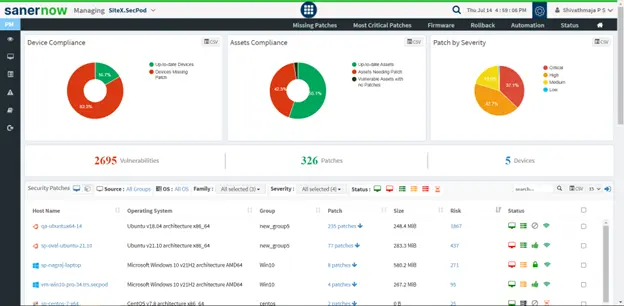 #4. Compliance Management Dashboard
It showcases statistics about the compliance status of the network. Stats like the percentage of device that is non-compliant and the status of standard and custom benchmarks is also visible.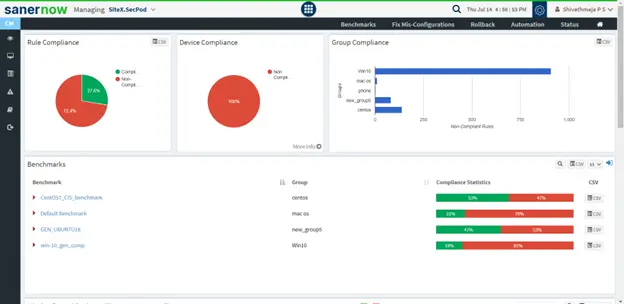 #5. Scanning devices with SecPod SanerNow
After the initial onboarding process and device discovery, vulnerabilities throughout the network are scanned automatically. But you can manually initiate scans again.
Steps to initiate and run scans:
Step 1: Click the device button to go into the device page that provides a complete overview of all the devices in the organization.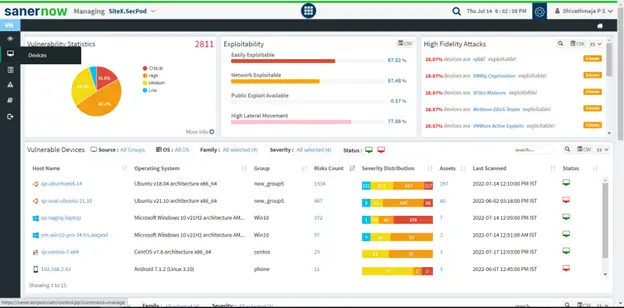 Step 2: Select all the devices/hosts you wish to scan and click on the scan button. SecPod SanerNow automatically initiates the scans in the devices to search for vulnerabilities.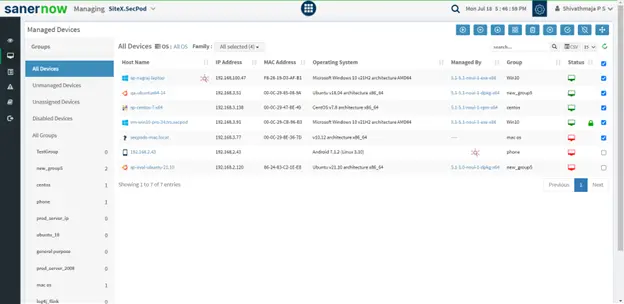 The scan results can be viewed in the vulnerability dashboard, which provides all the information regarding the devices and vulnerabilities.
Remediating vulnerabilities with SecPod SanerNow patch management
Once the vulnerabilities are detected, SecPod SanerNow displays all the missing patches, most critical devices, and exploitability in the patch management dashboard. It also prioritizes the patches based on the severity of vulnerabilities to ensure the network's attack surface is remediated.
Steps to patch and remediate vulnerabilities
Step 1: After clicking on missing patches/missing critical patches in the patch management module, the user can select assets to patch. The devices can be chosen based on the OS or can be individually chosen as well. So, patches can be mass-deployed as well. Then click on apply selected patches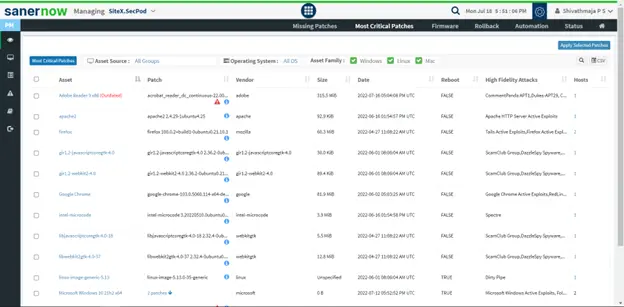 Step 2: After clicking on 'apply selected patches,' you have to create a task and provide information about the patching activity. SecPod SanerNow provides extreme control on performing the patches by offering features like test & deploy reboot control. By clicking next, a job is created that performs the patches.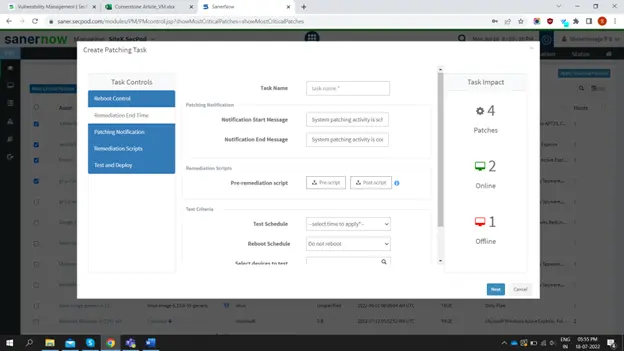 Conclusion
SecPod SanerNow is a an advanced vulnerability management solution  that helps you and your organization reduce attack surfaces and prevent cyber-attacks. Its comprehensive scanner, closely integrated with a remediation tool, provides a complete  solution to manage vulnerabilities and beyond, to automate numerous security operations and brind continuity to your vunerability management program. It's affordable compared to other vendors and is more feature-rich and efficient.
Related posts: