6 Best HTTP And HTTPS Proxies List
Are you looking for the best HTTP and HTTPS proxies list?
If you want the ultimate online security, one of the most critical steps is protecting your IP address using a reliable proxy server.
Proxies allow you to establish an anonymous connection to any website or service by encrypting all of your internet data before it reaches its destination. By doing this, proxies can help protect your identity and activity from being traced back to you, giving you complete privacy when browsing the web.
HTTP and HTTPS proxies are intermediary servers between a web browser and the internet. They act as middle-man nodes that can provide many advantages to users, such as masking your IP address, caching static content for faster loading times, and even blocking malicious websites.
HTTP stands for Hypertext Transfer Protocol and is the most common type of proxy.
HTTP proxies are ideal for accessing websites with minimal privacy concerns, such as news sites or blogs. They can also be used to bypass basic content filters, such as those found on school or corporate networks.
HTTPS stands for Hypertext Transfer Protocol Secure and is an encrypted version of HTTP that adds additional security features to your browsing experience.
HTTPS proxies offer improved security over HTTP, providing an encrypted connection between your browser and the proxy server. This keeps your data secure from eavesdroppers and can help keep you safe when browsing sensitive websites or those that require authentication.
HTTP and HTTPS proxies are useful tools to have in your arsenal, but they should be used with caution.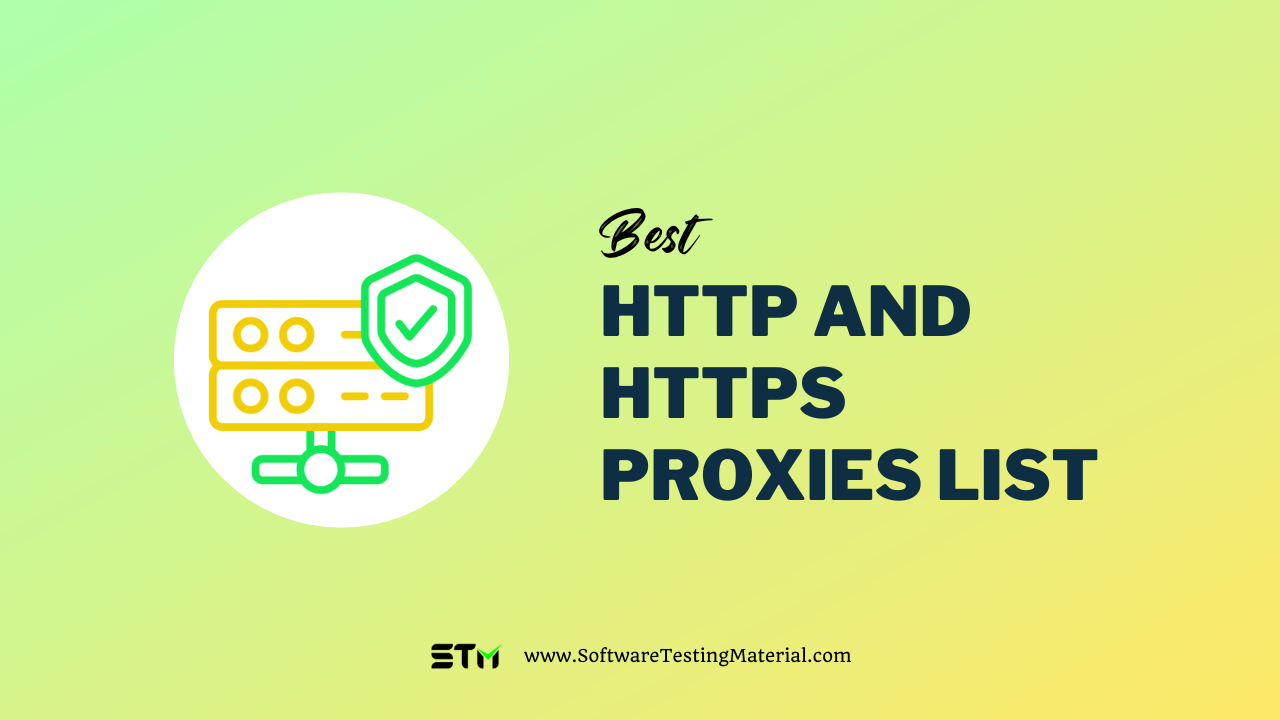 Top HTTP And HTTPS Proxies List
#1. Oxylabs
Oxylabs HTTP proxies provide an encrypted connection between users and the websites they are visiting. This ensures that all data is kept anonymous and secure.
Oxylabs also offers a variety of different IP addresses to choose from, so users can select ones in different countries, with distinct locations and reliable speeds for maximum privacy protection.
They are designed to provide fast and reliable connections while preserving user privacy and anonymity.
Scrape almost any website via HTTP(S).
Constantly growing HTTP & HTTPS Proxy list with over 102M IPs.
One of the fastest and most stable on the market, with 99.9% uptime.
Ensures trouble-free scraping experience with quick and accurate results.
Target with city-level precision.
Dedicated 24/7 Live support.
#2. ScraperAPI
ScraperAPI's HTTP proxies are a reliable and secure solution for web scraping. They allow the user to access any website anonymously, without worrying about IP blacklisting or other forms of censorship.
The proxies can be used to access many different types of websites, including dynamic and AJAX-heavy webpages, enabling users to extract and harvest data from the web with ease. The online HTTP proxy allows developers to make API calls using Python, Java, Ruby, PHP, Node, and Bash.
ScraperAPI has a straightforward dashboard interface, making it easy to control the proxy pool and assign each scrape request to a specific IP address. This ensures that all requests are sent out from a unique source, preventing users from getting blocked or detected by anti-scraping measures.
40M+ IPs Around 50+ Geolocations.
Comes with built-in anti-bot detection and bypassing features.
Ensures unlimited bandwidth and removes slow proxies from their pool automatically.
Designed to provide high speed, making it ideal for fast web crawlers.
Exceptional speed and stability, with a 99.9% uptime rate.
#3. Geonode
Geonode is a proxy network that offers more than 2 million IPs in multiple locations and is easy for users to navigate.
It provides access to over 160 country IPs, including those from the United States, United Kingdom, Australia, Russia, Europe, and others.
Geonode makes data collection easy and enjoyable thanks to its friendly staff and helpful documentation. You can access a bird's eye view of your most important metrics and results through Geonode's customer dashboard.
IPs from over 160 countries.
It is compatible with various programming languages such as PHP, Python, .Net, Java, JavaScript, C/C++, and C#.
99.9% success rate.
Supports SOCKS5/HTTPS.
#4. ProxyScrape
ProxyScrape offers free proxies that are perfect for web data scraping. They display a list of HTTP, SOCKS4, and SOCKS5 proxy servers on their website. ProxyScrape has a simple to use interface that allows users to find the right proxy for their needs quickly.
You can select the type of proxy you need and sort the results based on the country, level of anonymity, and SSL. These proxies are only accessible after you indicate your requirement and download them since they are kept confidential.
With these proxies, users can access content from around the world without having to worry about their IP address being blocked or logged.
ProxyScrape uses a proxy scraper to obtain its proxy list from the internet. The required proxies are easily identifiable and support multiple protocols. You can access the proxy list through API access. ProxyScrape also offers premium proxy solutions for both residential and data center use.
Unlimited bandwidth
Unlimited concurrent connections
Up to 60 000 shared datacenter proxies
3 IP authentication slots
24/7 uptime monitoring
#5. SmartProxy
SmartProxy's HTTP proxies are a reliable and cost-effective solution for businesses seeking to remain anonymous online. It provides multiple layers of protection to ensure that your data is always safe from unauthorized access, malicious actors, and other threats. The servers utilize sophisticated technology such as SSL encryption, IP address rotation, and proxy cloaking to keep your data secure. Additionally, SmartProxy offers a wealth of features to make sure that you can get the most out of your proxies.
Features such as location targeting, rotating IP addresses, and automatic retry are available to help ensure maximum performance from the server. With access to over 40 million IP addresses across 195+ locations, SmartProxy makes sure that you can remain anonymous and secure online. With the help of their reliable HTTP proxies, businesses can browse the internet securely without worrying about data leakage or malicious actors attempting to gain access to sensitive information.
Access over 40 million proxies located in more than 195 cities and US states to help you bypass CAPTCHAs, geo-blocks, and IP bans.
24/7 support
#6. Proxy Seller
Proxy Seller's HTTP proxies are a great way to protect your online activity and stay anonymous while browsing the web. With Proxy Seller's HTTP Proxies, you can access all of your favorite websites while hiding behind a secure network that is beyond the reach of hackers and other malicious individuals.
In addition to their other services, Proxy Seller can also provide assistance with SOCKS5 and HTTP, making them a great value for your money.
Customer support service 24/7/365
Expert assistance with settings
Issuance from 400 networks / 800 subnets
Multifunctional user control panel
FAQ's Best HTTP And HTTPS Proxies List
What are HTTP Proxies?
HTTP proxies are intermediaries between an HTTP client, such as a web browser, and an HTTP server. They are used to filter content for added security and privacy while maintaining high performance.
What is an HTTPS proxy?
HTTPS is responsible for managing the connection between a web browser and a server. When a website is secured with an SSL certificate, the URL displays HTTPS. This implies that an HTTPS proxy and an SSL proxy are essentially the same thing.
What is the difference between HTTP and HTTPS proxies?
The primary contrast lies in the level of security provided. HTTP proxies only safeguard the data transmitted using the HTTP protocol, leaving crucial information like login credentials vulnerable to interception by unauthorized individuals. HTTP proxies are ideal for basic web browsing purposes and can be utilized for caching, filtering, and content rewriting functions, among other things.
HTTPS proxies offer increased security by encrypting all data transmitted from end-to-end. This makes them appropriate for tasks that involve sensitive information, such as online banking or sending confidential data.
Is an HTTP proxy secure?
HTTP proxies do not provide any additional security measures, as they do not validate the server certificate. As such, it is advised not to send confidential information through an HTTP proxy since no encryption is applied. It is strongly recommended to use HTTPS proxies for secure, anonymous connections. HTTPS proxies allow for both secure and anonymous connections by validating the server certificate, encrypting data and hiding your IP address.
How do private proxies work?
Private proxies, also known as static or dedicated proxies, provide only one IP address per user. This type of proxy hides the real IP address of the user and provides more control over how connections are made. Private proxies allow users to configure the proxy settings to meet their specific needs and can be used for a variety of tasks such as bypassing website restrictions or censorship, circumventing geographic limitations and protecting online privacy.
Conclusion
As we have seen, the best HTTP and HTTPS proxies provide a layer of added security to browsing the internet. HTTP proxies help keep your personal data safe and secure from third-party viewings, while also enabling you to access websites that may be unavailable in certain countries due to censorship laws or other restrictions. On the other hand, HTTPS proxies encrypt your data so that your communications are hidden from anyone trying to intercept them.
Another helpful option when using either an HTTP or HTTPS proxy is to use a private proxy service which often provides the added benefit of offering consistent and highly secure connection speeds. It's always recommended that you research a proxy before using it, especially if you're dealing with sensitive information.
We hope this blog has been informative and helpful in guiding you toward selecting the best HTTP and HTTPS proxy solutions.
Related posts: