Best Websites To Watch Cartoons Online For Free in HD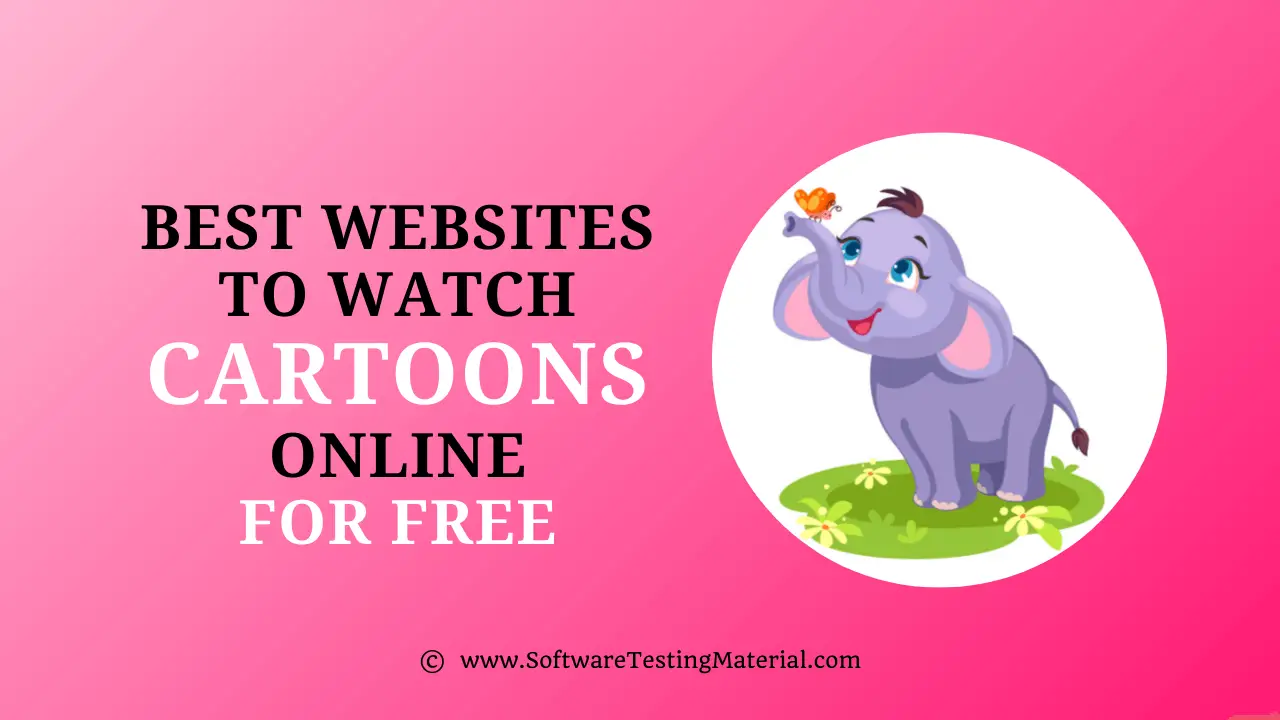 Are you looking for the best websites to watch Cartoons online for free in HD?
Here in this article, we will review and compare the best websites to watch cartoons online for free.
From kids to adults, everyone loves watching cartoons irrespective of their age. Cartoons are an excellent stress-buster that kids and adults both enjoy. 
Do you love watching your favorite cartoon in your childhood, such as Power Puff Girls, Pokemon, Spongebob, Bob's hamburgers, Naruto, Tom and Jerry, Dragon Ball, South Park, and much more?
You can watch cartoons online for free from all these streaming websites we are going to list in this article. 
Nowadays, many of us don't have time to sit and wait for a specific program on TV. The most practical way to watch cartoons is on the Internet.
Unlike when you can watch cartoons only on the TV, you can now watch the cartoon online via the internet anytime and anywhere.
There are many websites available to watch cartoons online.
However, it can be a painstaking task to find decent free websites to watch cartoons. In order to find the best free sites to watch cartoons online, we have compiled a list of free online resources that quickly offer high-definition online cartoon streaming. 
Best Sites To Watch Cartoons Online For Free
Here is the list of Top websites to watch Cartoon online.
Let's get started.
#1. Toonjet
Best for old classic cartoons.
Toonjet is one of the best online cartoon streaming websites. Here, you can watch many classic famous cartoons like Tom and Jerry, Looney Tunes, Mickey Mouse, Betty Boop, Pokemon, Popeye, Nickelodeon, and so on. No sign-up is necessary. However, if you want to use this website's additional features, you have to sign up. After signing up, you can add cartoons to your favorites list and watch them later. You can also join the community forum by creating an account.
Features:
A dedicated blog section for cartoons
Daily alerts for new cartoon uploads
Free to use
Built-in Google search
Have a massive collection of classic cartoons
Community forum
#2. Youtube
Best for watching cartoon shows online from all studios and regions.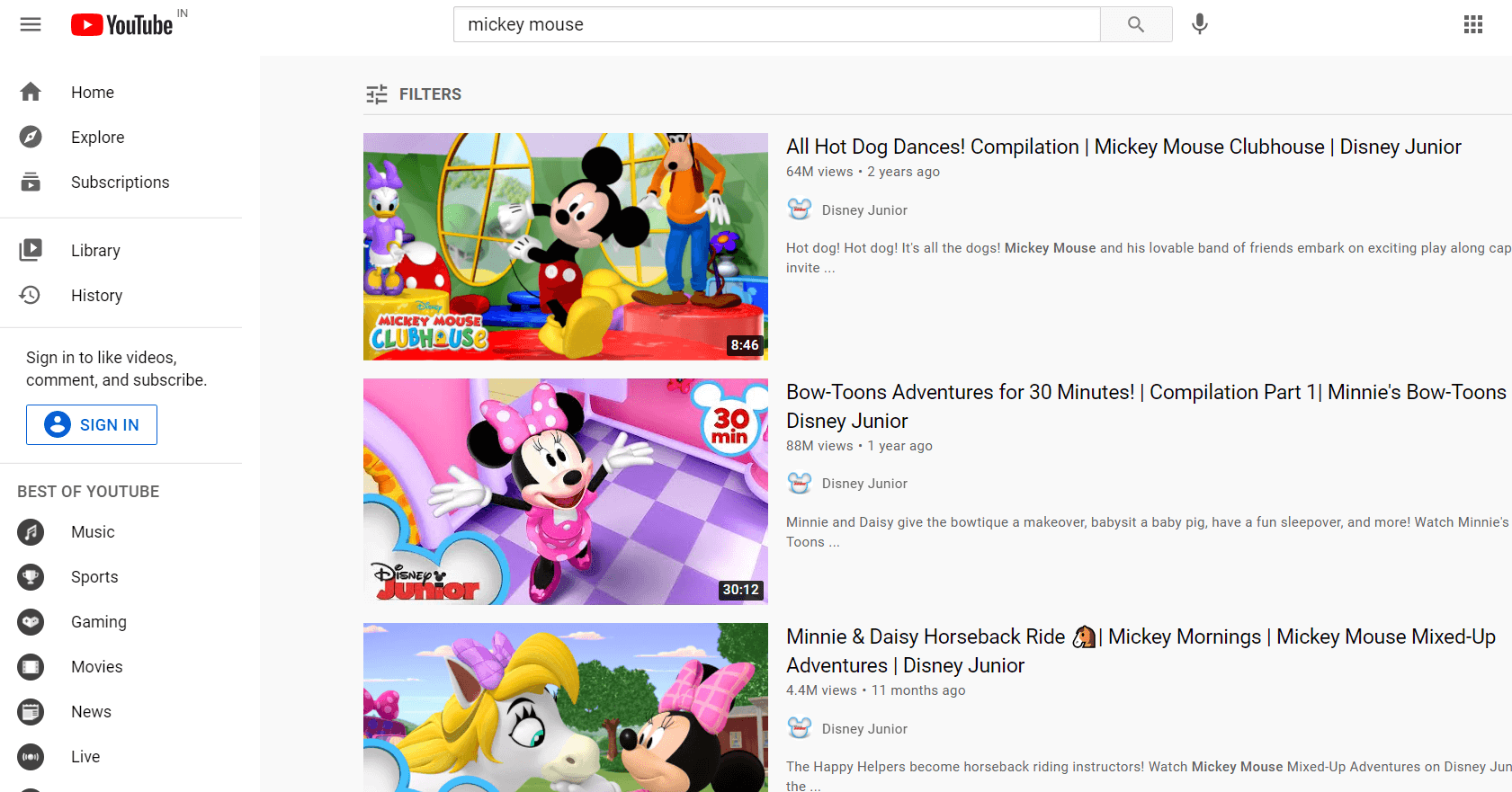 YouTube is a massive platform with a vast cartoons library, making it a top free website to watch cartoons online. It is the world's most popular platform for seeing any sort of video. Here you will get all kinds of cartoons, all you've got to do a search. In addition, YouTube has a dedicated kid platform for hosting popular cartoons. You can instantly watch any full-length cartoon shows and movies here. Youtube is also a place for independent artists also get to show their animated content as well.
Features:
Easy to use and find cartoon from a variety of sources
Free of cost
Viewers can adjust video quality
Add subtitles to the videos
Related posts:
#3. CartoonOn
Best for easy-to-use and clean UI.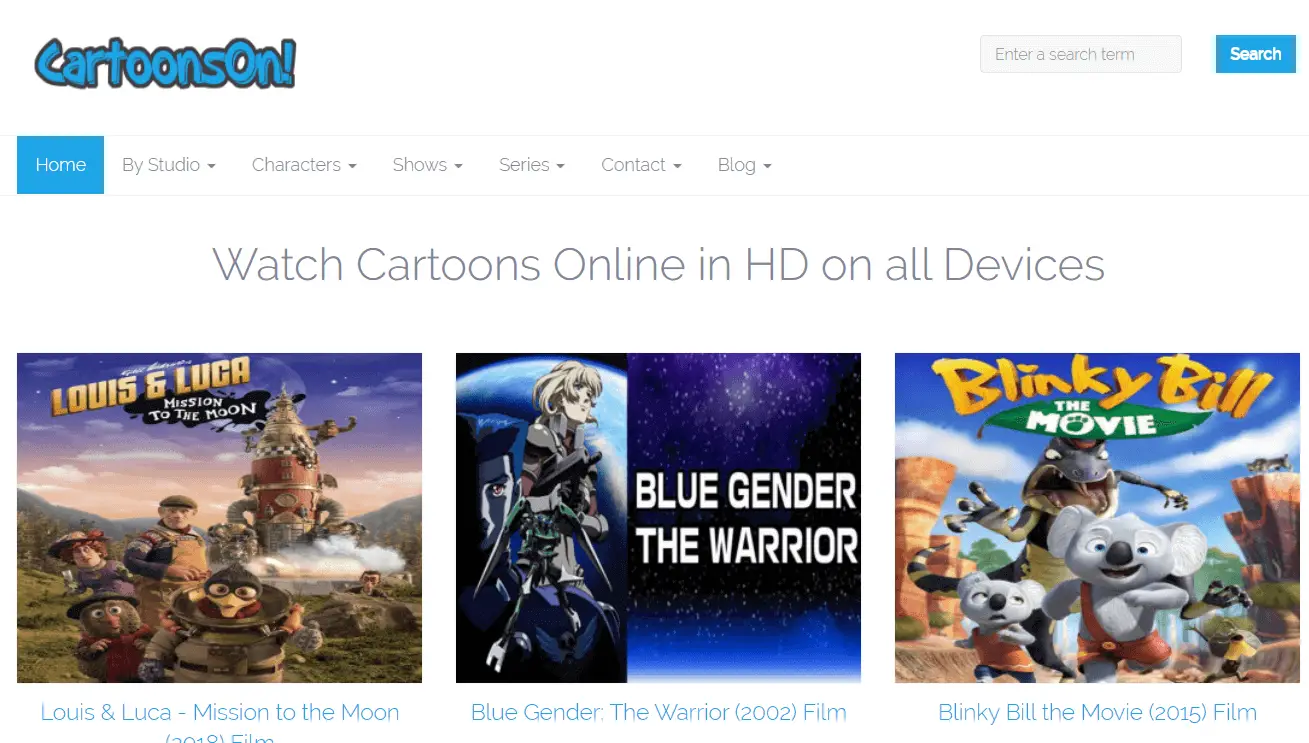 It is another great free site to stream old and new cartoons online. The site is very simple, which makes it easy to navigate. This website provides you top quality cartoons and anime online. They are constantly updated so that you always get to see different shows. If you want to see new and old release cartoons/Anime, then all sorts of cartoons/Anime are provided to you on this site.
Features:
In-built search bar
Very easy-to-use
Dedicated blog section
Clean UI
Free of cost
HD videos available
#4. Cartoon Network HQ
Best for Cartoon Network exclusive content.

In case, you are a big fan of Cartoon Network content like Ben 10 and Pokemon, then this site is for you. The site has over thirty million movies and cartoon videos, while more are uploaded each day. Not only kids but adults alike can enjoy the cartoons from using this website. 
This is the favorite channel of every child from the '90s. You can watch many popular cartoon shows on this site like Powerpuff Girls, Dexter, Ben 10, and more. It is one of the best websites for children to watch online cartoons.
Features:
Family-friendly content
Online games
Also available on mobile apps
Attractive UI with easy navigation.
#5. WatchCartoonOnline
Best for anime shows.

WatchCartoonOnline is another great website to watch classic cartoons, movies, new and old Japanese anime. You just need to search for the shows you're looking for, and boom, you can begin watching your favorite cartoon online at no cost. 
The user interface is easy and highly interactive. Like with any other free site, you are going to have to live with a few ads here and there. You can find both dubbed as well as subbed anime content here. 
Features:
Dubbed and Subbed version of anime 
Easy-to-use UI
Built-in search bar
Shows are divided into categories
New releases displayed on the home page
#6. Boomerang
Best for watching old classic cartoons in HD.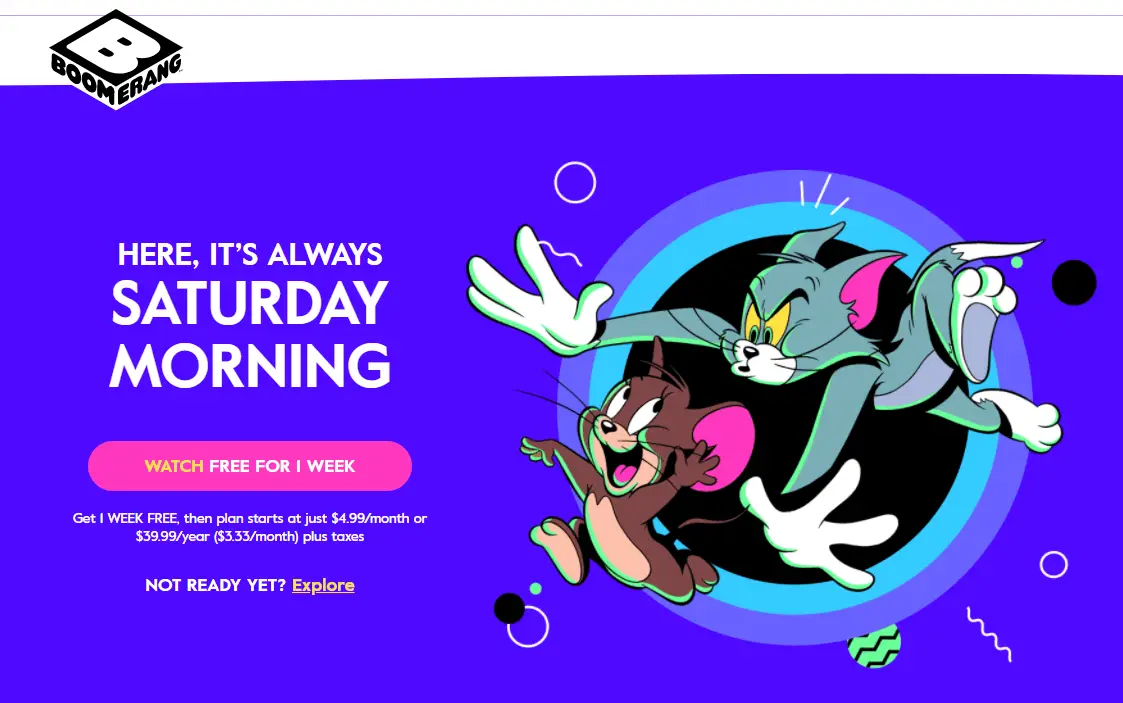 Boomerang is another great place to watch your favorite cartoons, videos and play free games. You can find old cartoon series like Flintstones, Garfield, Tom & Jerry, Pink Panther, and so much more. Children can also play online games with their favorite Boomerang characters, such as Scooby-Doo and Tom and Jerry. The UI (User Interface) is well organzied. With improved resolution, you can watch old classic gems with the best quality online. 
Features:
Attractive UI
Cartoon streaming on mobile as well as computer devices
Watch your favorite shows in High Definition
#7. Cartoonito
Best for pre-kindergarten children.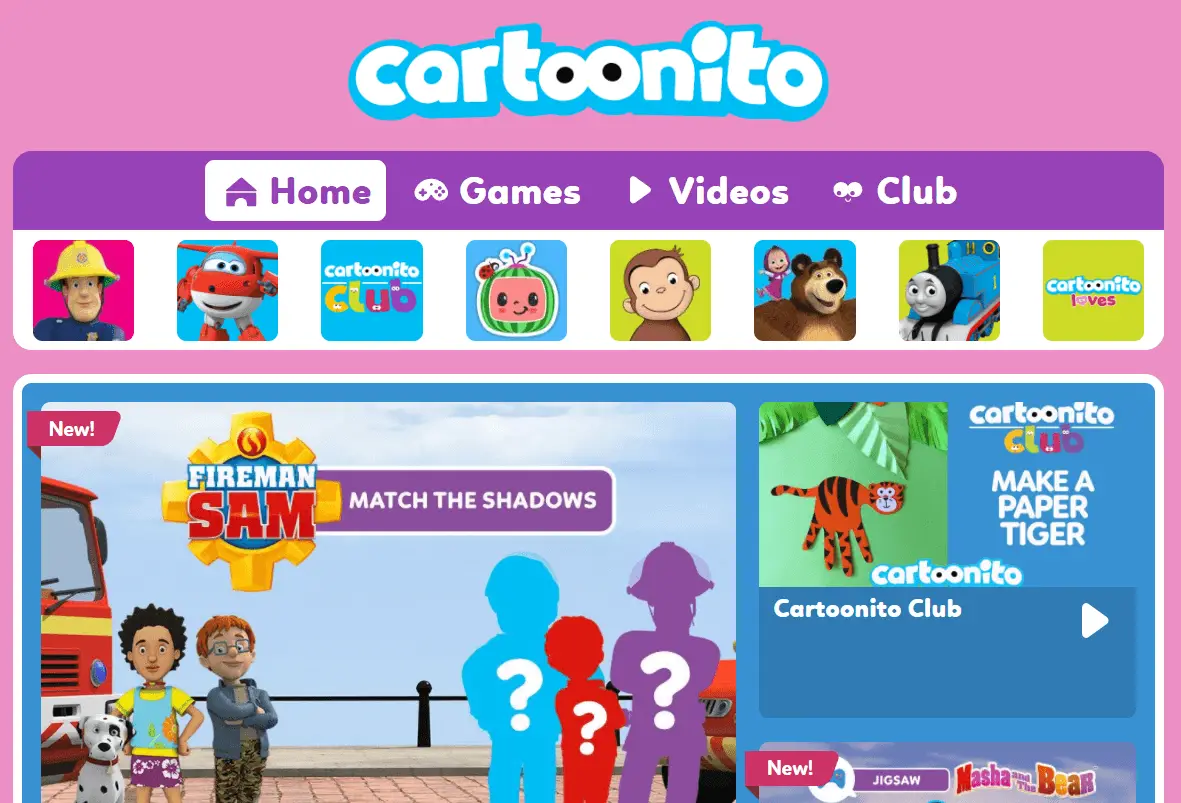 Cartoonito is an all-in-one entertainment alternative for children. The website has animated cartoons in addition to Cartoonito club tales performed by real kids to teach something or crack a joke for children across the screen. It adds an educational flair to the site, where cartoons become the medium of learning for kids together with entertainment. It's possible to leave your child with this website and let them explore their interest.
Features:
Attractive UI
Suitable for only pre-school kids
Play online games
#8. Watchcartoononline.bz
Best for latest anime for Free.

Watchcartoononline.bz is among the popular cartoon websites to watch cartoons online. There are really no cartoon shows and movies on this website that are not worth seeing. It has a very simple-to-use interface, so kids can also efficiently navigate to watch cartoons. The site lists all ongoing popular series at the sidebar for a quick visit. You can use the menu to pick from series or movies. 
Each of the cartoons and movies is alphabetically organized on this site. You can find your favorite animations easily from this list. The home page will tell you what is trending. 
Features:
Watch the latest episodes of your favorite cartoon for free hours after release.
Sign up and rate the show you just watched on a scale of 1-5.
Intuitive filter
Android app also available
#9. Supercartoons
Best for watching old cartoons.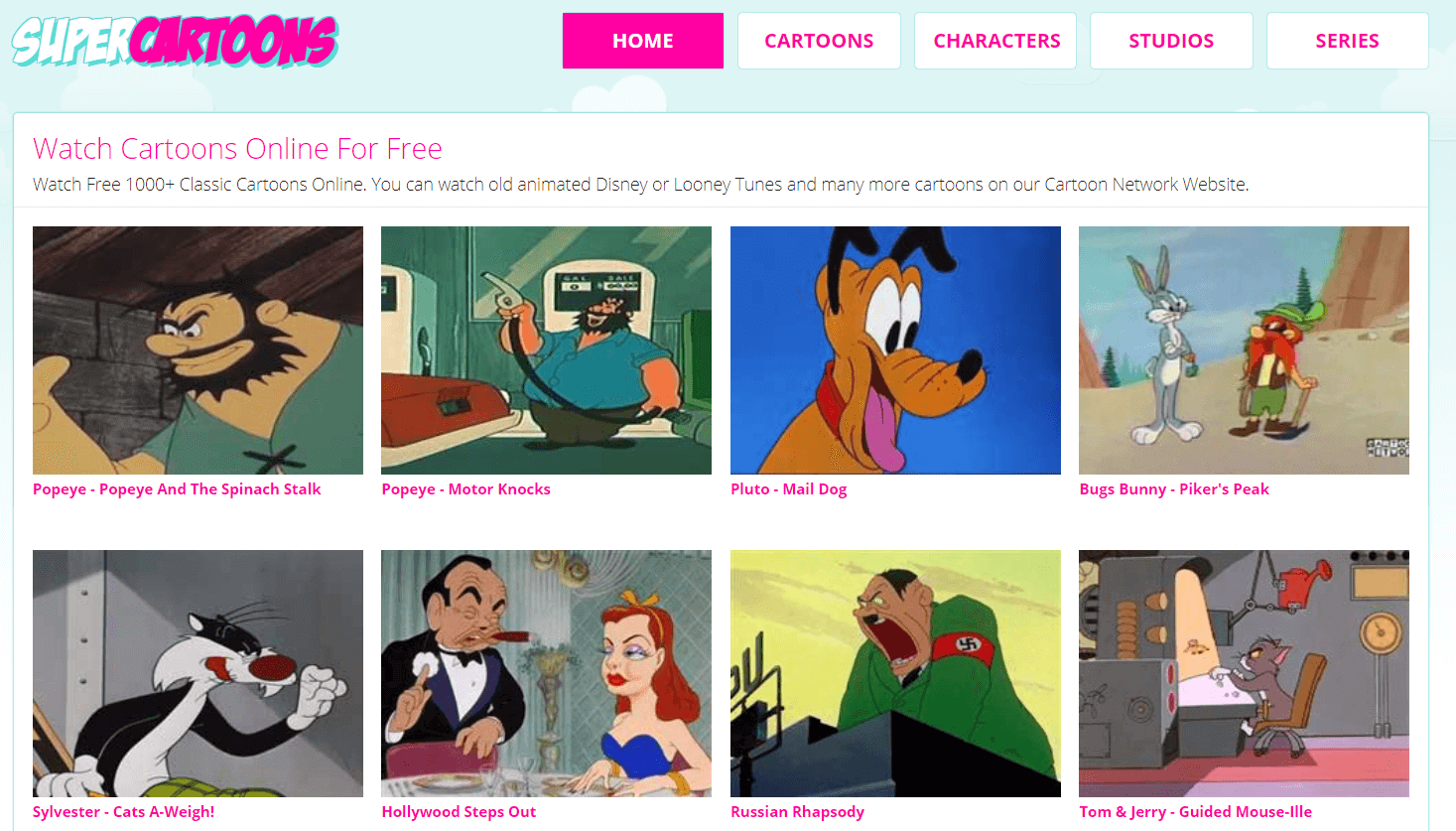 With Supercartoons, you can watch over 1000 free Classic Cartoons Online. You can see old shows like Looney Tunes, Scooby Doo, Pluto, Donald Duck, and a lot more cartoons on this website.
Features:
Intuitive UI
 Filtering option
Home page showing latest episode additions to the site
#10. WCO
Best for watching the latest cartoons free of cost.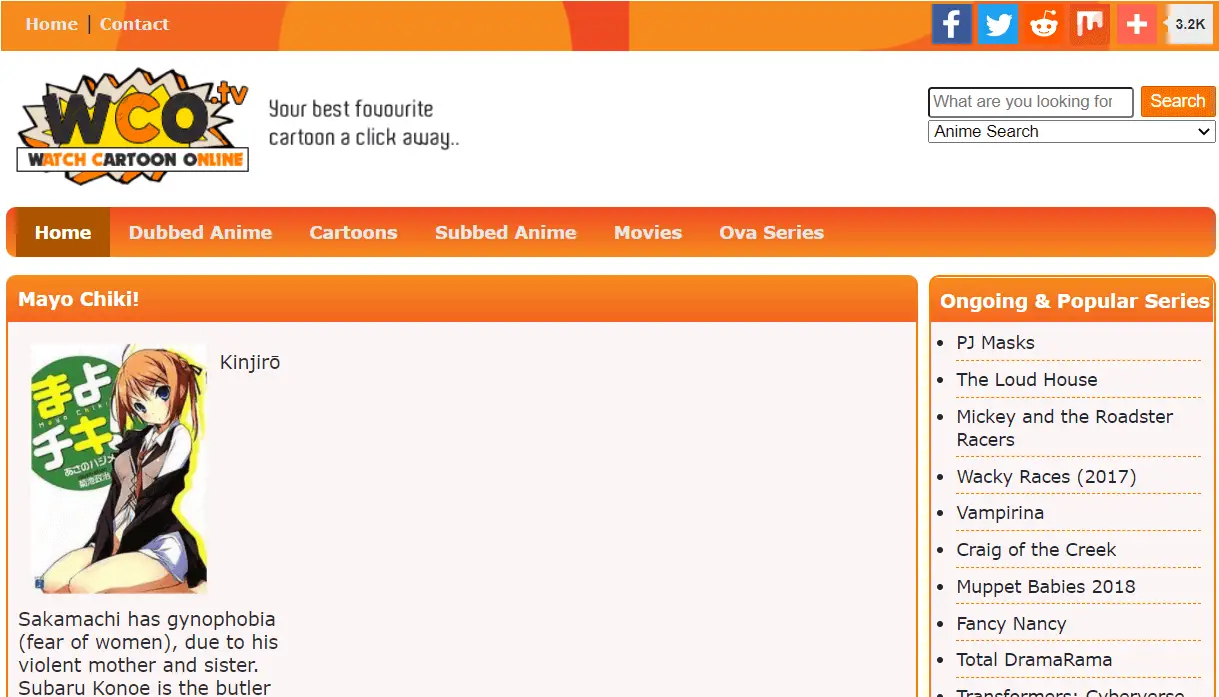 WCO has a very different-looking interface. However, when you look past that, then you are going to come across a good site to capture some of the latest released animated content at no cost. It contains various shows from Nickelodeon, Cartoon Network, Disney, and much more on its site.
Its UI is designed in a means that makes discovering new releases exceptionally handy. All you have to do is check at the right side of your screen in order to know which cartoon shows are trending.
Features:
Dubbed and Subbed Anime
Built-in search bar
Highlight trending shows
#11. Crunchyroll
Best for watching Anime and reading Manga.

Crunchyroll is one of the best websites around the world to watch anime shows. It gives viewers various ways to watch anime titles. You can opt to stream on their computers or access it on mobile apps for iOS and Android. Their catalog contains numerous great anime shows, both old and new. You get to watch the latest shows just one hour after they've been aired in Japan.
Apart from anime, this website also has a very impressive catalog of manga, games, and news.
Features:
Watch dubbed and subbed versions of every anime.
Read your favorite manga.
14-days free trial
It provides experiences to deepen fan engagement through social, events, games, consumer products, and so on.
#12. WB Kids Go
Best for WB Licensed cartoons.

If you are a massive fan of this Looney Tunes show, then you must have seen the unique Warner Brothers emblem at the beginning of each episode. Now, WB is synonymous with cartoons like Bugs Bunny, the DC animated shows, Scooby-Doo, and so on. WB Kids Go brings all its famous TV shows and movies under one single roof.
You can watch the latest and old cartoon shows, read comic books, play online games, and download kid-friendly content. In addition, the platform harbors content that can be deemed ideal for young children.
Features:
Kids-friendly
Play games and read comics
Clean UI
Download your favorite cartoon.
#13. Voot Kids
Best for watching Indian cartoons.

Voot Kids is a great website for watching original Indian cartoons. The site and its mobile-friendly program are equally tailored towards young children. The content itself is very children-oriented. The site can watch favorite Indian animations such as Motu and Patlu, Chota Bheem, etc., along with other cartoons like Pokemon, Spongebob Squarepants, Mr. Bean series, and so on.
It also includes a library of textbooks and audio that harbor stories for kids. 
Features:
It offers over 5000 educational quizzes to help children stay sharp.
Family and kids-friendly
Attractive interface
Conclusion
The Internet has changed the way we consume online content. Cartoons are also not far behind. Old classic cartoon series we use to watch in our childhood are now just a few clicks away. You can enjoy old and new cartoon shows with your children also. In this post, we have tried to provide you some good sites to spend some time watching your favorite cartoons online free of cost. You can use any of these sites to watch your favorite show or share it with your children. The website mentioned is safe for children to stream online cartoons.
As for our suggestion, if you are a fan of old classics like the Disney shorts, then go for ToonJet. If you are looking for a kid-friendly website that your young children can also use, go for WB Kids Go or Toon Kids. If you want to watch cartoon shows from all around the world, especially Japanese anime, then WatchCartoonOnline is the best option.
FAQs – Best Websites To Watch Cartoons Online For Free in HD
---
Research Process:
Time spent to research: We spent around 14 hours researching and writing the best cartoon websites available today.
Total cartoon sites researched: 21
Total cartoon sites shortlisted: 13
Related posts: