7 Best Help Desk Outsourcing Service Providers In 2023
Are you looking for the best help desk outsourcing service provider to meet your business needs?
Whether running a small or large-scale organization, outsourcing customer support solutions can enhance customer experience and grow your business.
In this blog post, we will look at some top help desk outsourcing service providers that offer great value for money and reliable services.
From AI chatbot technology to onshore/offshore delivery models – we'll explore what each has to offer so that you can make an informed decision about which fits best with your business needs!
What are the Benefits of IT Help Desk Outsourcing
IT help desk outsourcing reduces overhead costs while providing the most efficient customer support.
It helps organizations stay ahead of market trends and access the cutting-edge technology at an affordable rate.
IT help desk outsourcing provides 24/7 support which significantly enhances customer experience that will leave them feeling satisfied.
It eliminates downtime, thereby increasing uptime and productivity across the organization.
IT help desk outsourcing also enables businesses to focus more on value-added activities and less on maintenance tasks.
It helps leverage existing resources and optimize them for maximum efficiency.
IT help desk outsourcing helps organizations comply with regulatory requirements and industry standards.
It enables businesses to make more informed decisions in terms of process automation, system upgrades, security protocols, and data management practices.
IT help desk outsourcing enables organizations to stay competitive in the global market and gain a competitive edge over competitors.
When selecting a Help Desk Outsourcing Service Provider, it is important to look for a provider with experience in the technology and processes your business requires. Additionally, review their customer service records and previous clients' references to ensure they are reliable and have the necessary expertise to meet your needs. Finally, evaluate the cost of the service and ensure that it is within your budget while still providing quality customer service. This will help businesses make an informed decision when choosing the right Help Desk Outsourcing Service Provider for their needs.
The market trends for Help Desk Outsourcing Service Providers have increased in recent years. As businesses look to streamline their operations, they are turning to providers who can provide comprehensive support services, from basic technical assistance to more complex problem resolution. This trend is expected to continue as companies seek out cost-effective and reliable help desk outsourcing services to meet their needs.
Comparison of Top Help Desk Outsourcing Companies
| Company | Established On | Office Locations | Revenue | Employees |
| --- | --- | --- | --- | --- |
| ScienceSoft | 1989 | USA, UAE, Europe | $30M | 700+ |
| Salesforce | 1999 | USA | $27.9B | 70000+ |
| Global Help Desk Services | 2002 | Connecticut, US. | $13.2M | 60+ |
| CMS | 1967 | USA | $21.5M | 90+ |
| Dataprise | 1995 | Rockville, Washington, Northern Virginia, Baltimore, Richmond, Philadelphia, New York City, Jersey City, Nashville, Miami, Charlotte, and Scottsdale. | $62M | 500+ |
| CGS Inc. | 1984 | New York, Canada (Montréal, Saint John), Romania, Chile, New Jersey, Israel, Romania (Sibiu, Targu Jiu, Bucharest, Constanta, Brasov, Miercurea Ciuc), UK, India. | $250 – $300M | 4000+ |
| XACT | 1998 | USA | $28M | 201- 500 |
List of Top Help Desk Outsourcing Service Providers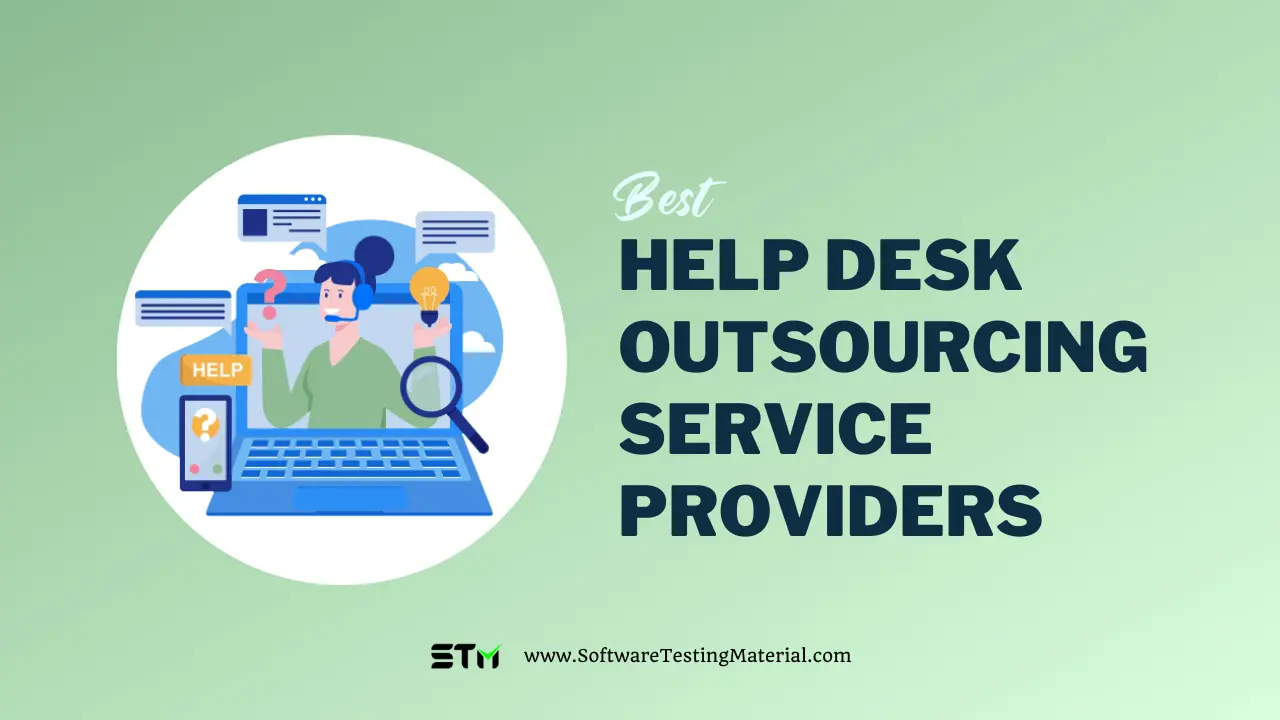 #1. ScienceSoft
Founded: 1989
Employees: 700+
Min Project Size: $5,000+
Annual Revenue: $30M
Headquarters: 5900 S Lake Forest Dr Ste 300, McKinney, Texas, 75070, United States
Locations: McKinney, Texas (HQ); Atlanta, Georgia, Finland, Latvia, Lithuania, and Poland.
Core Services: IT Help Desk Outsourcing, White Label Help Desk, Application Support and Maintenance, Software Development, Cloud Consulting, etc.
Clients: Walmart, IBM, Nestle, eBay, Ford Motor Company, Deloitte, Leo Burnett, NASA JPL, Heinz, Nestle, T-Mobile, M&T Bank, Viber, PerkinElmer, Enonic, Tieto, Koch Media, Visma, Airpas, Leo Burnett, Baxter, Pointlogic etc.,
ScienceSoft is a global IT outsourcing vendor that provides professional help desk services to organizations in 30+ industries. ScienceSoft's support engineers have a technical background and can promptly join your in-house support team or establish L1–L3 help desk processes from scratch.
ScienceSoft's experienced engineers can handle any IT component: from desktops, mobile devices, and VMs to user-facing software, on-premises and cloud data centers, network, and cybersecurity components. ScienceSoft's clients report a 96%+ user satisfaction rate and up to a 50% increase in ROI due to reduced support costs and increased application value.
Features:
33 years in IT and 15 years in help desk services.
24/7, 12/7, 12/5, or 8/5 support time coverage.
Transparent and manageable service delivery: flexible SLAs, SOPs, KPIs, and regular reporting.
Quality-first service approach based on the ISO 9001-certified quality management system.
ISO 27001-certified information security system to ensure the safety of the data ScienceSoft gets access to.
Included in the Global Outsourcing 100 by IAOP for the second consecutive year (2022-2023).
#2. Salesforce
Founded: 1999
Employees: 70000+
Annual Revenue: $27.9B
Headquarters: 415 Mission St Fl 3, San Francisco, California, 94105, United States
Core Services: Cloud computing, sales, and marketing automation, help-desk, IT consulting.
Clients: Amazon, US Bank, T-Mobile, Toyota, American Express.
Salesforce cloud-based help desk tool is the perfect solution for businesses looking to take their customer service operations to the next level. It provides faster and more efficient service to customers.
Salesforce Help Desk Outsourcing Service Provider commits to deliver excellence in customer service and satisfaction. They provide quality solutions and exceptional customer service that exceed your expectations. They are dedicated to helping you create a positive and productive customer service experience for your customers.
Their professionals provide specialized and expert knowledge in Salesforce help desk applications, training, support, and more. With their help desk outsourcing services, you can expect world-class customer service with a cost-effective and time-efficient process. They understand the importance of fast response times and quick resolution, and committed to providing you with an exceptional experience every time.
With features like automated workflows and a vast array of tools that streamline call center management tasks, you can count on Salesforce for the ultimate in service delivery optimization.
Features:
The sophisticated AI in the software simplifies upselling activities for organizations, allowing them to increase their revenue.
Through powerful data-driven insights, you'll be better equipped to make informed decisions.
The omnichannel functionality of the software permits your customer support team to communicate with clients through a variety of channels.
You can give your team access to a comprehensive 360-degree view of every detail that allows them to deliver superior quality support.
Allow your customers the flexibility to employ any channel they prefer for expressing their concerns while also providing automated replies through chatbots for more general inquiries.
You can connect with tools like Dropbox, GetFeedback, and Mailchimp – making it even easier.
Craft the perfect cloud-based services for your team's unique needs, and configure streamlined workflows through simple drag-and-drop customization.
You can take advantage of thousands of prebuilt plug-and-play apps from Salesforce AppExchange to get up and running faster than ever before.
#3. Global Help Desk Services
Founded: 2002
Employees: 60+
Headquarters: 521 Cromwell Ave, Rocky Hill, Connecticut, 06067, United States
Locations: Connecticut, US.
Annual Revenue: $13.2M
Core Services: Help Desk Outsourcing and IT Management Services.
Global Help Desk Services is an increasingly popular US-based help desk outsourcing service provider.
Global Help Desk Services have earned a sterling reputation since 2001 by providing superior customer service.
They adhere to excellence standards when it comes to IT support and customer assistance – such as ITIL (IT Infrastructure Library) and ITSM (IT Service Management).
By outsourcing to Global Help Desk Services, you can focus your energy on achieving your goals and simultaneously ensure that employees and customers are content with the exceptional help desk experience.
They offer round-the-clock assistance for large corporations with their application support, hardware diagnosis, network maintenance, and proprietary application requirements.
They offer a wide range of services to organizations of all sizes and from all industries, from basic technical support to more advanced solutions such as analytics, automation, and incident management.
With its team of certified experts available 24/7, it provides services in the most cost-effective and efficient manner
It is an ideal platform to ensure that businesses have the help they need when any issue arises.
Their technicians are able to quickly identify and resolve any issue that may arise with your IT infrastructure—whether it is hardware or software related.
Features:
Provide comprehensive training and support to ensure that your staff can keep up with the ever-changing IT landscape.
Offer solutions that promote collaboration, communication, and productivity for all employees.
By providing the best IT support services in the industry, they help you keep your business running smoothly.
Provides your staff with technical assistance for all types of off-the-shelf software applications. From PC & network software to office productivity suites and email applications; databases, operating systems, clinical (hospital) software, enterprise resource planning applications; web browsers and utilities; even wireless apps.
Their frontline hardware diagnosis and escalation services provide essential support for your field personnel, including warranty repair/replacement orders.
Offers a diverse selection of support services to ease any desktop-related network issues you may experience.
Conducts automated surveys, direct customer outreach, and focus group meetings and offers Customer Satisfaction Reports.
Provides Internet Call-Tracking Access and Foreign-Language Support.
#4. CMS
Founded: 1967
Employees: 90+
Headquarters: 41 S Grant Ave, Columbus, Ohio, 43215, United States
Locations: USA
Annual Revenue: $21.5M
Core Services: Call Center Services, Hotline Services, and IVR & Automation.
Clients: CocaCola, Volvo, KraftHeinz, Kroger, etc.
Continental Message Solution (CMS) Help desk call center services provide your organization with an affordable option for maintaining constant availability.
With over 45 years of experience, Continental Message Solution (CMS) is a well-established help desk outsourcing service provider which boasts a team of highly qualified staff and cutting-edge technology to provide clients with the most comprehensive help desk services available.
CMS help desk support services guarantee top-tier American operators who are always available to meet your company's needs – 24/7, every day.
Features:
CMS offers a vast array of services ranging from customer support inquiries to IT troubleshooting and maintenance.
It can be integrated with tools like Slack,Paycor, Autotask, HaloPSA, ADP, Workday, Zendesk, Salesforce, Zoho, Kronos, etc.,
Offering comprehensive call center customer support that spans 208 languages to ensure everyone has access to the support they need.
Each account includes a dashboard and an on-call scheduling system. You can easily manage messages, run reports, and schedule on-call personnel.
When you work with CMS, your account is managed by friendly and knowledgeable agents based in the United States of America.
With expertise across industries, ranging from IT departments to Saas companies and managed service providers (MSPs) to product manufacturers, they offer custom help desk solutions as well as technical support outsourcing tailored specifically for your business.
#5. Dataprise
Founded: 1995
Employees: 500+
Annual Revenue: $62M
Headquarters: 9600 Blackwell Rd, 4th Floor Rockville, Maryland, 20850, United States
Locations: Rockville, Washington, Northern Virginia, Baltimore, Richmond, Philadelphia, New York City, Jersey City, Nashville, Miami, Charlotte, and Scottsdale.
Core Services: 24*7 Help & Support Desk, IT Managed Services, Cybersecurity, Cloud Consulting & SI, etc.,
Dataprise has been a leading managed service provider and security partner to strategic CIOs and IT leaders across the United States for over 28 years.
Dataprise has empowered businesses to reach peak performance by optimizing their IT investments.
The company's certified engineers team provides managed services covering everything from network monitoring to backup and recovery and comprehensive IT security solutions.
Features:
Support will be available via phone, email, web chat, mobile app, or web portal.
They provide real-time reporting and a customer portal for fast, accurate results.
Specialized in delivering managed services, IT consulting, and customer service to mid-sized companies.
#6. CGS Inc.
Founded: 1984
Employees: 4,000+
Min Project Size: $1,000+
Annual Revenue: $250 – $300 M
Headquarters: 200 Vesey, Brookfield Place, 27th floor New York.
Locations: New York, Canada (Montréal, Saint John), Romania, Chile, New Jersey, Israel, Romania (Sibiu, Targu Jiu, Bucharest, Constanta, Brasov, Miercurea Ciuc), UK, India.
Core Services: Business Process Outsourcing, IT Services Outsourcing, etc.
Clients: Unicef, Movistar, United Rentals, Xylem, etc.
Computer Generated Solutions (CGS) is a global IT services provider and help desk outsourcing service provider. With over 30 years of experience in the industry, they offer comprehensive solutions to organizations in order to optimize their IT infrastructure.
CGS provides consulting, integration, deployment, managed services and 24/7 customer support for mission-critical systems. They are committed to providing high quality, cost-effective and time-efficient solutions that are tailored to their clients' needs.
CGS provides a wide range of services including help desk outsourcing, application maintenance, software development, data management, system optimization and more.
By leveraging the latest technologies and best practices in IT service delivery, they enable organizations to achieve their IT objectives in a timely, secure and reliable manner.
Features:
Supports mobile apps, devices and specialty tech, troubleshoot & repair, novice & pro users, knowledge-base development.
By leveraging data, they will help you forecast and eliminate possible problems before they arise.
They automate the simpler tasks with chatbots and virtual assistants, and make human agents devote their energy to tackling more intricate jobs requiring problem-solving skills and empathy.
They provide premier support centers and remote agent delivery to clients from all over the world, including the United States, Canada, Romania, Chile, Israel India and South Africa.
Supports 25+ Languages includes English, Spanish, French, Arabic, Dutch, Danish, Hebrew, Portuguese, German, Greek, Italian, Russian and more
#7. XACT
Founded: 1998
Employees: 201- 500
Min Project Size: $1,000+
Annual Revenue: $28 M
Headquarters: 429 South Keller Road, Orlando, FL 32810
Locations: USA
Core Services: Customer Help Desk, Chat & Web Support, Outbound Survey/Response, Service & Support Dispatch, Telephone Answering Service.
XACT is a leading provider of Help Desk outsourcing services. They specialize in helping businesses maximize their IT resources in order to reduce costs and improve efficiency.
Their team of experienced professionals offers comprehensive solutions for any business's help desk needs, from 24/7 support to on-demand problem resolution.
Features:
Their team of professionals ensure that staff members are appropriately assigned shifts and resources are available during peak times.
Can provide support for your organization's applications as an extension of their toolbox.
It has 100+ Years of contact center management experience.
Total contacts processed annually are 2.1 M
FAQs – Best Help Desk Outsourcing Companies
Which company is best for Help Desk Outsourcing?
Some of the best Help Desk Outsourcing companies are as follows
#1. SceinceSoft, #2. Salesforce, #3. Global Help Desk Services, #4. CMS, #5. Dataprise, #6. CGS Inc, #7. XACT.
What is help desk outsourcing?
Help desk outsourcing is a way for businesses to outsource their help desk operations to an external provider. This type of service typically includes providing technical support, answering customer inquiries, and troubleshooting software issues. The provider can provide both on-site and remote assistance depending on the needs of the business. With help desk outsourcing, businesses can benefit from having access to more specialized technical expertise, improved customer service, and cost savings. Additionally, they can benefit from having access to a team of experts who are available around the clock to provide support. By outsourcing their help desk operations, businesses can focus on other areas of their business while still providing quality customer service.
What is the most commonly outsourced IT service?
Outsourcing IT services is a great way to save time and money. Here are some of the most popular outsourced IT services:
– Customer telephone services.
– Accounting/bookkeeping.
– Social media marketing.
– Web design and development.
– Software development.
– Web hosting.
Research Process
Total time we spent on evaluating these companies: 18
Total companies evaluated: 12
Total companies finalized: 7
We spent 18 hours evaluating and researching 12 different Help Desk Outsourcing Companies. We looked for features that should be available in an ideal custom Help Desk Outsourcing company. We looked at user reviews and compared companies' insights to determine which company will help you develop your project.
Our research shows that the above companies drive your project in a better direction. Here we are not giving any ranking to any company. Every company in the list above has decent insights.
Conclusion
The selection of the best help desk outsourcing service provider is one of the most crucial decisions and can instantly improve customer satisfaction.
With the support of these leading help desk outsourcing service providers, organizations can take a huge leap ahead in their journey toward success.
ScienceSoft, Salesforce, Global Help Desk Services, CMS, Dataprise, CGS Inc., and XACT are all excellent companies that provide a comprehensive range of help desk services and experience levels that guarantee excellent customer support experiences for organizations looking to streamline their customer service operations.
To finalize the decision, companies should keep in mind all the research data, customer review ratings, competitive analysis reports, and, more importantly, their own personal criteria(s).
With the help of this guide to top help desk outsourcing companies, we hope that organizations now have a much clearer idea about which company to choose for fulfilling their IT Help Desk Outsourcing needs.
Related posts: