12 Best Zapier Alternatives (Free and Paid) for 2023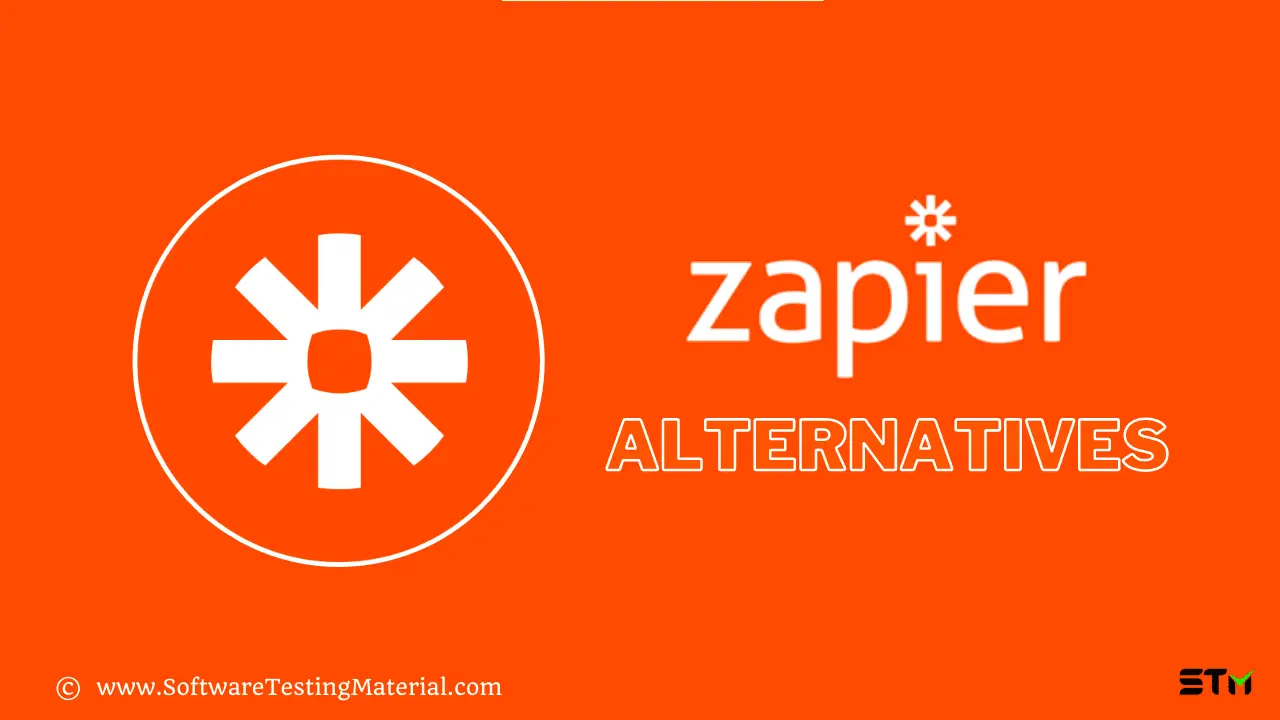 Are you looking for quality Zapier alternatives? There's no shortage of alternatives, so don't fret if you're looking for an alternative to Zapier.
With the popularity of apps and the rise in the use of mobile devices for everything from checking your emails to checking your Google balance, there has been an increased interest in ways to automate things.
The days of having to punch in your passwords for every service you sign up for are almost over.
There are plenty of ways you can connect your Twitter, Facebook, MySpace, or other accounts to your email address or your password to make life easier, but once you do, you're locked into whatever you set up.
This is where Zappier comes into play. It is an extremely useful tool that enables you to connect apps and automate your workflow.
It saves time and ensures your business runs smoothly. But, Zapier is not for everyone.
In this post, we will take a look at 12 Zapier Alternatives.
What is Zapier?
Zapier is an American company that enables end-users to incorporate the best web-oriented applications, automate workflows, and increase productivity.
You can either edit, add or remove team members from a team, change their email addresses or add email attachments to the list.
Every time you want to work on your project, you can access the workflows and upload any work you need.
For example, if you are working on a feature for a client, you may be able to upload a video or a series of images and text documents, which will then be managed by a designated employee.
This is the real beauty of using Zapier; It gives you the opportunity to save time when working on projects and allows you to be more creative and efficient.
All you need to know is what you want to do at a certain time. You don't have to learn about every single workflow and program in order to work effectively.
With Zapier, you are also able to organize your data using folders, so you can manage your documents in folders, instead of lumping them together.
This means that you can organize your Google Docs folders in folders that will make it easy for you to find important documents, along with their links, when you need them.
Zapier Features
There are a lot of reasons why the Zapier is one of the most sought after software automation and workflows systems available in the market today.
This is not surprising when you take into account the many advantages it offers to businesses that make use of it.
Here are some of the zapier's main and best-selling features that you might want to know more about.
The first feature that makes this application so popular among both small and large companies is the availability of both desktop and online workflows. This means that you will be able to run your business processes through both computers and mobile devices. You can also use filters to simplify your workflow. If you are a workstation user, you can easily perform multiple tasks with the appropriate app.
Another great thing about using Zapier is that it comes packed with powerful apps and plugins. There are so many different plugins available that you will be able to incorporate them into your workflow in just a few seconds. For instance, you can integrate zappers into your workflow to automate various tasks. You can also set up filters that will ensure that only relevant information is transmitted over the network.
The third feature that you can benefit from when you use Zapier is the integration of CRM or Customer Relationship Management applications into your workflow. You can easily automate the entire CRM process, and you can handle your customers from anywhere. This will reduce the workload on your sales representatives because they won't have to do anything else but handle transactions. And by automating the entire CRM workflow, you will be able to provide excellent customer service.
Zapier is very easy to use, even for beginners. It has a very user-friendly interface that makes it very easy for even a newbie to get the hang of it. This is why a lot of people are using Zapier because it offers very powerful automation options.
The self-automation feature that allows users to set up zaps (workflows) with a few clicks. Anyone can create and build workflows in this app as per their requirement.
How Zapier Works?
Basically, Zapier works like an email program. In essence, it's a cause-and effect system of when this occurs, do that. In its simplest form, when a task is performed in Process Street, it does that in another app.
That's right; you can integrate your Gmail, Facebook, Twitter, or other accounts with your email server.
This can be useful if you want to get a constant stream of email from multiple sources, but don't want to have to change your main email client every time you do something with any of them.
Gmail, for example, will display a list of email addresses that are either public or private, allowing you to do things like reply to a public message, mark as unread, etc.
With the Zapier integration, you can easily pull all of your emails into one place, saving you a tremendous amount of time that you'd spend opening and sorting through individual mailboxes every day. You can also use Zapier to automate things like follow-ups, archive, to mail tasks, etc.
With the Gmail plugin installed, you can easily access your existing zaps and tasks from Gmail. You can perform tasks from any computer with an internet connection, at any time, using any of your existing Gmail plugins. You can even perform actions from your mobile phone! The ability to use your existing plugins makes this automation platform truly flexible and convenient.
If you've used other business workflow software like Microsoft's Office, you'll know how easy it is to create custom triggers that automate different parts of the process.
With this, you are also able to easily set up custom workflow functions, which can automate several different elements of your day-to-day work. You can create custom maps that go out to various Google mail services like Gmail, Hotmail, or others.
Zapier Pros and Cons
Pros:
Connect over 1,500 apps
User-friendly editor for creating workflows
Build-in free apps
Powerful integration with apps
Extensive customers support
Cons:
Very expensive plans
Price increases for using more apps
Zapier Pricing
Zapier pricing plans include:
Starter: $20 per month
Professional: Advanced tools for higher requirements costs $50 per month
Professional Plus: $125 per month
Teams: For large team collaboration $250/month
Company Plus: Contact them for a quote
Top 12 Alternatives to Zapier That You Should Know
Let's see the best websites like Zapier in 2023
#1. Integromat

It is one of the top Zapier alternatives that will enable you to automate manual processes which otherwise take up so much time.
This tool is simple to use as well as robust and it is similar to zapier.
Features:
This app offers a user-friendly editor that helps to create automated workflows without any coding. It helps users to understand automation, what is happening, and the results delivered.
Here, you can also choose a starting point from where you can begin processing your data.
It integrates with hundreds of apps and provides HTTP/SOAP JSON modules. With this feature, you can connect to almost any web service.
Integromat offers many templates, enabling you to set up workflows quickly. You can also customize these templates to suit your project.
Pricing:
Basic: $9 per month for 10,000 Operations and 1 GB Data transfer
Standard: $29 per month for 40,000 Operations and 20 GB Data transfer
Business: $99 per month for 150,000 Operations and 70 GB Data transfer
Platinum: $299 per month for 800,000 Operations and 220 GB Data transfer
Custom: Contact them for a quote.
Pros:
Easy to use and clean visual editor
Custom automation workflows, from simple to complex
Built-in routers, error handlers, live execution, history, scheduling, and much more.
Cons:
Challenging to learn for beginners
#2. Workato

Workato is an open-source mobile automation platform for creating, testing and Automating Workflow Automation over iOS and Android. It supports all the latest Workflow appliances like Xcode, Selenium, MobileCloud, Google Material, Android Client SDK and OpenSuite.
It can be used by any mobile developer as well as businesses for automating various tasks across multiple devices and browsers. Developed by Appsime, Workato has been designed, keeping in mind various user preferences and modern trends. It has been created by keeping the latest trends and requirements in mind.
Workato offers a variety of custom and ready-to-use Workflow appliances along with app integration services to help you with your work. Many of the apps supported by Workato are Workflow for Gmail, Workflow for Twitter, Google Analytics, Google Maps, Workflow for Facebook and many more.
You will enjoy working efficiency, accuracy, and flexibility with all these apps. Also, as you use these workflows, you will get app integrity and security along with ease of deployment and reliability.
Features:
Workato makes setting up custom workflows for every type of app very easy. You can either learn how to do it on your own or opt for the easy configuration wizard that comes with the app.
It offers a number of automated integration providers to choose from. These providers make life much simpler for integrators. Most of these providers offer plugins for everything that can automate, manage, and collaborate on projects.
Workato is a very secure app. It offers access controls, encryption, and data privacy with data masking for the users.
Strong integration with built-in optimizations, secure connectivity, and extensions.
Pricing:
Workato for your business: $10,000/year + recipe pack based on usage
Workato for your product: Custom price
Pros:
Powerful and less coding workflow builder
Easy to use interface
Huge template library
Focus on AI to improve processes
225,000+ community recipes to help you set up workflows
Cons:
Learning to customise has a bit of learning curve.
#3. Automate.io

With this, you can easily integrate all your cloud applications. It allows you to automate marketing, sale, and business processes. You can run social media, send automated emails, monitor leads, and so on.
Features:
It is designed for business users and not programmers. You can make your integrations without technical help with drag-drop interface.
Easy set-up.
It offers at least three times more tasks across all plans.
Cross-functional workflows without any coding for increasing sales.
Massive list of automated app integrations, including Facebook lead ads, Salesforce, Zendesk, WooCommerce, Magento, and so on.
Pricing:
Startup: $49 per month for 10,000 Actions
Growth: $99 per month for 30,000 Actions
Business: $199 per month for 100,000 Actions
Enterprise: $399 per month for 500,000 Actions
Pros:
A large number of tasks/month on all plans
Complex workflows
Free plan
Cons:
A large number of app integrations available
#4. Microsoft Flow

Microsoft Flow is an integration tool and process automation tool which assists connect various services and programs together. Microsoft Flow was developed internally at Microsoft. The goal was to create an easy-to-deploy, extensible framework for developing and deploying cloud-based apps.
Microsoft Flow has the ability to automatically notify certain customers, assign roles to team members, and perform calculations automatically.
The free version of Microsoft Flow provides you with the ability to easily define business processes, along with defining and managing triggers and workflows. This version also includes many pre-built connectors which allow you to connect Microsoft Flow to popular third-party systems, such as Jira, Asana, Stripe etc.,
If you want to take it a step further, the free version also comes included with a number of ready-to-use connectors that you can use to connect your Microsoft Flow system to the popular PayPal service, Google Checkout, and Sagepay. For additional options and connectors, please visit the Microsoft Flow website.
Features:
Built-in capability to automate complex business requirements. In Flow, you can define a series of business rules or triggers and then set up deadlines and other metrics to track and manage customer transactions.
It offers more than a thousand templates to help users set up automation.
Microsoft Flow comes with an extensive collection of connectors and worksheets, which enables you to connect it to almost any existing business process.
Pricing:
Per-user plan: $15 per user per month
Per-user plan with attended robotic process automation (RPA): $40 per user per month
Per-flow plan: $500 per month
Pros:
It allows you to create automated workflows as many as you need.
It allows up to 750 workflow tasks to be run a month, whereas Zapier only gives free users 100 runs.
Cons:
Fall short of the number of apps and services will allow you to connect as compared to Zapier.
#5. PieSync

It allows you to sync all your devices, which include: PC, Mac, iPhone, and Android phones/tablets, Amazon Kindle, iPad, and other tablets or smart phones.
With Piesync, there are two ways to sync your information across multiple devices. You can either synchronize your information through one of their cards, or you can choose to sync your information through an internet application.
Either way, PieSync takes care of all the work for you, so there's no more typing in information or syncing documents from different apps on your phone.
Just authorize your account via the dashboard, and PieSync will do the rest. Save yourself time by only entering user information once, because PieSync automatically syncs all your contacts between your apps, so you just have to input user data once for each app.
Also, no coding required for maintaining data. You can quickly create and add actions and start your work.
Features:
Many internet applications are supported by Pie Sync including social network sites like Facebook and MySpace, as well as marketplaces like eBay and Craigslist.
In addition, you can use your email client like Outlook or Gmail to synch your contacts and calendars. You can also easily add and edit any type of data – whether it's an email contact list, task list, image data, or any type of spreadsheets.
PieSync also allows you to access all the custom fields from your selected groups, allowing you to enrich your emails with richer content and to apply different actions to your messages. For example, you could create a custom field named 'Show All Incoming', which will only show all messages that are incoming.
It allows you to seamlessly integrate your existing apps with the cloud. If you have a number of apps already, all you need to do is import all the required information and data into your PieSync account.
Pricing:
Starter: $49 per month
Pro: $59 per month
Enterprise: $99 per month
Pros:
Freedom to work with any app.
Free trial
Cons:
Provides less number of apps and integrations as compared to Zapier.
#6. IFTTT

IFTTT stands for 'IF This Than That' and it is a technology platform designed to enable companies to use distributed systems and services together.
It is a simple web-based application that enables internet users to generate chains of logically conditional statements in a format that can be processed by servers.
It is the best zapier free alternative.
With the IFTTT service, one can easily create web applications that can be used across multiple devices. These web applications will operate on the basis of keywords and will perform specific things depending on the input received.
For instance, you could use IFTTT to control your Facebook page with the latest information available on Facebook. If you have a particular page such as your favourite band's Facebook page, you could simply perform a search for that particular name and all relevant information related to that name would be displayed.
Features:
It is free to use.
Connect over 600 services, which include apps, business tools, cloud, email providers, physical appliances, and so on.
You could use IFTTT to control your lights and appliances, control your television and video-game console, control your heating and cooling system in your house, and even play MP3 songs.
Pricing:
Standard: Free for 3 applets
Pro: $3.99 per month and unlimited applets
Developer: $199 per year
Pros:
Connect as many apps and services as you need
Affordable
Build a smart home
Cons:
If you cannot find Applet for your requirement, creating a new one is not an easy task.
#7. LeadsBridge

It is a powerful iPaaS product that allows businesses to improve their omnichannel strategy by automating their cross-sell effort. The Leadsbridge platform is well suited for businesses that wish to streamline their ad activities by integrating both the social media marketing platform with Facebook & Instagram Ads, Google Ad, and LinkedIn Ads.
One of the main benefits of Leadsbridge is that it offers comprehensive CRM solutions to businesses. Leadsbridge CRM offers the following benefits to organizations – lead tracking, sales execution, leads management, and lead generation. It also integrates with different web-based CRM applications including: Microsoft Dynamics GP, Salesforce, and Oracle.
Features:
LeadsBridge integration provides automated lead management, integration with social media websites, social networking tools, mobile device integration, business intelligence tools, lead visualization, and web analytics.
While using LeadsBridge, you are provided with access to real-time data, which can be used to manage your leads. When syncing leads, you will have full control over when your advertisement is shown, as well as its content. This is especially beneficial for businesses that wish to have their advertisements displayed only during specific hours of the day or on specific sites.
It provides custom integrations for complex workflows which is suitable for companies that are not available on the integration list.
Pricing:
Marketer: $29 per month and 1500 leads
Hero: $51 per month and 4500 leads
Guru: $111 and 15000 leads
Business: $699 and unlimited leads
Pros:
Custom CRM software for companies
Manage your business leads remotely through a website
Easy to use forms and templates
Cons:
Lag between user response and lead magnate
#8. CloudHQ
It is a Gmail productivity tool where you can share emails, label, collaborate, and track them. CloudHq also allows you to backup all G-accounts for real-time data protection. It help small and large businesses to harness the full power of Gmail, so that they can accomplish more in less time.
Features:
Its two-way backup makes it an excellent choice for storage services, especially for those who need more than just basic back-ups. Basic back-ups will protect the most basic files, but CloudHQ offers more than just basic security.
It offer free email templates, meeting scheduler, text alerts, screenshots, email links, screencast recording, and so on.
It also offers the ability to set up and manage storage services as well as the ability to restore files from the cloud, which allows users to get their office back up and running in no time at all.
Pricing:
Premium: $118 per user per year
Business: $300 per year for 3 users
Enterprise: Contact them for quote
Pros:
Free plan
Huge library of extensions
Cons:
Free plan provide no tools, only Cloud backup
#9. Actiondesk

Actiondesk is a web-based project management tool for non-technical teams to build data-driven automated workflows. It helps businesses to robust automation with simple skills.
Features:
It allows you to import data from another computer software application such as a spreadsheet application into your current screen.
You can import rows from Excel or other text files into your Actiondesk screen.
Workflow management help in ensuring the smooth flow of work.
Pricing:
Starter: Free and 1000 actions
Professional: $150 and 10,000 actions
Business: $350 and 40,000 actions
Enterprise: $1500 and 200,000 actions
Pros:
Frequent updates
Import data from any source
Cons:
Less number of integrations and apps
#10. Huginn
It is a system for creating workflows and performing automated tasks online. It can read the web, watch for events, and take actions on your behalf.
Features:
Offers life-cycle based monitoring of information in order to reduce mistakes.
Connect to Adioso, HipChat, FTP, Pushbullet, IMAP, Basecamp, JIRA, next bus, Pushover, RSS, Bash, StubHub, translation APIs, Twitter, Wunderground, and so on.
Pros:
Check for air travel and shopping deals
Send and receive webhooks
#11. Elastic.io

It boost the ability to quickly connect to any web server and REST, SOAP, OData and other protocols. Elastic.io is a hybrid integration platform and is best suited for companies.
Features:
Enterprise applications cloud-to-cloud or cloud-to-ground
Cloud, hybrid, and API integration
Pricing:
Small: €199 per month
Medium: €499 per month
Large: €999 per month
Pros:
Cloud-based
14-day free trial
Cons:
Less number of connectors for major apps
#12. Tray.io

It is an API integration platform best suited for companies. Tray.io helps grow your business at the same time keep your workflow efficient and smooth.
Features:
It provides quick and easy integration of apps and services using powerful automation tools.
An intuitive drag-and-drop editor which takes less time for beginners to learn.
Pricing:
Standard: $595 per month
Standard Plus: $1,450 per month
Professional: $2,450 per month
Enterprise: Custom pricing
Pros:
Library of 450+ app connectors, universal API connectors, and so on.
User-friendly
Free trial
Cons:
FAQ's
Is there a free version of Zapier?
Zapier comes with a free forever plan, albeit with some limitations.
Is there any alternative to Zapier?
Integromat, Workato, Automate.io, Microsoft Flow, PieSync, and IFTTT are some alternatives to Zapier.
Conclusion
These are some of the top 12 Zapier alternatives in 2023. You can make use of these tools to automate your workflows effectively to save time and increase efficiency.
Which Zapier Alternative Are You Going to Try? Let us know in the comment section below.
Related posts: