8 Best .NET Development Companies In 2023
Are you looking for the best .NET development companies?
As technology advances rapidly, businesses are looking for the right web development companies to help them stay ahead of the game.
To be competitive in today's market, software applications and websites must run seamlessly, quickly, and reliably—and this all depends on finding a capable developer who understands your needs.
With .NET being one of the leading development platforms available today, there have been a number of great .NET developers popping up worldwide, making it difficult for business owners to know which company would be best suited for their project.
In this post, we will explore the top .NET development firms worldwide that offer outstanding services at competitive rates.
We'll provide detailed information on each one, including their location details, project cost, and others, to help you make an informed decision before hiring a company.
So if you're after robust enterprise solutions or rich web developments built with Microsoft technologies like ASP.Net Core MVC Framework, let's dive straight into our list of leading .NET Development Companies.
For companies looking for the best .NET development services, it is important to look for a company that has a team of experienced professionals with knowledge of the latest technologies and industry trends. It also helps if they are able to provide cost-effective solutions tailored to your specific business needs.
The .NET development landscape is ever-evolving, and the best .NET development companies have been able to stay ahead of the curve. These companies are leveraging the latest technologies and trends in order to provide businesses with robust solutions that help them meet their objectives. As such, these organizations are well-placed to capitalize on opportunities and remain competitive in an increasingly competitive landscape.
Comparing the Top .NET Development Companies
| Company | Established On | Office Locations | Revenue | Employees |
| --- | --- | --- | --- | --- |
| ScienceSoft | 1989 | USA, UAE, Europe | $30M | 700+ |
| Iflexion | 1999 | USA | $43.4M | 250 – 999 |
| Brainhub | 2015 | Poland | $17.1M | 50 – 249 |
| Algoworks | 2006 | India | $132.3M | 250 – 999 |
| Radixweb | 2000 | India | $61.5M | 250 – 999 |
List of Best .NET Software Development Company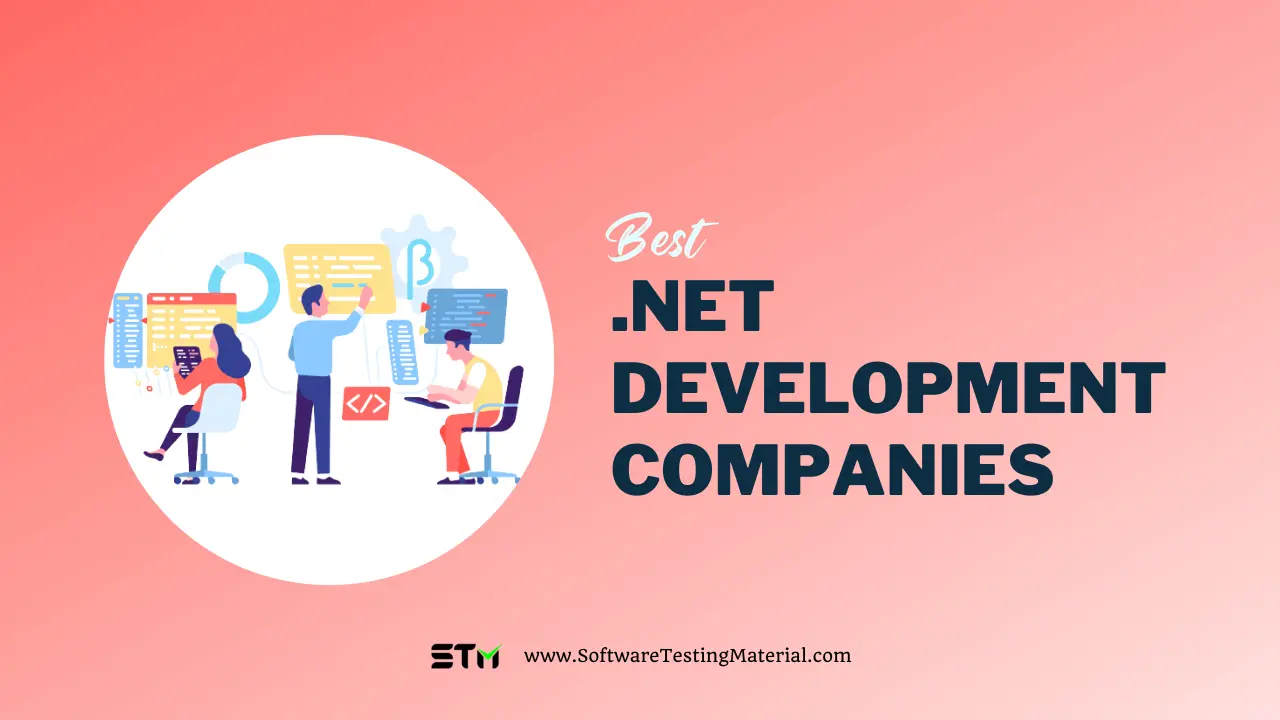 #1. ScienceSoft
Founded in: 1989
Headquarters: 5900 S Lake Forest Dr Ste 300, McKinney, Texas, 75070, United States
Number of Employees: 700+
Average Hourly Rate:
Project Size: $5000+
Estimated Annual Revenue: $30M
Clients: Walmart, IBM, Nestle, eBay, Ford Motor Company, Deloitte, Leo Burnett, NASA JPL, Heinz, Nestle, T-Mobile, M&T Bank, Viber, PerkinElmer, Enonic, Tieto, Koch Media, Visma, Airpas, Leo Burnett, Baxter, Pointlogic, etc.,
Focus: Custom Enterprise Software Development, Web Development, Cross-Platform Mobile Development, Cloud-Native App Development, and Database Development.
ScienceSoft started its .NET practice in 2004. Since then, its team of .NET developers has grown to 60+ .NET experts and certified solution architects who have completed over 200 .NET projects.
ScienceSoft is most proficient in developing custom .NET software and modernizing legacy systems. The
company works with desktop, web, and mobile apps, databases, cloud and IoT apps, and other solutions.
The highest quality and security standards ScienceSoft adheres to are confirmed by its ISO 9001 and
27001 certifications.
ScienceSoft's smart approach to .NET development that relies much on code reusability and Agile
methodology frequently helped reduce project costs by 20–50%.
Features:
.NET software development: ScienceSoft's tool stack covers .NET Core, ADO.NET, ASP.NET, and other techs.
.NET software integration: ScienceSoft creates custom integration points (including using Azure and AWS integration services) or sets up ready-to-use ESBs/iPaaS of different providers.
.NET software migration to the cloud: ScienceSoft works with all the main clouds: AWS, Azure, Google Cloud, DigitalOcean.
.NET software modernization: ScienceSoft updates software architecture and tech stack, redesigns UX and UI, and improves performance and security in legacy .NET apps.
Testing and QA: ScienceSoft uses a proprietary Integrated Manual and Automated Testing approach to perform functional, performance, usability, security, and other types of testing and reduce testing costs.
#2. Iflexion
Founded in: 1999
Headquarters: 3900 S Wadsworth Blvd, Denver, Colorado, 80235, United States
Number of Employees: 250 – 999
Average Hourly Rate: $25 – $49 / hr
Project Size: $10,000+
Estimated Annual Revenue: $43.4M
Clients: Adidas, ebay, Pepsico, Larosco, Xerox, Philips, TOyota, PayPal, etc.,
Focus: AR/VR Development, Artificial Intelligence, BI & Big Data Consulting & SI.
Iflexion is a leading .NET development company based in Eastern Europe, providing comprehensive software solutions to businesses around the world. With over two decades of experience behind them, Iflexion has established itself as one of the most reliable and experienced .NET developers in the industry. Their team consists of highly qualified experts with diverse backgrounds, including web design, front-end and back-end development, database management, cloud computing and mobile app development.
The following are some of the key features that make Iflexion stand out as a .NET Development Company:
Comprehensive experience in developing custom software solutions for businesses.
Specialized in Microsoft technologies such as .NET Core, ASP.NET, Windows Forms, C++ and SQL Server
Experienced in developing web-based applications based on the open source CMS platforms such as Sitecore, Umbraco, Drupal and WordPress
Expertise in developing enterprise level software solutions with a focus on performance and scalability
Skilled in designing mobile applications for various platforms including iOS, Android and Windows
Ability to integrate modern technologies into existing applications for maximum efficiency
Experienced in cloud computing solutions such as Azure, AWS and Office 365
Dedicated customer service with 24/7 availability.
#3. Brainhub
Founded in: 2015
Headquarters: 26 Górnych Waów, Gliwice, Silesian Voivodeship, 44-100, Poland
Number of Employees: 50 – 249
Average Hourly Rate: $50 – $99 / hr
Project Size: $25,000+
Estimated Annual Revenue: $17.1M
Clients: Beam, National Geographic, Jackbox Games, Venture Harbour, Paradox Interactive.
Focus: Custom Software Development, Cloud Consulting & SI, Mobile App Development
Brainhub is a .NET development company with years of experience and technical expertise. Thier team of professionals has the capacity to create a variety of custom applications and software solutions, ranging from small enterprise-level projects to larger, full-scale software solutions. They are committed to providing high-quality solutions that are tailored to meet your individual requirements.
Brainhub offers a comprehensive range of .NET development services, including:
Custom software engineering
Web application development
Database design and development
Cross-platform mobile app development
System integration and migration services
Business process automation solutions
Cloud deployment services
Quality assurance testing
#4. Algoworks
Founded in: 2006
Headquarters: Plot 28 & 29 62 Fl 5 No C, Noida, Uttar Pradesh, 201301, India
Number of Employees: 250 – 999
Average Hourly Rate: $25 – $49 / hr
Project Size: $10,000+
Estimated Annual Revenue: $132.3M
Clients: Coca Cola, UTV Bindass, Eduix, Rondee, PlayUp etc.,
Focus: Mobile App Development, CRM Consulting and SI
Algoworks is one of the leading .NET development companies in the world. It provides comprehensive services ranging from custom .NET enterprise application development to .NET web and mobile app development. With years of expertise and experience, Algoworks has established itself as a reliable partner for businesses looking for robust applications with innovative features.
Some of the key features of Algoworks' .NET development services include:
Expert team of professionals with extensive industry experience in developing highly secure and reliable applications.
Flexible engagement models that allow clients to select the most suitable one according to their requirements.
Latest technologies, such as ASP.NET MVC, ASP.NET Core, Xamarin, Angular, C++ and more.
Regular updates to ensure that the applications remain up-to-date.
Scalable solutions are provided as per the client's business requirements.
High level of security is maintained to protect the data stored within the application.
24/7 customer support to ensure that all queries are addressed promptly.
Competitive pricing structure for cost-effective solutions.
#5. Radixweb
Founded in: 2000
Headquarters: Ahmedabad, Gujarat, India
Number of Employees: 250 – 999
Average Hourly Rate: $25 – $49 / hr
Project Size: $25,000+
Estimated Annual Revenue: $61.5M
Clients: Xerox, Barr Credit Services, APS Marketing Group, Cartons, Easydisc, Ecat, CNet, etc.,
Focus: Custom Software Development, Web Development, Mobile App Development
Radixweb is one of the leading .NET Development Companies in the world. Established in 2000, Radixweb has been providing exceptional services to its clients, helping them build robust and scalable applications with the help of Microsoft's cutting-edge technologies. The company offers a comprehensive range of development and support services including web portal development, software development, database management solutions, mobile application development and system integration.
Radixweb has established itself as one of the most reliable .NET Development Companies in the market with its team of highly experienced professionals who have extensive knowledge about Microsoft technologies. The company follows best practices for coding and testing to ensure that all deliverables are defect-free and meet customer requirements.
Features of Radixweb's .NET Development Services:
Innovative solutions with best practices
Quality assurance throughout the development life cycle
Cost effective services with rapid delivery timeframes
Highly experienced professionals from various industries
Robust infrastructure for deploying large applications efficiently
Comprehensive range of development and support services
Dedicated customer relationship team for a seamless experience
Comprehensive set of reports to monitor project progress
24/7 technical support for customers worldwide.
#6. XB Software
Founded in: 2014
Headquarters: 7918 Jones Branch Dr Ste 400, Tysons, Virginia, 22102, United States
Number of Employees: 250 – 999
Estimated Annual Revenue: $12.3M
Clients: Google, BBC, BMW, Samsung, Intel, Audi, Nasa, Moran Stanley, Deloitte, Accenture, IBM.
Focus: Back Office Outsourcing, Call Center Services, Logistics & Supply Chain Consulting, Sales Outsourcing, Warehousing & Distribution.
XB Software is a leading .NET development company providing custom software solutions for all businesses, from startups to enterprises. Our dedicated expert professionals have extensive experience developing web and mobile applications with .NET, C#, ASP.Net, and VB.Net technologies.
Their comprehensive suite of .NET development services includes:
Feature-rich .NET applications
Custom software development with .NET Framework
Application modernization and re-engineering
Database design, integration and optimization
Enterprise application development
Web services creation & deployment with service oriented architecture (SOA)
Business process automation
Cloud apps and systems migration
Legacy application integration and support
Customized reporting solutions
Integration of 3rd party APIs
Security & performance audit & optimization.
#7. Ayoka Systems
Founded in: 2002
Headquarters: 2313 Brookhollow Plaza Dr, Arlington, Texas, 76006, United States.
Number of Employees: 10 – 49
Average Hourly Rate: $150 – $199 / hr
Project Size: $5,000+
Estimated Annual Revenue: <$5M
Clients: Siemens, Boeing, DCS, Drager, DFW.
Focus: Custom Software Development, Application Management & Support, Mobile App Development.
Ayoka Systems is a leading .NET development company that specializes in creating advanced custom software solutions. Ayoka focuses on delivering quality products to its customers, and has developed an extensive portfolio of successful applications for the enterprise. The company uses the latest technologies and strategies to create innovative, reliable .NET solutions that address various business needs.
At Ayoka Systems, customers receive professional services and solutions that are tailored to meet their specific requirements. The company's .NET development team has the experience and expertise necessary to provide superior solutions in a timely manner. Additionally, Ayoka offers competitive pricing on its custom software solutions.
Ayoka's .NET Development Services include:
Custom Application Development
Database Integration and Administration
UI/UX Design and Development
Cloud Computing Solutions
Software Maintenance and Support
Enterprise Mobility Solutions
Quality Assurance and Testing Services
Cross Platform Applications
#8. TatvaSoft
Founded in: 2001
Headquarters: Tatvasoft House Rajpath Club Rd, Ahmedabad, Gujarat, 380054, India
Number of Employees: 250 – 999
Average Hourly Rate: < $25 / hr
Project Size: $10,000+
Estimated Annual Revenue: $219.4M
Clients: Xerox, KFC, Brightstar, FIJI, Mayflower, AngloAmerican, Macquarie University, etc.,
Focus: Custom Software Development, Web Development, E-Commerce Development
TatvaSoft is a leading .NET development company, specializing in customized software development services for business of all sizes. Since its inception in 2000, TatvaSoft has been at the forefront of helping organizations build solutions using the latest technologies and frameworks such as ASP.NET Core, ASP.NET MVC, Entity Framework (EF), WebAPI and Windows Communication Foundation (WCF).
At TatvaSoft, we believe that the best software solutions are built with a combination of creativity, technical excellence and user experience. Our team is composed of highly experienced .NET developers who consistently strive to make sure that every project meets your exact specifications. We understand that no two businesses have the same needs, so we focus on creating tailored solutions for each of our clients.
Using the .NET framework and its related technologies, TatvaSoft can help you create robust and secure applications that are easy to manage, maintain and scale as your business grows. Our services include:
Custom Web Development – We provide solutions for custom web applications, eCommerce websites, portals and more.
Mobile Application Development – We create mobile apps using Xamarin, Windows Phone and other technologies.
Game Development – We help you create engaging games for iOS, Android and Windows platforms.
Business Solutions – Our team provides custom solutions for enterprise software, business intelligence and other areas.
Cloud Solutions – We can help create hybrid cloud solutions, migrate existing applications to the cloud or develop completely new applications in the cloud.
FAQs About .NET Developer Company
Which company is best for .Net?
Some of the best Dot Net Software Development companies are as follows
#1. ScienceSoft, #2. Iflexion, #3. Brainhub, #4. Algoworks, #5. Radixweb, #6. XB Software, #7. Ayoka Systems, #8. TatvaSoft.
Are .NET developers in demand?
The demand for .NET developers is incredibly high among both startups and established tech firms. Companies are in constant search of developers with expertise in .NET and C# to keep up with the growing demand for enterprise-level applications.
Which company developed the .NET software?
Microsoft developed the .NET software in 2002. It is a powerful development platform that enables developers to create high-performance web applications, services, and mobile apps. Microsoft has released several versions of the .NET Framework over the years, with each new version introducing improved features and technologies.
Does .NET have future scope?
As businesses continue to adopt .Net technology for their products and services, the demand for skilled .Net developers will escalate. Companies are increasingly relying on this powerful tool in order to create innovative solutions that meet customer needs and stay ahead of competition. This growing dependence means job opportunities for talented individuals with a knack for coding!
.NET encompasses a wide range of possibilities, and its future looks incredibly promising. Without question, the potential for growth within this domain is tremendous.
Research Process
Total time we spent on evaluating these companies: 24
Total companies evaluated: 12
Total companies finalized: 8
We spent 24 hours evaluating and researching 12 different .Net Development Companies. We looked for features that should be available in an ideal custom .Net development company. We looked at user reviews and compared companies' insights to determine which company helped you in your project development.
Our research shows that the above companies drive your project better. Here we are not giving any ranking to any company. Every company in the list above has decent insights.
Conclusion – Trusted ASP.Net Development Companies
As we have seen, some top-notch .NET development companies offer excellent software development services.
Choosing the right service provider is an important decision, and all these companies can provide a suitable solution, considering your business needs, business requirements, and the technology stack you need.
Employing the services of a reliable and competent .NET development company is crucial to your project's success and saving you time and money.
To ensure that you work with an excellent .NET development company, research their past projects, customer service policies, pricing structures, and experience. It would be beneficial to analyze the top .NET development companies before deciding.
Furthermore, ask them any questions or concerns you have in mind to make sure they can handle any potential issues you may have.
Ensure your .NET development service provider delivers quality standards, security protocols, and scalability to match your business objectives within budget.
Related posts: