Best GoAnywhere Alternatives (Free and Paid) for 2022
Are you looking for alternatives to GoAnywhere MFT?
GoAnywhere Alternatives allow users to transfer their files securely, but not all apps are created equal. Below we have reviewed and compared the top GoAnywhere competitors that helps in improving your business.
If you're looking for alternatives to GoAnywhere, read on.
We hope you enjoy our content on this blog post, "GoAnywhere Alternatives & Competitors!".
GoAnywhere
GoAnywhere MFT is one of the top managed file transfer software in the market. The system streamlines and automates important file transfers through a centralized software. It's the world's fastest-growing MFT product and easily allows companies to connect to internal and external systems, as well as encrypted exchange data using industry-standard protocols like OpenPGP, AES, FTPS, SFTP, HTTPS, AS2/AS3/AS4, and GPG). 
It goes beyond securing file transfers and efforlessly work with the applications you daily need such as EDI and cloud integration. It can save you time and money, improve data security, and help meet compliance requirements, as well as help secure data-centric and zero-trust architectures. 
Features:
GoAnywhere MFT supports file transfer server-to-server or person-to-person and automatic AES encryption FTP standards. This includes SFTP, FTPS, and HTTP/S files. It also supports FIPS 140-2 encryption to enhance security when sending confidential data.
GoAnywhereMFT is cloud-based and allows you to secure file transfers regardless of where your FTP client is located. 
It supports batch server-to-server file transfer, user-to-system ad-hoc file transfer, and person-to-person file collaboration.
It offers secure collaboration features to connect with your trading partners, clients, vendors, contractors, employees, and coworkers securely and faster.
It offer workflow automation that eliminates the need to use various scripts and programs to handle your business processes. 
Verdict: GoAnywhere MFT is a secure file transfer solution that automates and encrypts data using industry-standard protocols. It is available to be installed on-site or in the cloud. As a VMware-validated product, it also runs in several virtualized environments, including VMware, Amazon AWS, and Microsoft Azure.
Pros:
Its centralized user interface is easy to use. It can be used to create workflows, schedule future transfers and integrate with cloud-based or web browser applications via GoAnywhere MFT cloud connectors. 
GoAnywhereMFT supports sending files via email and allowing access to authorized folders and files via the web browser.
It enables batch and ad-hoc file transfers, executes tasks before and after transfers, and provides users a secure way to exchange data. 
It also provides MFT SaaS deployment to give users an easy way to transfer files while it takes care of the setup, infrastructure management, and backups, all for an affordable price.
Cons:
GoAnywhere MFT is a great file transfer and storage tool, but it still requires manual maintenance. This can lead to a steep learning curve, which can take up time, money, as well as energy. 
There's no drag and drop functionality in Datastage or SSIS.
Users cannot track data lineage.
The scheduler is hard to use.
Pro Tip: The best MFT solutions should be compatible with common cloud computing platforms like Amazon Web Services and Microsoft Azure. They also need to run on multiple operating systems (so regardless of whether you require a Windows, IBM, or Linux MFT solution) and allow file transfer and encryption protocols. While choosing MFT software consider what security and data breach protection options vendors provide, deployment options, protocols supported when evaluating managed file transfers solutions.
List of GoAnywhere MFT Alternatives And Competitors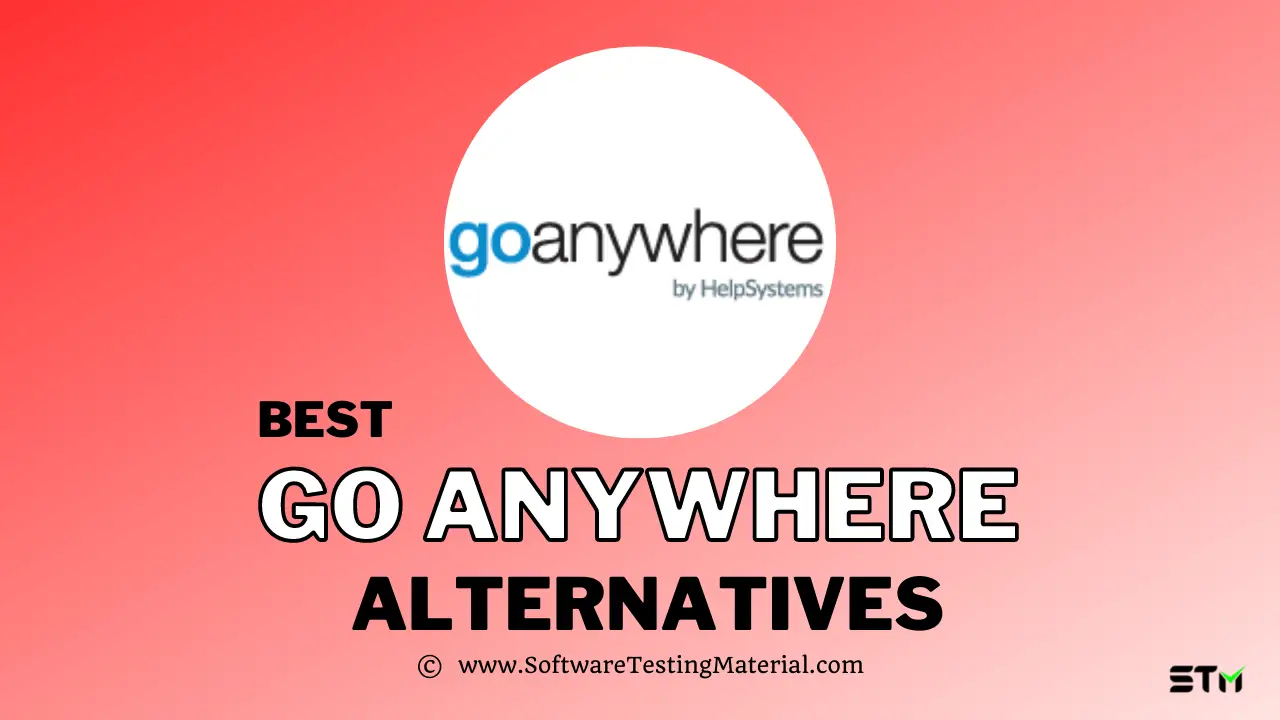 The main details of each software are listed below, but if you're in a hurry, here's a quick list of the best alternatives to GoAnywhere MFT Software.
If you'd like to see our in-depth analysis, keep reading.
#1. JSCAPE
Best for reducing the complexity of file transfers.

JSCAPE is a platform-independent MFT solution. It provides a highly-secure platform for exchanging data internally and between trading partners. It also meets PCI DSS, SOX, HIPAA and GLBA compliance. This tool can simplify all processes into an independent single platform. Users will get a secure web-based file transfer gateway without installing any software.
Features:
JSCAPE aids inefficient IT management, enhancement of productivity, as well as better overall computer network operations.
This software makes sending as well as receiving files simple with features, like Ad-Hoc file sharing, Drop Zones, and Outlook integration.
This tool is compatible with cloud storage providers such as Amazon S3 and Microsoft Azure. In addition, it can be deployed on-premise or can be used as a hosted managed file transfer service. 
It shares files through AS2, SFTP, FTP/S, HTTP/S, OFTP2, and cloud protocols. 
Verdict: JSCAPE is a powerful enterprise-class file transfer solution that provides secure, fast, and convenient file transfer. A perfect blend of file locking, encryption, and access control, JSCAPE helps ensure the proper handling, storage, and sharing of files of all types. It allows users to quickly move files from one computer system to another, regardless of the operating system, hardware, or file location. 
Pricing: 
---
#2. Globalscape EFT
Best for the large-scale global enterprise.

Globalscape's Enhanced File Transfer (EFT) platform is a managed file transfer (MFT) software and the best GoAnywhere MFT alternative. By using this solution, businesses can enhance data transfer visibility, reliability, and security, at the same time decrease downtime and costs. EFT aims to replace insecure legacy systems, homegrown servers, manual delivery, expensive leased lines, and VANs with a top-performing, scalable alternative.
Features:
Globalscape EFT offers two-factor authentication and high availability deployment options.
It integrated regulatory compliance controls ensures that transferred data meets standards like HIPAA, HITECH, and SOX.
This tool also provides enterprise-level data security. It can integrate with back-end systems to automate data transfer. 
Its advanced Auditing and Reporting module enable users to run dozens of reports in seconds so that they can spend more time studying the analytics and less time generating them. Users also receive real-time information. It helps them examine the details of your data transfers and event rules using the Insight module.
Verdict: Globalscape EFT is easy to implement in a way that will work with any business needs. The software allows administrators to create, modify, and delete files as well as make them available for other administrators to use.
Pricing: 
---
#3. MOVEit Ipswitch
Best for complete visibility as well as control over file transfer.

Flexible architecture is a hallmark of MOVEit Managed file transfer software. Users can choose the capabilities that they need. MOVEit Transfer, MOVEit Cloud, and MOVEit Automation are the three available modules.
In addition, it provides advanced workflow automation functions. With the help of it, you can automate the workflows without any scripting. MOVEit provides MFT-as-a-Service. It helps businesses securely transfer files between applications, internal users, external customers, or business partners.
Features:
It automates administrative tasks without advanced programming.
It offers Secure Folder Sharing with internal and external end-users with an easy-to-use, drag-and-drop capability as an alternative to using email or content collaboration to share sensitive data.
It meets internal and external compliance requirements, including HIPAA, SOX, GDPR, FINRA, BASEL, PCI, and others.
Verdict: MOVEit offers operational reliability and compliance needed to conform with SLAs, internal governance, and regulatory requirements. Users can access file transfer from Microsoft Outlook or any web browser securely. It also assure the compliant ad-hoc transfers of sensitive information.
Pricing: 
---
#4. Cleo Integration Cloud
Best for end-to-end integration capabilities.

Cleo Integration Cloud is a cloud-based platform that enables ecosystem integration. It provides end-to-end visibility for integration across EDI and non-EDI. This gives business and technical users the ability to quickly onboard trading partners, integrate between applications, and increase revenue-generating business processes. Businesses can choose to use the platform as self-service or managed services. This gives them complete control and flexibility over their integration strategy.
Features:
It allows users to quickly design, configure, and orchestrate integrations with popular applications and marketplaces with 50+ out-of-the-box connectors.
It provides visibility features like central file tracking, content filtering, and searching.
Its dashboard allows you to track data and provide non-event alerting.
It dynamically orchestrates end-to-end business processes and integration data flow to any cloud or on-premise location.
Verdict: Cleo is suitable for enterprise deployment because it offers unlimited scalability. CIC Private Cloud MFT offers many options for protecting your file transfer environment. It combines the best traditional and modern cloud integration services into a single ecosystem integration platform.
Pricing: 
---
#5. Cerberus FTP Server 
Best for administrative users to take control of everything during the secure file transfer.

Cerberus FTP Server is a reliable and secure file transfer solution that meets the needs of demanding IT professionals. Cerberus supports SFTP/S and HTTP/S and can authenticate against Active Directory or LDAP. It runs as a Windows service and has native x64 support, includes a powerful set of integrity and security features. It also offers an easy-to-use manager for controlling user access to files operations.
Features:
Cerberus FTP Server offers security features such as two-factor authentication and client certificate verification, SSH2 Public Key Authentication, password policy settings, and SSH2 public key authentication.
It automates secure file transfer actions, schedule tasks, and set event and notifications according to conditional rules.
You can have complete control over your server with features such as event manager for automation and notification, full active directory integrations, SOAP control APIs, and Windows Server Optimization.
It enables administrators to quickly and easily review all client-specific commands and file activity based on names, dates, transfer and internet connection methods, file permissions, and so on.
Verdict: Cerberus offers the best security with smart security tools. FTP Server Enterprise Edition users can also set up SQL databases for advanced filtering and sorting. Its 100%-in-house support team will provide five-star service. 
Pricing: 
---
#6. FileZilla
Best for free FTP solution.

FTP Server Enterprise Edition includes database functionality for advanced filtering and sorting. It supports FTP, FTP over TLS (FTPS), and SSH File Transfer Protocol (SFTP). Its pro version also supports WebDAV, Amazon S3, Backblaze B2, Dropbox, and many more. It has a tabbed user interface.
Features:
Its interface is easy to use.
It is a cross-platform software and runs on Windows, Linux, BSD, Mac OS X, and more.
It is available in many languages
This tool also supports resumes and, transfer of large files, which are more than 4GB.
It offers functionalities for remote file editing and remote file search.
Verdict: The Pro version of FileZilla supports cloud storage protocols and offer many functionalities for professional users. It offers a powerful site manager and a transfer queue.
Pricing: 
---
#7. Dell Boomi
Best for iPaaS platform.

Dell Boomi, an integration platform that can be implemented in the cloud, on-premise or as a hybrid environment. It provides functions for low-code/no-code connectors between applications and systems, and customizability for code-savvy users. This tool also offer unlimited data transformation automation within the platform.
Features:
It has the ability to support API and EDI connections for automating interfaces with external systems and organizations. It provides users with support regarding GPDR and data privacy regulatory compliance.
It offers users speed and flexibility with a drag and drop visual UI and low-code platform.
Boomi connects systems faster with pre-built templates and integration patterns for 1500+ endpoints.
Verdict: Dell Boomi's intelligent, flexible and scalable platform quickly and easily unites everything and everyone in your digital ecosystem across channels, devices, and platforms. It is one of the best GoAnywhere MFT alternative solutions in the market. It is used by Healthcare, Manufacturing, Education, Public Sector, Retail sector, and so on.
Pricing: 
---
#8. Oracle MFT
Best for protection against access to unsecured files.

Oracle provides a managed file transfer service to facilitate secure file exchange and management with internal and external partners. The solution prevents inadvertent access to files during the end-to-end transfer of unsecured data. It also has extensive reporting capabilities.
Oracle MFT is a powerful, scalable, safe, flexible, and compliant data security and access management solution for desktop and server use. 
Features:
It provides an interface to manage all managed file transfer features in an organization. With an Oracle, users can import, edit, and delete data while simultaneously searching for answers to previously asked questions. An organization's data is well protected from security risks like security holes due to poor data security controls, weakly protected database and application environments, and unguarded programming interfaces.
Oracle MFT comes with a wide array of features which include a user-friendly administration panel, centralized logging and monitoring, secure application exchange, and easy application integration. 
It offers end-to-end SOA Suite and B2B integration.
It also provides features such as embedded FTP, Secure FTP servers, full end-to-end audit trails, etc.
Verdict: Oracle MFT is another great GoAnywhere MFT alternative. It is also easy to use, and even non-tech people can use this software. It offers an easy-to-use cloud-based user interface and extensible tools for increased productivity.
Pricing: 
---
#9. SRT Cornerstone MFT
Best for enterprise as it provides high availability, failover, and improved productivity.

SRT Cornerstone offers an enterprise MFT Server solution. It can be used for secure collaboration, automation, and compliance as well as reporting. It uses advanced encryption methods, secure protocols, and perimeter security. It provides the solution with three plans. Large implementation is for high security and compliance requirements. Medium implementation is for moderate volume security. Small implementation is for file sharing, security at mid-level, and no compliance requirements.
Features
SRT Cornerstone uses advanced encryption methods and security protocols to protect its perimeter.
It allows for secure collaboration, compliance, reporting, and reporting.
With every plan, SRT Cornerstone offers one-year maintenance & support.
You can automate security scans and processes with its automation capabilities.
Verdict: SRT Cornerstone helps you adhere to strict compliance regulations such as HIPAA, GDPR, and FIPS 140-2. It can be deployed both on-premise as well as in the cloud. It is flexible and can be adapted to meet a wide range of business requirements.
Pricing: 
---
Conclusion
Best managed file transfer solutions ensure data security, data growth compliance, regulatory compliance, visibility, and transparency. A good MFT solution provides multi-platform compatibility and is easy to use.
GoAnywhere can be used to manage file transfers, but it does have some drawbacks like difficulty in learning.
Our top recommendations for GoAnywhere alternatives are JSCAPE MFT Server, and Globalscape MFT.
Related posts: