QMetry Test Management Review 2023: Features, Pricing, And More
Considering QMetry Test Management? Here's what we think 
Investing in a test management tool is an important decision, so it's natural to review different test management tools before making a decision.
However, each business has its own requirements, and reviewing the plethora of features each tool offers is no easy task.
If you're considering QMetry Test Management, we have done a detailed review here to help you make an informed decision.
While the tool has many features to offer, we have reviewed it under four broad categories for simplicity.
So, let's dive in to understand what the core capabilities of QMetry Test Management are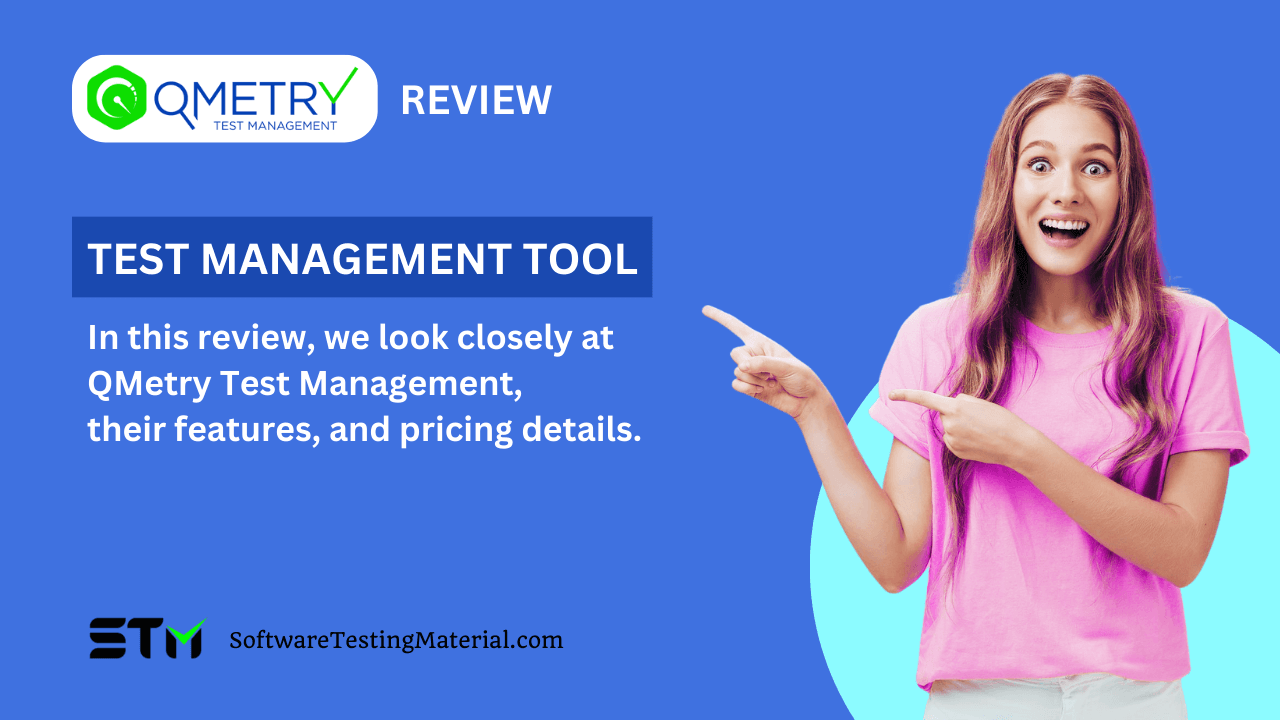 Core capabilities of QMetry Test Management 
Test Authoring & Test Execution 
Quality Analytics 
Scalable Architecture  
Migration & Adoption 
#1. Test Authoring and Test Execution 
QMetry Test Management offers intelligent test authoring features like BDD for agile test authoring support, exploratory testing abilities, and reusability features like sharing steps and data parametrization for effective testing and increased productivity.
It is the only AI tool which leverages the Power of AI with QQBot to churn out all the data, produce actionable intelligence, and optimize recommendations offering speed, agility, and reusability. 
While testing, we found the tool to be so platform agnostic that it could integrate with our existing developer tools like Jira and Azure DevOps, along with some popular CI/CD platforms, automation frameworks, and device clouds.   
BDD approach helped use test case modules to organize test cases, and we were able to share and reuse it to maximize efficiency.
The tool was able to simplify the test execution for us by creating test cases and steps by linking test cases directly or mapping with other user stories.
We also noticed built-in workflow for industries requiring regulatory compliance for their testing activities.
Features like audit logging for every event and eSignature approval workflows are required by customers in the highly regulated industries of healthcare and life sciences.
It also provides support for compliance needs like CFR Part 11 for healthcare industry making it an all-round solution.
Test Authoring and Test Execution Screen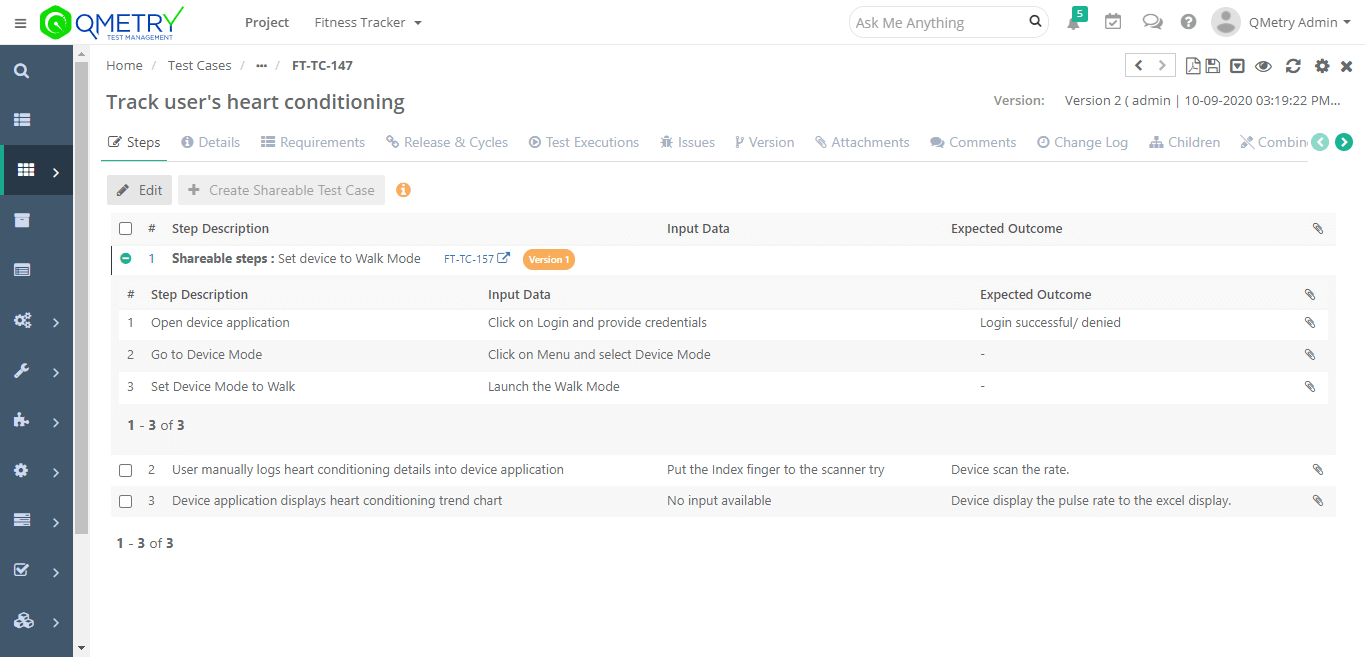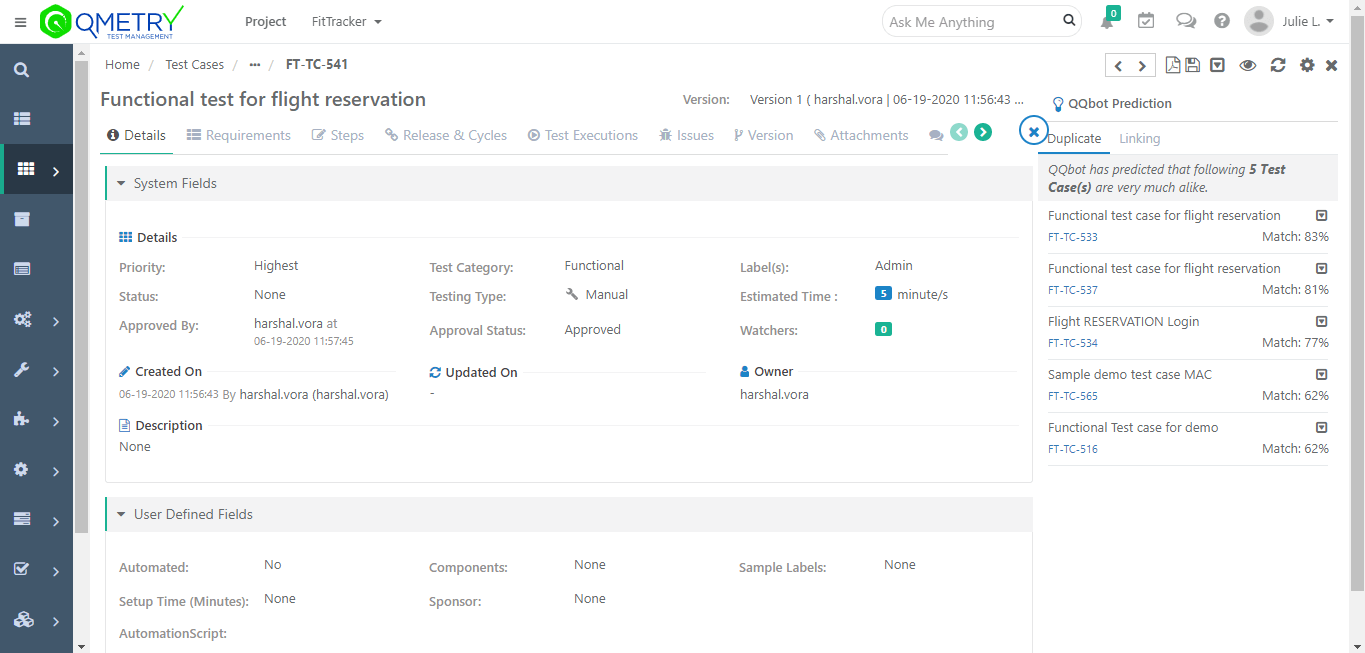 #2. Quality Analytics 
During our testing, we also found that the tool offers real-time smart analytics and advanced custom reporting abilities for business and technical users.
It is the only tool to leverage the power of AI with QQBot which not only auto predicts duplicate test assets but also provides predictive coverage suggestion with predictive & prescriptive actionable insights to enhance productivity. 
It gave us real-time visibility, reports for traceability, coverage, execution progress, bugs analysis, target vs actual executions, visual report creation, query based custom reports, reusability, standard industry matrices, and smart actionable insights into software quality and delivery pipelines through dashboards and reports.
Some advanced features that caught our attention were a no-code interface to generate custom reporting using SQL statements.
We could easily share custom visual reports across our teams.
Off the Shelf System Defined Execution Summary Report Screen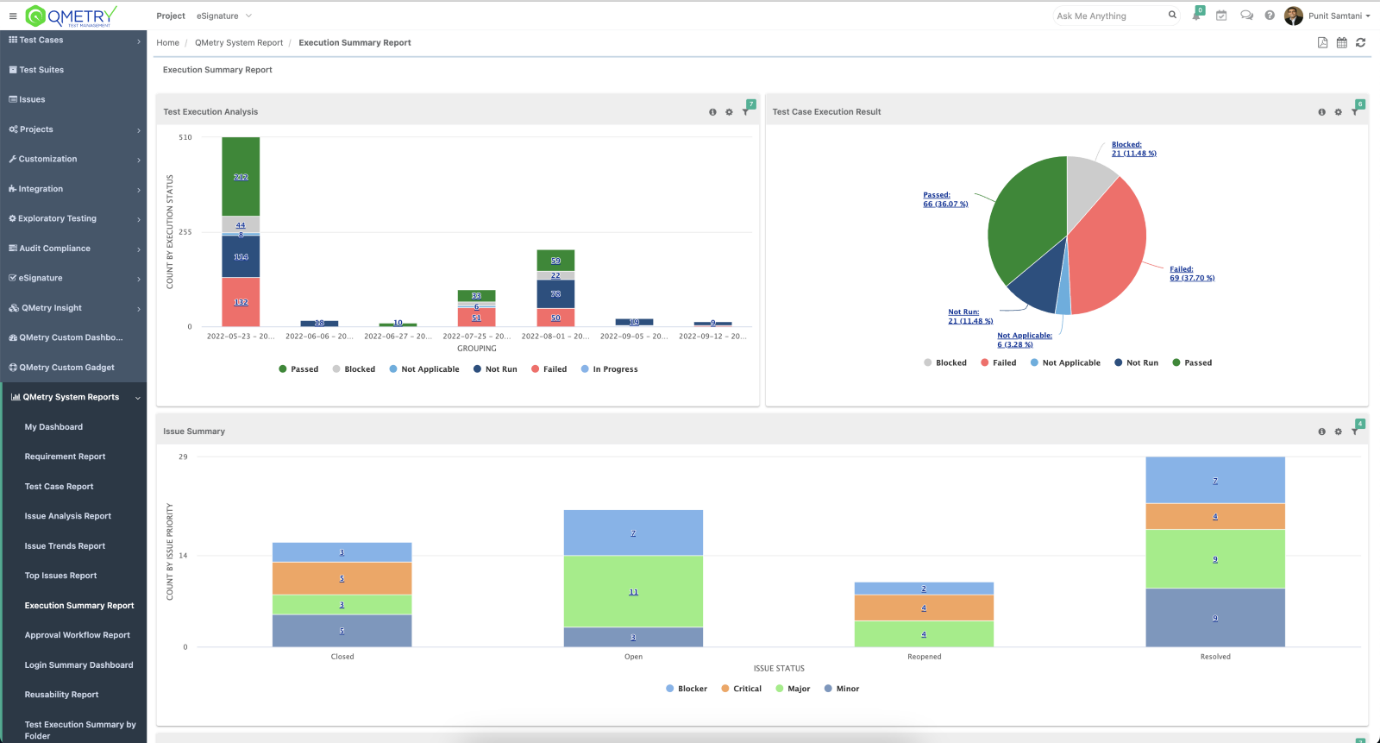 Test Coverage Report Screen
Custom Advanced Query Report Screen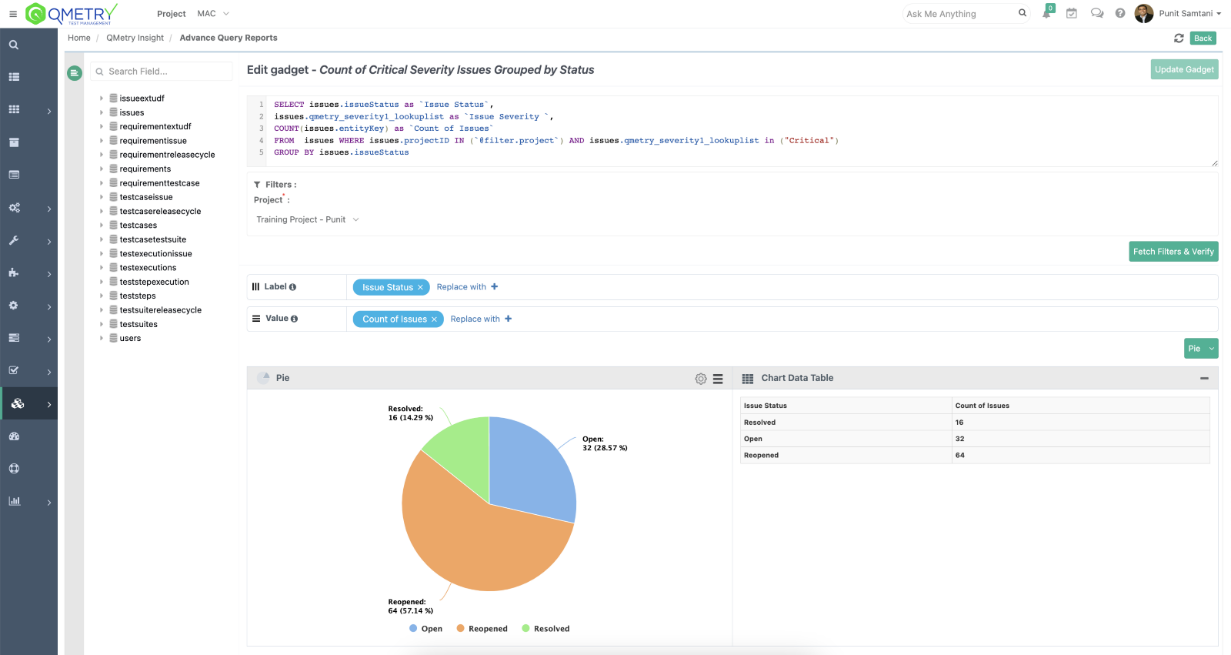 Custom Report with Drag and Drop Screen 
#3. Scalable Architecture 
QMetry Test Management is a SaaS-based tool with high availability and scalability.
We found it to be low-cost for ownership and maintenance.
It has a configurable feature-based model so you can buy only what your QA team needs.
It is compliance certified, which is good if you're in a highly regulatory business. 
It could integrate with our existing toolchain through REST API even if it's not supported out of the box.
The tool not only complies with data protection laws like GDPR but also offers local hosting specially in Europe to meet the regulatory requirements.
Audit and Compliance Screen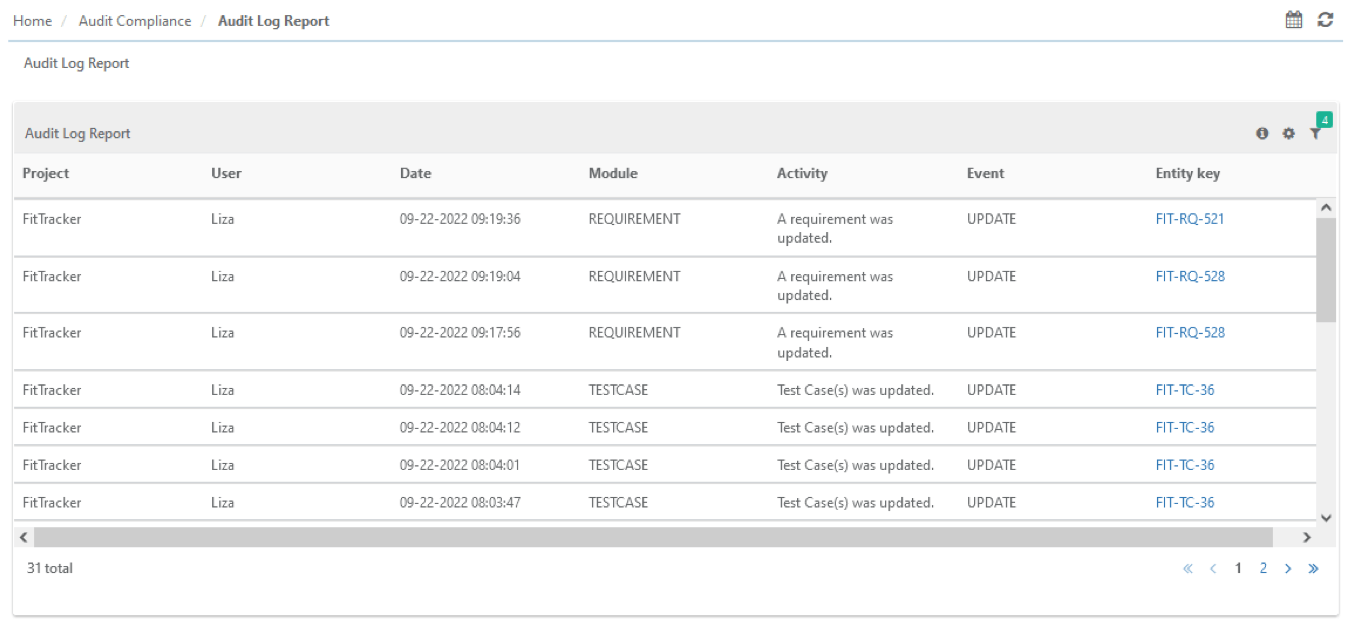 Intuitive UI Screen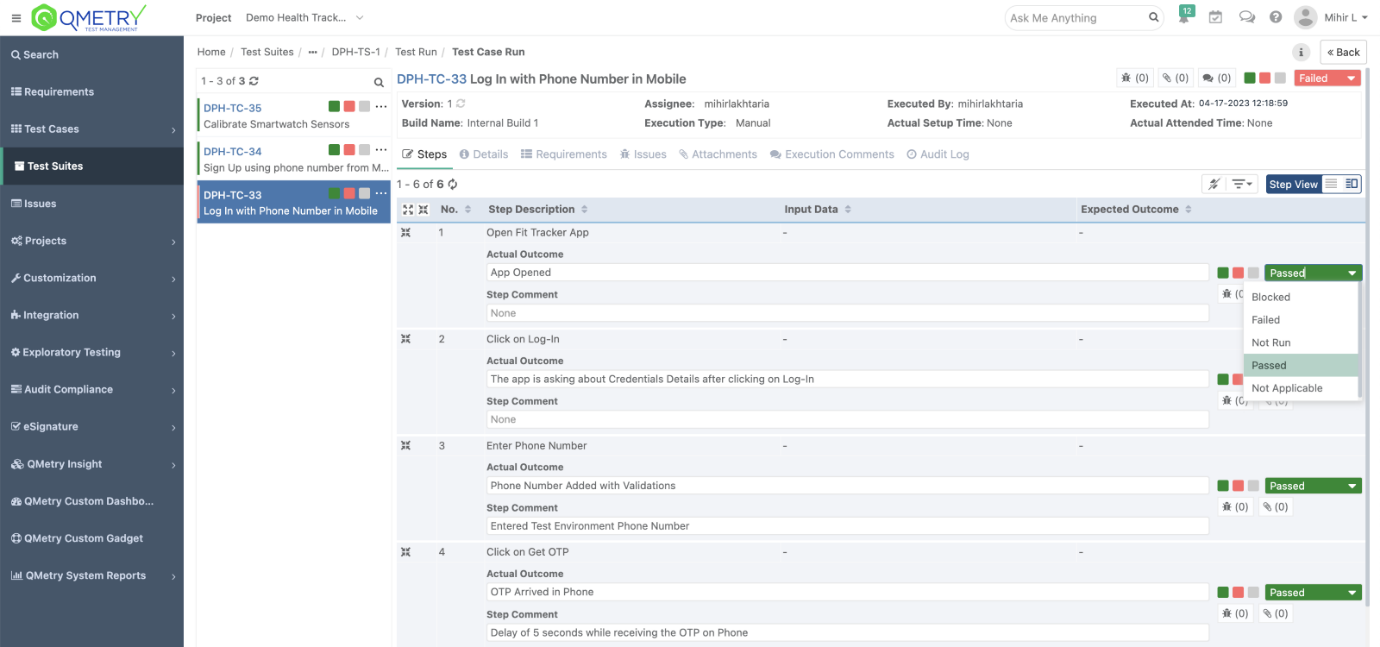 #4. Migration and Adoption
We liked the fact that QTM lets you migrate easily from your existing legacy test management tools.
We did a trial and were able to import test cases and execution with a few clicks.
The best part is that the whole process is well–defined, and simple. 
It offers out-of-the-box utility for TestRail, Open Text ALM, Zephyr Squad, and Zephyr Enterprise.
It's modern and intuitive UI makes it easy to onboard and adapt quickly.
You can learn and customize the usage easily.
We also tested and found that integrations are simple and secure.
Enterprise teams can get a single project running in a few hours, and fully migrate to the tool in just a few weeks.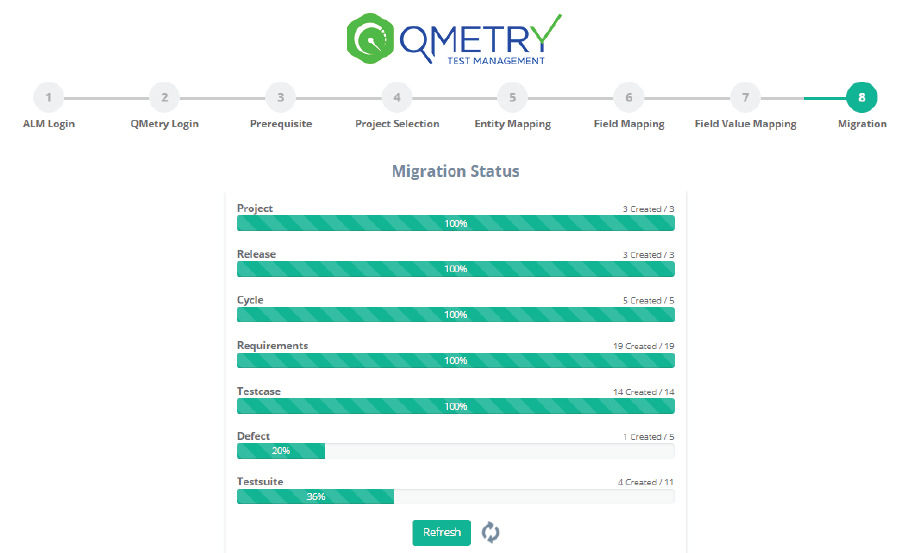 QMetry Test Management Pricing
Let's see QMetry Test Management Pricing Details
It comes with two plans.
Its basic plan starts with $720 per year billed annually or $66 per month billed monthly.
You can choose any of the two plans, including the Enterprise Plus plan, which is a customized plan based on your needs.
It offers 15 days Free Trial & a Free Demo
Go to QMetry and start your free trial today
Our Verdict 
QMetry Test Management is built to streamline decision making for your Agile and Dev-Ops teams' digital journeys.
The AI enabled platform is well diversified with unique capabilities such as AI enabled Test Authoring with QQBOT, Seamless Integrations with Jira, Azure DevOps, Automation Tools/Frameworks, and CI/CD, offers Custom Reporting & Personalized Dashboards and supports Compliance driven features like eSignature workflow with CFR Part 11.
It's fully capable of managing cross functional projects on a flexible platform.
In short, it is one of the finest tools in the market to cater end-to-end test management for Enterprise teams. 
Related posts: