15 Best Crowdsourced Testing Companies In 2022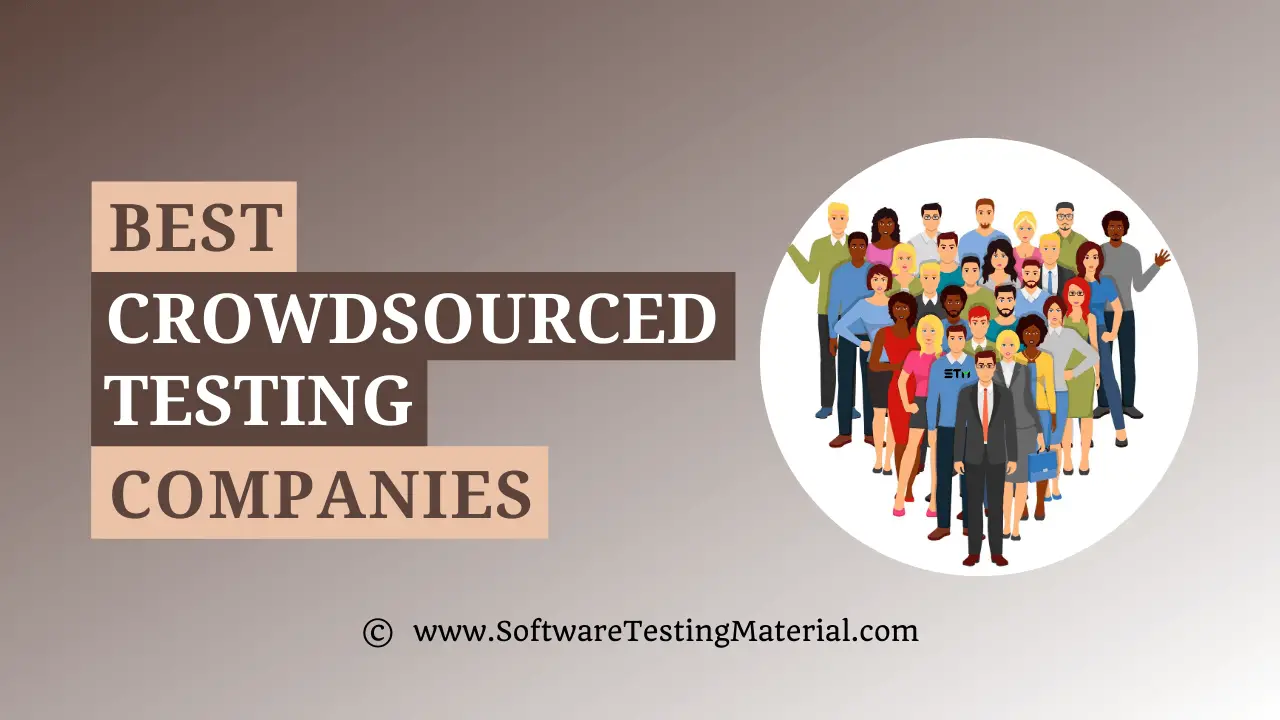 Are you looking for crowdsourced testing companies for your app testing?
Crowdsourced testing is gaining popularity because it is cost-effective and generate quick results. Crowd testing helps you in many ways as we have seen in a crowdsourced testing guide. Before choosing a crowdsourced testing company for your app, you have to go through the following questions.
How the company verified testers as crowd testers?
Did the company test specific (eg. e-commerce or healthcare) applications before?
Is it possible to choose location-based tests?
What is the TAT (turnaround time)?
What devices the crowd testers use – real devices or emulators?
Who moderates the testers' results?
Did You Know You Can Earn Money Testing Mobile & Web Apps as a freelance crowd tester?
Yes, as a freelance crowd tester you can earn money through crowdsourced testing. Today in this guide, I am going to show you some websites where you can register as a freelance software tester and earn money by testing web and mobile applications.
So why wasting time. Just scroll down and see the best companies that offer freelance software testing opportunities.
Best Crowd Testing Companies
Don't miss this Crowdsourced Testing Guide for Companies & Testers
Here is the list of most popular crowdsourced testing service provider companies.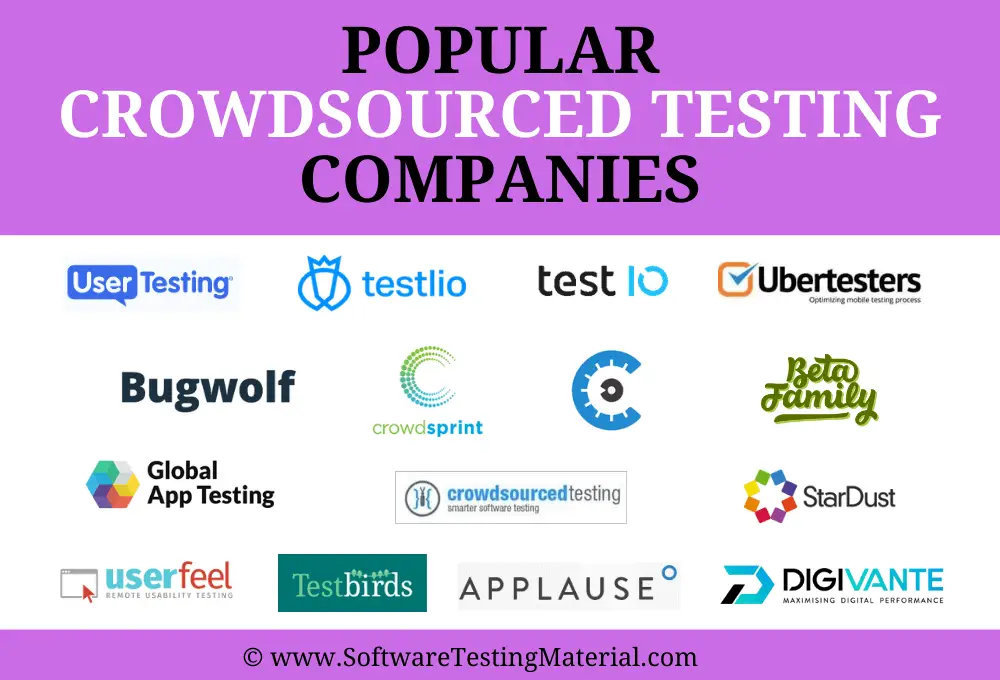 #1. Ubertesters

Ubertesters offers crowd testing services. A crowd of global, professional, vetted testers for hire with devices that can test any digital product and provide feedback to clients. The tests are done with real people using real devices and provide real-time feedback to the client about the usability and functionality of their digital product.
It provides you with multi-platform support (iOS, Android)
Over-the-air (OTA) app distribution: It allows developers and project managers to send out OTA installs to beta testers, streamline the process, keeping track of all your testers, and pushing app updates over the air.
Types of testing carried out by Ubertesters are given below:
Usability Testing
Functional Testing
Localization Testing
Visit Ubertesters site
#2. Testlio

Testlio is a managed QA services company for global-scale consumer apps. It provides web and mobile app testing and QA. They provide flexible, scalable, and on-demand testing solutions.
Types of Testing covered:
Regression testing
Usability testing
Functional testing
Automated testing
Payments testing
Mobile testing
Localization testing
Live stream testing
Location testing
Exploratory testing
Platforms covered: Web, Mobile, Wearables, IoT Devices.
Clients: Microsoft, Lyft, CBS, Hotels.com, Vimeo, Fox, and the NBA, etc.
With Testlio, you can get visibility into every step of the testing process right from testers, devices, and test cycles, to issues uncovered.
Its managed testing services formula decreases your workload by combining professional services with a global network of expert testers and best in class testing software to power efficiencies.
Thousands of skilled and validated testers in nearly 100 countries.
Want to become a Testlio tester?
As a tester of Testlio, you can be a part of 15k+ expert testers from around the world. You can make a direct impact on global-scale consumer apps.
To become a tester check this link. Payments are made weekly based on the testing hours rather than the number of bugs you find.
Visit Testlio website
#3. Test IO
Test IO is a leading crowd testing platform. Its QA Testing as a Service helps you ship apps faster and sleep better with real tests by people on real devices.
Types of Testing covered:
Regression testing
Usability testing
Test Case Execution
User story testing
Exploratory testing
Functional testing
Beta testing
Black box testing
Platforms covered: Web, Mobile, Wearables, IoT Devices.
Want to become a Test IO tester?
You can get a chance to test the latest apps, and websites and get paid for every bug by becoming a TestIO tester. Check this link to become a tester.
Visit Test IO website
#4. Digivante

Digivante is a crowd testing company that provides crowdsourced software testing services for websites and mobile apps using a global team of software testers. It has a community of 55,000 managed and vetted professional testers, working in 149 countries.
Types of Testing covered:
Accessibility testing
Live monitoring testing
Payment testing
Performance testing
Post-implementation testing
Security testing
Test Automation
Regression testing
Usability testing
Exploratory testing
Functional testing
Localization testing
Clients: Audi, Calvin Klein, GymShark, Hilton, etc.,
Want to become Digivante tester?
As a freelance software QA with BugFinders, you will be able to earn money and improve your testing experience. You will get a chance to work with some fantastic clients and brands. You will get a chance to work with some unreleased mobile apps and websites too.
You will get paid weekly via PayPal or Payoneer.
Check Digivante site to become a freelance tester.
#5. Global App Testing

Global App Testing is a crowdsourced QA testing company. Its professional crowdsourced testers provide test case execution and exploratory testing to put any website or app through its paces.
40,000+ vetted professional testers are located in more than 105 countries using real devices in real environments.
It is trusted by leading companies such as Facebook, Google, Instagram, Microsoft, Verizon, Citrix, etc.,
Types of Testing covered:
Exploratory testing
Test case execution
Web app testing
Mobile app testing
Visit the Global App Testing site
#6. Cobalt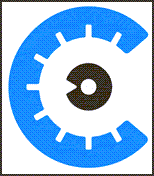 Cobalt provides a Pentest as a Service (PtaaS) platform that is modernizing the traditional penetration testing model.
It's vetted and trusted group of pentesters, called Cobalt Core is highly experienced in doing assessments and penetration testing of web applications, mobile apps, web APIs, external networks, and Amazon Web Services. They fulfill the penetration test requirements for most compliance needs, including vendor assessments, PCI, HIPAA, SOC-2, etc.
Companies trusted Cobalt are MuleSoft, HubSpot, Verifone, Palo Alto Networks, GoDaddy, Cengage.
Visit Cobalt site
#7. User Testing

UserTesting is the leading provider of on-demand human insights. It allows your application to be tested by real users.
If you become a freelance tester of UserTesting then it allows you to test new web and mobile sites and take forward your valid opinions and recommendations to clients.
It is trusted by the world's top brands Adobe, eBay, Facebook, P&G, Wayfair, Jetblue, Docusign, SAP, etc.,
Visit User Testing site
#8. Crowdsprint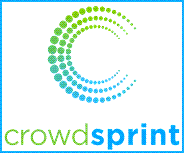 Crowdsprint provides crowdsourced testing services for mobile, web, and cloud-based apps. Professional crowdsourced testing works with a global team of professional testers. You can access to a community of 20,000+ testers from 100+ countries. With Crowdsprint you can allow your application to test by real users that fit your demographics.

Visit Crowdsprint site 
#9. Testbirds

Testbirds offers Crowdtesting services with the help of expert software testers across the world.
Testbirds works with over 700 clients worldwide, which include large scale multi-national groups, as well as small- to medium-sized enterprises and start-ups. Companies like BMW, Audi, Deutsche Telekom, Allianz, The Independent, and Western Union trust in Testbirds' services to optimize their digital products.
You can also become a testbirds tester and earn money as a freelance tester.
Types of testing carried out by Testbirds are given below:
Exploratory testing
Localization testing
Regression testing
Performance Testing
Visit the Testbirds website here 
#10. Userfeel

Userfeel is a crowd testing service with vast experience in usability testing. The company's usability testing service can quickly show you what troubles your website's visitors, which prevents them from doing what they come to your site for.
It provides web and mobile app testing using any operating system.
It tests any site in any language. They have a panel of more than 110,000 testers speaking 40 languages.
Filter testers by various demographic criteria like age, gender, country, language, and level of web experience.
Visit UserFeel site
#11. CrowdsourcedTesting

Crowdsourced Testing connects web and software development companies with professional software testers from around the world available on short notice to test their interactive projects on a large number of different platforms and devices.
CrowdsourcedTesting community is spread across 186 countries and over 77,200 testers are working under this company.
They test Websites, iOS, Android apps, video games, software, and windows phone.
Types of testing carried out by Crowdsourced testing are given below:
Functionality testing
Usability testing
Localization testing
Visit CrowdsourcedTesting site
#12. Bugwolf
Bugwolf offers a SaaS-based platform to user-test applications, websites, and products across multiple platforms and devices.
It provides UAT testing tools for teams, from startups to enterprises where testers compete to rapidly audit the quality of your software, websites, and mobile apps.
Types of testing carried out by Bugwolf are given below:
Usability Testing
Functional Testing
Security Testing
UX Testing
Content Testing
Spelling testing
OS Testing
Performance Testing
User Acceptance Testing
Browser Testing
Data Testing
Device Testing
Visit BugWolf site
#13. StarDust

Stardust is a crowd testing tool that allows you to check your web application and mobile application. They have created a platform that integrates a community of testers in over 60 countries.
Types of testing carried out by StarDust are given below:
Functionality testing
Environmental testing
Regression testing
Multilingual testing
App Benchmarking
Functional Bug Bounty
Accessibility testing
Visit Stardust site
#14. Applause
Applause is a crowd testing tool that helps you to find bugs in your software.
You can test on any device or OS combination, in any configuration your customers use. It allows you to choose testers based on location, language, device, hobby, and a wide range of other demographic and psychographic requirements.
Real users testing in real-world scenarios serve as proxies for a brand's customers – uncovering issues that are frequently missed with traditional testing approaches.
Spanning the entire SDLC, they have expertise in a wide range of testing areas – including Manual Functional, Automation, AI, Voice, Accessibility, Payments, Customer Journeys and User Experiences, among others.
Visit Applause site
#15. Beta Family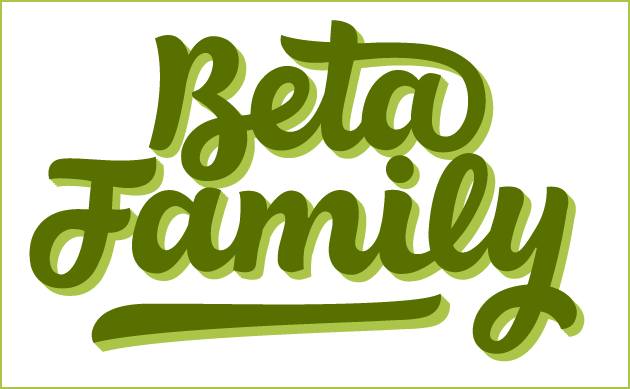 The Beta Family is a beta testing service for iOS (iPhone, iPod, iPad) and Android applications where developers get to beta test their apps on real people.
It allows developers to filter testers based on age, gender, nationality, device, OS, and many more.
Visit the Beta family site
If you feel that we missed any crowdsourced testing companies in the list, please add them in the comments below so we can update this resource.
Related posts: