Tidal Automation Review: The Best Workload Automation Platform? (2023)
With this Tidal Automation review guide, we'll explore how Tidal Automation can be put into action, as well as explore the detailed features it offers for small businesses up to large enterprise-level corporations alike.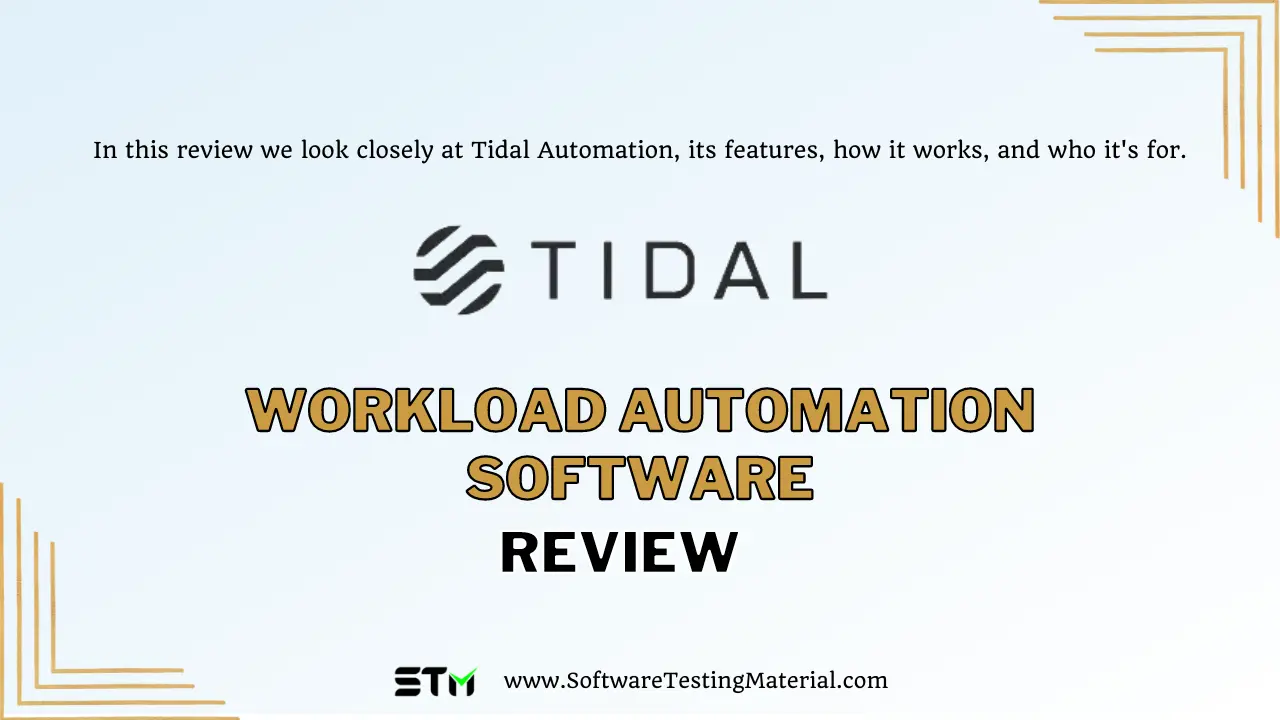 If you want to streamline your business operations and eliminate tedious manual tasks, then Tidal Automation is the perfect tool.
This powerful automation platform can help streamline a variety of processes – from running daily backups to automating mundane administrative tasks – allowing businesses of any size to become more efficient and productive.
In this review, we'll discuss Tidal Automation's key features, its pricing plans, and the overall value it provides in the market.
Let's dive in and see what makes Tidal Automation such an effective tool for automating your processes!
What is Tidal Automation?
Redwood Software, the leading company in comprehensive automation solutions, has acquired Tidal Software, a top provider of enterprise workload automation.
Tidal Automation is a unified workload automation platform for managing and controlling job scheduling across business, operations, and IT processes.
It empowers organizations to streamline and optimize their workload automation, ensuring smooth and efficient operations.
With Tidal Automation, you get a centralized, single point of control to manage challenging workflows across applications and systems.
It automates time-based, event-based, and dynamic processes effortlessly.
It simplifies common manual tasks, empowers teams with data insights, and keeps everything on track.
It frees up valuable hours each day, while also eliminating manual errors and wasted energy from redundant processes.
No matter where your workloads are running, Tidal Automation automates them seamlessly.
Features of Tidal Automation
Here are the features of Tidal Automation:
With Tidal's self-service capabilities, you can take control of your own tasks, so you don't have to depend on IT teams as much.
The tidal platform provides enterprise-grade security features like role-based access control and policy management.
Tidal Automation takes care of process dependencies and resolves issues, so you can exceed service level expectations for your organization's critical business processes.
With Tidal, you can easily track your critical jobs and ensure you meet your service level agreements (SLAs).
The tidal platform centralizes job scheduling tasks, saving you time and money by eliminating the need for separate tools. Plus, you can make smarter use of your valuable IT resources.
Tidal software is available as a SaaS deployment option, which means that organizations can take advantage of the benefits of cloud-based solutions.
Tidal offers event-based job scheduling and time-based scheduling, giving organizations the flexibility to automate tasks based on specific events or predefined timeframes.
Tidal provides comprehensive calendar scheduling functionality. The Tidal Automation platform offers a wide range of pre-built calendars, including the most commonly used calendars and fiscal calendars. Additionally, users have the flexibility to create their own custom calendars to accommodate any type of cyclical scheduling needs.
Tidal possesses an advanced scheduling mechanism, enabling it to manage intricate dependencies among different jobs. Plus, it gives you more control over when jobs should run based on specific conditions.
Tidal supports continuous processing and availability even during patches, upgrades, regular maintenance, and unexpected failures or disasters.
Tidal allows you to easily set policies and controls that align with your enterprise security tools and processes.
You have the flexibility to install Tidal components either on-premises, in the cloud, or in hybrid environments. They also support various environments like Amazon Web Services (AWS), Azure, Oracle Cloud Infrastructure (OCI), and Google Cloud Platform (GCP). Plus, they offer AWS and Azure versions of SMTP, Active Directory, and serverless relational databases.
With Tidal, you get access to a whopping 60+ pre-built integrations, making it super easy to connect with all your favorite apps and systems.
With Tidal's mobile application, users gain the ability to conveniently access and manage tasks while on the move. This feature greatly enhances productivity and offers increased flexibility in task management.
The Benefits of Tidal Automation
Tidal Automation is a solution for those overwhelmed by manual workload management. Let's dive right in and explore the benefits of this powerful automation tool.
#1. Modern Platform:
It's scalable, resilient, and secure, making it perfect for automation in complex enterprise environments.
#2. Runs Anywhere:
You have the option to run Tidal either on-prem or in the cloud. No matter where it's hosted, Tidal effortlessly handles workloads both on-prem and in the cloud.
#3. Automates Anything:
With over 60 pre-built integrations, you can effortlessly automate applications, middleware, physical infrastructure, and dynamic resources. It's like having your own team of automation wizards.
Tidal Workload Automation Use Cases
Tidal workload automation has a wide range of use cases that cater to different scenarios, end-users, and workflows. Let's explore some examples:
1. Data processing and integration: Tidal helps streamline data processing and integration tasks, making them more efficient.
2. Application and infrastructure management: With Tidal, managing applications and infrastructure becomes easier and more organized.
3. Batch processing and job scheduling: Tidal simplifies batch processing and job scheduling, ensuring smooth operations.
4. SLA (Service Level Agreement): Tidal helps in meeting SLA requirements by automating processes and ensuring timely delivery.
5. DevOps and continuous delivery: Tidal supports DevOps practices by automating workflows and facilitating continuous delivery.
6. Financial reporting and operations: Tidal aids in financial reporting and operations, making them more accurate and reliable.
Integration With Existing Systems
When it comes to integrating Tidal Automation with your existing systems, you can expect a smooth transition. There is no need to worry. Tidal Automation understands that change can be scary, but rest assured, it is here to make things easier for you. With Tidal Automation, you can achieve effortless collaboration among different systems.
Tidal brings automation to every part of your enterprise, from applications to middleware and infrastructure. It offers a wide range of pre-built integrations, ready to go for both legacy and more modern solutions.
Tidal provides the flexibility to run either on-premises or in the cloud, offering 60+ pre-built integrations that enable automation across applications, middleware, physical infrastructure, and dynamic resources.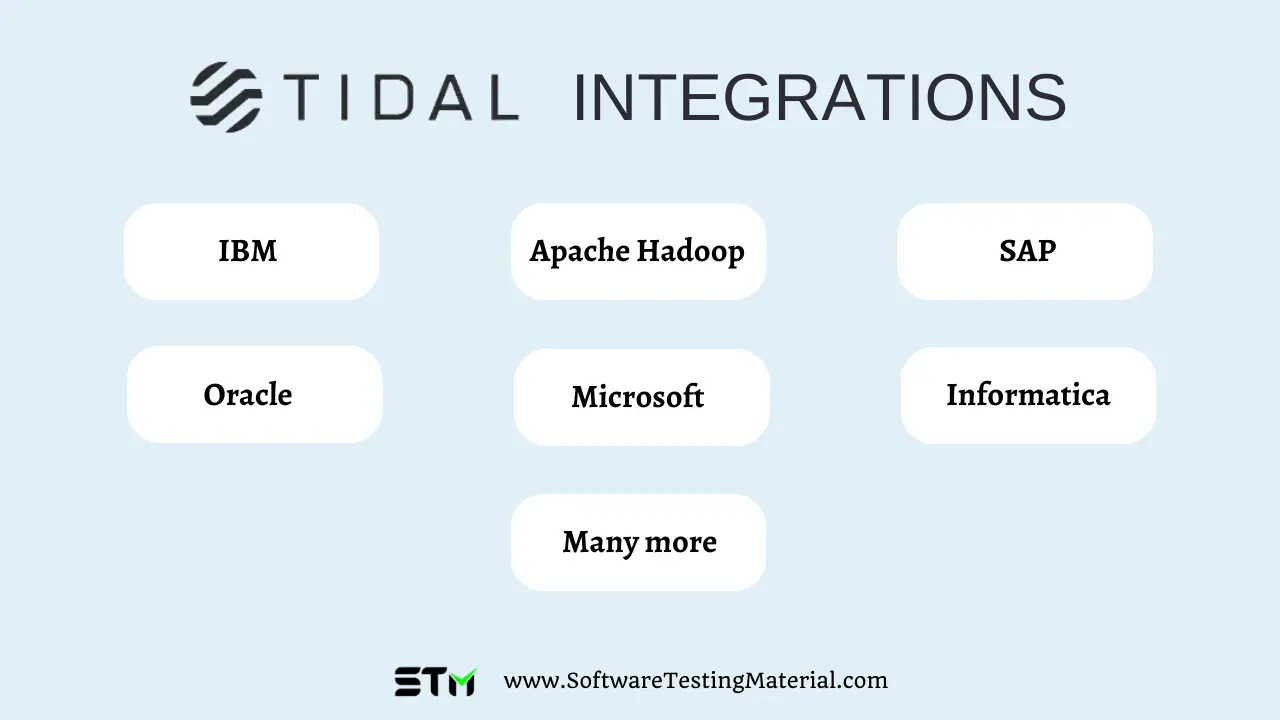 These integrations cover a diverse range of popular tools and operating systems, including IBM, Apache Hadoop, SAP, Oracle, Microsoft Windows, and Informatica, among others.
It can simplify workload automation and enhance organizational efficiency and flexibility.
Migrations
The migration process from other Workload Automation Software Solutions to Tidal Automation is designed to be hassle-free, efficient, and secure.
Its like-for-like migration setup preserves the existing environment and ensures that all data is transferred correctly.
During the transfer, they implement the phased cutover, which helps minimize disruptions and downtime during the transition.
Tidal also provides focused training sessions, equipping users with essential knowledge to help us make the most out of the new system.
Integral program management for successful execution, and it's handled by Tidal's team of experts to ensure that everything runs smoothly.
The entire project is iteratively executed and monitored for potential issues along the way.
A successful migration from other workload automation tools to Tidal Automation can be achieved by utilizing these methods.
A comprehensive implementation framework that includes planning, migration, and training phases is offered, along with resources for support.
Tidal has a track record of successfully replacing competitive products such as Automic, AutoSys, and Control-M in customer environments.
Tidal Automation Pricing Details
To access pricing information, all you need to do is inquire about a quote from Tidal.
They provide a customizable pricing model that caters to the unique requirements of your organization.
Be confident that their pricing is designed to be flexible and adaptable, ensuring it aligns perfectly with your needs.
Conclusion: Tidal Automation Review
With Tidal Automation, you can say goodbye to tedious and time-consuming manual tasks. No more manually scheduling jobs or allocating resources. Tidal Automation handles all the hard work for you, allowing you to focus on more important matters.
Tidal Automation also offers improved scalability and flexibility, effortlessly adapting to your organization's changing needs. It ensures smooth operations even during peak times, allowing easy scaling up or down.
In summary, Tidal Automation is the ultimate solution to streamline your workload automation and make your operations efficient. With automated job scheduling, alerts and notifications, and centralized control and monitoring, Tidal Automation simplifies your workload management. It offers increased efficiency and productivity, improved scalability and flexibility, and reduced manual effort. By integrating seamlessly with your existing systems, it ensures a smooth transition and promotes seamless collaboration.
Give it a try and discover the difference it can make.
Related posts: