Key factors to consider while choosing your Test Automation tool
A test automation tool helps a product to be market ready and climb up the charts in terms of meeting user expectations. It should be chosen with due deliberations based on some key factors.
The imperative of reaching the market quickly with quality software products has stretched the resources and capabilities of enterprises. To ensure the optimization of resources and to churn out quality products in greater numbers, the role of test automation has become all the more important. This is also due to the fact that the extent, scope and accuracy of manual testing leaves a lot to be desired.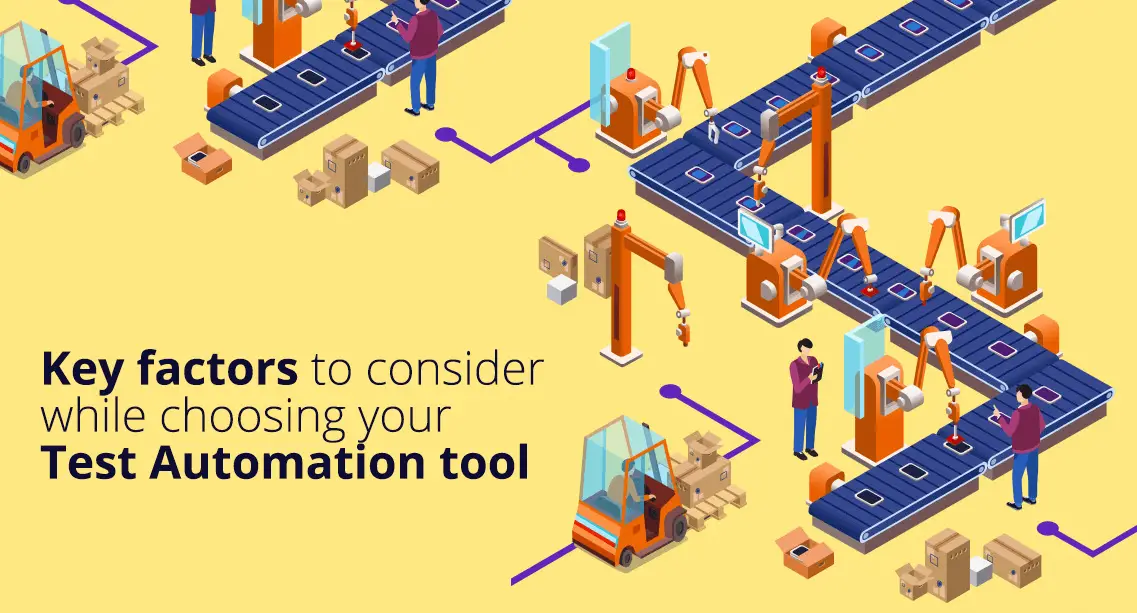 The advent of Agile and DevOps methodologies has necessitated continuous testing and delivery of products to enhance the user experience. This can only be achieved by using the right test automation tools. In the current scenario implementing Test Automation is business critical. In case Test Automation is not considered, you might face some undesirable consequences.
Less test coverage area
Increase in the cost of quality testing
Less identification of glitches
Poor user experience
Losing the competitive edge
Poor ROI
By using the right test automation solutions, you can enhance the coverage area, efficiency and effectiveness of quality testing. These tools can free some of the crucial resources of your organization from the rigours of conducting time consuming manual testing. Thereafter, the resources can be deployed in more critical areas of your organization leading to spurt in productivity.
The market is replete with plenty of test automation tools. Enterprises should choose the best one to obtain the desired outcome in terms of quality, cost and timelines. Let us list out the key factors to be considered while choosing such a tool.
#1 Scalability:
Test automation can include a wide range of tests such as unit testing, functional testing and load testing to name a few. However, these tests may need to be scaled up (or down) in the future depending on the changing needs and emerging test scenarios. Even add-ons or plug-ins are available in case of any requirements.
#2 Compatibility across platforms:
An automation testing tool should ideally support major applications and platforms. However, there are platform specific tools supporting .Net or Java alone. Hence, while choosing an automation tool, anticipate the type of platform your enterprise will use in the future. The more compatible the tool is for a range of platforms, the better it is from the point of convenience and cost optimization.
#3 Compatibility across OS:
Just because customers are not using a particular operating system on a large scale, it does not mean they are not likely to use it forever. For given the changing dynamics of the digital ecosystem, it is better to choose a QA automation testing tool that is compatible across operating systems. Importantly, the tool should be compatible with the previous versions of the operating systems as well.
Learn Cross Browser Testing Tools such as CrossBrowserTesting and BrowserStack
#4 Ease of creating test scripts:
The viability of a tool can only be ascertained if it offers various ways to conduct a test. This way, the members of a test team irrespective of their automation or technical skills can participate in QA automation testing. Moreover, a test tool should have the requisite framework, IDEs, plugins, libraries, and extensions to write a test script with ease. The tool should be more user friendly with an extensive use of GUI.
#5 Easy maintenance:
A good tool should have a detailed failure log or dashboard enabling test automation experts to identify and fix errors or glitches. The tool should provide the ease of generating modular test cases, which can then be reused without much difficulty.
#6 Reporting mechanism:
An automation tool should have a robust reporting mechanism. The details of test cases including the glitches found should be properly recorded in the log and be accessible to every test team member. The test team can use the reports to analyse the task at hand and prepare a future strategy.
#7 Price:
Cost-effectiveness is at the core of any Test Automation effort. While choosing a tool, you need to consider whether to go for an open source tool such as Selenium, Robot framework, and Citrus or a licensed one like TestComplete.
Conclusion
Test automation solutions are important enablers to test the efficacy of a product. They go a long way in ensuring a product's market readiness and generating user's trustworthiness.
Author Bio:
Komal Lopez works with Cigniti Technologies and is instrumental in helping enterprises take better decisions related to Quality Assurance products, tools and services by leveraging research and content. She specializes in writing about technology trends, testing trends and has been in the Marketing and Communications industry for over a decade. Connect with her at komal.lopez@cigniti.com