5 Ways to Evaluate the Quality of Outsourced Content
Between 2021 and 2031, the US Bureau of Labor estimates that the demand for software developers, testers, and QA experts will grow by 25%. Not only is the demand for software testers ever-growing, but there's also no denying that this job is complex and multi-faceted.
And if you've outsourced some of the coding or content creation, it becomes even more so. Outsourcing software development is hugely popular as it streamlines operations, reduces costs, and can speed up the release date of a project.
However, if you're opting to outsource work, you need to ensure the quality is always premium and that there are no bugs (or at least none that are detrimental to the success of the software).
In this article, we'll expand on 5 ways that you can evaluate the quality of the software you've outsourced. Without further ado, let's dive in.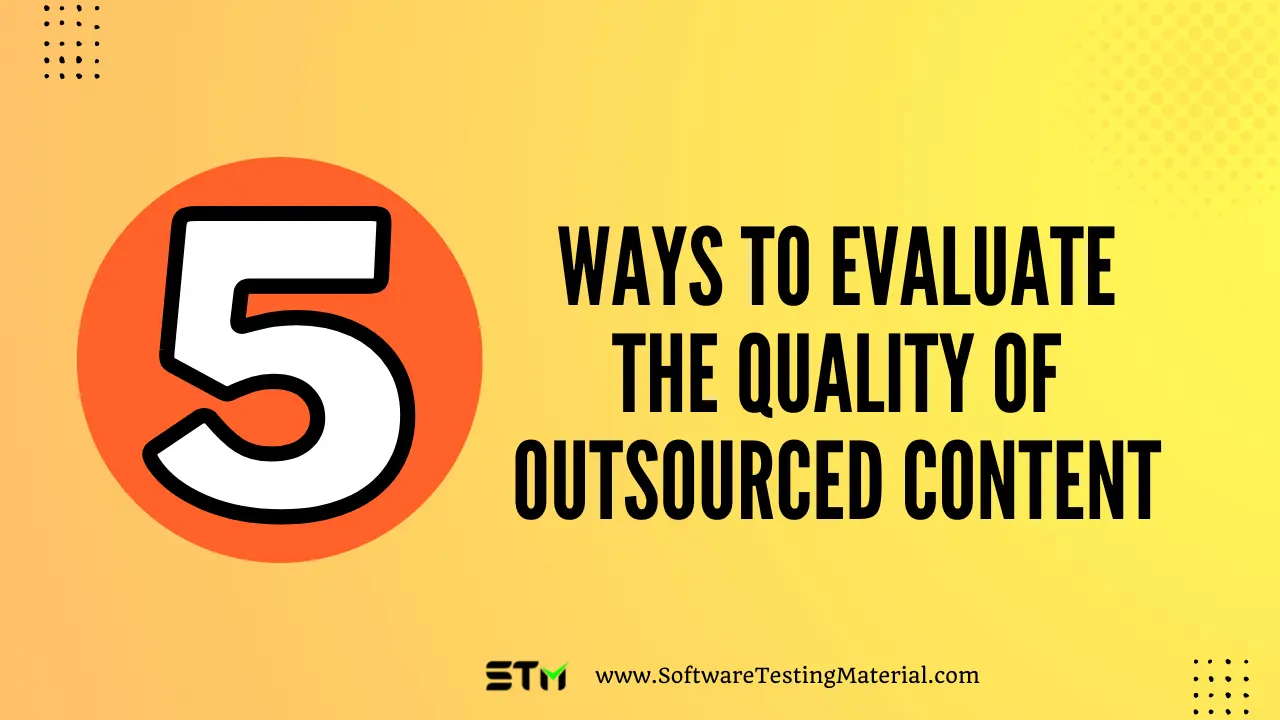 #1. Checking The Credibility And History Of The Team/Individual
One of the simplest and most effective ways to evaluate the quality of your outside hire's content is to assess their historic level of credibility. The more experience a person or team has in their field, the more likely they are to produce content that is at an exceptional level.
When looking at an outsourcer's portfolio, look at how long they have worked in their field—and equally importantly—what their references say about their experience working with them.
Credibility can only be built over time by delivering a consistently high standard of work. You can make a solid assumption about a team or individual's potential quality by assessing the length of their career, proof of a quality portfolio, and positive references from top clients touting their results.
#2. Using The Right KPIs For Overall Assessment
You can start evaluating the quality of an outsourced client from the moment you land on their profile or website. Performing an assessment of a potential hire's portfolio or website is one thing. But if you don't know which KPIs (Key Performance Indicators) to look for, it can be a somewhat redundant process.
Some of the most important KPIs to look for when analyzing someone's profile include:
Amount of jobs completed – If you're hiring a freelancer, this KPI is easy to track. Many open-hire platforms provide metrics for how many jobs they have completed within the amount of time they've been active on the site. The more jobs they have successfully completed, the more likely they are to do your job justice.
Client approval rating – This is another metric that some open-hire platforms provide. But you can also track this KPI by looking at agency references that point out potential strengths, weaknesses, and other expressions of performance.
Hourly rates – While the rates people charge are technically their own business, they can still provide clues as to the quality of work you can expect from them. Agencies or individuals that charge more are often more experienced, while those with lower rates may still be developing their skillset. Make sure to weigh up these details carefully before reaching out.
Despite the above KPIs being benchmark indicators of performance, what you look for in an outsourcer ultimately depends on the job you are hiring them for. For example, you wouldn't evaluate a software developer's performance by assessing their creative writing skills.
But once you've hired someone, it's still important to keep track of their productivity KPIs to determine if they are worth your time and money. Since this post is focused on outsourcing software content, let's go through some additional KPIs to look out for when assessing professionals in this field:
Velocity – Velocity refers to how much work a developer (or team of developers) can successfully complete during a sprint. Measuring a velocity KPI means you can gain a better understanding of how realistic a team's productivity goals are.
Code coverage – Code coverage is what software development teams use to measure code quality. This particular KPI is an essential metric for determining someone's performance.
Cycle time – How quickly does a team/individual cycle through different tasks? The rate at which they can assess, tackle, and complete items on a list is an important metric for any professional, but most software development teams, in particular, use cycle charts to confront projects.
Flow efficiency –An efficient flow KPI helps people measure the relationship between active and passive time worked on a project.
#3. Monitoring Milestones And Outcomes
Whether it's an individual you assessing or an entire team of professionals, monitoring their milestones as they work is an important part of the outsourcing evaluation process.
Whatever projects you have asked them to handle, make sure to establish clear deliverables for them to follow so that you can measure how efficiently they reach them. This will also help you to work out how to keep track of business expenses, as you can keep tabs on the cost of each part of a project. If there's no goal setting or monitoring of milestones for those you outsource to, you may end up over time, over budget, and under-delivering.
#4. Assessing Communication And Process Management
In order to deliver exceptional content, you need great communication and process management skills. These qualities are important for all types of outsourcing roles—software development is no exception. But how can you measure these abilities before hiring someone?
You can ascertain such skills by paying attention to the manner of preliminary communication that goes down (such as emails, chatrooms, or Zoom calls) and inquiring about the processes your candidate typically uses to approach new projects. In these interactions, you can also gauge how they react to feedback and whether they're open to constructive criticism.
#5. Running Manual And Automated Tests
Running thorough tests on your outsourced code is essential. Since they aren't official employees and could therefore have different methodologies to your business, you need to make sure their work is up to the same standard you hold your own too.
Both manual and automated tests are important for detecting different types of bugs or errors in the system. Make regular testing a part of your process, and you will be able to identify poor performance whenever it threatens to appear.
Make Sure Your Outsourced Content Delivers—Every Time
Outsourcing content is a great way to save money and diversify your workflow. But just like any strategy, it requires a methodical approach. With these five tips, you should be able to regularly outsource content in a more systematic way and ensure your end product is of the best possible quality.